Washington Post
February 21, 2020
By Andrea Sachs
Andrea Sachs discusses the ins and outs of cruising in Antarctica and interviews AdventureSmith founder Todd Smith for planning advice and more.
Antarctica is becoming easier to visit
The isolated destination with the unforgiving environment no longer feels so far away, or so grueling. A sea crossing from the tip of Argentina takes about two days, shorter than a transatlantic cruise. By plane, the flight from Punta Arenas, Chile, lasts all of two hours. Once there, you can ski or stand-up paddle; sip champagne in an inflatable tender boat surrounded by seals; or ask your private butler to press your favorite humpback whale pajamas. You can even see — and sniff — penguins from the comfort of your stateroom balcony, without sullying your boots with guano.
Over the past 10 years, cruises to Antarctica have grown exponentially, in number and style. Previously, mainly research ships ventured to the bottom of the world. Then expedition vessels, a category of smaller ships that emphasizes the natural world over onboard indulgences.
The toys would not seem out of place on a tycoon's mega-yacht. The ultra-extras include helicopters (Ultramarine), infinity hot tubs and an underwater vehicle that can descend 1,000 feet (Endurance), electric snowmobiles and a tethered hot-air balloon (Ponant's Le Commandant Charcot) and a seven-person submersible (Crystal's Crystal Endeavor). On a more practical level, cruisers can also expect improved loading areas for tenders and kayaks, upgraded mudrooms and cushier cabins. And a slew of new ships, with even greater ambitions, are on the way. Call it the next wave of Antarctic cruising.
They are faster, smoother and more environmentally friendly, and they have a lot more amenities.
"A lot of the ships are pushing the limit of what an expedition cruise can do, "said Todd Smith, founder and president of AdventureSmith Explorations, which specializes in small-ship adventure cruises. "They are faster, smoother and more environmentally friendly, and they have a lot more amenities."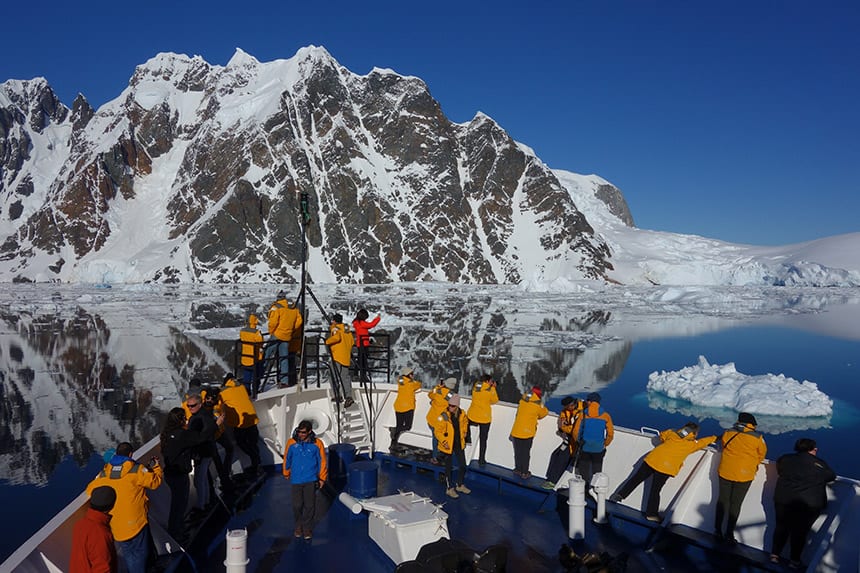 Points of departure
Most of the smaller ships sail round-trip from Ushuaia, Argentina, a three-hour flight from Buenos Aires. During the two-day journey to the continent, the vessels cross the Drake Passage, a notoriously rough patch of water between South America's Cape Horn and the South Shetland Islands. (Don't let Drake's reputation scare you: Our conditions were as placid as a duck pond.)
Travelers with rubbery sea legs or queasy stomachs can skip the Drake Passage and fly directly to the South Shetland Islands, about 75 miles north of the peninsula. The charter planes, part of fly/cruise packages, land at a Chilean airstrip on King George Island.
Ship captains have more wiggle room than airplane pilots, and Smith warns air travelers about the risk of delays or cancellations due to inclement conditions. "If there is a flight delay because of weather," he said, "you can have a domino effect." Smith suggests padding your itinerary with extra days before and after the flight, so you don't jeopardize the cruise portion of your trip or your flight home.
Choosing a Ship
When selecting a vessel, you should first consider passenger load. Ships carrying more than 500 travelers are described as cruise-only, which means passengers are not permitted to go on shore. Ships permitted to disembark passengers must also follow strict guidelines. The biggest one is that only 100 people are allowed to visit a landing site at a time. Vessels with more than the maximum number will divvy up the groups, with half exploring by land and the other by tender. (Each inflatable boat fits about a dozen people.) Then they switch.
[When discussing the spectrum of Antarctic expedition vessels—from their price tag, passenger count, amenities and more], "Each company has its own personality and specialty," said Smith, who has traveled to Antarctica a half-dozen times, including a recent ski trip with Aurora Expeditions. While researching the perfect cruise for you, if you need a sounding board, contact a specialist such as AdventureSmith (read its Antarctic ship overviews on its website)
Read this Washington Post article in its entirety, including additional interviews from other small ship cruise industry leaders.