This Travel Journal submitted by Rebecca Reeb details her Northern Passages & Glacier Bay Cruise aboard the Wilderness Discoverer with AdventureSmith Explorations.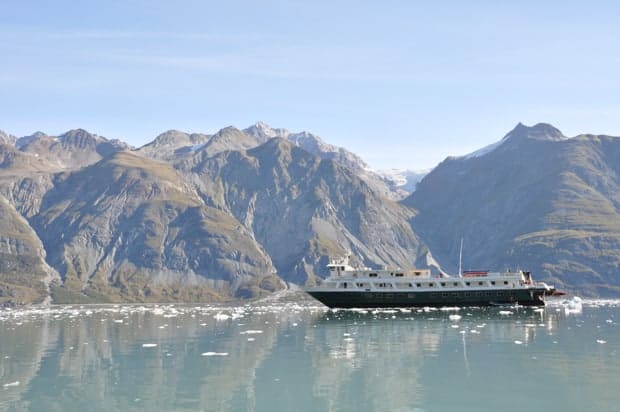 "Crunch, crunch, CRUNCH" we hear! "What was that?"
My mother and I are tandem kayaking in a small, peaceful, and incredibly gorgeous Alaskan Cove. Craggy, snow topped mountains peek out above the lush forest hugging the shoreline. The sun is shining. It is our first time ever kayaking, and we're having the best time, just drifting and taking in the scenery.
Again we hear "Crunch, crunch, crunch."
I poke an oar into the shallow water to stop our drifting. We sit, and listen and watch. The crunching continues and then we hear rustling in the bushes. Suddenly, not feet in front of us, a momma mink and two babies! Momma mink had been feeding on crab. They all scurry and play for several minutes before disappearing into the woods.
But I'm getting ahead of myself…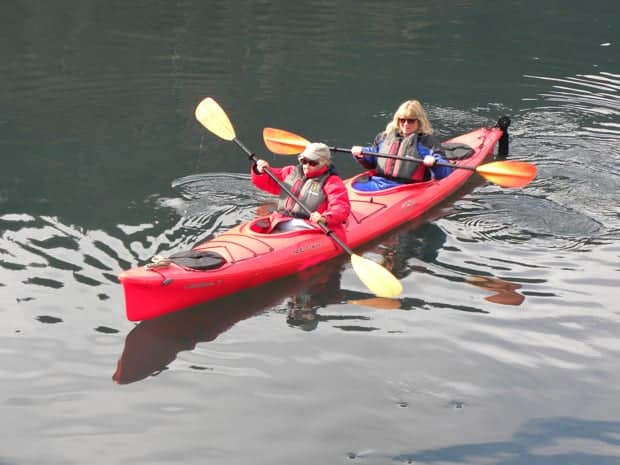 My mother and I were thrilled to be on our UnCruise in Alaska. Our journey of choice: the seven day Northern Passages and Glacier Bay small ship cruise. Planning for the trip began long ago with the assistance of a charming young man, Aaron, at AdventureSmith Explorations. We exchanged many emails as we booked our journey, and he was so helpful in making sure our flight arrivals and departures were perfect, airport transfers arranged, and that we got the exact cabin and bed configuration we wanted. We looked at many, many different cruise lines and itineraries before selecting this one. We wanted a small ship with high staff to passenger ratio. We wanted nature, not cities. And, happily, UnCruise prices are quite reasonable. We got exactly what we wanted and then some.
It has been two years since taking our trip. I didn't write a journal at the time so I can't vouch for the exact locations and sequences but it is the experiences that count, and I remember the experiences so vividly, as if they were yesterday.
The cruise started on a cold, rainy day in Juneau. Our shuttle driver greeted us at the airport and escorted us to a gathering location for all the passengers. With a bit of time before boarding we walked a few blocks to a waterfront restaurant for some lunch. While we ate, we watched the largest flock of seagulls we had ever seen floating in the water. With a little more time to spare we walked a few more blocks to the Alaska Fudge Company to stock up on treats for the week. The boarding of the 76-passenger Wilderness Discoverer was efficient and easy, and our bags awaited us in our cabin. After settling in, we meet our fellow passengers in the cozy galley for dinner as we set sail.
The forest is a fairytale wonderland, around each bend a new discovery.
The morning greets us grey and misty. Our first stop is Bartlett Cove, gateway to UNESCO world heritage Glacier National Park. We dock at the cove, but after this all stops will be at anchor. Once ashore, we break into small groups for exploration along the rocky beach and adjacent forest. Our guide is a knowledgeable and spirited young woman. She is excited by the minutiae we find along the water, explaining to us about edible kelps, grasses and shellfish, the local ecology and more. The depth of her knowledge is impressive. My mother has mobility issues, and the guide was more than happy to collect items and bring them to my mother and to share her incites.
The forest is a fairytale wonderland, around each bend a new discovery. We are introduced to a variety of colorful and shapely mushrooms, including one named Bear Bread. The occasional Native American artwork carved into trees surprises us. All around, quiet ponds are alive with floating lily. Mosses hang softly from branches and cushions the forest floor.
At Bartlett Cove we pick up a veteran Park Ranger who will accompany us for three days as our local expert. As we set sail up the bay, the weather is beginning to clear.
It was only 250 years ago that the Little Ice Age ended and the glaciers of the bay started receding. Captain Cook, in 1878, was the first European to enter Glacier Bay, along with crewmen George Vancouver and William Bligh. At the time they were here the glaciers had only receded five miles into the bay. Now it is possible to travel some 65 miles up the bay. We are treated to a view of Mount Fairweather, aptly named by Cook, as we are told this is a rare sight.
As we float serenely along we are entertained by ever changing views of unspoiled wilderness. In the water we see adorable, orange-billed Puffins. In the distance, small bumpy islands appear. As we approach we realize the bumpy islands are actually masses of Stellar Sea Lions! There are hundreds, if not thousands of them hauled out on the rocks. They are a talkative bunch, growling and barking amongst themselves, no doubt arguing about the best lounging spots.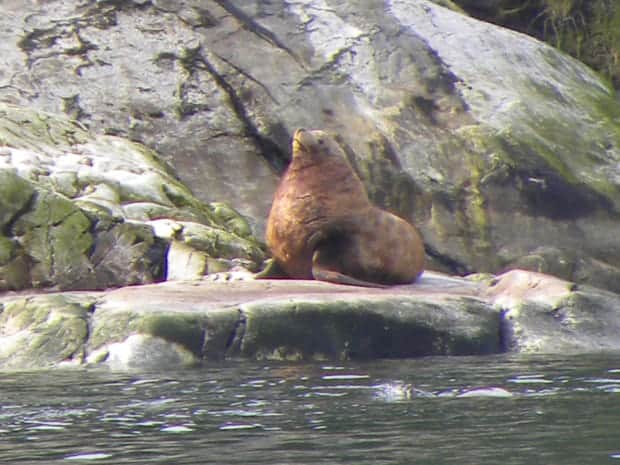 Morning and afternoon excursions offer something for everyone, whatever their interests and abilities. Strenuous treks up rocky hillsides provide the fittest with adrenaline infusions. For those not so fleet of foot, there are tamer, but no less rewarding shore or forest hikes. Others climb into tandem kayaks, or hop onto paddle boards to explore hidden coves. Just want to go for a ride? Great, settle into a comfy skiff while you watch for wildlife.
Cruising further we are treated to great views of several massive glaciers. The first we come upon is Grand Pacific Glacier. It is two miles wide, 35 miles long and 180 feet above water, 60 feet below. It curves like a meandering river from the distant mountains to the bay.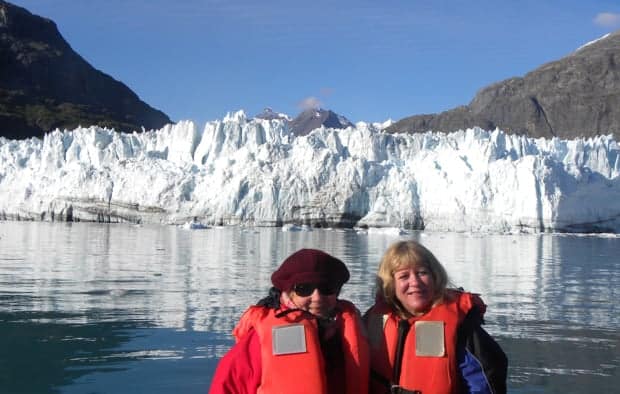 It is early September, and since leaving Bartlett Cove, the weather has steadily improved. The sky is blue, the sun is warm. The wildlife seems to respond to the sunshine. We see huge bears on the shoreline and in the hills. In the water, seals play. The opportunity to see them going about their business completely undisturbed is both comforting and exhilarating. And what better vantage point than the ship's two spacious and bubbly aft-deck hot tubs? What a treat.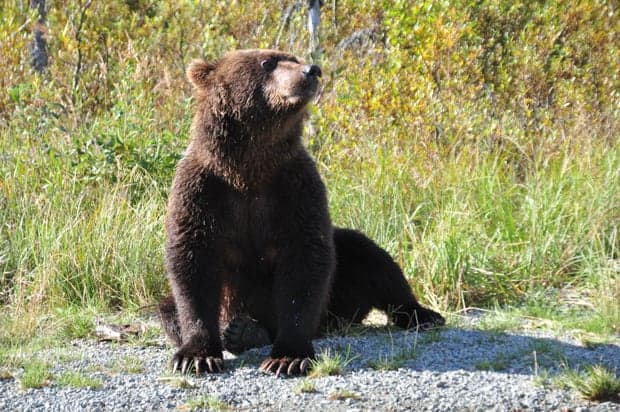 As we continue north, bits of ice start appearing in the water around us. Small and few and far between at first, they become bigger and more dense as we travel on. The crew calls them Bergy Bits.
Completing the scene, the full, blue moon lazily sinking behind the mountains for the day.
The next morning, through our cabin window we could see the dusty pinks of dawn emerging. We could hear excited murmurs from our next door neighbors who were already up and greeting the day. Still in our flannel jammie's we open the door of our cabin, which exits to the ships starboard walkway. There before us was a vision beyond compare. The bright pinks signaling dawn melted into the purple haze of the disappearing night. Beneath the sky were the glimmering snowcapped mountains surrounding Glacier National Park. Completing the scene, the full, blue moon lazily sinking behind the mountains for the day. The water of the bay, flat and silky held bergy bits of ice. If this was all we got to see today it would be enough to satisfy us, yet it was simply one more beautiful beginning to the day on our Alaskan adventure.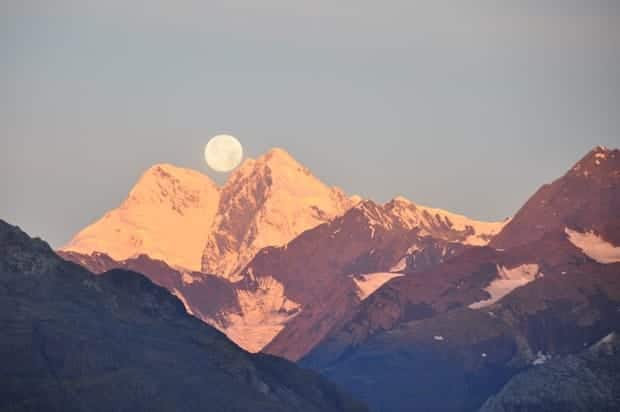 Our next Glacier is John Hopkins Glacier, 250 feet above water, 200 feet below. That's like a 45 story building! It flows at about 15 feet a day, or 4,000 ft a year. This Glacier is getting bigger over time, not smaller as most are.
We anchor at Lamplugh Glacier and have the chance to kayak, hike or skiff ride. Seen from a distance, the Discovery is dwarfed by the Glacier. Some guests choose a hike high above the glaciers and return with incredible photos. Many couples glide through the water in kayaks. A few brave souls risk falling in the icy waters on stand up paddle boards.
We take a skiff ride through the bergs. Ship's Captain Danny himself pilots our boat. He takes a GoPro on a tripod and sets it adrift on a berg, then steers our craft around and around the berg to get some action shots. He also scoops a few bits of ice from the water for us. It is crystal clear.
Our wonderful weather continues. Barely a whisp of a cloud. Our next stop is Margerie Glacier, 250 feet above water. The Canadian border is just two miles north of here.
Once again in our skiffs we race to the glacier's edge. We approach as close as we can while remaining safe from any calving ice. We drift quietly to watch and listen. The craggy ice, all shades of blue, towers above us. Spires of blade sharp ice reach toward the sky. It creaks and groans and CRACK!!! A huge chunk calves off splashing into the water below. We all oohed and ahead in appreciation, while around us, accustomed to such going-ones, harbor seals instead seem more interested in watching us.
At breakfast and lunch in the galley that day, the main topic of discussion was…who was going to do it? Who wasn't? Some people were psyching themselves up. Some were chickening out. Some thought they'd have a heart attack. Eventually, maybe half of the passengers, including myself, went for it……the Polar Bear Plunge! With Margerie Glacier beside us, and bergy bits all around, one at a time we "walked the plank" and made the plunge! What a rush! Brrrr was it cold. And afterward the hot tub never felt better.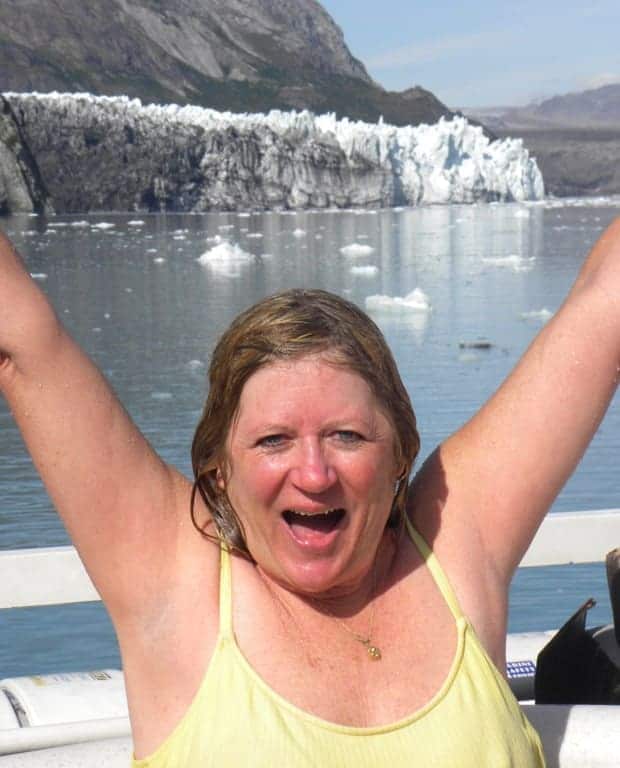 Headed back down Glacier Bay, we are in for another treat that afternoon. Porpoises play besides the boat. But even better, something VERY few people ever get to see…a wild wolf! Captain Danny slowed the ship's pace so we could watch the lone wolf as long as possible. Incredible.
Next it was the crew's turn to take their own Polar Bear Plunge, but not for fun. All crew members, whether an engineer or a chef, must regularly practice drills in the water. Men and women alike grabbed red, cold-water safety suits, or "Gumby" suits, and jumped into the water. The task was to put the suit on while in the water and then swim to a lifeboat some distance away. As we passengers cheered them on every one of them wrestled on the blubbery neoprene and swam their way to success.
Our warm, sunny weather had a good streak – four days or so – but now it is overcast and misty. Not too cold though. After another fabulous meal we are off for yet another adventure. We choose the intertidal walk. As the tides rise and fall so high here, at low tide there is quite a lot to see. For two hours we scrabble around the rocks and huge beds of mussels. We see countless starfish of green, yellow and red. Sea anemones bloom like flowers. Our guide shows us many uses of kelp including bugleing a tune for us with some. Crabs scurry about. Bald eagles watch from the trees. And best of all, in the water, a number of seals and sea otters dine and play.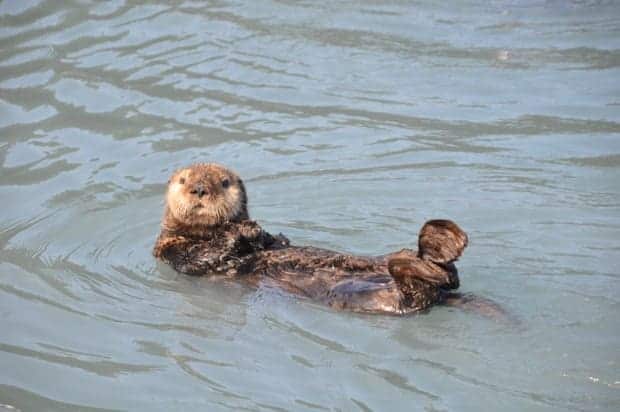 As we head back to the ship we believe our wildlife viewing is done for the day, but when we arrive back at the Discovery we see two skiffs floating along the shore, and other passengers lining the ship's rails. Everyone is watching a huge bear just a stone's throw away. It is a magnificent beast, and appears oblivious to our presence. It slowly strolls along, turns over a rock or two, sits down for a scratch. What an incredible experience just quietly watching him or her in its natural state. Exactly the kind of thing we were dreaming of for this trip.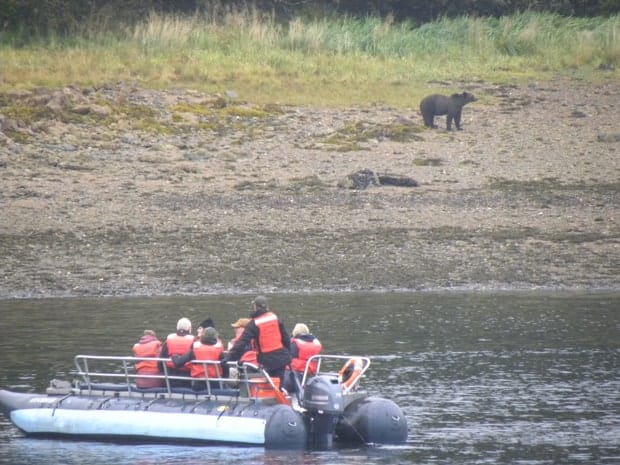 In the evening, we join our fellow guests and guides in the galley for conversation and a trivia contest. Everyone on board is of like minds. We chose this trip for wildlife, wilderness and adventure. We were all glad not be on a gargantuan boat with nightclubs and extensive shore leave lines. We are glad we are not with mobs of tourists shopping.
Tonight for cocktails, ice that had once been part of the Margerie Glacier was chopped up and served in drinks. A guide had scooped a bergy bit from the bay and brought it to the ship. But there was something else special about the ice. It had bubbles in it. Air, trapped for countless years inside, and it was effervescent. Not exactly carbonated, but definitely fizzy!
Our weather still remains pretty good. We haven't seen rain since way back in Juneau.
Up til now, though we'd seen seals, sea lions, otters, porpoises, many birds, several bears and even a wolf, we were wondering where the whales in Alaska were. Well, not to be disappointed, and somehow as if arranged by the staff, the whales start appearing. Lots and lots of them. The seagulls would give you the first idea of where to look, as out over the open water, they would flock to one small area and hover. Within seconds the water below the gulls would begin boiling up, and then the whales would appear. In a circle, mouths agape, they rise up, gulp their fill of fish then recede back into the water. They are bubble feeding. Below the surface they circle together and blow bubbles to push the fish to the surface. The fish, with nowhere to go are sitting targets for the circle of whales. We watch this happen over and over again. First with one group of whales, then another, and then another. Upon first sighting the whales, every passenger and guide would be at one spot of the ship all watching together. Later, the sightings could be seen from almost any location on the boat. Like I said, lots and lots of whales!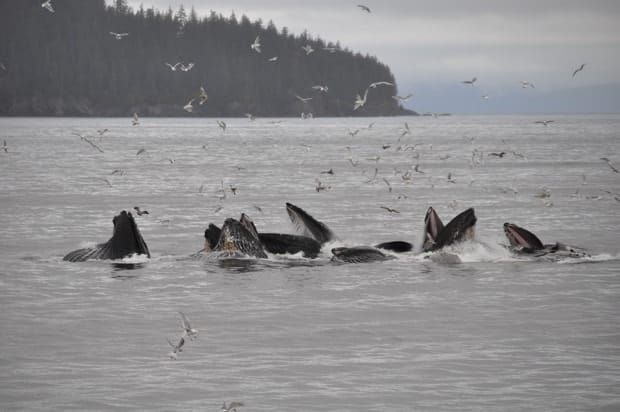 Our last walk-about started by crossing a large mud flat. The tides where we are rise and fall 25 feet every day, and right now it's at its lowest. Along the mud flat is a pebbled stream, and in it, salmon are swishing around. We venture into the woods. The terrain is steep and rocky. In fact, it is literally almost all rock. There are just a few inches of soil on top of the rocks, and the trees and flora cling to the rocks for dear life. The trees are lush and deep green. Moss is everywhere. Looking at the ground, I spot maybe ten different types of tiny plants all growing within one square inch.
We don't see a Bear but we know they are around as we find muddy tracks, as well as deer bones and scraps of freshly eaten salmon. Our group sits quietly for ten or so minutes just being in the moment and taking in our surroundings. Magical.
"Oh my gosh," we both said, "this is so easy we could have been kayaking all along!"
This is it, our final afternoon for exploration has arrived. Tomorrow we would dock in Sitka, and then be on our way home. Due to some physical limitations my mother has not wanted to kayak previously, but today the body is willing! Neither of us had kayaked before, so this was a BIG adventure for us. We had some instructions from the crew, some assistance getting in the boat, and we were off. "Oh my gosh," we both said, "this is so easy we could have been kayaking all along!" It was so exhilarating to be paddling just inches above the water. It was so quiet, so peaceful. We explored all along the shorelines and across the cove. We paddled over what was the big mud flat earlier today, the mud now 20 feet below. Seals popped up their heads nearby.
We were so excited to be having this incredible mother/daughter experience. It couldn't possibly get any better! Then we heard "Crunch, crunch, crunch," and, well you know the rest….
This Travel Journal submitted by Rebecca Reeb details her Northern Passages & Glacier Bay Cruise cruise with AdventureSmith Explorations. Read all Small Ship Cruise Reviews for more insights from our alumni travelers and experts, or contact one of our Adventure Specialists to learn more about our Alaska trips and small ship Alaska cruises, including Glacier Bay cruises: 1-877-620-2875