This Travel Journal submitted by Roxann Cannistra details her Manatee Explorer Amazon Cruise.
Day 1:
Do you know that: Panama hats were actually made first in Ecuador then sold to people in Panama? The black water of some rivers is so devoid of oxygen the mosquitoes can't reproduce? Large grubs roasted over an open fire smell and taste like bacon? A pretty spidery orchid flower provides pollen the bats love to eat at night AND is an ingredient in some natural products for weight loss? Capuchin monkeys who love their guava and are relatively large and intelligent, are always seen with the smaller and less intelligent spider monkeys? You can safely swim in waters inhabited by piranha? We learned this and a lot more while aboard the Manatee Amazon Explorer March 20-23, 2015.
A representative of the Manatee met us at the Quito Airport for our flight to Coca where Diego, a guide for our adventure, took us under his wing. Along with a family of three from Argentina we boarded a power canoe for the 1.5 hour ride to our home for a few days, the beautiful Manatee Amazon Explorer. We traveled quickly down the swift River Napo, one of 17 which feed into the Amazon River. Arriving at the boat we met the remainder of the crew including guide Rueben, boat manager Esteban, Captain Eduardo and the very charming Pepe' who served us delightful food and beverages with panache. Diego gave us a briefing once we arrived on board. There are ten indigenous tribes who live in the Amazon. As we motor down the river the oil companies are on the left (and they have a road) while the Kichwa peoples who use the river for transport are on our right. Our safety and schedules for the next days were discussed. Pepe' then served a special, sweet and delicious drink that was layered in three colors! Lunch was shrimp and potato salad, chicken with mushroom sauce and a spectacular local fruit mousse.
We traveled downriver enjoying the sights after settling into our rooms and getting more acquainted with each other. Right before dark a flock of cattle egrets returned after a day out and roosted in the same tree they use every night. The highlight of a tasty dinner was a birthday cake, decorated in "Frozen" characters to celebrate the 14th birthday of the girl from Argentina. She handled the attention with grace and charm. Then Diego and Rueben took us on a 1.5 hour jungle walk. My apprehension was high due to a phobia of snakes. The guides pointed out neat frogs of different types, many walking sticks, a mouse, many kinds of insects and bugs including two huge wolf spiders. The night air was filled with delightful sounds including cricket singing. In the opinion of the others the coup de gras was a 15 inch boa constrictor draped over a leaf, highly cute and photogenic they said. Diego whisked me past shielding me from it like a true, considerate gentleman. What a relief! A very nice walk all in all, we had a good time. The return to the Manatee was smooth, as was a nightcap in their lounge.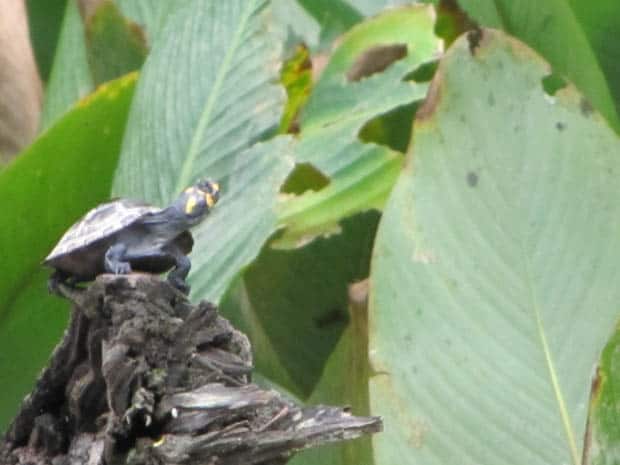 Day 2:
I forgot to turn off my alarm set for 5:00 a.m. the previous day so when Esteban awakened us with nice music at 6:00 a.m. we were ahead of schedule! No worries, coffee is available 24 hours a day. After enjoying the generous buffet breakfast and some more coffee, we headed out at 7:15 to go through Panacocha Forest, old growth if I remember correctly. Residing within it are 9 kinds of monkeys, 500 kinds of birds and more than 100 types of fish. We traveled from the "white" Napo river water to the black water of the Panayacu River. The local family that we paid for the entry had a pet capybara not yet fully grown. Normally nocturnal, the capybara have webbed feet, are aquatic 90% of the time and the size of a German Shepard when fully grown. This one was playing with the children today. Our senses were filled this day. Among the birds we saw were striated herons, parrots, greater-ani cook birds, amazon and pygmy kingfisher (five kinds of kingfishers here all get along because they each eat different sized fish), vivacious jay, roadside hawk, red-bellied and blue and yellowed macaws, white throated toucans, cobalt winged parakeets and large billed hermit hummingbirds.
Our senses were filled this day.
Many blue morphos butterflies, so named because it was thought they were so beautiful you could only see them in your dreams, flew around and past us. The foliage was colorful, varied and beautiful! A lot of the plants growing here in the wild are considered only houseplants in Wisconsin. An orchid lover and appreciator would consider this heaven. The hanging nests in the trees, numerous and spread out so they'd be safer from the monkeys, belong to the gold oropendola birds of the oriole family. The nests are now empty as the egg laying season begins in September. A black tegu lizard swam lazily across the river in front of us; when a small false coral snake also did Diego once again was alert and saved me from the sighting! While we saw a tree loaded with smallish bell-shaped wasp nests we fortunately did not run into any of the builders! We could see capuchin and squirrel monkeys galore. Then a group of howler monkeys were visible. I believe the highlight of the day belonged to the eagle eyed sighting of a three toed sloth up high in a tree. While they can stay immobile for long periods of time, we were fortunate this one moved…slowly! Initially it was upright on a vertical branch but changed to the traditional position of hanging upside down by its feet.
As we were coming in to the currently unoccupied Dolphin Lodge in the Panacocha Lagoon, several yellow spotted river turtles slipped into the water while one brave one remained on the log, posing for pictures. Pepe' and Hydo, the cook's assistant, prepared lunch while we went for a walk with Diego and Rueben. A highlight for my husband and I was learning more about leaf cutter ants who march along the forest floor, up and over any obstacles to return with their pieces of leaves to their nest. Often there are tiny ants who ride on the backs of the leaf carrying ants in order to ward off any parasites trying to lay their eggs in the crevices of the ants' heads. There are even soldier ants marching along guarding their nest mates. Rueben pointed out a pretty Amazon forest dragon lizard, likoria butterflies, a huge kapok tree (remember when life preservers stuffing was made of this?), wine cup mushrooms, howler monkeys and more. We returned in time for lunch and watched a black tamarind monkey come to feast on some bananas.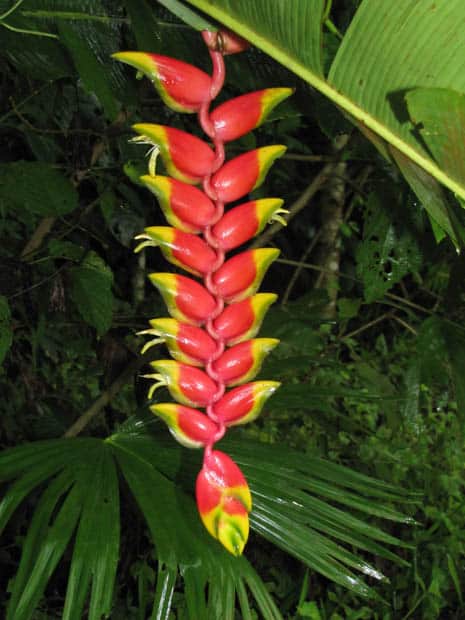 Many monkeys came out to "greet" us and one mother with a baby clinging to her made a spectacular and successful leap.
Following lunch nearly everyone went swimming in the black water with the piranhas. Instead of us the piranhas feasted on the fruit which looks like clusters of grapes and falls into the river. Their sharp teeth are able to penetrate the seeds and consume the high protein pulp. After relaxing on the comfy hammocks and chairs we once again set out in the canoe, almost immediately watching an osprey with a fish between its feet land in a tree. Some king vultures with their red heads, blue eyes, white underbodies and black along the wing edges were exciting to see. Many monkeys came out to "greet" us and one mother with a baby clinging to her made a spectacular and successful leap. Then a lot of dragonflies, a yellow rump cacique, some white winged swallows, and a swallowtail kite flew around us. Soon we heard a big splash when a squirrel monkey missed the branch it was leaping for! We motored slowly along enjoying the sights and arrived back to the Manatee at dusk. Following another delicious dinner we watched a disturbing movie about the no-contact peoples of the Amazon. Their old ways of life are being threatened due to the location of oil on their lands. A lively discussion ensued.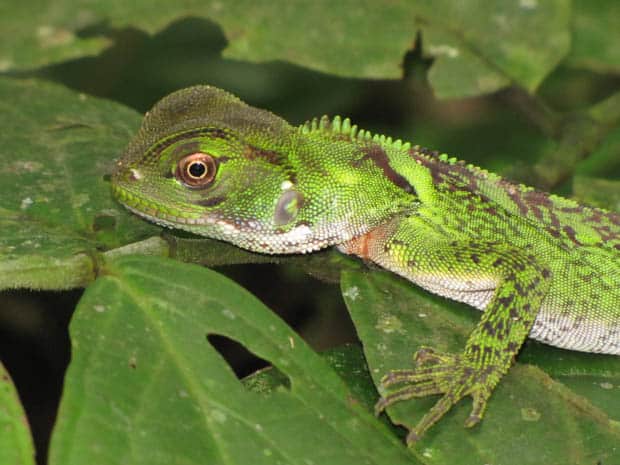 Day 3:
After a tasty breakfast we left to go to Centro de Acopio, Sani Isla, a co-op run by women to earn income while preserving traditional crafts and activities. The one we visited had set up a traditional house and farm area for tourists. We were guided through their land, and the pond where they raised fish was shown to us. Native plants and their uses were explained. Pilche is an inedible tree fruit but hollowed out becomes a very useful bowl. Ortegia is a plant whose leaves have nettle-like bristles on the bottom. When this leaf is rubbed on an achy joint the heat it produces provides some relief. Apparently it is sometimes used as a punishment for naughty children as well. We tasted sugarcane. The guide quickly wove a pretty crown out of the toquilla plant and it looked very nice on the 14 year olds head. We saw some of the native plants we'd had prepared for our meals and even tasted fresh hearts of palm. The banana trees take a whole year to grow and produce their fruit. The tree is 95% water and the leaves are very cellular looking like corrugated cardboard inside. The trees are destroyed after one batch of fruit in order to preserve the soil nutrients. Lately the plants have been made into banana paper rather than being burned.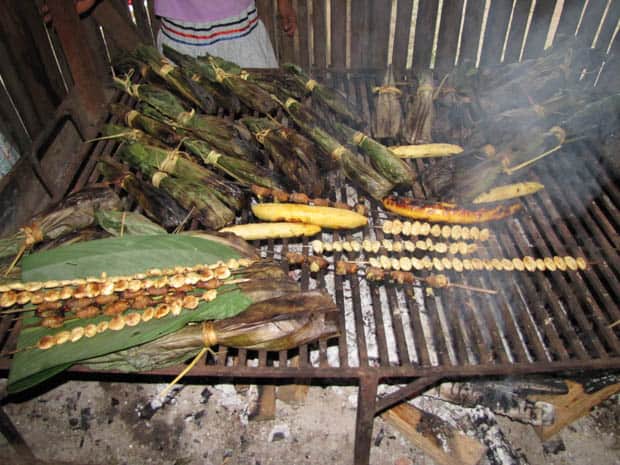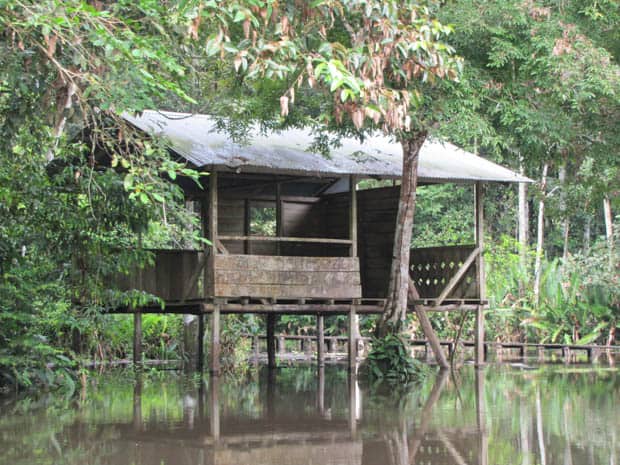 When we entered the traditional house it was mostly open to the elements and had large rooms. The wood stoves were burning and delicacies prepared on grills over these fires. We tasted maidoh which is tilapia with diced hearts of palm cooked in a banana leaf, roasted sweet green plantain, and roasted monok (white coca beans-delicious!). The guys in our group enjoyed the roasted bacon like grubs, remember? We shopped the crafts area and all found some trinkets to treasure. Upon arrival back at the Manatee, Pepe' greeted us as he always did with a fresh fruit drink and a snack as well.
Craziest sighting of the whole trip was a canoe, like the one we've been using, with six head of cattle riding along in it.
Today's drink was the tasty pineapple like juice of the babaco fruit. As if we must be starving, lunch was a fresh hearts of palm salad and yucca in a pretty gold coin shape. This was followed by highlands traditional baked pork, yucca patties with cheese as well as a red onion and tomato salad. Carlos the chef outdid himself again! Later Rich and I checked out the kitchen where we found an old Kitchen Aid mixer. Carlos proudly showed us his domain and we loved this efficient, neat and clean place. The craziest sighting of the whole trip was soon to come: a canoe, like the one we've been using, with six head of cattle riding along in it. This spectacle provided much conversation and speculation. We watched them offload at an oil company site, poor cattle.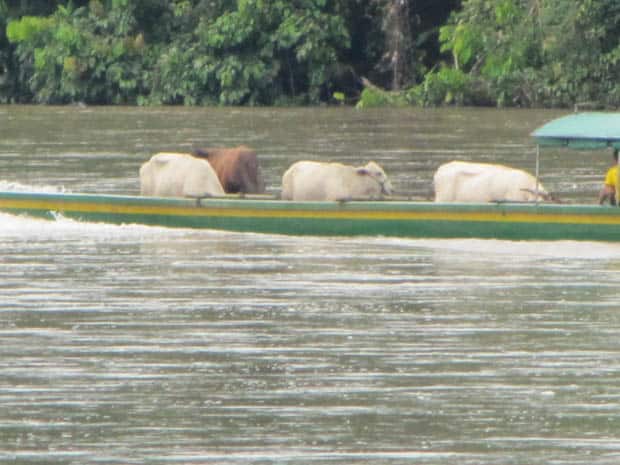 Continuing on toward the point where we'll disembark for a whitewater canoe trip on the Indillaha River we watch two roseate spoonbills sharing a sandbar with a yellow-headed caracara. The ride up this river showed differences from the black water, some mosquitoes for one. Missionaries used this river, in days gone by, to reach the no-contact people. We saw pale vented pigeons, more vultures, black caracaras, woodpeckers, speckled chachalacas, oropendolas, and river turtles. The capirona trees along the banks shed their bark regularly as protection from parasites. The guides identified the call of the white throat toucan and we see some aracari ivory billed toucans, greater Annie's, magpie tanager, bats, purple throated fruit caws and flycatchers. Allowing the canoe to float with the current for a time enabled us to hear all the noises of the jungle. As we head back to the Manatee for the final time, the daylight is coming to an end signaled by the snowy egrets and oropendolas returning to roost while an owl eyed butterfly came out to feed. The stars, moon and Venus are all hiding behind clouds making the lights of the boat even brighter. Our last dinner was as varied and delicious as all the others. For the occasion Pepe' folded the napkins into little boots fi lled with small candies. Esteban asked all of us to meet in the lounge for a program which turned out to be a DVD of our trip from start to finish, and they gave each family a copy!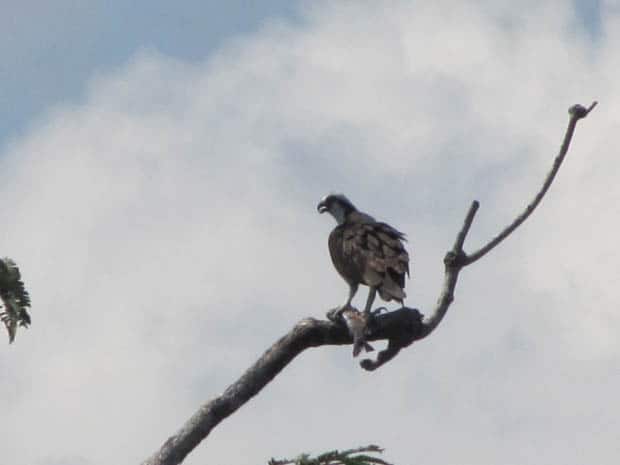 Day 4:
Esteban for the last time awakened us to music. After breakfast we hugged farewells with our awesome crew and once again boarded the canoe. Of course the guides accompanied us all the way to our departure flight in Copa. More hugs of farewell and best wishes. As we went separate ways in Quito it was time to hug our fellow travelers, a neat family indeed.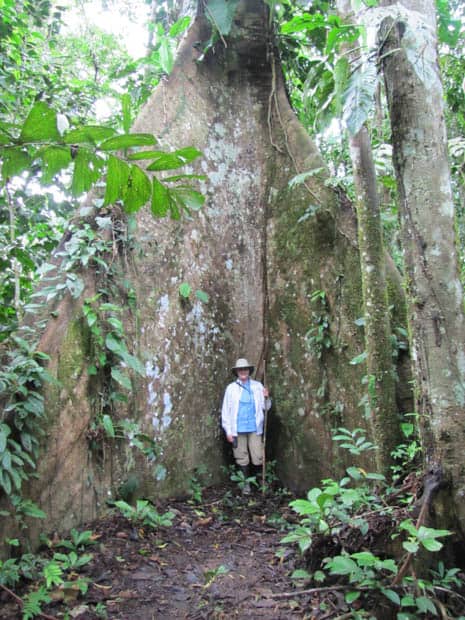 While we had expected to have a good time these expectations were so far exceeded we looked back on the entire experience with pleasure and amazement. Thank you Adventure Smith Explorations as well as the whole crew on the Manatee!
View our full selection of Amazon River Cruises.