This Travel Journal submitted by Martin Smedendahl details his Antarctica small ship cruise with AdventureSmith Explorations on the Antarctic Peninsula Basecamp Cruise aboard the Plancius. Read below to hear about his adventures sailing south to the Antarctic!
The balance-bending crossing of undulating Drake
Note: Due to the nautical nature of this part of the journey, I shall attempt to write this chapter in Piratese. That's not my first tongue, nor my second or third, but I'll do my best. "Arrrrgh! 'Tis be the land-dinghy, awaiting to take you to the harrrbour of airrrborrne vessels" said the fellow at the other end of the pipe, "Be thee prepared?" "Aye", I bellowed, and so sauntered yonder. The tides were wrong for my flying ship, and so I embarked another vessel, sailing earlier than presumed. At eight bells I reached the port of embarrrrkment, Ushuaia, the southernmost city there is. At the galley, the king crab was served, and fine eating it was. After inventory I set foot towards the supplies store, and many a wooly item was bought, preparing me for the cold winds and rough seas that lay ahead. Down to the harrrbour I struggled and embarked on the M/V Plancius, the finest sea-faring vessel there be. Flying the Dutch flag, her ice-strengthened hull were to carry me and a hundred mates south and south and south some more. At six bells she set sail, leaving Ushuaia to saunter through the Beagle Channel before traversing the unforgiving Drake passage.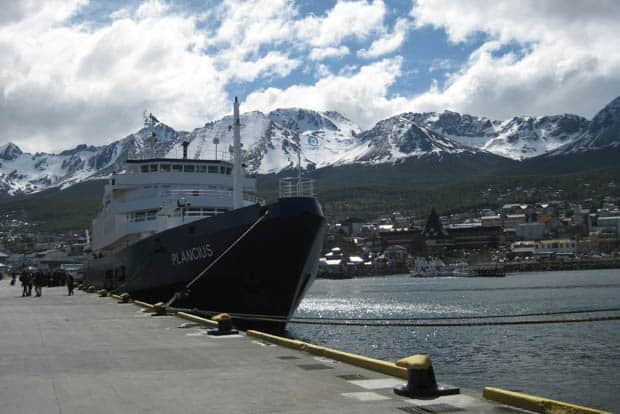 Twenty knots the wind was blowing, and the sea was a harrrrrsh mistress.
Storms were a-brewing, twenty knots the wind was blowing, and the sea was a harrrrrsh mistress. Leaving Cape Horn behind, the faces of landlubbers and seafarers alike bore a greenish tint. Many a chore was on the roster, as the seasoned explorers lessoned the freshlings on all sorts of matters, be they wildlife, weather or wilderness explorations. "Thaarrrrr she blows" bellowed the bearded, Scottish expedition leader Celsius. And lo and behold, there in the rocky waves swam a pod of orcas. Killer whales, they arrrre known as, or Pandas of the sea. Majestically swimming in pace with the vessel, the pod of cetaceans was a sight to behold, but my camera was not as kind. Norrrrr therrrre. Steady as she went, the Dutch dinghy steamed on rising and lowering with the unkind waves, until after days and nights the icebergs were seen on the horizon. Antarctica was reached, and the passage was crossed.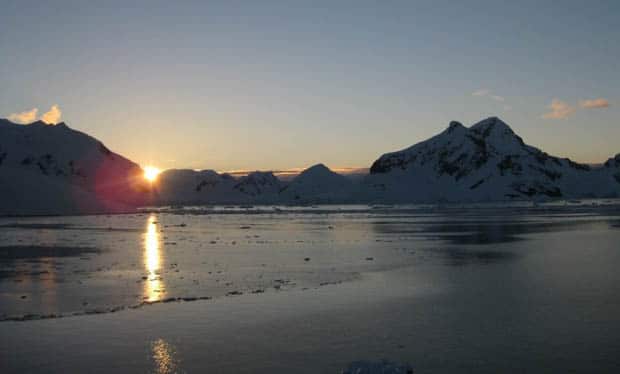 The wibbly-wobbly swagger of Antarctic wildlife
As we sailed into the Antarctic archipelago, the waves decreased significantly. It was a stunning day; a few degrees below zero, hardly any wind and undescribable blue skies. Even though just sailing in the untouched wilderness is breathtaking enough, with many an opportunity for blue-white landscape photos, the main purpose of this long journey was to set foot on actual Antarctic soil. And so, we loaded the zodiacs and whipped away towards the nearest island, Cuverville Island. As we came closer, the cacophony of birds could be heard, and a faint scent of guano could be sensed; the island was home to a large colony of Gentoo penguins, the by far most numerous species of penguins in the area.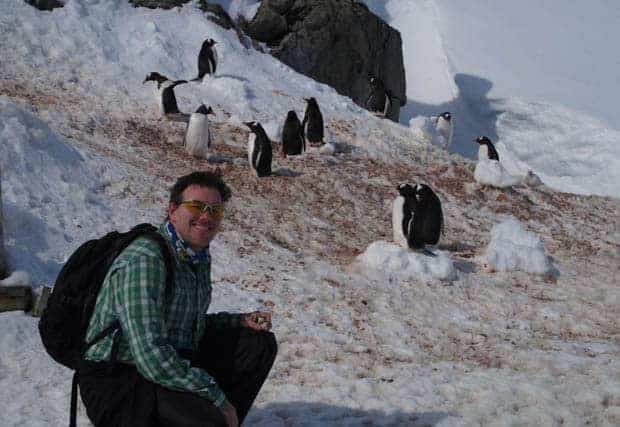 My camera's memory card filled up quickly. Not only are penguins quite photogenique, what with them being not in the least shy and moving rather slowly on land and all, but to shoot properly in wintery conditions, one has to pimp the camera settings a bit. Shooting RAW is essential to find the right white balance in post, and the tricky exposure needs to be bracketed, meaning that the camera takes three rapid shots; one normal, one under- and one over-exposed. Those are some tricks I picked up while attending a photography workshop on board. I also attended some biology seminars on the way down, and can therefore give some details on Gentoo penguins. They are the third largest penguin species (after Emperor and King), they have red/orange bills and a white headband from eye to eye. At this time of year, their main source of food is krill, which explains the reddish tint to their guano, and also the clearly defined border between the unspoilt ice and snow and the red of the rookery.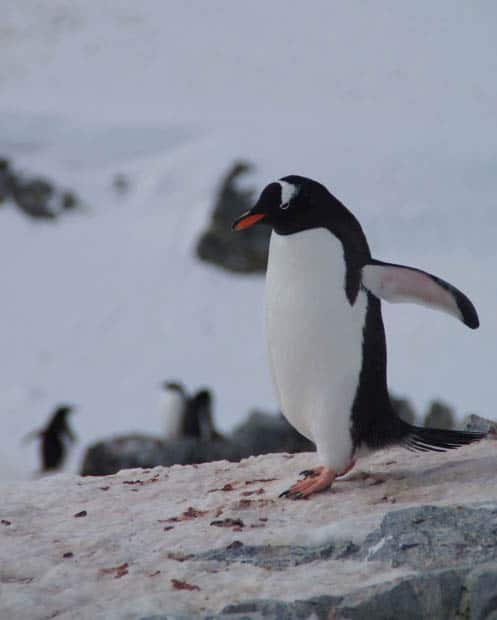 Much rarer in the peninsula area are the Adélie penguins, but the occasional specimen does show up. They're slightly smaller than the Gentoos, and are entirely black-and-white, with black bills. One such had found its way to Cuverville and settled with the Gentoos. And finally, on Cuerva Cove, a colony of Chinstraps were spotted, and with that all three species to be expected on the peninsula.
Not all Antarctic avians are flightless, though. On the way across the Drake we saw several petrels, terns and albatrosses. Spending hours, days, and in the case of the wandering albatross, months without landing, these birds can be found even in the middle of the ocean, far far away from land. Speaking of birds, we were on constant look-out for tits and boobies, but alas, they didn't show. The Antarctic shag did though. True story. Apart from seabirds, penguins and the odd whale, the most commonly seen animals of the region are seals. The area is host to three species: Weddell seal (from the Weddell Sea east of the peninsula), the Crabeater (which is a misnomer, as they eat krill and not crab) and the intimidating Leopard seal. I was unfortunately not blessed with spotting the leopard, but I did get to see a crabeater and a few Weddells. Amazing divers they are, the weddells; down to five hundred metres they hunt their prey, and can be subaquatic for an hour at the time. The most significant thing that can be said about wildlife in Antarctica is how close they get.
The most significant thing that can be said about wildlife in Antarctica is how close they get.
As human impact is minimal, the animals have hardly any fear of humans, and especially the penguins can wobble straight up to you if you're still and calm. Antarctic wilderness is pristine, and tourism is heavily regulated. No organic material, such as food, drink and tobacco will be brought ashore, and if one hears and abides the call of nature, what is produced must get back to the ship. And any boots, tripods, rucksacks and velcro strips had to be thoroughly vacuumed, and the boots had to be brushed and sterilized before and after every shore landing. And so, a huge box had been ticked off: Visiting all seven continents of the world. Although, visiting Antarctica is a rough, hard and expensive deal, the uniqueness and undescribable beauty of the land is well worth it, and the giant checkbox is just icing on the cake; let me tell you, in no uncertain terms, that no still pictures, no BBC documentaries narrated by Sir David Attenborough and no Happy Feet 2 can make justice to what it's like. The colours, the smells, the wind, the sun, they all combine their powers into making a visit to the last continent an incomparable experience!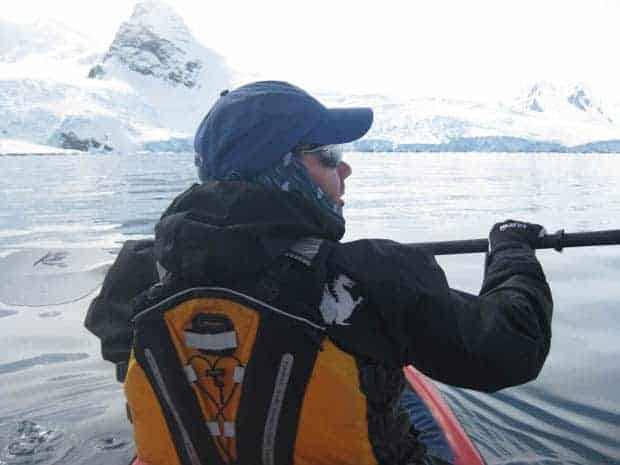 The thrill-seeking coolness of polar pursuits
The M/V Plancius is a basecamp, from which everyday activities set off. Once each morning and once each afternoon the zodiacs get ready to take people on various adventures. Myself, I had signed up for all included activities, missing out only on the diving (which would have cost extra, and I would have had to lug my equipment half across the world, and I would have had to buy equipment, and I would have had to take a course in dry suit diving). But yes, zodiacs brought us ashore on Danco Island, and through the guidance of professional photographer Dan, penguins and icebergs were caught on film. Or, you know, SD-cards. I like to think that composition, exposure and whitebalance was flawless. Next up on the activities menu was snowshoeing. Basically, if you can walk, you can snowshoe. And reaching the better viewpoints is just so much easier when you can be all legolassing on top of the ever-changing snow than sliding about in your gumboots. Sitting on top of a snow ridge, with astonishing views of glaciers, mountains and the clear-blue ocean, in complete and utter silence, is something I'll recommend to any and all.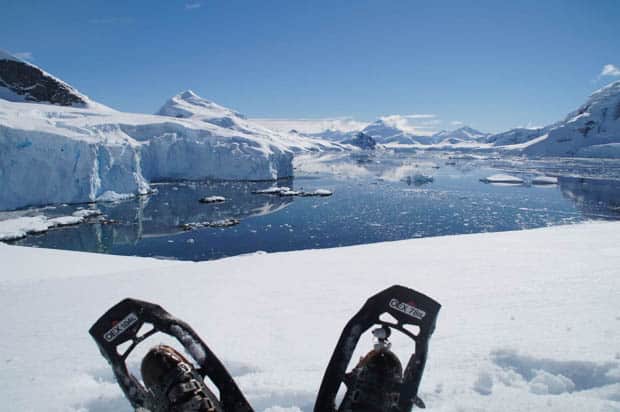 No still pictures, no BBC documentaries narrated by Sir David Attenborough and no Happy Feet 2 can make justice to what it's like.
Although most of the nights were spent on board, a unique opportunity arose the very first night in Antarctica proper: To spend a night camping on land. Clearly I took the chance, and with the gear provided (bivvybag, two sleeping mats, sleeping bag and liner) it was in no way cold. Anchoring the tents with chunks of snow, preventing it from flapping in the wind, actually made for a night's real good sleep, quite different from the snorapalooza usually provided by one of my cabin-mates. I admit however that it didn't feel exactly like camping: Due to heavy regulations no food and alcohol was to be brought on shore, and any and all waste (including, but not limited to, whatever waste the human body may produce) needed to be taken back to the ship. Is it then really camping if there is no beer, bonfire, barbecued hot dogs, some douche playing Sweet Home California on guitar and midnightly pee-visits to a reasonably distant tree? Yes. Yes it is, for on Antarctica all you thought you knew is out the window and recreated in its own, unique manner.
Safely returned on board, there were no reason to just hang about; new shores to land on, new challenges to meet, new activities to partake in. The seasoned mountaineer can spend full days mastering the glaciers and cliffs of Antarctica. The less so can at least get their crampons on, harness themselves through professional guidance and, as I did, abseil away on the icy slopes.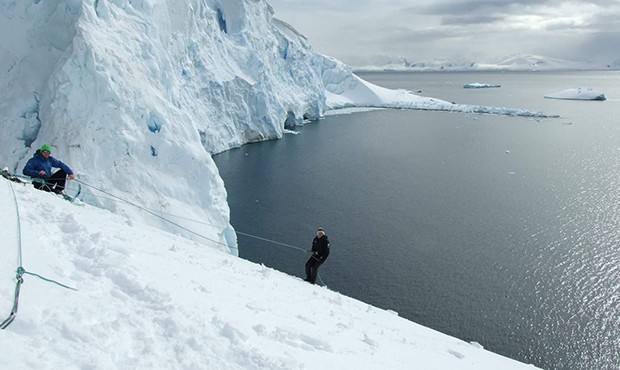 One of the more useful skills when ice-climbing is knowing how to stop when you uncontrollably slide downhill on butt or belly. We were therefore taught some of the techniques used, with or without icepick, and it was good fun. One of the more laid-back activities to be done is zodiac cruising. It's an excellent way of getting another perspective on the ice, the wildlife and the icebergs.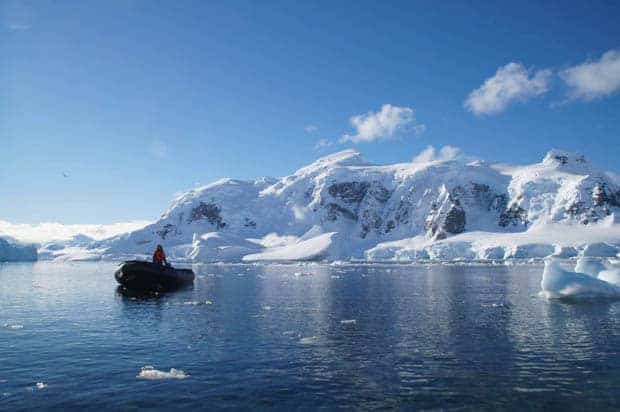 The crew were as adept at steering the zodiacs as they were at relating interesting tidbits about seals, calving and trapped air bubbles. For instance, the almost other-worldly cobalt-blue-turquoise colour that defines so many icebergs, is caused by the many tiny air bubbles trapped in the ice, and then compressed into an ovaline form, thus refracting the light in a certain manner. And that is why any Antarctic bay looks like some giant has spread huge blobs of toothpaste upon its waters. As the clouds rose and the wind increased, it seemed a while that I would miss out on the perhaps most looked-forward-to activity. But through the skill of the captain and the knowledge of the expedition leader we found calmer waters and the sky cleared up. We geared up in wetsuits, sunscreen and spray skirts and waddled into the kayaks. Closer to the Antarctic waters is hard to get without actually getting wet. The tranquility is unrivalled.
The tranquility is unrivalled.
We paddled around icebergs and islands, on grease-ice and through chunks of sea-ice. We paddled round New Idaho, and the calm and quiet was a highlight of the Antarctica trip. But I did eventually get wet. A water sign as I am, and seldom fearing neither the wet, nor the cold, I jumped at the chance of dipping in the Southern Ocean. Slightly below zero, the water was chilly even by my standards, but the feeling of having done an actual polar plunge, and thereby completing a goal that I didn't know I had (to swim on the shore of every continent) was pretty unbeatable. Too bad I had no chance of getting warm until we were zodiaced back on board. And too badder that I had to wait until all my roomies were finished before I could have a hot shower. But still, more than worth it! So, in addition to regular shore landings with just hanging with the penguins, M/V Plancius is indeed a basecamp, full of activities.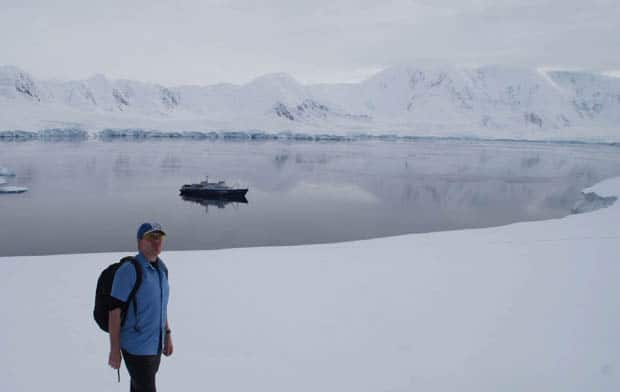 The solitary-induced necessity of social mesh
I was not alone on the ship. Roughly a hundred passengers joined the team, crew and staff of M/V Plancius and Oceanwide expeditions. And clearly some degree of social mingling was expected, and saluted. For privacy reasons some or all of the names mentioned may have been altered. The cabin was probably originally built for three. Yet four full-grown men crammed themselves and their luggage (including one set of diving gear) into the home for the next eleven days: An international quartet consisting of Rudolph from the Netherlands, Roger of Canada, Richmond from South Africa and me, Martin, from Sweden. Soon enough people sort of gravitated towards smaller groups. Obviously, the Chinese kept to themselves (and despite the three daily meals prepared and delivered by our excellent 'hotel' staff more often than not had their own pot noodles and rice-for-brekkies), the divers had their own clique, the Dutch grouped together, as did the French, and so on. Us in the less defined sections spread out, and amongst the most frequently dined and conversed with, apart from roomies Roger and Richmond, were a quartet of young ladies from New York, Swiss miss Sabine, Kiwi Bellatrix, King Edward of Andorra, Melanie from UK and Orlock from Romania. In the bar hang, quite frequently, Desmond from the American east coast and Ryan from its west, and a sort of unofficial bar tab contest started amongst us.
So yes, the Antarctic cruise wasn't all wilderness and penguin poo. At one point we even encountered what, under the circumstances, could be considered civilisation: An on-and-off operating British research station called Port Lockroy. After the natural harbour had been used as a whaling base in the early 1900's, the British took over in the 40's, where they studied wildlife, meteorology, the ionosphere, tides…. normal stuff. Nowadays some of the research continues, but is mostly focused on biology and if and how eco-tourism affects it. As it seems, the penguins really don't seem to care if the odd human turn up every now and then, which is a good thing. The main reason for keeping the place staffed is its function as a museum, a gift shop and a post office. As all proceedings go to the UK Antarctic heritage fund for preserving wildlife, I didn't feel bad for spending a few pounds on a USB-stick in the shape of a penguin, a hedy (definitely not a buff, that would be copyright infringement) and sending a few postcards.
A drink that few people will ever enjoy, but that I did, is a Pernod with just one piece of ice. Thousands-year-old Antarctic freshwater ice, that is.
Cruises don't necessarily have sun chairs, limbo tournaments and shuffleboard, but all cruises worth their salt would have at least one barbecue. A variety of grilled meats, baked potatoes and corncobs were served on the aft-deck, cleverly drowned with glühwein and classic alpine after ski music, including, but not limited to, Abba, the Chicken Dance and 50's rock'n'roll. The party lasted well into the small hours of the night. Or at least an hour or so, before it kind of got too chilly to be outside in party get-up. Every day three meals were served, and on the open sea the dining could be a wee bit unpredictable, as the chairs, plates and glasses not necessarily stayed put. Needless to say, fancy-schmancy wine glasses with high legs were put aside during the Drake Shake, in favour of sturdier thick-bottomed numbers. Apart from the obvious beer and occasional wine, the beverage of choice was often hot cocoa. Sometimes plain, sometimes with rum, Kahlua or bailey's. All of which, of course can be found pretty much all over the world. A drink that few people will ever enjoy, but that I did, is a Pernod with just one piece of ice. Thousands-year-old Antarctic freshwater ice, that is. As we, after long days and nights at sea, disembarked in Ushuaia, our little group became ever smaller. A last few drops of coffee with Ryan, Roger and the New Yorkers, and off to the airport we went. Quite a few familiar faces were on the afternoon flight to Buenos Aires, but eventually all roads that once crossed must split, and so it was goodbye to Melanie, Richmond, Sabine and Desmond as they took their leave for the Argentinian capitol and I for the Bolivian. And the bar tab contest? That I won.
This Travel Journal submitted by Martin Smedendahl details his Antarctic Peninsula Basecamp Cruise with AdventureSmith Explorations. Read all Antarctica Small Ship Cruise Reviews and worldwide cruise reviews for more insights from our alumni travelers and experts, or contact one of our Adventure Specialists to learn more about these small ship cruises and wilderness adventures: 1-877-620-2875