AdventureSmith Explorations Adventure Specialist Tiffany Corbell reviews her Costa Rica & Panama: Canal, Culture & Adventure cruise, formerly called the Uncharted Isthmus Cruise, aboard the 66-guest Safari Voyager. Read on for her Costa Rica cruise highlights & review of her small ship.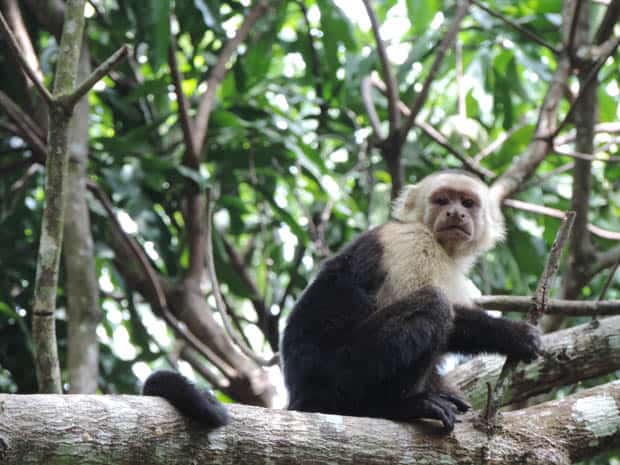 In early April I traveled to Central America to experience the a Costa Rica & Panama cruise aboard the intimate Safari Voyager. This cruise itinerary starts either in Costa Rica and travels south to Panama or reverse. I traveled on the southbound itinerary and therefore started my trip by flying to San Jose. Costa Rica has so much to offer that if you have extra time I highly recommend exploring this amazing country further. I arrived only a few days before my cruise started so I chose to begin my trip with a quick two-day whitewater rafting excursion on the Pacuare River. Staying overnight at an off-the-grid lodge only accessible by river was the perfect way to start my travels.
A 1.5-hour transfer brought us to the Pacific coast where we met our floating home for the next seven nights, the Safari Voyager.
Feeling refreshed on Day 1 of the cruise, I met my fellow cruise mates at the hospitality suite meeting location at the Intercontinental Hotel in San Jose. From there a 1.5-hour transfer brought us to the Pacific coast where we met our floating home for the next seven nights, the Safari Voyager. The ship's lovely crew was waiting for us at sunset to welcome us for our adventure. After being shown to our cabins we all met in the lounge to meet the captain and crew along with a champagne toast as we pushed off onto our southbound voyage.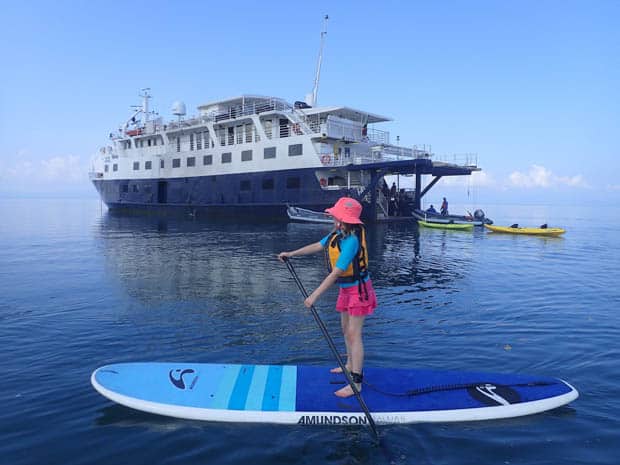 My Review of the Safari Voyager Ship
The Safari Voyager is a 66-passenger luxury small ship with seven different cabin categories ranging from single dedicated staterooms to the very spacious Owner's Suite boasting vast floor-to-ceiling bow facing windows. All cabins have panoramic view windows and private bathrooms. There is plenty of outside deck space on the upper three decks for outside wildlife viewing and enjoying the Pacific coast line of Costa Rica and Panama as we cruised along. The air-conditioned lounge was definitely the preferred place to hang out during the day, as it offered a cool refuge from the Central American heat and humidity. The lounge was also a great place to chat with fellow shipmates and where you could enjoy a specialty cocktail, wine or beer from the elegant bar. During my cruise we had the talented barman Daniel taking care of us and it was fun to let him surprise you with his tasty handcrafted cocktails.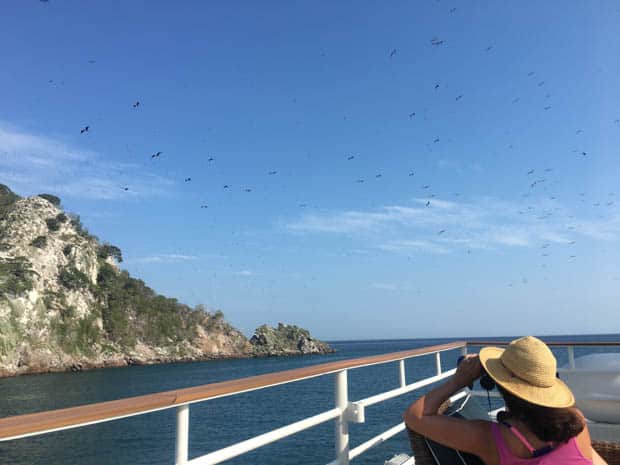 During my cruise we had the talented barman Daniel; it was fun to let him surprise you with his tasty handcrafted cocktails.
In addition to enjoying refreshing beverages, we really were quite spoiled with the chef's unique and delicious creations offered at each meal. We enjoyed almost all meals in the dining room down on the main deck. On the last night however we enjoyed dinner outside on the sun deck looking out over the Panama City skyline while waiting to enter the Panama Canal. Each breakfast was served buffet style while lunch and dinners were served as plated three-course meals. There was an early riser's breakfast available at 6:30 am in the lounge for those who needed a cup of coffee and a muffin to assist with their sunrise pictures. Our creative chef provided us with such appetizing-sounding lunch and dinner options that many of us would say "half and half" when ordering. How could you choose just one option when offered two dinner options such as plantain-crusted chicken or coriander-crusted ahi tuna both served with coconut lime rice and spiced glazed carrots? Needless to say, every meal left us very satiated.
Equipped for Adventure
The vessel is set up with a fleet of double kayaks, paddleboards and inflatable skiffs. A wonderful feature of the Safari Voyager is that it is equipped with an aft EZ dock launch platform that lowers you into and out of the water while you are already loaded onto one of these water vessels. This provided stability and convenience for the various adventure activities offered. Even beginner kayakers or paddleboarders could easily participate without intimidation because of this accessibility.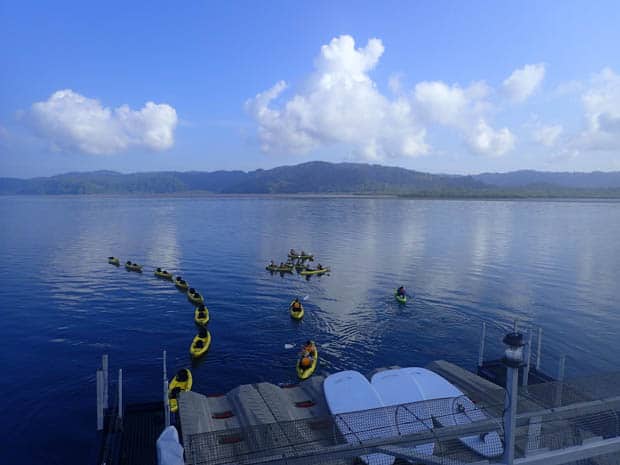 The crew onboard was very professional and really went out of their way to engage with all passengers throughout each day's activities. We had two Costa Rican guides along with one Panamanian guide for our voyage in addition to the mostly American crew. Having local guides to the area was a great resource for learning about the wildlife, history and culture of places we visited. Each evening during our sunset cocktail hour our guides would brief us on the next day's activities offering varying options of activity levels. From shorter casual walks to the longer "charger" style hikes, there were always options provided with descriptions of what we could expect.
Costa Rica Nature Cruise
On Day 2 (our first full day on the cruise) we all prepared ourselves after breakfast for our first excursion of the week. We loaded into zodiacs with our small groups organized by the activity option we chose the night before. We visited Curu National Wildlife Refuge and were pleasantly surprised by the families of monkeys that welcomed us to their home. We saw howler monkeys and white faced-capuchin monkeys that were not in the least bit camera shy. I loved this introduction to Costa Rica as did the other ten people in my charger group. After this morning activity we loaded back onto the skiffs and cruised back to the Safari Voyager with enough time to clean up before lunch.
You could enjoy the beach for as long as you wanted as skiff transfers were always ready to zip you back to the boat when you were ready.
In the afternoon we had the opportunity to go back to the beach for a leisure afternoon. The crew brought a cooler with cold drinks and snacks which was a nice touch and something they continued throughout the week during beach excursions. You could enjoy the beach for as long as you wanted as skiff transfers were always ready to zip you back to the boat when you were ready. Sunset cocktail hour back on the boat was always a welcome and joyous time, as it meant the heat was cooling off and we could enjoy a cocktail on the outside decks. Each night after dinner there were planned presentations available to those who were interested or if you wanted to listen from the comfort of your cabin there was the option for that on the speaker in your cabin.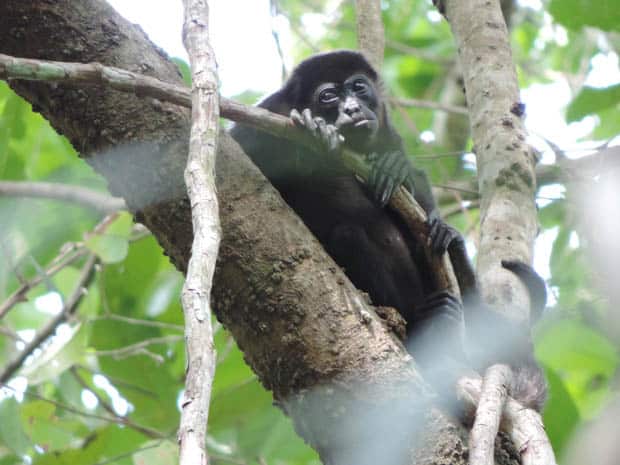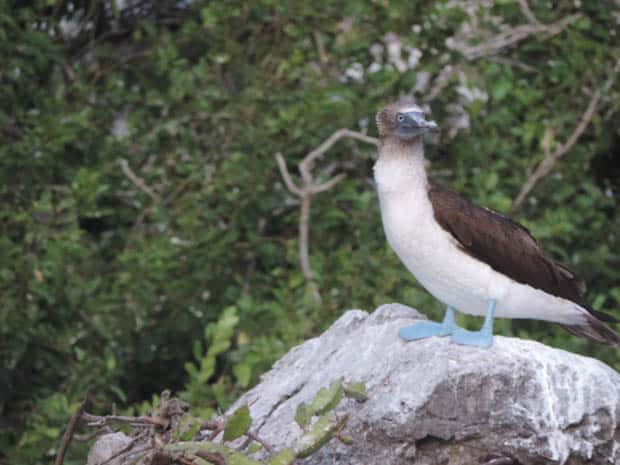 Each day continued in this manner and consisted of one or two off-vessel activities depending on the specific day's itinerary. During our week we visited the Osa Peninsula, Golfo Dulce, Coiba National Park, Bona "Bird" Island and Taboga Island all before reaching Panama City. Each morning there was the option to wake up with sunrise yoga on the top deck. I made it to a few morning stretch sessions during the week, which was always a great way to start the day. A pod of dolphins swam alongside the vessel one morning right before yoga, which brought smiles to those of us who were up early enough to watch them play.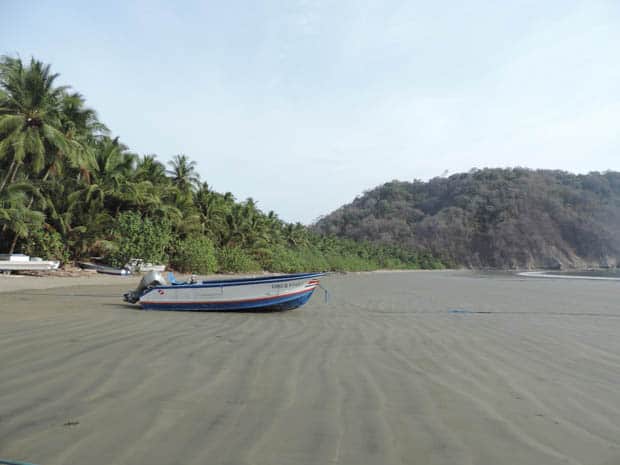 Snorkeling Granito de Oro
My favorite activity of the entire week was snorkeling at Granito de Oro in Coiba National Park. This picturesque island made you feel like you were in a Corona advertisement, and the snorkeling provided you with a beautiful glimpse of the abundant marine life right below the ocean's surface. We saw reef sharks, Hawksbill sea turtles, eel, rays and a variety of colorful fish. Kayaking and paddleboarding were also available for those who wanted to enjoy more time on the water during the morning and afternoon excursions here in Coiba.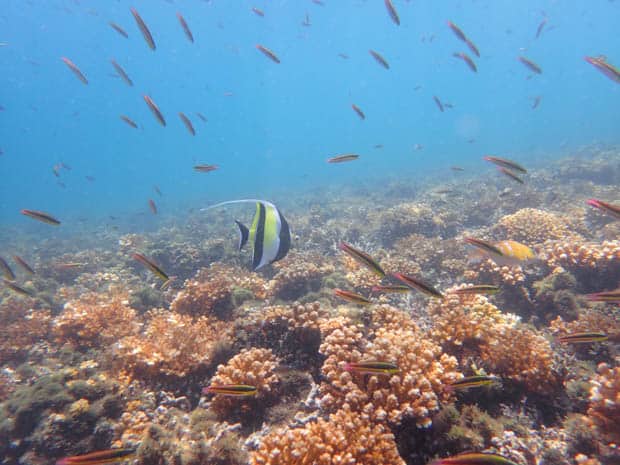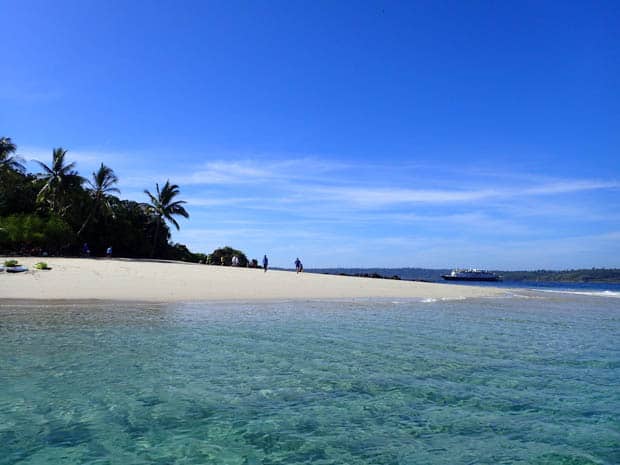 Taboga is a colorful little town that added a great cultural highlight to the itinerary.
On our last full day of the cruise, we spent the morning exploring the island of Taboga only 30 minutes from Panama City. Its colorful little town added a great cultural highlight to the itinerary, especially since we explored this town the morning of Good Friday. It felt as if the entire community was proudly and excitedly preparing for the festivities that were to take place later that day. After we explored Taboga we continued on the Safari Voyager and cruised to Panama City. We took our place anchored outside of the Panama Canal entrance and awaited for our turn to enter the famous lock system.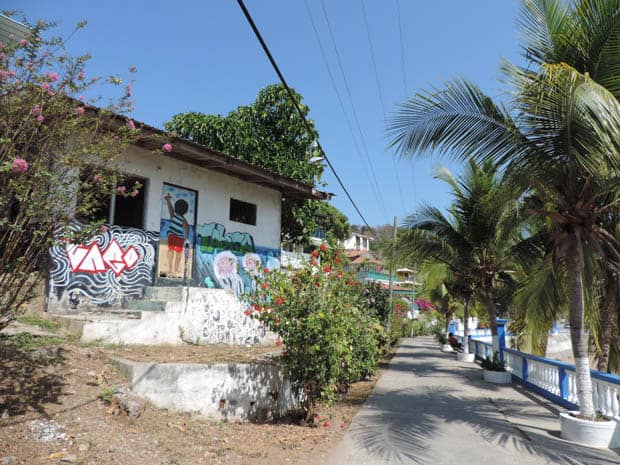 Panama Canal Transit
Entering the Panama Canal is a long process so patience is definitely key on this day. In the late afternoon, our crew provided us with an entertaining slideshow of our voyage, which was a nice way to pass the time while watching memories from the week. We enjoyed dinner al fresco on the top deck with views of the Panama City skyline.
When the Panama Canal pilot jumped on board with his team, the process looked like something out of a James Bond movie.
Finally around 8pm our canal pilot jumped on board with his team. This process looked like something out of a James Bond movie as their small vessel sped up alongside and these workers individually jumped onto on to the Safari Voyagerthrough a side entrance. With the canal pilot at the helm, our 10-hour transit from the Pacific to the Atlantic slowly began. As we entered the Miraflores Lock system, the huge steel gates closed behind us and secured us into our first chamber, which resembled a huge bath tub as the water started to pour in. We begin rising to the level of the second chamber until the next gates slowly opened to welcome us farther along on this 48-mile transit. It doesn't take long to be blown away by this truly fascinating masterpiece. You can see why it is named one of the wonders of the modern world from your experience within the first lock system. This interoceanic waterway serves not only as a crucial maritime shortcut but also as a piece of engineering history that is definitely a sight to see.
For most of my fellow passengers, including myself, watching the two chambers of the Miraflores Locks was a marvel in and of itself, and our sleepy eyes contently led us to bed. A handful of travelers stayed awake to travel through the Pedro Miguel locks before calling it a night. There were a few travelers (or maybe just one) who set alarms to wake up in the early hours of the morning to watch our transit through the final set of locks, Gatun Locks.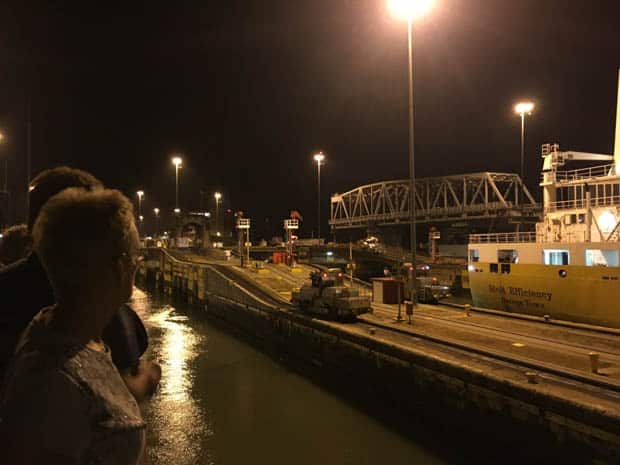 Waking up surrounded by thousands of shipping containers in the industrial port of Colon brought the realization back to mind of how important the Panama Canal is for international trade. We enjoyed one last breakfast onboard before saying our goodbyes and thanking the crew for all of their hard work in making our stay so comfortable this past week. A bus transfer brought us to Panama City where some travelers went straight to the airport while the rest of us checked into our hotels for the night. If you have extra time to explore Panama City, I highly recommend visiting Casco Viejo which is the historical district of the city. Enjoying the cultural highlights and strolling the charming streets of Casco Viejo was a great way to end the cruise.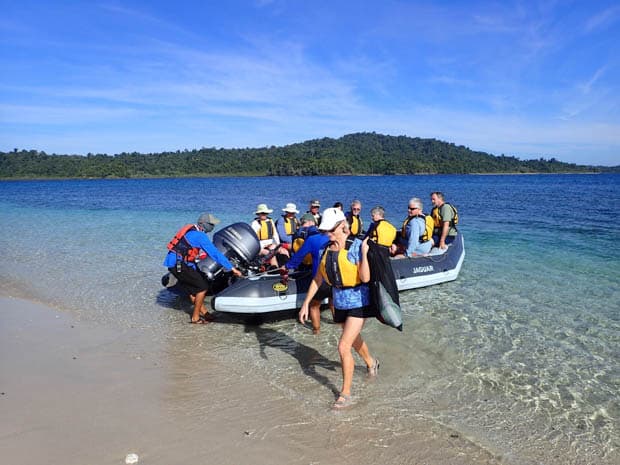 I recommend this cruise to travelers looking for a slow-paced and relaxing cruise that incorporates wildlife, beautiful scenery and, of course, the desire to experience the remarkable Panama Canal.
For more photos, view my AdventureSmith Facebook album for this trip.
This Costa Rica & Panama cruise review was written by an AdventureSmith Explorations crew member. Read all of our cruise reviews for more insights from our team, or contact one of our Adventure Specialists to learn more about our Costa Rica cruises and Panama cruises: 1-877-620-2875.