This Travel Journal submitted by Nehal Naik details his Galapagos small ship cruise with AdventureSmith Explorations, on the Cachalote Explorer Galapagos Cruise. Read more about Nehal's time aboard the Cachalote Explorer and the 8-day Tower itinerary.
Day 1
Our first day of the cruise started from Highlands of Santa Cruz. This is where we met our fellow travelers. This was a perfect time on the ground to get to know the people that would essentially be our family for the next seven days.
In the highlands of Santa Cruz, you come face to face with giant tortoises. Yes, the same ones you see in the photos and documentaries. And, they call them giant for a reason. We arrived at a farm crawling with these amazing beasts and were immediately awed by their size and their speed. We walked around the muddy farm in rubber boots and saw tortoises of all different sizes. It was a truly humbling experience to see the creatures live in front of us.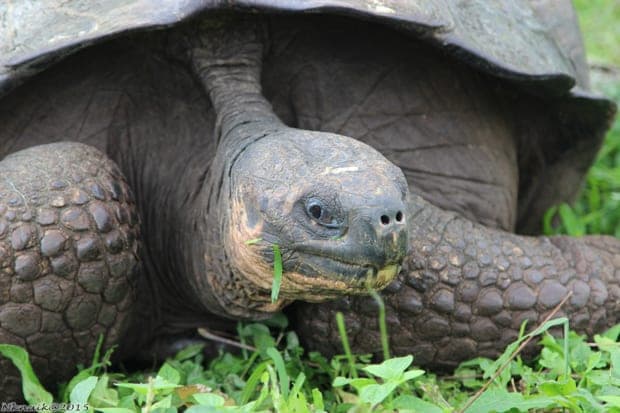 After an amazing start to our experience, we headed towards the docks where the captain and crew of the Cachalote were waiting for us. We were introduced to the ship and to our rooms. The rooms were cozy and they each had bunk bed along with an attached, private, bathroom. The ship was very clean and all the staff members were very courteous and helpful.
And as if we couldn't be more amazed, our first dinner on the ship arrived. It was more than delicious. The chef took care of our special vegetarian needs and surprised us with variety of options each day.
Before we went to the bed, our guide, Billy, explained the itinerary of the next day using his artistic drawing skills on a whiteboard. This became our routine for all the nights we spent on the ship. We all slept comfortably that night, dreaming of the adventure that awaited us.
Day 2
In the early morning we arrived at South Plaza Island. We were welcome by sea lions resting on the walking path. Landscape of this island was amazing. Ground was like a carpet of beautiful colors. Here were you find land iguana in numbers. There are 2 types of iguanas you can find in Galapagos. Marine iguana and land iguana. Since Galapagos is truly nature's lab, scientist recently have found hybrid iguanas they suspect to be work of out of box thinkers in both iguana species.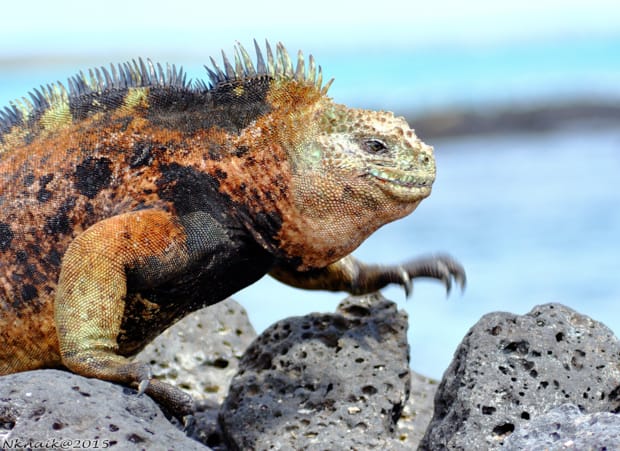 As we were walking, we hear some noise and what we saw was amazing site of two large male iguanas fighting in front of female iguana. We also witnessed these land iguanas sharing cactus meal. As we were hiking, I heard some shuffling near the water and got best shot of the trip "Seal Lion playing then eating crab". You can judge by yourself looking at this shot. This was just day 2 and my eyes, lens and camera is witnessing real wild for the first time.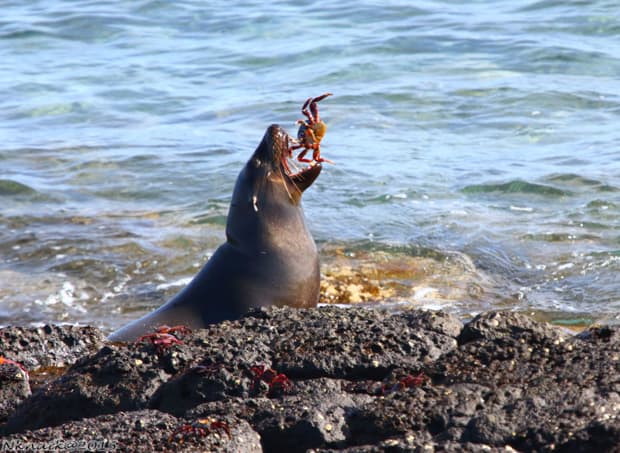 On the other side of the island another surprise was waiting for us. It was graceful Red-bill tropic birds. There were so many and I had great time capturing their grace from many angels. After exploring rest of the carpeted land areas, we started for our next destination the Santa Fe Island.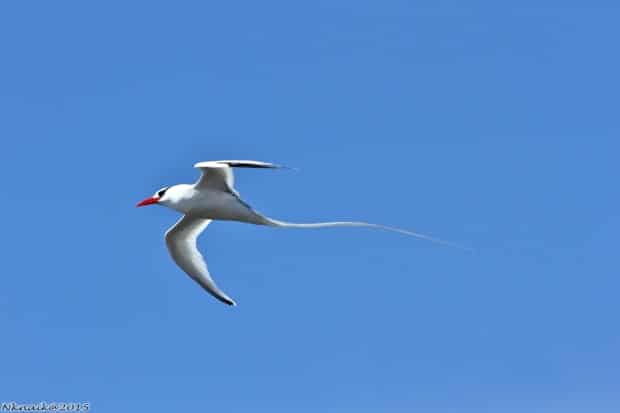 Santa Fe Island where not only you can find abundant wild life, but also find mystical tree called "Palo Santo tree." This tree has many benefits. Local people use it as medicine in many form including massage oil, Aroma therapy and as mosquito repellent. Another interesting bird we came across on this island was mocking bird, these birds are very curious and not afraid to check out your belongings for water. As fresh water is in scarcity here, mocking bird do not leave any chance to land on fresh water. After spending some time on ground, we went for snorkeling and spotted sea turtle and colorful fishes. Before we realize, it was time to go back to the ship, have dinner and get briefing on next day's adventure.
Day 3
Day 3 was on San Cristóbal which the oldest and easternmost island of Galapagos. This is the most fertile and 2nd most inhabited island on this archipelago. I almost forgot that Sea Lions and iguanas are considered not so common. Here also we found then all over the place. I got some of the best close ups of Sally footed crabs with their vibrant color in full sunlight.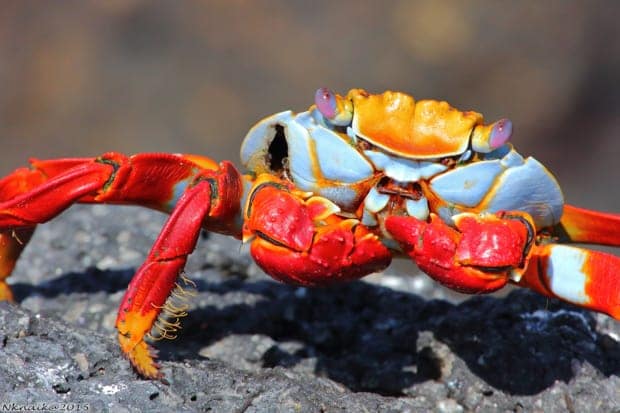 We visited Witch Hill beach area where we were the only group there on the beach. It was a wonderful view with Kicker Rock as a backdrop. It felt like private beach with all the wild life around you. There were many pelicans, blue footed boobies and iguanas. It was wonderful watching boobies diving in group to get catch fish.
Once we settled down, we started for Galapaguera and El Junco highland which has only fresh water lagoon at the altitude of 700m.
As we were walking on grass covered muddy land many of us broke our sandals and had mud all over our feet. Some of us also fell on the slippery muddy land. It was very foggy so could not see the lagoon clearly but we had good time supporting each other when walking on slippery land.
Day 4
Day 4 started with us alone on Gardner Bay white sand beach on Espanola Island. As we reached the island, one small iguana was guarding the entire stretch of the beach. Anyone tried to sit down, he just came charging. But after some time he gave up as we showed lots of resistance and then we lived happily after.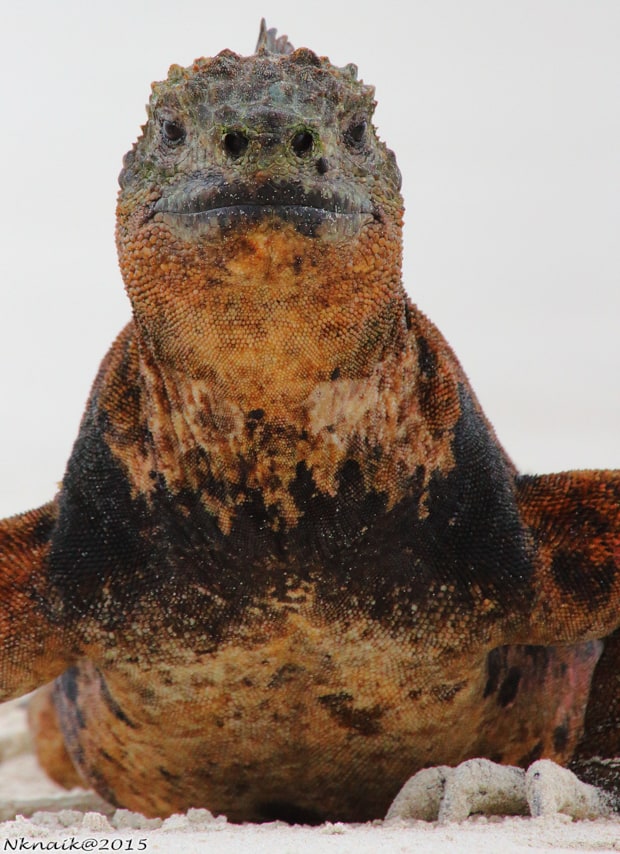 Best was yet to come. After a good amount of swimming, snorkeling and walking on the beach, we were taking a rest. Suddenly I heard something slithering behind. It took me some time to spot the direction, but when I spotted it, I was amazed. There was racer snake, just caught lava lizard. Lava lizard was fighting for the life, but racer snake's lunch and livelihood was also at stake as well. This was the closest I ever came to witnessing killing in wild. Racer snake was not afraid of me being there and taking video/photos of the whole process of killing and consuming lava lizard. I cannot explain how great it was to see nature at its best. Just make you think about how complex the whole ecosystem is and how well (or not) fit into it.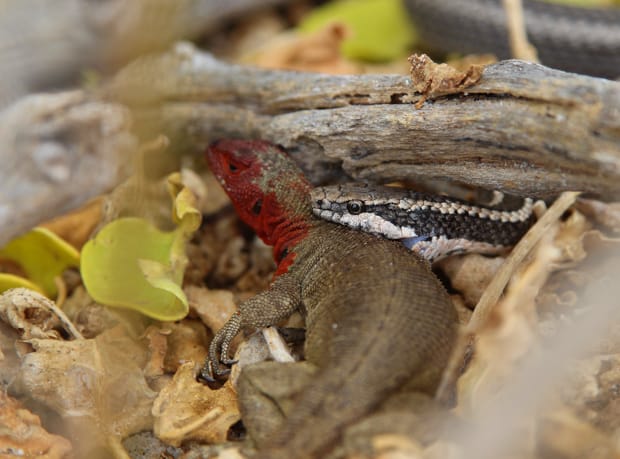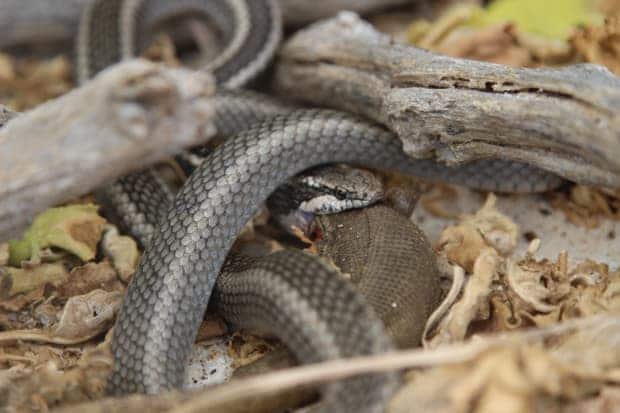 We were waiting to see Albatross and this is where we found it. We found few of the last babies who were trying their best to learn to fly and fly away. We were told that during April-Nov, one can see village full of Albatross courting and nesting here. May be in our next visit.
Day 5
This was not usual snorkeling. A big family of sea lions joined us.
Every day is getting more and more exciting. Day 5 started with visit to Punta Cormorant on Floreana Island. We spotted few flamingos in the lagoon. In the afternoon we went for snorkeling near Devil's Crown. This was not usual snorkeling. A big family of sea lions joined us. They were so playful and curious and whirled around us. This was unforgettable experience. Where in the world you get to swim with family of Sea Lion in wild?
Next destination was "Post Office Bay." Kids were excited to post letter which we actually got it one month after we came back home. We also took some letters and posted them. This is the great idea whoever came with it. Just bring people of the world together.
Day 6
It's day 6 and we are back to Santa Cruz Island. This time on Northwest side near Dragon Hill. Here we found few more Pelicans and Nazca Boobies. We also saw fur Sea Lion for the first time here.
We are off to Sulivan Bay on Santiago Island. Every Island we visited has many unique landscape and wildlife to offer. This Island is no different or I would say it's different than any other place on the earth we have seen. This was Sulivan Bay. Lava covered ground fells like you are on some other planet. Lava formation makes every square feet a piece of art. We had great time looking for various arts in the ground and found many.
It was night time. Time to sleep. But we heard some swirling in the water. We came out on the deck and we saw Sea Lions trying to eat the food waste coming out of the ship. After some time we saw couple of Shark also join the party. We did not know if shark were after food waste of Sea Lion. It was an amazing sight.
It's sad that we are getting towards the end of this journey. But we were having life of our time. As we have gone through 6 days, one thing to remember is not to ignore warning for applying sun screen. Make sure you pack enough of it and also keep water bottle handy. Cannot wait to visit north most Island human can visit tomorrow.
Day 7
Morning of the last started with a visitor on the deck. It was Red Footed Boobies sitting on the deck and willing to pose for the photos. Genovesa Island is shaped like horse shoe. We were right in the middle of it. We decided to jump into the water for morning snorkeling. But we were told that there may be some jelly fish in the water due to warm water condition. So what we did? We decided to go in water with our night suit on to protect our skin from Jelly Fish. It worked for a while but then we came across patch where many Jellyfish were there. It hard to see them but you can hardly forget the pain from the sting. All of us got the souvenir our skin and of course permanent stamp of sting pain in the brain.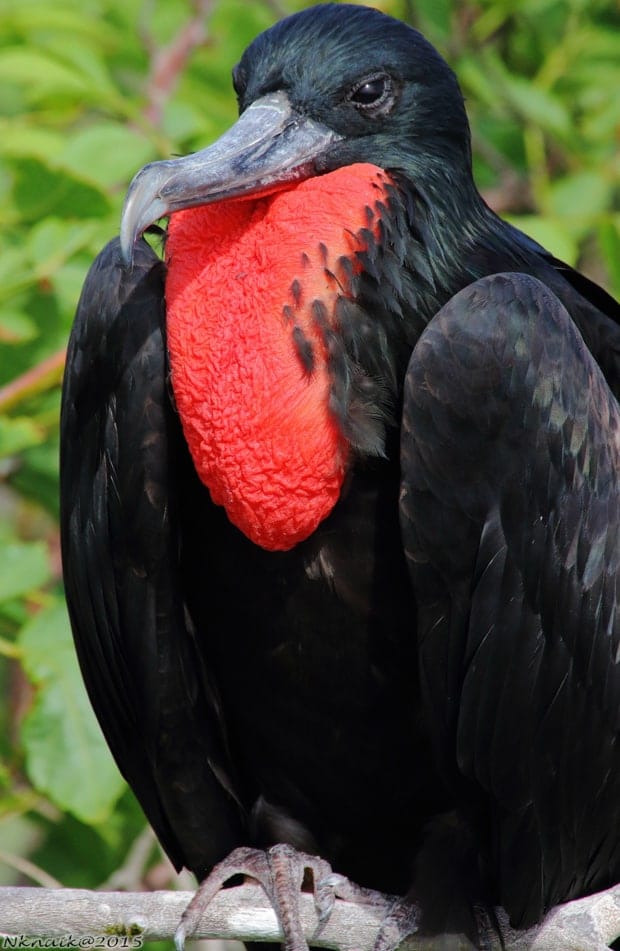 On our hiking tour we saw many Red Footed Boobies and amazing Frigate birds. It wasn't Frigate bird's mating/breeding season but we still saw couple of them with little of the red balloon. They must be practicing I guess. Another surprise was waiting for us just few feet ahead when we saw Owl sitting on the ground and observing us. My camera was ready for this, but this time I did not need my long range zoom lens to capture this little fellow. I have never seen birds not afraid of humans like here in Galapagos. I wish all human around the world has same image in animal world. May be that should be the definition of world peace.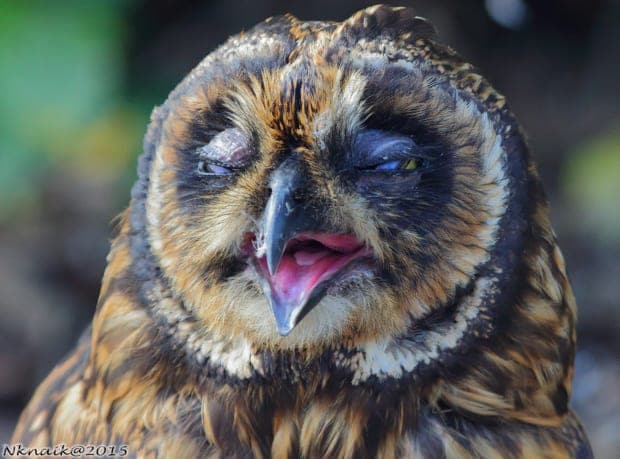 We ended the day with beautiful sunset. Couldn't believe this was our last night on the ship. It was such a great experience sailing with this amazing Cachalote ship and of course amazing captain and crew members.
Day 8
We are back to Puerto Ayora. We had last boat ride to mangrove where we saw herons, pelicans and Boobies. It was time to land on the human populated Island again and say goodbye to our fellow passengers with whom we created nice bond. Also time to say goodbye to the ship which hosted us for 7 nights and caring crew members.
We came to the Airport, but we were few lucky people who were not taking the flight out of Galapagos, but we still had 3 more days in Galapagos. We said bye to all and headed back to main town.
During last 3 days in Puerto Ayora, we went for diving with Scuba Iguana to Beagle and Daphne. This was our first ever ocean dive after we got PADI certified. What a dive to start our journey with. We found White-Tip shark up close during the dive besides many other fishes and sea lions.
Time to go back home. Went to Airport one more time. This time we were not among lucky passengers. We took our flight out of Galapagos and took all the great memories with us back home. This was the best trip so far.
Thanks again to Aaron Gaines from Adventure Smith for helping us all the way through this trip. Aron did amazing job by finding us the place in Cachalote when we thought we were too late to book. It was an amazing experience. Cannot wait to go back to Galapagos.
MORE GALAPAGOS RESOURCES:
Galapagos Cruises
Galapagos Cruise Deals
Galapagos Islands Yacht Charters
Galapagos Luxury Cruises
Galapagos Family Cruises
Galapagos Diving
How to Choose the Best Galapagos Cruise
Galapagos Island Hopping or Cruise?
Best Time to Visit Galapagos
How to Get to Galapagos
Galapagos Islands Animals
Galapagos Trips
Galapagos Tours
Galapagos Cruise Reviews
Galapagos Travel Guide
This travel journal submitted by Nehal Naik details his Galapagos small ship cruise with AdventureSmith Explorations, on the Cachalote Explorer Galapagos Cruise. Contact one of our Adventure Specialists to learn more about these small ship cruises and wilderness adventures: 1-877-620-2875