How to best choose your small ship cruise? If you are wanting to know HOW, you've likely already come to the conclusion of WHY. Small ships are the premier mode of travel for intimate wildlife encounters and flexible, remote wilderness exploration. In many ways, we are in the golden age of small ship cruising. There are currently more ships and trips than ever before, with options for every interest, ability and budget. With all of these choices, it can be difficult to decipher where, when and how to go…
That's where the AdventureSmith Explorations experts step in. I've compiled these 8 points as a primer for anyone considering an adventure cruise. Use them as a guide to better understand what this small ship travel style has to offer and to make an informed decision when booking your small ship cruise with AdventureSmith.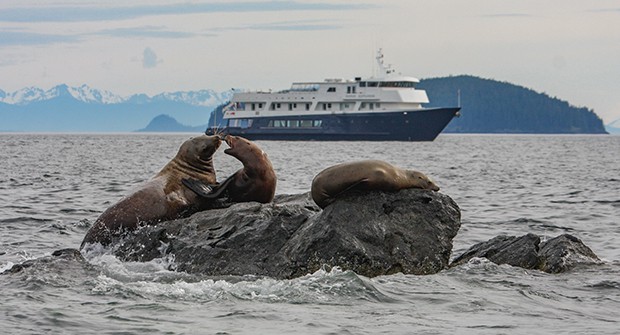 1) Choose Where You Want to Go
Where you choose to go should be based on what experience you're looking to have. Are you seeking nature/wildlife, culture, history, activity or a specific sight? Do you want to escape to a warm climate, or cruise among icescapes and glaciers? Is it your vision to explore famed remote coastlines and island chains or would you rather venture down a river? Small ship cruises make all these remote places more accessible; it's simply about matching your interests and timeframe with a place that best suits them. Some destinations, like Alaska, are broad-reaching, providing an abundance of wildlife, culture, history and active exploration. Other destinations may lean more in one direction: for instance, our Asia and Northern Europe cruises are rich with culture, while our Amazon and Baja cruises focus mostly on nature and wildlife. Start with AdventureSmith's Trip Finder if you're flexible on your destination to browse the options available for small ship cruising.
2) Choose When You Want to Go
When to take your small ship cruise may be based on your work schedule, school schedule or timed around an important anniversary. If your travel dates are flexible, consider a region's early season, shoulder seasons, peak seasons, high/low water seasons. Or you may choose based on interest like the best time to view whales, when baby penguins are hatching or the Dubrovnik Summer Festival in Croatia.
Most destinations have well-defined seasons such as Mediterranean, East Coast and Northern Europe (April-October/November), Alaska (May-September) or Antarctica (November-March). Within the larger season, there can be shorter periods like early, peak and late seasons or bear-viewing season. Prices can vary considerably from the peak season, so look at early or late seasons for the most affordable pricing. Other destinations such as the Galapagos Islands, the Mekong River or the Amazon River operate year-round with two distinct weather-related seasons each year. A few destinations have very specific seasons such as viewing the Aurora Borealis in the Arctic (September) and gray whale calving in Baja California (February). For a calendar view of the options, see our Small Ship Cruise Calendar blog post.
The timing of your small ship cruise will be determined by a variety of factors and is a very important element of your decision making. Trusted advice from a destination expert can help you find the best season at the best price for your destination.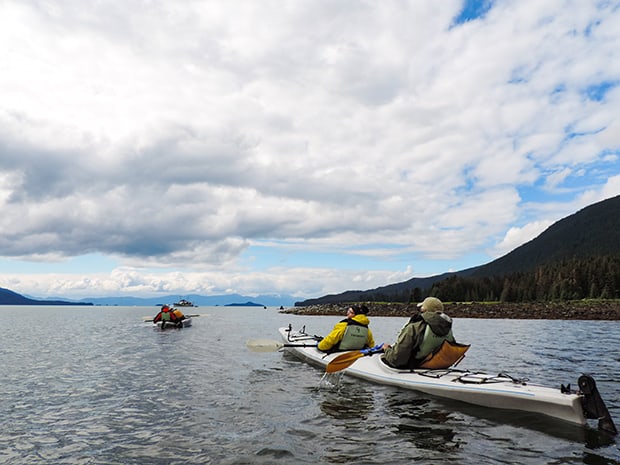 3) Think about Your Ideal Activity Level
Small ship adventure cruises inherently involve daily off-vessel excursions with a focus on exploring the environment up close and viewing wildlife. Expedition leaders and naturalist guides lead small craft (regionally called zodiacs, skiffs, pangas) excursions and hiking. Some cruises include kayaking, while others do not, so be sure to check if this is important to you. Additional activities may include snorkeling, stand-up paddleboarding, camping or glamping, hiking, snowshoeing, mountaineering, cross-country skiing, scuba diving and more.
The level of activity can vary considerably from easy beachcombing to challenging day-long treks.
The level of activity can vary considerably from easy beachcombing to challenging day-long treks. When considering the level of activity, reading an itinerary may not provide enough information. Ask detailed questions about the length and difficulty of hikes. How many times each day will guests get off the ship to engage in activities? Are all activities guided or can guests strike out on their own? How long are hikes in distance and time? Are hikes on marked, maintained trails or over wilderness terrain? It can be difficult to compare the activity level from one cruise or cruise line to another, which is when a trusted expert can help.
4) Consider Your Small Ship & Its Amenities
All AdventureSmith Explorations' partner small cruise ships are handpicked and scrutinized for safety, service, itinerary and expedition leaders. Our Adventure Specialists have cruised aboard or personally inspected nearly every ship on our website. Generally, small ships can be categorized as:
Expedition Ships
Expedition ships are comfortable, sturdy vessels specially designed and built for adventure travel in remote locations. As such, this type of expedition ship often has an ice-strengthened hull and more deck space for watching wildlife. These vessels, typically hosting 60 to 250 passengers, offer a wide variety of accommodations, and more convenient deck plans with cabins located close to observation decks. They have larger cabins, many with view windows and private bathrooms. Hallmarks are a high quality of onboard service and dining, and often more common areas such as a library, lecture room, salon or bar, and larger galley and dining room.
There are some subtle differences that ships over 200 guests bring to the equation too: These "larger of the small ships" often feature additional onboard programming, entertainment and amenities more on par with traditional cruise vessels (including meal room service), yet the ships AdventureSmith chooses to partner with all have a marked "expedition" slant to focus on nature, conservation and exploring the destination in depth vs. just cruising through it.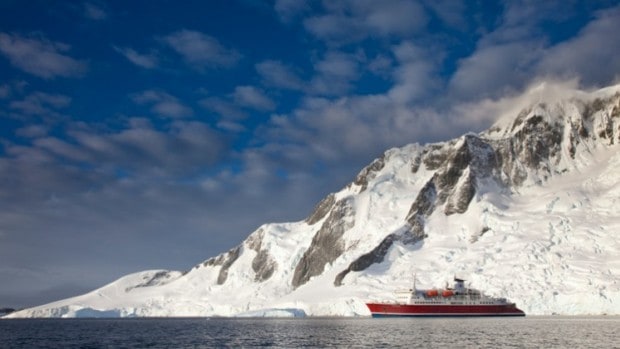 Mid-Size Cruisers
Mid-sized cruisers carrying 40 to 60 passengers offer the efficiency and intimacy of a small yacht combined with the space and amenities typically found on an expedition ship. You can expect larger cabins, spacious bathrooms, ample deck space, delicious cuisine, a high crew-to-passenger ratio and excellent guides. There are typically multiple decks where you can always find a moment to watch the sunset and enjoy the solitude.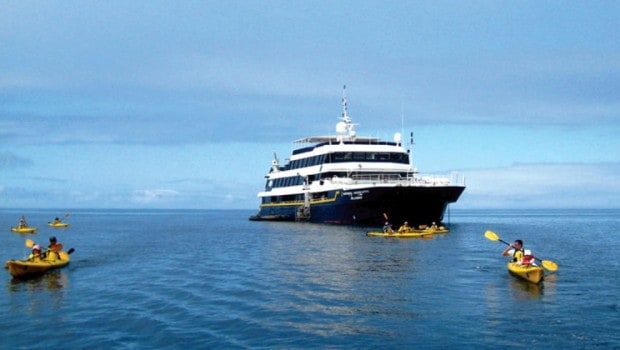 Yachts & Sailboats
Smaller yachts, riverboats, barges and sailboats carry 8 to 40 guests and can vary considerably in price and amenities, from rustic floating base camps to luxurious yachts that will satisfy the most refined travel styles. They offer the most active and intimate experience with the most time ashore. It is easier to get 12 travelers ashore in one group than it is to ferry 100 passengers ashore in multiple groups, so smaller yachts can mean more time ashore. The tradeoff is that these ships are smaller. They have smaller cabins, bathrooms, dining room and deck space, meaning there are not as many public places to go for a private moment on deck. However, travelers aboard small yachts and sailboats often comment that getting to know their fellow passengers and crew is one of the highlights of the trip. Some of our partner vessels that are family owned and operated truly feel like floating B&Bs.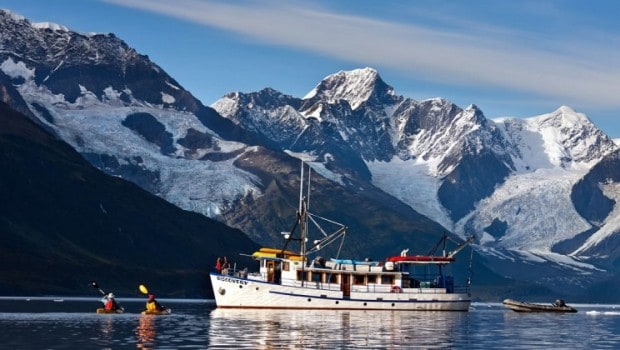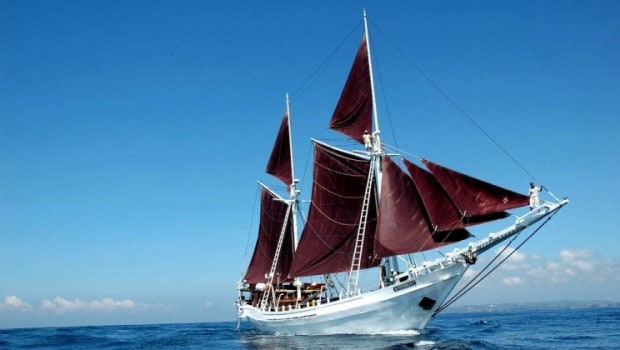 5) Think About Guides & Guest Hosts
Having worked as a lead naturalist aboard small ships in Alaska for 10 years before founding AdventureSmith Explorations, as well as helping train Galapagos National Park guides through IGTOA, I know and value the importance of a good guide. The quality of onboard guides is one of the most important criteria we think about when considering which small ships we represent here at AdventureSmith. The experience and demeanor of your expedition guide will have a profound impact on your trip.
Nearly all small ship cruises we partner with have at least one naturalist guide aboard, but guide counts will naturally increase with the passenger count.
Nearly all small ship cruises we partner with have at least one naturalist guide aboard, but guide counts will naturally increase with the passenger count. If you have a particular interest, look for themed departures that bring aboard guest hosts and special programming on photography, history, marine biology, food/wine or wellness. One small ship cruise line, Lindblad Expeditions, stands above the rest in terms of onboard programs and naturalist guides. Lindblad's partnership with National Geographic means that its naturalists and expedition leaders are experts in their field and may include professors, authors, scientists, researchers, photographers and generalist guides who have a lifetime of experience. Ask us about these cruises if you are willing to pay a premium for an intellectual and educational experience.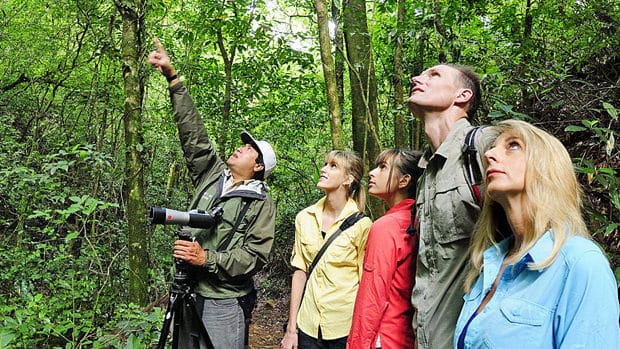 6) Consider Your Group/Travel Partners
Consider your travel party as you consider your cruise. Are you a couple, small group, family or solo traveler? Most small ships have cabins that accommodate two people. Single and triple rooms are available but take a bit more research. Some ships have a "willing to share" program for solo travelers while others have dedicated single cabins or charge a single supplement.
Families are increasingly interested in small ship travel, and many cruises offer dedicated family departures with the goal of getting kids of similar age traveling together. Dedicated family cruises feature programs with guides who are experienced working with younger travelers and may include special educational programs, unique activities, family-friendly meal options and more to enhance the family cruise experience. However, small ships are not for everyone and we generally suggest this style of travel for kids age six or older. Find out if family cruises with AdventureSmith are right for your group.
By chartering a ship for your family or small group, you can design your own experience.
As few as 8 to 12 guests can consider a small ship charter, perfect for a group of friends or an extended family. By chartering a ship for your family or small group, you can design your own experience. A full-boat charter has many advantages over an independently booked cruise including exclusivity, flexibility and savings of around 10-30% per person. Typically charters are planned and contracted at least one year in advance of the cruise departure date, but as long as space is available, a small ship can still be chartered. Read more about chartering a small ship.
Travelers are sometimes concerned about guest compatibility aboard small ships and yachts. There is a justified fear that an outsized personality can adversely affect the experience aboard a small ship. I understand this concern, but over the years have found that folks who find and book small ship cruises tend to be likeminded. You've done a lot of research to get to this point, dismissing large ships, amusement parks and resort hotels. Most other travelers have done similar research and ended up at the same conclusion: that small ship travel suits them. Small ship cruisers are affluent, active and educated people seeking meaningful up-close encounters with nature and culture, just like you.
7) Read Cruise Reviews, but with a Grain of Salt
There are now countless cruise and travel review websites on the internet. Many offer honest advice, but many need to be taken with a grain of salt. Use online cruise reviews as a tool, but don't rush to judgment when you read a poor review. Often this is a result of a mismatch between the style of the traveler and the type of cruise they were on. The best type of small ship cruise review is a personal referral. Ask your booking agent if he/she can put you in touch with someone who has traveled to your destination with similar interests as you or aboard the boat you are inquiring about. Reputable small ship cruise agencies will gladly refer their past clients.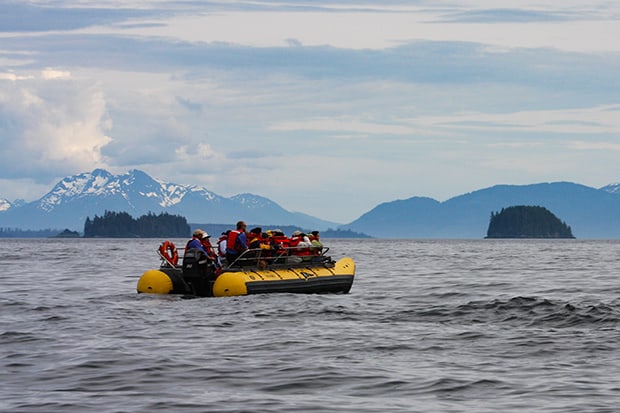 8) Get Expert Advice
Most important when choosing your small ship cruise: speak with an experienced, unbiased expert. You will not get the whole picture when booking direct, as contacting individual cruise lines does not always answer critical questions about how much activity there is compared to other options in the region, what the cabins are like comparatively and so on. A company like AdventureSmith Explorations with experience aboard all the ships can be the difference between the trip of a lifetime and the trip that doesn't match your expectations. Our specialists are armed with the best small ship cruise tips from years of experience traveling and working in the industry. Whether you choose to speak with us or another party you deem worthy, comparing all your options is an essential and wise travel choice.
How to Choose Your Small Ship Cruise by Destination
If you like our general advice on how to choose your small ship cruise, be sure to read our Small Ship Cruise Guide, a curated collection of our blog posts about small ship cruising. Or, browse direct to our "How to Choose Your Cruise" guides by destination:
How to Choose Your Alaska Cruise
How to Choose Your Galapagos Cruise
How to Choose Your Antarctica Cruise
How to Choose Your Arctic Cruise
How to Choose Your Amazon Cruise
How to Choose Your Baja Cruise
How to Choose Your Costa Rica Cruise
How to Choose Your Indonesia Cruise
Mediterranean Cruise Advice: How to Choose Your Cruise
And if you'd like a further primer on "going small," check out our Small Ship vs Big Ship – What is the Difference or Small Ship Cruise FAQ.
This blog detailing why to travel by small ship is among AdventureSmith Explorations' extensive travel resources. Visit our Small Ship Cruise Guides page for even more tips and inspiration to plan your cruise.