AdventureSmith Explorations Adventure Specialist Tiffany Corbell reviews her recent Croatia Island Hopper Cruise, which included stops in Dubrovnik, Split, Korcula and Hvar. Read on for her expert review and photos from her time aboard the 39-guest Admiral.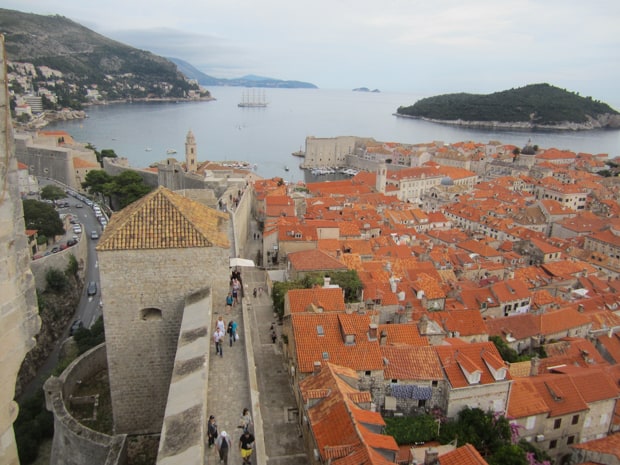 Traveling by small ship in Croatia really gives you the feeling that you are cruising back in time. Croatia is a country filled with unique history, culture and ancient architecture all while boasting a gorgeous island-rich Dalmatian coastline. AdventureSmith's Croatia Island Hopper cruise offers a wonderful balance of showcasing these impressive features during its 8-day itinerary all the while from the comfort of a small yacht. I had the pleasure of experiencing this Mediterranean cruise in early October 2015 and thoroughly enjoyed this style of island hopping exploration.
My trip began in Split (after quite the long journey that exists for American travelers), which is where this cruise begins and ends. I arrived two days prior to the start of my cruise to catch up on sleep from the jet lag and to have time to explore this port town. Split is the second-largest city in Croatia yet has a very charming and romantic old town by the seaside. Here you can step inside the UNESCO World Heritage Site of Diocletian's Palace to immediately be impressed by the Roman architecture. I happily allowed myself to get "lost" in the city maze of ruins, narrow cobblestone streets, restaurants, bars and musicians. I was lucky enough to stay at Hotel Peristil, which is a quaint hotel within the palace walls. This allowed me plenty of time to explore at my leisure the many highlights of the palace and the seaside area along the promenade outside of the Old Town walls. I highly recommend staying at one of the many hotels within this historic area of Split to give you the full experience.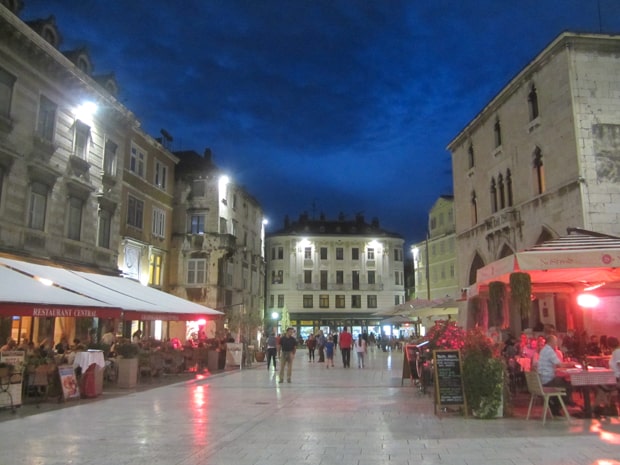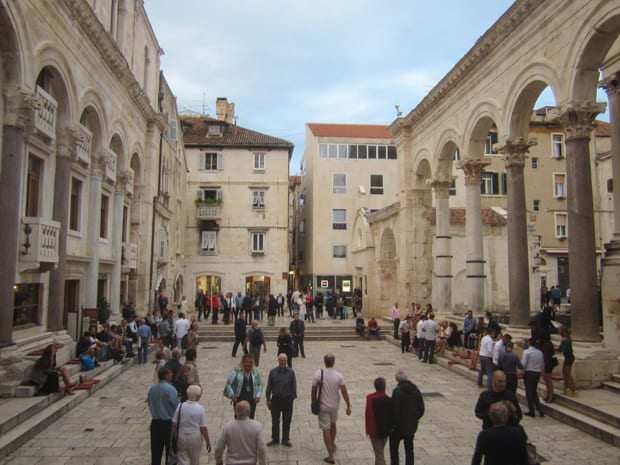 My first two days prior to my cruise were filled with sunshine, and I quickly became spoiled to the warm Mediterranean weather. The rest of my week would be a mixture of weather including sun, cold wind and sideways rain. I knew that traveling to Croatia this late in the cruise season would be a gamble since typically October has the potential for colder weather and rain. This late season travel though seems to be a toss up in comparison to traveling during the peak of the summer months in July and August since despite the warmer weather and water, all of the tourist cities can be overflowing with travelers. I found this hard to believe as all the main famous port towns that we visited were bustling as it was. It is obvious that gorgeous Croatia is a must see no matter what time of the season!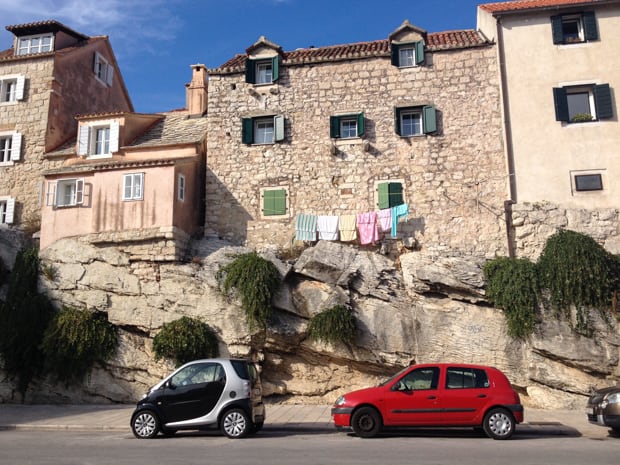 Embarkation day always begins on a Saturday where you make your way to the port to find your assigned cruise vessel. The ship is not given a specific port location from the local Port Authority until last minute, so you must find the local representative who can direct you to your vessel.
My floating home for the next 7 nights was the M/V Admiral. Each cruise has a tour manager to organize each day's itinerary and keep all passengers informed of where we were headed. Ours was Tanya who was sweet, very organized and always had maps for us for all the locations we would visit. After a tour of the vessel and my cabin we then had free time again until 5 pm when we would gather in front of the Admiral to meet our local Split guide for a walking tour of Old Town. Although I had already spent plenty of time walking through Old Town on my own, I was happy to gain a local's perspective of the area and learn some more of the local history. Following the tour was our first meal aboard the Admiral with our fellow travel mates. Our group consisted of a global cast from the countries of USA, Australia, Croatia, Switzerland, Germany, Cook Islands and many from England. We enjoyed getting to know each other during the course of the week, all while sailing between islands.
The operator of this cruise has various deluxe vessels that run this itinerary and each carry between 38-44 passengers. They are all very similar in design and comfort yet they also each have their unique flare. There are two cabin categories onboard all: Lower Deck Cabins with portholes and Main Deck Cabins with larger window-style portholes. It is advisable to book very early if you are hoping to secure a Main Deck Cabin as those options sell out very quickly.
The Admiral has a few different common areas for socializing, enjoying the views or relaxing with a book. The top deck was my favorite area for relaxing while in transit. They even had a few hammocks for the ultimate relaxation! The rain kept us away at times, but anytime there was nice weather the sun deck became the top choice for everyone.
The flexibility of getting on and off the vessel at your leisure while in port every night was a great benefit to exploring on your own schedule.
Cruising aboard a small luxury vessel allows for a very diverse experience that allows access to various islands and destinations along the Dalmatian Coast with a small group of travelers. I found the itinerary to be a nice balance of an organized program with group tours and meals but then also free time to explore on your own throughout the week. Breakfast is always included, with lunch and dinner inclusions varying on each day's specific itinerary. Each night throughout this itinerary is spent at port which further allows you the freedom to explore and enjoy the local cuisine, wine and culture of each distinctive stop. This was definitely one of my highlights of this cruise. The flexibility of getting on and off the vessel at your leisure while in port every night was a great benefit to exploring on your own schedule.
Every morning we would get underway usually around 7 or 8 am to start our day's journey. We had a mixture of weather at the beginning of the cruise including rain when we visited Mljet and its National Park. I did realize during the downpour on this day that our cruise had a great group of travelers as I only heard laughter and jokes instead of complaining despite the fact that we were all soaked trying to get back to the boat as quickly as we could! That night we arrived in Dubrovnik where we would stay for the next two nights. The evening at leisure was spent having our first glimpse of this unique and gorgeous historical city and UNESCO World Heritage Site.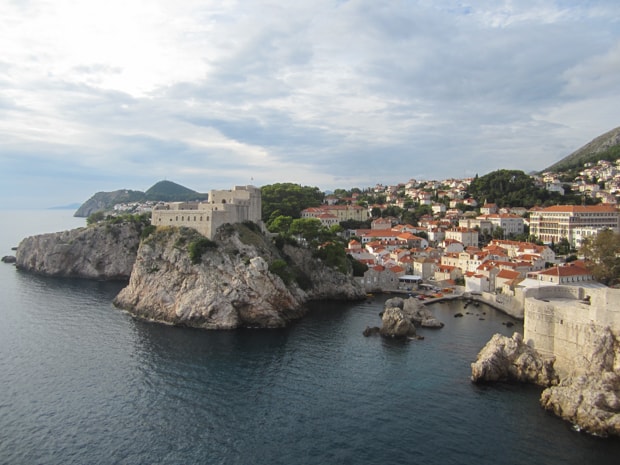 Our day visiting Dubrovnik was the highlight of the entire cruise for me (and I believe for many others) as it was the most remarkable of all the port towns that we would visit and it was sunny! After the morning guided tour we had the remaining of the day to explore the amazing old town on our own. I spent the day busy trying to take in as many of the sights as I could fit in while enjoying limitless espresso and gelato. I jumped on a quick ferry boat ride over to the island of Lokrum to walk around the forested island and to finally go for a swim in the Adriatic since the weather had yet to allow for a swim stop.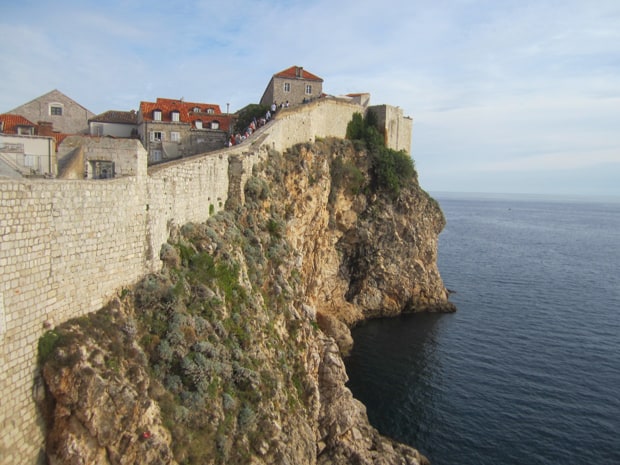 Once I returned back to Dubrovnik choosing a restaurant for lunch was the hardest decision all day since the streets are lined with so many great options. After lunch, I made my way up one of the many steep streets with endless flights of stairs for a post lunch workout to the cable car. The cable car is not be missed as you are rewarded with the most expansive views of the Old City and the scattered islands across the coastline. There is even a bar and restaurant up top if you decide to enjoy a meal up above the city.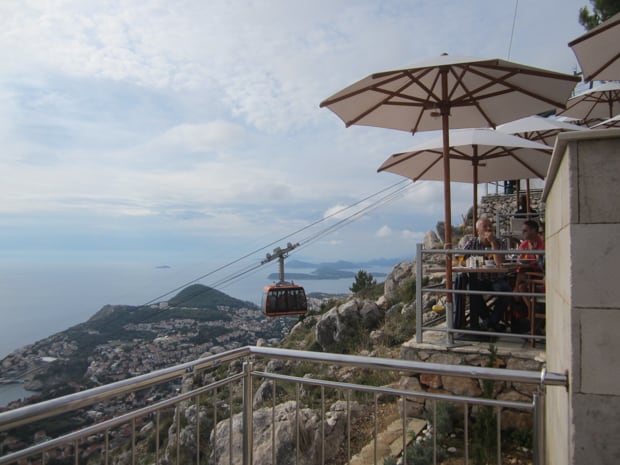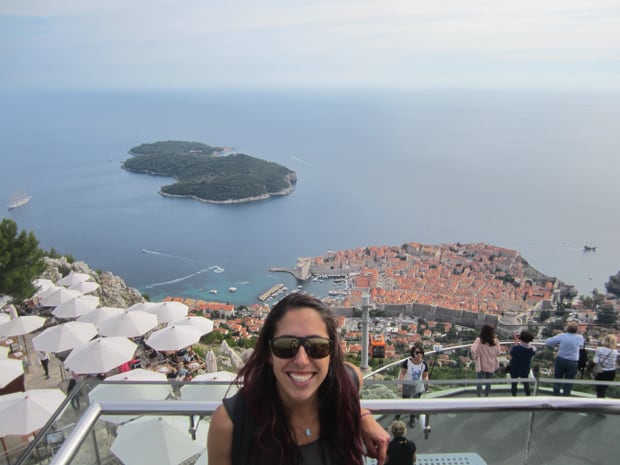 In the late afternoon, I walked the spectacular city fortification walls and was further astounded not only by the gorgeous views but even more so by the history of Dubrovnik's medieval architecture. After sunset I met two new friends from our cruise and we had a lovely seafood dinner in one of the outside plazas as the night life of the Old City came alive.
The next days were spent in the same fashion of island hopping and stopping in different ports for exploration. The weather finally allowed for a few swim stops while en route which we happily took part in. I brought along a snorkel and mask with me since it is so easy to pack but as I had been previously told there really wasn't much to see and that was very accurate advice. Regardless, viewing the clarity of the Adriatic Sea was stunning.
The towns of Korcula and Hvar were yet more charming port towns we visited within the Dalmatian archipelago also filled with amazing architecture, history, culture and food. Korcula's Old Town design really blew me away as this medieval walled city's fish bone shape was designed to reduce effects of wind and sun. All streets on the western side run straight while Eastern streets were designed with a small curve to protect the town from the unpleasant and cold north/eastern winds. A few highlights in Hvar included hiking up to the fortress overlooking old town Hvar at sunset and enjoying their famous lavender ice cream!
On our last day we had the chance to walk around the famous Zlatni Rat Beach (the Golden Cape) where many of us went for one last swim. Later that day we had the afternoon to leisurely explore the quaint town of Bol before the captain's dinner back aboard the Admiral. Lots of laughter, good conversation and dancing filled the dining room as we enjoyed our last evening together on the Admiral. The final morning brought us back to Split, and we said our goodbyes as we all continued on our separate ways with many new Croatian memories.
This Croatia cruise review was written by an AdventureSmith Explorations crew member. Read all AdventureSmith Small Ship Cruise Reviews for more trip reports, or contact one of our Adventure Specialists to learn more about our Mediterranean small ship cruises: 1-800-728-2875.