This Travel Journal details a custom itinerary, including highlights from AdventureSmith's Glacier Bay tours.
What better place to celebrate a 20th Wedding Anniversary than Alaska's Glacier Bay and Denali National Park! My husband and I had only three conditions: no overnight cruise; no tour bus; and no camping outdoors. Essentially, we both wanted to be able to set our own agenda, spoil ourselves and learn about Alaska's changing environment. Thanks to Nick Mitchell from AdventureSmith Explorations, we were able to do just that!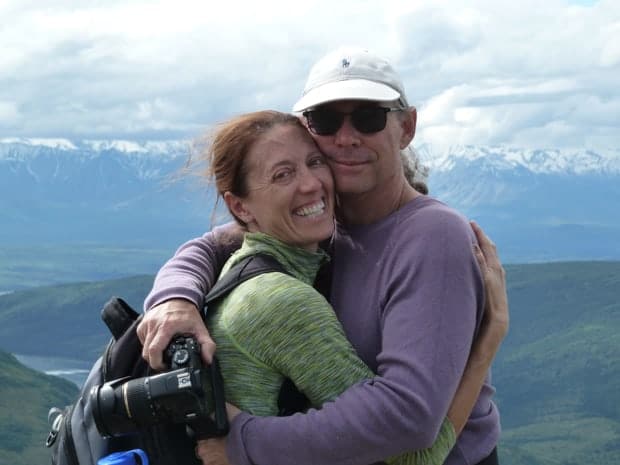 Friday 17th June – "Welcome to Juneau"
We flew to Juneau and stayed at the Goldbelt Hotel which sits on the Gastineau Channel, a river which in turn leads to Stephens Passage and ultimately out across to Douglas Island's mountain range…our room had a great view over the wharf and the channel leading to downtown. On numerous occasions during the day, we watched seaplanes land and take off from the Hangar on the wharf.
Saturday 18 June – "Over, Under, On and In To the Glacier" – A Helicopter Ride over the Juneau Ice Field & a Walk on the MendenHall Glacier
A young man named Ben from North Star trekking company, organized by AdventureSmith Explorations, picked us up at the hotel at 9:00AM. On our way to the airport area, he helped to orient us to the area. The island facing us across the Gastineau channel is called Douglas Island, once a gold mining community, although not much of the mine remains today. Behind Douglas is Admiralty island, now home to the largest brown bear community in Northern America. As he continued to drive along the channel, the tide was noticeably low, and we saw people actually walking out on the mud flats catching crabs. We were told that the houses here, along the bank on Douglas island experience a very diverse tidal surge. It can rise as high as 30 feet and is measured by balls attached to poles in the middle of the channel. Seeing the water at low tide, it was hard for us to believe that the tide actually rose to such a high level each day. As we continued out of town, Ben also drew our attention to a small, low lying grassy verge to our left. We saw at least 15-20 Bald Eagles sat on the silt sludge valley floor of the river and on scattered branch debris. We had never seen so many!
At the North Star outfitting area at the airport, they outfitted us with rain proof pants, gators, gloves, helmets, jackets, and a hip pack for snacks and water. In the helicopter, we flew out towards Mendenhall Glacier over Mendenhall lake. At this point, we were able to look out towards lake Auke. The color difference between the 2 lakes was distinct. The silt run off from Mendenhall Glacier continues to brown its lake. Despite its less than pretty hue, the lower visibility offers protection to smaller fish. Auke lake is clearer and bluer because it is filled by rain water and snow run off from the mountains.
As the helicopter flew higher we could see the difference in vegetation ranging from the rainforest firs on the lower altitudes leading up to steep alpine, and snowy, rocky peaks. We were even able to spot the occasional roaming mountain goat on some of the sheerest precipices. Unfortunately, we did not see any black bears.
Our helicopter guide explained that the ice face is unstable and always on the move.
Our helicopter guide, Nick, explained with the use of headsets, that the ice face is unstable and always on the move. It was fascinating to learn that the Juneau Ice-field is at least 3000 years old but the ice remains young because it's steady flow continually renews itself through snowfall at upper elevations. As a result, the Mendenhall glacial ice is actually only about 250 years old because it takes that amount of time to flow on along its 13-mile trek to Mendenhall Lake. Over the past 40 years, the glacier has retreated from Mendenhall Lake. Sadly, it is now about half a mile further upstream. As we flew up into the Juneau ice field, fascinating features of the Glacier were also described to us. There was what I called a freewheeling line in the middle of the glacier, called a Medial Moraine. As the glacier moves, it actually grinds the sides of the valley and carries the debris from the valley floor and sides downhill. The dark deposits of rock along its sides are called Lateral Moraines. If two portions of the glaciers merge after grinding along a rocky terrain, a dark debris line called the medial moraine is left in the center of the glacier. It reminded me of a freewheeling line made by a motorbike at top speed. As the glacier changes shape, melts and calves, the valley floor is also changing shape. High above, it was easy to track where the glacier had moved through the valley.
In the helicopter, we also noticed deep cracks, called crevasses in the surface layers of ice. We learned later that these are caused when the glacier flows around bends, over uneven terrain or covers different internal rates of speed. These crevasses form from different angles of stress. Some can be as deep as 100 feet and reflect varying degrees of blue.
Once we landed, we met our land/ ice guide called Isaac at a small tent site close to the edge of the valley. He outfitted us with heavy duty crampons and an ice pick. Thanks to knowledge and expertise, we were able to walk across mushy, watery blue areas without worrying about falling through.
However, there were areas that were indeed dangerous to walk near such as a tubular hole or "Moulin" which drains surface meltwater. Isaac allowed us, one at a time, to get a closer look into it by attaching us to a rope-line that he had drilled into the ice with a hook.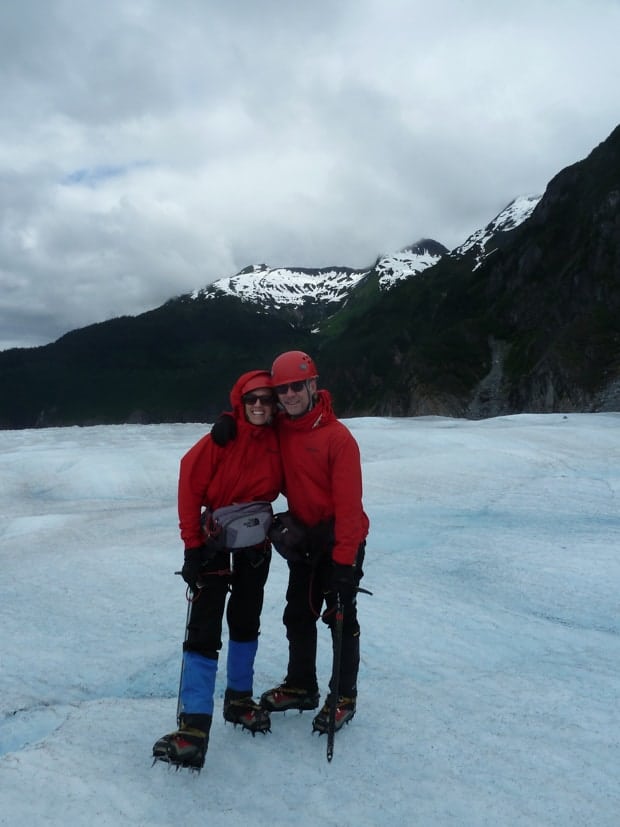 Back at the hotel, the day had continued to be a sunny, warm day in the 60's, so left to our own devices, we decided to take a bus#3, at the downtown bus depot next to the hotel, to the valley stop that we had just flown over. It took about 45 minutes on the bus and a further 45 minutes to walk to the Mendenhall's Visitor's Center in National Tongas Park.
At the center, we paid $5 each for park entrance and watched a short speeded up film of how far the ice had melted since 2007 (40 ft.) From here, we decided to walk out to the vantage point to get a closer view of the base of the glacier and a small ice berg that had broken off from it several weeks ago. Close to the glacier is a waterfall called Nugget Falls. We took another trail out to it, enjoying the sandy beach and spray from the waterfall and the multitudes of purple flowers called Lupine along the path's edge. It was bizarre to see snow and ice in the same frame as sand and beach!
Lastly, near the exit to the park we spotted two porcupines perched precariously on some tree branches. We had never seen a porcupine before!
Sunday 19 June – "Take A Dog" – Flight to Gustavus Island
There were 4 passengers on this very small plane. I sat with the luggage in the back, but had a wonderful view over the green bay and it many islands.
After 35 minutes, we arrived on Gustavus (pronounced Gust-A-vus). We were met by Daniel, a Tennessee guy who drove us to the Bear Track Inn by way of the small town. Gustavus consists of Four Corners, home to several restaurants and a petrol station complete with old fashioned gas pumps.
The inn is located at the end of a gravelly road surrounded by tall pines and fir trees. It is constructed in large pine timber with a beach and mountain view from its large but very comfortable living room. For the rest of the day, we had nothing scheduled, so at lunch, Raza, our Lithuanian waitress suggested we go on a hike and "Take A Dog." At first, I thought I had misheard her, but she insisted that we would need the Inn owner's dog to watch for black bears. Bandit, a malamute breed, is long haired and rather large. He would certainly give a black bear a run for his money.
We went out in search of the Upper Falls which was worth the 45-minute hike.
On the way back, we saw Bandit stop still on a corner… We were about 20 yards behind him. At this point, we could only see Bandit, we did not have a view around the corner. Bandit's shoulders were hunched and his tail down. As we reached the corner, we saw one black bear walking away from Bandit, further down the hill. Strangely, Bandit continued to stand erect, without a movement. Instinctively we did too, only to see yet another black bear come out of the thicket of vegetation.
This time Bandit lurched forward in hot pursuit. Thankfully Raza had provided us a sound operator which enabled us to control Bandit's distance from us. We realized how essential Bandit had been. When we returned to the Inn, Raza and several other staff, seemed very surprised that we had already experienced a bear encounter let alone two bear encounters on our first day!!!
Monday 20 June – "Whales and Much Much More" – Whale Watching at Point Adolphus
Up at 7:00AM… filled with a delicious breakfast at the Inn, Daniel shuttled to Gustavus docks. We met the captain named Todd and his 21-year-old assistant named Mick. As we headed out in the fishing boat, it was misty and raining. The boat was wisely fitted with a taupe which allowed his 6 passengers to stand outside without getting wet. As we crossed the strait towards Chicagof island, we saw many sea otters laying on their backs. Some were linked like rafts embedded in kelp. We saw many bald eagles and marbled murrelets. We learned at this time of year that humpback whales come to Glacier Bay to feed on sand lance (slender 5-8 inch fish). Interestingly, like Juneau, the tides in this area can change up to 20 vertical feet.
Chicagof island has one of the largest community of brown bears in Southeastern Alaska. Sadly we did not see any bears on the beach, but we did see three whales swimming close to shore, lifting their tails (or flunking) and listing their heads out of the water ( spying ).
Suddenly one breached about 25 ft. away from our boat, then it breached several more times. As if in chorus soon after, two more whales breached one after the other. The movement reminded me of fireworks popping up with grand crescendos.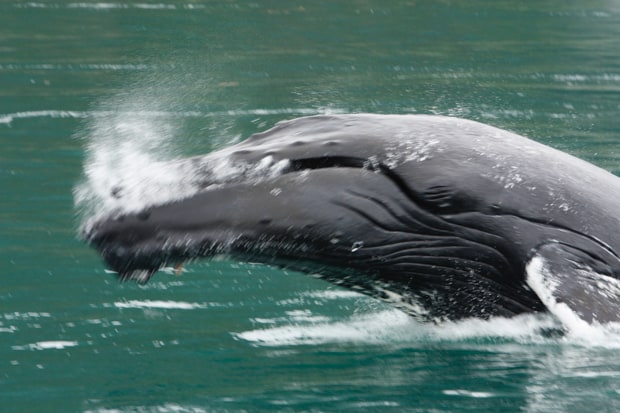 Afterwards, they seemed to be playing, by hitting their pectoral fins on the water. Mick explained that no one really knows why these whales do any of these activities… Some researchers believe that they breach because they want to remove barnacles from their skin. Despite the lack of answers, I realized how lucky we were to see so much whale activity and up so close! It also helped that our experienced captain seemed to understand the whales' swimming patterns'. Unlike several other boats in the area, Todd did not chase them. In fact, it is illegal to chase or be within 100 feet from a whales with a boat engine on in these waters. For this reason, Todd, stopped his vessel so that the tide would bring the whales to us. It seemed to work… many times. He also had a microphone underwater so that we could hear their activity.
Amidst the huge whale splashes, we were also fortunate to see a group of Steller sea lions leap out of the water, seemingly following the whales' hyper lead. Steller sea lions are different in many ways from Harbor sea lions, both of which we saw today. We learned that the former, lift their heads way out of the water. They also appeared bigger to us.
We even saw Dall's porpoises, very small in relation to the ones we see in Florida. The diversity and beauty of marine life in these waters was well worth the day's trip.
In the afternoon once we had returned to the Bear Track Inn, we decided to take another walk, this time towards the beach with Bandit again. We learned that the community of Gustavus rests on a broad flat area called Gustavus Forelands, which is considered the largest flat plane in Southeast Alaska. Each Winter, as the snow increases, moose graze on willow and low lying plants on the flats where the snow is not so deep. Supposedly the beach area has the highest population of moose in Alaska. As we trekked onto the wet, soggy marsh, we saw rounded and rather large footprints in the sand… We assumed these could have belonged to moose… along with the large dung heaps close by. Sadly, we did not spot any moose on the beach, but as we learned later, this was probably a very good thing!
Tuesday 21 June – "Celebrating the Solstice" – Sea Kayaking at Point Adolphus
We had breakfast at 7:00AM. Daniel, dropped 3 of us us off at Gustavus dock again. Raza, our Lithuanian waitress decided to join us on the trip. Dockside, our guide from Spirit Walker tours, named Bee-J, kitted us out with rainproof, jackets and pants, wellies, kayak pinafores and double kayaks.
We travelled by boat across the Icy Strait to Chichagof (pronounced chik-a-go), the same coastal area that we were at yesterday. As we unloaded the kayaks and learned how to board them, we caught sight of several whale spouts. We learned that these are puffs of air exhaled at 200 miles per hour at about 100 yards away. At times, these puffs turned into trumpeting, which was a lot louder than just the breaths and easy to hear when floating on the surface in a kayak. Again, it is not known why these whales make these noises. As we floated out west along the island, several whales came into the coast immediately ahead of us, at one point we could see the backs and tails of these animals quite clearly at about 50 yards away. Harbor porpoises, sea lions and otters also popped their heads up. The sea lions even breached just before us.
Bee-J asked us to stay close to the coast in the shallower waters where the whales could not swim, and also amidst the kelp beds where we saw "rafts" of otters hang out. Of course, my husband was a bit disappointed particularly since he was hoping for a close encounter with a whale while floating. We had heard stories back at the Inn, where humpback whales had actually swam under kayaks. On the other hand, seeing whales spouts and breaches 50-100ft away from us, when we were in kayaks, was close enough for me!!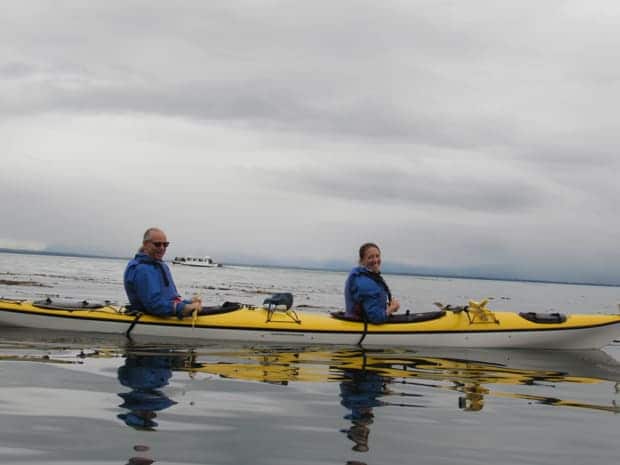 We rowed past Point Adolphus which is located at one corner of Chichagof island, easily identifiable by a red and white triangular sign under a bank of trees. From here, directly across the Icy Strait is Pleasant Island, recognizable by its central bump which ironically resembles the dorsal fin of the hump back whale. It was such a beautiful day that we could see beyond the island to Excursion Ridge mountain range and even further north to Beartrack mountains. Both ranges are all connected to the mainland and Gustavus. Behind both ranges is Chilkat Range which was also visible to us at different parts of the day.
We had lunch just past Point Adolphus. Bee-J pulled out a large black hard cylinder from the back of our kayak. In it, there were plastic bags of halibut fish, bagels, cheese, red peppers, banana bread and nuts. We were very careful not to leave anything on the beach, except a few halibut crumbs. Thankfully the tide would eventually come up higher than we were sitting, so the crumbs would be washed away, and in turn not entice any bears.
Back in the kayaks, we passed Eagle Point, aptly named because there were a large number of bald eagles flying and landing around the area.
As we steered our kayaks to shore, two more whales breached about 100 yards away.
It was at this point that we noticed the change in tides. My husband and I had never experienced anything like it before. The meeting of the tides sounded like a loud waterfall, as they came together gaining momentum and speed. There is an hour window where the tide is not at high or low tide continues to gain in momentum. Thankfully, we were heading in the right direction and allowed the momentum of the tide to carry us along. We did not have to use our oars at all. As we steered our kayaks to shore for the last time, two more whales breached about 100 yards away. Bee-J drew was surprised to see porpoises in such close proximity to these whales and noted the large number of Bald eagles that we had seen. She blamed these unusual sightings on the full moon coinciding with summer solstice last night.
Back on land, Bee-J guided us into the forest area behind the beach on Chichagof island. I was not expecting the forest to be so lush, green and alive.
Bee-J showed us some of typical Alaskan plants such as Cow Parsnip, recognizable by its hairy stalk, and often causes a burning rash when touched. On the inside of a hemlock tree, she drew our attention to a white fungus called Bear Bread. Intriguingly, when the tree falls, this fungus will actually rotate itself so that it can still drop its spores. On the other side of the same tree we also saw 2 different kinds of lichen. Bee-J explained that the green/ yellow kind will only flourish in fresh, clean air. Researches use it to measure air quality in some cities. As we made our way back to the beach, Bee- J drew our attention to part of one tree which had lines carved in it. She believed that it could have been an old carving by Tlingit Indians perhaps to mark a good fishing area.
On our way back to Gustavus docks back on board the boat, we continued to see numerous humpback whale fins and water spouts along with rafts of otters, porpoises and seals. Truly a mesmerizing, beautiful day without rain, chilling temperature or spills from the kayak.
Wednesday 22 June – "Weather so beautiful even the moose were swimming" – Glacier Bay Cruise
Up at 5:30, we had our last breakfast at the Inn and then Daniel shuttled us to the docks at Glacier Bay lodge. We got on board the Baranhof Wind and found our seats on the second floor on the starboard side. Janey, the innkeeper at the Bear Track Inn had advised us to reserve seats on this side for a better view. We ferried into Whale Water Bay. This is a feeding ground for whales and other marine animals not to mention birds and wildlife because the area funnels fish. We passed Lester Young Island, spotting the heads of stellar sea lions and humpback whale sprays.
At South Marble Island-located in the center of the channel, there was a colony of sea lions -they created such a raucous lazing about on the rocky outcrops on higher and lower elevations. Their smell was also quite overpowering.
Here, we also Spotted Cormorants, Tufted ( black) and Horned puffins ( white bellies and white faced masks). We felt vey fortunate because the latter are not often sighted.
We saw Pelagic Cormorants on the lower tide line of one rocky outcrop and at higher elevations on the grassy cliff verges, we sighted some puffin boroughs. We saw some juvenile (brown) bald eagles and adult bald eagles in the trees. There were gulls and murrelets everywhere, although the latter never stayed in one place long enough to take a photo.
We passed a pick up point for kayaks named Muir point. According to Katie, our very enthusiastic and knowledgeable ranger on board, John Muir, one of America's most influential naturalist and conservationists, came to Glacier Bay in 1879 with 5 men and a little dog. Unbelievably remnants of their cabin built in 1890 are still here. Katie explained that Muir knew that the bay was carved by rivers of ice, but the only way he convinced people of this fact was to go out, explore and find these rivers. Her energetic and lively commentary was fascinating just because she included historical facts, quotes, pictures and pelts to her sightings of the day's marine and animal life.
For example, she explained Sea otters did not come to Glacier Bay until 1990. There were only 5 otters counted in 1993, now over 9000 are living in the bay. We learned that they rely on warmth from their fur not blubber as sea lions and the whales do and it was originally called "soft gold." On feeling a pelt, we realized why!
It is wonderful that true "wilderness" experiences still exist.
We passed Gloomy Knob recognizable by its rounded grey rock on which we spotted 2 adult mountain goats…and on sighting the distant Rendu Glacier. Its grey glacial fingers crawled their way between multiple mountainous peaks. Ranger Katie noted that the wilderness waters in front of this glacier are designated as a "critical habitat for endangered experiences." This means that at this point and towards the glacier itself, paddling/ kayaking is only permitted. It is estimated that if a person paddles to the glacier, they will be 65 miles away from any road. I must admit in this day and age when everything seems to be just a finger tap away, this fact proved hard to comprehend. However, it is wonderful that true "wilderness" experiences still exist.
At the rocky base of Mt Abdullah, close to some beautiful waterfalls, we saw two Brown Bears- one, which was thought to be the male, climbed up higher, clicking displaying aggression at us on board the boat… The second bear remained on a lower rock, clawing under rocks. These brown bears were blonde rather than brown. Ranger Katie explained that Brown Bears are not always brown. Their distinctive characteristics are their hunched shoulders and large non retractable claws.
Only 5 minutes later, we saw a single Black Wolf… Supposedly it is unusual to see a wolf on a beach in full view…
As we reached the end of our journey north at the farthest point in Tarr Inlet, we were all asked to look out towards the horizon line. There we could see arms of ice wrapping the sides of a brown mountain. This is the Grand Pacific Glacier. Its brown color is a symptom of it actually dying. Annually it is being sustained by less snow and ice. While it is 35 miles long 2 miles wide today, it has been steadily retreating since 1750.
In contrast, Marjorie glacier, to the left of the Grand Pacific Glacier, is constantly rejuvenating as snow and ice from the Fairwether mountains continue to impact it. Today, we felt fortunate again because we had a clear and rare view of this mountain range high above the glacier. We learned that the glacier is about 20 miles long and is actually continuing to grow 5-7 feet per day. The ice cracking off into the sea is up to 200 years old.
Surprisingly, the Grand Pacific Glacier originally touched the Majorie Glacier and originally extended all the way to Gustavus and the mouth of the Glacier Bay which is where we had begun the trip today. Ranger Katie quoted John Muir when she described Marjorie Glacier as "a sculpture garden" in the Tarr Inlet. When exploring it, Muir wrote that he was "Tempted to stay there. Until my death." I could not help but agree with Muir and Ranger Katie, it was truly a beautiful sight.
As we entered into John Hopkins inlet, Ranger Katie tried to rouse our excitement about John Hopkins Glacier, which we would see just around the next icy bend. In her opinion, it is the most amazing sight on Glacier Bay. She explained that John Hopkins Glacier is also growing 10-20 feet per day. The base of it is protected from melting by a Marian. Under its edge, harbor seal cubs grow and develop. For this reason, only a few smaller boats are allowed up into this part of the inlet. We were about 500 yards away from it. According to Ranger Katie Kim Heacox, a local author who lives in Gustavus describes it perfectly in his book "The Only Kayak."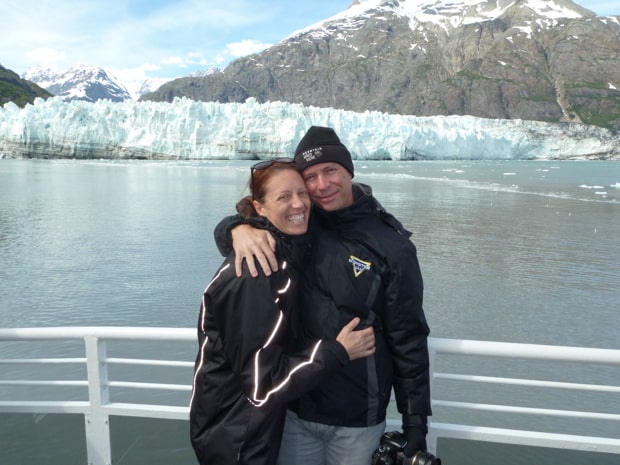 The next unusual sighting was at Trike inlet, where ranger Katie saw 2 swimming moose. Their bobbing heads resembled Mickey Mouse ears turning back and forth above the water as if they were talking to each other. It was amazing that they were actually swimming in the middle of such a wide and very deep channel. It is at least a mile wide and 500 ft. deep. Ranger Katie thought that they were swimming to the next island for food. We felt a moose pelt and learned that a Moose's skin and fur are very buoyant.
Across from this channel, we sighted a black bear on the rocky beach. As it stood up on its hind legs, all the cameras on board clicked away as we all gave a loud "Ahhh" excitedly.
Half an hour later, we were back at the Glacier Bay lodge dock where we looked at sheltered whale skeleton named Snow. She was a humpback whale which had been hit by a cruise ship in 2002. The bones had been collected and the exhibit created to restrict the amount of shipping and speed in the Bay.
Thursday 24 June – "Juneau's Best Kept Secret" – A climb up Mount Roberts
With an unscheduled day in Juneau, we decided to climb Mount Roberts trail. At the trail entrance, we were immediately met by tall hemlock and spruce, hovering above a forest floor of moss and a mass of green foliage. The trail consisted of strategically and well paved tree roots and limbs. Trees grew on top of each other, creating a framework for the blue skies up above and expansive green forests on other hills and mountains. It took us 1.5 hours to climb 1 mile to 3000 feet. There is a tramway on the other side of the hill, costing $33 for anyone who does not want to climb. At the restaurant bar at the top of the mountain, we enjoyed a view over Juneau's Gastineau channel. It took us 1 hour to climb down. The hike is definitely a must for those who enjoy a medium/strenuous climb.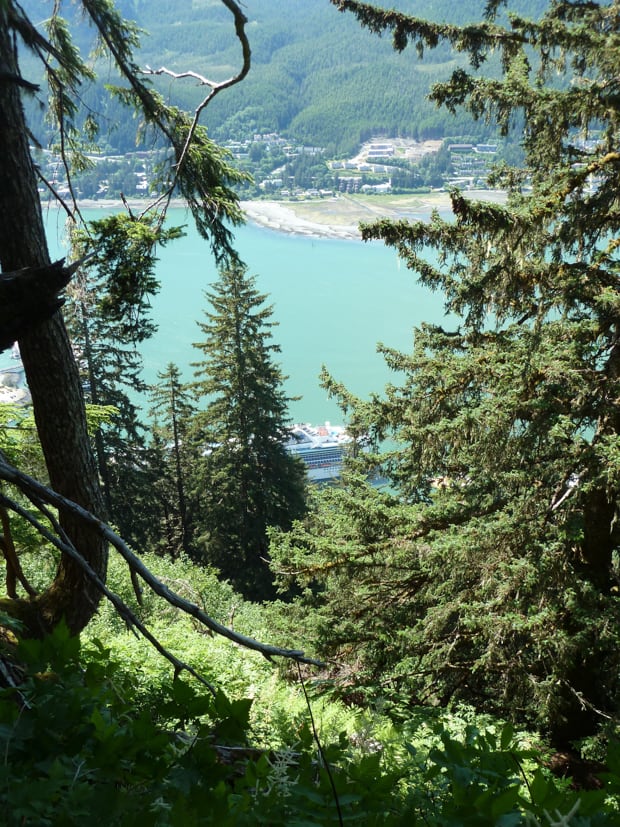 Friday 24 June – "Somebody Has a Pure Heart" – Denali National Park
We had stayed overnight in Anchorage and early in the morning took a 5-hour coach drive to the railway depot at the entrance to Denali National Park. There, we boarded one of three blue and white school buses, heading to the North Face Lodge located in the heart of Denali National Park. Our driver's name was Simon. While driving the bus, he explained that his wife and her family have owned the lodge and Camp Denali cabins for decades. Like Ranger Katie, he was a wealth of information. He begun by explaining the history behind Mt Denali, when, in 1903, a climbing expedition discovered gold. The gold rush occurred well before the road and rail were constructed here. Instead 3000-4000 people mushed dogs to prospect. They hunted and ate caribou, Dall sheep and moose. The intrusive environmental affects caused by prospectors caught the attention of Charles Sheldon – a naturalist- who realized that too many sheep were being harvested for dog food. He championed preservation with the help of his ally Bellmore Brown who was a painter. With Brown's paintings and his own political connections Sheldon was able to begin the development of early national park units in 1917. Thanks to Charles Sheldon, the Denali National Park and Preservation Service will celebrate its centennial anniversary.
Simon explained that very few species living in the park do not actually belong here. One such specie is the dandelion. The Denali National Park consists of 6 million acres of glaciated or sub arctic tundra which are not compatible conditions for many species to live in. Simon explained that Denali is an International biosphere reserve where species actually do intersect such as wolves and coyotes. To support overlaps of species, the park requires that there is no disruption to their natural behavior e.g. when sighting an animal on the bus, visitors are expected to keep the volume down and be mindful not to leave a footprint. Nothing can be left behind in the way of food and/ or trash. Simon was proud that Denali was the first park to transition to mass transit in order to curb congestion in it.
The 92-mile-long Denali Park Road was built between 1922 and 1938 by the Alaska Road Commission. We began the drive at the tree line level at 1700 ft. for 20 miles and then we began to traverse. At Savage river, the first broad river that we crossed, we sighted our first caribou. At this point we left the paved road. There is a mystery associated with the Savage River? Simon pointed out that the valley is V-shaped up river, but down river it is U-shaped. The reason, we learned, for these changing valley contours is because the Glacier stopped advancing before the bridge. However, a path of water continues to flow through the Alaskan mountain range because the mountain range is still rising. Intriguingly, there are two tectonic plates which meet in this area at the boundary between continental North American crust and the denser ocean floor pacific plate-crust. Both of these plates are converging head on causing the pacific plate to dive under and raise the Alaskan mountain range. The hills on the right of us, driving into the park, are being buckled up (as Simon explained "like a rug bunching up") which in turn causes the V-shaped valley to continue to rise up and the water to drain and down cut the mountain range. This unusual geological circumstance has lead to 400 miles of mountains and 7 separate Glaciers today.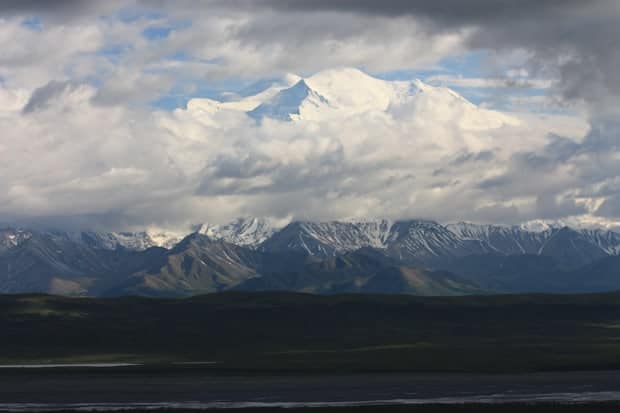 The school buses stopped at the Savage River Ranger Station. It was breathtaking to learn that 2 million acres of pristine environment stood before us. There were no more paved paths from here because the actual paving is seen to have a negative affect on plant insulating qualities and in turn cause the permafrost to irrevocably thaw… Until now, we had no idea what permafrost was!! We learned that permafrost is a layer of Ice under the ground that does not thaw for over 2 years.
As we drew close to the Sanctuary River, we saw another V-shaped valley where caribou are reported to calf. Sanctuary river is still glacially fed which explains why it has a chalk color caused by the silt and glacial mix up…. At times during the drive we noticed that glacially fed chalk colored rivers mix or run along side clearer tributaries, not glacially fed.
It was 3 days after the summer solstice. The sun was now sitting here as high as it would at any other time of year. Simon drew our attention to the hillsides located on left of the road which face north away from the sun. All the tree and plant community on these slopes appeared very different to those on the south side because they missed a majority of warmth and sunlight throughout the day. This was particularly evident in the trees along the roadside.
Next we passed the Teklanika river, which is also glacially fed. The episodic, wide river bands, their rise and flow were obviously affected by the heat of each summer day. It was clear that the northern side receives less sun and more permafrost because on this side there were still snowfields visible. However, I was surprised that the area was still so green particularly after learning that it receives only 13″ of rain per year. Below us, at this point in the drive was the greenest area composed of Tundra Moss, which is very absorbent. Underneath this tundra is the impermeable layer of permafrost.
On the southern sunnier side, plants and insects are given more relief, animals such as bears hibernate and spring comes earlier. Surprisingly, the growing season here is only 125 days. Climate change is responsible for lengthening this time from over 85 days.
Just after the Teklanika river, across from Cathedral Mountain, we caught sight of some male Dall sheep. It is not until mating season when the ewes and rams come together at higher elevation. Interesting they do not need to be at lower elevation to find water. In fact, they actually get their moisture from the dormant plants under the snow.
On to Sable Pass, which is was named after the color of the rock and sable mountainous material. Above the vegetation line, the rock color becomes very dark. The pass reaches an elevation of 3900 ft.
At the Polychrome outlook, we saw a number of glacial features such as Glacial Erratics where large boulders are found on the lowland, transported there by glaciers.
On the tops of the valley, we saw cirques which are created when ice converges on the top of the valleys, carving out deep amphitheaters. There were numerous kettle ponds below us, formed when large blocks of glacial ice are separated from the main ice mass and buried by glacial out wash sediments. When the ice melts it leaves behind a depression which fills with surface water.
Polychrome outlook is named for its wide range of colored volcanic rocks. For example, small changes in the percentage of the iron can cause rocks to be black, blue, green, yellow, or orange, with the hues growing more vibrant as the iron oxidizes. At this stage in the journey, we also saw three snow filled valleys which tore into the mountain.
The Toklat river is the largest braided river that is crossed by vehicles. From here, the valley opens wide, and has unobstructed views of the Alaska range and Mt Denali (recently changed from Mt McKinley). Mt Denali has the highest incline from base camp than Everest, which is the reason why it is very difficult and dangerous to climb. It consists of 2 peaks the north peak sits at 19,470 ft. and the taller south peak is measured at 20,310 ft. At times the two peaks look like the same height. This is because the north peak is 2 air miles closer than the south peak, so it appears taller. We learned that Denali is still growing. Supposedly it will rise 3300 feet in the next million years due to subduction of the tectonic plates. Denali and two other mountains are plutons- consisting of granite which has been pushed up between the oceanic and continental plates.
Highway pass is the highest point of the road at 3980 feet. From the top of the pass, we had a clouded view of Denali and a full view of an Arctic squirrel on a hillside. On our drive we saw snow shoe hares along the grassy verges of the roadway, and bald eagles which are a rare sighting here because there is not much fishing to be had in relation to the coastal areas. We continued onto Thorofare Pass and its River with its divides and deep crevasses and then onto Mt Eielson. It was here that a WWI flyer became the first Alaskan pilot to successfully attempt a river bar landing.
A short distance from Wonder Lake, our buses drew in to the North Face Lodge. All the staff, greeted us and helped us with our luggage. It was wonderful to be finally here!!
Saturday 25 June…
We chose to go on an easy, but strenuous hike up Eagle's Nest Trail. We had several titles for today…"How Denali is Changing as the Climate Warms" or better yet…"That's a Big Hunka Granite"
Jenna ( Simon's wife) was our hiking guide. On our climb, we learned that her parents had bought Camp Denali lodge in 1975. I found a picture of Jenna as a toddler and her family in "Great Lodges of the National Parks" volume 2. It was amazing to us that she had actually grown up here and in turn her children were too.
On our trek, Jenna invited us to walk onto a small area of spongy tundra just a few yards from our walking trail. It was hard work, to lift our legs over the 1-2 feet vegetation. Jenna picked up some of the moss on it. It was very wet and easy to pull up. There were a number of dead patches caused by the increasing affects of a longer growing season.
Similarly, Jenna explained that Aspen trees are also reportedly growing higher up on the hillsides due to global climate change.
Jenna stopped many times to reveal the varied and changing plant life up the hillside. There was the purple Monkshoods flower, which actually got its name because it looks like a monk's hood. However, despite its name, we learned that it is not a "nice" flower. If ingested it can cause heart palpitations.
At lunch on the top of Kantishna hills, Jenna pulled out a 1984 thermograph, a map of the activity within the Denali National Park. Interestingly, where the oceanic plate is sliding up and under the North Pacific plate at an angle so too are all the glaciers on the Northern edge of the Alaskan range rising up at the same angle. All the glaciers on the southern side of the range are longer and seemingly unaffected by the subductive plates. When asked, Jenna explained that one of her dreams was to be able to see The Muldrow glacier surge. A surge glacier is one that advances with sudden and rapid speed after periods of sluggish movement. The Muldrow glacier seems to do so every 50 years. Without any play from natural forces, the next surge is only an estimation. What an amazing thing that would be to see!!!
On top of the Kantishna Hills, there were several orange rock outcrops. We learned that the coloring is caused by oxidation of iron sulfide minerals. Some of these caught the attention of prospectors in the 1920's and 1930's. Here we saw the remains of several prospecting shacks on the sides of the hill across from us, and one dug into the top of the hill that we had climbed. Here prospectors were looking for gold, silver, lead and zinc, antimony amongst other resources. Thankfully mining ceased in 1985.
There were also a number of bear digs in which grizzlies had been searching for wild flowers and ground squirrels. We actually got to see a ground squirrel sitting near his hole.
Jenna is very knowledgeable about her environment, but what we loved is that she and her family truly live it and try to preserve it!
As we waited on top of the hills for a break in the clouds, our patience paid off and we were graced with a clear view of both north and south peaks of Mt Denali and Wedge Peak. It was truly an amazing trek. Jenna, like her husband Simon, is very knowledgeable about her environment, but what we loved is that she and her family truly live it and try to preserve it!!! She was such an inspiration!
After returning to North Face Lodge, the weather proved to be good enough for 9 of us to take two small planes out over Mount Denali. Our pilot, Greg, flew us out to the end of the Alaskan range, then over the spongy tundra and it's many kettle ponds, towards the Muldrow glacier. Looking far out to the left, as we grew closer to the Glacier, we sighted the long bald and in parts brown top areas of the Kantishna hills that we had climbed that day.
As we looked to the right towards Muldrow Glacier, we could see how its icy run off along with the other six main glaciers in the area, fed the McKinley river and many of the narrow tributaries. From this point onwards and from this high up, we saw nothing but the snowy icy depths of glaciers. The higher we went, the whiter the snow, while the black glacial silt moraines collected lower down. This area is truly a climbers dream but it could also be his/ her nightmare since many have failed to reach the peak.
It is the sheer height of Mt Denali rising the most dramatically over the rest of the mountain range, which causes it be so difficult and unpredictable a climb. It is the sheerest in the world including Mt Everest. It climbs from 3000 ft at base camp to its southern most peak at 20,320 ft. It has claimed many a climber's life from pulmonary edema to frost bite and hypothermia.
In the plane, we rounded the bend at Mt Brooks passing over Brooks Glacier. The clouds were hanging low over the northern face of Mt Denali, so, Greg, flew us towards the southern part where we were met with bright sunshine. We looked directly at Mt Huntingdon, our pilot's favorite because of the straight deep fissures in the snow.
Here we had a beautiful view of both north and south peaks on the southern side of Denali.
We made a turn past Mt Hunter and Foraker, actually sighting tents camped just below the enormous south peak. We had also seen 2 extreme skiers flying down the deep snowy slopes. Denali seems to be very unpredictable because of the weather and regular seismic activity in the area. Fault lines in the snow at the base of the peaks were visible, which according to our pilot meant that the snow activity could ricochet at any moment and trigger avalanches down the mountainside. The mountains tempestuous activity has been written about numerous times… Greg suggested David Roberts book on his experiences climbing Mt McKinley/ Denali.
As we rounded the south west bend, we flew directly above and along Peters glacier, which looked like a snowy white wide runway.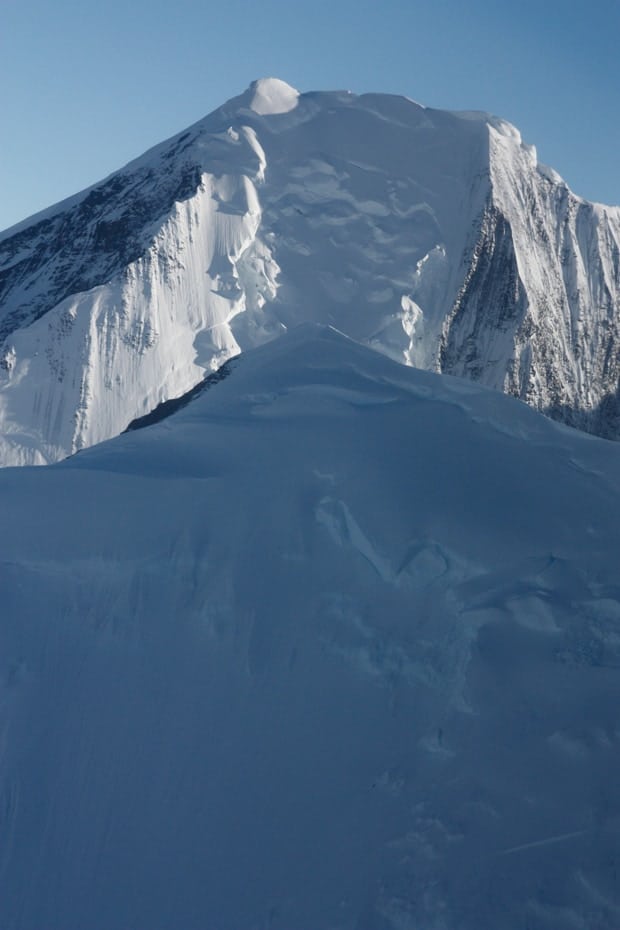 On our way back to the airstrip, we saw numerous rainbows under the wings. We got our first sighting of a full rainbow circle, although sadly I was not able to photograph the whole of it.
The van driver very kindly drove us to the very end of the park road, less than a mile from the air strip. However, we learned that this road is not the most far westerly road. In fact, it is the second. The most westerly end of the road is in Homer, Alaska.
Sunday 26 June – "MOOOOSE???!!" – A 15-mile bike ride from mile marker 75
Kendall, one of the hosts of at North Face Lodge fitted us out with softer seats, helmets, patch kit and tire pressure pump for our independent bike trip while Sadie, our other host handed us some bear spray and showed us how to use it! We took the school bus with the rest of the group until mile marker 75 when Drew, a naturalist and driver of the bus for that day, dropped us and our bikes off.
On our bike ride back, around every corner, we yelled " No Bears" and "Moose"… Making so much noise, I was surprised that we didn't scare off all the wildlife in the immediate area, but thankfully we did see a Snow Shoe Hare, several ducks and a beautiful yellow bird, small and almost too quick to photograph. I must admit, I was very happy not to see a bear or a moose. It was quite a scary feeling to feel like we were no longer #1 on the food chain.
The weather started out a little wet and cold, but after half an hour of cycling on the gravel path, we cast off our rain jackets and enjoyed some mountainous views, alongside kettle ponds, the braided glacially fed McKinley river and later Wonder Lake about 2 miles from the lodge.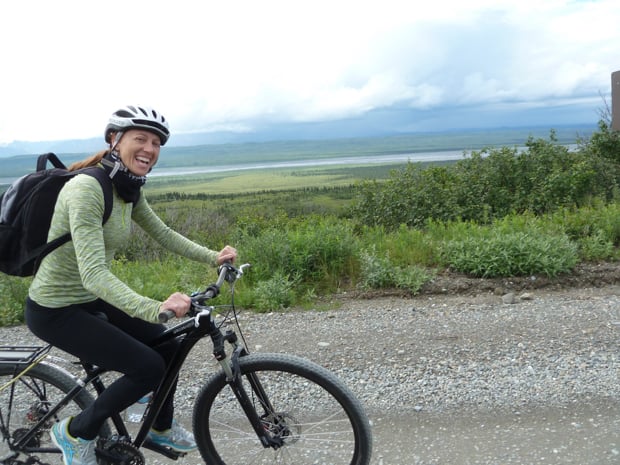 We returned back to the lodge before the rest of the group. When the buses returned, nearly every person who entered the living room exclaimed that they had seen a bull moose at Wonder Lake. I mentioned to Sadie that, J and I had not yet seen a moose on land, she kindly asked if we would like to go back up to Wonder Lake in the van to see if the moose was still there. About a half a mile from the lake, we see two moose in the brush just by the side of the road. The mother moose looked up and Sadie seemed worried that she would charge. Most of the naturalists we met, seemed to fear a Moose more than bears. According to them, bears seem to be able to be reasoned with particularly if a person makes himself bigger and louder, rather than running away. In the case of the Moose, they are very territorial and unpredictable. The only way to get away from a moose is usually to run in a zig-zag pattern or around and around a tree. As we took pictures, we saw the bull moose further down the hillside, complete with large, heavy antlers. J asked if he could get out of the van and Sadie quickly replied "absolutely not!!!" I don't think J or I realized, until this point, just how dangerous these animals can be. I am so glad we didn't encounter any on our bike ride or on the beach at Gustavus. At this time, we really appreciated seeing the moose. It was so sweet of Sadie to take the time to drive us up there.
At dinner, we had yet another delicious meal. This time the menu comprised of ribs/ garlic chickpea in a portabella mushroom and chocolate moose. After each evening meal, a member of each group would be asked to describe what they had learned or experienced in the day. Tonight was no exception.
Monday 27 June – "A strange Sense of Loss" – Back to Anchorage
On our school bus drive out of the park, we saw yet another bull moose and a herd of caribou…. even a grizzly feeding on a bull caribou. According to Drew, our driver, this was a very unusual sighting because caribou are themselves large animals. The bear must have very large or the caribou must have been sick. Bears do not actively hunt caribous. We were told that the sighting was very dangerous because bears grow very aggressive when protecting their kill. The park service would have to close up this area to hikers.
Back at the rail depot, we said our sad goodbyes to some wonderful people that we had met and hiked with over the last few days. The staff were so eager to please and make our stay unforgettable. We had formed some lasting friendships just because we had enjoyed the same adventures and feelings of exhilaration not to mention acquired new knowledge and renewed sense inspiration and spirit.
On board the Wilderness Express rail car, a double wagon with a glass top, we noticed the scenery transform.
At first, we looked out towards mountains, over gorges, onto rivers, endless tree lines of spruces and then more and more aspen as we drew into the lower elevations. At Denali, we realized how spoiled we had become because all of our guides' had naturalist expert knowledge. The tour guide on the train, on the other hand, was not a naturalist. We also noticed as we moved into areas of habitation, environmental concern was not a high a priority as it was in Denali. In fact, plastic bags, work men's construction tools and materials were only a few things left along the railway tracks. On the train, we crossed the Sitna River on a steel bridge and Talkeetna, a town who had a cat named Stubs as mayor before drawing into Anchorage.
Tuesday 28 June – " A coastal walk" – A day in Anchorage and an evening flight back to Tampa
Left to our own devices, we decided to walk from Captain Cook's statue along the estuary on the outskirts of the city. The estuary was at low tide so the mud flats stretched out before us with the mountains in the distance. Numerous aircraft from the joint military base and airstrip flew overhead regularly, but they did not seem to impinge on the peace and tranquility of the walk. Interestingly, there was an annually recorded salmon count. The highest of which was over 2000 counted in 2013.
It was a wonderful conclusion to a wonderful trip in which our hopes and dreams for the trip had been surpassed!
Find all our Alaska land tours and Alaska trips by land and sea.