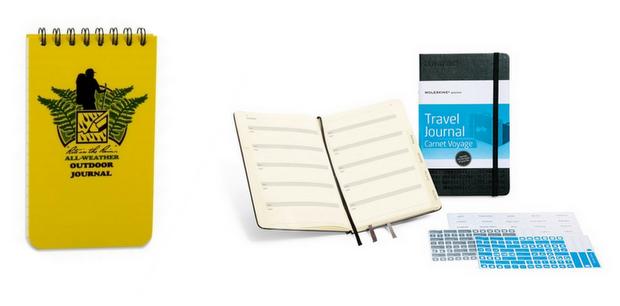 Before I left for my Galapagos Islands cruise aboard the Santa Cruz II this past spring, I knew I wanted to record this trip of a lifetime in the best way possible. So I sought out the advice of Tahoe artist Eva S. Nichols, who had just hosted a travel journal workshop in our town. Eva kindly answered a few questions for me, and I've shared her advice and my own travel journal experiences here:
1) Journal Size Matters
Match your journal to your style of travel. Heading on an active small ship cruise to Alaska? You might want to keep it compact and waterproof, like the Rite in the Rain Outdoor Journal ($6, small) found at REI.
"Since I often do more 'primitive' travel," artist Eva Nichols says, "I keep it as small and light as possible. I will write notes, thoughts, etc. on the spot, and sometimes do some quick sketches. Later, either when I sit down at the end of the day, or maybe when I am in the airport or on the plane, I will add details and colors to my sketches. Or sometimes just leave them as is. They will serve as inspiration for future paintings, or just be reminders and memories of the trip."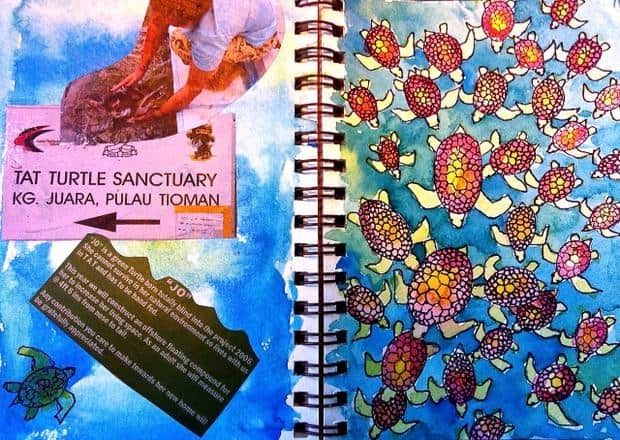 2) Personalize It
Custom pockets, watercolor washes, watercolor pencils, quotes… create a canvas for recording your travels that inspires you.
"I like to glue in either an envelope of one of the clear bags for greeting cards inside the front and back cover of my journal," Eva says. "Here I can collect little mementos as I come across them on my journey, and use them later for collage in my journal. I collect anything from receipts to stamps and napkins. Anything that catches my eye, as long as it's small enough to go into the "pocket" of my journal. Often I will have pre-painted some pages in my journal with light washes of watercolor. They can be sketched, painted or collaged on later, and often makes it easier to do a quick sketch, because it's like the sketch is already started. I will skip around in my journal to find a page that speaks to the moment. I am not concerned with being chronological. I'll often write little notes or quotes to remind me of a certain moment, experience or mood. I am currently working on a book about my travels, and my journals and sketches are a great tool to recapture the moods, thoughts and feelings I had at the time.
If you choose a bigger size journal, you might want to divide some of the pages into smaller sections with artist's tape, or just with a marker, so you have some small areas to work with. Paint a light wash on some of the pages or sections [as seen in Eva's journal pictured above], so you have not just blank pages staring at you. A white page can be quite intimidating, so if you have some pre-stained, it might be more inviting to write, doodle or sketch something in.
Especially for lightweight travel journals I like to paint little squares in on the edge of some of my pages with watercolor pencils. They work as color palettes and can be used to paint with as you go. No extra weight! A pen called Elegant Writer is wonderful to take along. The ink will dissolve when water is added to your sketch and create great shades of blue/green/pink when you go over the lines. Once it's been activated, it does not bleed if you wet it later, so you can add watercolor without it bleeding out, once it has dried."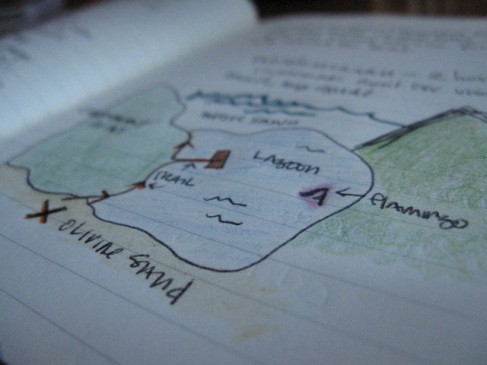 As for me, I used my favorite Pilot Precise V5 Extra Fine Rolling Ball pen and a mechanical pencil for drawing while traveling. I went back through my journal with colored pencils when I came back home. I really enjoyed sketching out maps of my Galapagos shore landings, as you can see above from my sketch of Cormorant Point on Floreana Island.
3) Leave Your Inner Critic at Home! "The journal is just for you, so don't worry about perfection," Eva advises.
"The journal is just for you, so don't worry about perfection," Eva advises. "A journal is meant to catch a moment in time; it's not meant to be judged. You can sketch, write or collage anything. If the doors catch your eye – paint them – or the many variety of pots – make a little sketch of pots. Write a little note. For instance: 'I never knew there were that many shades of terra-cotta.' Anything that catches your attention. Especially the little things. Those are the ones you won't remember otherwise."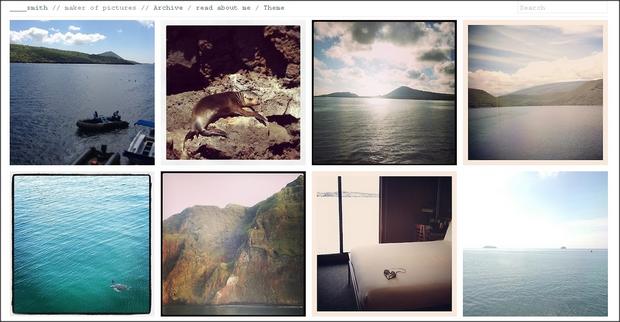 4) Take Your Travel Journal Digital
I am a big Instagram fan and found that iPhone app a very useful tool for visually recording my travels. WiFi on the M/V Santa Cruz II was available only in the lounge, so I didn't have much time for uploading photos. Instagram, however, was much faster and easier to upload than other apps (like Facebook). I advise linking your Instagram account to a Tumblr blog so that every photo can be posted directly to your blog (screenshot of mine above), creating a virtual travel journal that your friends can follow along with.
At the end of the day, simply choose the style and method of travel journal that works best for you. But I find that mixing your travel journal up – with sketches, maps, mementos and writing – makes for a much more interesting read later on.
This blog detailing how to create a travel journal is among AdventureSmith Explorations' extensive collection of travel guides. Find more on the AdventureSmith Travel Blog.