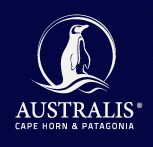 Australis is based in Santiago, Chile and specializes in exploring the "end of the world" aboard their two 210-guest sister ships Stella Australis and Ventus Australis.
The founders of Australis were sailing enthusiasts with profound knowledge of Chile's hidden wonders in Southern Patagonia. Initially, they embarked on various activities in their local city of Punta Arenas, including general trade, cattle raising, and shipping, giving rise to one of the region's most significant trade conglomerates.
Then, in 1968, they made history by pioneering the first tourist cruise route connecting the cities of Puerto Montt, Puerto Williams, and Punta Arenas. However, the birth of the Australis company occurred in 1990 when they acquired their first expedition cruise ship.
Australis Cruises
From September to April Australis operates from the ports of Punta Arenas in Chile and Ushuaia in Argentina. Their itineraries are 5 days one way and can be combined to make a comprehensive 9-day trip. They cruise the mythical waters of the Strait of Magellan and the Beagle Channel until reaching the legendary Cape Horn. This is a unique journey, marked by the rich history and untamed nature of the end of the world.
Why Choose Australis
Australis is a leading Patagonia expedition cruise company, navigating the southernmost Patagonian fjords since 1990. With deep originating roots in the region, they know these waters and their wildlife personally and have special access to areas that other cruise operators do not.
Learn more about AdventureSmith's Patagonia cruises and Patagonia trips.