Svalbard cruises, also known as Spitsbergen cruises, are the most popular and accessible of all Arctic cruises. A Svalbard polar bear cruise is on the bucket list of most nature travelers. Our crew of polar cruise experts can match you to the best itinerary and ship for your interests, budget and timing.
Scroll down for a list of the best Svalbard cruises with prices, itineraries, maps and detailed descriptions of each cruise and ship. Our guide to Svalbard small ship cruises will answer your questions about what to expect, how to get there, when is the best time to take a polar bear cruise and more.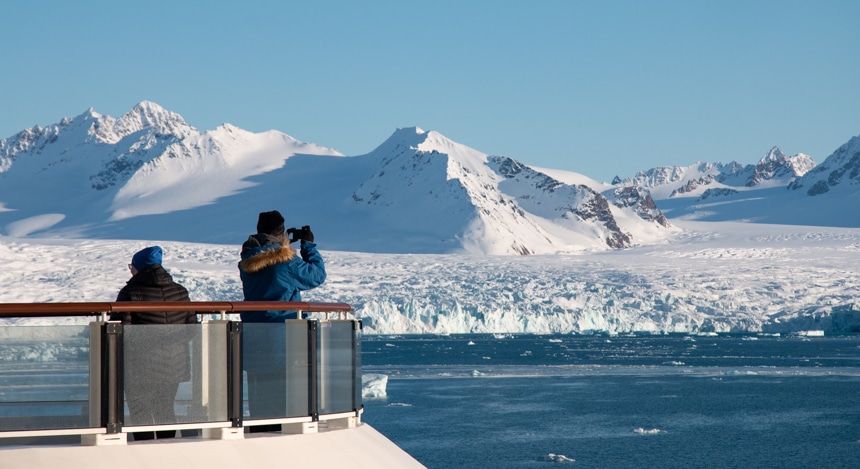 Why Take a Svalbard (Spitsbergen) Cruise?
Most travelers take a Svalbard expedition cruise to see polar bears. Other highlights include walruses, seals, reindeer, whales, northern lights, glaciers, sea ice, dramatic icebergs and spectacular arctic wilderness. Outside of the main town of Longyearbyen, Svalbard is a rugged and inaccessible Arctic wilderness. A Svalbard cruise from Longyearbyen is the best way to access the remote fjords, glaciers, ice flows and islands of the archipelago.
Comfortable, and sometimes luxurious small ships, specially outfitted for Arctic polar cruises, safely access the wilderness and actively explore up close in the company of professional expedition leaders. Daily off-vessel expeditions include small craft excursions, hiking and shore walks, and sea kayaking right from the ship. View spectacular scenery, birds, whales and wildlife as the ship cruises through ice and close to shore. Evening lectures enhance your knowledge of the Arctic animals and environment.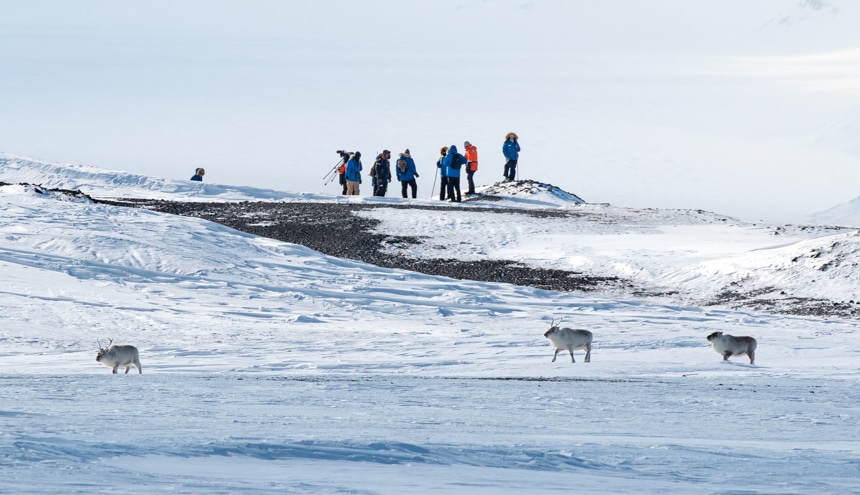 Where is Svalbard?
Svalbard is located the in the southern Arctic Ocean halfway between Norway and the North Pole. The island archipelago is about 580 miles northwest of Tromso, Norway, and about 400 miles east of Greenland. The archipelago, not counting sea ice, is about the size of West Virginia or Ireland. It is one of the most northern landmasses on Earth, about 500 miles from the North Pole at its most northerly point. The relatively warm Atlantic Gulf Stream keeps western Svalbard ice free much of the year, allowing it to be uniquely accessible to small ship expedition cruises. Spitsbergen, which means "pointed mountains," is the name of the largest island in Svalbard.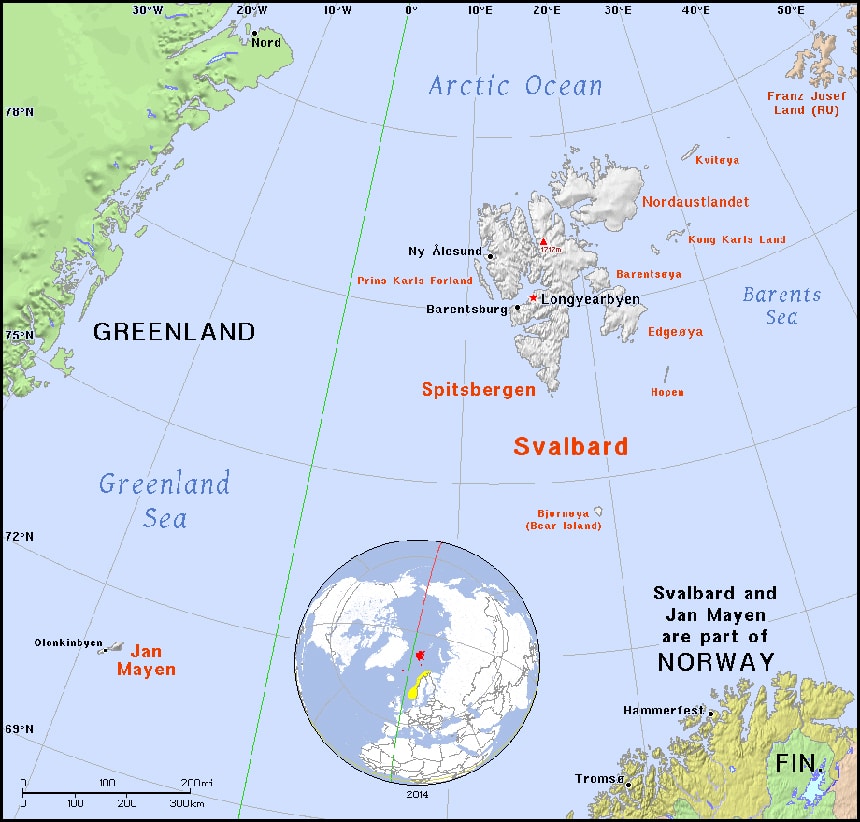 How to Get to Svalbard
Svalbard is remote, but it is easy to get there. Especially for travelers from Europe or the East Coast of the United States. To get to Svalbard most travelers will fly to Oslo, Norway, then fly to Longyearbyen, Svalbard. Oslo is well worth a day or two before or after your Svalbard cruise. From Oslo it is a 3.5-hour flight to Longyearbyen, the embarkation point for most Svalbard small ship cruises. Some cruises do embark in mainland Norway or even the United Kingdom and proceed to Svalbard from there; more on that below.
Cruises from Longyearbyen are the most efficient way to explore Svalbard and Spitsbergen. Some cruises will include a charter flight from Oslo to Longyearbyen, while others you must purchase the flight yourself. Scandinavian Air (SAS) is the primary carrier for flights to Longyearbyen. Some cruise operators will include an overnight in Longyearbyen, while others you must arrange it yourself. You may wish to add a night to explore this unique Arctic town. When you book a cruise, our experts can help with advice and arrangements for flights and hotels.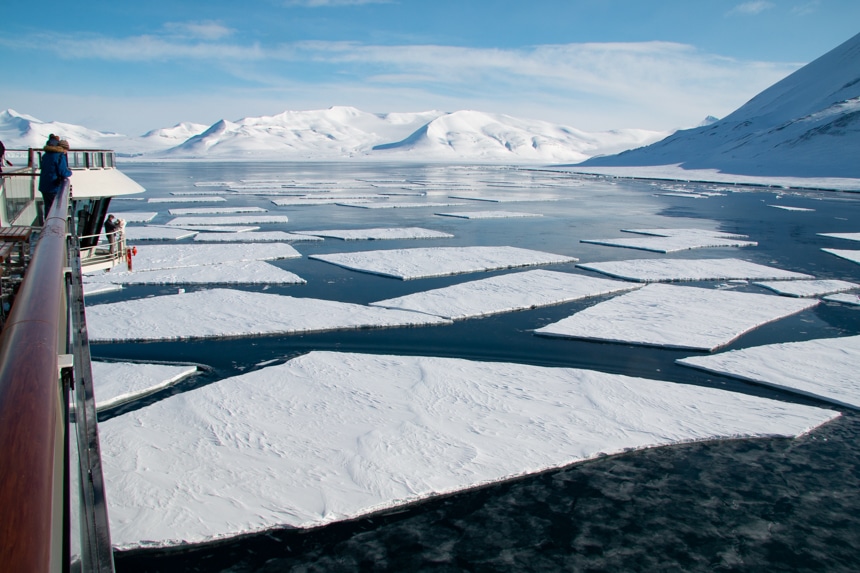 Svalbard Small Ship Cruises
Below find details on the most common types of Svalbard & Spitsbergen cruises. Learn more about how to choose the best cruise for you. Contact our experts for personalized recommendations.
Svalbard Cruises from Longyearbyen
The most popular and efficient cruises to Svalbard are from Longyearbyen. Longyearbyen cruises range from 7-15 days. Cruises out of Longyearbyen do not spend time crossing from Norway or Greenland. They focus solely on the Svalbard and Spitsbergen archipelago, so your time is maximized in search of polar bears, glaciers and wildlife.
There are a huge variety of Svalbard cruises from Longyearbyen. Shorter cruises ranging from 7-10 days specialize in Northern Spitsbergen or Southern Spitsbergen. Longer cruises will attempt to circumnavigate Svalbard if conditions allow. Svalbard circumnavigation cruises are usually scheduled later in the year when sea ice has abated. Late in the season in August and September, Svalbard small ship cruises have a chance to view the northern lights.
Cruise Northern Norway & Svalbard
Some Svalbard expedition cruises will embark on mainland Norway, usually Oslo, before cruising the Norwegian fjords and continuing to Svalbard. This way, you combine Northern Norway and Svalbard in one epic cruise. Northern Norway and Svalbard cruises are longer than a cruise to Spitsbergen only, averaging 11-17 days. A cruise from Norway to Svalbard may include a visit to Bear Island, the southernmost island in Svalbard. Bear Island is not visited on any Svalbard cruise from Longyearbyen.
Svalbard & Beyond – Epic Arctic Voyages
It is also possible to combine an expedition cruise to Svalbard with a Greenland cruise or an Iceland cruise. Some epic voyages will include all three. And there are even routes that include the best of northern Scotland and Norway before sailing to Svalbard. Or once-in-a-lifetime North Pole expedition routes that visit the Top of the World as well as Svalbard. Expect to cruise for at least two weeks and sometimes longer to experience an epic Arctic adventure to Svalbard and beyond.
Svalbard Polar Bear Cruises
Svalbard is the polar bear cruise hub since it's the best place in the world to see a polar bear from a cruise ship. The archipelago is home to about 3,000 polar bears, which exceeds the human population. While it is not guaranteed to see a polar bear on a Svalbard cruise, it is rare to not see at least one on a week-long cruise.
Higher densities of bears are found on the east coast and along the fjords of the northern part of the archipelago. The islands of Hopen, Noradaustalandet, Edgeoya, Svenskoya and Kongsoya are recognized as important polar bear habitat, so look for polar bear cruise itineraries that attempt to include these sites if you are particularly keen to see polar bears.
Polar bears require a hunting ground of sea ice to hunt their main food source of seals. They are highly nomadic and spend their summers along the edge of the ice, accessible by polar vessel. Guests aboard Svalbard polar bear cruises should be patient and remember to stay quiet on deck. Viewing a polar bear in Svalbard is an experience that will last a lifetime.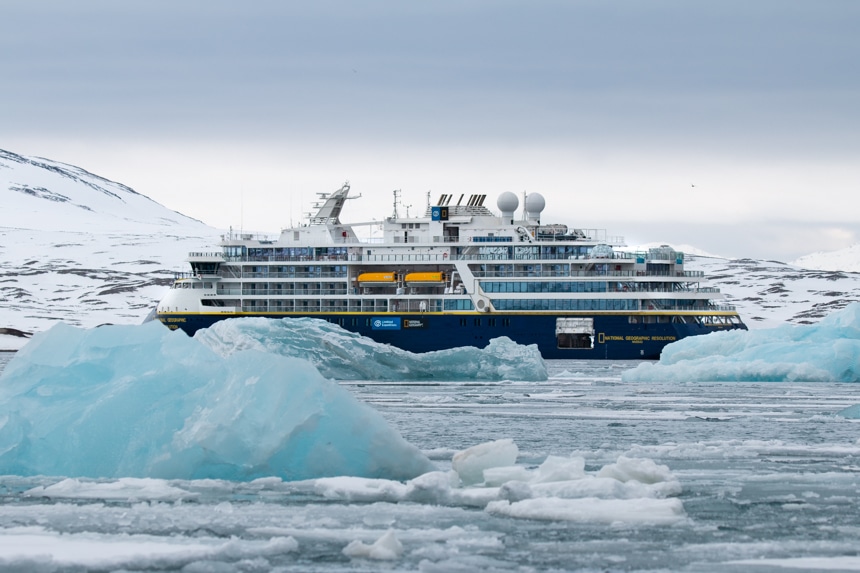 Svalbard Cruise Cost
The average cost for a Svalbard cruise is about $7,500 per person. The least expensive cruises start at about $4,000 per person. Luxury Svalbard cruises can cost $15,000 or more per person. The cost to travel to Svalbard aboard a small ship varies by the time of year, ship, cabin, length of cruise and more. Let our experts know your budget and we'll help you find the right cruise at the best price.
When Is the Best Time to Visit Svalbard?
You may be surprised to learn that Svalbard is a year-round travel destination. The earliest expedition cruises begin in April. The last cruises of the season operate in September. The best time for cruising in Svalbard is July and August when ice is navigable and wildlife is most accessible. Expedition guides advise that the best time to view polar bears in Svalbard is from May to September.
While traveling so far above the Arctic circle many travelers naturally wonder if they will see the northern lights. Since most of the Svalbard cruising season occurs under the midnight sun (a time when the sun never sets), you likely won't view the northern lights on your cruise. Choose the latest departure possible if you want a slight chance, but better yet, book a dedicated northern lights cruise focused on the best route and timing.
Svalbard Cruise or Spitsbergen Cruise – What's the Difference
For purposes of expedition cruising, a Svalbard small ship cruise and a Spitsbergen small ship cruise are the same. The difference between the two are only semantic, based on geopolitical and historical considerations.
Originally the archipelago was called Spitsbergen and many people still refer to it as Spitsbergen. In 1925 Norway took possession of the islands, and in a nod to the Nordic history of the area renamed it the original Norse/Viking name of Svalbard which means "cold coast."
Today either name is acceptable, and you will see various cruises use these names interchangeably. So, whether you book at Spitsbergen cruise or a cruise to Svalbard, you will be traveling to the same remarkable destination.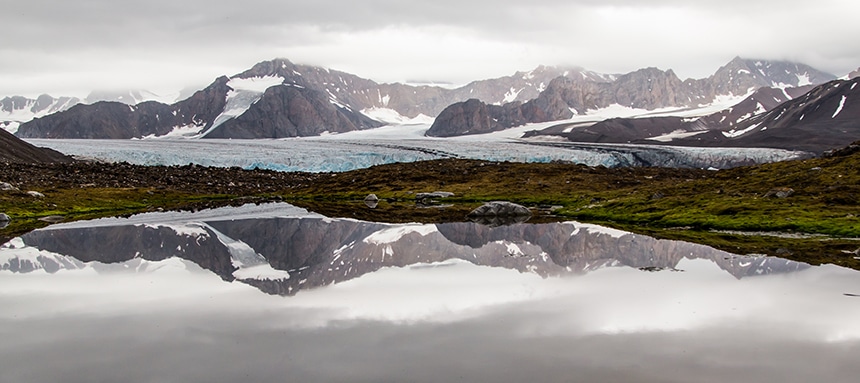 Svalbard Cruises & Climate Change
Climate change is dramatically affecting Svalbard and its ecosystems. The Svalbard cruising season used to begin in June. Now cruises operate as early as April. Most Spitsbergen small ship cruises will tackle this topic head on educating travelers about how the Arctic and its inhabitants are affected by climate change. Rather than take a doomsday approach to see it before it's gone, we hope you will visit and fall in love. Only when you love a place are you motivated to protect it. Changing our behavior to help reduce climate change to protect Svalbard and its polar bears and icescapes will do us all some good.
MORE ARCTIC RESOURCES:
Arctic Cruises
Iceland Cruises
North Pole Cruises
Greenland Cruises
Northern Lights Cruises
Arctic Tours
Arctic Expedition Trips
Arctic Animals
Arctic Cruise Deals
Arctic Cruise Reviews
Best Spitsbergen & Svalbard Cruises
Browse our curated selection of the best Svalbard and Spitsbergen cruises below. Our crew has extensive experience taking polar bear cruises aboard Svalbard ships, and we help hundreds of clients each year research, book and prepare for their Svalbard cruise. Use the filters to narrow down your search or contact us for a personalized recommendation on the best Svalbard cruise for your needs.