Learn More
Cruises to New Zealand
with AdventureSmith
Ready to experience the near-tangible magic of these incredible islands? AdventureSmith Explorations offers the largest selection of New Zealand small ship cruises. Let our experienced team guide you to best plan, book and enjoy your cruise to New Zealand. Why book with us?
Personalized
Work with one dedicated U.S.-based specialist to purchase & prepare for your New Zealand cruise.

Selection
Truly small ship cruise New Zealand. All our ships are under 130 guests.

Experience
Our relationships with reputable operators result in tried & trusted New Zealand cruises.

Active
Our New Zealand cruises include guided hiking, skiff rides & even flightseeing.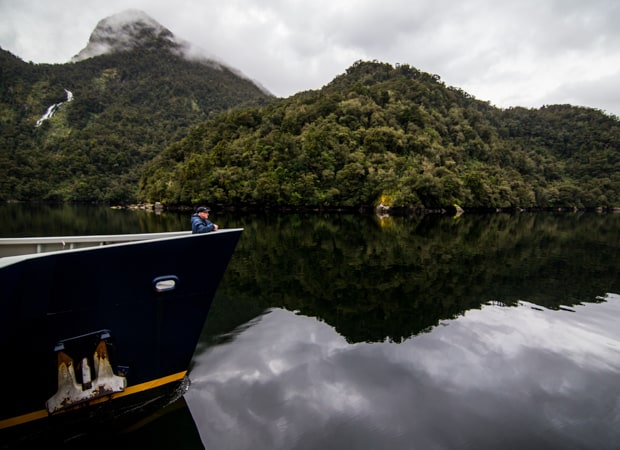 New Zealand Cruises 2023 & 2024
With New Zealand boasting some of the world's strictest health regulations that closed its borders to tourism for years, New Zealand cruises in 2023 & 2024 are like stepping back in time to a less-visited Aoteoroa. Local Kiwis love welcoming travelers to their unique islands, and passengers will be rewarded with enthusiastic hosts and pristine landscapes.
Aboard small ship New Zealand cruises, small group sizes and onboard guides ensure personalized attention, while flexible schedules enhance opportunities for wildlife viewing and natural interaction with locals. You'll hike along famous tracks, kayak in calm scenic fjords and reach remote offshore islands full of wildlife.
It's time to return to New Zealand, and there's no better way than by small ship.
Cruises Around New Zealand Only
Focus just on this island nation with our selection of New Zealand only cruises. A New Zealand South Island cruise with AdventureSmith visits not only the iconic Milford Sound, but the more remote reaches of the greater Fiordland National Park. Quickly leave the day boats behind to explore New Zealand fjords and coastlines in true AdventureSmith style—away from ports and into the wilderness.
To go farther on a New Zealand South Island cruise, look for Stewart Island, Dunedin and even Abel Tasman on your route. On the North Island, highlights include the Bay of Islands, Auckland, Gisborne and Napier, among many other lesser-known coastline gems. Many of our islands combine both islands into comprehensive east coast explorations. And luxury New Zealand cruises can offer exclusive experiences like helicopter flightseeing.
Include Antarctica
Another unique way of cruising New Zealand is to embark or disembark here on an Antarctica cruise itinerary. You'll explore a far less visited region of Antarctica including the Ross Sea and New Zealand's sub-Antarctic Islands like the Auckland Islands and Campbell Island. On these routes you'll spend way more time below the Polar Circle than an average Antarctica itinerary as well as be able to continue your travels in New Zealand. New Zealand Antarctica cruises embark from either Dunedin or Bluff, the country's "most southerly" town.
Planning Your New Zealand Cruise
Our Adventure Specialists have spent weeks and even months in New Zealand, and have decades of experience in the small ship cruise industry to bring you valuable insight, travel tips and the latest New Zealand cruise information. Let us be your guide to planning the best New Zealand cruise for your travel style, budget and timing.
New Zealand Cruise Deals
For budget-conscious travelers, sticking to cruises around New Zealand only will keep costs lower due to shorter itineraries. But value can be found on longer routes as well. We can help you find the latest discounts, explain the ins-and-outs of the landscape and help you secure a cruise to Zealand at the best rate. We recommend that you plan ahead to take advantage of early-booking discounts, but we're here to help those researching last-minute New Zealand cruises save as well. Our team can help you narrow down all the New Zealand cruise deals and identify which itinerary is the best fit for you. Let us help you plan right from the start so that you get the best discount to fit your ideal cruise.
New Zealand Small Ship Cruises
Temperature & Rainfall
| | | | | | | | | | | | | |
| --- | --- | --- | --- | --- | --- | --- | --- | --- | --- | --- | --- | --- |
| Month | Jan | Feb | Mar | Apr | May | Jun | Jul | Aug | Sep | Oct | Nov | Dec |
| Avg. High (F) | 71 | 71 | 66 | 59 | 53 | 47 | 46 | 50 | 55 | 60 | 64 | 68 |
| Avg. Low (F) | 49 | 49 | 45 | 39 | 36 | 31 | 30 | 33 | 36 | 39 | 42 | 47 |
| Avg. Rainfall (Inches) | 2.2 | 1.7 | 1.9 | 1.9 | 2.6 | 2.8 | 2.7 | 1.9 | 1.8 | 1.7 | 1.9 | 2.2 |
Cruise New Zealand Year-Round
The most popular time to cruise New Zealand is during November through April, when temperatures are warmer and rainfall is less. Since New Zealand is an island in the South Pacific, with miles of ocean in every direction, a maritime climate prevails bringing warm summer months (Dec-March) and mild winters. Weather patterns are strongly affected by the prevailing westerly breezes. These bring moisture from the Tasman Sea to the western side of both islands, so you'll find the longest New Zealand small ship cruise routes along the sheltered eastern shore. Note that the climate data referenced above is for South Island's Queenstown, a common gateway for accessing Milford Sound cruises and other South Island cruises to New Zealand.
When Should You Cruise to New Zealand?