Learn More
Booking Your Arctic Cruise
with AdventureSmith
Why book your Arctic cruise with AdventureSmith? We are award-winning small ship cruise specialists with extensive knowledge of the full range of itineraries on polar expedition ships. Let us be your guide to finding the best Arctic cruise for your interests. Whether you are keen to see polar bears, reach the North Pole, enjoy the best Northwest Passage cruise or seek the northern lights, our crew can match you with the right itinerary.
Personalized
Work with one Adventure Specialist to research, purchase & prepare for your Arctic cruise.

Selection
We offer an unmatched selection of nearly 50 itineraries aboard 20 expedition ships.

Experience
Our crew has cruised the Arctic and can make personalized recommendations.
Value
Our breadth of trips means more opportunities to match you with savings.
Arctic Circle Cruises
The Circumpolar North literally spans the globe: 8 countries and 360 degrees of longitude. The few settlements that are here cling precariously to the coast, and most lack facilities for visitors. Thus, Arctic Circle cruises aboard small ships provide the perfect platform to comfortably explore these remote lands.
The advent of more itinerary options aboard small ships, combined with more flight options to ports of embarkation, are making it easier than ever for travelers to explore the Arctic. But where to go in this vast polar landscape? Let our team help you decide.
Polar bears are often the main draw, but the stunning landscapes, sheer amount of diverse wildlife (walrus, reindeer, arctic fox, whales), culture and ice are just as impressive. What is guiding your Arctic expedition cruise choice? Learn some tips for choosing your Arctic Circle cruise below.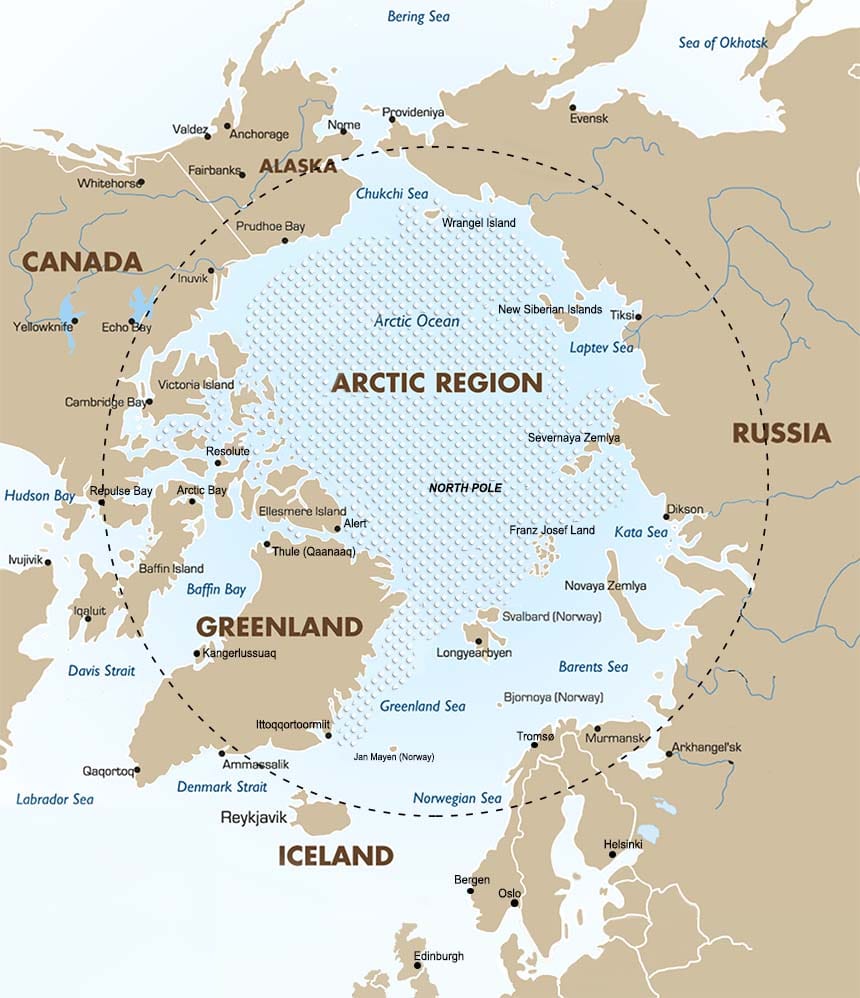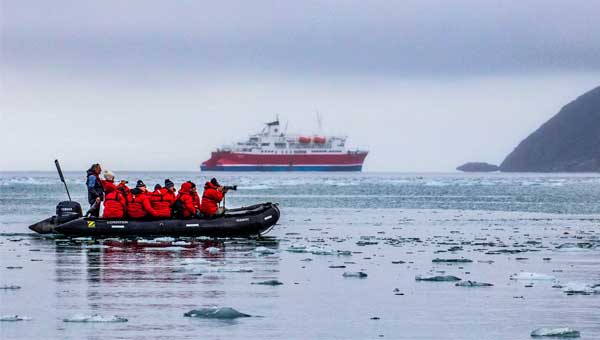 Arctic Cruises 2023 & 2024
Planning trips over the past two years has presented unique, unprecedented challenges. We've done the groundwork and are here to help. Our expert team of travel specialists helps clients navigate the logistics required to cruise the Arctic. Let us be your trusted source for the most up-to-date information during changing times. Arctic cruises 2023 are waiting. Let us get you aboard!
How to Choose Your Arctic Cruise
The great white north has never been more accessible. With such a huge selection of trips and ships to choose from, it can be challenging to decide which is the best Arctic cruise for you. That's where we come in. The small ship Arctic cruise experts at AdventureSmith Explorations are here to help. Below are some tips from our Adventure Specialists and FAQs about Arctic cruising.
First Pick Your Arctic Cruise Region
Location, location, location. This is the number one consideration when choosing an Arctic expedition cruise. Small ship Arctic cruises can be separated into the regions in which they operate, and these are diverse. Choosing an Arctic expedition cruise region can be informed by the wildlife you wish to see, the time you have available (itinerary length) and/or convenient embarkation points.
Arctic cruises are primarily operated out of Northern Europe, although some specialty cruises will embark from Alaska, Northeastern Canada or even Russia and Japan. Here we detail each general region, but note that some may be combined into a single itinerary.
Small Ship Cruises to Svalbard
Svalbard is the most popular region for Arctic polar cruises because it is easily accessible from Norway and it offers such a wealth and diversity of natural and cultural history sites. Svalbard cruises range in length from 7-24 days and may feature a partial or full circumnavigation of the archipelago and/or its largest island, Spitsbergen.
Svalbard offers many of the Arctic highlights including polar bears, walrus, the aurora borealis, magnificent fjords and towering glaciers all in a concise geographic location. Shorter cruises to Svalbard are the most affordable small ship Arctic cruises available. Look for embarkations in Longyearbyen, usually with a charter flight from Oslo, Norway.
Iceland
Iceland cruises are on many travelers' bucket list, and an exploration by small ship is a great way to experience this unique island country. Whether you choose a circumnavigation of the entire country, an Arctic expedition cruise that simply visits Iceland for a few days, or a pre- or post-cruise trip extension here, you will appreciate the region's geology, wildlife and culture. Most cruises embark in Reykjavik, which has direct air service from the U.S. and Europe, making this a great introductory region to Arctic cruising.
Greenland
Greenland is the world's largest island and hosts a dramatic landscape and unique culture. With the massive Greenland Ice Sheet at its center, life clings to the shoreline making it the perfect place to explore by small ship. Eastern Greenland is typically combined with Svalbard, while Western Greenland is usually combined with the Canadian High Arctic. Of all the Arctic regions, West Greenland is perhaps the most culturally interesting; meeting the remote communities here is really something special.
Svalbard Combo Cruises
Travelers with more time will want to consider a cruise that includes Svalbard plus another region. A Svalbard and Franz Josef Land cruise includes a stop at the world's northernmost archipelago that's known for a high concentration of polar bears. Other popular combinations include Norway's fjords, Iceland, Greenland, Scotland, the Faroe Islands and even the North Pole. These expeditions tend to be longer at 12-18 days and offer a spirit of true exploration to remote Arctic landscapes for nature, wildlife and unique Arctic cultures.
Canadian High Arctic
The Canadian High Arctic, typically accessed from Alaska, Canada or Greenland, can be explored in as short as 9 days, up to 30 days, navigating Baffin Bay and the surrounding archipelago. Terrain is mountainous with steep-sided fjords and high and low plains covered in varieties of mosses, lichens and grasses. Fairytale-like creatures roam the icy waters and treeless tundra: narwhal, beluga whale, lemming, muskox, wolf, fox, hare and, of course, the polar bear.
Canadian Arctic small ship cruise itineraries are packed with stories of Inuit culture and fabled attempts to sail the Northwest Passage, making this a full package of wildlife, nature and enduring history. Journey seemingly back in time as you navigate through sites that helped unlock the eventual discovery of the connection of Atlantic and Pacific waters. Cruises from Canada can depart from a number of ports and usually include a charter flight from Ottawa, Toronto or another gateway city.
The North Pole
For the select few who aspire to reach the top of the world, the Arctic provides the ultimate destination: the North Pole. For centuries, adventurers and explorers tried to get here by sled, ship, aircraft, dogs and balloons. The harsh realities of the Arctic climate defeated every single one of them until as recently as 1948. Now only the strongest of icebreakers make the journey on a select number of departures each year.
Be among the few to stand at 90° North, but be prepared to spend two full weeks on this challenging expedition. Cabin fares are significant for the chance to add your name to the short list of adventurers who have made the ultimate journey to the top of the world. Many count these as luxury Arctic cruises due to accommodation aboard the modern, upscale Le Commandant Charcot.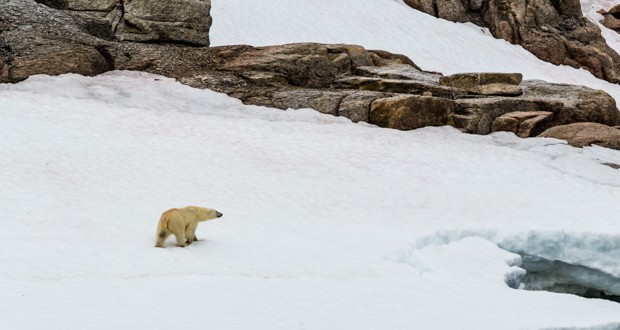 Choose Your Arctic Cruise Line
In general, we suggest you consider your region and itinerary first, and then select your ship. In regions such as Svalbard and Iceland, there will be more choices of ship while more remote regions such as Canada and the North Pole may offer only one ship.
The fleet of expedition ships that cruise to the Arctic are specially outfitted to travel in polar waters. Arctic cruise lines are typically bipolar, with ships sailing in both poles. Although a few smaller sailing vessels remain in the Arctic year-round.
All of the Arctic cruise lines on our website have been vetted for safety, sustainability and top-notch operations and guiding. Scroll down to our full section on Arctic ships to learn more and view all your Arctic cruise ship choices.
Arctic Small Ship Cruise Activities
All of our small ship Arctic cruises involve daily off-vessel excursions with a focus on exploring the Arctic environment up close and viewing wildlife. Expedition leaders and naturalist guides lead small craft (Zodiac) cruises and hiking. Guides will always scout out shore landings first to ensure safety in polar bear country. Presentations on board enhance your knowledge and understanding of the local environment and cultures.
If you are seeking a bit more action, look for departures with included flightseeing, heli-assisted hiking or helicopter transfers to landing sites. Some cruises even offer an added-cost kayaking program or one-time paddling excursions, so be sure to check if this is important to you. Other added-cost activities aboard cruises may include scuba diving, rock climbing, downhill skiing, ice fishing (aboard Le Commandant Charcot), and helicopter-assisted adventures such as camping, mountain biking and alpine kayaking. Tack on a lodge-based Arctic land tour for an even more diverse adventure that includes time at sea and on land with additional activities.
Consider Your Needs – Solo Traveler? Group?
Solo or single travelers have many options aboard small ship Arctic cruises. Solo travel is more common in the polar regions, and ships are accustomed to catering to single travelers. Thus, many Arctic expedition cruises have double, triple or even quad cabins that are available on a share basis. Sign up to share with same-sex roommates and you can save a bundle. In most cases, travelers are guaranteed the share rate, even if a roommate is not found. This helps keep solo travel costs down. If you prefer to have your own cabin, there are ships that offer single accommodations. For those that do not have single or solo cabins you can book a double cabin as a single, but expect to pay a single supplement. Arctic single supplements are usually 1.5-2x the standard double rate for one person.
Preparation for Your Arctic Expedition Cruise
AdventureSmith travelers are prepared for their Arctic expedition cruises through one-on-one correspondence with an Adventure Specialist and an extensive pre-cruise planner with packing lists, reading lists and answers to most common questions. Our team has traveled extensively in the Arctic, collectively on most of the ships we offer, and can provide very detailed expectations on what you can expect on the voyage and the ship, what to pack and how to get the most out of your Arctic small ship cruise. Our team can also recommend flight consolidators that can help you find the best flight deals and manage any trip support you may need if there are airline weather delays or other issues.
Travel Insurance & Emergency Medical Evacuation
Most Arctic cruises require a minimum amount of emergency medical evacuation insurance coverage, typically not included in your personal health insurance. We recommend travelers consider a comprehensive travel insurance policy that will include emergency medical evacuation as well as cancellation coverage. A select few Arctic small ship cruise outfitters include this insurance in the trip cost, so be sure to check with your Adventure Specialist on the inclusions of your Arctic expedition cruise.
Arctic Cruises
Temperature & Rainfall
| | | | | | | | | | | | | |
| --- | --- | --- | --- | --- | --- | --- | --- | --- | --- | --- | --- | --- |
| Month | Jan | Feb | Mar | Apr | May | Jun | Jul | Aug | Sep | Oct | Nov | Dec |
| Avg. High (F) | 24 | 26 | 23 | 30 | 38 | 45 | 50 | 49 | 43 | 35 | 30 | 26 |
| Avg. Low (F) | 14 | 13 | 13 | 21 | 29 | 34 | 38 | 38 | 35 | 27 | 21 | 17 |
| Avg. Rainfall (Inches) | 0.4 | 0.3 | 0.3 | 0.3 | 0.3 | 0.5 | 0.7 | 1.1 | 1.4 | 0.6 | 0.5 | 0.4 |
| Avg. Daylight (Hours) | 5.6 | 8.6 | 11.9 | 15.2 | 18.5 | 20.9 | 19.6 | 16.3 | 13 | 9.7 | 6.5 | 4.4 |
Timing Your Arctic Circle Cruise
Arctic cruises operate primarily May-September, but look for year-round sailings if you like to ski or seek the aurora borealis. Long summer days are ripe for exploration, with polar bears roaming more pack ice in the spring, opportunities to cruise farther as the season progresses, and northern lights cruises focused in the fall and winter.
As indicated by the dramatic range of daylight hours in the chart above, there are great seasonal changes to consider when timing your Arctic cruise. The best time to cruise the Arctic should be based on what you wish to experience. For example, polar bears, northern lights, sea ice, whales, fjords, local communities, etc. A brief seasonal primer:
Late May-Early July
In May, temperatures average around 30 degrees Fahrenheit in Longyearbyen, Spitsbergen, and Nuuk, Greenland. During the early-season months, sea ice is prevalent and the possibility of seeing more polar bears is a bonus as they're easier to spot on the polar ice. A full circumnavigation of Spitsbergen is likely not possible at this time. Early-season voyages often provide the greatest opportunity to see large ice floes in the Arctic pack ice, which usually means excellent wildlife viewing.
July-August
July and August are the warmest months on average to visit, with temperatures averaging in the mid-40s. Arctic Svalbard cruises sail at this time as the sea ice is more broken up, offering the chance of circumnavigation, more wildlife spotting, more landings and land access in general. Polar bear spotting takes a keener eye at times as they can be a bit harder to spot on land vs. the sea ice. This time of year, ships can cover more territory and explore more of the Svalbard archipelago, which can lead into the less-explored regions of Nordaustlandet and Kvitøya, or the continental edges where large whales are attracted by nutrient-rich upwellings.
September-April
Fall comes early in the Arctic, and by September nights are dark enough to witness the aurora borealis, northern lights. Time at sea is perfect for witnessing this phenomenon, while days are still spent exploring sites up close and searching for wildlife. If snow-capped peaks, seeing the aurora borealis and skiing/snowshoeing are on your bucket list, look to the winter months. Arctic expedition cruises during the winter primarily focus on exploring the fjords of Norway.