We recommend that you purchase a travel protection plan to cover your upcoming adventure trip or small ship cruise. The time and expense that you have put into planning and paying for your trip warrants protection through the purchase of a travel protection plan.
Why is travel insurance so important?
In today's changing travel environment, it's important to protect your travel investment so you can relax and enjoy your trip. Unforeseen events such as flight delays, baggage loss or even a sudden sickness or injury could impact your travel plans. For your convenience, we offer a Travelex Insurance Services protection plan to help protect you and your travel investment against the unexpected. For more information on the available plans click here or contact Travelex Insurance 800-228-9792 and reference location number 05-0821.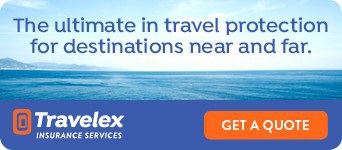 AdventureSmith Explorations makes a sincere effort to do everything we can to ensure that your trip is enjoyable and trouble free. Travel protection offers you peace of mind for those events that we cannot control or guarantee. Below are a few key benefits that make travel protection coverage worth considering.
Consider Travel Insurance at the Time of Booking
Many travel insurance providers offer additional coverages when you purchase a policy at the time of booking (usually within two weeks). Additional coverages may include the financial default of the tour operator or a waiver for preexisting medical conditions. For the best value and coverage, consider purchasing travel insurance at the time of booking.
Another benefit to purchasing a policy at the time of booking is the ability to cover your deposit. AdventureSmith recommends booking early and this can mean that your trip may not begin for months or even years. Insuring your deposit provides peace of mind between booking and travel, and you may add to your policy later, when paying the balance of the trip and/or booking your flights.
New Travelex Insurance policy purchase requirements enacted on April 3, 2023 enable policies to be purchased up to 11:59pm on the day prior to departure.
Trip Cancellation/Interruption Coverage
This coverage reimburses your unused, prepaid, nonrefundable payments or deposits (due to a covered reason) up to the amount of coverage selected if you or your family member, traveling companion or business partner become ill, are injured or die, preventing you from traveling. The policy also will reimburse you for the unused portion of a trip that is interrupted for the same covered reasons.
COVID-19 & Travel Insurance
According to most travel insurance providers, Coronavirus is being treated the same as any other illness. If you or a traveling companion (or an immediate family member) contracts the Coronavirus or is quarantined while your policy is in effect, then trip cancellation/trip interruption coverage as well as emergency medical and evacuation coverage is in effect. It is important to note that fear of travel or travel advisories are not covered risks on standard policies. Most policies purchased within two weeks of initial trip payment can also cover the financial default of an airline, cruise line, common carrier or tour operator.
Cancel for Any Reason Coverage
Need protection for the unexpected, whatever the reason? Consider this upgrade to your travel insurance if you would like fewer restrictions and time constraints on your reasons to cancel. This plan upgrade is available from select travel insurance providers, including TravelEx. If you are seeking this type of coverage you can also visit SquareMouth Travel Insurance comparison site to review and purchase a policy that meets your needs.
Medical & Evacuation Expense Coverage
Small ship cruises venture into remote regions and guests may need to be transported over long distances to an appropriate location for medical treatment. We urge you to purchase a travel protection policy which provides emergency medical and dental protection. Many health insurance policies do not fully cover health care and emergency services outside the United States, so this is an important component of any travel insurance plan you are considering.
Note that there are specific medical & evacuation expense coverage requirements for a number of AdventureSmith trips and destinations. These include a medical coverage entry requirement for Galapagos Province in Ecuador, and minimum emergency medical evacuation coverage for many of our polar expeditions and cruises in Oceania. Please refer to the Insurance section in Details for your trip for more information on specific requirements.