Think outside the boat aboard a small ship cruise with AdventureSmith Explorations. We are the world leader in small boat cruises, adventure cruises and expedition cruises with fewer than 250 guests aboard. Use this page as both a primer to understand this travel style and to find the best small ship cruises worldwide with our expertise.
ON THIS PAGE – Small Ship Cruises:
Definition & Types
Why AdventureSmith
2023 Cruises & What's New
Meet the Small Ships
Small Cruise FAQ
Where to Cruise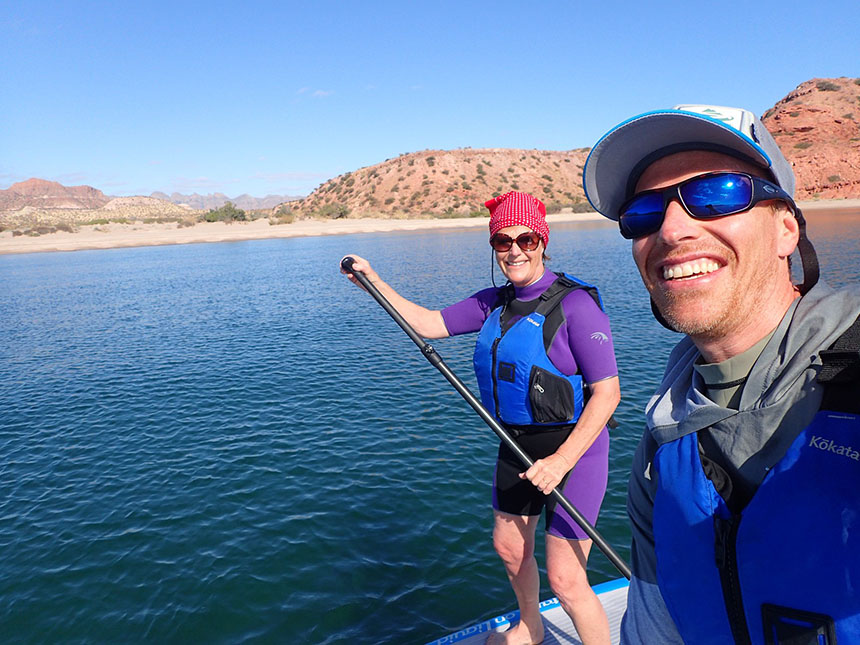 All Aboard
Sign up to stay in the loop on small ship cruising from our specialists.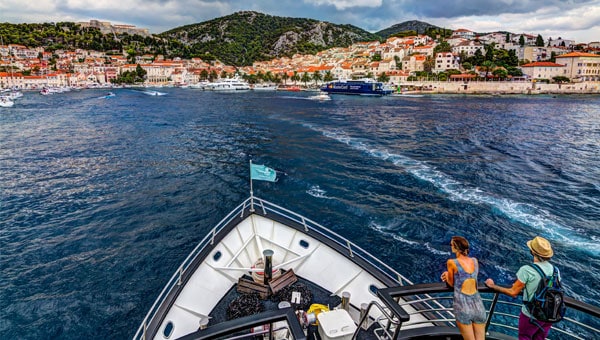 Authentically Small Cruises
We emphatically believe that the core definition of a small ship cruise is one where guests can get off the ship away from port. While some may consider a ship with 500 or even 1,000 guests small, in reality, the logistics of operating off-vessel activities like hiking, kayaking and snorkeling require that the ship be under 250 guests. Authentically small cruises are then able to be immersive journeys where adventurous activities meet remote waters—and likeminded fellow passengers become friends. No crowds, no strict routes… time to explore.
Adventure Cruises
While every small ship cruise has a heavy dose of adventure, a growing segment can be called adventure cruises. The hallmark of an adventure cruise is a focus on off-vessel activities such as hiking, kayaking, snorkeling, stand-up paddleboarding, camping, diving and more, with twice daily excursions. Actively explore off the ship by day in the company of expert naturalist guides. Each evening, return to your small ship for a hot shower, a glass of wine with a delicious meal and a comfortable cabin while the ship cruises to a new active location.
Expedition Cruises
Expedition cruises focus on the exploration of remote wilderness. An expedition is defined as a journey or voyage undertaken by a group of people with a particular purpose. The hallmark of an expedition cruise is a sense of exploration and scientific learning. Purpose-built expedition ships bring you to some of the most remote and pristine places on Earth. Journeys like North Pole expeditions, Falkland Islands & South Georgia cruises and Northwest Passage voyages are all examples of this growing segment of small ship cruising.
Small Luxury Cruises
If you're looking for top-tier service, amenities and fine dining while aboard, let us point you to the best in luxury small ship cruises. Small luxury cruise ships feature suites that are often larger than other small boats, and include private balconies or floor-to-ceiling ocean views. Add to that top-rated naturalist guides with high crew-to-guest ratios and you are set up for a premium sailing experience. View our curated Galapagos luxury cruises, Alaska luxury cruises and Antarctica luxury cruises pages for an example of what to expect in our most popular destinations.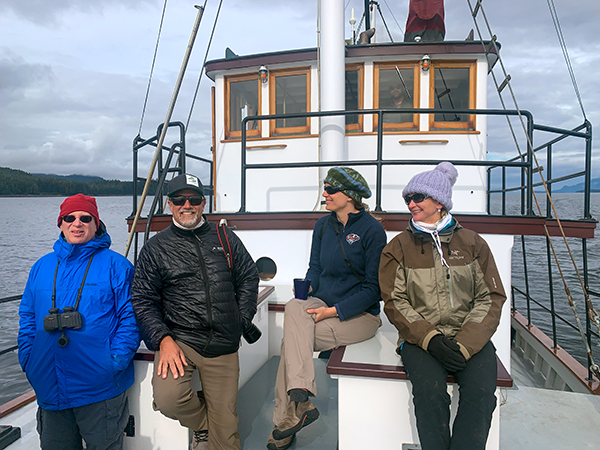 Our Expertise
The Best Small Ship Cruises Start with AdventureSmith
Small cruises are what we do, and we do it well. Find the best small ship cruise with our expert insight and firsthand experience aboard small boat cruises worldwide.
Personalized
Work with one dedicated U.S.-based specialist to purchase & prepare for your small ship cruise.

Selection
We can match you with trusted small cruise ships, averaging only 40 guests worldwide.

Value
Never pay more booking with AdventureSmith. Secure deals with our insight & partnerships.

Active
Our small cruises include guided snorkeling, kayaking, hiking & skiff rides.

The Largest Selection of Small Ship Cruises for 2023 & 2024
Find more than 300 small cruise itineraries listed with AdventureSmith Explorations. Each is vetted by our operations team, and most have been tested by our staff. We highly recommend travelers book early for the best small ship cruises in 2023 and 2024 since pent-up demand has made finding space tighter than ever. Find a cruise, browse our updated small ship cruise deals and get in touch today to secure your space.
Up to Date on Trends & New Ships
AdventureSmith is a resource for both travelers and the media looking to cover this growing segment in the travel industry. Trends for 2023 small ship cruises include more focus on wilderness exploration in even more remote reaches of the world thanks to advances in expedition ships (cue Le Commandant Charcot, the first ship of its kind); more interest in private charter cruises; and eager travelers ready to check bucket lists after years of more caution and restrictions in travel.
The past two years saw us in a baby boom of new small cruise ships. In 2021 and 2022 alone, the following all launched: National Geographic Resolution, Coral Geographer, Le Commandant Charcot, Aqua Nera, National Geographic Endurance, Sylvia Earle, Ultramarine, Aqua Mare and National Geographic Islander II. For new small ship cruises in 2023, look for the following small cruise ships to launch: Galapagos Evolve and Janssonius. Sign up for our newsletter for the latest in small ship cruising delivered to your inbox.
Only the Best Small Ship Cruise Lines
We have partnered with the top small ship cruise lines on earth. We work with large, well-established small boat cruise operators and smaller, locally owned, boutique outfitters that are off the radar of most travelers. Research our list of the best small ship cruise lines by viewing our travel partners. We boast the premier small ship cruise collection.
Top Value & Deals
It's more than just the "percent off" with AdventureSmith. It's about achieving your bucket-list travel goals without sacrificing your experience to save a few dollars. Browse our selection of small ship cruise deals, then talk to our team about the best value for your particular needs. Our deals are continually refreshed with the best cruise discounts, offers and sales on small ship voyages worldwide. Our team will help you plan right from the start, so you get both the best price and the best adventure cruise experience.
Our Founder Is an Industry Pioneer
Our Founder, Todd Smith, helped pioneer the first adventure cruises on Alaska small ship cruise itineraries to include off-vessel activities in wilderness locations. And he's now a Conde Nast Traveler-awarded top travel specialist. View 12 more reasons to book with AdventureSmith.
Trust Us. We've Been Aboard
What are small boat cruise cabins like? How calm are the seas? Which cabin should you book? Read our many small ship cruise reviews to get insider specifics on your cruise, ship or destination of interest.
QUESTIONS? TALK TO A SPECIALIST.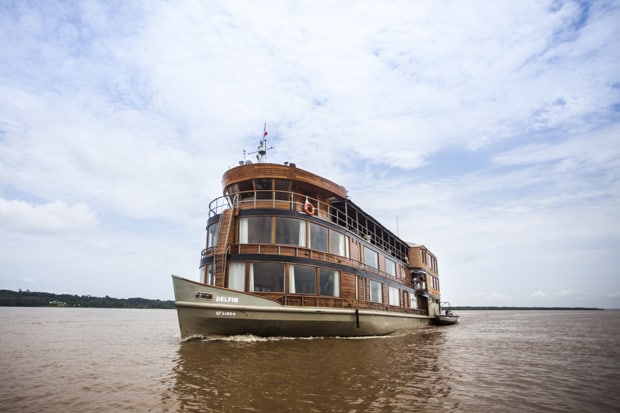 Meet the Ships: 7 Standouts in
Small Ship Cruising
Here at AdventureSmith Explorations, we partner with small cruise ships all over the globe, carrying travelers to remote fjords, deserted beaches and whale-rich channels and bays. Our ships foster deep connections with both fellow passengers and the environment you're exploring. Find classic favorites and hidden gems that are off the radar of most travelers. Our selection of ships ranges from 8 to just over 250 passengers, with an average of 40 guests aboard worldwide. Among the many we partner with, here are a few of our favorite small boats cruising the world's oceans today.
The Safari Explorer is what we always call the quintessential expedition cruise ship. At 36 guests she is not too big but not too small, and her yacht-like atmosphere makes her particularly welcoming for first-time small ship cruisers in Alaska and Hawaii. AdventureSmith founder Todd Smith has always said that once you cruise aboard the Safari Explorer, you will be hooked on small ship cruising forever.
Depending on your destination and interests, you can scale up or down. Historic options like the 8-guest Westward, listed with the US National Register of Historic Places and offering sailings in Alaska and Baja, and the 16-guest Galapagos Grace, formerly owned by Princess Grace of Monaco, are historically significant platforms with outstanding service and guides. The 28-passenger river cruising boat, Delfin II, stands out for the perfect combination of ease and elegance in the Peruvian Amazon. This all-suite luxury ship offers large glass windows for never missing a monkey or exotic bird sighting.
To feel the wind in sails, look for the 24-guest Indonesian sailing vessel Ombak Putih, which combines traditional and modern design for a comfortable adventure through remote islands, or the incomparable 58-guest Sea Cloud. Sailing on a traditional square rig this smartly has not been done since the British Empire, but you can now do so with National Geographic guides.
The 73-guest Magellan Explorer is a standout in Antarctica for its dedication to keeping it small that fits perfectly with AdventureSmith Explorations' philosophy of small, sustainable expedition cruises. As other companies continue to push the boundaries of what constitutes a small ship (many reaching above 500 guests), you will consistently find that our options limit capacity to not only provide a better experience for passengers but to also have a lighter environmental footprint. Learn more about the small ship experience compared to larger counterparts in our Small Ship vs. Big Ship blog post or view all small ships.

Small Ship Cruise FAQ
Whether you are new to small boat cruising or a small-ship veteran seeking to just learn more, we've compiled our most frequently asked questions here to inform and inspire as you explore this incredible way to travel. Read this small ship cruise FAQ to find out if your burning question is a common one, or contact one of our adventure cruise specialists anytime to ask an expert direct about cruises on small ships.
What is considered a small cruise ship? How small?
For us, the sweet spot for a small ship cruise is around 8 to 250 passengers to maintain what we feel is the true hallmark of small ship cruising: active, immersive, off-the-ship, off-the-grid travel.
Are smaller cruise ships better than big ships?
Depends on who you ask, and who is traveling. We sure think so since small ships connect you with the destination better than larger ships. To learn more and find out what size ship is best for you, read our Big Ship vs. Small Ship: What Is the Difference?
What are the best small ship cruise lines?
Unlike larger ship cruise lines that sail worldwide, many small ship cruise lines have carved out a niche in their destination. Each of the small ship cruise lines has its own style of travel that's best for different travelers. For instance, UnCruise Adventures offers more active adventure than most, while Lindblad Expeditions has a reputation for superior expedition leaders, many affiliated with National Geographic. Quark Expeditions has a long history of polar expeditions and Quasar Expeditions has a penchant for historic yachts in the Galapagos Islands. We work with many of the biggest and best companies in small ship cruising, as well as many smaller family-owned-and-operated vessels that are off the radar of most travelers. View our selection of the best small ship cruise lines hand picked by our experts. We pride ourselves on suggesting the best small ship cruise lines for you.
What types of people enjoy small ship cruising?
Small ship cruise travelers are interesting, engaged, active and educated people seeking meaningful up-close encounters with the wonders of nature and culture, just like you. From couples to families to solo travelers, small cruise passengers are savvy travelers who have done the research and are seeking to escape the mass tourism market for something more sustainable and rooted in a destination. They want to experience a place, not just see it!
Will it feel too small aboard an adventure cruise?
Most likely not. We have found over the years that travelers who find and book cruises on small ships tend to be likeminded. You've done a lot of research to get to this point, dismissing large ships, amusement parks and resort hotels. Most other travelers have done similar research and ended up at the same conclusion: that small boat cruises suit them. Guest compatibility typically comes naturally, and you're off the ship much more than a larger cruise ship itinerary.
Are small ship cruises good for families?
Absolutely! The level of family friendliness depends on the vessel, destination and small ship cruise line, but there are lots of options to cruise with children and teenagers worldwide. We generally suggest adventure cruises for kids age six or older. Read more about our family cruises, including testimonials from our family travelers and further resources for booking a family adventure cruise.
How many guides are on board?
Nearly all small ship cruise lines we partner with have at least one naturalist guide aboard, but guide counts will naturally increase with the passenger count. If you have a particular learning topic of interest, look for themed departures that bring aboard guest hosts and special programming on photography, history, marine biology, food/wine or wellness. Or look to National Geographic branded ships that bring aboard professors, authors, scientists, researchers, photographers and expedition crew that are experts in their fields.
Is seasickness an issue on a small ship cruise?
While most small ship cruises travel close to shore or in protected waters where seasickness is not an issue, some ocean-going expedition cruises can encounter rough seas. Ocean conditions vary widely depending on the destination, season, weather, type of ship, route and many other factors. AdventureSmith's unbiased staff experts can help you to determine if a particular small cruise itinerary is right for you, and savvy travelers can educate themselves on ways to combat seasickness by reading our comprehensive guide on How to Prevent & Treat Seasickness. Enjoying the ocean view with your eye on the horizon is one of the best tips!
Can you provide small ship cruising referrals?
Yes! We agree that the best type of small ship cruise review is a personal referral. Ask us to put you in touch with someone who has traveled to your destination with similar interests as you, or aboard the small boat cruise you are inquiring about. You can also read reviews on our trip pages; simply look for the Testimonials and Expert Review sections.
When is the best time to take an adventure cruise?
The best time to take cruises on small ships all depends on where in the world you want to go! Our team has compiled a Small Ship Cruise Calendar to assist travelers in seeing the bigger timing picture for some of our most popular destinations. If your travel dates are flexible, consider a region's seasonality. Prices can vary considerably from the peak season, so look at early or late seasons for the most affordable pricing. River cruises can often have high- and low-water seasons you can consider. Or you may choose based on particular interest like the best time to view whales, when baby penguins are hatching or to align with the warmest water temperatures for snorkeling and swimming. View our Small Ship Cruise Guide resources for more information and inspiration by destination.
How active is a small ship cruise?
All small ship adventure cruises include off-vessel excursions with a focus on exploring the environment up close and viewing wildlife. Many of our cruise itineraries include guided light hiking and easy sea kayaking or snorkeling, and sometimes alternative activities such as stand-up paddleboarding, camping, scuba diving, skiing and even river rafting. Each and every activity is optional, and the naturalist/guides aboard every ship will help passengers to determine if an activity or excursion is right for them. A fun part of the AdventureSmith booking process is that we take your activity level into consideration before you go; our team will assess your activity interests and match you with the best adventure cruise for your travel style.
Can I book just one cabin, or do I have to charter the entire ship?
Yes, similar to traditional larger-ship cruises, you can simply book an individual cabin aboard a small ship. In fact, 75% of our travelers choose to book individual cabins this way: on a set departure. We also connect travelers in groups as small as 8 guests with charter cruises. Choose this charter option to book the entire ship and help set its route and onboard programming for the duration of your trip. Our most popular destinations for chartering your own ship include Galapagos Islands yacht charters, Mediterranean yacht charters and Alaska yacht charters.
How much does a small cruise cost?
In general, small ship cruises cost more than their big-ship cruise counterparts, but the experience is so inclusive and immersive that the dividends to you are much greater and the total costs can end up being comparable. Ultimately, how much a small cruise costs all depends on where you want to go, the size of the vessel you are on and its amenities. All cruise and land tour pricig listed on the AdventureSmith Explorations website is the cost per person, in USD, and our rates depending on the destination start at around $200-$500 per day. This price often varies based on how many persons are sharing the cabin, transfer or tour, as well as any small ship cruise deals to factor in.
What about pricing for single travelers?
Just like a hotel room, you can expect to pay more to book a cabin as a single traveler. But there are exceptions. Some small ships offer dedicated single cabins, but most ships instead have double-occupancy cabins that can be booked for dedicated single-use with a single supplement charge. This supplement is essentially a a discount on paying for the full double-occupancy cabin. In many destinations, there is the possibility of waiving the single supplement by agreeing to a "cabin share," wherein you are paired with a fellow traveler of the same gender in a cabin. This is especially popular on Antarctica cruises, where you will often find many cabin and pricing options for single travelers.
What is included in the price of a small ship cruise?
Common inclusions with a small cruise cabin fare are onboard meals and guided activities during the itinerary. Common exclusions from the cabin fare are airfare (international or domestic), gratuities, alcoholic beverages and insurance of any kind. But there are exceptions to each of these. For example, many of our small boat cruises have included alcoholic beverages, and some of our Mediterranean cruises have nights free at ports of call so you can dine on your own off-ship. Included and excluded services vary from cruise to cruise, and are always listed in the "DETAILS" section of each itinerary listed on our website. These can be discussed further with your AdventureSmith Specialist upon booking.
Start exploring
Where Will You Choose to
Small Ship Cruise?
From the Americas, Asia and the Pacific, to Europe and the polar regions, the expedition cruise destinations offered by AdventureSmith are unmatched by any other travel company. Are you ready to actively explore away from tourist crowds, without sacrificing comfort, safety or the environment? Learn about small boat cruising destination below or head straight to find a cruise.