Let us steer you to a trusted, quality Alaska yacht charter—your own private cruise in the Last Frontier. All our overnight Alaska yacht charters are fully crewed and include guided exploration of Alaska's wilderness. We are a team of award-winning small Alaska cruise specialists who helped pioneer adventure cruising in Alaska; let our expertise and firsthand experience be your guide for planning custom Alaska cruises.
We offer the largest selection of Alaska charter boats carrying 8 to 100 travelers, and have curated the ships listed below (8- to 36-guest vessels) for our charter clients. From the Inside Passage and Prince William Sound, to sailings along the coast to Seattle, our custom private Alaska cruise options show you the state at its best.
ON THIS PAGE – Alaska Charter Cruises:
Types of Alaska Charters
Where Alaska Charter Boats Sail
Deals on Alaska Yacht Charters
Alaska Charter Rates
Terms & Conditions to Expect
Combining Your Charter with Land Tours
Customizing Your Alaska Yacht Charter
More Resources to Plan Your Alaska Charter
View All Alaska Yacht Charters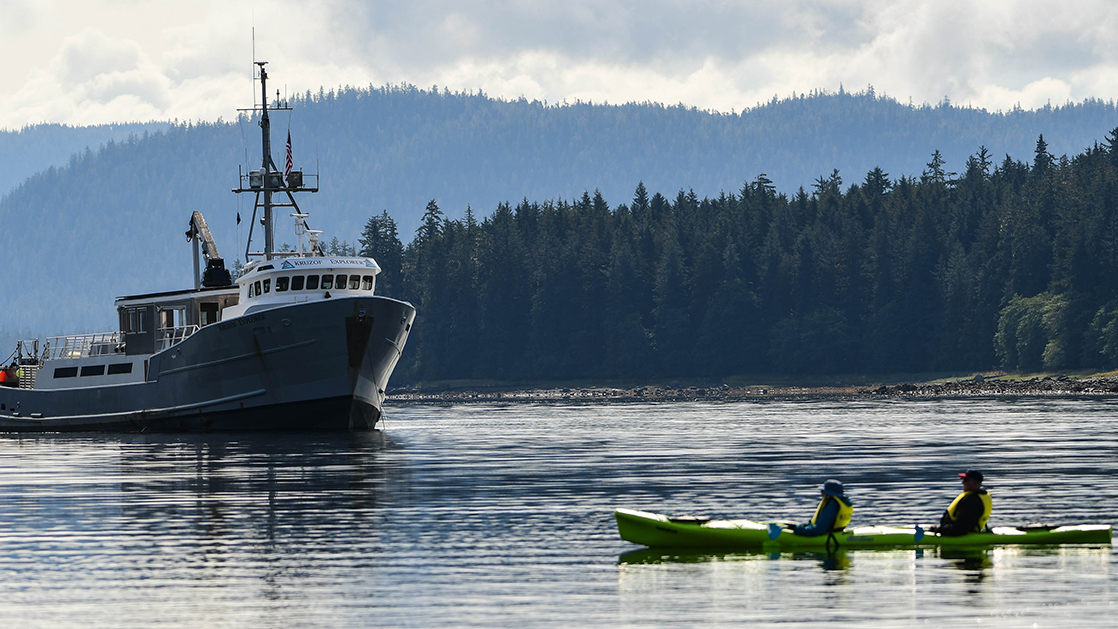 Your Own Private Alaska
Get started planning with our experts today.
Types of Alaska Charter Cruises
Design your own experience of North America's premier wilderness. Our selection of Alaska yacht charters is curated with the best Alaska charter boats providing unparalleled access to remote wilderness areas as well as the highest level of safety and comfort. Craft your own private Alaska cruise to enjoy active exploration on naturalist-led shore hikes, sea kayaking, stand-up paddleboarding and even snorkeling on select ships. Perhaps you're seeking an Alaska luxury cruise or looking for the best Alaska cruise for families. Whatever your travel preference, we can accommodate.
Where Alaska Charter Boats Can Sail
Our Alaska charter boats are primarily based in the Inside Passage, including Glacier Bay cruises, but we have private boat options in Prince William Sound, along the remote coastlines of Katmai National Park and sailing up from Seattle. On a private Alaska cruise ship, you can help set the route, but certain vessels are best equipped and staffed for certain areas. And note that our Alaska charter cruises are all overnight, no day-only bookings.
AdventureSmith's team of experts can work with you to plan which Alaska charter boat works best for your group. We have everything from popular Juneau yacht charters to sailings out of Ketchikan, Sitka, Whittier or Cordova.
Deals on Alaska Yacht Charters
How to get the best deal on Alaska charter cruises? Booking early is a must to secure vessels for charter space, but booking a charter often equals significant per-person discounts off standard cabin rates. Our experts know the nuances and span of private Alaska cruise options in the region and can link you to the latest Alaska yacht charter discounts. View our Alaska cruise deals to see what's currently on sale.
Alaska Yacht Charter Rates
A full-boat charter has many advantages over an independently booked cruise, price being a big advantage in addition to exclusivity and flexibility. The trips listed on our website show rates per person, for travelers booking individual staterooms on prescheduled departures. But when you book a full Alaska yacht charter, each person will save 10 to 30% off these regular per-person cruise rates.
Alaska yacht charters are typically planned and contracted at least one year in advance of the cruise departure date, but as long as space is available charter yachts in Alaska can still be secured. Charter rates vary by destination, season and availability. Off-season Alaskan yacht charters garner the greatest savings while high-season dates should be secured a year or more in advance. To get a jump-start on charter research, read our 7-step guide How to Charter a Yacht then consult our Alaska yacht charter specialists for the ultimate guidance.
Charter Terms & Conditions
Terms and conditions are sometimes more strict with Alaska charter cruises (and a charter anywhere, for that matter) than they are for individual bookings. Expect to pay a charter rate that remains the same, whether or not you have enough travelers to fill all the staterooms. Cancellation terms usually require a nonrefundable deposit and payments as the cruise date approaches. Some Alaska charter boats require that one person be responsible for signing the charter agreement. Group travel insurance policies are highly recommended when considering a private Alaska cruise. Our experts will work with you and your group to make the charter process seamless and transparent.
Combine Your Private Alaska Cruise with Land
Complement your Alaska yacht charter with time on land, or plan a custom adventure based at a wilderness lodge. We offer scenic locations, authentic cuisine and unique lodge access by way of floatplane, helicopter, raft or boat. Visit Denali National Park as few visitors do, stay at the only lodge within Kenai Fjords National Park or opt to arrive to the most remote of lodges in true Alaska style—by floatplane. View all of our Alaska land tours to find a good fit for your interests.
Customizing Your Alaska Yacht Charter
If you are interested in larger vessels, private group departures and/or private stays at wilderness lodges, visit our Alaska trips page. Additional Alaska charter boats may be available for your dates, so contact us for the most up-to-date options for custom Alaska cruises. As each private Alaska cruise can be customized to your needs, contact one of our experts to explore each ship's charter options more in detail.
PLANNING YOUR ALASKA YACHT CHARTER:
Charter Cruises
How Much Does It Cost to Charter a Yacht?
How to Charter a Yacht in 7 Steps
Alaska Cruise Guide
Alaska Small Ship Cruises
Luxury Alaska Cruises
Best Alaska Cruises for Families
Small Alaskan Cruise Lines
Alaska Small Ship Cruise Deals
Small Ship Alaska Cruise Reviews
Best Time to Visit Alaska

View All Alaska Yacht Charters
Browse the curated Alaska yacht charter ships listed below. These vessels all under 50 guests are ideal for small groups seeking private Alaska cruises. Our team has personal experience aboard nearly every Alaska charter boat on this page, so we're your best resource to booking your Alaska yacht cruise. Contact us for a custom quote on Alaska yacht charters, or discover more about small ship Alaska cruises with up to 140 guests.