As the small ship Alaska cruise experts we are often asked for recommendations on the best small Alaskan cruise lines. Which are the most active? Which have the best guides? Which one offers the most insight into Alaskan history and indigenous culture?
If you want to compare cruise lines to Alaska, you are in the right place. Alaska cruise lines come in many sizes and flavors. Below our experts review the top small ship Alaska cruise lines, what makes them special, how they differ from each other, and why travelers might consider cruising with them.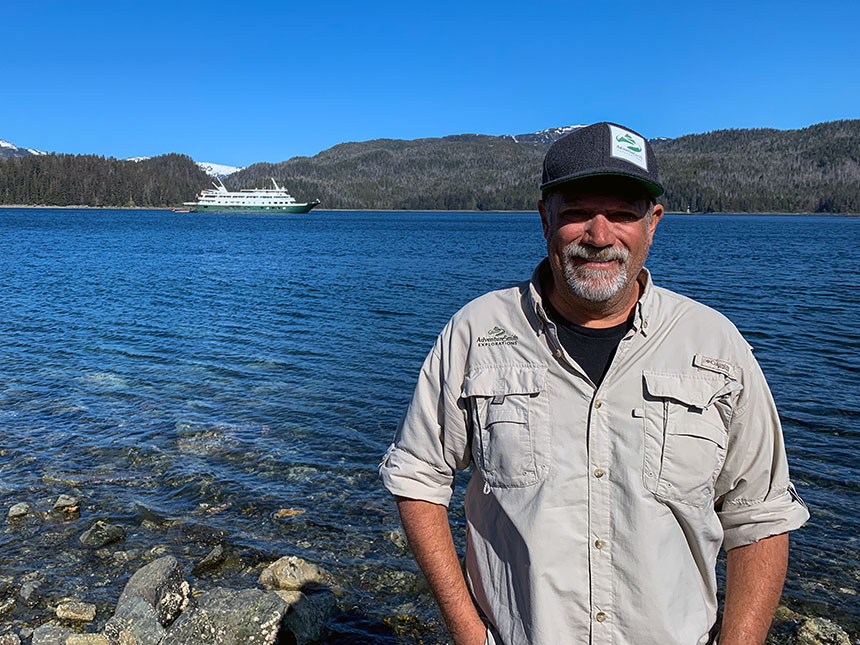 CONNECT WITH AN
ALASKA EXPERT
You have questions.
We have answers.
IN THIS POST – Small Alaskan Cruise Lines:
The Best Small Alaskan Cruise Lines
A to Z:
– Alaskan Dream Cruises
– Discovery Voyages
– Lindblad Expeditions
– Natural Habitat
– North Pacific Expeditions
– Pacific Catalyst II
– Sea Wolf Adventures
– UnCruise Adventures
Our Selection Process
Our Recommendations
More Resources
Compare Cruise Lines to Alaska
When you start to compare cruise lines to Alaska, the first thing you should understand is that there is a big difference between the "big ship" cruise lines like Disney and Carnival and these small cruise lines to Alaska.
The differences come in many forms depending on which Alaska cruise lines you are comparing. But in general, a small ship Alaska cruise lines have:
More local knowledge and access
Smaller, more manageable fleet sizes
More local staff and experts on board
The ability to source and serve local food
If you take a small ship cruise line to Alaska, your company might be Alaskan-owned instead of part of an internationally based and staffed corporation. The fish served aboard may be freshly caught that day thanks to the captain's connections and the logistics of serving a smaller passenger count. And your guides are more likely to be immersed and invested in Alaska since many small Alaskan cruise lines have office staff based right in Alaskan ports of call.
Among the small cruise lines to Alaska, there are further comparisons. Some are more active than others with itineraries designed for maximum activity and wilderness, with the adventure gear onboard to take advantage of it all. Some are more educational, with staffing focused on the top experts in their fields. And others take advantage of their Native roots and access to explore Alaskan history and indigenous culture via rarely visited small port towns.
At AdventureSmith Explorations, how we compare cruise lines to Alaska comes down to a one-on-one conversation with each traveler. We aim to find the best small Alaskan cruise lines for your travel considerations by talking through your needs.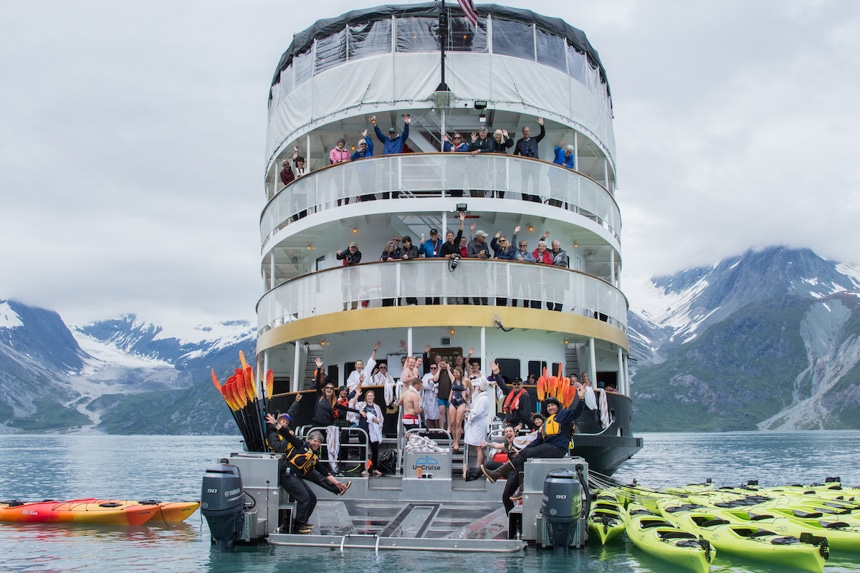 The Best Small Alaskan Cruise Lines
Top of the line naturalist guides, safety, service, guest experience and environmental stewardship are the important criteria we consider when selecting which small ship Alaska cruise lines we represent. We are proud to partner with the top small Alaskan cruise lines around, each committed to showing you Alaska up close, in touch with nature and culture. But each company has their own vibe and focus; differentiators that may draw you to one over the other. So, let's learn more about them, shall we? In alphabetical order, here's our list of the best Small Alaskan Cruise Lines and why you may want to cruise with them.
Alaskan Dream Cruises
The cruises offered by this mutigenerational family of local Alaska Natives are authentic and personal. Because of their Tlingit Alaska Native heritage, Alaska Dream Cruises include unique access and more visits to rural towns and villages than other small ship Alaska cruise lines. On board they employ naturalists who will focus on science and wilderness plus True Alaskan Guides who will offer insight into the region's compelling history and distinct Native cultures.
Why Cruise with Alaskan Dream Cruises
If you want a mix of active excursions and intriguing towns and Native villages, choose to cruise with Alaskan Dream Cruises. Guests often leave with meaningful experiences after discovering three of Alaska's Native cultures, the Tlingit, Haida, and Tsimshian; afforded by this company's local family connections.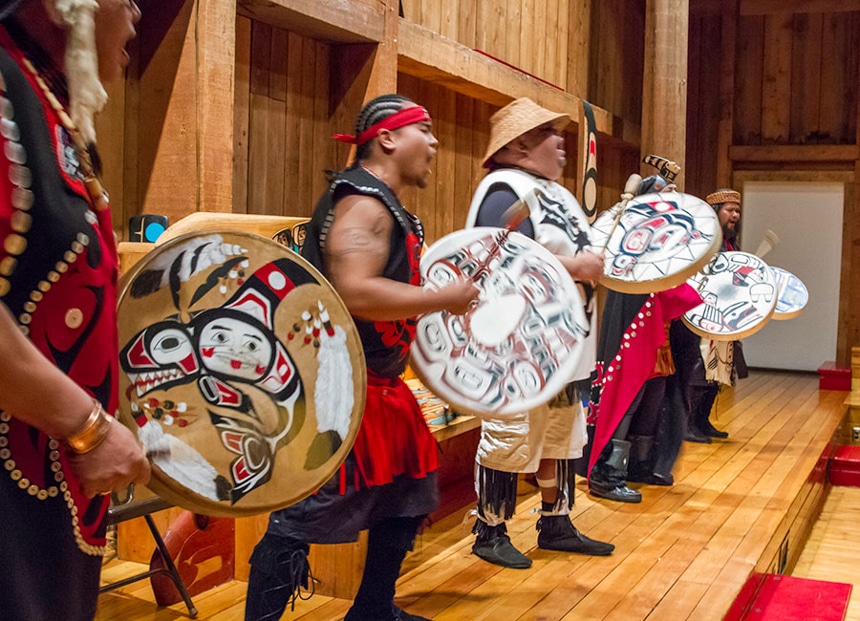 Discovery Voyages
The owners and operators of this family run Discovery Voyages are also the licensed captains and naturalists during sailings aboard the Discovery. Discovery Voyages is the original small Alaskan cruise line in Prince William Sound and sail exclusively in this region.
Why Cruise with Discovery Voyages
Discovery Voyages is one of Alaska's oldest and most respected local choices in Prince William Sound. The crew is friendly and knowledgeable, and grew up in Whittier, the gateway community to this region. If you want a genuine and intimate cruise in Prince William Sound, they are a sound choice.
Lindblad Expeditions
You can't talk about the best small Alaskan cruise lines without mentioning Lindblad Expeditions. Their powerhouse partnership with National Geographic has made them a household name, and for good reason. The companies combine their extensive resources and collaborate on exploration, conservation, research and technology, providing the top educational expedition cruises in Alaska.
Why Cruise with Lindblad Expeditions
The hallmark of Lindblad expeditions is their team of experts. You will pay a premium for an intellectual and educational experience alongside seasoned naturalists and intellectual guides who are professionals in their field. The off-vessel explorations are less about the activities and work out and more about the up-close educational experiences using state-of-the-art tools.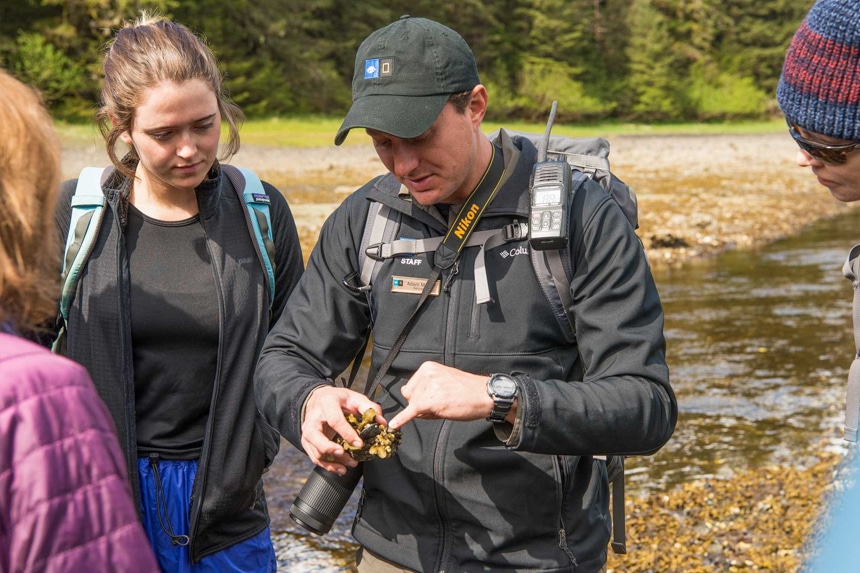 Natural Habitat Adventures
They aren't a cruise line per se – but instead, this nature travel company operates small group adventures aboard private chartered ships (like the Ursus). Natural Habitat Adventures collaborates with World Wildlife Fund and their team of scientists during the itinerary planning process and in-depth guide training. They have developed super unique nature driven itineraries in remote areas inaccessible to the mass tourist crowd.
Why Cruise with Natural Habitat Adventures
It's safe to say you wouldn't want to get THIS close to Alaska's grizzlies with anyone else. Natural Habitat's expedition leaders are bear experts who know these animals intimately. So much so that even the wildlife recognizes them. If you want intimate and unparalleled wilderness access in Alaska this is the company for you.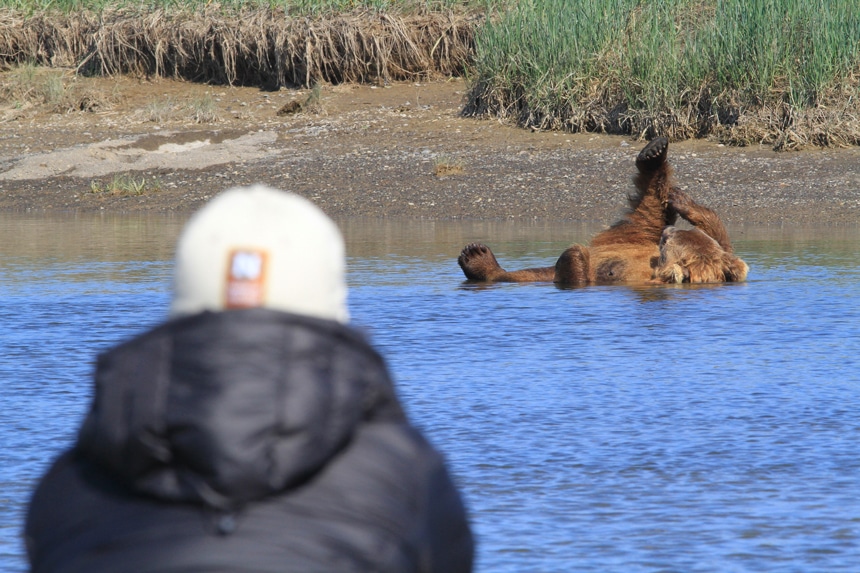 North Pacific Expeditions
The owners and captains of this small Alaskan cruise line had a lifelong dream of sharing their passion of sea journeys with others which led to the creation of North Pacific Expeditions. They offer cruises aboard a single classic yacht and focus their itineraries within Southcentral Alaska, inside the secluded Prince William Sound and around the remote and rugged Kenai Peninsula.
Why Cruise with North Pacific Expeditions
Alaska is vast and there is so much to experience. Of course (for good reason), many choose an Alaska Inside Passage cruise. But Southcentral Alaska is also incredibly beautiful, and it doesn't make the radar of most travelers. Choose North Pacific Expeditions if you want to widen your scope of exploration outside of Southeast Alaska and cruise inside regions that few get to experience in Southcentral Alaska.
Pacific Catalyst II
This operator is unique due to their fleet and longtime experienced crew. Pacific Catalyst II owns and operates two historic wooden yachts that evoke an older era and run an unhurried cruise model. Food is sacred and locally sourced and at the core of any Pacific Catalyst II cruise is the required use of all 5 senses. This company has a deep passion for the place, food, nature, and the Alaska experience.
Why Cruise with Pacific Catalyst II
The intimacy and slow pulse of Pacific Catalyst II cruises makes this small ship Alaska cruise line ideal for travelers seeking authenticity and connection. The boats are quiet when underway inviting guests to slow down and experience the beauty, wildlife, and solitude that surround them.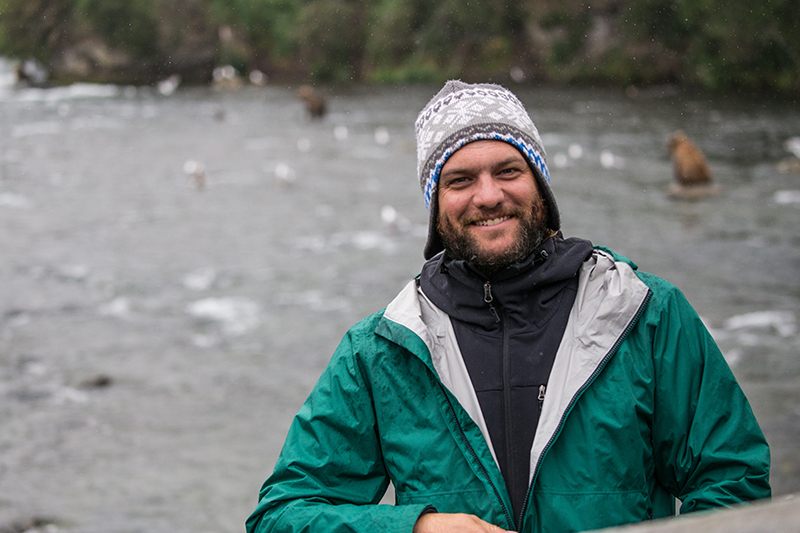 IN THE KNOW ON
WHEN TO GO
Expert insights,
delivered to your inbox.
Sea Wolf Adventures
The smallest Alaskan cruise line on this list, Sea Wolf Adventures operates one historic wooden boat from the town of Gustavus, the gateway community to Glacier Bay National Park. Owner Kimber and her crew are among the most talented naturalists in Alaska and offer active cruising adventures suitable for people of all abilities on her universally accessible ship.
Why Cruise with Sea Wolf Adventures
Choose Sea Wolf Adventures if you are seeking an in-depth exploration of Glacier Bay National Park. We consider Kimber the guru of Glacier Bay National history, and it's through her unique local permits that allow Sea Wolf to visit areas others can't and spend more time inside the park than any other small Alaskan cruise line. You may even join a departure where Kimber herself will be your naturalist guide or captain.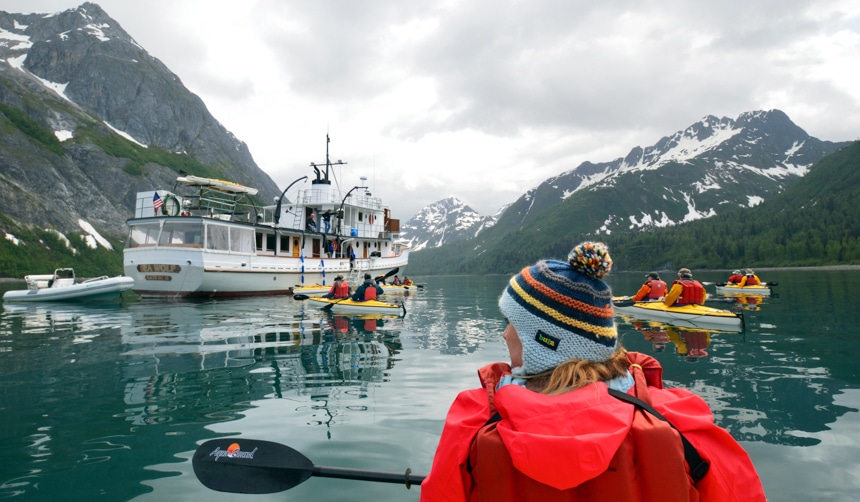 UnCruise Adventures
For over 25 years UnCruise Adventures has sailed in its birthplace of Alaska. This well-known small ship Alaska cruise line offers a spectrum of price points across a large fleet of boutique yachts and expedition vessels and are known for their generous alcohol and bar inclusions.
Why Cruise with UnCruise Adventures
UnCruise Adventures is serious about fun. Bring your spirit of adventure, because this operator is focused on off-boat adventures—rain or shine. The boats are designed for action, like their EZ Dock launch platforms that make getting in and out of the water EZ'er than ever. Cruisers who want daily activities, be it a leisurely shore walk, or a hard charging hike, will enjoy UnCruise because they are adept at offering options for all skill levels and preferences.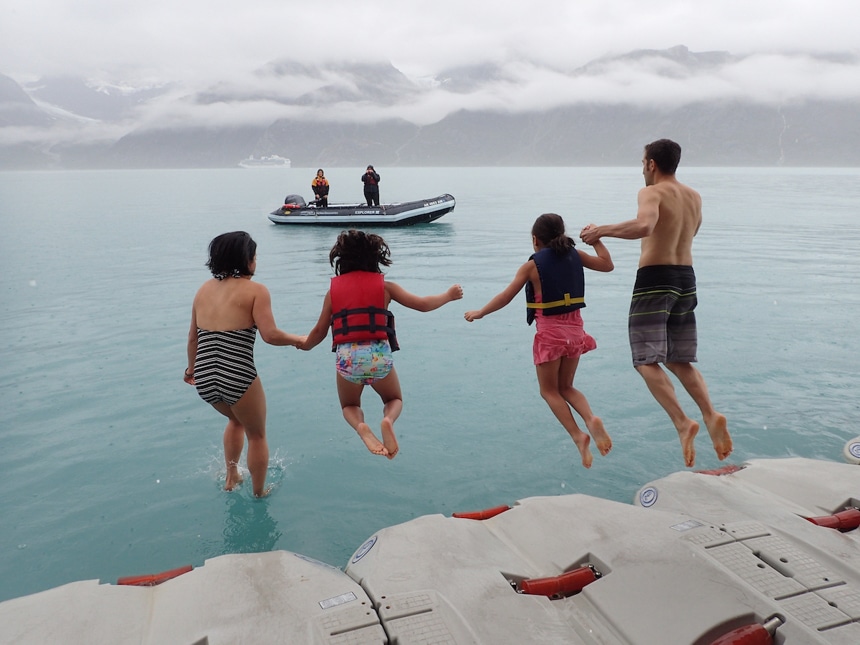 How We Select the Best Small Alaskan Cruise Lines
We select the best small Alaskan cruise lines based on several factors. First is operational safety and guest experience. Then we look for the quality and experience of onboard guides. Todd Smith, AdventureSmith founder and president, worked as a lead naturalist aboard small ships in Alaska for 10 years and knows the importance of a good guide. The next important consideration is off vessel exploration and activity program logistics.
The ships themselves must have the highest level of safety and comfort, but overall ship amenities are a secondary consideration. AdventureSmith represents ships for every style and budget, from charming wooden yachts to luxury expedition ships. Once you compare cruise lines to Alaska, you are ready to acquaint yourself with the selection of Alaska small ship cruise itineraries and he many individual ships.
Which Small Ship Alaska Cruise Lines Do We Recommend?
Each of the small Alaskan cruise lines we represent is a great choice. We have personally vetted, and hand selected each one. Our partners have become family, and honestly, choosing one over the other would be like choosing your our favorite sibling. We consider ourselves matchmakers. Our job is to get to know our clients intimately, and by using honest, unbiased information, match you with the best Alaskan cruise line based on your interests, ability and budget. We are confident your dream Alaska cruise line is listed above, and we can't wait for you to get aboard and see why we love them.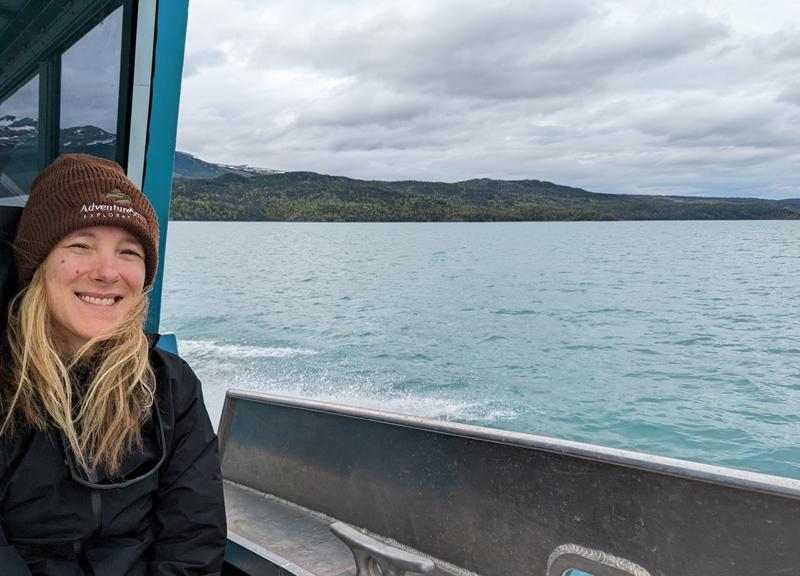 BOOK YOUR ALASKA CRUISE
1-on-1 consultation.
Start planning today.
MORE ALASKA RESOURCES:
Alaska Small Ship Cruises
Alaska Yacht Charters
Luxury Alaska Cruises
Alaska Cruise Guide
Alaska Cruise Deals
Small Ship Alaska Cruise Reviews
Best Alaska Cruises for Families
Glacier Bay Cruises
Alaska Inside Passage Cruises
Alaska Whale Watching Cruises
Alaska Trips
Alaska Tours
Visiting Denali National Park
Alaska National Park Tours
Best Time to Visit Alaska