If you're seeking Lindblad Alaska cruise reviews, you've come to the right place. Read on for insights into what stands out about Lindblad Expeditions in Alaska, according to AdventureSmith's Mary Montalbano. Also find testimonials by our clients, rating the on- and off-ship experience in Alaska with this operator.
IN THIS POST – Lindblad Alaska Reviews:
Comparing the Ships
Selecting Your Lindblad Alaska Cruise
Elite, Well-Rounded Guides
A Polished Crew
The Lindblad Expeditions Alaska Experience
Comments, Testimonials & Trip Ratings
Here are my takeaway's following Lindblad Alaska cruise: The 8-day Exploring Alaska's Coastal Wilderness, from Sitka to Juneau. These notes can apply to all Lindblad Alaska small ship cruises. Dive into these insights, as well as comments by our clients, to help determine if a National Geographic Alaska cruise is right for you.
Comparing The Ships
The Lindblad Expeditions Alaska fleet is comprised of four U.S.-flagged boats: 62-guest sister ships National Geographic Sea Bird and National Geographic Sea Lion, and newer 100-guest sister ships National Geographic Venture and National Geographic Quest. While the service and guiding are comparable across Lindblad Alaska ships, the two generations each offer a different character.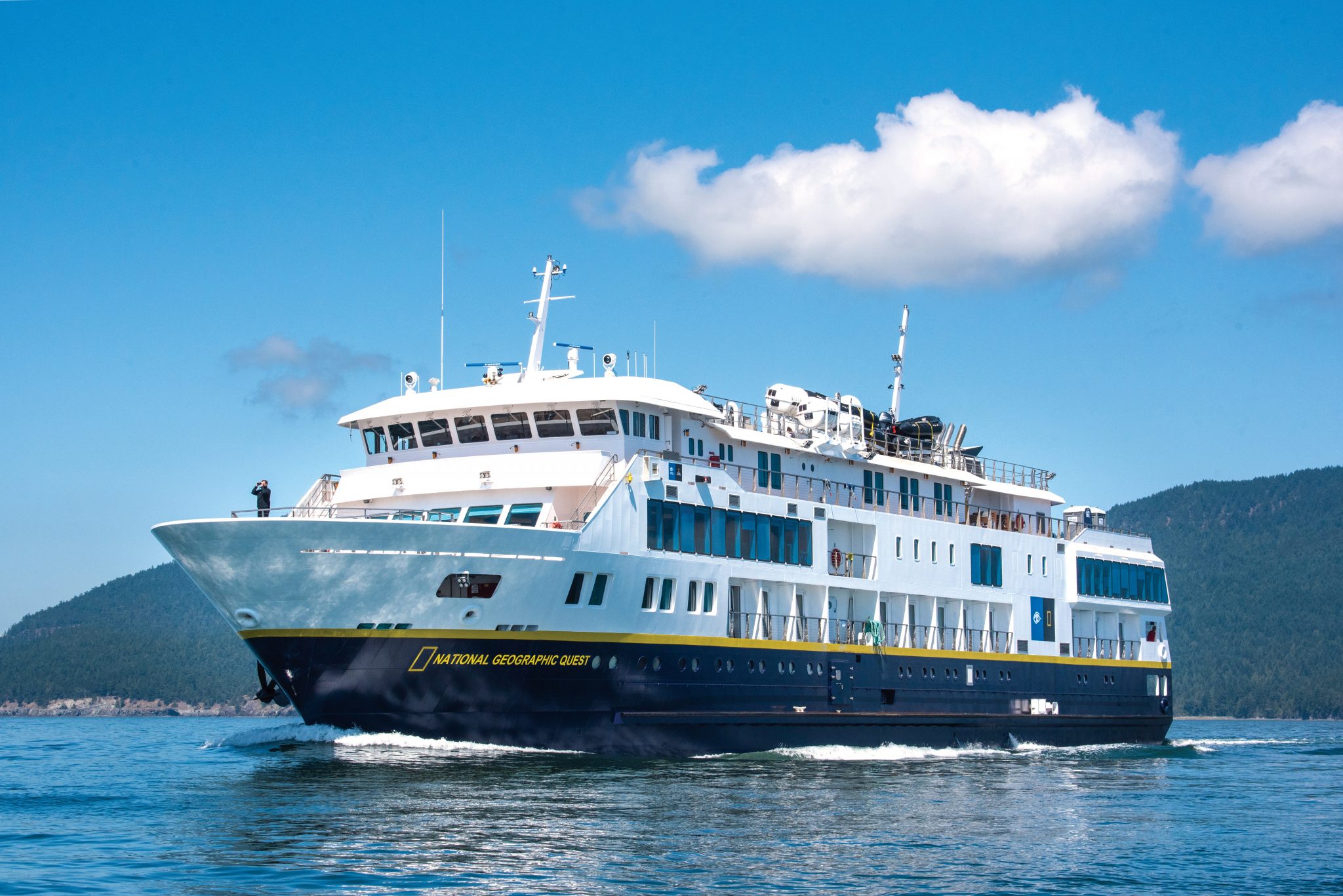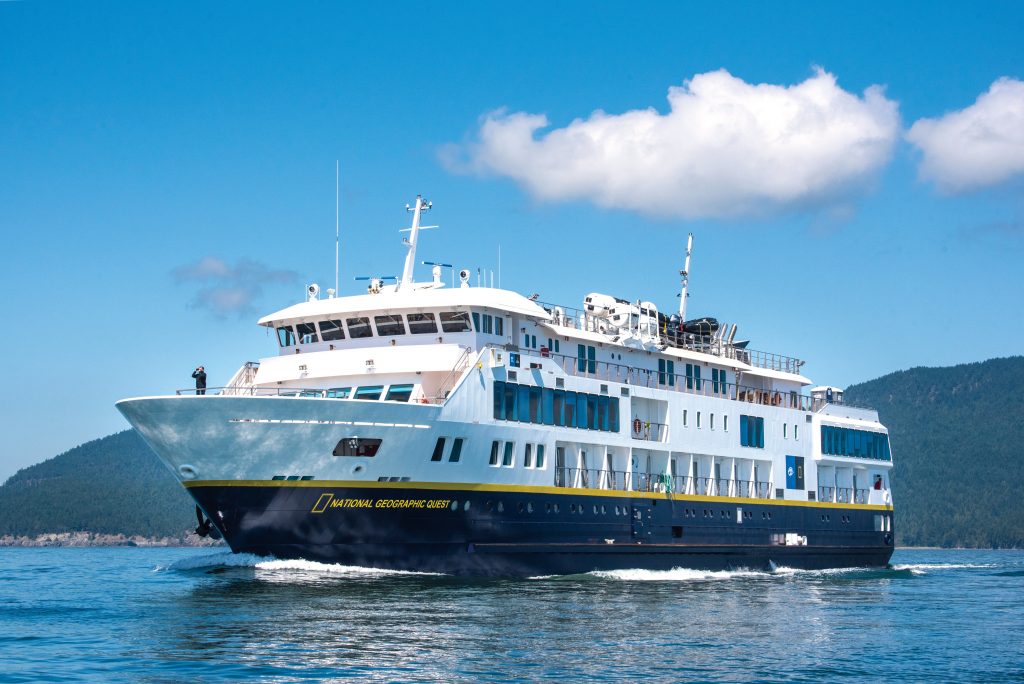 The smaller, seasoned Sea Bird and Sea Lion have the feel of a private expedition yacht, while the larger, modern Venture and Quest are purpose-built for high-end adventure. Sea Bird and Sea Lion guests will find more warm wood features, while guests aboard Venture and Quest experience more glass and stone.
While all Lindblad Alaska ships offer the same amenities, the Venture and Quest have obvious refinements following a few decades of sailing by their older predecessors (for more details on these newer ships, read my Venture & National Geographic Quest Reviews). It was no surprise that the captain on my Lindblad Alaska cruise (Captain Cook!) had graduated from years at the helm of the Sea Bird.
On the Venture and Quest, the Dining Room features a dazzling 270 degrees of glass by its aft location, meaning I was almost always guaranteed a window seat. Also on Venture and Quest, the bow viewing area is directly off the Lounge, which made it easy to view wildlife both indoors and outdoors based on the changing weather.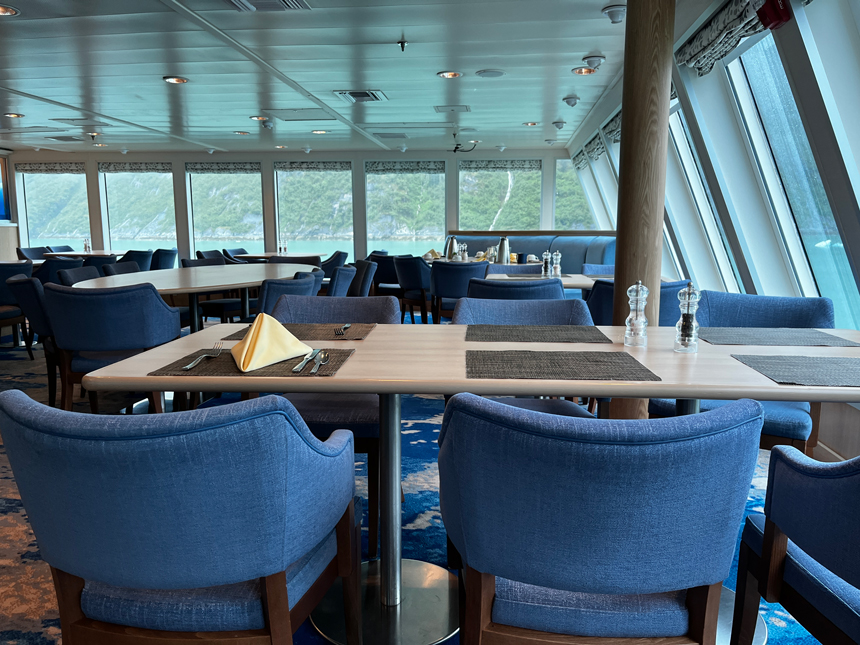 Venture and Quest have a dedicated indoor gym space – nice for those chilly Alaska days. Finally, Venture and Quest feature common areas that are all above deck, with a lot more glass, which brings more of the outdoors in and makes spaces feel brighter.
Lastly, almost half of the cabins on Venture and Quest offer a private balcony, while none of the Sea Bird or Sea Lion cabins have this wonderful space. In my Category 4 cabin on Venture, the balcony floor-to-ceiling windows provided the best views from anywhere indoors on the ship (aside from the dining room) and was a great way to watch Alaska's scenery float by.
Plus, I could leap up from bed and instantly be on deck photographing or spying wildlife with my binoculars, should whales appear. That said, most cabins on Sea Bird and Sea Lion have exterior doors to shared deck space; it just won't provide a place for private moments with your cabin mate.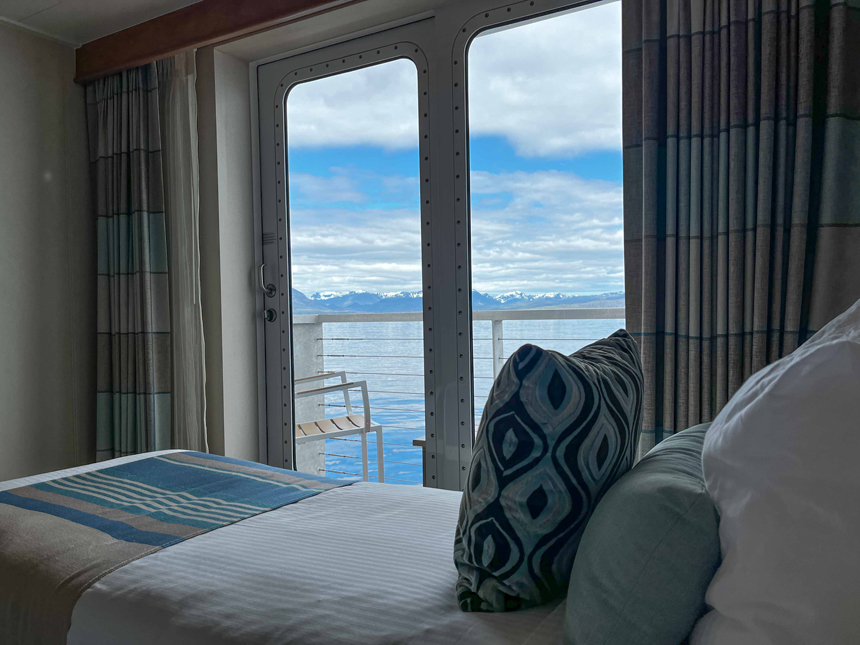 Selecting Your Lindblad Alaska Cruise
Lindblad offers six itineraries in Alaska: four that cruise entirely within Alaska and two that also explore the Canadian coastline of British Columbia. (A seventh option, The Great Bear Rainforest, embarks in Ketchikan, Alaska, but otherwise is completely operated along Canada's coastline.) Most Alaska Inside Passage cruises are 8 days—a length that allows 6 days of exploration among a variety of islands and inlets.
My 8-day Exploring Alaska's Coastal Wilderness cruise offered a nice mix of all-day cruising in Glacier Bay National Park, an activity-filled town day in Petersburg, and opportunities to take nature walks (plus one long bushwhack) and paddle a kayak or stand-up paddleboard in protected bays and inlets. This is the quintessential Lindblad Alaska itinerary and therefore operated aboard the premier vessels: Venture and Quest.
Travelers with more time can enjoy most of the same Alaska stops on the 14-day Treasures of the Inside Passage (or 15-day A Remarkable Journey, which spends 4 days uniquely exploring the culture-rich islands of Haida Gwaii), while also adding visits along the Inside Passage of British Columbia. The Canadian portions of these routes are less protected from open ocean swells, and the extra days will feel similar to those in Alaska: cruising, hiking, paddling and cultural visits. However, the 14-day is operated aboard Venture and Quest, while the 15-day is operated by the Sea Bird and Sea Lion.
Travelers with less time can opt for the 6-day Wild Escapes: Sitka to Juneau or Juneau to Ketchikan. These itineraries only allow for 4 days of exploration, do not visit Glacier Bay and are operated on the older Sea Bird and Sea Lion vessels. (Travelers interested in Glacier Bay cruises can choose from the 8-day that I sailed, or either of the longer Lindblad Alaska cruises.)
These short Lindblad Alaska itineraries are ideal for travelers with only a week, but they don't hit all the Southeast highlights, and send you home shortly after settling into a daily routine. Also short is the 6-day Glaciers of Prince William Sound, a Lindblad Alaska route along the state's central coast. With a smaller area to cover, this itinerary aboard the Sea Lion is sufficient with only 6 days.
Elite, Well-Rounded Guides
Lindblad Alaska guides are second to none, and a large reason to book with this cruise line.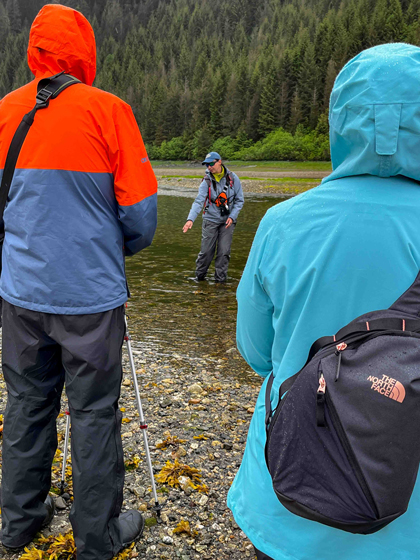 Guides work interchangeably aboard the Lindblad Alaska ships, and they are on a superior level when it comes to expedition cruise guides.
This elite group is comprised of researchers, naturalists, marine biologists, hydrographers, NOAA scientists, university professors, licensed boat captains, global sailors, divemasters and more.
Many of them have a Master's degree or PhD, and some of them have been working with Lindblad for decades.
Lindblad also sets itself apart by staffing the guiding team with expedition divers, a wellness instructor and a certified photo instructor. While we enjoyed water activities (Zodiac cruising, stand-up paddleboarding and kayaking), the dive team would slip underwater to collect fascinating footage to then edit and present in a brief lecture.
A photo lecture on the first full day helped ensure my phone and camera's settings were optimal from the start of the trip. I also learned tricks like how to blur people out of my photos, and tips on topics including subjects, lighting and framing. My Lindblad Alaska photo instructor, Kelly Coursey Gray, was readily available throughout the voyage to answer questions and help me create memorable images.
The onboard wellness specialist posted day-by-day sign-up slots for a 30- or 50-minute massage (added cost), and also offered a complimentary 30-minute, beginner-friendly stretch class every morning. No yoga studio class can compare to stretching in the crisp Alaskan air under the glow of morning sunshine while blue iceberg bits float by and waterfalls cascade all around you.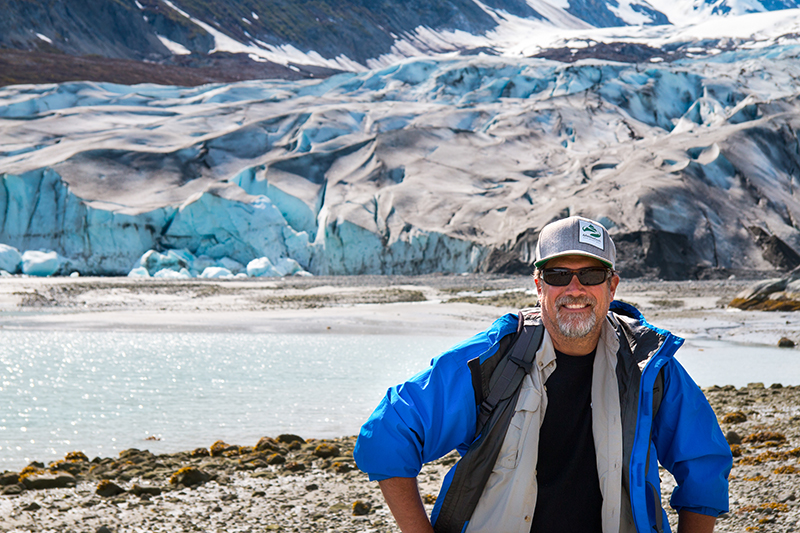 Connect With an Alaska Specialist
You have questions. We have answers.
The educational influence of Lindblad Alaska guides is seen throughout the ship. In perusing the Natural History board, I found guide-maintained checklists of plants, mammals and birds spotted as my Lindblad Alaska cruise progressed. News and research articles relevant to Alaska were also posted, with photos and other informative insights.
Guide-ready exploratory tools add to the educational feel of Lindblad Alaska cruises. On my departure, when the ship was stationary and whales were nearby, the guide team dropped the hydrophone underwater and broadcast the sounds of the sea around the ship. When a mountain goat or bear was spotted on a hillside, a guide with a spotting scope would appear on deck. And some lectures featured collected rocks and undersea specimens shown live onscreen from a video microscope.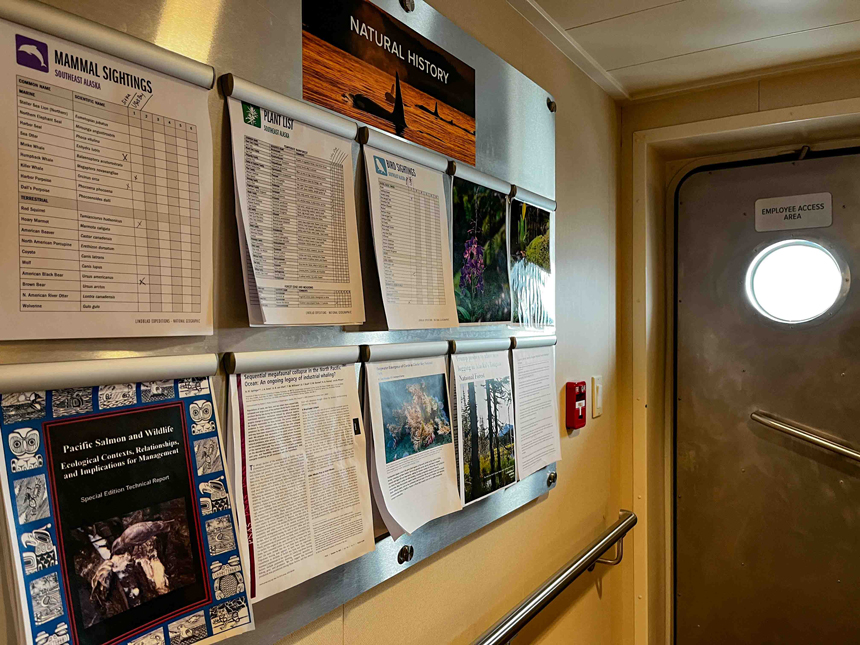 The expedition team's daily recap is a 30-minute series of short talks on topics relevant to the day's experiences. And a longer lecture is on offer after dinner each night. Some of our lectures included:
"Glaciers and the Exhumation of Mountains"
"Oil, Parks, and People: How the 1970's Shaped Alaska Today"
"Gold and The Exploration of Southeast Alaska"
Finally, the guide-run Global Explorers program engages kids on board; on my Lindblad Alaska cruise, this culminated in a ceremony to swear-in our newly minted Glacier Bay National Park Junior Rangers. Lindblad operates this onboard program in various destinations, and this program sets this operator apart from other cruise lines. In Alaska, kid-friendly programming is offered by other operators on occasional family departures, but only Lindblad Alaska offers it on every departure.
A Polished Crew
A Lindblad Alaska cruise is distinguished by the crew's careful attention to detail and thoughtful touches.
When each morning stretch class ended, freshly blended smoothies appeared on the bar behind my mat. A birthday was celebrated at dinner with a surprise decorated table and the hotel manager leading us guests in song.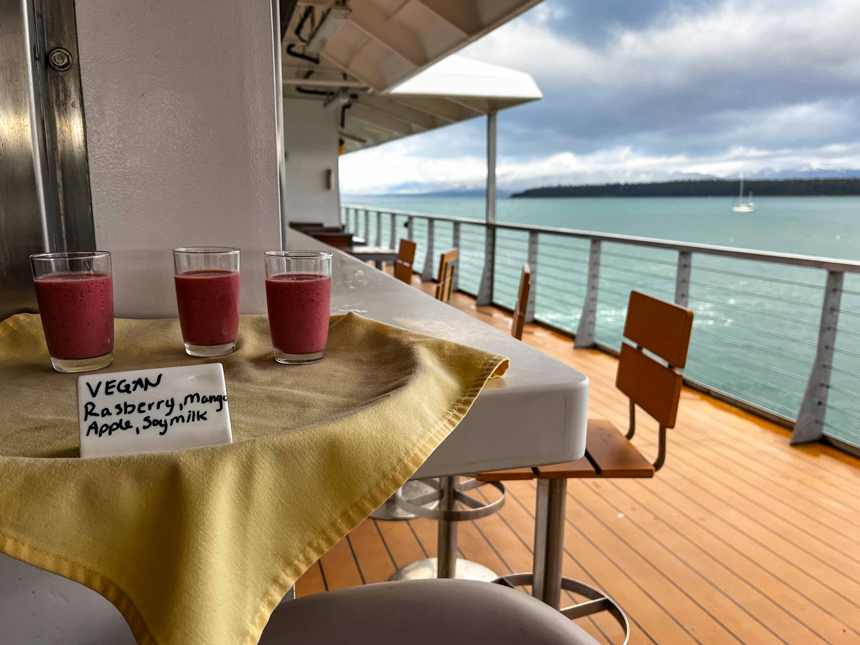 While we were out on the bow watching for wildlife in Glacier Bay, the bartenders brought out surprise rounds of homemade hot apple cider and optional rum. And during a long and rainy Zodiac cruise near a glacier, our boat was startled by Vikings and pirates bearing hot chocolate, whip cream and optional peppermint schnapps.
Despite these ships offering complimentary alcohol for up to 100 guests, the bartenders manage to remember your drink preferences. And despite open seating where guests may sit in a new place for every meal, the servers remember who likes extra bread and who needs vegan butter. If you have an allergy or special diet that doesn't align with the fare being served, then specially made options appear in front of you, without even asking.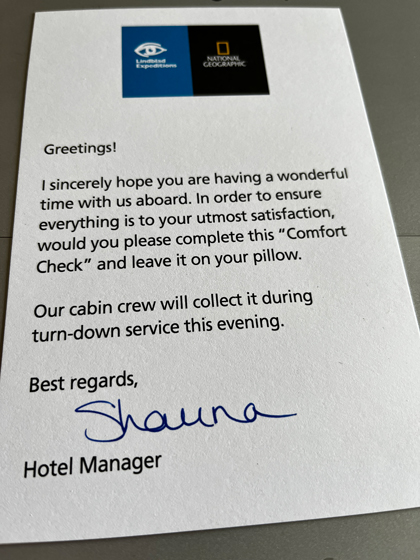 When I forgot to put the "Privacy Requested" sign on my door and accidentally left items strewn about my cabin, I returned to a spotless room with everything put just where I had hastily left it. Conversely, when I forgot to remove my "Privacy Requested" sign before turndown service, my specialty chocolates were left in the mail slot outside my cabin door, instead of on my pillow.
Any needs not already met were easily remedied by the Hotel Manager, who was somehow always available. And a mid-cruise comment card helped the crew ensure that everything was to my satisfaction
The Lindblad Expeditions Alaska Experience
Intellect, quality and seamlessness sum up the Lindblad Expeditions Alaska experience.
Guides and crew display genuine interest in not only Alaska but also the guests traveling alongside them. While a Lindblad Alaska guide or crew member may be just starting their career with the company (many are seasoned), it's obvious that they have prior experience elsewhere. This experience, paired with a heightened academic program and an air of engagement, makes the Lindblad Alaska experience an intellectual one.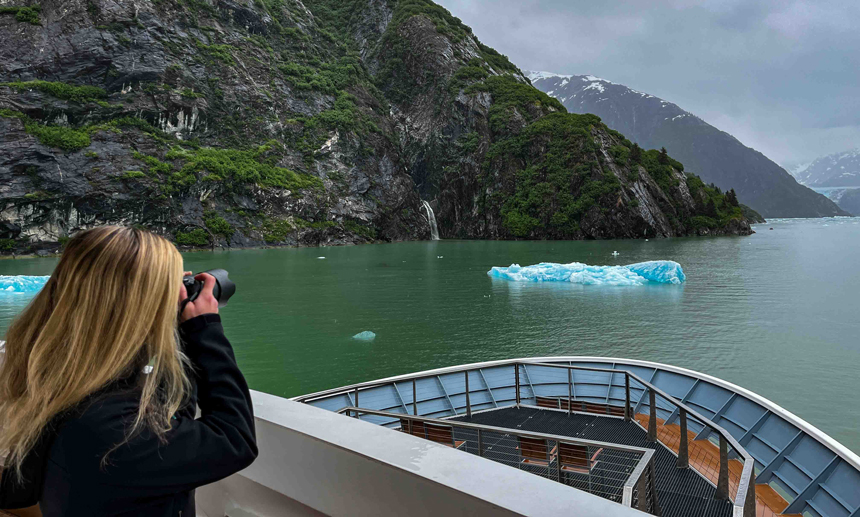 Quality is apparent throughout a Lindblad Alaska cruise. The food is thoughtfully sourced, the group gear and expedition craft are modern and well maintained, and user-friendly items on the ship (such as the well-loved espresso machine) are always in good working order. Lindblad even provides updated gear to the local outfitters it works with – such as the brand-new helmet I wore on my bike tour of Petersburg.
The Lindblad Expeditions Alaska experience is rounded out by a sense of seamlessness. Guests are treated to a schedule and onboard atmosphere that flows effortlessly. How does the crew do it? Perfectly timed daily meals, continuously spotless common areas, cabins cleaned while you're out hiking, etc. And guides are always present, despite the need to prepare lectures and take personal time.
Lindblad Alaska guests can delight in having their every intellectual and operational need not only met, but exceeded. It's for this reason that many of our Lindblad Alaska small ship cruises make our list of luxury Alaska cruises, and why I would happily take another Lindblad Alaska cruise.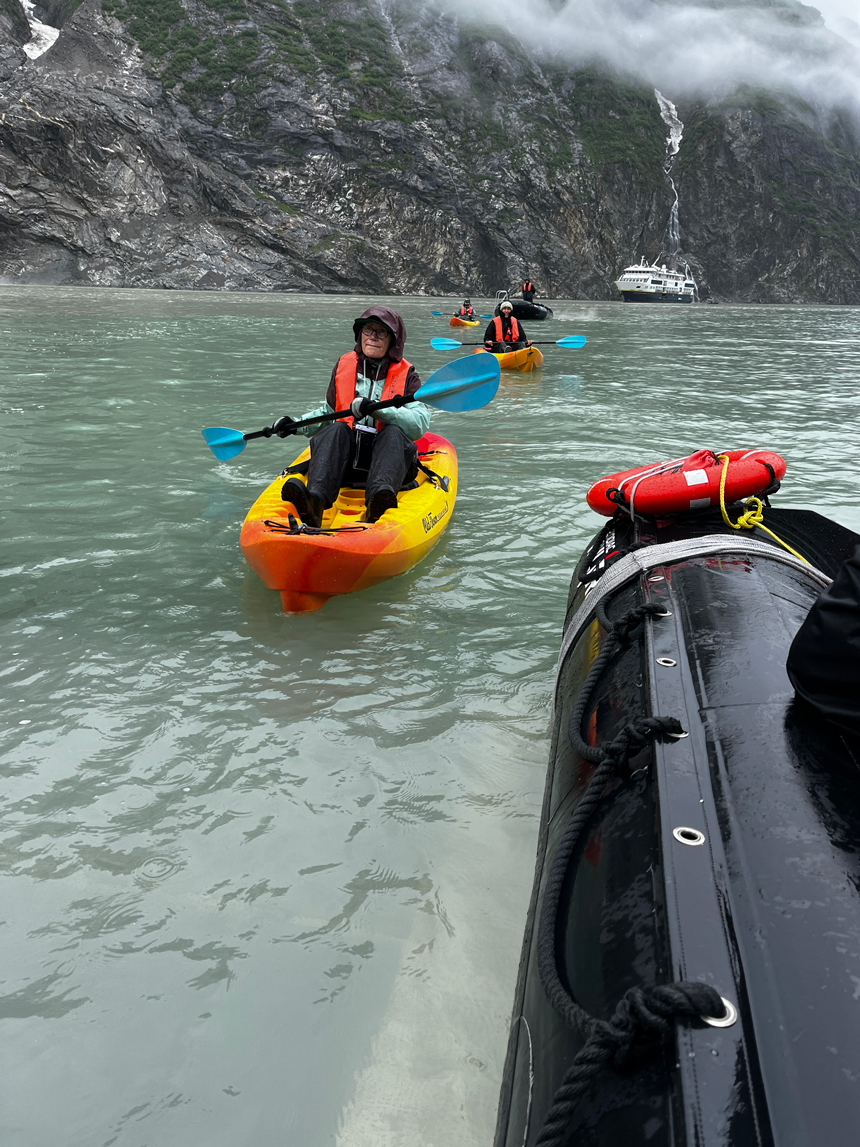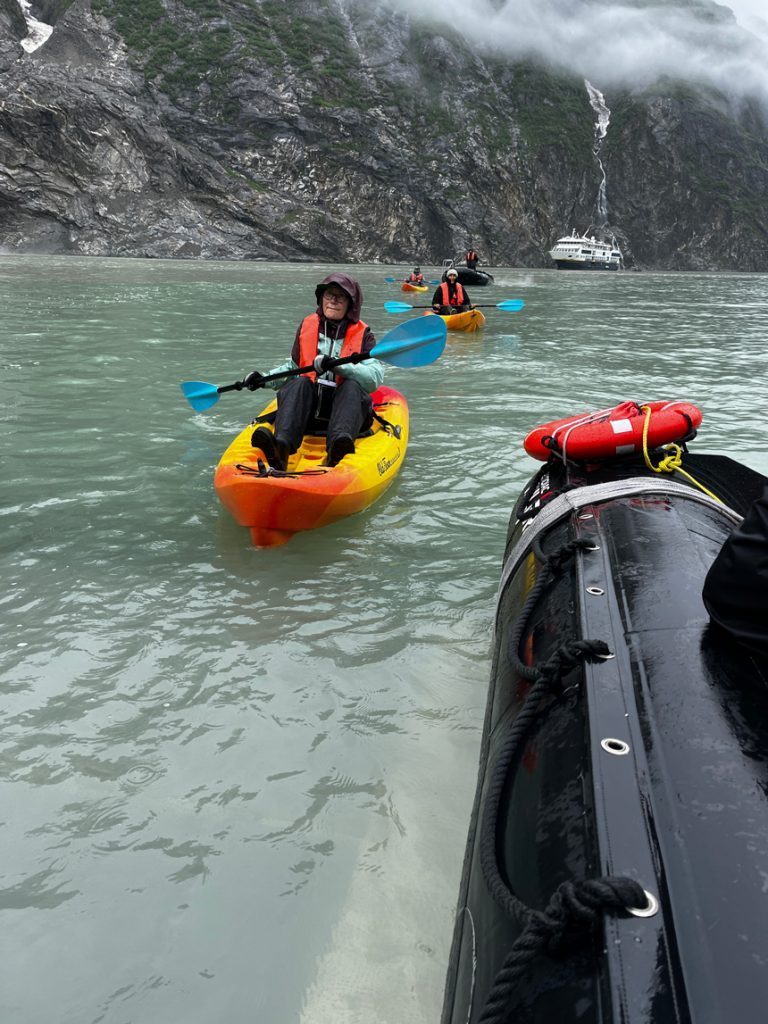 Comments & More Lindblad Alaska Reviews
Looking for more National Geographic Alaska cruise reviews? Do you have a specific question? Contact our team, or ask us anything in the comments on this page. Below the comments section, find testimonials written by our travelers. These traveler-written Lindblad Alaska reviews rate everything from the meals to crew, guides and ships.