Lindblad Expeditions is a pioneer in small ship expedition cruises and one of the biggest names in small ship cruising today. The company is synonymous with exploration, education and conservation. Lindblad delivers an authentic and exhilarating travel experience through all-five-senses engagement with the world's most exotic locations, from Galapagos cruises to Arctic cruises. Learn here about the history, expedition cruises, reasons to cruise with Lindblad and how to get aboard.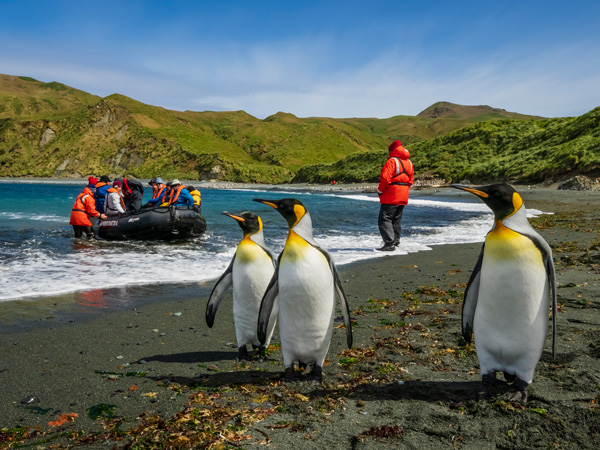 Lindblad Expeditions & AdventureSmith
When AdventureSmith Explorations Founder and President Todd Smith was a young guide working in Alaska for Glacier Bay Tours & Cruises, everyone compared themselves to Lindblad. Ever since, Todd has known and respected Lindblad, as do many of the captains, crew and shipmates Todd worked with back in the day.
"It's been exciting to watch Lindblad's evolution in small ship cruising, including their partnership with National Geographic and the expansion of their fleet, while at the same time having AdventureSmith Explorations mature, expand and grow alongside them," Todd says.
View All Lindblad Cruises
See the full list of itineraries across the fleet, plus reviews.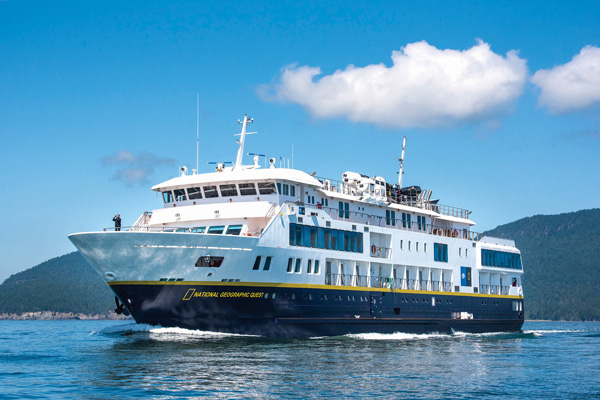 The Lindblad Fleet
Over the years, Lindblad has launched 10 ships of their own: Nat Geo Explorer (148 guests), Nat Geo Endurance & Nat Geo Resolution (126 guests), Nat Geo Orion (102 guests), Nat Geo Venture & Nat Geo Quest (100 guests), Nat Geo Endeavour II (96 guests), Nat Geo Sea Bird & Nat Geo Sea Lion (62 guests), and Nat Geo Islander II (48 guests).
The company partners with 7 more ships for select itineraries. While Lindblad's own ships span from 48 to 148 guests, their smallest charter ship carries just 28 passengers. Lindblad's over 50 years leading the expedition cruise industry is passed down in careful design elements reflected in their newer vessels, some of which are twins, like the Nat Geo Venture and Quest, and the Nat Geo Endurance and Resolution.
Lindblad ships are built to travel comfortably to remote corners of the planet and provide educational, enriching experiences along the way. Think specialty onboard tools like a hydrophone, remotely operated vehicle and science hub, plus thoughtful construction elements like a wave-cutting X-BOW®, ice-breaking capability, mudroom for gear storage and shallow draft to tuck into secluded areas.
The onboard atmosphere is no-frills, but the service is guest-oriented and attentive. Food is fresh and local but not gourmet. An onboard library is chock full of reference materials reflecting the regions in which each ship travels. And lounges provide ample sightlines and video equipment for the daily Recap lectures that this cruise line is known for.
Lindblad Expeditions History
Lindblad Expeditions was founded in 1958 under the name of Lindblad Travel by Lars-Eric Lindblad. Lars-Eric channeled his passion to be an explorer into the travel business, planning trips to some of the most exotic parts of the globe, including the first tourist expedition to Antarctica in 1966, Easter Island and the Galápagos Islands in 1967, and along the coast of China and Bhutan in 1978.
By believing that educated people who saw things with their own eyes would be a potent force for the preservation of the places they visited, Lars-Eric made his notions a powerful force for the good of conservation and restoration projects worldwide.
Since 1979, Lars-Eric's son, Sven-Olof Lindblad, has expanded the Lindblad legacy by providing transformative travel experiences in the world's most remarkable places. Sven-Olof has also increased the company's commitment to conservation and field science, most notably through the Lindblad partnership with National Geographic starting in 2004, and the launch of the Lindblad Expeditions National Geographic Fund in 2008.
Financed by donations from Lindblad travelers, the fund's proceeds benefit projects in conservation, education, research, storytelling and technology.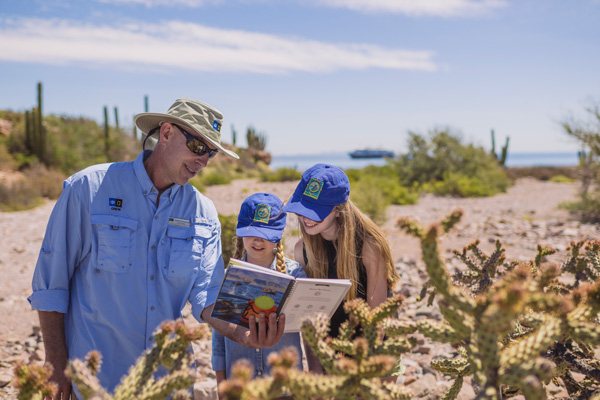 Why Choose Lindblad Expeditions
Lindblad cruises attract guests who are well educated, well traveled and committed to the environment. With top names in photography and science as your shipmates on a Lindblad cruise, these truly are expeditions for the intellectually minded. Choose Lindblad if you want the best expedition experience possible, with the best guides in the industry, and you are willing to pay the premium of such an experience.
Sustainability
The company is also at the forefront of sustainability initiatives in the expedition cruise industry, including becoming a carbon-neutral company in 2019; eliminating single-use plastics fleet-wide in 2018; launching a sustainable seafood program; making crew uniforms from recycled plastic; and launching a fleet-wide sustainable Premium Purity cleaning system to reduce water usage by 1.1 million gallons per year, eliminate thousands of plastic bottles used for cleaning products and increase passenger health and purified air.
Global Explorers Program
If you are seeking a Galapagos family cruise or Alaska family cruise, Lindblad is a top choice thanks to their National Geographic Global Explorers program in these two destinations (and beyond). The program helps children develop the attitudes, skills and knowledge of a National Geographic explorer.
Through photos, videos, music, poetry, drawing and more, kids and teens are encouraged to tell stories about their voyage. Daily activities prompt kids to watch out for a particular item—like a creature with scales, plankton during snorkel outings or a giant coral head on land—then record their observations.
"My father, Lars-Eric Lindblad, was a lifelong explorer and involved me at a very young age," said Sven-Olof Lindblad. "Those experiences made an indelible impression on me, and informed the person I am today. Children love to explore, and our goal for this program is to help inspire our next generation of global explorers to make a positive impact on their world."