Adventure Specialist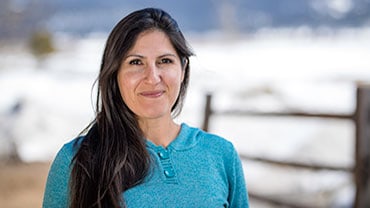 Leslie Camacho is an Adventure Specialist in every sense, both in and out of the office. From hiking the rugged landscapes of Patagonia, to visiting archeological wonders in Guatemala, exploring the Inca trails of Machu Picchu and delving into the rich colonial history of Cuba, she has lived her Latin American Studies degree.
Leslie called both Ecuador and Bolivia home for a combined four years, and Mexico for six months. Now based in her hometown of Sacramento, Leslie enjoys crafting dream trips for her clients based on their wants and needs, and she draws on her own travels and experience to make it happen.
Leslie's involvement in the travel industry dates back to her time as a tour translator in the Bolivian jungle. Since trading the jungle for a desk at AdventureSmith, Leslie has been focused on going above and beyond to ensure her clients have all the details and insight to find and book their ideal trip. "No matter how unique or ordinary, putting together these types of trips is a thrilling and fulfilling part of my job."
Leslie is also fulfilled by her AdventureSmith teammates, who represent family, friends and fun. "I couldn't think of a better group of individuals I would want to surround myself with in and outside of work." Leslie frequents AdventureSmith's office in Lake Tahoe and can be found enjoying a tasty beer with her coworkers, kayaking, paddleboarding, jogging, hiking and skiing iconic peaks, practicing yoga and talking travel.
When she's not talking travel or being active outside, Leslie is adding to her experience out in the field. With AdventureSmith, Leslie has visited Antarctica twice. And between work and personal travel, she has crossed off five of the seven continents. Leslie plans to experience Asia and Africa, to complete all seven continents, before she hits her golden birth year.
Working with Leslie is like sitting down for a special wine handpicked by a friend. Her patience, passion and presence help her clients find that one-of-a-kind trip that's perfectly suited to them. What travel dreams will she help YOU realize?