AdventureSmith Specialist Leslie Camacho ventures farther than most Antarctica cruises go on this special Bellingshausen Sea expedition aboard Le Commandant Charcot. Read her highlights, from seeing brilliant sunsets at midnight to spotting emperor penguins on ice sheets.
This catchphrase was embodied in Le Commandant Charcot, the newly built luxury ice-breaker vessel that proudly boasts of going, "where no other tourist vessel can go." All Antarctic cruises embrace the feeling of exploration due to the environment in which they operate. However, this vessel takes on the meaning of "exploration" as it navigates into unchartered territory and can break through almost 9 feet of ice. This allowed us to cross the Antarctic Circle in mid-December, a feat that's typically not possible by other ships until January or February when the drifting sea ice is at its lowest extent.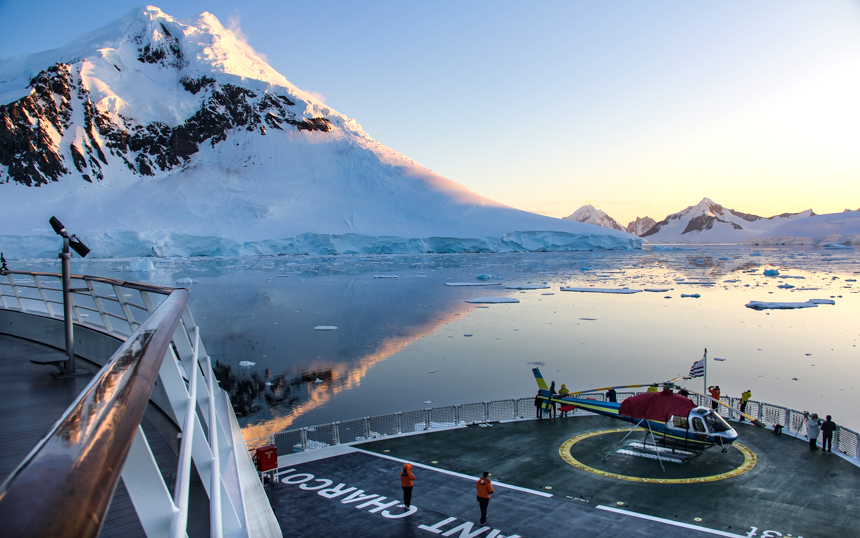 Having had the privilege to visit previously on an Antarctic Latitudes cruise (read my Hebridean Sky review), I was rewarded with this second opportunity to visit Antarctica. But this time I'd go beyond the Antarctic Circle, following in the footsteps of Jean-Baptiste Charcot, France's renowned polar explorer, on the Bellingshausen Sea Voyage. The itinerary is unique exploring areas of importance in French polar exploration.
We completed 2,477 nautical miles from Ushuaia, Argentina, into the Bellingshausen Sea, an area so far south you can't typically navigate it early in the Antarctic cruise season, but that did not deter Le Commandant Charcot. Since the areas of the cruise were off the beaten path, we did not see a single vessel until the second to last day of the cruise. Our cruise felt private, exclusive and serene.
I was astonished at how different this trip was from my first. Traveling as far south as we did (69 degrees south latitude), we were spoiled with immense icebergs and sheer jagged mountain peaks that took our breath away.
Crossing the Antarctic Circle typically adds an extra day or two onto the itinerary; however, with these extra days we were blessed by seeing more wildlife. This included the crowd-pleaser, emperor penguins, which can only be seen this far south early in the season, another bonus of being on an ice-breaker vessel. If you are stuck in a quandary on whether to do a polar crossing or not, DO IT!!!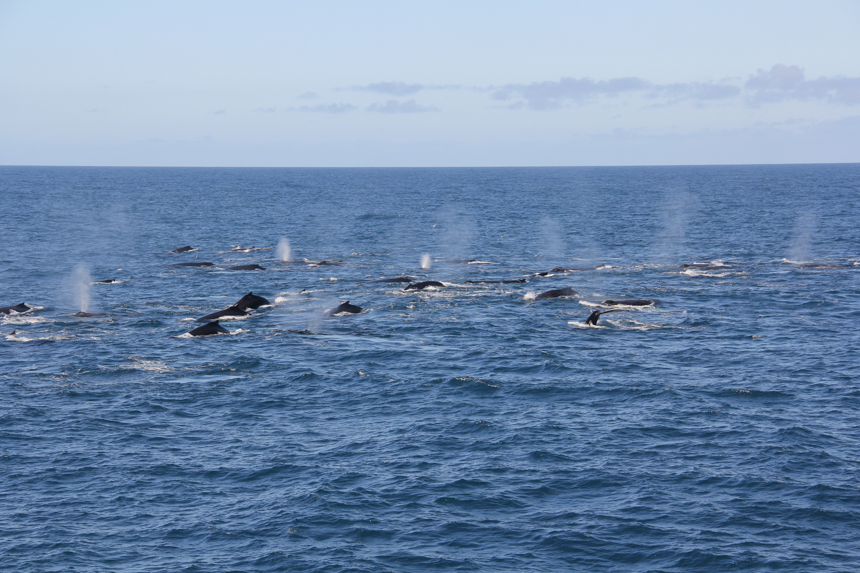 Our first true exploration of the expedition took us into Chumsky Cove, where we navigated 8 hours into pack ice that afforded us our first landing onto a thick and secure ice sheet. With ease, Le Commandant Charcot navigated into what seemed impassable. Hearing the sounds of the ice buckling beneath the ship was hauntingly captivating.
After passing the Antarctic Circle, we had another ice sheet landing onto George VI, the second-largest ice shelf on the Antarctic Peninsula. Here we saw emperor penguins and partook in the polar plunge, another must-do. The emperor penguins first walked up to the ship's staff checking the ice before we disembarked for a hike, then we saw them more interactive on the ice again when we returned from our hike. Apparently, the emperors even ran up to inspect the kayakers assembling to launch their paddling excursion!
The highlight of the cruise though was transiting through The Gullet, a very narrow passage typically inundated with ice that most vessels cannot safely navigate. At midnight, the sunset was at just the right position that the snow-covered mountain peaks reflected brilliantly on the water; it was breathtaking.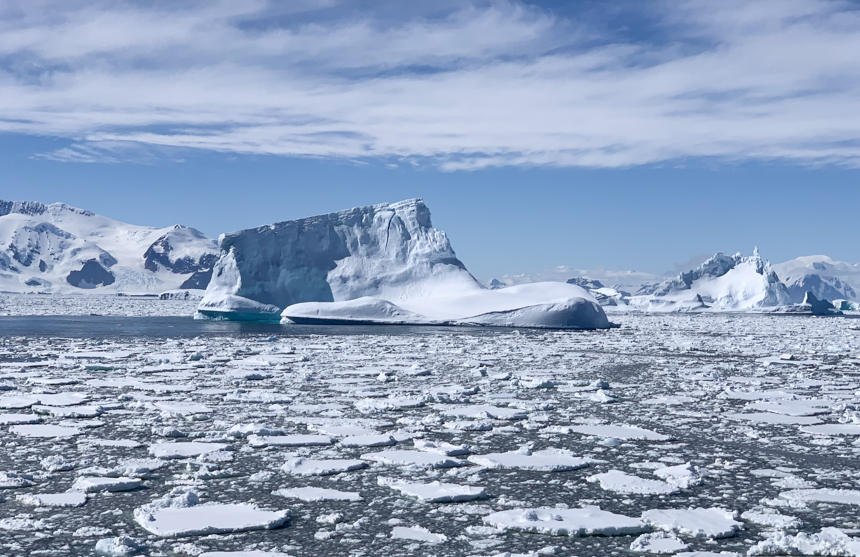 The skill and determination of the captain and crew provided us with numerous opportunities to explore unchartered territory. Although the navigation team meticulously planned our route, there were times when no one knew what Mother Nature had in store; this was an exploration in the truest sense of the word.
If you go, be prepared for some long days on the boat, which is the perfect time to enjoy the sauna and snow room, get a massage or hit the fitness center with icebergs in view. You could be rewarded with long explorations hiking on the ice, kayaking amongst floating icebergs and watching the serenity of sunsets reflected in the Southern Ocean.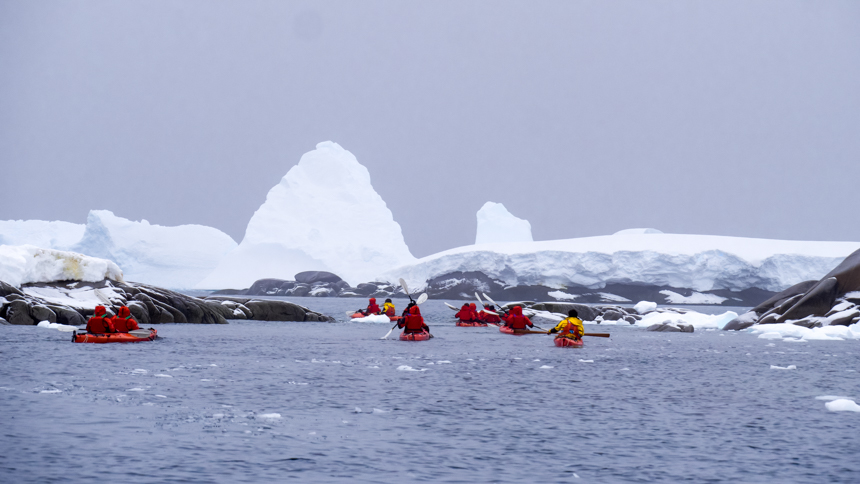 As I look back on this trip, I am astonished at what we were able to accomplish. The design and cutting-edge technology of this polar vessel offers an unparalleled experience. There is no other luxury polar cruise ship like this on the water (read more about the ship in my colleague's Le Commandant Charcot ship review). If you are a traveler that enjoys adventure and can operate on a flexible agenda, a cruise to the Bellingshausen Sea aboard the Le Commandant Charcot is the trip for you.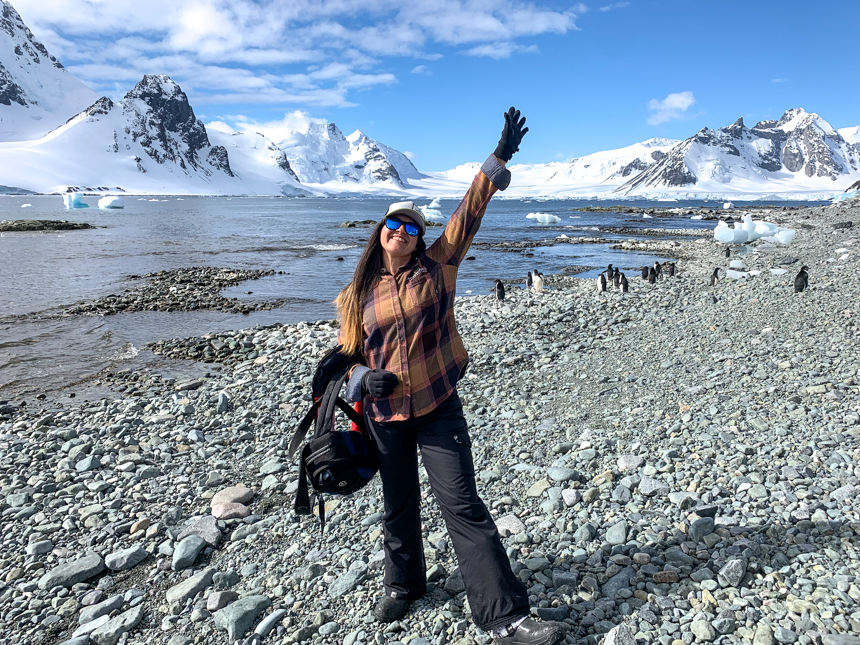 MORE ANTARCTICA RESOURCES:
Antarctica Travel Guide
Antarctica Cruises
Luxury Antarctica Cruises
Falkland Islands & South Georgia Cruises
Cruises with Flights to Antarctica
Best Time to Visit Antarctica
Antarctica Cruise Cost
How to Get to Antarctica
Things to Do in Antarctica
Places in Antarctica
Antarctica Ships
Best Antarctica Cruise Lines
Antarctica Cruise Deals
Antarctica Cruise Reviews
For more photos from this Bellingshausen Sea expedition view my Facebook album on AdventureSmith Explorations' Facebook page.