Are you overwhelmed by Antarctica travel and cruise options? There are more ships than ever cruising Antarctica, with vessels and itinerary options for every style and budget. Itineraries and even ships can all seem the same, making choosing a cruise more confusing than ever.
What follows is a comprehensive Antarctica cruise comparison and travel guide. Our Antarctica travel guide has everything you need to choose your Antarctica cruise. Start your research here with links to more extensive Antarctica travel advice.
Already know what you want? Find information on the best Antarctica cruise and trips to Antarctica for your travel style. Or contact us for a free consultation and Antarctica travel tips.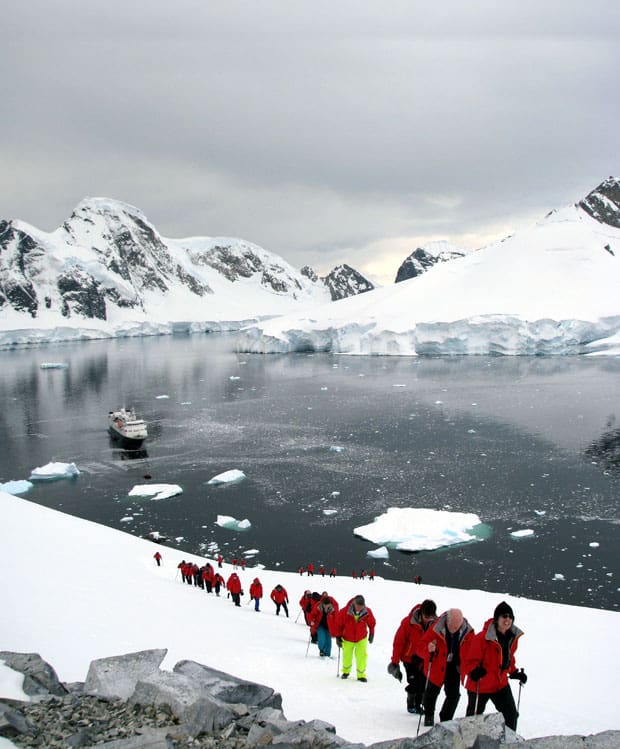 Why Visit
The White Continent is truly a bucket list destination—a land like nowhere else on Earth. Due to its remote location, infamous Drake Passage crossing and extreme weather, a trip to Antarctica is no easy endeavor. But the reward is experiencing a remarkable landscape and wildlife like nowhere else on the planet.
We assume if you are reading this Antarctica travel guide, you want to visit. But if you need more inspiration read can you visit Antarctica? And why go and things to do in Antarctica.
When to Go
Trips to Antarctica operate during the austral summer, beginning in November and ending in March. November through mid-December is the early season when you will find prevalent sea ice and courting penguins.
High season is mid-December through mid-February. This is the best combination of long days, good weather and calm seas. The end of February and March are late season, highlighted by the presence of whales.
Within these polar seasons there are several considerations including ice, wildlife, sea conditions and price. Read a comprehensive post on the best time to visit Antarctica, with weather and wildlife by month. Find temperature and daylight tables on our Antarctica climate page. Or if you are ready to find Antarctica cruises 2022 or beyond, visit our page about what's new for the upcoming seasons and find/filter trips by your desired travel dates.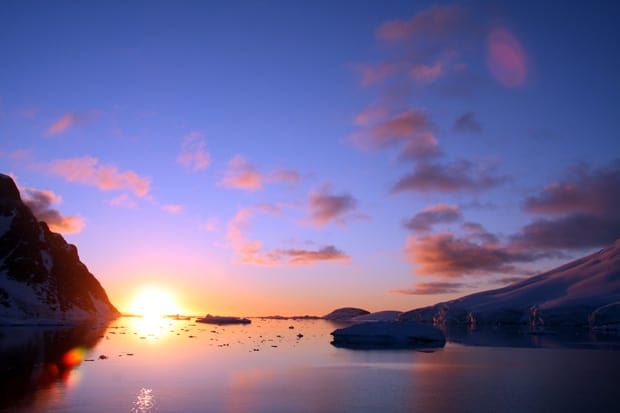 When to Book
To be matched with the best experience for your interests, book 9-12 months in advance. Antarctica rates and sailing dates are typically released 18-20 months prior to the sailing season (November-March).
Booking early provides more date and ship choices, plus special offers like early-bird discounts. If you wait until the last minute, then your date and cabin type will be dictated by what's left vs. what's best for you.
How Much To Pay
Cruises start at about $5,000 per person. The average price is $8,000 per person and luxury can cost $15,000 or more per person. Our experts crunch the numbers and outline the considerations that influence Antarctica cruise cost.
Save money with early-booking discounts, last-minute offers and money-saving Antarctica travel tips. Antarctica cruise deals are updated frequently so check back often.
Getting to Antarctica
Getting to Antarctica may seem difficult, but it doesn't have to be. Most travelers will take a cruise from Ushuaia, Argentina. Antarctica air cruises depart from Punta Arenas, Chile. Some specialty cruises may depart from Tierra del Fuego or Port Stanley in Argentina. Others' departure regions include New Zealand and Australia. Learn more about how to get to Antarctica.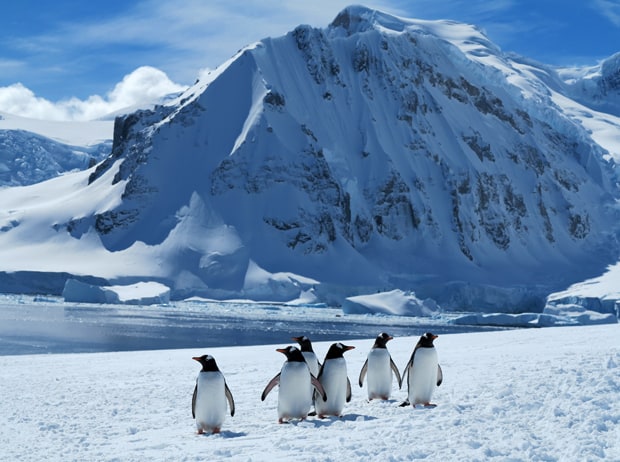 How to Choose Your Antarctica Cruise
The most important considerations for choosing your Antarctica cruise are where to go, how long will it take, what ship you cruise aboard, your cabin selection and activity options. Cruise type can be a factor if you are considering a unique specialty cruise. Here we outline each of these factors in detail, starting with the most popular regions within Antarctica. This will help you make an Antarctica cruise comparison to determine the best trips to Antarctica for you.
Antarctica Travel Regions—Where to Go & How Long it Will Take
Perhaps the most important consideration when choosing an Antarctic cruise is where to go.
Following is an overview of Antarctica travel regions to help you choose your cruise. Find more advice on where to go with a deep dive into places in Antarctica.
Antarctica can be separated into five broad categories based on where trips operate. Each region is distinguished by how long it takes to travel there.
Antarctic Peninsula
By far the most popular and affordable Antarctica voyages are trips to the Antarctic Peninsula. Beginning and ending in Ushuaia, Argentina, these routes are fairly standard. Most will cross the Drake Passage, spend several days along the Antarctic Peninsula's western shore, then return via the Drake Passage.
Many of these classic routes include a stop at the South Shetland Islands. Longer routes may include Elephant Island or aim to reach as far south as the Polar Circle.
How Long does it take to cruise to the Antarctic Peninsula? Antarctica Peninsula cruise itineraries range from 10-14 days.
Antarctic Circle
Specialty cruises to the Antarctic Peninsula have the goal of trying to cross the Antarctic Circle. They include everything a peninsula cruise does with a few added days to travel farther south.
Some Antarctic Circle cruises are combined with the longer South Georgia and Falkland Island itineraries for a very comprehensive exploration.
The Antarctic Circle is a circle of latitude that runs about 66.5 degrees south. It marks the northernmost latitude at which the sun can stay continuously below or above the horizon for 24 hours. Crossing the Antarctic Circle is a big deal for some polar travelers.
Antarctic Circle cruises usually occur in the mid- to late-season (January through March). This timing ensures the southern waterways are ice-free.
How long does it take to cruise to the Antarctic circle? Antarctic circle cruises take from 12-15 days.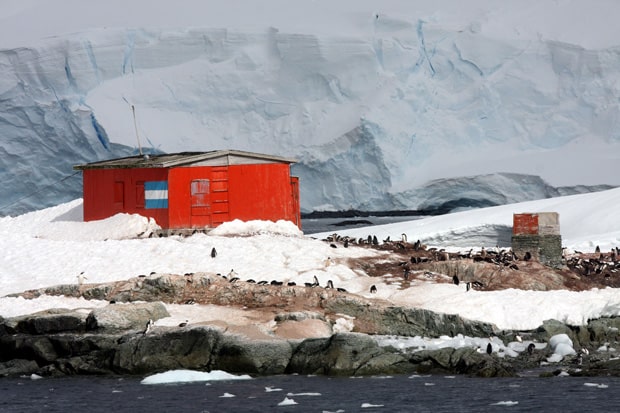 South Georgia Island
For those with more time, we recommend cruises that include South Georgia and the Falkland Islands.
South Georgia is on the bucket list of most polar travelers. Isolated in the southern Atlantic Ocean, South Georgia and the South Sandwich Islands are home to an astounding concentration of wildlife. There is a massive king penguin colony and thousands of fur and elephant seals.
A visit to the grave of British explorer Sir Ernest Shackleton and historic whaling stations adds a unique element of human history. Adventurous travelers can follow Shackleton's heroic route across the island on a rigorous 3-day trek.
How long does it take to cruise to South Georgia Island? Cruises including the Antarctic Peninsula and South Georgia Island range from 17-25 days.
More resources: Find all South Georgia cruises or learn more about the wildlife and history and why to include South Georgia Antarctica.
Falkland Islands
Located northeast of Tierra de Fuego in Argentina, the Falkland Islands are known for their wildlife and dramatic history. The region is home to 5 species of penguin, 53 species of breeding birds and 70 percent of the world's population of black browed albatross.
Port Stanley, the capital of the Falkland Islands and the largest settlement, is a quintessential British town with pubs, churches and small museums. The town is the site of major battles between Argentine and British forces, and a hub of Falklands War history.
There are Falkland & South Georgia-only cruises. These appeal to travelers who have already visited the Antarctic Peninsula.
How long does it take to cruise to the Falkland Islands? Voyages including the Antarctic Peninsula, South Georgia and Falkland Islands range from 17-25 days. Trips to South Georgia and the Falkland Islands take a similar 19-24 days.
Weddell Sea
Though technically in the Antarctic Peninsula region, expeditions to the Weddell Sea are often routes of their own, not including time on the Antarctic Peninsula proper. Weddell Sea expeditions aim to visit more secluded emperor penguin rookeries and some include helicopter transfers for a truly once-in-a-lifetime penguin encounter.
How long does it take to cruise the Weddell Sea? Cruises specializing in a visit to the Weddell Sea average 13-16 days.
Ross Sea
The Ross Sea is a massive shallow bay located far southeast of New Zealand. Its remote location has kept it relatively untouched by humans. It is home to an amazing array of polar birds and marine life. The Ross Ice Shelf is a massive glacial wonder about the size of France. Trips to the Ross Sea are true polar expeditions. Some trips to the Ross Sea may begin or end in New Zealand or Australia.
How long does it take to cruise to the Ross Sea? Cruises to the Ross Sea are among the longest and can take from 25-35 days.
Specialty Cruises
Each year there are a handful of specialty expeditions beyond the Antarctica Peninsula. If you have been to Antarctica before or are just seeking the ultimate polar adventure, these trips might be for you.
Antarctic Air Cruises
No longer a new option, air cruises offer an alternative to longer routes to Antarctica that sail across the Drake Passage. An Antarctica air cruise utilizes one-way or round-trip flights from Punta Arenas, Chile, to the Antarctic Peninsula where guests board a ship.
When we first began offering these cruises, we thought it was the desire to eliminate crossing the Drake Passage that would be the primary appeal of this trip. We have learned that it is in fact the shorter timeframe that appeals to most travelers, especially American travelers with limited vacation time.
How long is an air cruise? Antarctica air cruises range from 8-17 days.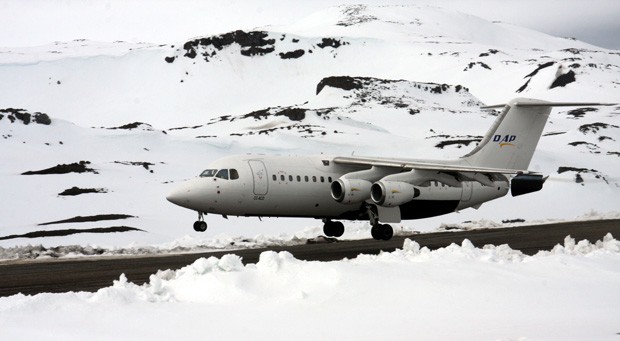 Cruises Combining Antarctica with Patagonia
Many travelers will choose to combine their voyage in Antarctica with Patagonia travel. Our Adventure Specialists can help knit two itineraries together into one amazing trip, or consider a single booking for an Antarctica Chile cruise.
Choosing Your Ship
Your trip to Antarctica should be a true journey, and turn you into an ambassador for the region, not just a passer-through. How to achieve this? Stay small and sustainable, on a ship carrying fewer than 200 guests.
Ships, especially in Antarctica, need to be of a certain size for a bespoke, intimate and active experience. Only 100 guests are allowed ashore at one time in Antarctica, so larger vessels have a harder time getting guests ashore as often as a small ship can.
Expedition vessels under 200 guests are known for a more hands-on, small group approach, with guests off the ship twice daily on Zodiac, kayak and on-land adventures. Learn more about the three types of Antarctic cruise ships, size considerations, ice ratings and how to choose a cabin.
Choosing Your Cabin & Ship Amenities
You will spend a lot of time on your ship in Antarctica so choosing a nice cabin is important. The primary factors to consider when choosing a cabin aboard an Antarctic ship are size, amenities, view and location.
Cabins can range from tiny dorm-style rooms to luxurious suites. Be sure you have enough room to be comfortable. Amenities such as view windows vs portholes can be a critical distinction. Not all cabins have views or windows so find out before you book. Cabins lower on the ship will tolerate rough seas better than cabins higher on the ship.
Learn more about how to choose your cabin on our Antarctica Ships page.
Activities on Antarctic Expeditions
A huge variety of off-vessel activities are available aboard Antarctic voyages. We go into more detail on our Things to Do in Antarctica post.
For purposes of this Antarctica travel guide, be aware that your interest in activities may influence your choice.
Explorations by Zodiac small craft and walks ashore are included on all trips. Travelers seeking more activity can choose from a wide array of off-vessel excursions including sea kayaking, camping, mountaineering, skiing or snowboarding, backcountry skiing, ice-climbing, snowshoeing, stand-up paddleboarding, snorkeling, scuba diving or trekking.
Not all these activities are available aboard all ships and cruises. Furthermore, most optional activities must be reserved in advance at an added cost.
Some adventurous cruises such as the Antarctic Peninsula Basecamp Cruise or National Geographic Antarctica cruises include all activities in the price.
Thus, if you're interested in a particular activity, you'll want to know all your options. Most ships require you to pre-book and commit to an activity over the whole voyage, while some are beginning to offer one-time excursions.
Choosing & Comparing Cruise Lines
The logistics of operating cruises in Antarctica are formidable and not to be taken lightly. We only partner with the operators who specialize in polar travel. We pride ourselves on matching our clients with the best Antarctica cruise lines for their interests, ability, budget and timing.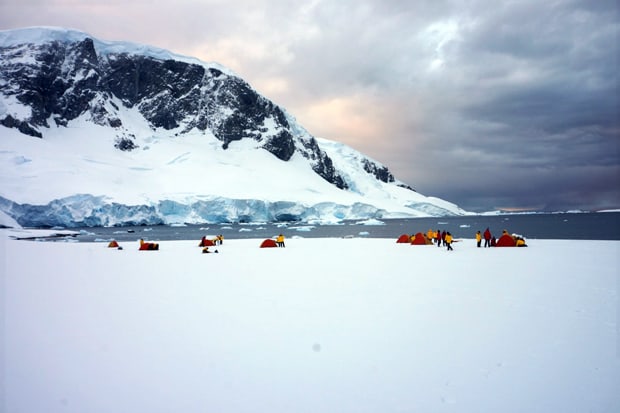 Solo Travel in Antarctica
Solo or single travelers have lots of options in Antarctica. Many ships have double, triple or even quad cabins that are available on a share basis.
Sign up to share with same-sex roommates, and you can save a bundle. In most cases travelers are guaranteed the share rate, even if a roommate is not found. This helps solo travelers keep costs down.
If you prefer to have your own cabin, there are ships that offer single accommodations. For those ships that do not have single or solo cabins, you can book a double cabin as a single but expect to pay a single supplement. Antarctica single supplements are usually 1.5-2 times the standard double rate for one person.
Solo travel is more common in Antarctica than other destinations, so finding a roommate share is usually not a problem and ships are accustomed to catering to single travelers.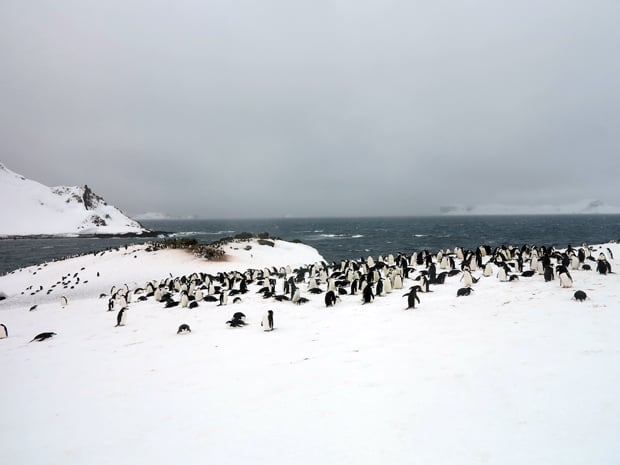 Rough Seas & Seasickness
Travelers to Antarctica should be prepared for the possibility of rough seas. Cruises to the Antarctic Peninsula cross the Drake Passage, which is known as one of the roughest seas in the world. From Ushuaia it takes 2 days to cross the Drake Passage each way.
Once ships arrive in Antarctica, seas tend to be calm as ships cruise in protected waters close to shore. Longer expeditions that include the Falkland Islands, South Georgia or Ross Sea require additional days at sea, which can also cause seasickness, depending on current conditions. Read our tips to combat seasickness.
Antarctica Travel Insurance
Antarctica is a unique destination with special considerations when it comes to travel insurance. The cost of an emergency medical evacuation from Antarctica can cost hundreds of thousands of dollars. So Antarctica travel insurance is important.
Virtually all operators require emergency medical evacuation insurance. Most require a minimum amount of emergency medical evacuation insurance coverage, generally over $200,000. This coverage is typically not included in your personal health insurance. When considering travel insurance for Antarctica cruises be sure to check the emergency medical evacuation coverage.
The best travel insurance for Antarctica is a policy that includes both emergency medical evacuation and trip cancellation coverage. Trip cancellation covers you if you become ill or cannot travel prior to departure, or have an issue along the way. Polar travel is a huge investment, worth covering with a quality Antarctica travel insurance policy.
A select few Antarctic outfitters include insurance in the trip cost. Be sure to check the inclusions of your expedition. We recommend travelers consider a comprehensive Antarctica travel insurance policy that will include emergency medical evacuation as well as cancellation coverage. Learn more about the benefits and coverages of comprehensive travel insurance.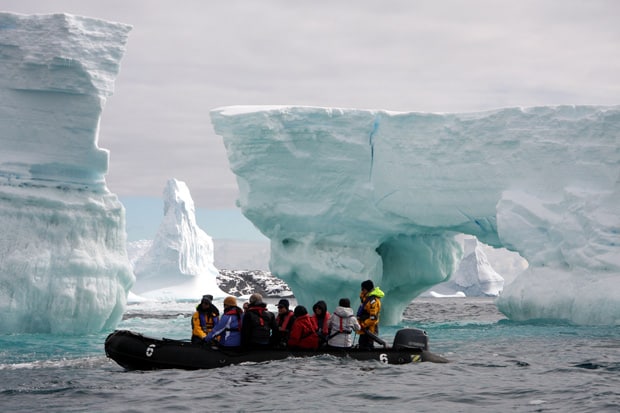 Reviews of Antarctica Travel
There are now innumerable websites on the internet for Antarctica cruise reviews and trip reviews. Most offer trusted advice, but some need to be taken with a grain of salt. Don't rush to judgement if you read a poor review about an Antarctic expedition or ship.
We have found that poor reviews are often the result of a mismatch between the interests of the traveler and the type of cruise they were on. For instance, if a traveler is expecting extensive activity but books a trip with limited options, they will be disappointed.
The best type of Antarctica review is a personal referral. Ask your booking agent to get you in touch with a past client who has traveled to Antarctica on a comparable trip or ship. Reputable agencies will gladly refer their past clients, helping you choose the best cruise for your interests, ability and budget.
Do Your Research
If you have made it this far in our Antarctica travel guide, congratulations! You obviously like to do your homework. A trip to Antarctica is a considerable undertaking and we encourage travelers to do as much research as possible. Find links to in depth articles below.
In advance of any Antarctica trip, we encourage you to learn about the wildlife you're going to see, plus any conservation organizations and research stations operating in Antarctica. While visits to research stations cannot be guaranteed on any route, knowing what research is being conducted and being informed about the environment enriches your journey.
Why Book Antarctica with AdventureSmith Explorations?
AdventureSmith travelers are prepared for their expeditions through one-on-one correspondence with an Adventure Specialist and an extensive pre-cruise planner with packing lists, gear rental, reading lists and answers to most common questions.
Our team has traveled extensively in Antarctica. We can provide very detailed notes on what to expect on the voyage and the ship. We'll advise you on what to pack and how to get the most out of your Antarctic experience.
Our team can also recommend flight consolidators that offer both the best flight deals and trip support if there are airline weather delays or other issues. Our website is full of helpful tips and shared experiences to help you make the most of your Antarctic experience.
After reading our Antarctica cruise guide, do you still have questions? Or do you have an Antarctica travel tip of your own? Contact us to ask your question and we'll make this guide even better.
Antarctica Travel Guide
Find in-depth articles below to answer all your questions about how to choose your Antarctica cruise. Can't find your answer here? Contact us to ask your question and help improve our Antarctica travel guide.