Adding South Georgia can bump your travel to Antarctica up to 20-some days, but it's well worth the added time and cost. Why? And where is South Georgia in Antarctica? We've taken a South Georgia cruise, so here's a firsthand look at why you should add South Georgia to your Antarctic route, how to get there and the best time to go.
IN THIS POST – South Georgia Antarctica & How to Go:
Why Travel to South Georgia?
How to Get to South Georgia
The Best Time to Visit South Georgia
More Resources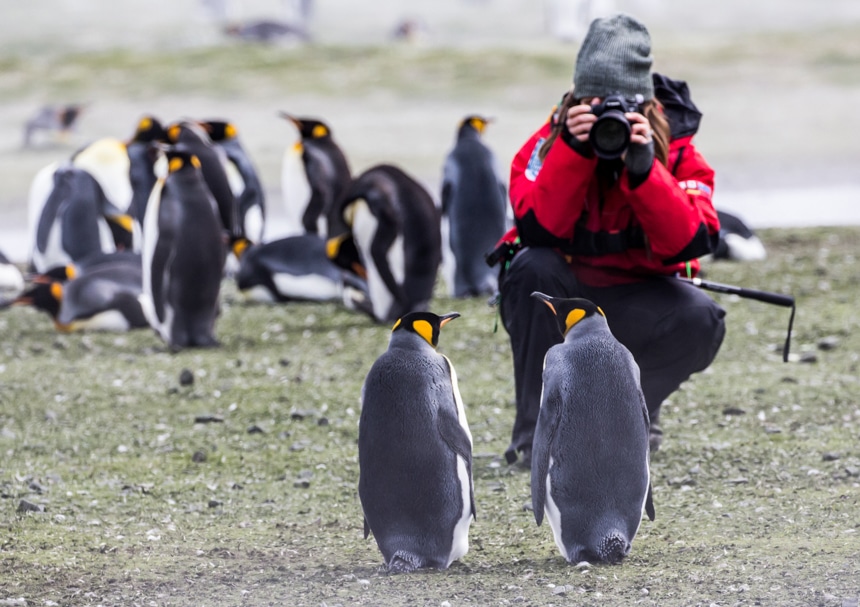 PICTURE YOURSELF HERE
Full-service booking from
experts who've been there.
Where Is South Georgia Island Located?
South Georgia Island is located in the Southern Ocean, about halfway between the southeast coast of Argentina and the Antarctic continent but more than 1,200 miles east. It's a British Overseas Territory, just north of the British Antarctic Territory claim. So while South Georgia is not technically in Antarctica, it's synonymous with Antarctic travel since most expeditions that visit South Georgia also visit Antarctica.
South Georgia's nearest neighbor is the Falkland Islands, yet those are still 800 miles away. South Georgia Island is among the world's most isolated locales as it's only accessible by cruise ships, with no air strip or runway. That means it takes at least two days at sea to get to South Georgia! The South Georgia Falklands map above is a good visual example of a typical sailing route.
Because of this remote location, South Georgia Island is not a common tourist destination, even for those already traveling to Antarctica. But we highly recommend going since it's a relatively short detour in a region most travelers only have the opportunity to visit once.
FIND MORE SOUTH GEORGIA CRUISES
See the full list of itineraries by small ship.
Why Travel So Far to See South Georgia Island?
There are a few reasons so many travelers have South Georgia Antarctica on their bucket list, but the primary ones are wildlife and history. Read on for why you should travel to South Georgia.
South Georgia Penguins & Wildlife
South Georgia is often called an Antarctic oasis, or "the Galapagos of the Poles," because of the huge numbers of penguins and seals that breed there. And its marine ecosystem is considered one of the world's densest examples of biodiversity.
One of the most notable things about South Georgia Island is its overwhelming large population of king penguins: over 100,000 breeding pairs. These classic penguins with their trademark yellow head markings have claimed this island as a major breeding spot and you can witness hundreds of thousands of them herded together here. The colony on South Georgia is known as the largest crèche in the world, and the image below taken by AdventureSmith Specialist Andrew Browning on a recent South Georgia expedition really showcases this largeness.
The king penguin colony on South Georgia is known as the largest crèche in the world.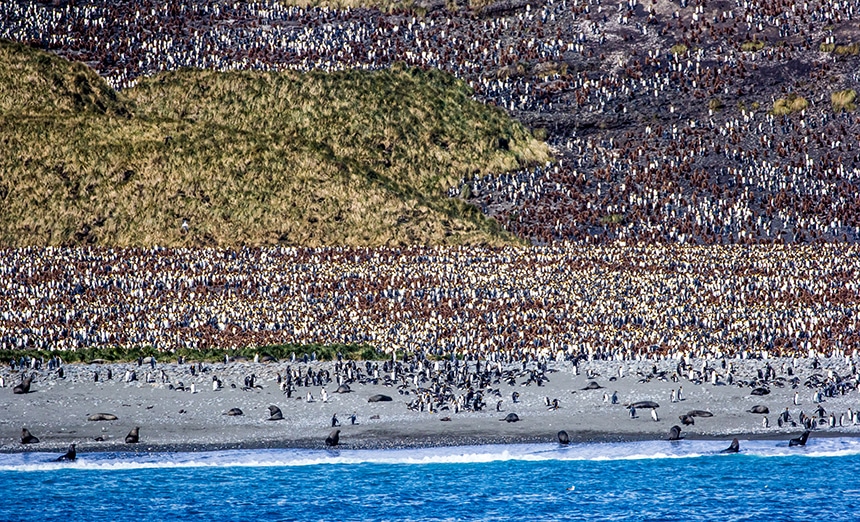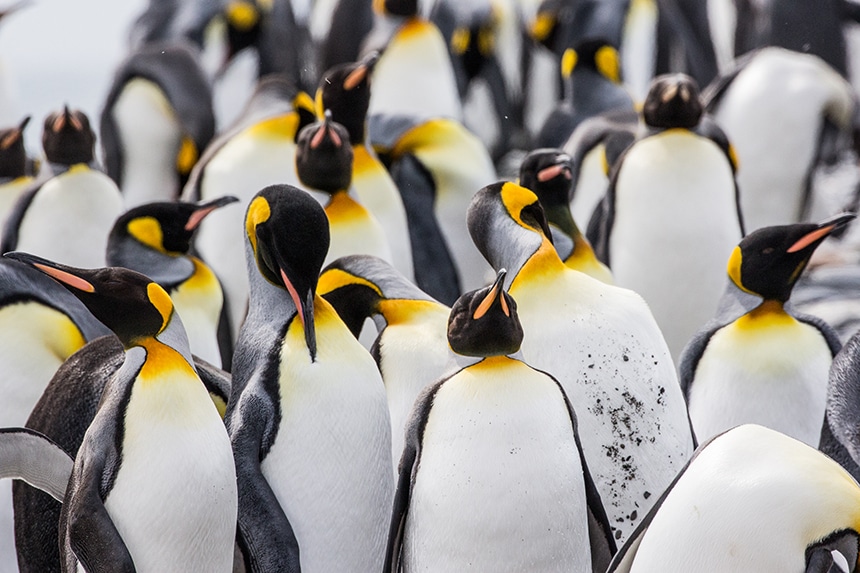 South Georgia Island is also home to the largest macaroni penguin population in the world. This species, pictured below, is identified by the orange crest on its forehead, and named for its resemblance to an 18th century fashionable wig. Sing the "Yankee Doodle" song and it'll make a little more sense. An impressive 3 million breeding pairs live on South Georgia Island. And if these incredible numbers are not enough, you're also likely to see chinstrap and gentoo penguins. This is definitely the place to visit if you want to see penguins. Most South Georgia cruise itineraries also include the Falkland Islands, 800 miles northwest, a destination also famed for its penguins (5 of the world's 17 species summer here).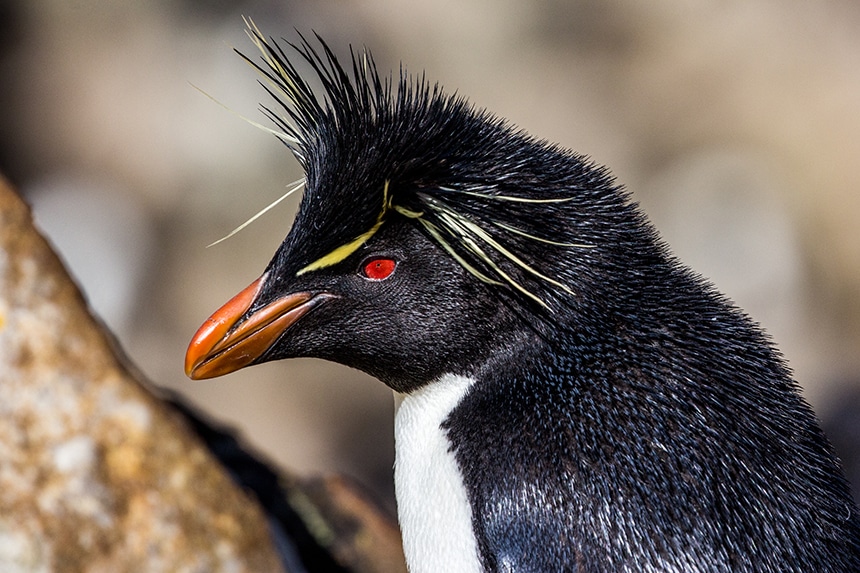 In addition to penguins, South Georgia is home to the southern elephant seal, the largest seal species in the world; Antarctic fur seals; the wandering albatross; and even reindeer (introduced).
South Georgia History
South Georgia Island is perhaps most historically famous for being the terminus of Ernest Shackleton's epic 800-mile open-boat journey from Elephant Island. Many travelers seek to step foot here to visualize the iconic scene of Shackleton and his crew sliding down the mountain into the safety of Stromness.
A visit to South Georgia today includes seeing historic whaling stations and the grave of explorer Sir Ernest Shackleton.
First spotted in 1675 by Antoine de la Roche, a London merchant, South Georgia was claimed for Great Britain by James Cook in 1775. In 1904, Norwegian Carl Anton Larsen established the first land-based whaling station here, as well as the first permanent settlement at Grytviken. Whaling and sealing continued in South Georgia until the 1960s, when the whaling stations were abandoned—and subsequently taken over by the island's penguin populations!
A visit to South Georgia today includes looks at these historic whaling stations, as well as the grave of explorer Sir Ernest Shackleton at Grytviken. This settlement also hosts a church, whaling history museum, gift shop and research station of approximately 20 scientists.

How to Go to South Georgia Island Antarctica
There are many ways to get to South Georgia Island, all by expedition cruise:
You can go to South Georgia by heading due east from Ushuaia, Argentina.
You can get to South Georgia by visiting the Falkland Islands first, then sailing southeast.
You can head northeast from Antarctica.
Or you can even fly to the Falklands then sail over to South Georgia.
Expect at least two days at sea to get to South Georgia Island, no matter what direction you come from, and three days if you are going direct from Ushuaia. To take a peek at the many routes, view our selection of South Georgia cruises, or head to our Antarctica cruise deals to search by what's on sale. The Falkland Islands are typically included in any South Georgia Antarctica expedition, and you can even find trips that only visit South Georgia and the Falklands.
VIEW ALL SOUTH GEORGIA CRUISES
See the full list of itineraries by small ship.
The Best Time to Visit South Georgia
As with virtually all travel, determining when to visit South Georgia depends on your individual interests. Unlike the Antarctic Peninsula, where penguins' breeding, nesting and rearing cycles change by the month, the famed king penguins on South Georgia Island are in a constant loop of their breeding cycle. Thus, no matter what time of year you go, you are likely to see both adults and chicks. But the colony size does increase as the season goes on. On the other hand, elephant seals, fur seals and albatross have more distinct seasonal nuances. For example, female fur seals don't arrive to mate until December so the males can be quite aggressive after that point and your cruise may make fewer landings to avoid confrontations. Elephant seal females arrive sooner, typically in October or early November; AdventureSmith Specialist Andrew Browning saw lots of pups ashore on his trip in November.
In general, South Georgia trips during the austral spring or autumn offer more shore landings and chances to visit some waved albatross and giant petrel breeding sites, which are typically off limits to expeditions from late November to early January. But a trip in the summer (December to mid-February) offers more encounters with other types of penguins (gentoo, Macaroni and chinstrap), peak king penguin numbers and better weather/more daylight.
For more weather nuances to determine the best time to visit South Georgia Island, read The Best Time to Visit Antarctica, consult our Antarctica Climate page for weather data averages or contact our experts for a personalized recommendation on the best time to go to South Georgia for your interests.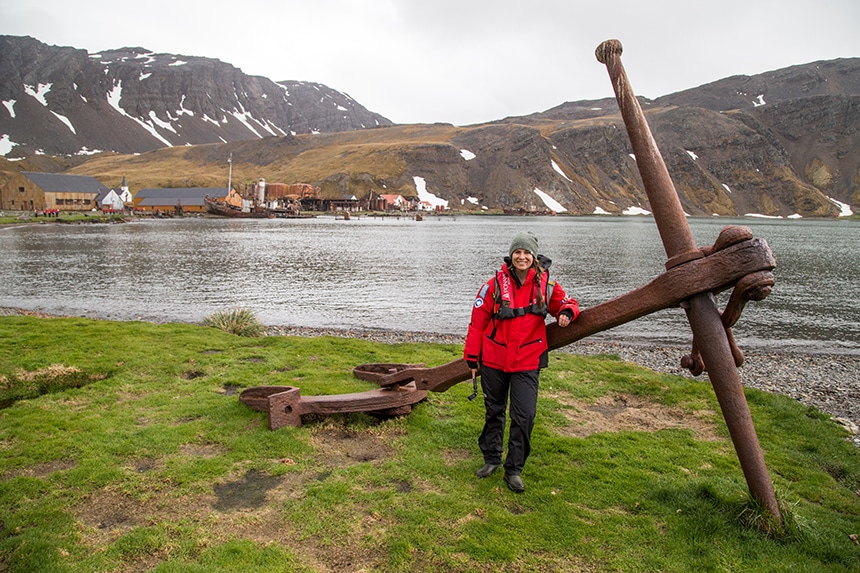 GET A FREE QUOTE
1-on-1 consultation.
Start planning today.
MORE ANTARCTICA RESOURCES:
Antarctica Travel Guide
Antarctica Cruises
Luxury Antarctica Cruises
Falkland Islands & South Georgia Cruises
Cruises with Flights to Antarctica
Best Time to Visit Antarctica
Antarctica Cruise Cost
How to Get to Antarctica
Things to Do in Antarctica
Places in Antarctica
Can You Visit Antarctica?
Antarctica Ships
Best Antarctica Cruise Lines
Antarctica Cruise Deals
Antarctica Cruise Reviews