The Antarctica landscape is vast. Any Antarctica cruise route will offer glaciers, icebergs, snowfields, volcanic mountains and picturesque bays, with some places in Antarctica playing host to research stations.
The extreme weather necessitates a flexible itinerary, so no Antarctic traveler should plan to see specific places in Antarctica. However, selecting a region to visit from the various trips to Antarctica will improve your chances of experiencing your desired places to visit in Antarctica.
IN THIS POST – Places in Antarctica:
Drake Passage
Antarctic Peninsula
Antarctic Sound & Weddell Sea
Falklands & South Georgia
Antarctic Circle
West Antarctica
Australia & New Zealand's Sub-Antarctic Islands
More Resources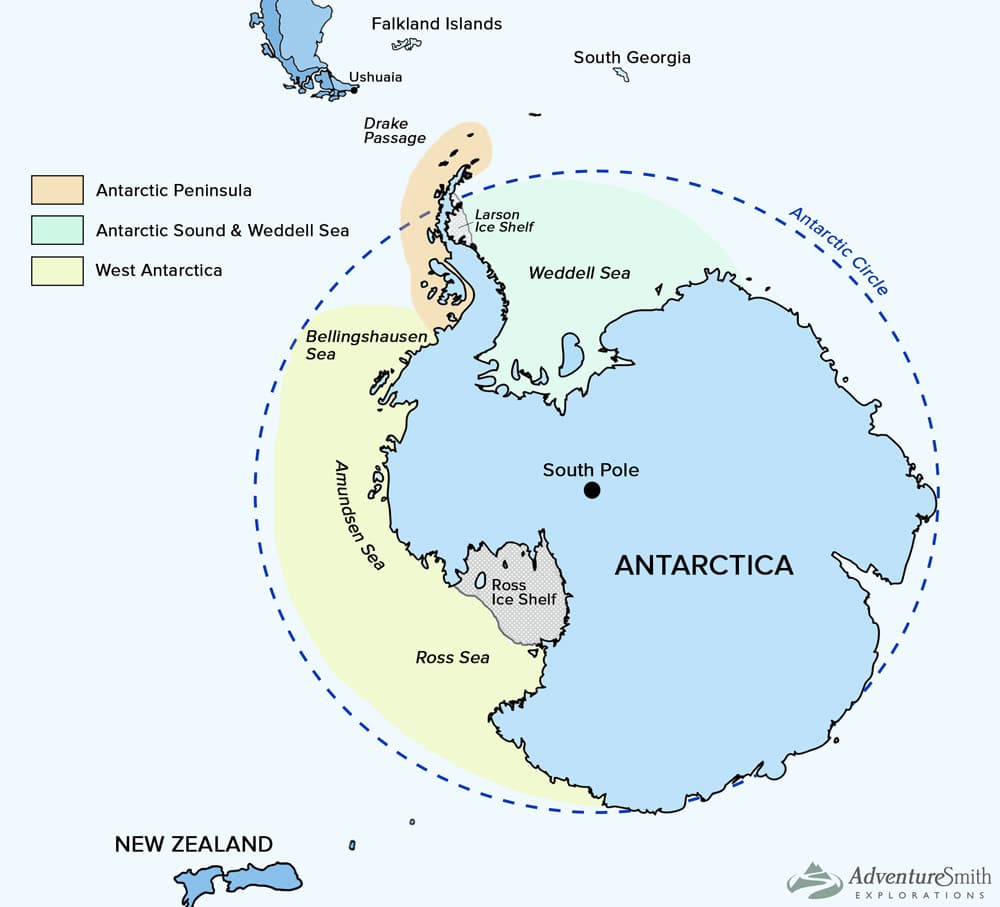 Wondering where to go in Antarctica? Here we detail some of the best tourist attractions in Antarctica, by region. Contact our Antarctic experts for more info on these and other places in Antarctica, and the trips that may visit them.
Places in Antarctica: The Drake Passage
Most Antarctica cruises cross the infamous Drake Passage, located between the southern tip of South America at Tierra del Fuego and the South Shetland Islands that sit just off the Antarctic Peninsula. Travelers concerned with seasickness can opt to take an Antarctica air cruise, meeting the ship on the White Continent. Some air cruises fly one way and cruise the other.
All routes travel past various South Shetland Islands, with Antarctica air cruises operating via the northern King George Island. Learn more in our How to Get to Antarctica primer.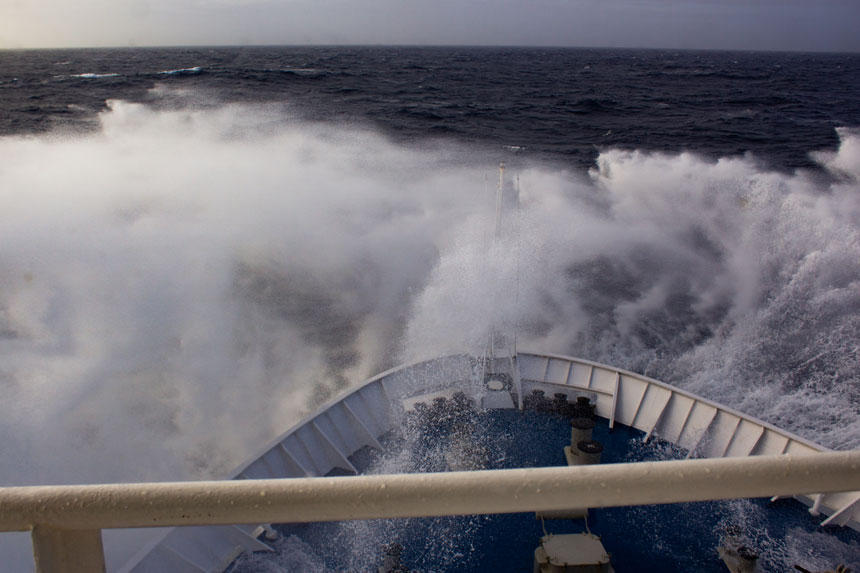 Places in Antarctica: The Antarctic Peninsula
The majority of Antarctica cruises focus on the northwestern shoreline of the Antarctic Peninsula, cruising in the Bransfield Strait and/or the Gerlache Strait.
Here are some places to visit in Antarctica on a peninsula cruise: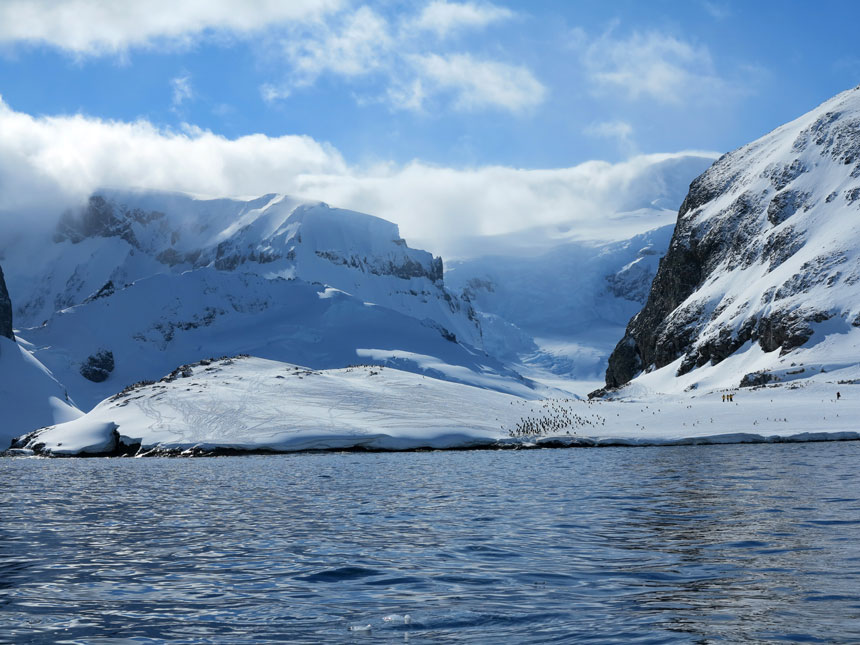 Cuverville Island
This small, dome-shaped island is centrally located along the peninsula. It offers mosses and lichens, crabeater seals, leopard seals, Weddell seals, kelp gulls and skuas. Highlights include a gentoo penguin rookery and a high density of icebergs floating beside the island.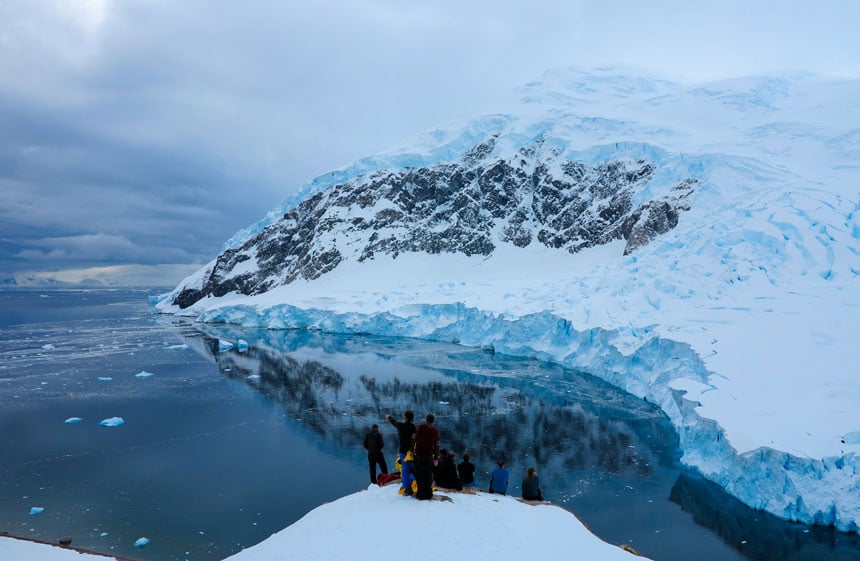 Neko Harbor & Paradise Bay
Neko Harbor and nearby Paradise Bay (also called Paradise Harbor) are the two ports at which cruise ships stop on the Antarctic Continent, located along the central portion of the peninsula. Paradise Bay hosts research stations. Both harbors have a whaling history and feature plenty of whales. These bays represent the Antarctica landscape at its finest, with glaciated mountains and waters.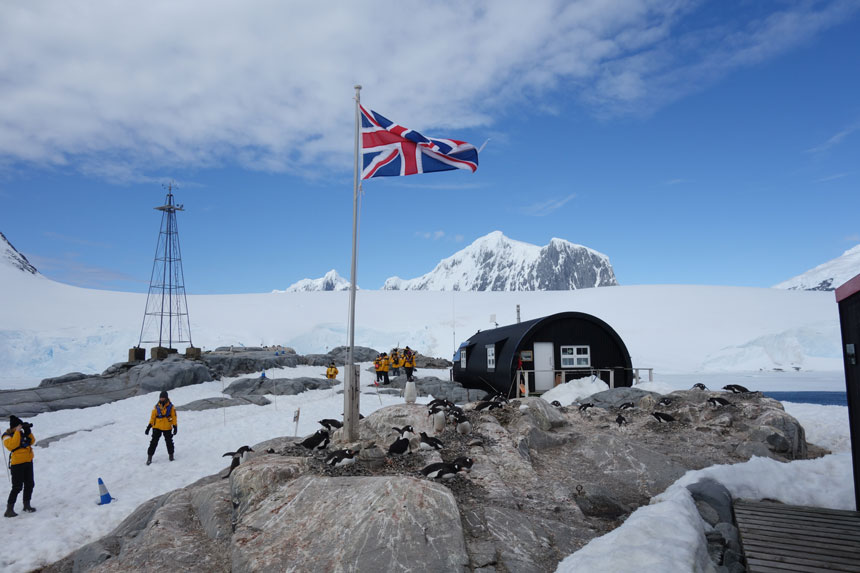 Port Lockroy
Wiencke Island's Port Lockroy is one of the more popular places to visit in Antarctica. Its decommissioned British base was kept secret during World War II and later used as a research base; today it hosts a museum, gift shop and the southernmost post office in the world.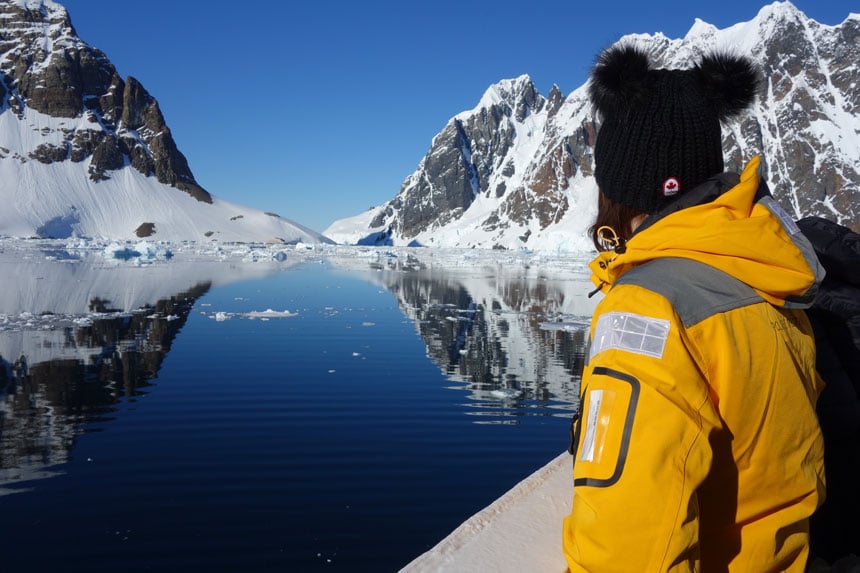 Lemaire Channel
The Lemaire Channel is one of the farthest south places in Antarctica that a peninsula cruise will visit. This 11-mile, narrow fjord is commonly photographed for its near-vertical peaks and massive icebergs. Leopard and crabeater seals are found here, as are humpback and minke whales, Antarctic shags and gentoo penguins.
Places in Antarctica: The Antarctic Sound & Weddell Sea
Many Antarctic Peninsula cruises will also travel into the Antarctic Sound at the northern tip of the peninsula. This sheltered area comes with its own navigational hazards – large icebergs floating in from the Weddell Sea to the east. Select itineraries focus on this region, one of the few places in Antarctica to view emperor penguins.
Here are some places to visit in Antarctica on an Antarctic Sound and Weddell Sea cruise: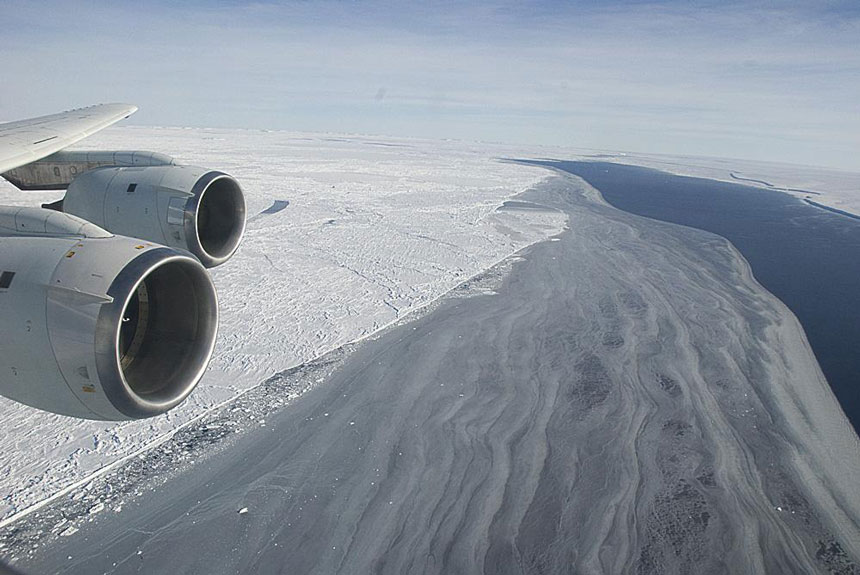 Larsen Ice Shelf
The Larsen Ice Shelf is a major contributor to the Antarctica landscape, but it is dwindling in size over time. This thick mass of floating ice is attached to the northeastern section of the Antarctic Peninsula, and is one of the sought-after places to visit in Antarctica due to its calving activity. The giant tabular icebergs that have broken off comprise some of the largest ever seen.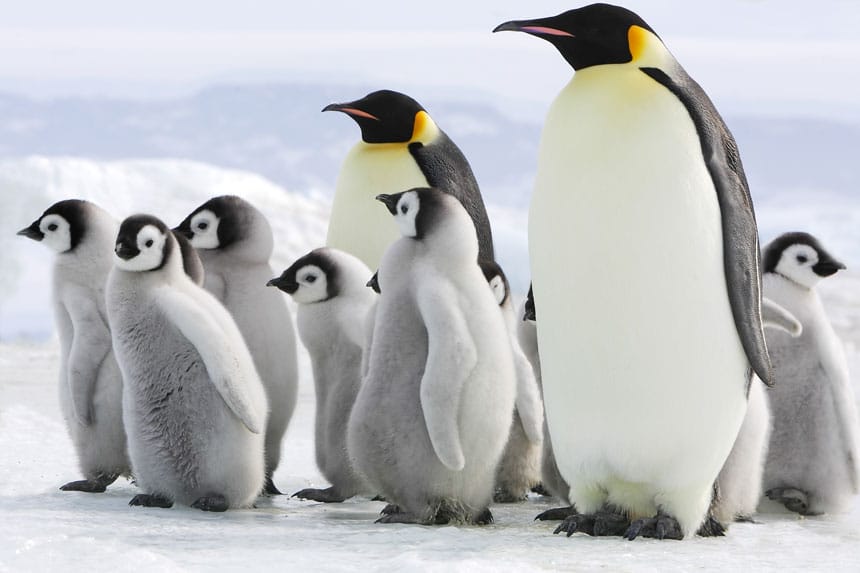 Snow Hill Island
Antarctic travelers seeking emperor penguins know that this is where to go in Antarctica. The approach can be difficult, with multi-year pack ice keeping ships far away, requiring helicopter landings. Only a portion of these departures are successful in viewing the largest penguins on Earth.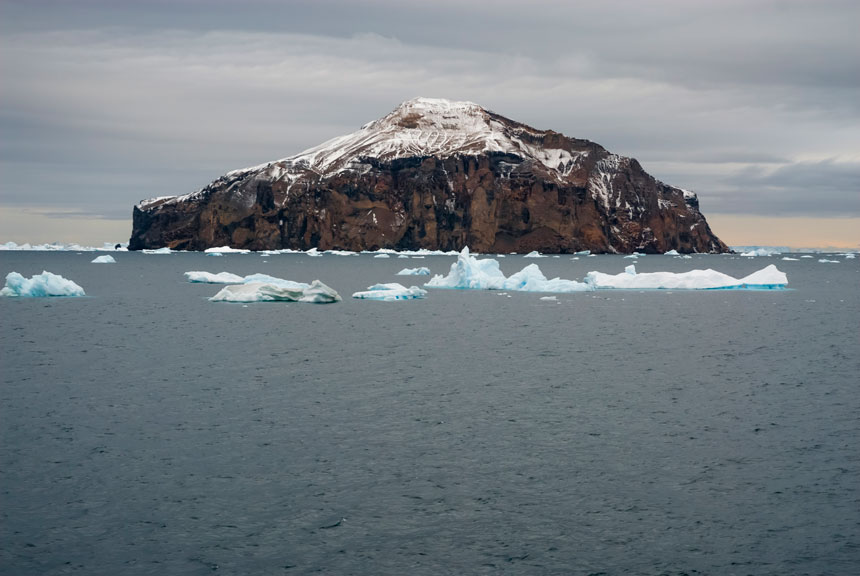 Paulet Island
This small island in the northwestern Weddell Sea features a large Adelie penguin and blue-eyed shag rookery. The volcanic crater is striking from afar. On shore, travelers can appreciate a historic site with a stone hut where men from a research party were stuck for a winter.
Places in Antarctica: Falklands & South Georgia
Both the Falkland Islands and South Georgia Island lie in the South Atlantic Ocean's Scotia Sea, closer to South America than the Antarctic Continent. Considered part of the sub-Antarctic islands, these islands are popular with past Antarctica travelers as well as those interested in seeing wildlife from other places in Antarctica.
Most Falklands and South Georgia cruises also travel into the Southern Ocean for time exploring the Antarctic Peninsula, but a select few itineraries focus on these specific islands. Learn more about these islands and their regional highlights, including Elephant Island and the rarely visited South Orkney and South Sandwich Islands, in our Falkland Islands and South Georgia cruises page and All About South Georgia Antarctica & How to Go primer.
Here are some places to visit in Antarctica on a Falklands and South Georgia cruise: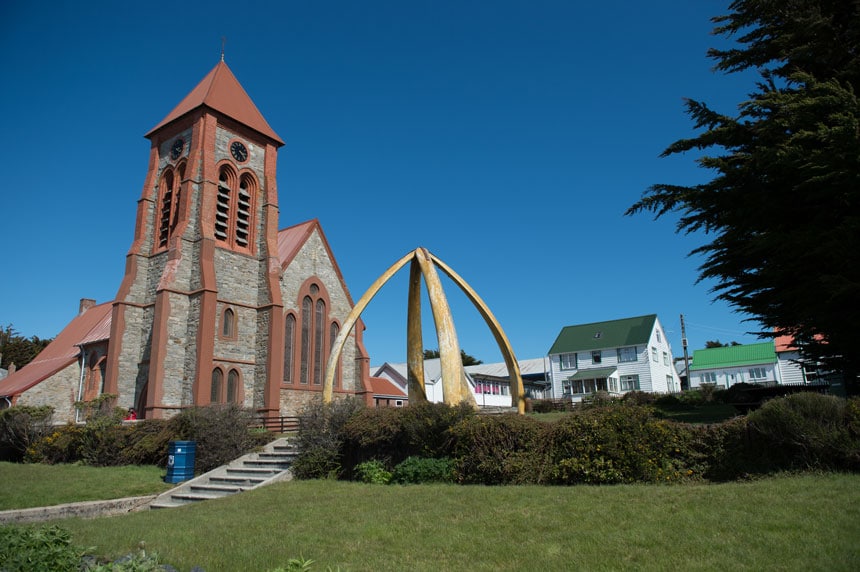 Port Stanley, Falklands
Almost all Antarctica itineraries that visit the Falkland Islands stop at Port Stanley (also known as Stanley or Port William). Being the capital, Stanley has the largest population in the Falklands and also an airport. Port Stanley's protective bay was very attractive to whalers and naval officers of the past.
Photo by: Anthony Smith/Poseidon Expeditions, Antarctic Wildlife Adventure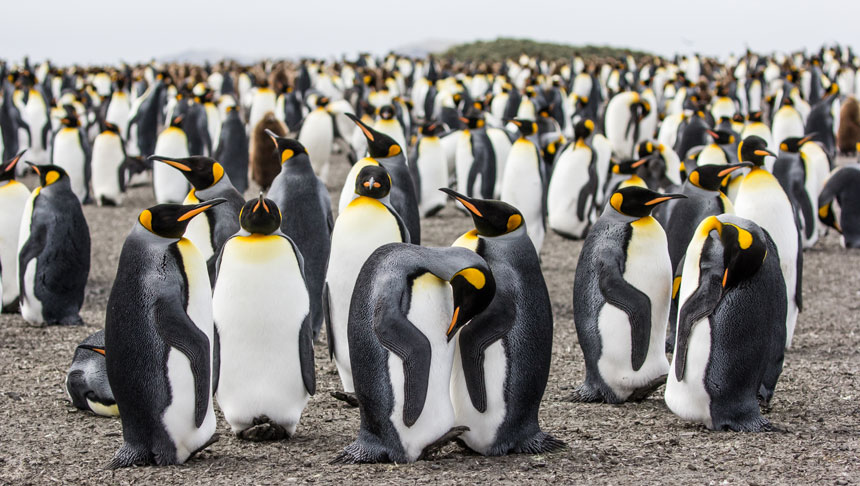 Salisbury Plain, South Georgia
Home to one of the largest king penguin colonies in the world, this northwestern stop along South Georgia offers a mind-boggling experience. A wall of penguins leads the eye from the pebbled beach, through the lush grasslands and tussocks, up into the surrounding hillside.
Photo by: Adventure Specialist Andrew Browning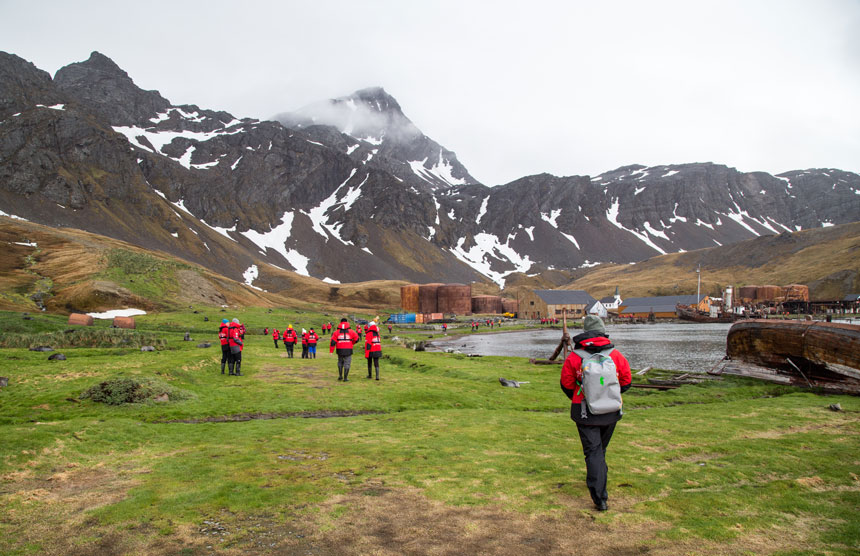 Grytviken, South Georgia
This picturesque bay along South Georgia's northern coastline is home to massive amounts of wildlife, including king penguins, gentoo penguins, Antarctic fur seals, elephant seals, Antarctic terns, giant petrels and brown skua. Some itineraries include time to do the Shackleton Walk over the hill to Stromness, where Shackleton finally found help during the failed Imperial Trans-Antarctic Expedition.
Photo by: Adventure Specialist Andrew Browning
Places in Antarctica: The Antarctic Circle
A selection of our Antarctica cruises aim to cross the Antarctic Circle at 66°33´ S latitude, often then turning back north. Sea ice can get thick (and also amazing) south of this polar circle, so cruises here are scheduled at specific parts of the season. And the sun will never set here due to the latitude. A successful crossing therefore makes this one of the places in Antarctica worth toasting.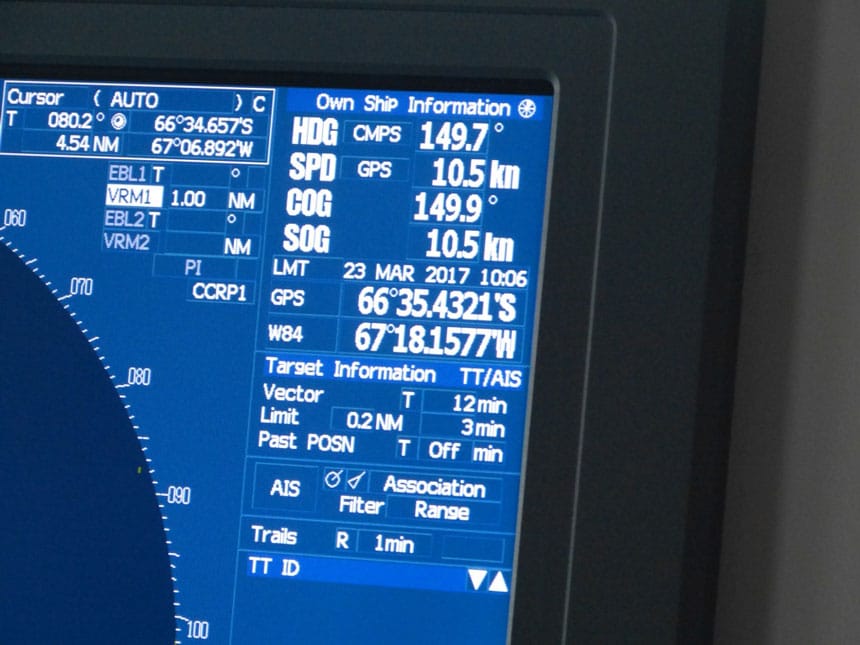 Places in Antarctica: West Antarctica
To experience more of the Antarctica landscape, including places in Antarctica that few travelers venture to, look to West Antarctica itineraries. These long cruises travel through the Bellingshausen, Amundsen and Ross Sea.
Here are some places to visit in Antarctica on a West Antarctica cruise: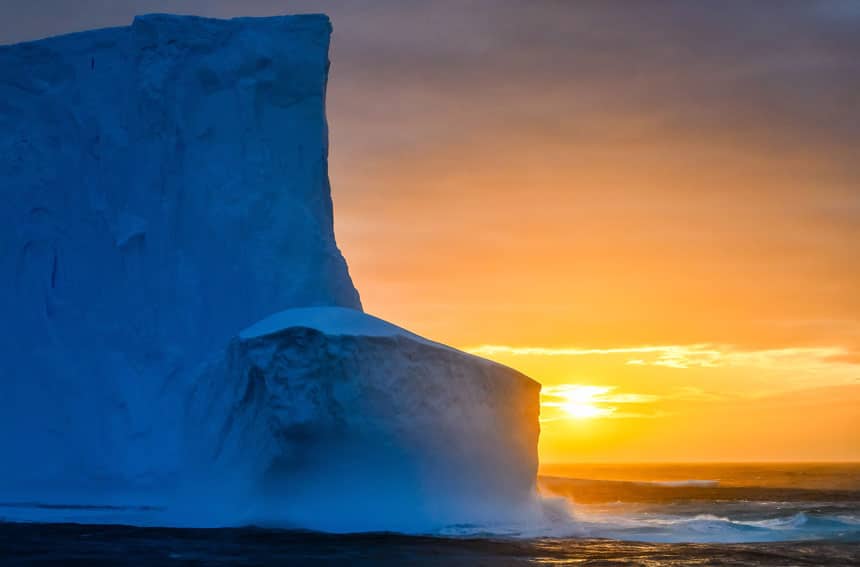 Ross Ice Shelf
The world's largest ice shelf is currently around 182,000 square miles (the size of France). This tall tabletop of floating ice stretches nearly 500 miles north to south, and over 400 miles east to west. This wall of white, rising roughly 65 feet out of the water, is one of the more stunning places in Antarctica.
Photo by: ©PONANT – Morgane Monneret, Le Commandant Charcot Ross Sea Expedition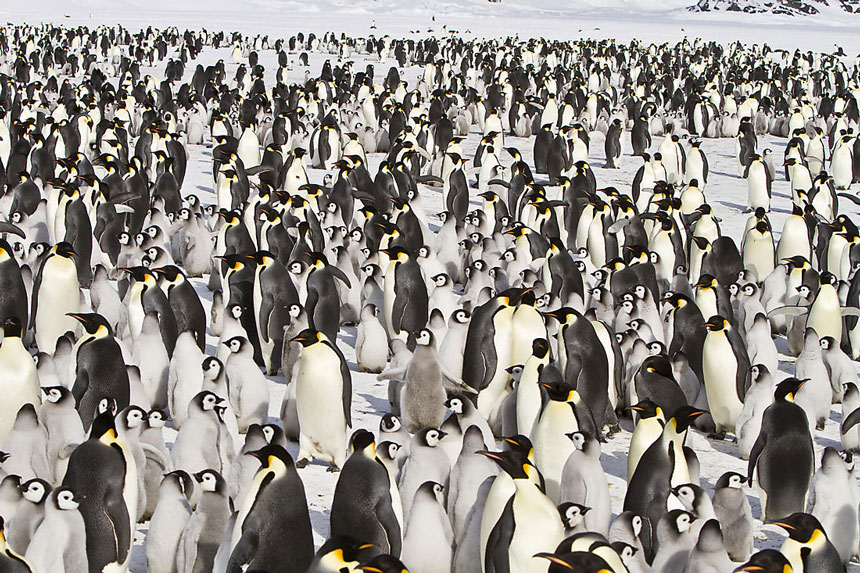 Bellingshausen Sea: English Coast
Gigantic emperor penguin colonies are found along this section of West Antarctica. Special departures land in the pack ice and lead travelers over a desert of ice to reach these endemic penguins—the largest of their species.
Photo by: ©PONANT, Le Commandant Charcot Bellingshausen Sea Voyages
Places in Antarctica: Australia & New Zealand's Sub-Antarctic Islands
Most West Antarctica cruises also include the Australia and New Zealand Sub-Antarctic Islands. These routes embark or disembark in Australia or New Zealand, travel along West Antarctica and connect to South America. These rarely visited islands are a birder's paradise and offer unique species not found in other places in Antarctica.
Here are some places to visit in Antarctica on a route along the Australian and/or New Zealand Sub-Antarctic Islands: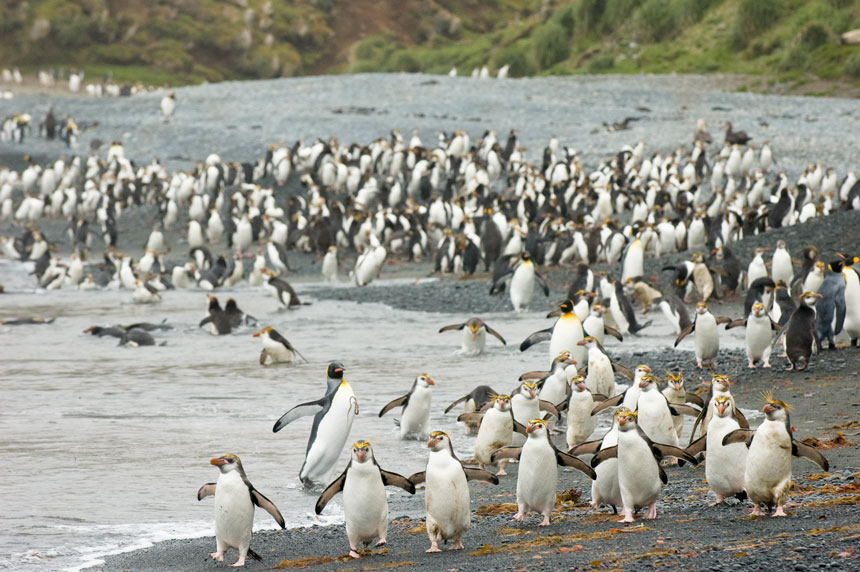 Macquarie Island (Australia)
Sitting roughly halfway between Australia and Antarctica, Macquarie Island (or Macca) offers many endemic plant and animal species. This World Heritage site is also the only place on the planet where Earth's mantle protrudes above sea level. Royal penguins, southern rockhopper penguins, king and gentoo penguins, various albatross species, elephant and fur seals are known to breed here in overwhelming numbers.
Photo by: Delphine Aures/Oceanwide Expeditions, Spectacular Ross Sea: West Antarctica Cruise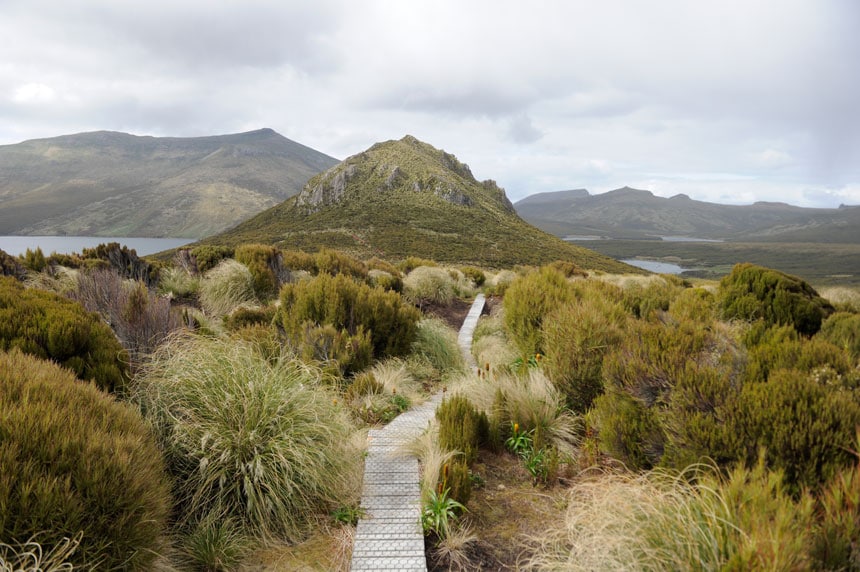 New Zealand's Sub-Antarctic Islands
This UNESCO World Heritage site is a must-see for ornithologists. Watch for royal, wandering, Campbell, grey-headed, black-browed and lightmantled albatross; Antarctic terns; Snares crested penguins; erect-crested and yellow-eyed penguins. Sea lions, elephant seals and fur seals relax among lush vegetation.
Campbell Island. Photo by: ©Studio PONANT – Margot Sib
Our Advice: Where to Go in Antarctica
No Antarctica cruise ship or route can guarantee stops at specific places to visit in Antarctica, let alone the best tourist attractions in Antarctica. But careful selection and scheduling your trip for the best time to visit Antarctica may improve your odds of experiencing the Antarctica landscape to its fullest.
When planning your trip to Antarctica, consider factors beyond just places to visit in Antarctica. Antarctica cruise deals, Antarctica cruise cost considerations and things to do in Antarctica can help steer you in a specific direction.
Or dive deeper into all of our Antarctica travel guide resources for more information and inspiration, including reasons to visit Antarctica, Antarctica cruise reviews and the best Antarctica cruise lines.
Ready to chat through the places in Antarctica? Our experts have experienced these places firsthand and are ready to help you select from the options on our Antarctica cruise finder.
MORE ANTARCTICA RESOURCES:
Antarctica Travel Guide
Antarctica Cruises
Luxury Antarctica Cruises
Falkland Islands & South Georgia Cruises
Cruises with Flights to Antarctica
Best Time to Visit Antarctica
Antarctica Cruise Cost
How to Get to Antarctica
Things to Do in Antarctica
Antarctica Ships
Best Antarctica Cruise Lines
Antarctica Cruise Deals
Antarctica Cruise Reviews