View our curated list of the best luxury Antarctica cruise itineraries. These iconic routes aboard first-class ships don't sacrifice experience for amenities; you can truly have it all aboard these luxurious options sailing the White Continent: high-end accommodations, excellent guiding and off-ship action.
What Is the Most Luxurious Antarctica Cruise?
We've been asked this question, but the answer depends a lot on your individual definition of luxury. In Antarctica, our offerings are expeditions at their core, focused on actively exploring the landscape versus just passing it by. While there will be plenty to do and see if you choose to stay aboard the ship, all of the luxury Antarctica cruises in this curated list allow guests to get off the ship on skiff rides, hikes, kayaks or more adventurous activities.
A lot of what makes an Antarctic cruise with AdventureSmith Explorations so luxurious is the small number of guests aboard, which allows more time on shore since only 100 passengers are allowed ashore at one time in Antarctica. Our experts can help you narrow down the best Antarctica cruises for your own personal definition of luxury. Is a spa a necessity? Is having a large suite to entertain important? Our team can help you narrow it down.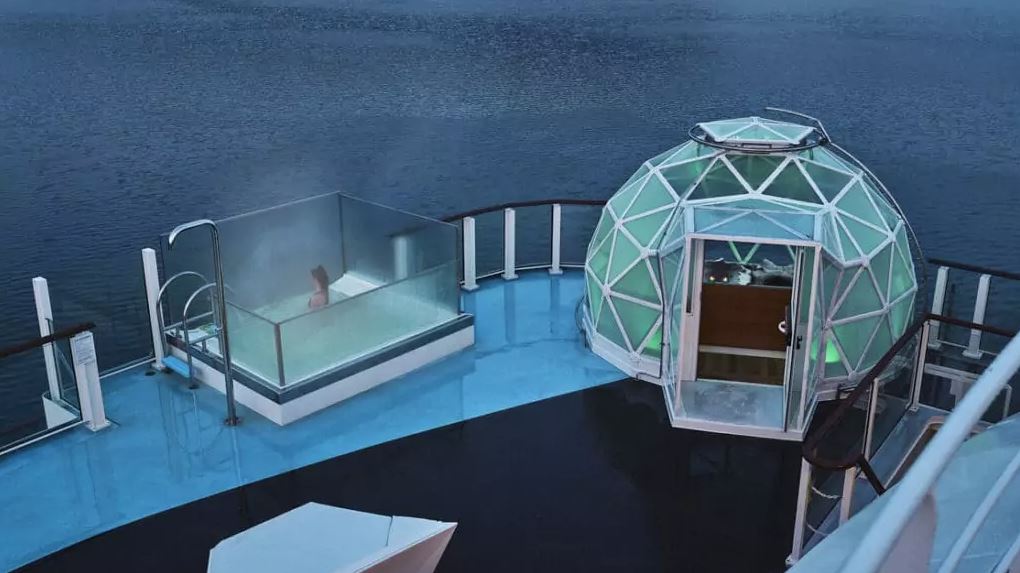 How to Choose Your Luxury Antarctica Cruise
So how do you best select among all these luxury Antarctica cruise itineraries? We suggest starting with our Antarctica Travel Guide – How to Choose Your Antarctica Cruise to understand the regions you may want to consider. For example, if you are seeking a Falkland Islands and South Georgia cruise or a Polar Circle expedition, that may be a great start to narrowing down your options.
If you are seeking a certain activity like skiing, or to forgo the Drake Passage crossing to instead fly to Antarctica, these factors may also narrow down your options. But if you are flexible and looking for a standard Antarctic Peninsula cruise experience, your best bet to find your perfect luxury Antarctica cruise is to first find the ship that suits your tastes and travel preferences. Learn how much does it cost to go to Antarctica.
The Best Luxury Antarctica Cruise Ships
Your experience will be profoundly influenced by the ship you choose, and each has its own amenities and personality. Our team can help you narrow down the many options to hone in on the most luxurious Antarctica cruise ships to suit your needs. Or, start browsing the itineraries listed below, keeping ship choice in mind.
For example, some cruise itineraries, like National Geographic The White Continent, are offered aboard four or more sister ships but we often steer our luxury clients to the newest ships with the top-end amenities among them: the 126-guest National Geographic Endurance or National Geographic Resolution.
On a classic itinerary like Antarctic Explorer, the same is true. You will see lower from prices for some of the fleet, but we recommend the new 200-guest Ultramarine for those seeking a higher-end experience and the exciting added bonus of dual helicopter pads allowing flightseeing and heli-skiing.
Other Antarctica luxury ship favorites include the L'Austral, Le Soleal, Le Lyrial and Le Boreal fleet, all carrying no more than 200 guests in Antarctica; and hybrid-electric lng ship Le Commandant Charcot. The stunning and small 71-guest Magellan Explorer, which offers air cruises flying over the Drake Passage. The iconic 114-guest Sea Spirit, a longtime favorite for travelers seeking to visit both the Arctic and Antarctic in style.
What to Expect Aboard Luxury Antarctica Cruise Ships
Luxury small ships in Antarctica feature the finest staterooms and with exceptional ocean views and/or private balconies. Expect deluxe amenities, the finest cuisine, the best cruise itineraries, superior service and top-rated naturalist guides with excellent crew-to-guest ratios. Bathrooms may offer heated floors and bathtubs, and you'll find Egyptian cotton bedding and other luxury touches.
Some ships offer added entertainment such as piano music and professional dance ensembles as well as amenities like caviar and whiskey tasting. Our selection of luxury Antarctica cruises is hand-picked and personally inspected to bring you only the finest vessels available that don't sacrifice off-ship experience for their luxuries.
The Newest Antarctica Luxury Cruises
The itineraries listed on this page are updated with the latest dates and rates for each season. As the following season's dates are released, our team is the first to know and make them available for booking. Bookmark this page, or contact us to stay in the loop about specific time frames you are seeking to travel.
We book luxury Antarctica cruise holidays for everyone from jetsetters seeking to travel last minute to those who plan ahead five years in advance for this once-in-a-lifetime experience. Seeking even more options? View our 2023 Antarctica cruises to learn more about what's new.
We truly offer the best luxury Antarctica cruises, but also other options for travelers willing to trade some upscale amenities for other travel priorities.
Benefit from Our Customized Service & Firsthand Experience
We are award-winning Antarctica luxury cruise experts, here to help you find the right cruise at the best price. View our selection of Antarctica cruise deals if you are seeking to browse by what's on sale.
All of our luxury Antarctica cruises are custom arranged. Work with a dedicated Adventure Specialist with expertise in Antarctica to research, book and prepare for your small ship cruise. Our crew will handle all the arrangements including pre- and post-cruise transfers, gear rental if needed, hotels, tours and trip extensions.
We can also assist in tying together your greater travels to South America; many of our luxury Antarctica cruise passengers complement their time in the White Continent with a luxury Patagonia tour. Our experts are here to ensure your luxury Antarctica cruise is seamless and exceeding your expectations.