View our curated list of the best luxury Antarctica cruise itineraries. These iconic routes aboard first-class ships don't sacrifice experience for amenities; you can truly have it all: high-end accommodations, excellent guiding and off-ship action. Let this page guide you to the top Antarctica luxury cruise ships and our expert booking tips for those seeking a high-end experience at the Earth's lowest latitudes.
ON THIS PAGE – Booking a Luxury Antarctica Cruise:
What Is the Best Luxury Antarctica Cruise?
Defining Antarctica Luxury
New Luxury Options & Best Ships
What to Expect Aboard Luxury Ships
How to Choose
The AdventureSmith Advantage
View All Luxury Cruises to Antarctica
What Is the Best Luxury Antarctica Cruise?
What is the most luxurious Antarctica cruise? Any itinerary on Le Commandant Charcot is the clearest frontrunner for our luxury Antarctica clients seeking the newest ship with the latest technology, sustainability and high-end, traditional luxury touches like butler service, gala nights, onboard spa and an Alain Ducasse restaurant.
But the real answer to this question depends a lot on your individual definition of luxury. Some travelers want the most unique, remote of experiences. Some seek the highest level of guides, guest hosts and expert scientists aboard. While others focus on food and wine, or having a large suite to entertain.
Ultimately, the answer to what the most luxury Antarctic cruise is comes down to matching you with your own best fit. Let our expert team do just that; give us a call now or read on to learn more about what goes into our selection process for luxury cruises to Antarctica.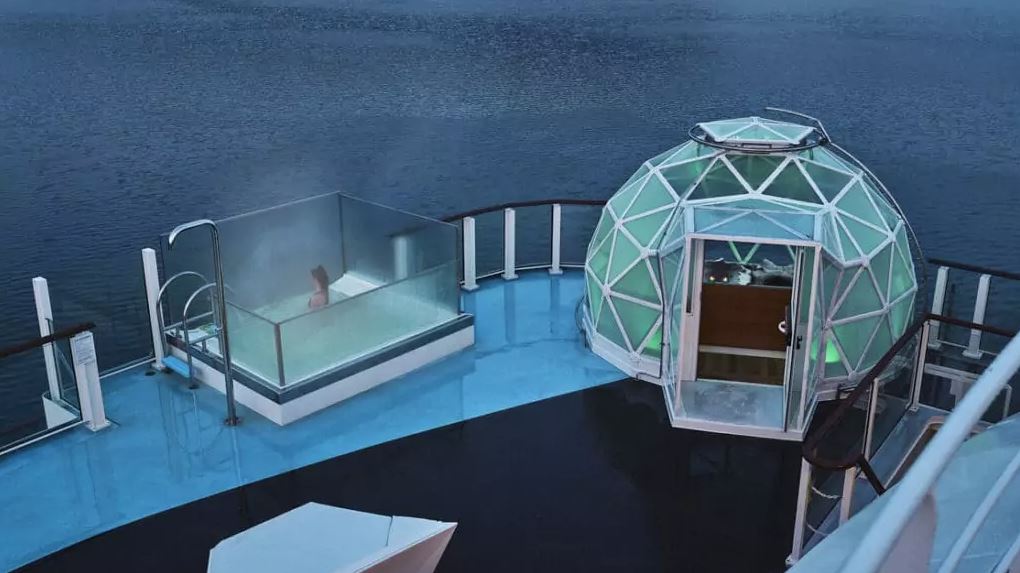 Antarctica Luxury Cruises: Understanding the Basics
One thing to understand at the outset when it comes to Antarctica luxury is that any option through AdventureSmith is an expedition at its core, focused on actively exploring the landscape versus just passing it by. While there will be plenty to do and see if you choose to stay aboard the ship, all of the luxury Antarctica cruises in this curated list allow you to get off the ship on skiff rides, hikes, kayaks or more adventurous activities.
A lot of what makes an Antarctic cruise with AdventureSmith Explorations so luxurious is the small number of guests aboard (under 200), which allows more time on shore since only 100 passengers are allowed ashore at one time in Antarctica. This luxury of experience is something you cannot find anywhere else on Earth, so we urge our luxury-oriented travelers to think outside the boat too.
The Newest & Best Luxury Antarctica Cruise Ships
More important than route for most luxury Antarctica trip seekers is the ship. Your experience will be profoundly influenced by the ship you choose, and each has its own amenities and personality. Stay up-to-date on the latest and greatest new Antarctica cruise ships with AdventureSmith's dedicated page on vessels, but in the luxury realm, be sure to look for the following highlights:
Our team can help you narrow down the many options to hone in on the best luxury Antarctica cruise ships to suit your needs. Or start browsing the itineraries listed below, keeping ship choice in mind.
What to Expect Aboard Luxury Antarctica Cruise Ships
Our selection of luxury Antarctica cruises is hand-picked and personally inspected to bring you only the finest vessels available that don't sacrifice off-ship experience for their luxuries.
All our partner Antarctica luxury cruise ships feature the finest staterooms and with exceptional ocean views and/or private balconies. Expect deluxe amenities, the finest cuisine, the best cruise itineraries, superior service and top-rated naturalist guides with excellent crew-to-guest ratios. Bathrooms may offer heated floors and bathtubs, and you'll find Egyptian cotton bedding and other luxury touches like Dyson hair dryers and even in-room butler service. Bed configurations vary, as do options for single occupancy, so our experts can handle matching your specific needs.
Some ships offer added entertainment such as piano music and professional dance ensembles as well as amenities like spas, salons, 24-hour room service and caviar and whiskey tasting. And look for jaw-dropping extras like the National Geographic Resolution's Observation Deck igloos that can be booked for an overnight stay of polar stargazing.
When you're seeking the best aboard, don't always assume the owner's suite is your best choice. In many cases it is. But some ships have just-as-stunning other suites with their own nuances and perks. Case in point: Le Commandant Charcot's stunning two-story Duplex Suites. Our experts are on hand to assist Antarctica luxury cruise seekers determine what's included with each suite and how to choose yours.
And another common concern among our Antarctica luxury cruise clients is connectivity. Expect to disconnect (and enjoy doing so), but there are increasing options for staying plugged in while you're at the world's most remote reaches. Our team can assist if this is important to you.
How to Choose Your Luxury Antarctica Cruise
So how do you best select among all the luxury Antarctica cruises? If you are flexible and looking for a standard Antarctic Peninsula cruise experience, your best bet to find your perfect luxury Antarctica cruise is to first find the ship that suits your tastes and travel preferences.
But if you are seeking a Falkland Islands and South Georgia cruise or a Polar Circle or Weddell Sea expedition, that may be a great start to narrowing down your options before honing in on a ship. Learn more in our How to Choose Your Antarctica Cruise primer to understand the regions you may want to consider when planning a luxury cruise to Antarctica.
If you are seeking a certain activity like skiing, or to forgo the Drake Passage crossing to instead fly to Antarctica, these factors may also narrow down your options. Ultimately, speaking to our team of specialists is the best time-saver to ensure you get the luxury Antarctic cruise you desire.
The Benefits of AdventureSmith
Don't shortchange this once-in-a-lifetime trip by not booking with the best. In addition to the many reasons to book with AdventureSmith Explorations worldwide, there are a few more specifically for our luxury Antarctica cruise travelers. Consider us your premium go-to for Antarctica luxury cruises.
One-on-One, Comprehensive Service from an Antarctica Expert
All of our luxury Antarctica cruises are custom arranged by a single Adventure Specialist who will be your contact from start to finish. Our Adventure Specialists all have expertise in Antarctica to help you research, book and prepare for your small ship cruise. Our crew will handle all the arrangements including pre- and post-cruise transfers, gear rental if needed, hotels, tours and trip extensions. And can help you connect any published or sometimes unpublished Antarctica cruise deals as they arise.
Ties to Other Luxury South America Travel
We can also assist in tying together your greater travels to South America; many of our luxury Antarctica cruise passengers complement their time in the White Continent with a luxury Patagonia tour or guided city tours in Buenos Aires or Santiago. Our experts are here to ensure your luxury Antarctica cruise is seamless and exceeding your expectations.
The Latest on Antarctica at Your Fingertips
We book luxury Antarctica cruise holidays for everyone from jetsetters seeking to travel last minute to those who plan ahead five years in advance for this once-in-a-lifetime experience. Seeking even more options? We list the best luxury Antarctica cruises on this page, but our other resources have options for travelers willing to trade some upscale amenities for other travel priorities. View our 2024 Antarctica cruises to learn more about what's new in expedition travel overall for the destination, or navigate to one of our many resources below.
MORE ANTARCTICA RESOURCES:
Antarctica Cruises
Falkland Islands & South Georgia Cruises
Cruises with Flights to Antarctica
Best Time to Visit Antarctica
Best Antarctica Cruise Lines
How Much It Costs to Go to Antarctica
How to Get to Antarctica
Things to Do in Antarctica
Places in Antarctica
Antarctica Ships
Antarctica Cruise Deals
Antarctica Cruise Reviews
Antarctica Travel Guide
View All Antarctica Luxury Cruises
Find and filter Antarctica luxury cruise itineraries by travel dates and price here, keeping in mind that ship choice will dictate price in the end on trips with a range of vessel choices. These options are curated by our experts to represent the best in luxury today on the White Continent. But to truly find the best, call us today for a free consultation on which Antarctica luxury cruise would best fit your particular needs.