This detailed Le Commandant Charcot review was written by AdventureSmith Adventure Specialist Lauren Pilholski who traveled to the North Pole aboard Le Commandant Charcot. While her insights come from her time in the Arctic, her Charcot review can also apply to the ship's sailings in other locales. Read on to learn from her firsthand experience aboard this remarkable ship.
IN THIS POST – Le Commandant Charcot Ship Review:
Capabilities in Ice
Maneuverability & Quiet
Review of the Staterooms
Crew & Guide Review
The Science Aboard
Favorite Interior Spaces
Charcot's Food & Wine
Language Barriers
Stories Heard Aboard
How to Follow this Ship
Why Charcot? "Why Not?"
The new luxury icebreaker, Le Commandant Charcot, is named after the famous French scientist, doctor and polar explorer, Captain Jean-Baptiste Charcot. Charcot named several of his polar expedition ships "Pourquoi Pas?" (English: "Why Not?") and I get a sense that the same was asked when designing this extraordinary ship. Why not create a state-of-the-art luxury cruise icebreaker? Why not make sustainability a priority and make it the cleanest ship sailing today? Why not offer the lavish extra touches like the Michelin-level restaurant, the spa with a sauna, snow room and heated outdoor pool? Why not have scientists and researchers on board collecting data while visiting the most remote regions?
As soon as we stepped on board Le Commandant Charcot, we were repeatedly encouraged by the Cruise Director to "change our habits" and try something new. There are so many different options on board Le Commandant Charcot, why not branch out and sample it all?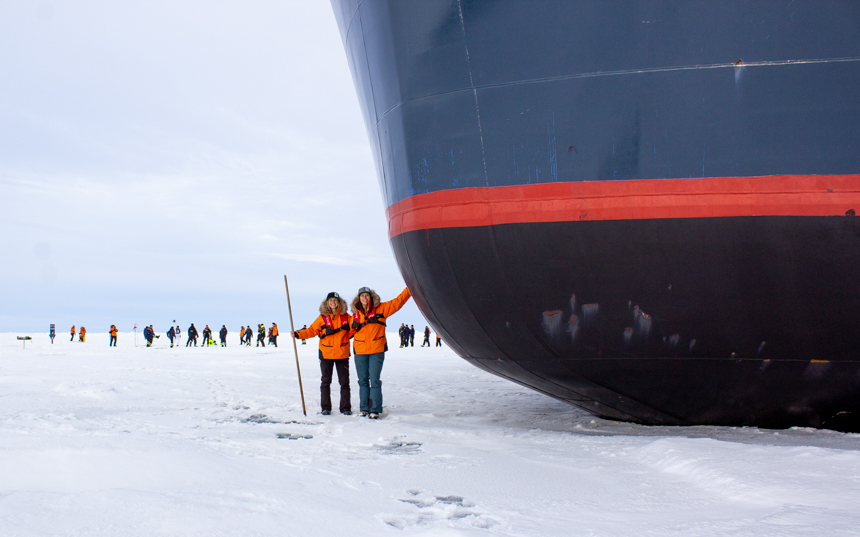 In a League of Her Own on Ice
Le Commandant Charcot has achieved the highest ice-class rating, Polar Class 2, of any purpose-built cruise ship. But what does a Polar Class 2 rating really mean? As one crew member put it, "When other ships turn back, we keep going." Le Commandant Charcot offers extended polar cruising seasons, visiting areas where other cruise ships have not gone during times of the year when other ships cannot go there. Le Commandant Charcot can break through ice 8.5 feet thick, compared to Polar Class 6 ships that can break through 3.5-foot-thick ice. This mean when you are on Le Commandant Charcot, most likely you will not see any other expedition cruise ships and you will be all alone in the ice—a truly humbling experience.
I was surprised at how elegant and capable the ship felt while breaking through the ice. We did not encounter any ice on this voyage that necessitated the full power of this ship, such as reversing and ramming through thicker ice, but I still got a sense of her incredible power. Charcot was very comfortable while cruising through the ice traveling around 7-10 knots. The captain did increase our speed to 14 knots once while in the ice, and then we could really feel the vibrations and hear the thundering crashes of the ice against the hull.
From an environmental standpoint, Le Commandant Charcot is one of the cleanest ships out there. She is the first hybrid-electric polar cruise ship powered by liquified natural gas, the cleanest fossil fuel. And the ship is able to treat sewage on board and discharge nothing but clean, drinkable water into the sea. All of the wastewater is treated by processes that exclude the use of chemical products too. Recycled energy from the engines is even used to heat the outdoor pool, outside decks and outdoor benches.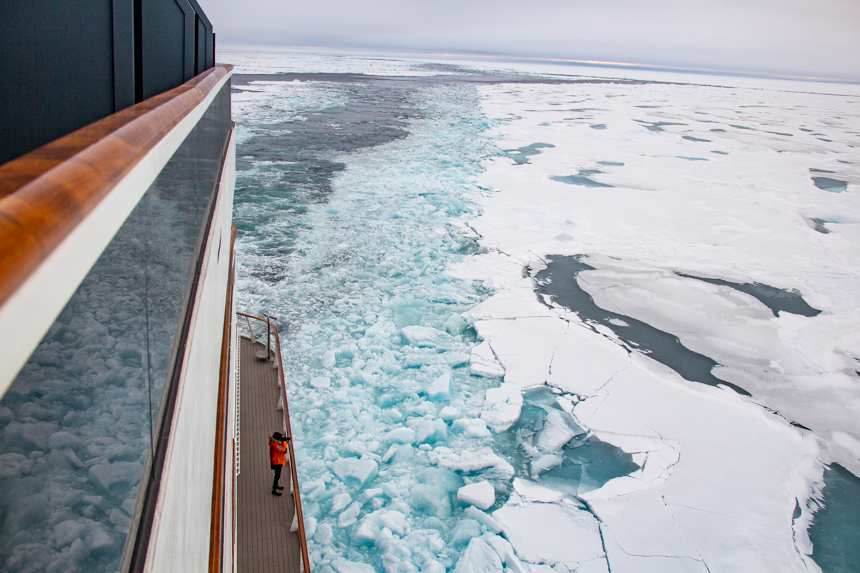 Incredible Maneuverability & Quiet
Le Commandant Charcot has a unique dynamic positioning system that allows the ship to go both forwards and backwards, hover in place and rotate 360 degrees. This allows for smooth maneuverability through the ice, and also proved to be beneficial for wildlife viewing from the ship.
On my trip, the Captain was able to demonstrate the flexibility this system allows by slowly inching through the ice getting us closer towards polar bears in any direction, even completely sideways and then hovering in place to watch.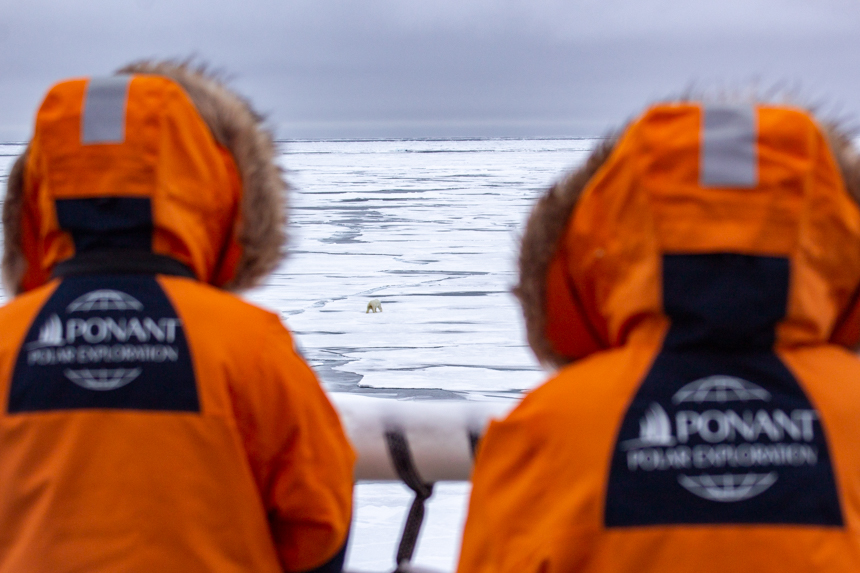 Le Commandant Charcot can also turn off its generators and switch to completely silent, zero emissions mode using its large battery bank. This is great for ports and protected areas, and proved to be another helpful feature for watching wildlife. It was a very special experience to be out on the decks, surrounded by ice as far as you can see, with absolutely no noise from the ship. There were times when we were outside viewing wildlife and all the guests on deck were also silent, in awe, completely captivated by the wildlife we were watching. It was truly remarkable.
The electronic dynamic positioning system also enables the ship to remain in place without dropping an anchor. While we were off the ship in Zodiacs or for shore landings, the ship used its dynamic positioning system to remain fixed in one spot. This also allowed the ship to pull up alongside the icefloes so guests could get off the ship and walk around on the ice. We were even able to spend the night wedged into an icefloe in water that was over 13,000 feet deep.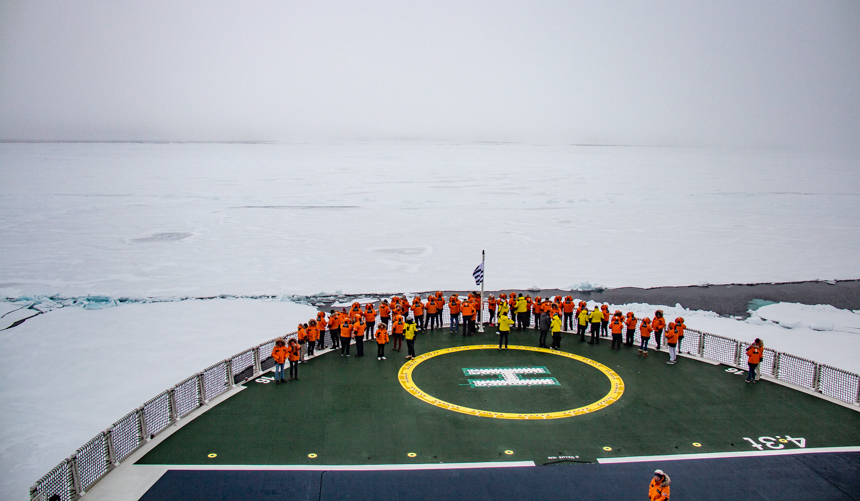 My Review of Charcot's Staterooms
Le Commandant Charcot is larger than Ponant's other ships in the polar regions, yet she has fewer cabins on purpose. No matter which cabin you select, it will be spacious and have stunning views. There is no concern of receiving a cabin with an obstructed view on this ship. Every cabin on board has a private balcony with floor-to-ceiling sliding glass doors. Even below the balcony's railing is a glass barrier, allowing for better views from inside your cabin.
Each cabin can be configured with a king bed or two twin beds. One thing to note is that if you opt for two twin beds, they are close together with only about 1 ft between the two beds. The beds cannot be farther apart because there are nightstands fixed to the wall on either side. Since Charcot does not offer single travelers a willing-to-share program, this is unlikely to be a major issue since you will likely know your cabinmate well.
If you are a single traveler, note that there are no dedicated single-occupancy cabins so you will likely pay a significant amount more to get aboard this ship. That said, there are many departures with special offers waiving the single supplement, so contact an AdventureSmith Specialist to learn more about these departures.
I shared Deluxe Suite 834 with my colleague, and we were happy to have the extra space the Deluxe Suite provides with a larger sofa and extra armchairs to sprawl out. Between the two of us, there was more than enough storage to completely unpack our suitcases for the cruise and tuck them away under the bed. I was surprised at the amount of storage space; the cabins really utilized every possible space. We each had a wardrobe, multiple drawers and extra closet shelves we didn't even use. We also each had a nightstand next to our bed with 2 USB outlets, 1 EU and 1 US outlet which was handy for charging all our devices each night. There were additional outlets at the small desk area in the room as well.
While every cabin comes with warm parkas and stainless-steel water bottles to keep, Deluxe Suites (and above) also include a waterproof drybag backpack and a leatherbound journal – all are quality made and tastefully Le Commandant Charcot-branded items that you would actually want to bring home. All cabins also include Nespresso machines, tea and a minifridge restocked daily with fresh squeezed detox juices, soft drinks and alcohol. The Bose Bluetooth speaker, Dyson hairdryer, robes and slippers also made us feel right at home. We really appreciated the amount of lighting in the room, as well as the blackout curtains.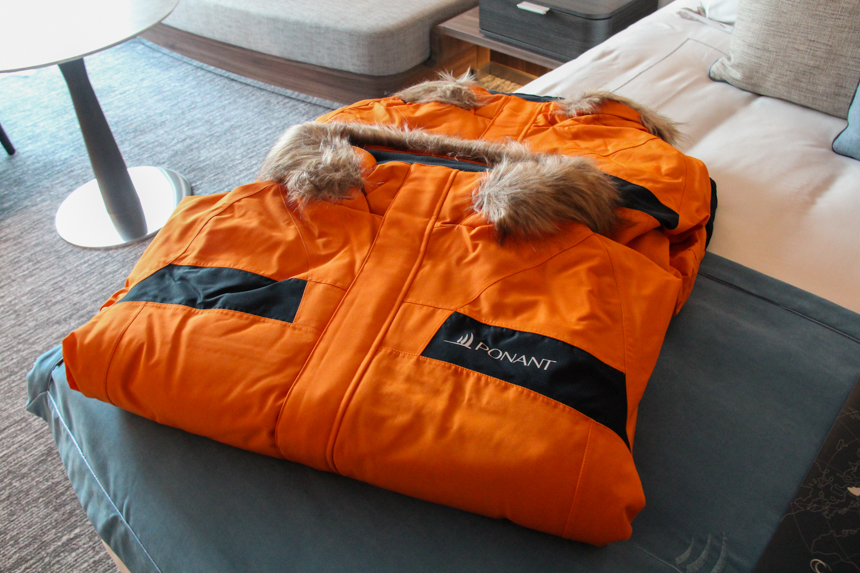 The Prestige Staterooms (215 sq ft) and Deluxe Suites (301 sq ft) have ample space, while the Prestige Suites (430 sq ft) and Grand Prestige Suites (452 sq ft) are among the largest cabins across all expedition ships. As you can expect with Le Commandant Charcot's grandeur, her Duplex Suites (1,011 sq ft) and Owner's Suite (1,237 sq ft) are more than double in size compared to the highest cabin categories on other luxury expedition ships.
One of my favorite room categories I saw while touring the ship is the Duplex Suite. There are only four of these unique suites, so they book fast. Each Duplex Suite has two levels and together all four suites comprise the entire aft of decks 6 and 7. These suites have some of the best views, whether you are lying in bed upstairs, soaking in the private jacuzzi on your private deck or lounging by the fireplace on the bottom level. These suites are perfect for families and can comfortably accommodate four guests. There are plenty of extras with these suites, including personal butler service and Swarovski binoculars.
Crew & Guide Highlights
Although Le Commandant Charcot carries fewer guests than Ponant's sister ships, there are approximately 50 more crew members on this ship. The crew on board are extremely specialized in the polar regions and eager to share their knowledge. It was very enjoyable to chat with any of the crew as they are all very passionate and have amazing backstories and experiences to share.
While all the crew are friendly and attentive, I was most impressed with the Captain. Of course you would expect him to be skilled at navigating the ship through the ice, but he was also one of the most lively and personable Captains I have ever cruised with, always visible around the ship when he wasn't on the bridge. Even the bridge has an open-door policy and guests are allowed to watch the Captain navigate through ice and the officers are ready to answer questions. Some guests I met specifically book their cruises to sail with both captains who rotate on Le Commandant Charcot.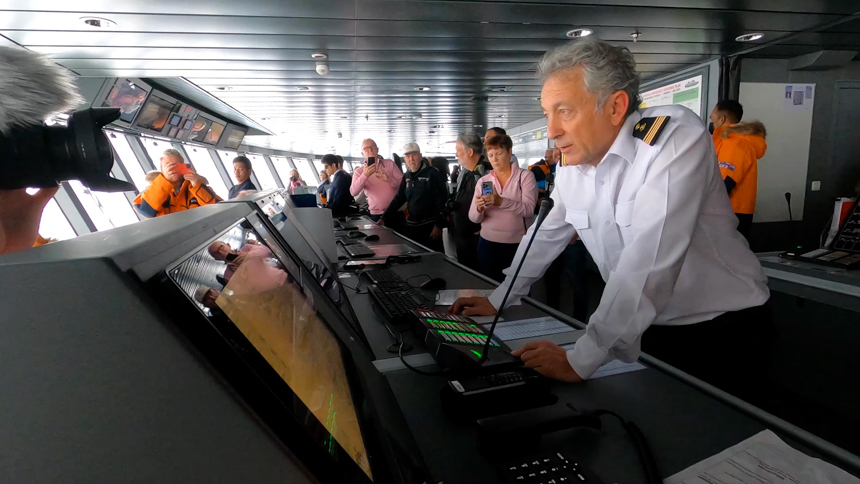 Select departures also have photo ambassadors on board, and I was thankful that my cruise had two very skilled photo ambassadors. They were readily available to answer one-on-one questions with my camera, but they also hosted a series of helpful photography workshops welcoming all levels, even beginners using their cell phones. I also really enjoyed their other presentations when they shared their personal career experiences working behind the scenes with BBC's Frozen Planet and Blue Planet series, among many others recognizable projects. Some guests on my cruise had sailed with these particular photo ambassadors before in other destinations and booked this trip in order to cruise with them again.
A Very Different Science Approach
Another standout feature on Le Commandant Charcot is the team of scientists and researchers on board. This ship is designed to visit the most remote regions, and I appreciate that they are making these areas more accessible for scientists to study and carry out long-term research.
Many expedition ships offer "citizen science" programs offering guests to participate in basic scientific data collection, but the science program aboard Charcot is very different. They have made studying and preserving the polar regions a priority by collaborating with scientific and academic programs around the world.
There is a dedicated science officer on board to not only coordinate the researchers and scientists, but also to share the work they are doing with the guests. There are two science labs, a wet and a dry lab, and the science officer even gave us a tour of one lab. The scientists on board also share their work by hosting lectures throughout the cruise and we could watch and ask them questions when they were out on the ice collecting samples and taking measurements. There were several times during our cruise that the ship stopped solely for the purpose of carrying out some of the researcher's projects.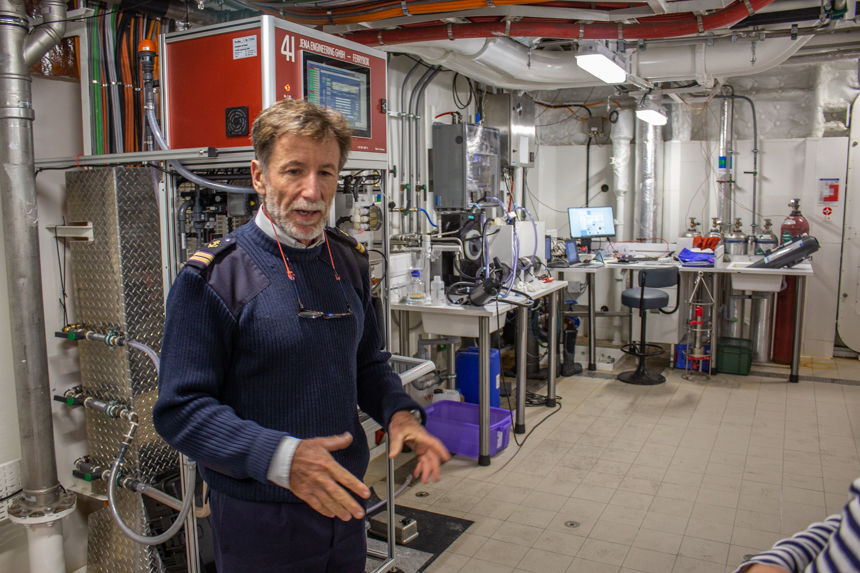 The Ship – A Destination in Itself
After being aboard, I can truly say Le Commandant Charcot is a travel experience itself. While its technical capabilities allow it to be among the top expedition ships sailing today, its interior spaces and onboard programming are on par with more traditional, luxury cruise ships that don't focus as much on off-ship exploration. So you truly get the best of both worlds with Charcot.
So what was it like aboard? First and foremost, for its size (492 feet with approx. 200 passengers), it feels quite a bit smaller than it is. This is due to the way it was designed with many smaller rooms around the peripheral areas of the ship. This is as opposed to having a few large common areas where everyone is gathered in one place. The center area of each deck was used as access areas for the crew. So this all created some separation, and an intimate and elegant feel in the public areas. A standout artistic feature was the four-story LED light installation by renowned artist Miguel Chevalier that you could enjoy as you go up the midship glass elevators.
The Observatory Lounge was my favorite spot to hang out, no matter what time of day. There are plenty of seats, all with amazing views with panoramic windows at the front of the ship. It was peaceful in the morning and was the perfect spot to relax with a book and a cappuccino, tucked away in a nook next to a crackling fireplace. In the afternoons and evenings, it was livelier and a great spot to meet fellow travelers while sharing a drink or just enjoying the view. The Observatory Lounge had the best bartenders who remembered everyone's names and favorite drinks and were always happy to suggest a new drink from their long cocktail list. Some tables had wooden board games out, and there was a library area with books and more games. The seats here all have wireless phone chargers on the armrests/table—they have truly thought of everything!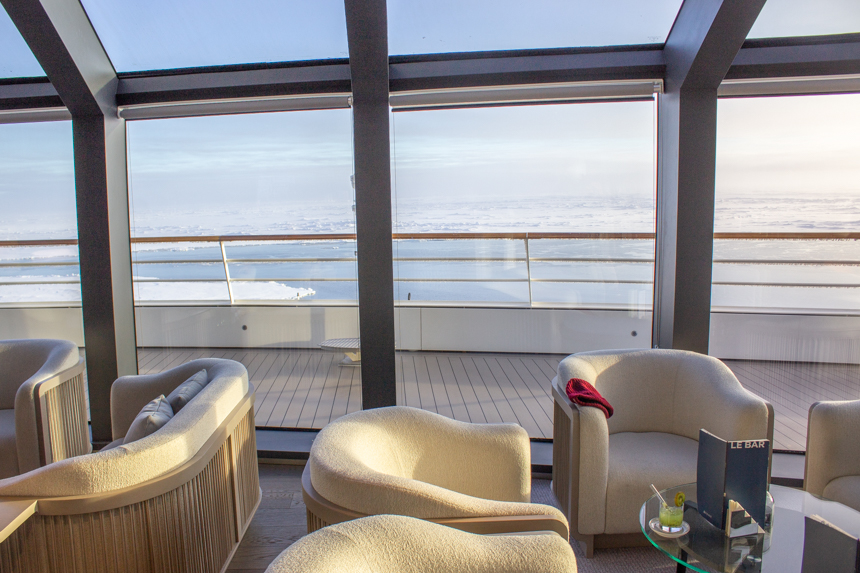 We were never lacking entertainment, with five musicians on board rotating through live music performances in the different lounges and bars. Plus there were dance performances, a casino night and even a magician who engaged us with participation tricks.
The fitness room had both classic and new innovative machines (like a Kinesis wall mirror), plus I learned you can walk five laps around the ship's deck and get a mile in, so I did that some and met some nice fellow passengers doing the same. The onboard spa is a particularly good selling point for this ship since many expedition ships don't offer one. But note you can only book your treatment three days in advance to allow for the flexibility of stops and other onboard activities.
There are also novelty amenities, like a snow room. Expert tip: go in it in the morning; that's when it will have the freshest snow since the snow canon releases snow only in the night when passengers are not in it.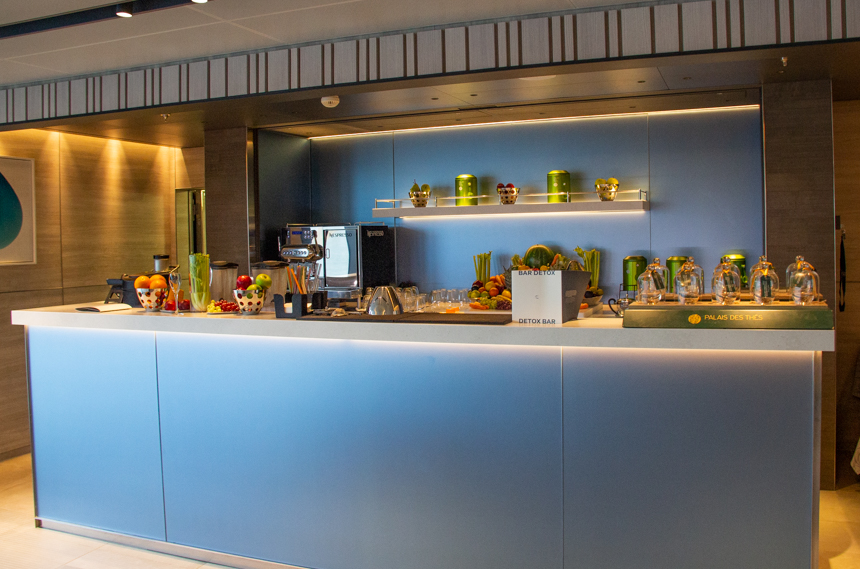 Charcot's Food & Wine
The culinary offerings aboard Le Commandant Charcot were top notch in both execution and presentation. Three dedicated restaurants could be found on board, with Nuna being the highlight. This gastronomic restaurant is in partnership with Michelin Star chef Alain Ducasse. Ducasse works with Charcot's sister ships to train the chefs and design the menus, but Le Commandant Charcot has the ACTUAL Alain Ducasse restaurant—essentially a Michelin star experience. Since Nuna is on deck 5 at the back of vessel it was actually quite beautiful to watch the scenery. One particularly notable view was during lunch as we were leaving Magdalenefjord in Spitsbergen, and of course drinking French wine and eating lobster with the endless ice horizon at the North Pole.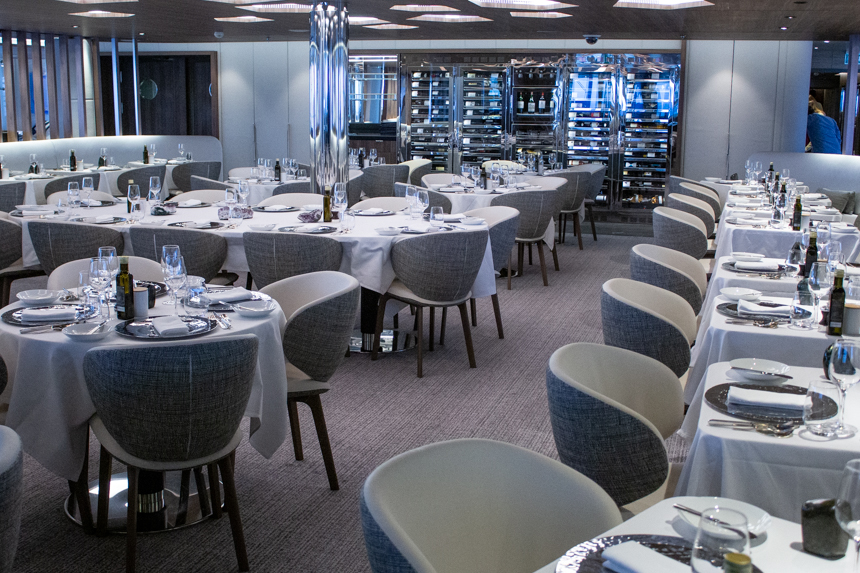 In addition to these established restaurants and their defined operating times, there was a daily bestowal of themed teatime and happy hour snacks, with themes like teppanyaki, ice cream, Culatello (Italian salumi from Parma), Belgian waffles, Belotta (Spanish ham) or French Classic dishes. A welcome gala evening had us enjoying a Captain's welcome cocktail, passed Champagne and canapes while a pianist and opera singer entertained.
The only oddity to the culinary experience was that to get to the Blue Lagoon pool we had to walk through the Sila restaurant in your robe while people might be eating. And the Blue Lagoon itself was underutilized on our North Pole trip due to the cold, and the design of the hot and cold pools allowing them to mix while the ship was in motion. The only time the hot pool was actually hot was when the ship stayed in place for a bit. But the views were incredible and the fact that the water was heated by recycled energy from the ship's engines made it even more enjoyable.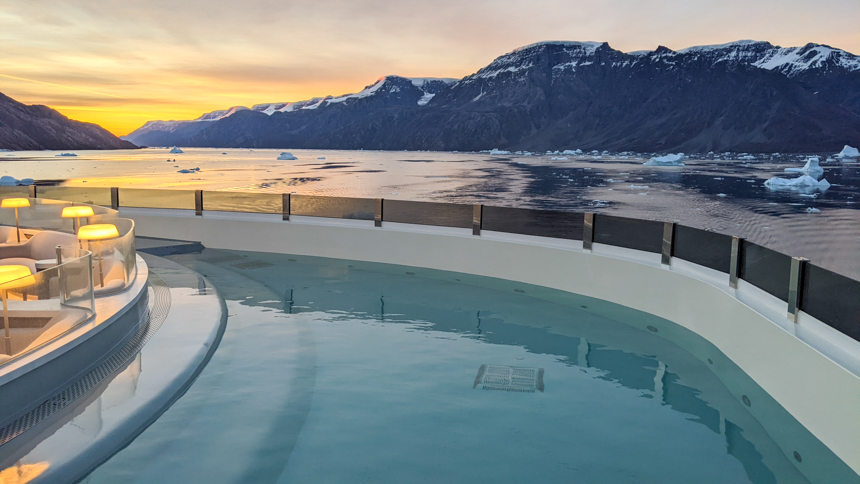 Language Aboard
Briefings were conducted in both French and English at one time. For the rest of the expedition we were typically on a schedule pertaining to our preferred language. More than half of the passengers on my trip were French, but Ponant says that about 70% of their travelers are English speaking. Despite this, the onboard language is primarily French, with English translations, so some context was lost at times and some presentations were longer due to the dual-language factor. The stateroom TVs had "behind-the-scenes" videos (engine room, control room, bridge, galley, laundry, recycling, water, sustainability, etc), but all of these were in French. I really wanted to watch these, but English was not available.
Stories of Charcot Heard Aboard
In her short time at sea, Le Commandant Charcot has already set records and achieved new frontiers. While aboard, I was astonished to hear firsthand the many impressive stories and feats this ship and her crew had already accomplished in less than one year. The crew had countless stories to share about the ship and their time aboard, the next more impressive than the last.
I already knew that Le Commandant Charcot's inaugural voyage was monumental: In September 2021 she was the first French-flagged ship, first hybrid-electric LNG ship and the first purpose-built passenger cruise ship to reach the North Pole. The other stories were all new to me, and learning of them certainly added to my overall appreciation of this ship.
Sailing Farther South than Ever Before
Le Commandant Charcot broke another record during her first season cruising in Antarctica and reached the most southern latitude accessible by sea – cruising to a latitude farther south than any other ship has been able to do so far.
Crew members on my trip showed us pictures of themselves out on deck celebrating this moment with the Ross Ice Shelf behind them (an ice shelf the size of France), which also happened to be the point of departure for Roald Amundsen's expedition to the South Pole.
Breaking Way for Research Vessels
I was also amazed to hear that Charcot had assisted brand-new, powerful research icebreakers while in Antarctica and the North Pole. The British and Norwegian research vessels that Charcot assisted were fully capable of making it to their destinations, but both called upon Charcot to take advantage of her ability to break through much thicker ice in a shorter period of time.
Charcot created a path for the research vessels to follow behind, saving them both time and energy. This is just one more example of how Le Commandant Charcot values scientific research in the polar regions and is willing to veer off course to support the scientific community.
Supplying Remote Communities
Another highlight I heard all about was when the ship visited Eastern Greenland in May of 2022. This was the first time a cruise ship had visited in two years due to the COVID-19 pandemic. However, Charcot was able to break through the thick ice and visit this region two months earlier than any other ship. This was important because the remote villages rely on ships to resupply them after long winters, and Charcot was the first to assist.
The ship is now collaborating with the Inuit communities to benefit them with resupplies and to offer guests aboard unique cultural experiences such as dogsledding with the locals. This is not possible on other cruise ships because they simply can't break through the ice in this area during the springtime.
What's Next? A Ship You Will Want to Follow
Le Commandant Charcot has not even been sailing for one year yet, and I am already waiting to hear what she will do next. While I was on board, the Captain mentioned exciting new ideas of where the ship might visit next. It's a possibility she might venture out of her usual luxury Antarctica cruise routes for several months to explore the Baltic Sea in the middle of the winter. Let me be clear: Normally, cruise ships visit the Baltic Sea during the limited summer months, but Le Commandant Charcot can easily and comfortably venture there in the winter, so why not?
After disembarking, I began following ship-tracking routes of Le Commandant Charcot and I learned that, following my cruise, Charcot navigated through the most northerly route of the Northwest Passage—the very first time this has been achieved.
I will continue to follow along and can't wait to see where Le Commandant Charcot goes next. After my journey, I believe sailing aboard this ship is a bucket list item of itself, let alone the bucket-list worthy regions you can visit such as the North Pole, Weddell Sea, Ross Sea, Bellingshausen Sea, Larsen Ice Shelf and Northeast Greenland!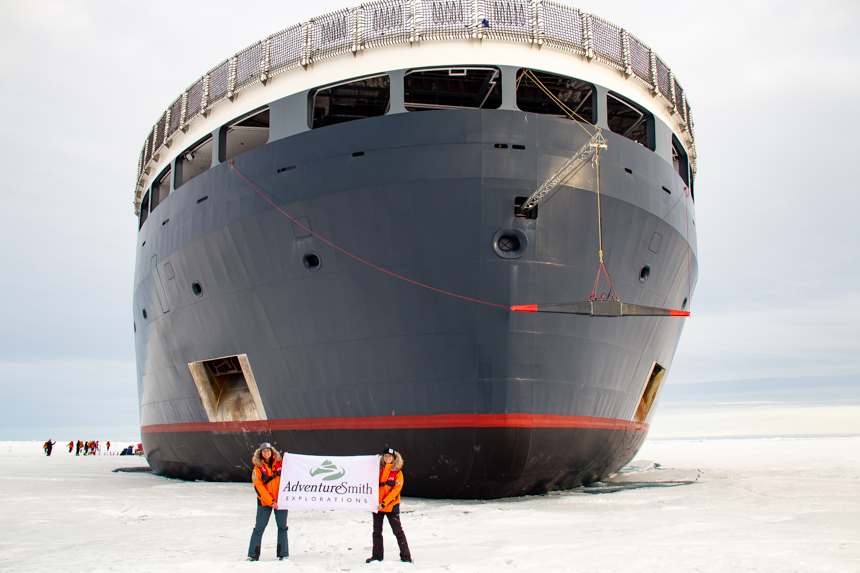 Comment below with any Le Commandant Charcot reviews of your own. My travel companion on this trip and fellow Adventure Specialist Taylor Cranney wrote a detailed review of what it was like going to the North Pole; read it for further insights. In the meantime, continue to use our small ship cruise reviews to inform, inspire and book your next trip aboard a small ship.

---
For more photos from this North Pole Expedition view my Facebook album on AdventureSmith Explorations' Facebook page.