Our curated selection of Croatia small ship cruises and Dalmatian Coast cruises offer you an exclusive experience of the country's iconic shoreline. Find the best in expedition cruising and luxury yachting with lesser-known, smaller yachts that all explore in an active, immersive and sustainable way.
Dive into the turquoise Adriatic Sea and roam the picturesque towns of Split, Korčula, Mljet, Dubrovnik, Hvar and Bol. Onboard expedition leaders and expert local guides reveal thousands of years of history as you immerse yourself in the culture and landscapes of Croatia.
Below, we detail the experience as well as popular ports and places, or head straight to the trips to look at departure dates, rates and specific itinerary information. Our experts are standing by to help you narrow it down and find the best Croatia cruise or Mediterranean small ship cruise.
ON THIS PAGE – Croatia & Dalmatian Coast Cruises:
The Experience
Luxury & Charter Options
Ports & Places
View All Croatia Small Ship Cruises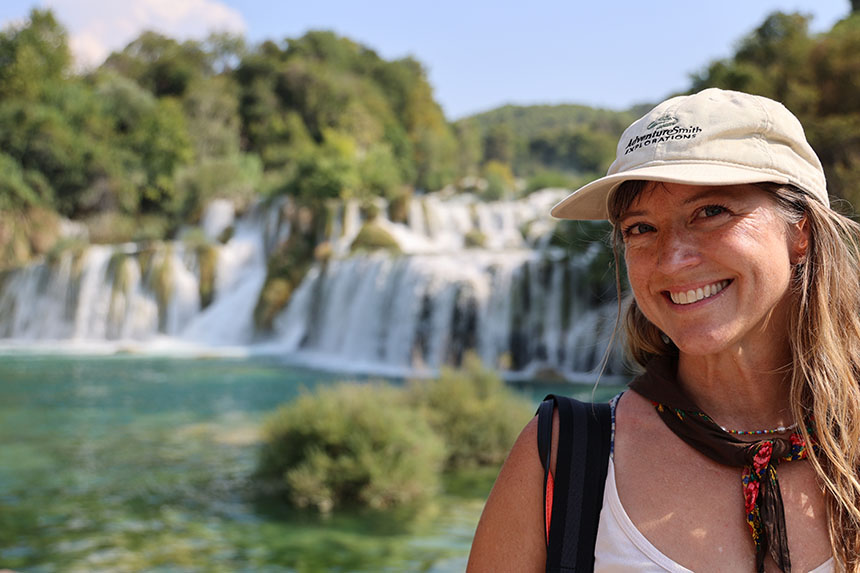 CONNECT WITH A
CROATIA SPECIALIST
You have questions. We have answers.
The Small Ship Croatia Cruise Experience
Traveling by small ship in Croatia really gives you the feeling that you are cruising back in time, and it's a much more efficient, less crowded way to travel here. A few highlights of the small ship experience here:
island-hopping style itineraries
small groups of passengers ranging from approximately 30 to 250 guests
organized programs with included group tours and meals
free time at port to explore and dine on your own on many routes
dock & anchor where larger ships cannot
swim stops away from crowded beaches and rocky shorelines
ease of unpacking once, with your transportation handled
Unlike many of our other expedition cruising programs worldwide, Croatia small ship cruises spend most of their nights at port. This allows you the freedom to explore and enjoy the local cuisine, wine and culture of each distinctive stop. Some small ship Croatia cruises include all daily meals, but others on smaller yachts can be half-board. This allows you to eat out lunch or dinner on various days where you choose. The flexibility of getting on and off the vessel at your leisure while in port on these options is a great benefit to exploring on your own schedule in these charming and vibrant towns.
View All Croatia Cruises
See the full list Dalmatian Coast cruises
Luxury Croatia Cruises & Charters
The small ship experience provides the ultimate platform for luxury Croatia cruises. Smaller passenger counts offer exclusive experiences, more time with expedition leaders and guides and even special programming from the likes of National Geographic and Smithsonian Journeys.
For luxury Croatia cruises, see our options aboard the 58-guest historic tall ship Sea Cloud, or French-flagged 244-guest Le Lyrial or 184-guest Le Jacques Cartier. These ships are the top choices for travelers seeking a high-end experience due to their fine dining, added amenities (like butler service and spas) and luxe cabins.
But for the luxury of designing your own private experience, see our Mediterranean yacht charters to view options by ship. Many of our Croatia small ship cruises can be customized with advance booking.
Ports & Stops on Small Ship Croatia Cruises
Croatia boasts 3,600 miles of coastline on the Adriatic Sea. Here's a look at some of the popular places names you might find on your Croatia island hopping cruise itinerary.
The Dalmatian Coast
The southernmost stretch of coastline of Croatia is called the Dalmatian Coast. It is the most famous region for Croatia cruising and tourism, and encompasses a narrow belt stretching from the island of Rab in the north to the Bay of Kotor in the south. On Dalmatian Coast cruises, you'll see dramatic limestone cliffs rise from the deep, and islands like Havar and Korčula are scattered just offshore. Croatia's top tourist town, Dubrovnik, and Split also reside on this coastline, as do several national parks including Krka, Mljet, Paklenica and Kornati. Many of the Croatia small ship cruise ports and places listed below are contained within this greater region.
Dubrovnik
Dubrovnik is a remarkable town, and a common embarkation/disembarkation port for Croatia small ship cruises, including this popular Dubrovnik to Split cruise. Our experts who've been here count it among their favorite stops, and have spent the day trying to take in as many of the sights as they could fit in while enjoying limitless espresso and gelato.
The streets are lined with tons of great dining options, with great seafood and buzz as the nightlife of the Old City comes alive after sunset. You can work off your indulgences by walking the town's steep streets. Be sure to ride (or walk to the top of) the cable car to be rewarded with the most expansive views of the Old City and the scattered islands across the coastline. There is even a bar and restaurant up top if you decide to enjoy a meal up above the city. Also don't miss walking the city's fortification walls for the gorgeous views of Dubrovnik's medieval architecture.
An AdventureSmith expert tip if you have time: jump on the quick ferry boat ride over to the island of Lokrum to walk around the forested island and swim in the Adriatic Sea. Other day trips from this popular embarkation port are going to Kotor, Montenegro, or the Pelješac Peninsula for wine tasting.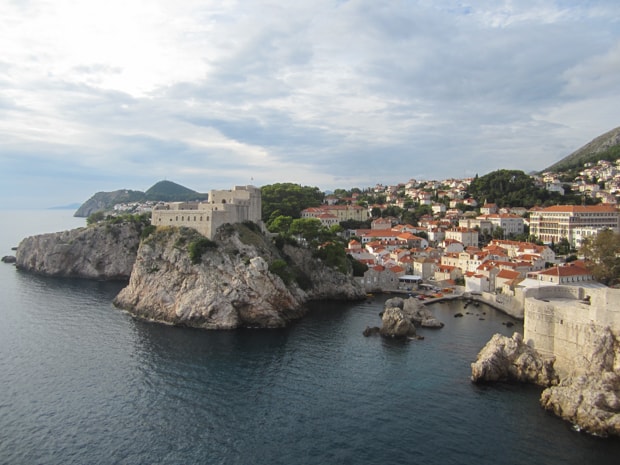 Split
Split is the second-largest city in Croatia yet has a very charming and romantic old town by the seaside. Here you can step inside the UNESCO World Heritage Site of Diocletian's Palace to immediately be impressed by the Roman architecture. Get "happily lost" in the city maze of ruins, narrow cobblestone streets, restaurants, bars and musicians. If you overnight here, we recommend staying in one of the quaint hotels within the palace walls. This allows plenty of time to explore the many highlights of the palace and the seaside area along the promenade outside of the Old Town walls. This historic area of Split gives you the full experience.
Many Croatia small ship cruises begin or end here, like this popular Split to Dubrovnik cruise, and some may even sail round-trip out of Split.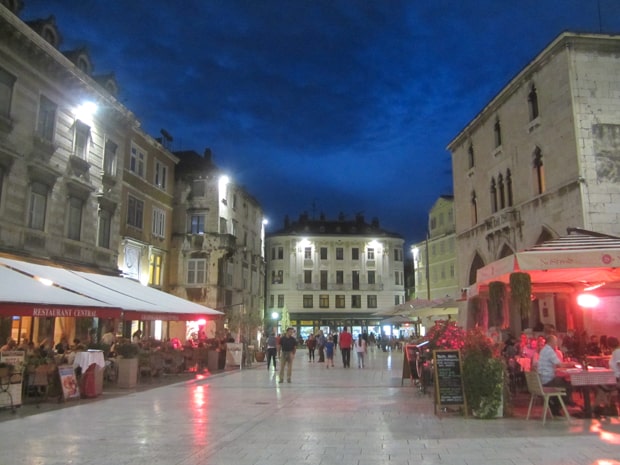 Korcula
The town of Korcula is another charming port town often visited on Croatian island cruises. Korcula is perhaps most famous for being the birthplace of Marco Polo. Korcula's Old Town design is impressive: the medieval walled city's fish bone shape was designed to reduce effects of wind and sun. All streets on the western side run straight while Eastern streets were designed with a small curve to protect the town from the unpleasant and cold north/eastern winds. This is a lovely, quaint town with abundant choices of seaside promenade restaurants and evening entertainment at local clubs and bars.
Mljet
Legend says that the Greek hero Odysseus spent years on Mljet when he was captured by the nymph Calypso. See the famous salt lakes in the Mljet National Park here or take a boat ride to the St Mary Isle to visit an ancient Benedictine monastery, an old abbey and a church dating back to the 12th century. This is a fun place rent kayaks, bicycles, scooters or convertible cars.
Hvar
A few highlights in Hvar include hiking up to the fortress overlooking old town Hvar and the Pakleni Islands at sunset and enjoying their famous lavender ice cream! This town is known as the longest and sunniest island in the Adriatic Sea. Hvar is full of historical landmarks including the Renaissance cathedral with its original tower and the oldest community theater in Europe (founded in 1612). In the evening Hvar offers an abundance of entertainment, restaurants, bars and cafes that are open long into the night.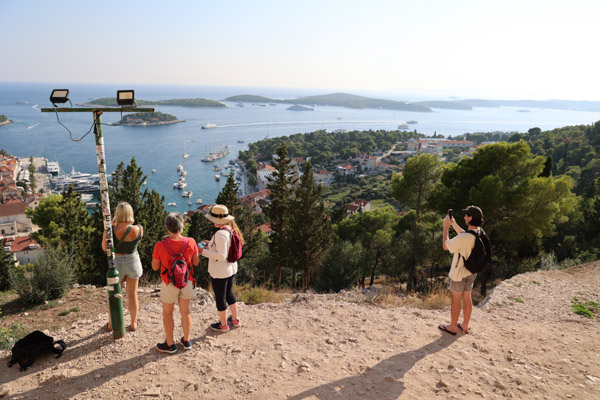 Pelješac Peninsula
The 40-mile long, mountainous Pelješac Peninsula is a region known for its excellent wine. Stops here explore rural villages with wineries, farms, churches and monasteries. Lively ports like Trpanj offer swimming, a lively ocean promenade and family-friendly vacation vibes.
Zlatni Rat Beach (the Golden Cape) & Bol
The famous Zlatni Rat Beach (the Golden Cape or Golden Horn) is located about a mile west from the town of Bol on the island of Brač. This popular swim stop has been regularly listed as one of the top beaches in Europe and is found on many a Dalmatian Coast cruise itinerary. Its distinctive shape shifts depending on the changing tides, currents and winds. The waters surrounding this gorgeous stretch of sand are often cool and clear due to the current in the Hvar Channel. Bol is a typical fishing town but also a very popular tourist destination and has a great promenade.
Zadar
Zadar, the oldest university town in Croatia, is famous for its rich historical heritage of world importance. See the Roman Forum from the 1st century and from the 9th century St Donat church, the most famous medieval basilica and the symbol of the city. The mighty city walls encase the old town and there is a representative city gate from the 16th century. Among many museums, the museum of ancient glass stands out, as do more than 30 churches, palaces and villas. On the waterfront, the award-winning Sea Organ and "Greeting to the Sun" light installations show the funky side of this Dalmatian Coast cruise highlight.
Rab
Cruise towards Rab, known as the "island of love," with an old town of the same name. This is the northernmost point of the Dalmatian Coast, and in fact, many Dalmatian Coast cruises don't even sail this far north, instead embarking on disembarking in Split. So this is a special bonus if it's on your Croatia small ship cruise itinerary. Here find medieval walls, the famous four towers (and maybe climb one) together with palaces, churches and squares. There's a slight Montmartre feel with many artists painting and exhibiting out on the streets. Legend has it that local nuns created a special secret-recipe Rab cake for a visiting Pope so be sure to taste it if you stop here.
Opatija
The farthest north of these Croatia island hopping cruise stops is Opatija. The famous Opatija Riviera is often compared to the French Riviera. Royal families, celebrities and musicians have all stayed here, and there's a real café-society ambiance. Walk the famous Franz Joseph promenade; visit the fishermen's village of Volosko, home to some of the best seafood restaurants in Croatia; or stop into Kraš Choco bar to try exclusive chocolate cocktails, cakes or ice cream.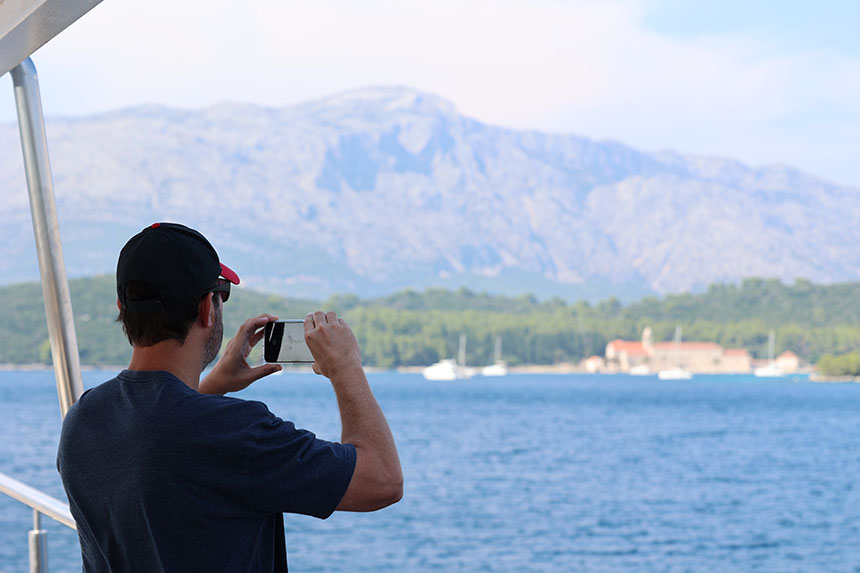 PICTURE YOURSELF HERE
Full-service booking from our experts who've been.
View All Croatia & Dalmatian Coast Cruises
Start your trip search below by viewing all our Croatia and Dalmatian Coast cruises for 2024 and 2025 below. Or contact us any time for a personalized recommendation on the best Croatia small ship cruise for your interests, budget and timeline.