Learn More
Mediterranean Cruises
with AdventureSmith
Mediterranean cruises offered by AdventureSmith Explorations provide less crowds and a more intimate setting. They are not confined to ports of call, but you'll have plenty of time to explore the iconic sites you came to see—along with more hidden gems. Need more reasons to cruise the Mediterranean with AdventureSmith Explorations?
Personalized
Work with one Adventure Specialist to research, purchase & prepare for your Mediterranean cruise.

Selection
A curated collection of more than 25 unique small ships, ranging from historic tall sailing ships to super yachts.

Experience
With direct experience sailing & chartering Mediterranean cruises, we can match you with the best itinerary.

Value
We're here to help you save. Take advantage of our partnerships & exclusive deals on Mediterranean sailings.

Small Ship Mediterranean Cruises in 2023 & 2024
Let our team be your clear, efficient & trusted resource throughout the selection, booking and small ship Mediterranean cruise preparation process. We have the experience you need on the logistics of current travel; what's new for small ship Mediterranean cruises in 2023 and 2024; and combining countries on your itinerary with ease.
Now your only choice is where to go—and what style of ship. Our small ship Greek Island cruises hit the popular ports of Mykonos and Santorini, but they also can sail you farther afield into the Aegean Sea, into the Adriatic Sea or west toward Portugal. Learn more about the regional cruise routes in the Mediterranean and start your small Mediterranean cruise search with our award-winning personal service today.
Luxury Mediterranean Cruise Options
AdventureSmith has close partnerships with the best small luxury cruise lines in the Mediterranean and can provide the most competitive rates on exclusive voyages. Our buying power and firsthand knowledge ensures your first-class experience. Talk to our experts today about our luxury small ship cruises in the Greek Islands, Croatia, Italy and Montenegro to find VIP cabin onboard experiences and a gorgeous selection of yachts and motorsailers, as well as private Mediterranean yacht charters.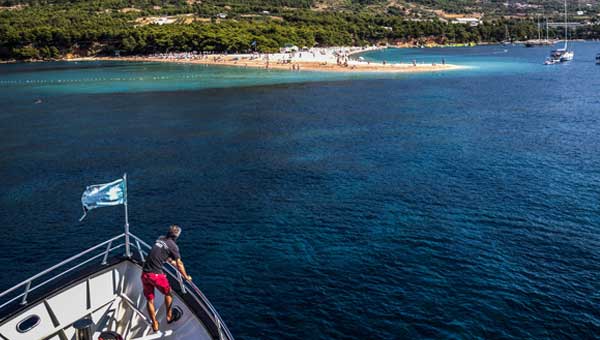 photo by AdventureSmith Specialist Andrew Browning
Small Ship Mediterranean Cruises: Where to Sail
Where to go in this widespread, popular destination? The following is an overview of Mediterranean cruise regions, with regional notes on the best places to cruise in the Mediterranean. Our guidance on where to sail in the Mediterranean can be separated into four broad categories based on the most common small ship Mediterranean cruise routes: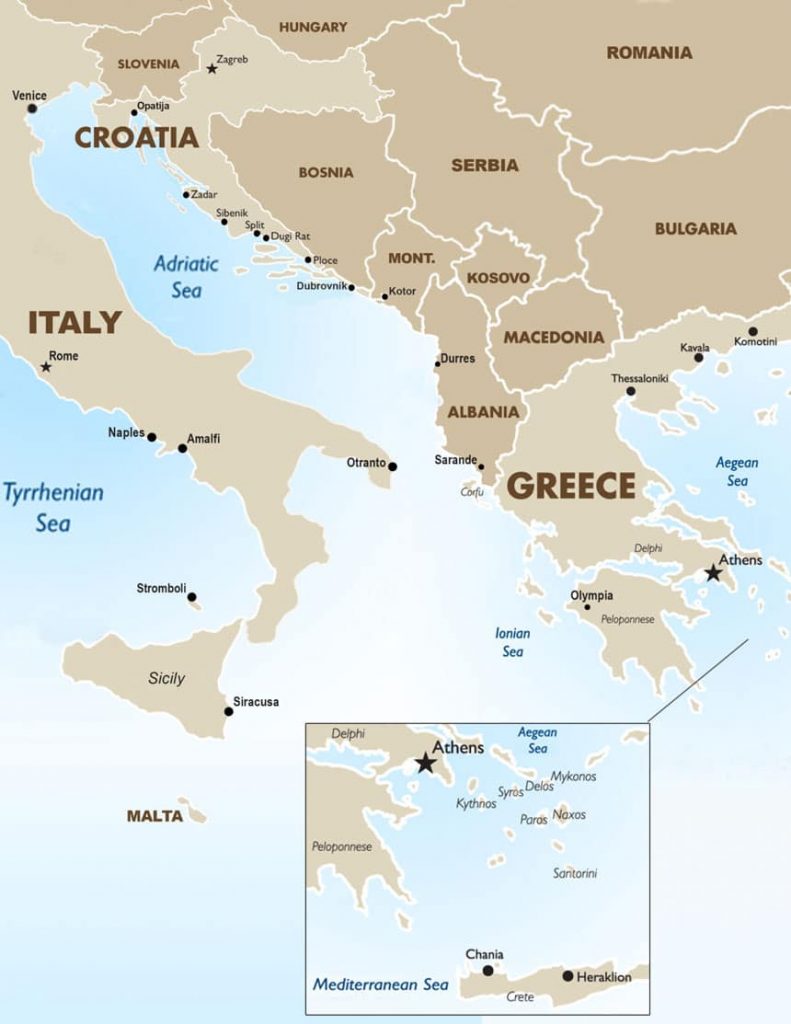 Dalmatian Coast Cruises: Croatia, Albania, Montenegro
The southernmost shoreline of Croatia, running from the island of Rab south to the Bay of Kotor, is a popular stretch of coastline for Adriatic Sea cruises. Almost all Croatia cruises visit this Dalmatian Coast region, solidifying it as one of the best places to visit in the Mediterranean.
Historic hillside towns made of brick and terracotta drop down to the sea in dramatic fashion, with fortified castles standing guard at the water's edge (some of which can be seen in the TV series "Game of Thrones.") This trendy region offers ancient Roman marble palaces, quiet beaches on small off-shore islands, cultural dances by engaging locals, world-renowned wine tasting and delectable dishes. Other Adriatic Sea cruise routes aboard small ships include the ports of Venice, Naples or even Athens.
Small Ship Greek Island Cruises
Many small ship Greek Island cruises hit the popular ports of Mykonos and Santorini as well as the Corinth Canal, but look for routes that explore lesser known gems too. With over 200 islands, where are the best places to visit on a Mediterranean cruise in Greece? For first timers, we recommend Peloponnese Peninsula and Cyclades cruises, which operate round-trip from Athens, Greece.
The southeastern Cyclades islands feature iconic Greece with colorful fishing boats, azure waters and whitewashed villages cascading down scrabbled slopes. The Peloponnese Peninsula (southernmost mainland Greece) reveals gods, warriors, underground waterways, magnificent temples and impressive caves. Visit classic islands like Delos, Mykonos and Santorini, or add unique stops such as mystical Patmos or the fountain of youth town of Ikaria. Select Greek Island cruises take you west, as far north as Corfu and the other Ionian Islands.
Small Ship Cruises to Greece and Turkey or Croatia
If you're looking to go farther afield, some small ship Greek Island cruises continue on to visit other nearby countries. The Aegean Sea takes center stage for small ship cruises to Greece and Turkey. The Aegean Islands are a collection of stunning landscapes, historical monuments and mythical legends, mostly under Greek sovereignty, though some eastern islands and smaller islets are under Turkish rule. Turkey's Bodrum with its Mausoleum at Halicarnassus, one of the Seven Wonders of the Ancient World, and the vibrant Kusadasi market are highlights for cruises that include Turkey.
Small ship Mediterranean cruises that sail up the western coast of Greece and up into the Adriatic Sea often include stops in Albania and Montenegro before finishing their itinerary in Croatia. On a Dubrovnik to Athens cruise, for example, you can see the highlights of both of these iconic countries while not setting foot in an airport. These are all excellent small Mediterranean cruise choices if you have time for a longer sailing.
Italy, Malta & Western Mediterranean Cruises (Spain, Portugal, France)
Italy has long been one of the best places to visit in the Mediterranean, but the small ship experience provides unique insights and exclusive access to sites not often visited. Unspoiled clifftop towns, sites of antiquity and incredible food and wine are highlights of Italy cruises. Mediterranean small ship cruises that focus on or include stops in Italy are fast-becoming favorites for travelers who want to skip more-crowded overland travel in this popular country.
Look for popular routes from Venice or Naples that include Dubrovnik, Croatia, and small islets in the Adriatic Sea. Opt to cruise Sicily, passing right by the toe of Italy's "boot" to the volcanic Aeolian Islands, along with Italy's neighboring country of Malta. Or continue west with Mediterranean small ship cruise itineraries that visit Mallorca, Menorca, Corsica, Lisbon and other must-see ports.
Small Ship Mediterranean Cruises
Temperature & Rainfall
| | | | | | | | | | | | | |
| --- | --- | --- | --- | --- | --- | --- | --- | --- | --- | --- | --- | --- |
| Month | Jan | Feb | Mar | Apr | May | Jun | Jul | Aug | Sep | Oct | Nov | Dec |
| Avg. High (F) | 50 | 51 | 54 | 61 | 69 | 77 | 82 | 82 | 76 | 67 | 60 | 54 |
| Avg. Low (F) | 44 | 45 | 47 | 52 | 60 | 68 | 73 | 73 | 67 | 60 | 54 | 48 |
| Avg. Water Temp (F) | 64 | 61 | 59 | 62 | 63 | 66 | 69 | 74 | 73 | 72 | 71 | 66 |
| Avg. Rainfall (Inches) | 4.7 | 4.4 | 5.0 | 3.3 | 3.9 | 3.9 | 4.4 | 3.8 | 3.5 | 3.5 | 3.7 | 3.7 |
Subtropic Summer Cruising
The Mediterranean consists of a subtropic climate providing relatively mild winters and very warm summers, making it a perfect destination for small ship cruises. The temperature is moderated by nearby large bodies of water making for comfortable conditions throughout most of the year. The best time of year for small ship Mediterranean cruises is April through November.
When Should You Plan Your Mediterranean Cruise?