Before I even stepped aboard, I knew the Galileo would be special since so many AdventureSmith clients ask for it by name. Visually, the ship certainly stands out from the more modern yachts that sail in this region. The others, with their all-white hulls and modern-luxe stylings, seem interchangeable compared to the Galileo's singular, classic Old World charm. And in the end, she delivered a yachtlike adventure that was perfect for our multi-family group sailing on her Jewels of Cyclades cruise itinerary.
ON THIS PAGE – Galileo Cruise Ship Review:
The Ship's Character
A Review of My Cabin
Tips for Choosing Your Cabin
Galileo's Small Ship Difference
My Review of the Meals
What We Did Aboard
More Galileo Ship Reviews & Comments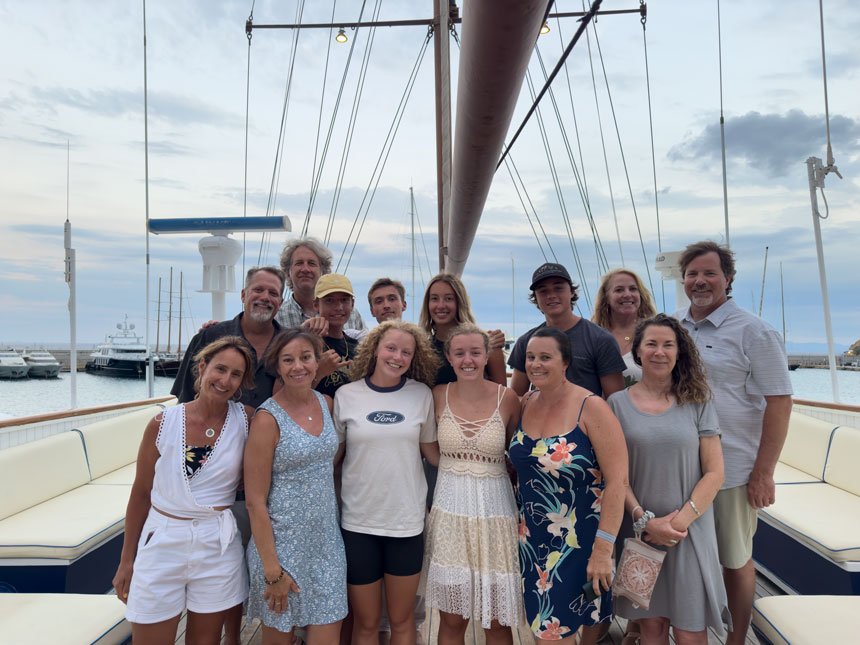 This Ship Has Character
With immense sails, wooden finishes and brass charm, the 157-foot Galileo is quite unique and gives you the sense that you are on an iconic European sailing vessel. I felt like I was sailing during a time long ago, but thankfully with the modern maritime systems of today's ships.
The outside of the ship has sleek lines with its single hull in a deep nautical blue, with wood located on the outer and interior main and upper decks. Inside, it's not luxury or rustic, but somewhere in between. Although built in 1992, the ship has had a rebuild and multiple renovations and refurbishments, so it had all the modern comforts we needed without compromising on her classic allure.
Despite always sailing under motor, the Galileo utilizes her classic white sails when cruising since it lacks stabilizers. It made for quite an authentic feeling! The sails help manage the sway of the boat and gave our voyage an authentic feel. However, some motion-sickness-prone guests on my trip were affected, so be prepared.
A Con: Darker Interiors
The common area on the main deck is primarily used for dining. The dining is buffet style with four tables (two longer, two smaller) where guests are encouraged to sit and mingle. A wood-paneled interior with small portholes surrounding this area can seem a bit dark as the small portholes don't let a lot of natural light come in. The portholes are not visually stimulating from the inside, and they hamper views. That is the downside. The upside is that it encouraged me to go outside!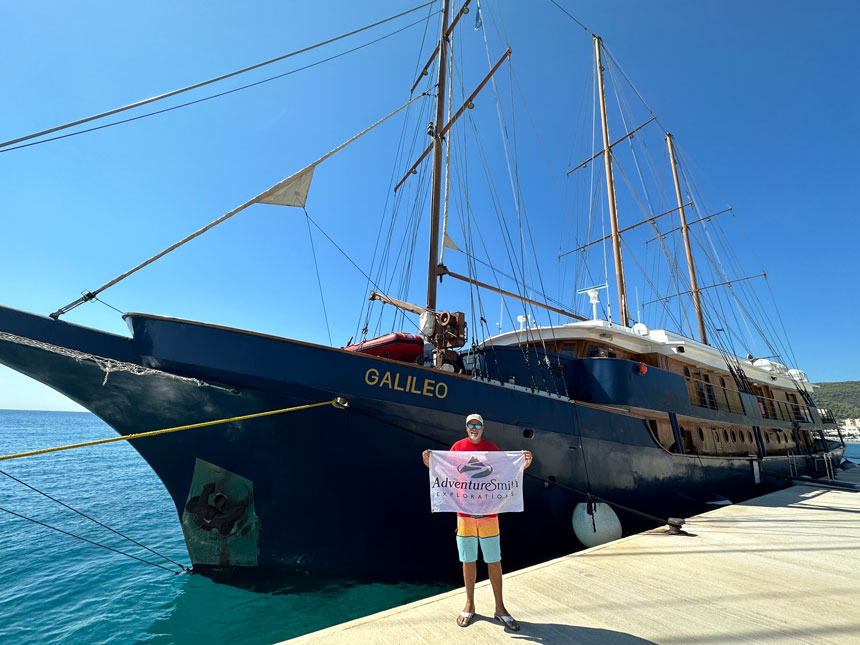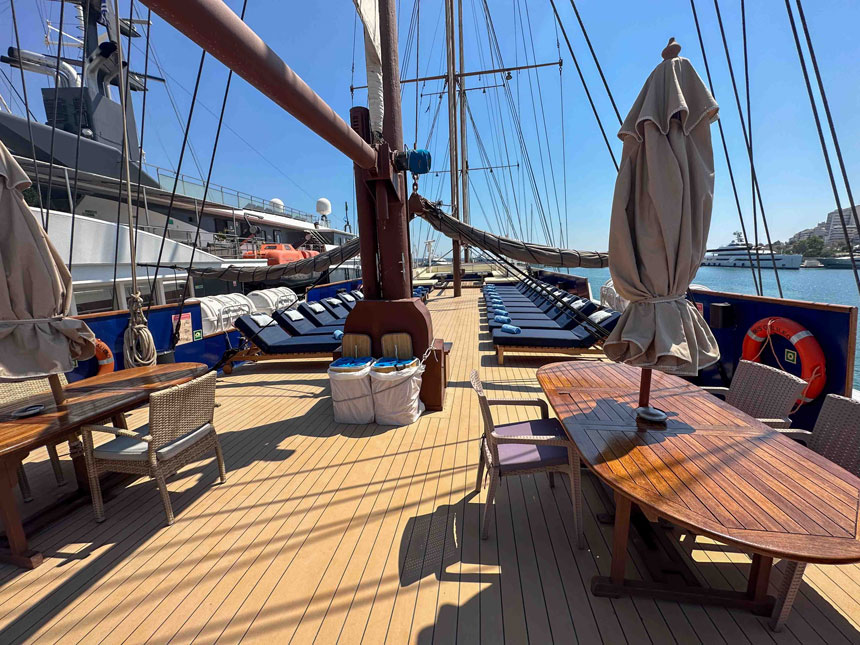 Outdoor Seating & Sun Decks
The main deck has a lovely outdoor area with small tables, chairs and banquette seating with an outdoor bar. Our sailing was at capacity, and it seemed that there was plenty of space for all to enjoy.
The upper sun deck is much more open air with several lounge chairs lined on either side of the ship with seating and chaise areas towards the bow of the boat and two smaller tables towards the rear of the ship. This is a large space; however, there are not available lounge chairs for all if at capacity. There were times when you would need to get your lounge as quickly as possible if you wanted one to lie on.
Although this is open air, when it is hot the vessel has an awning that can be rolled out to provide much needed shade in the hot afternoon.
GET ABOARD
See this trip's full itinerary, rates & dates.
My Review of Galileo's Cabins
All the cabins on the Galileo have portholes that can be opened. This was nice as it allowed some airflow into the cabins when at port. The cabins themselves were just big enough for two people, and there were two cabins that could accommodate a triple on the upper deck.
In general, the cabins are comfortable with storage under the bed for smaller bags and a closet. The bathrooms were a bit tight, but there was plenty of space to keep our toiletries. The showers had plenty of water pressure and were fine for the shorter person. Someone much taller might have to hunch down a bit.
All in all, the cabins did the trick to keep us comfortable for our 7-day journey. Honestly, I spent very little time in our cabin as we were kept busy throughout the week exploring the islands, lounging on the deck or swimming in the warm Aegean Sea.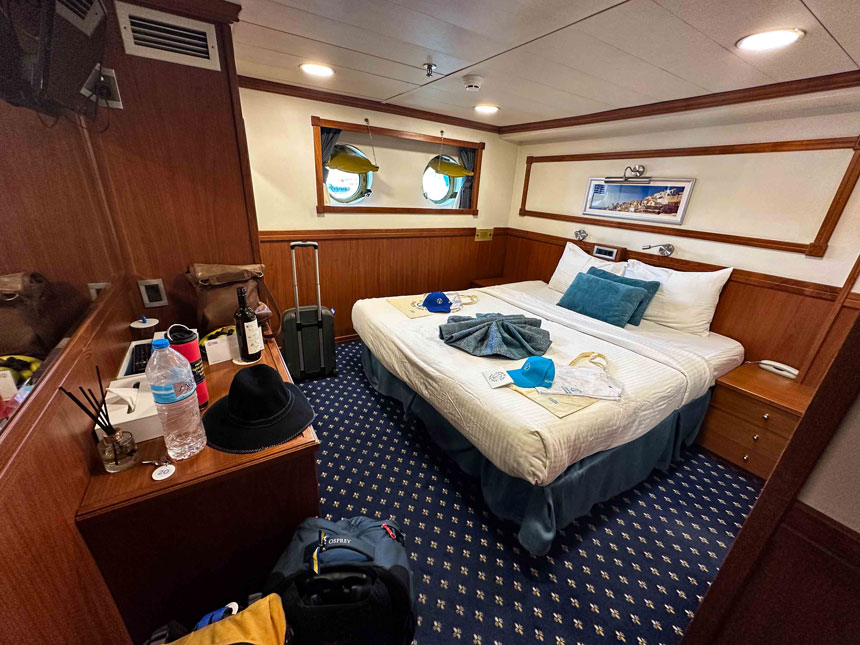 Tips for Choosing Your Cabin
Most all the cabins (although they vary slightly in size) seemed similar. One comment noted by guests in the Upper Deck Category A cabins was that they felt slightly darker than the lower cabins. I personally appreciated being located on the lower deck as I felt it was less rocky when we would transit in rougher seas. If you are prone to motion sickness, the lower cabins are going to be the better bet to help in reducing feelings of motion.
Cabins on the Upper Deck though are slightly larger and open to the exterior of the ship. While this does mean other passengers will walk back and forth right past your room, this puts you right in the action with a 360-degree observation deck around the ship and easy access to the outdoor lounge on the stern. Cabins on the Upper Deck are also quieter than Lower Deck cabins because they are farther away from the engines and generators.
If you are expecting ultra luxury, the Galileo is not for you. But if you are looking to explore Greece in a nostalgic and romantic way, the Galileo checks all the boxes.
CONNECT WITH AN EXPERT
ON GREECE
You have questions.
We have answers.
Galileo & The Small Ship Difference
I loved how the Galileo would dock right downtown in smaller ports like Paros and Folegandros so we were within walking distance of everything. Even in the larger ports of Santorini and Mykonos, Galileo had advantages. These ports can have as many as six large ships each day, so the timing and logistics played a major part in the success of our visit.
We would intentionally arrive early and stay late to avoid the big ship crowds. Optional tours were small and intimate with exceptional local guides. And our tour leader was able to customize our experience based on conditions, and got us access to skip the lines at museums and archaeological sites.
For instance, at Delos we waited in a special queue to board the ferry bypassing the long line, saving precious time. Then we walked off the ferry and hundreds of people in large tour groups turned right. Our guide took our small group to the left, exploring the ruins in reverse and avoiding the crowds.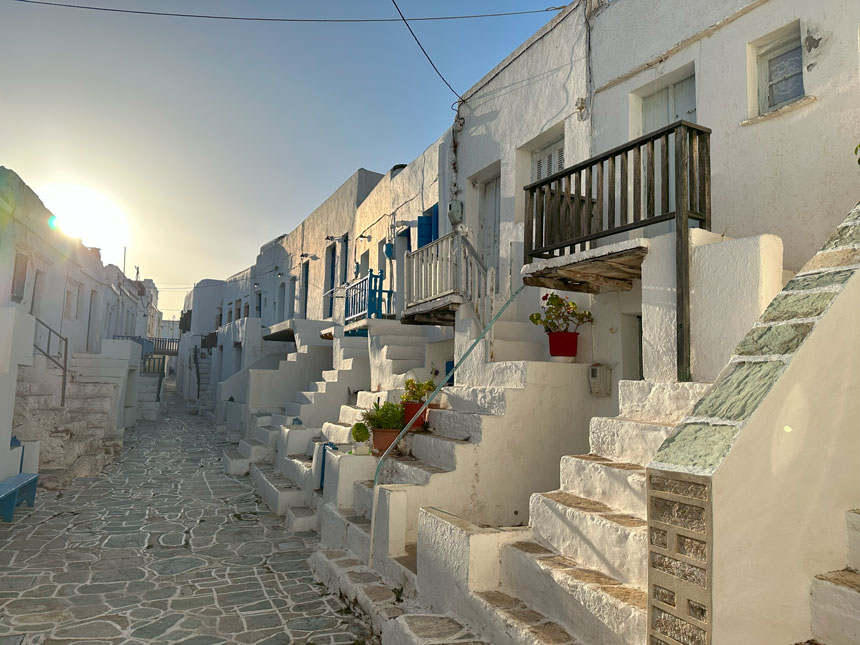 My Favorite Meals
All meals aboard the Galileo were buffet style except for captain's dinner, which was plated. Vegetarians had plenty to eat, and the chef would make custom dishes for those with dietary restrictions.
There were always a variety of delicious choices, but Greek Night was a highlight with traditional recipes including moussaka, dolma, spanakopita and souvlaki. The deckside BBQ lunch was another highlight with the chef grilling chicken and lamb skewers to make yummy gyros. One afternoon the chef conducted a traditional baklava making lesson and the results were delicious.
While the food aboard Galileo was good, the most memorable meals were those eaten ashore. Our itinerary featured many opportunities for lunch or dinner off the boat, and we took advantage by researching and making reservations at several highly regarded restaurants in Mykonos and Paros. We especially enjoyed wandering cobblestone alleys to find sidewalk cafes full of locals.
In Santorini we had dinner reservations ashore but we're thwarted by a recent change in regulations. Previously the Galileo could use their own zodiacs to ferry guests ashore on a flexible schedule. The Galileo is now required to use tenders operated by the Santorini boatman's union. As such there are two tenders in the morning and two in the evening, on a fixed schedule. We missed dinner ashore but really enjoyed Greek night aboard.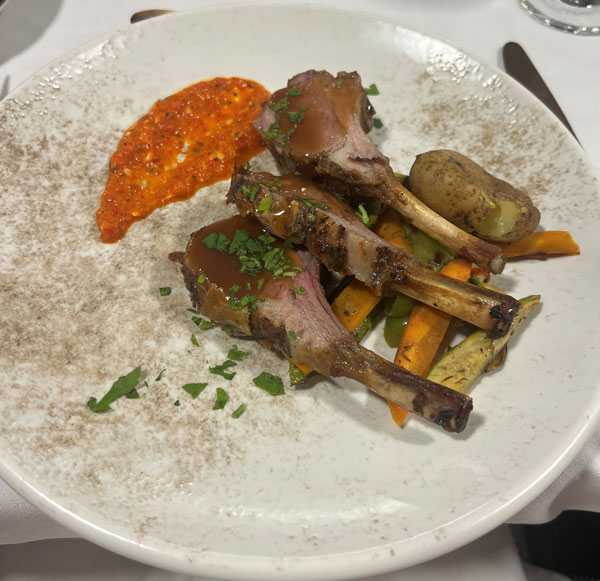 Greek Night aboard Galileo
The Galileo is owned and operated by Variety Cruises, a Greek-owned company based in Athens. As such, they know how to cruise Greece the right way.
One unforgettable experience aboard every Galileo cruise is Greek Night. Ours was the evening after we spent the full day exploring Santorini. With five cruise ships in port, the afternoon was hot and crowded and we were relieved to get back to our small ship.
After a refreshing shower, we were encouraged to gather on the top deck where traditional Ouzo cocktails were served, and we shared stories of our day on shore. The Galileo stayed inside the protected Santorini caldera with amazing views of Oia town and the surrounding islands as the sun set.
Soon the music started, and a trio of very talented Greek dancers were stomping and twirling under the masts and rigging of our lovely ship. It wasn't long before they had coaxed guests to join, and soon it was an all-out "komma" (Greek for party). The guests had bonded by now and there were no inhibitions as we all did our best to keep up with our charismatic leaders. We enthusiastically shouted "OPA!" on queue as tourists on nearby large cruise ships looked longingly down at our small ship deck party. It was a night I will remember forever.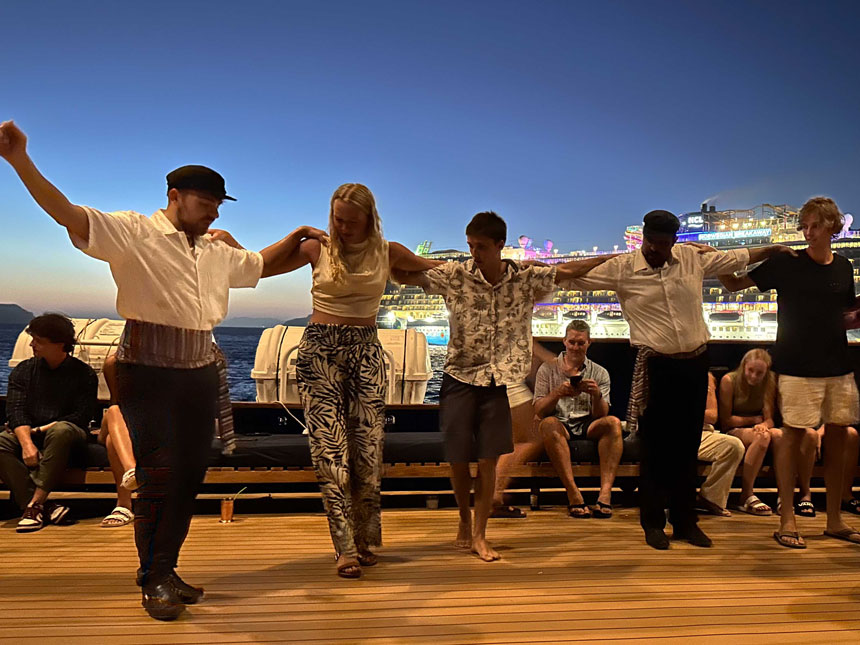 Choosing Our Adventure Each Day
In each town we could explore on our own or book a full guided tour at extra cost. I chose the guided tours in Santorini and the UNESCO World Heritage archaeological site of Delos. The guides were fantastic, the tour saved time by skipping long lines and we learned a lot about the history and culture of Greece. Sometimes we departed the tour before returning to the ship, arranging our own transportation to a nearby beach or historical site.
A couple times, the cruise director would lead a walking tour from the ship into town. She knew all the history and culture and provided great recommendations for dining, shopping, sightseeing and beaches.
On other islands we skipped the tour and made arrangements of our own such as visiting a winery, hitting a beach club or just meandering the narrow cobble alleyways.
While not a true expedition cruise, the Galileo does offer fun in the sun activities in between the port stops. Several times throughout our itinerary we would anchor in a postcard-perfect, white-sand beach with stunning azure waters. Adventurous guests jumped from the lower deck while others descended a gangway ladder into the cool Mediterranean Sea. Two person sit on top sea kayaks, paddleboards and snorkel gear were available to use. The crew ferried us to nearby beaches in Zodiacs where we were the only people for miles around.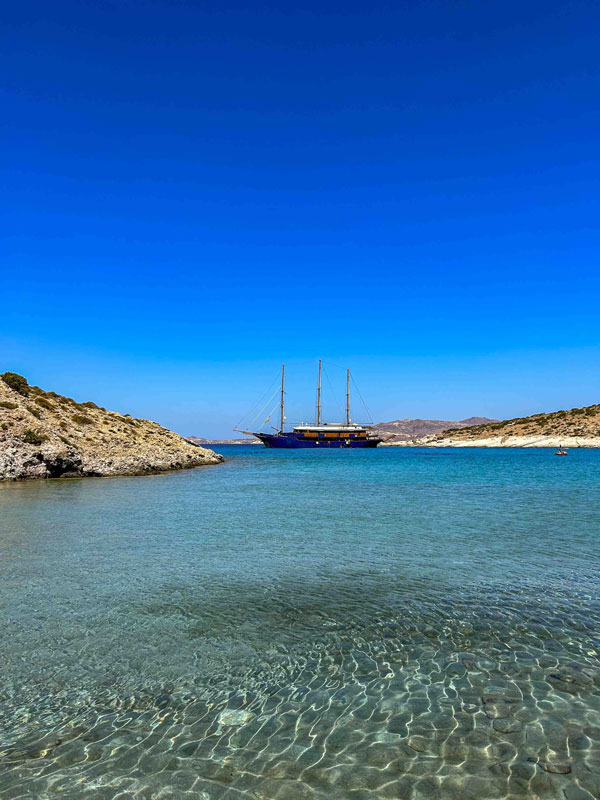 Now that I have experienced her charm I understand why the Galileo is so popular. Read more small ship cruise reviews, comment with your own Galileo cruise ship review or view testimonials from our traveling clients who've been aboard, below.