Glacier Bay is the crown jewel of Alaska's national parks and the most sought-after cruise destination in Alaska. The large concentration of tidewater glaciers combined with whales, wildlife and a newborn landscape emerging from under the ice make Glacier Bay travel a top priority for anyone traveling to the Last Frontier.
Experience this renowned park up close and off the ship on our all-inclusive small ship Glacier Bay cruises or small group land tours. Discover abundant wildlife including sea otters, sea lions, bald eagles, bears and mountain goats. Our small cruise ships offer big adventure by carrying exclusive park permits and going where the big ships can't.
ON THIS PAGE – Glacier Bay Cruises & Tours:
Getting to Glacier Bay Alaska
How to Explore the Park
Trip Extensions
Glacier Bay Cruise Deals
View All Tours of Glacier Bay National Park
Getting to Your Glacier Bay Cruise or Tour
Most Glacier Bay tours begin or end in Juneau. We are therefore often asked "How far is Glacier Bay National Park from Juneau?" Most small ship Alaska cruises take 1-2 days to get from Juneau Alaska to Glacier Bay National Park. However, Alaska land tours that visit Glacier Bay National Park typically enter and exit the park within the same day.
Cruises from Juneau to Glacier Bay are serviced by commercial airlines that fly in and out of Juneau. But some Glacier Bay tours require an additional flight to board the ship in Gustavus, just outside the park. Other popular embarkation and disembarkation points for Glacier Bay cruises include Sitka or Ketchikan in Alaska and Seattle in Washington.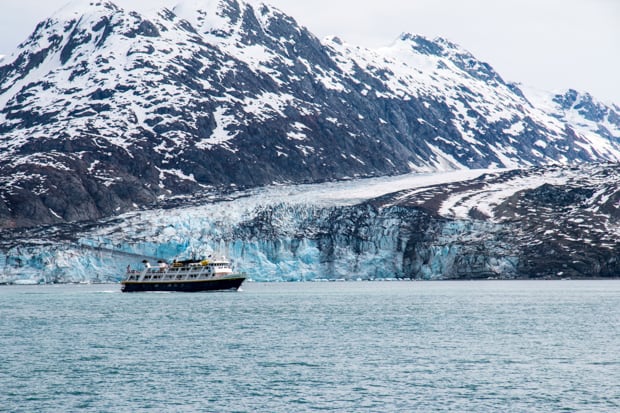 Ways to Explore on a Glacier Bay Cruise or Tour
What experiences are important to you on your tour of Glacier Bay National Park? Here are some themes to help drive your selection of a Glacier Bay tour. Consider the below ideas for a starting direction, then contact our Glacier Bay travel experts to be matched with the ideal Glacier Bay Alaska cruise or tour for your interests.
Concentrate on Glacier Bay National Park
Most itineraries for an Alaska cruise into glacier national park spend 1-2 full days exploring the national park area. If Glacier Bay National Park scenic cruising is your top priority, then consider trips that spend the most time in the park itself, like these:
Focus Your Glacier Bay Alaska Cruise on Native Culture
Many Glacier Bay tours offer a cultural component. In Glacier Bay Alaska, be accompanied by a Native Huna Tlingit interpretive naturalist. Or discover the Tlingit, Haida & Tsimshian cultures–communities living among the least-traveled places in Alaska. A few cultural Glacier Bay cruise options:
Go By Historic Yacht on Your Glacier Bay Cruise
Step back in time on a Glacier Bay cruise aboard historic yachts that are lovingly cared for by proud owner operators. The 8-guest Westward, 12-guest Catalyst and 12-guest Sea Wolf vessels are as charming as the scenery they sail through on their Glacier Bay National Park scenic cruising itineraries, such as: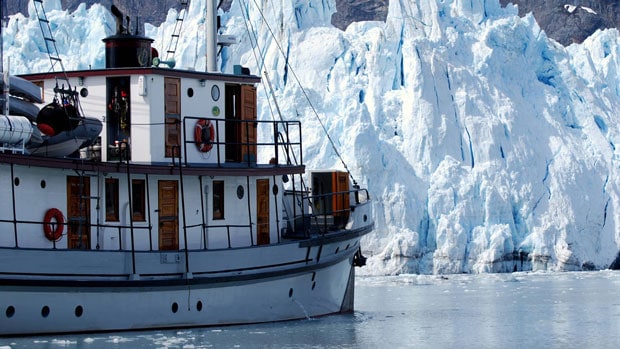 Sleep on Land for Your Glacier Bay Tour
Glacier Bay tours are only offered by boat or plane, but there are options for those who prefer to sleep on solid ground. Craft your own land-based experience with our custom travel planning. Or consider AdventureSmith's own Glacier Bay Backcountry Explorer itinerary, featuring three Glacier Bay Alaska day cruises, plus kayaking and a helicopter-assisted glacier adventure.
Take a Luxury Glacier Bay Alaska Cruise
Most of our luxury Alaska cruises include travel to Glacier Bay National Park. Enjoy the luxury of industry-leading guides on sister ships National Geographic Venture or Nat Geo Quest. Appreciate upscale amenities during a Glacier Bay cruise on the Safari sister ships Endeavour, Explorer or Quest. Ask our experts which cruises go to Glacier Bay in style, for even more options.
Flightsee on a Haines Glacier Bay Tour
The typical view on a Glacier Bay Alaska cruise is from water level. Consider a Haines Glacier Bay tour to view the full expanse of this 3.3-million-acre park, via the Wild Alaska Escape: Sitka to Juneau cruise. Take a peek at flightseeing on these cruises from Juneau to Glacier Bay.
Charter a Private Alaska Cruise in Glacier National Park
Want a private Glacier Bay tour? All our small cruise ships in Glacier Bay can be chartered. Private tours of Glacier Bay National Park offer exclusivity, flexibility and savings. For more information, read our comprehensive guide to Alaska yacht charters.
Include the San Juan Islands & Canada
These longer Glacier Bay cruises explore the coastline between Seattle and Southeast Alaska. Add a second UNESCO World Heritage Site (on top of Glacier Bay National Park) to your list: Olympic National Park. There is a vessel for every style and budget as various small expedition ships sail itineraries such as these:
Glacier Bay Cruise Extensions
Want to see even more of Alaska's highlights? Consider pairing your Glacier Bay tour with itineraries that touch Denali, Prince William Sound, the Iditarod Trail, Kenai or Katmai National Park and Preserve. Or cruise from Alaska to seek out Spirit Bears in neighboring Canada's Great Bear Rainforest. Want even more options? View our Alaska Small Ship Cruise Finder to see all your Last Frontier expedition cruise options.
Glacier Bay Cruise Deals
Our experts know the latest deals on our all-inclusive Glacier Bay tours. Aboard small ships, Glacier Bay National Park scenic cruising is more than just cruising—it's a hands-on, off-ship exploration by kayak, paddleboard, skiff, hiking and more.
Browse our Alaska small ship cruise deals for discounts on these comprehensive Glacier Bay cruises. And learn more about small ship vs big ship cruises to understand the difference in experience.
MORE GLACIER BAY TOUR & ALASKA RESOURCES:
Alaska Trips
Alaska Trip Reviews
Best Time to Visit Alaska
Alaska Travel Guide
Alaska Small Ship Cruises
Small Alaskan Cruise Lines
Alaska Inside Passage Cruises
Alaska Whale Watching Cruises
Alaska Yacht Charters
Luxury Alaska Cruises
Alaska Family Cruises
Alaska Cruise Deals
Alaska Tours
Visiting Denali National Park
Alaska National Park Tours

View All Tours of Glacier Bay National Park
Roughly half of our Alaska trips now feature tours of Glacier Bay National Park. Find and filter them here. Use these itineraries to start planning, then contact our experts to narrow down your options and get a free quote on your Glacier Bay cruise or Glacier Bay tour. AdventureSmith Explorations specializes in Glacier Bay Alaska cruises and Glacier Bay tours, including charter cruises and custom vacations. Our Glacier Bay Alaska cruise experts have been helping travelers experience Glacier Bay National Park for decades. Let us translate our experience living and working in Alaska into the best Glacier Bay tour for your interests, budget and timeline.