Glacier Bay is the crown jewel of Alaska's national parks. The large concentration of dramatic tidewater glaciers combined with whales, wildlife and a newborn landscape emerging from under the ice make Glacier Bay a top destination for anyone seeking an Alaska cruise.
Our experts share everything you need to know to find the right Glacier Bay National Park cruise at the best price. Below is a selection of our favorite tours and small ship cruises to Glacier Bay, Alaska.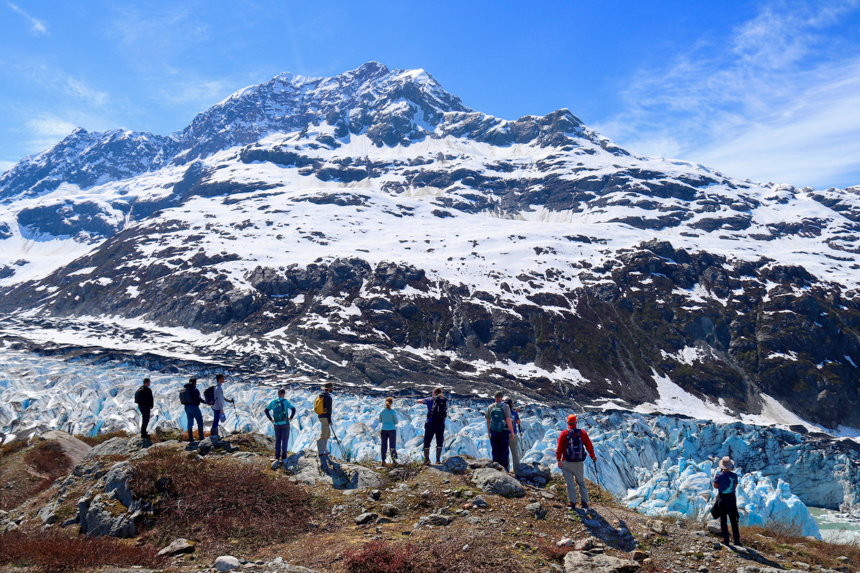 ON THIS PAGE – Glacier Bay Cruises & Tours:
Where is Glacier Bay?
Why Cruise Glacier Bay National Park
5 Reasons You Should Visit Glacier Bay
Glacier Bay Cruise or Land Tour?
Best Glacier Bay Cruises
Glacier Bay Tours
The Best Time to Visit Glacier Bay
Glacier Bay Cruise Permits
Best Small Ship Cruise Lines
View All Glacier Bay Cruises & Tours
WHERE IS GLACIER BAY?
Glacier Bay National Park is located 60 miles northwest of Juneau, Alaska at the northern end of Alaska's Inside Passage. The park is massive, about the size of Connecticut, covering 3.3 million acres of Southeast Alaska. The town of Gustavus is located at the bay's entrance and is known as the gateway to Glacier Bay National Park. Gustavus and Glacier Bay are accessible only by boat or by plane.
WHY CRUISE GLACIER BAY NATIONAL PARK
Why is Glacier Bay so special? Two hundred years ago Glacier Bay did not exist. The entire bay was filled with a massive glacier one hundred miles long and thousands of feet thick. Since that time the glacier has retreated nearly 70 miles, leaving the many smaller tidewater glaciers that we see today. In the process a new landscape was born.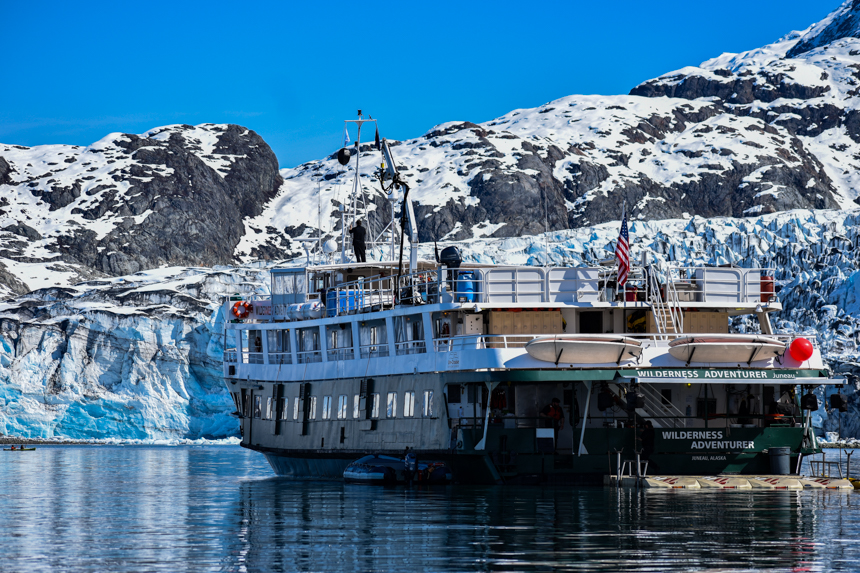 5 REASONS YOU SHOULD VISIT GLACIER BAY
Glaciers – Glacier Bay contains a high concentration of tidewater glaciers. A tidewater glacier is one that reaches the sea and calves icebergs into the water. Experiencing a tidewater glacier up close from a small ship, kayak or skiff is a powerful experience and a highlight of any visit.
Natural History – In Glacier Bay you'll go back in time. At the bay's entrance you'll walk among towering old growth temperate rainforest. As you sail toward the glaciers the green old growth gives way to younger forest and then dense alder and willow thickets. Near the glaciers hike in a newly uncovered landscape of barren rock pioneered by moss, lichen and hardy flowers. You've gone back in time and witnessed 200 years of the succession of life in just one day.
Wildlife – Glacier Bay is home to a diverse array of terrestrial and marine animals. You'll find coastal brown bears, black bears, moose, mountain goats, wolves, bald eagles and more. The newly uncovered landscape in the upper bay is not covered in forest, making wildlife viewing easy. In the water you'll find Humpback whales, orca whales (also known as killer whales), sea lions, sea otters, harbor seals, porpoise and more. Over 280 species of birds have been recorded in Glacier Bay.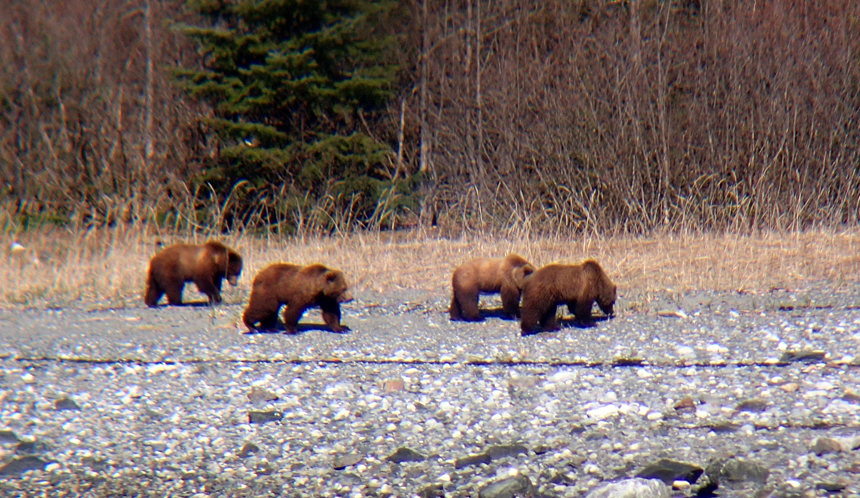 History – From George Vancouver to John Muir, Glacier Bay has a rich history of exploration, science and discovery. Declared a National Monument in 1925, Glacier Bay became a National Park in 1980. Throughout that time many characters have contributed to its fascinating history.
Culture – Glacier Bay is the traditional home of the Huna Tlingit people. They lived in the bay since time immemorial, even before the last advance and retreat of the ice. The story of Glacier Bay is not complete without acknowledging the past and present of its original inhabitants.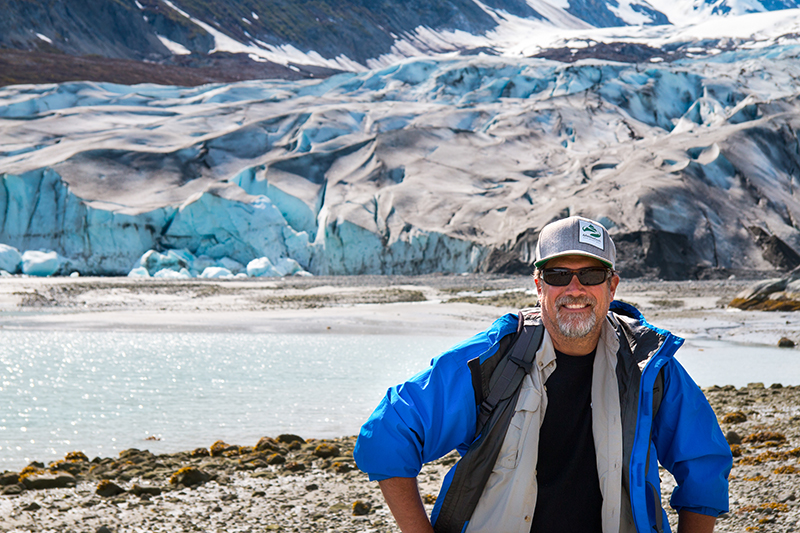 Connect With a Glacier Bay Specialist
You have questions. We have answers.
GLACIER BAY CRUISE OR LAND TOUR?
We are often asked what is the best way to visit Glacier Bay? The best way to experience Glacier Bay, Alaska is aboard a small ship cruise. The vast nature of the bay and surrounding regions, full of glacial fjords, small bays and rugged coastline are perfectly suited to small ship cruising. Small ships cruise close to shore scanning for wildlife and linger longer when animals are spotted. Learn the difference between small ship cruises and big ships.
BEST GLACIER BAY CRUISES
Most of the cruises listed at the bottom of this page will spend one full day exploring Glacier Bay. It takes a full day to just get into the park, sail up bay to the glaciers and return. However, a handful of unique cruises spend more time in Glacier Bay for the ultimate experience.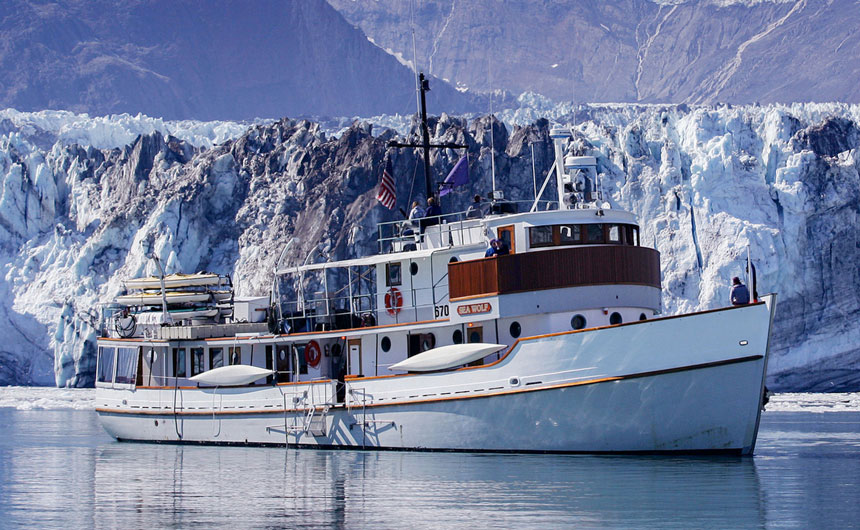 An intimate 12-guest historic yacht spends a full week exploring Glacier Bay. The Sea Wolf is Alaskan owned and operated by Glacier Bay's most knowledgeable naturalists. Begins and ends in Gustavus with an included overnight.
---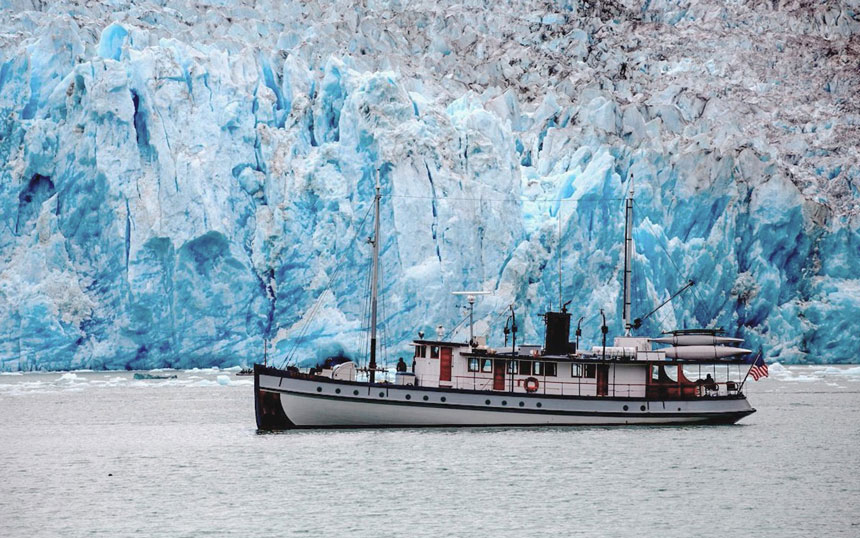 Discover Glacier Bay aboard the 12-guest Catalyst or the 8-guest Westward. 8- or 10-day cruises begin and end in Juneau, spending 6-8 days exploring Glacier Bay. Food is sacred aboard these vessels and this philosophy fosters the sense of community and adventure on board.
---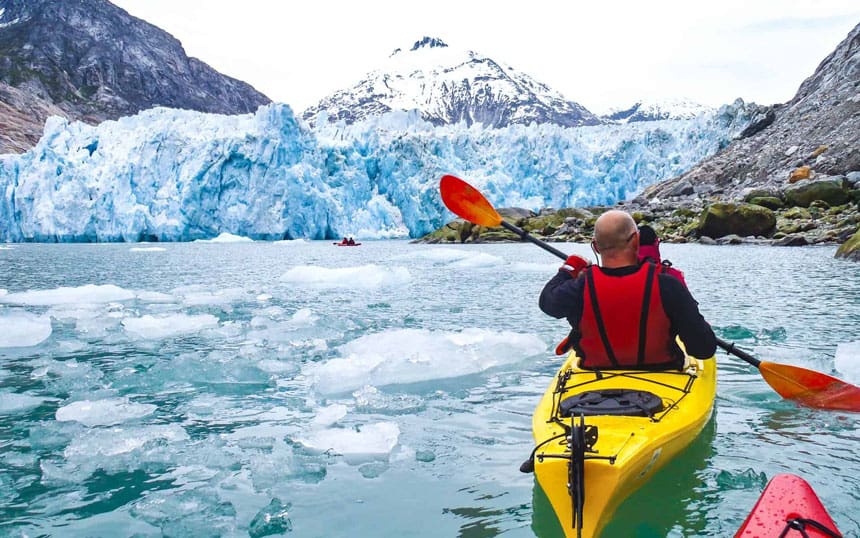 View All Glacier Bay
Cruises & Tours
See the full list of trips to Glacier Bay Alaska
GLACIER BAY TOURS
Travelers not interested in a cruise can consider visiting Glacier Bay on a land-based tour. Glacier Bay tours rely on day boats to access the heart of the bay and the glaciers themselves.
Land tours are based from hotels and upscale lodges in Juneau and Glacier Bay. Guided day tours mimic the experience of a small ship cruise. Explore the national park on a day cruise with a ranger. Sea kayak with expert guides in search of eagles and bears. Experience Alaska's best whale watching at Point Adolphus. Fishing and flight seeing are popular add ons.
Our private Glacier Bay tours include accommodations, internal flights, transfers, guided tours, most meals and park fees. View our Glacier Bay Backcountry Explorer or contact us to customize your own private tour to Glacier Bay.
THE BEST TIME TO VISIT GLACIER BAY NATIONAL PARK
The best time to visit Glacier Bay is June, July and August. The Glacier Bay cruising season begins in April and runs through September. Find more detail on the best time to visit Alaska.
Spring in Glacier Bay
May is the month with the least amount of rain in Glacier Bay. Early season is characterized by snow-covered mountains which can drive animals toward the water, making them uniquely viewable from small ships. Seals give birth, seabirds and migratory humpback whales are starting to arrive in the early summer.
Summer in Glacier Bay
Summer high season runs mid-June through mid-August and is characterized by long days, lots of wildlife, whales and a better chance for clear skies. Seabirds have arrived and are nesting. Whales have migrated and are furiously feeding. Book early if you plan to travel in mid-summer.
Fall in Glacier Bay
Fall comes early and by mid-August the weather is getting wetter. Bears are feeding on salmon. Whales are desperate to fatten up before migration. Seabirds are leaving their nests. The fall colors in August and early September are incredible. Days are getting cooler and shorter and northern lights may be spotted at night.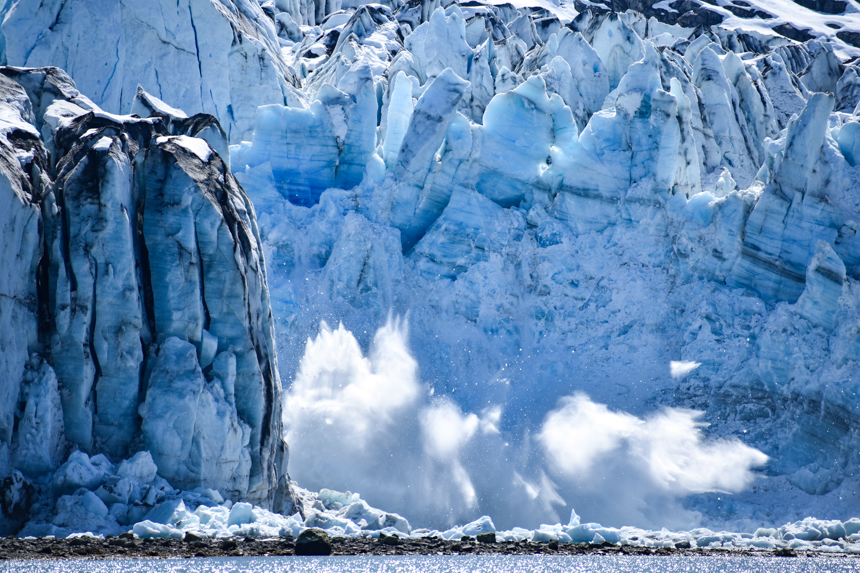 GLACIER BAY CRUISE PERMITS
A permit is required for a ship to cruise into Glacier Bay National Park. During the summer season only two large cruise ships (carrying over 100 guests) and three small ships (carrying under 100 guests) are allowed to enter the national park each day. This system protects wildlife and the environment, while preserving a wilderness experience for visitors.
BEST GLACIER BAY SMALL SHIP CRUISE LINES
Since permits are required and limited, not all cruise lines visit Glacier Bay. We've been cruising Alaska since 1995 and are proud to work with the best Glacier Bay small ship cruise lines:
Sea Wolf Adventures – With permits to operate weeklong cruises inside the national park, the Sea Wolf offers the most in depth cruise of Glacier Bay.
UnCruise Adventures – A large fleet of small ships and the most adventurous programs with fully guided off-vessel hiking, kayaking and small craft excursions for an active exploration.
Lindblad Expeditions – Cutting-edge expedition ships and a partnership with National Geographic offer an intellectual and educational experience.
Alaskan Dream Cruises – With Alaska small ship cruise history dating back to 1970, Alaskan Dream is a local pioneer and offers true Alaskan hospitality.
Pacific Catalyst – Family owned and operated with two highly celebrated historic yachts offering an authentic small ship adventure.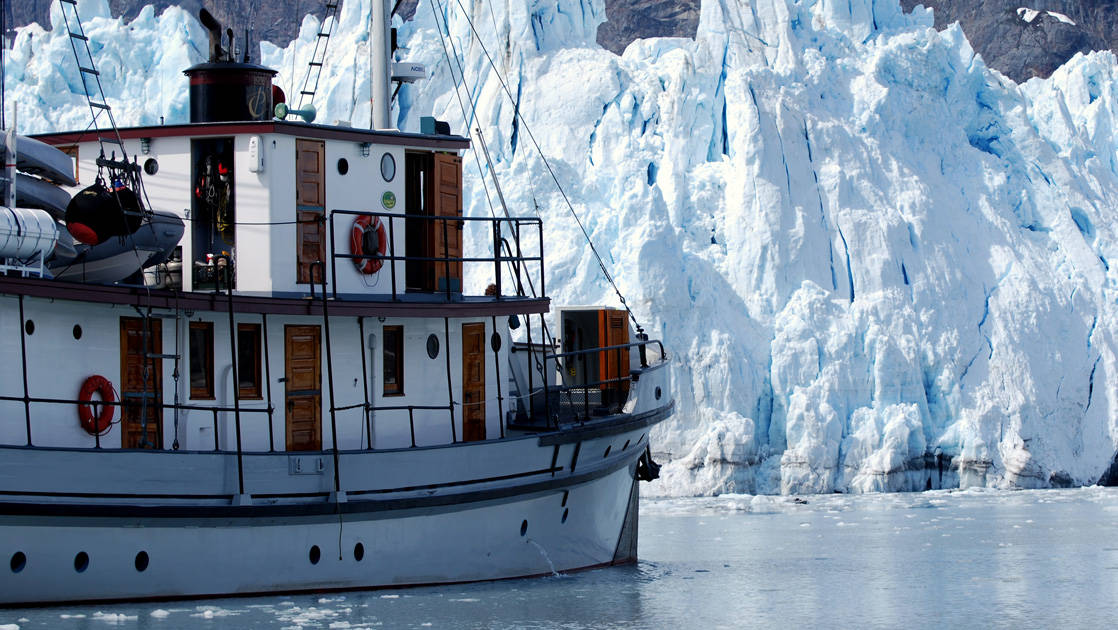 MORE GLACIER BAY TOUR & ALASKA RESOURCES:
Alaska Trips
Alaska Trip Reviews
Best Time to Visit Alaska
Alaska Travel Guide
Alaska Small Ship Cruises
Small Alaskan Cruise Lines
Alaska Inside Passage Cruises
Alaska Whale Watching Cruises
Alaska Yacht Charters
Luxury Alaska Cruises
Alaska Family Cruises
Alaska Cruise Deals
Alaska Tours
Visiting Denali National Park
Alaska National Park Tours
ALL GLACIER BAY CRUISES & TOURS
Roughly half of our Alaska trips now feature a visit to Glacier Bay National Park. Find and filter them below. Use itineraries below to start planning, then contact our experts to narrow down your options and get a free quote. Our experts have been helping travelers experience Glacier Bay National Park for decades. Let us translate our experience living and working in Alaska into the best Glacier Bay trip for your interests, budget and timeline..