Denali National Park draws in more than 600,000 visitors per year and for good reason. It is a vast, breathtaking and exciting national park, filled with interesting megafauna and endless scenic landscapes. But did you know that most visitors rarely venture past the park entrance, or get off the bus that explores the Denali Park Road? We know a way you can do it better.
If you're wondering how to visit Denali National Park in the most immersive way, you've come to right place. We have years of experience planning Alaska trips and visiting Denali National Park ourselves. Read this guide to learn the best way to see Denali—and what to avoid—to get the most from your travels.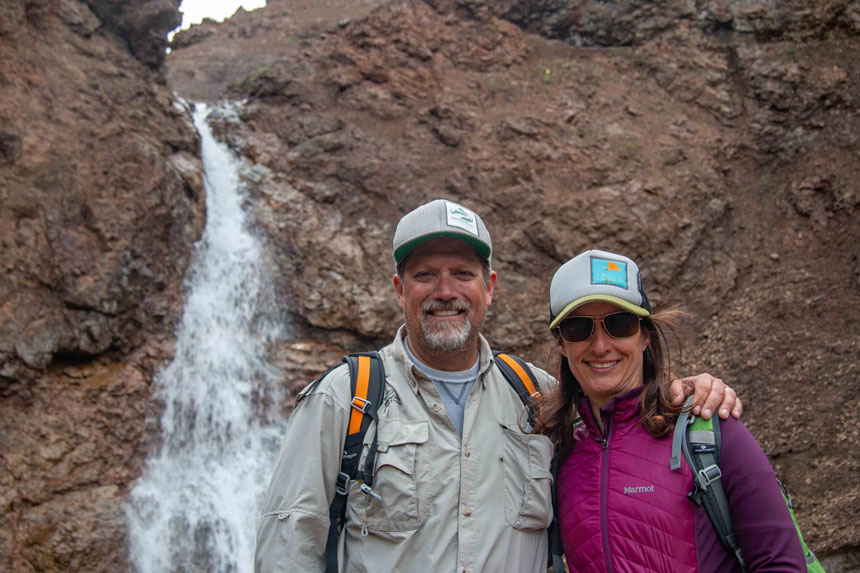 CONNECT WITH A
DENALI EXPERT
Plan and book
your visit with our help.
IN THIS POST – Visit Denali National Park:
Why Travel to Denali
How to Get There
Where to Stay:
– Park Entrance vs Kantishna
Where to See the Best Views
How Long to Stay
When to Go
Denali Flightseeing
More Resources
Is Denali National Park Open in 2024?
Yes, Denali is open in 2024. Denali National Park Service along with related hotels, lodges, tours and attractions are open to visitors in summer 2024. Facilities and services remain altered due to the Denali park road situation. So be sure to do your research or speak with one of our experts before visiting Denali National Park this season.
Denali Park Road Closure
On August 21, 2021 Denali National Park and Preserve closed a portion of the 92-mile Denali Park Road at mile 43 near Polychrome Pass due to a landslide. The road has remained closed since. View the NPS News Release – Road Closure.
On October 14, 2021 the National Park announced that about half of the road would remain closed for the 2022 visitor season while a permanent bridge is constructed over the slide area. View the NPS News Release – Pretty Rocks Bridge. We anticipate this closure will extend through the 2024 visitor season as well.
It is important to note that Denali remains open to visitors and buses will continue to provide access to mile 43 of the Denali Park Road. Travelers will continue to have access to great wildlife viewing, views of Denali, front country trails, and backcountry hiking and camping. Most travelers to Denali should not have their experience greatly impacted by the road closure.
This announcement does create uncertainties for travelers seeking to proceed to Kantishna, our recommended means of experiencing Denali National Park. Lodges in Kantishna, have altered their operations in light of the park road situation. Camp Denali, our preferred lodge in the region is continuing to operate as an exclusive fly-in lodge in 2024. Kantishna Roadhouse and Denali Backcountry Lodge have also moved to a fly-in model for the 2024 season. Listed pricing and terms reflect this new reality for these properties' Alaska travel packages.
Travelers interested in booking a quality Denali National Park experience in 2024, away from the crowded park entrance, should consider: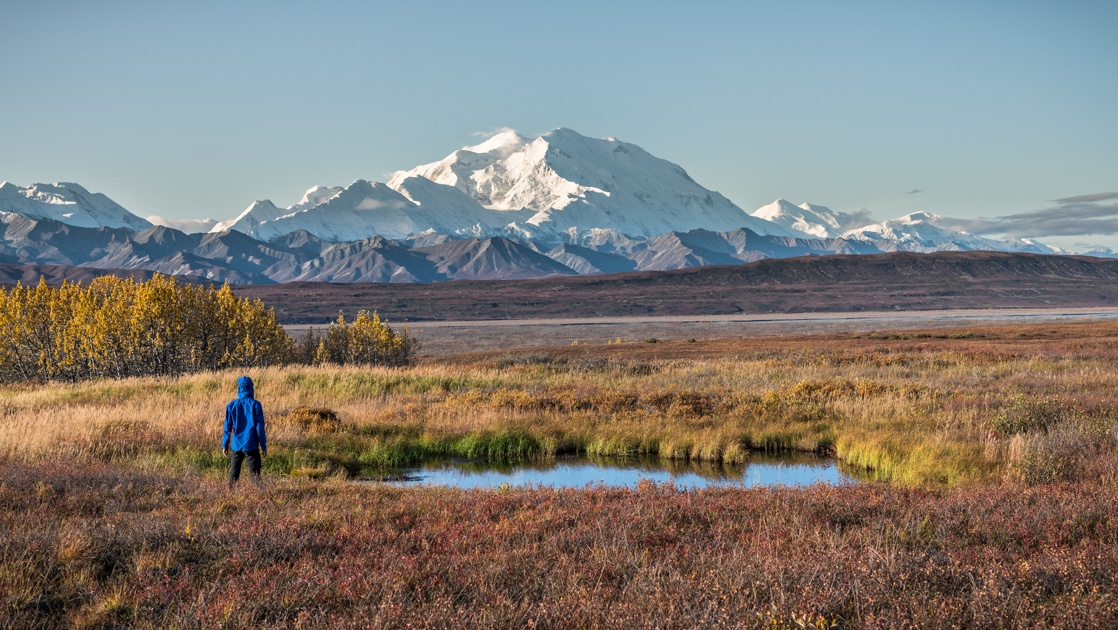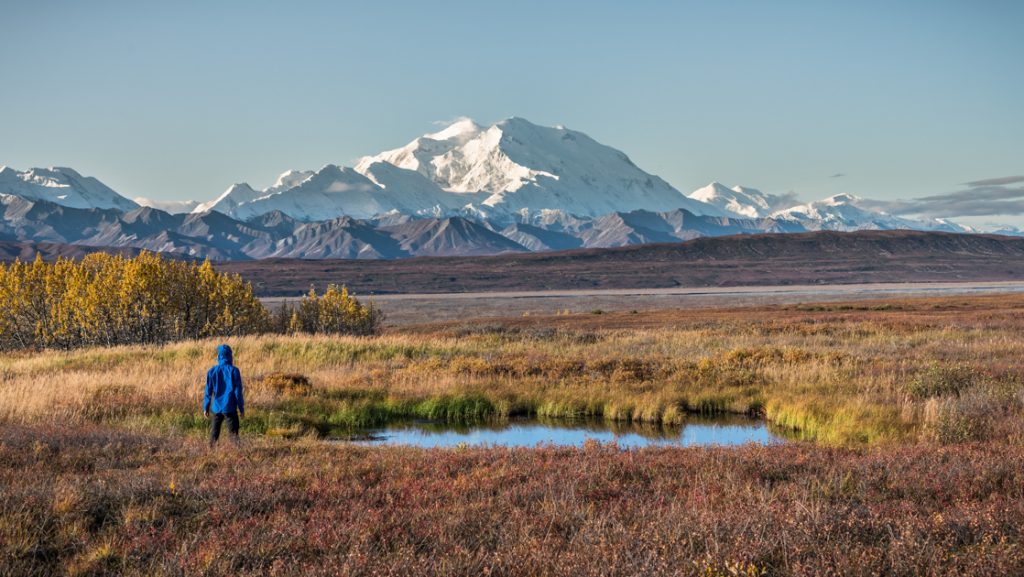 An 8- or 9-day, very customizable trip to Denali that spends 3 or 4 nights at a remote backcountry lodge. A bestseller among our travelers visiting Denali National Park.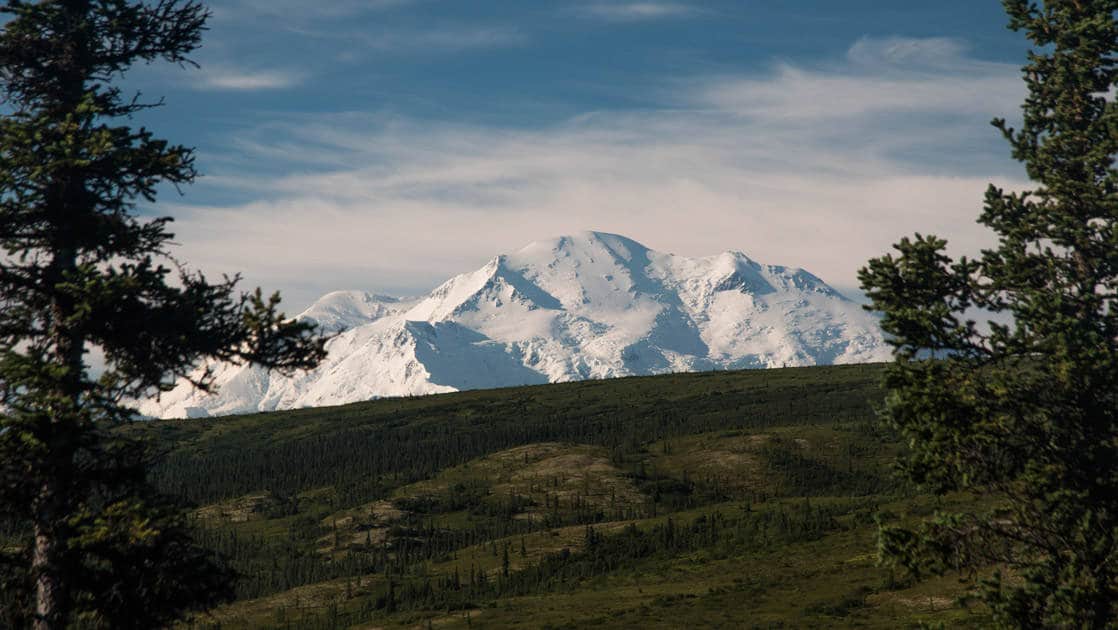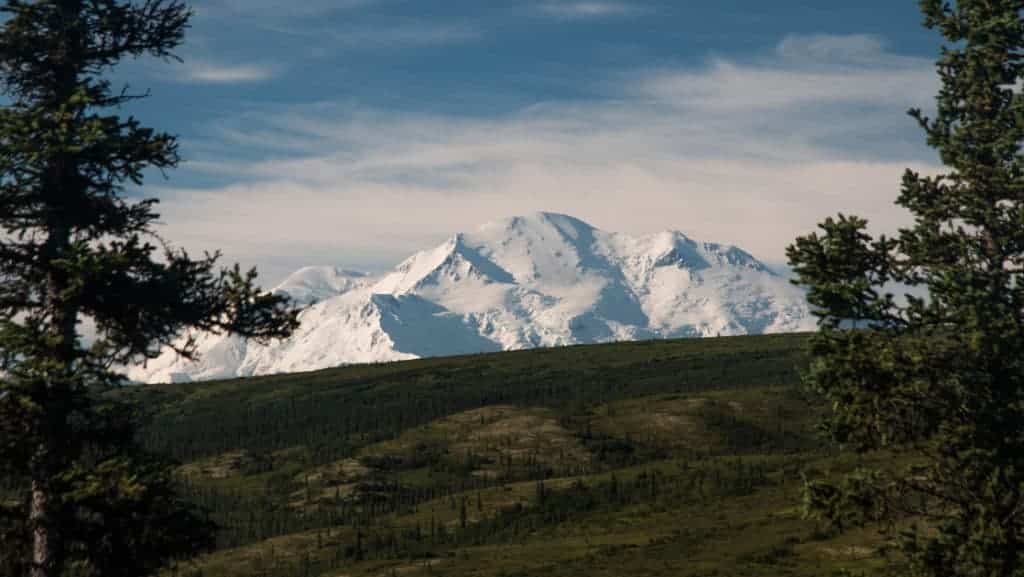 An 8- or 9-day adventure that offers the premier Denali experience at Camp Denali's 19 guest cabins. This lodge has the best views of Denali and other exclusive perks like private Park Road transportation and more hiking access.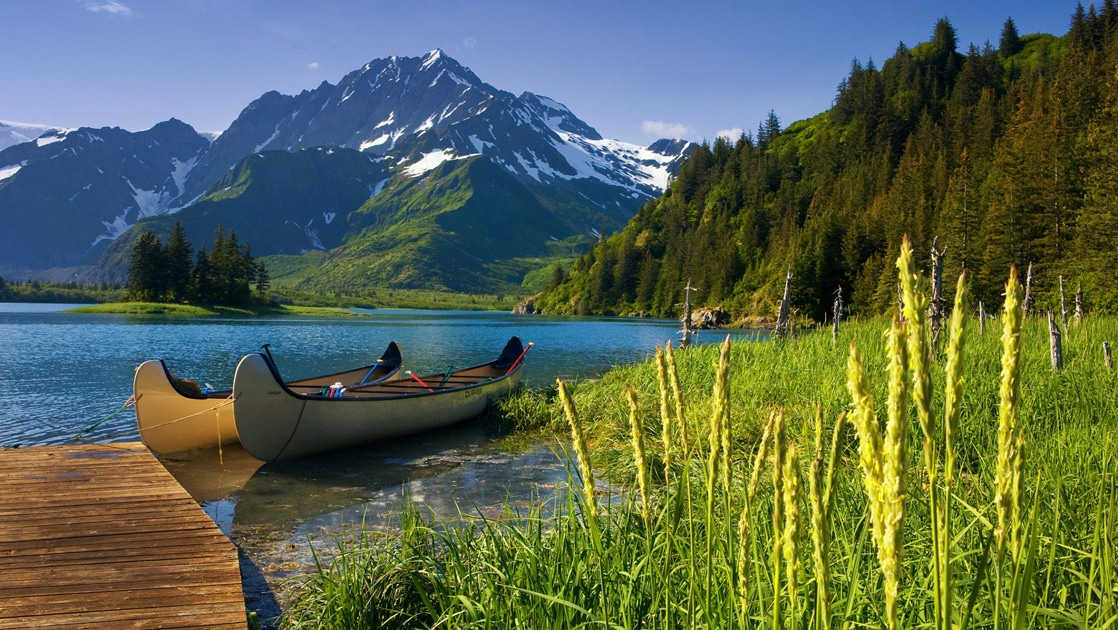 A 7-day trip that visits two Alaska National Parks! See glacier-rich Kenai Fjords in addition to your trip to Denali to truly experience the coast and interior.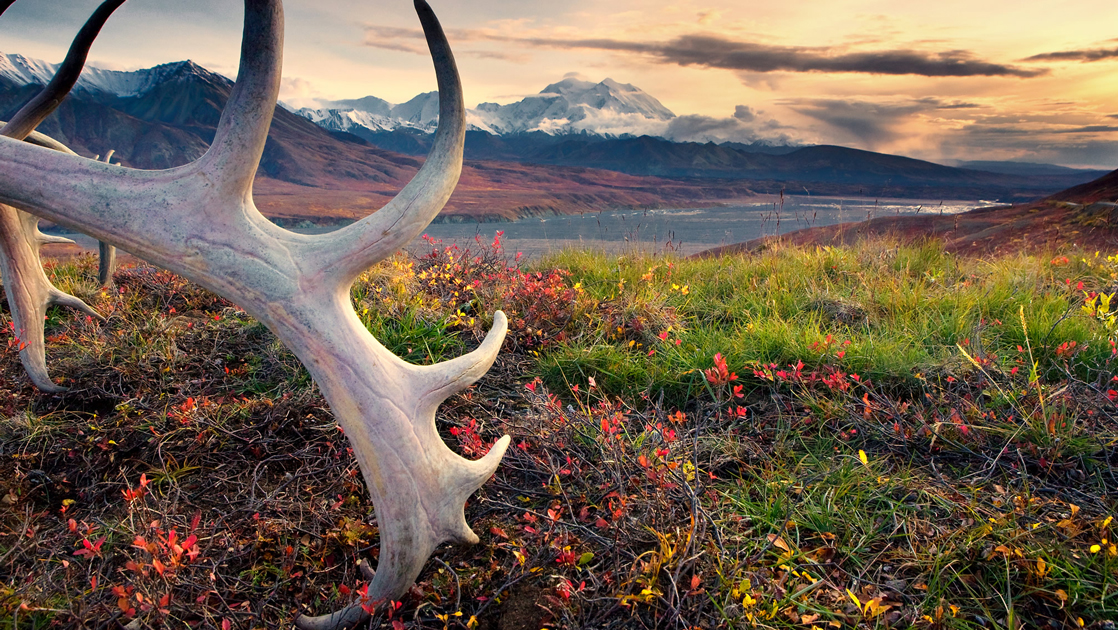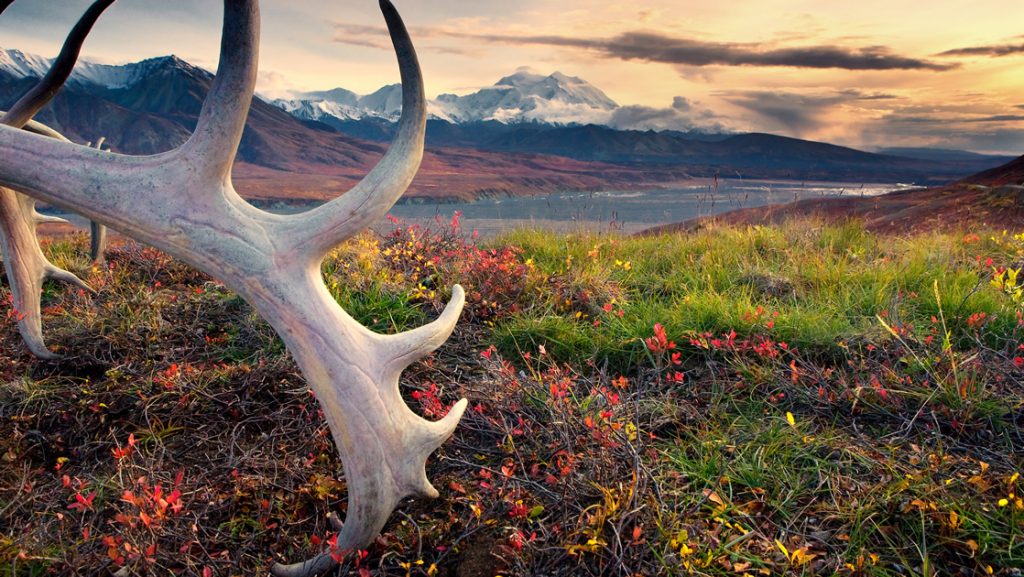 An 11-day trip that includes two national parks and even more time exploring the famed Kenai Peninsula at wilderness lodges. Among our most comprehensive Alaska land tours!
VIEW ALL ALASKA LAND TOURS
See the full list of itineraries, in Denali & beyond.
Why Travel to Denali National Park?
Denali National Park and Preserve covers over six million acres of pristine wilderness in the heart of Alaska's interior. The centerpiece of the park is the spectacular Alaskan Range and 20,310-foot-high Denali (formerly known as Mount McKinley), the tallest mountain in North America. Known as one of the crown jewels of the U.S. National Park Service, Denali is on the bucket list of most Alaska travelers.
The centerpiece of the park is the spectacular 20,310-foot-high Denali, the tallest mountain in North America.
Unlike most national parks established to protect natural wonders, Denali was established to protect an entire functioning ecosystem. An area the size of New Hampshire—covered in mountains, glaciers, glacial valleys, boreal forest and arctic tundra—is bisected by only one 92-mile road. The park is home to 38 species of mammals, 160 bird species and 758 species of plants. Most people visiting Denali hope to see the big five, or a "Denali Slam," which consists of moose, caribou, wolf, Dall sheep and the brown or grizzly bear. Travelers interested in nature, wildlife, native culture, history and extraordinary scenery will love exploring Denali National Park.
How to Get to Denali National Park
Getting to Denali National Park in the heart of Alaska's interior is a trip in itself since it's located more than 200 miles north of Anchorage. But thankfully, it is fairly easily accessed by road, rail or air so you can take your pick of a few options.
To visit Denali from Anchorage by car, the trip will take about 5.5 hours by road (longer if there is road construction, which is common during short Alaskan summers). Coming from Fairbanks, the drive takes about 3 hours. Getting to Denali National Park by train takes 8 hours northbound from Anchorage, and about 4 hours southbound from Fairbanks. Look for the Alaska Railroad Denali Star Line that runs parallel to the Parks Highway. There is a departure from each city every summer morning for this quintessential rail route.
An efficient but more expensive way of getting to Denali National Park is to fly. Charter options from Anchorage can take you to the park entrance or Kantishna, the small community that sits within the park at the end of the Denali Park Road. With a flight you will save a long day of travel and you will receive an incredible flightseeing experience along the way, but keep in mind that weather in Alaska is unpredictable and flights can get delayed or cancelled. If you fly all the way into Kantishna, you will miss the drive along the Park Road, which is a highlight of any visit to Denali.
In the end, how to get to Denali National Park depends a lot on your group size, your preferences for traveling by car, train or plane, and your trip timeline. Our experts can help customize the best way to get to Denali for your needs and interests. All of AdventureSmith's package and custom tours to Denali include guided bus and/or train transportation to and from the park—a bonus for these long hauls.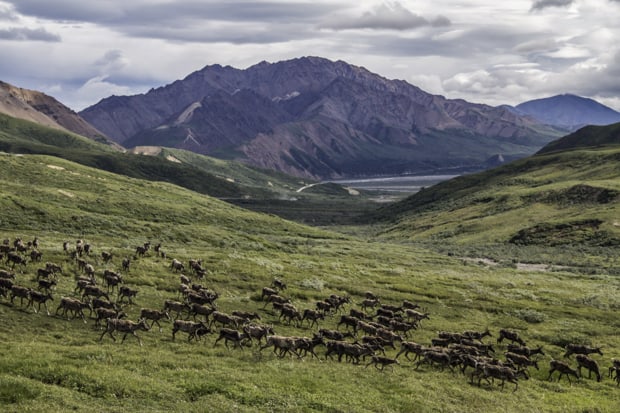 The Denali Park Road
The park entrance, also known as Denali Park, is located at mile 237 of Alaska Route 3, also called George Parks Highway or simply the Parks Highway. But to really see Denali, you'll need to get on the Denali Park Road. The wildlife along this 92-mile road is uniquely accessible, and sightings along the drive are a huge part of the experience of visiting Denali National Park.
The road parallels the Alaska Range, traversing low valleys and high mountain passes with beautiful landscapes at every turn. Denali Park Road is mostly unpaved and is the only road in this massive wilderness area. Transiting the Park Road takes about 5 hours and is a highlight of any visit to Denali.
Private cars are not allowed past mile 15 on the Park Road, and the National Park Service has instituted a system of buses as the primary means for travelers to explore Denali. This system of buses not only reduces traffic but also makes vehicles predictable to wildlife. Over time, animals have become accustomed to the buses, so much so that they are not afraid to approach the road.
Often so accustomed to the Park buses, the animals will sometimes amble right next to the vehicle.
Bus drivers act as naturalist guides, pointing out sights, locating wildlife, answering questions and interpreting park history. Passengers also act as spotters. When someone shouts "bear," the bus stops, everyone lowers their window and points cameras in the direction of the animal. Often so accustomed to the buses, the animals will sometimes amble right next to the vehicle as if it isn't even there.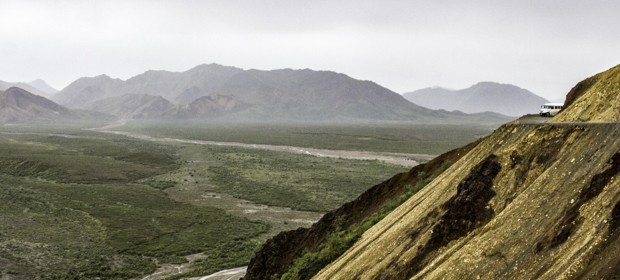 Where to Stay in Denali National Park
Where to stay in Denali National Park is perhaps the most important consideration for your visit, since this will dictate how you will tour and explore. While more than 90 percent of Denali's large visitor base will stay at the park entrance, the real Denali is best experienced deep within the park in my opinion. Here is a look at your two primary options for where to stay in Denali and some key differentiators.
Denali Park Entrance – Best as a Stopover or If Short on Time
This is where the park headquarters and visitor center are located as well as huge hotels owned by big ship cruise lines. Affectionately known as Glitter Gulch, this area offers endless opportunity for distraction including raft trips, ATV trips, horseback trips, flightseeing, hiking, biking, canoeing and kayaking, zipline adventures and souvenir shops catering to the many tourists who flock to Denali every summer. Most of these travelers will experience the park on 5-, 8- or 12-hour Denali bus tours operated by the National Park Service.
The park entrance can be fun and appeal to casual tourists, but it is undoubtedly a crowded mass-tourism enterprise with little connection to the solitude, tranquility and wilderness that makes Denali famous. Consider staying at the park entrance if you don't mind crowds, are short on time or want to break up the journey from Anchorage to Kantishna, farther inside the park. AdventureSmith-recommended accommodations at the park entrance include: Denali Park Village, Denali Park Cabins, Grizzly Cabins and Deneki Lakes Bed & Breakfast.
Kantishna – All-Around Best Way to See Denali
Most often, I suggest travelers forego the park entrance in favor of Kantishna, a historic mining town located at the end of the Denali Park Road and completely surrounded by the National Park and Preserve. Kantishna is as close as you can get to the base of Denali without hiking or flying in. This private inholding takes additional effort to reach but offers adventurous travelers several advantages over staying at the park entrance.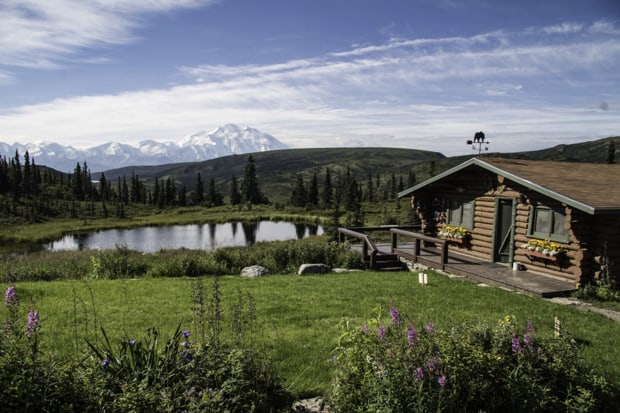 Kantishna is as close as you can get to the base of Denali without hiking or flying in.
First and foremost, you trade the crowds for solitude and true Alaskan wilderness. Exclusive lodges provide comfortable accommodations and a base from which to actively explore the surrounding backcountry. Each day offers opportunities for active guided exploration and wildlife encounters. Lodges here offer daily guided hikes ranging from easy nature walks to all-day challenging explorations into the backcountry.
AdventureSmith recommended lodges in Kantishna include: Kantishna Roadhouse, Denali Backcountry Lodge and Camp Denali. A few other Kantishna differentiators that showcase why it's my top pick for where to stay in Denali include:
Multi-Day, Experienced Guiding
The experience and demeanor of your guide will have a profound impact on your overall experience visiting Denali National Park. Accommodations at the park entrance are geared for independent travelers with no guided exploration unless you book a day tour. The Kantishna lodges all include guided daily activities with excellent, skilled naturalists and guides.
Camp Denali in particular has the most experienced guides and appeal to travelers who appreciate informative, thematic interpretation on the trail and at the lodge. Each evening after a delicious dinner expect an entertaining and informative presentation enhancing your knowledge of the park and its inhabitants. Fully guided small-group explorations of Denali such as Alaska Coast to Denali Adventure or Alaska's Grand Adventure offer the best of both worlds with an experienced trip leader along for the whole journey, combined with excellent local guides on each itinerary stop.
Private Buses
Another bonus: the lodges in Kantishna use private buses instead of the National Park Service buses, which translates to a more intimate and comfortable ride with more experienced driver/guides and often better windows for photography opportunities.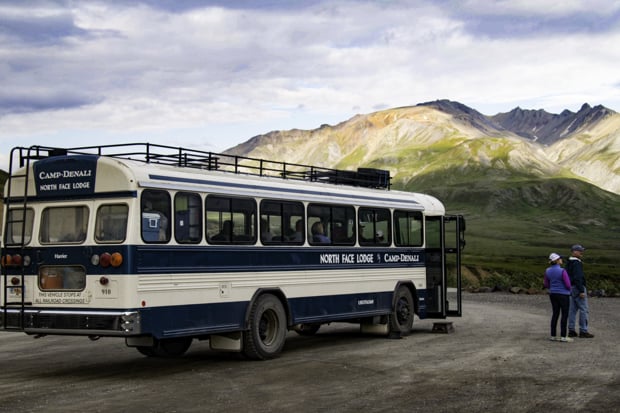 Off the Grid
Plan to disconnect on your trip to Denali; after all, isn't this part of the point? At the park entrance you will have cell service, and lodges offer WiFi internet access. However, once you transit the Denali Park Road, cell coverage disappears. In Kantishna, there is no cell coverage and lodges do not offer internet access. Lodges have courtesy phones for calls out, and incoming calls can be received at the front desk. A visit to Kantishna is a chance to truly disconnect and immerse yourself in solitude for a few days.
Small Groups, Likeminded Travelers
When staying in Kantishna you will be among a small group of likeminded travelers in an intimate setting with a shared sense of purpose to actively explore up close. Lodges in Kantishna are relatively small, featuring properties dotted with 18 to 42 individual cabins. Choose Kantishna if you desire an authentic Alaskan experience away from crowds and hope to connect with Alaska's ancient natural rhythms.
Better Views
Spending more time in the park dramatically increases your chances of seeing wildlife and mountain views of Denali clear of clouds. Read the next section about Where to See Denali for even more insight about why Kantishna is the best place to stay in Denali National Park if you want more chances to see the tallest mountain in North America.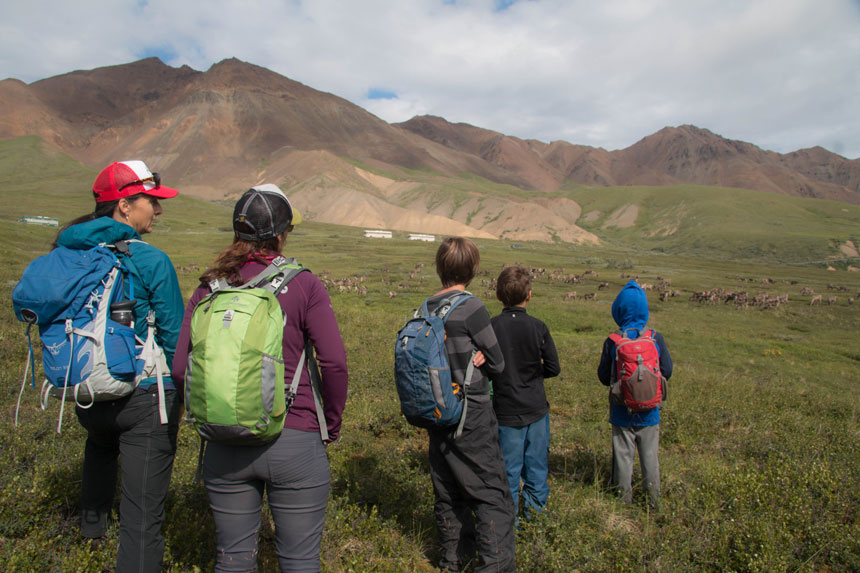 PICTURE YOURSELF HERE
Stay in the loop on
Alaska trips & deals.
Where to See Denali – Best Views of the Mountain
Denali is so big that it creates its own weather and is often shrouded in clouds. Less than 30% of travelers visiting Denali National Park ever see the mountain. So if you do see it, consider yourself lucky. However, there are ways to increase your chances. When the mountain is "out," it can be seen from as far away as Anchorage, but you need to know where to look. Here are a few options for the best way to see Denali from Anchorage and Fairbanks:
When you arrive at the Anchorage International Airport, look for Denali to the north as you walk out of the terminal.
Visit Earthquake Park in Anchorage.
Hike to the top of Flattop Mountain in Anchorage.
Stop at the Denali and Alaska Range Overlook in Fairbanks.
Visit the University of Alaska Museum of the North in Fairbanks.
There are numerous pullouts along the Parks Highway and along the Alaska Railroad routes, so be sure to ask your driver or train conductor. The mountain is not visible from the park entrance, so for the best views you'll want to transit the Denali Park Road. The first glimpse is possible at mile 9 of the Park Road, and the farther you travel the bigger the mountain gets. The pinnacle of mountain views and photography are at the Eielson Visitor center at mile 66 and Wonder Lake at mile 85.
Denali is not visible at the park entrance but the first glimpse is possible at mile 9 of the Park Road.
If you stay in Kantishna, your chances to see the mountain increase dramatically, as more time spent in the park allow for more opportunities for the mountain to show itself. Guests at Camp Denali have views from their accommodations and the best chance to see the mountain. Travelers here certainly agree that the best way to see Denali is from the comfort of their cabin! Other lodges in Kantishna aren't in direct view of the mountain but will provide shuttles to Wonder Lake when the mountain is out.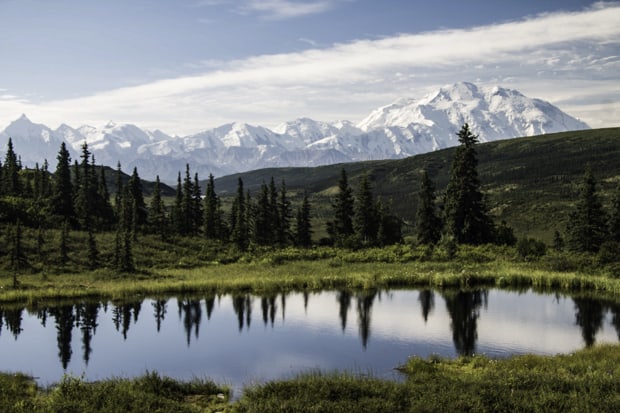 How Long to Stay in Denali National Park?
It is not possible to visit Denali in one day, unless you are simply flying over it. Many tours visiting the park entrance will spend as few as two nights, but even this only allows for one full day of exploration, usually on a bus. Thus, my recommendation on how long to stay in Denali National Park is to spend at least three nights, preferably in Kantishna, in order to truly explore this massive park. If the trip from Anchorage to Kantishna is too long of a travel day for you, consider adding one day at the park entrance. This way you can enjoy the park entrance while also appreciating the solitude of the park's interior.
When to Go – The Best Time to Visit Denali National Park
Summer is short in Alaska's interior, and thus most of the the national park services and lodges are only open June through mid-September. Keep this in mind if you are trying to pair your Denali trip with an Alaska small ship cruise. Summer days are long with 20 hours of sunlight on summer solstice (June 21). Visiting Denali National Park in June may seem "early" for the summer crowds, but there is truly no "shoulder" or "low" tourism summer month here. All three months of are packed full of intense activities for wildlife and visitors alike, so when to visit Denali depends a lot on your travel group and preferences.
If you're trying to determine when to visit Denali, here are some considerations: Spring is brief with the tundra turning from brown to green in a matter of days, but this is the time to visit Denali if you are seeking to see the most snow on the mountaintops. In early June wildflowers begin to bloom and provide color until late July. Animals are active all summer squeezing a year's worth of living and eating before the onset of another cold winter. Mosquitos are also active in early summer dissipating by early August, so very early season or mid-August to September may be the best time to visit Denali National Park if you wish to avoid mosquitos. Fall comes early and by mid- to late-August the tundra turns brilliant red, orange and yellow. September is the best time to visit Denali if you wish to see the northern lights since at this time of year the night sky will actually be dark enough to spot them.
Learn the best time to visit Alaska with a more detailed account of seasonality in other locations on our Alaska by Month guide.
| | | | | | | | | | | | | |
| --- | --- | --- | --- | --- | --- | --- | --- | --- | --- | --- | --- | --- |
| Month | Jan | Feb | Mar | Apr | May | Jun | Jul | Aug | Sep | Oct | Nov | Dec |
| Avg. High (F) | 10 | 16 | 25 | 39 | 53 | 64 | 66 | 61 | 51 | 32 | 18 | 11 |
| Avg. Low (F) | -1 | -5 | 1 | 15 | 29 | 39 | 43 | 38 | 31 | 14 | 1 | -6 |
| Avg. Rainfall (Inches) | 4.3 | 4.0 | 3.4 | 2.9 | 3.5 | 3.1 | 4.4 | 5.4 | 7.2 | 7.9 | 5.4 | 5.1 |
| Avg. Daylight (Hours) | 7 | 9 | 12 | 14.5 | 17.5 | 19 | 17 | 14 | 11.5 | 10 | 7 | 6 |
Denali Flightseeing
An opportunity to fly over the Alaska Range is a dramatic highlight of any trip to Alaska and should not be missed. From the window of a small aircraft, the enormity of the park is revealed from colorful valleys to gentle foothills, meandering glaciers and the astounding canyons and peaks of the Alaska Range. In addition to spectacular scenery, flights may reveal mountain climbers striving to summit the great one.
Most flightseeing companies, including fixed-wing planes and helicopter operators, are based in the nearby communities of Talkeetna, Denali Park, Healy and Kantishna. Some flightseeing routes also originate in Anchorage or Fairbanks. A number of routes are available, and for an additional fee you can even land on a glacier aboard a ski-equipped airplane (an option built into the Ultimate Alaska Wildlife Safari). Because Alaskan weather is unpredictable, flightseeing is not typically booked in advance.
Keep some time in your itinerary available, and if you get a clear day, don't hesitate or wait for a better opportunity. Do it.
Keep some time in your itinerary available, and if you get a clear day, don't hesitate or wait for a better opportunity. Do it. A popular option for travelers visiting Kantishna is to fly from Kantishna to the park entrance at the end of your stay. This not only provides your transportation in lieu of the Park Road but also the opportunity to soar over Denali on an unforgettable trip.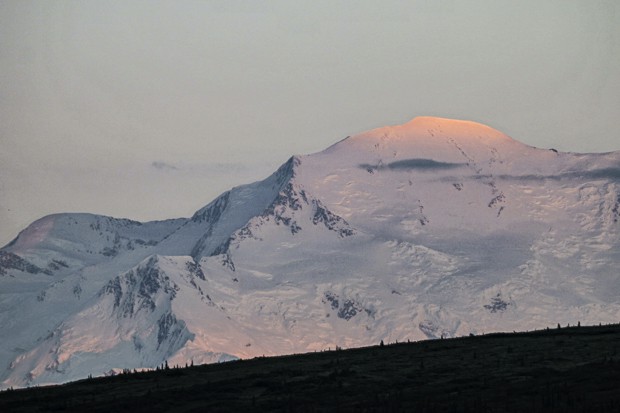 Book Your Denali Vacation
We hope you've enjoyed reading how to visit Denali National Park. If you're ready to go, let our experts be your guide from this research stage to booking your Denali National Park vacation. Our travel philosophy is to venture beyond the roads and rails to explore true Alaskan wilderness. In Denali, this ethos means spending a little more time and money to avoid tourist crowds to actively experience the true wilderness of Alaska. We believe folks visit Denali Park not only for the incredible scenery, amazing wildlife and quiet solitude, but also to learn from experienced guides and return home as ambassadors for these wild lands. All of our Denali vacation options are designed with this focus in mind, equating to the best tour in Denali National Park for you.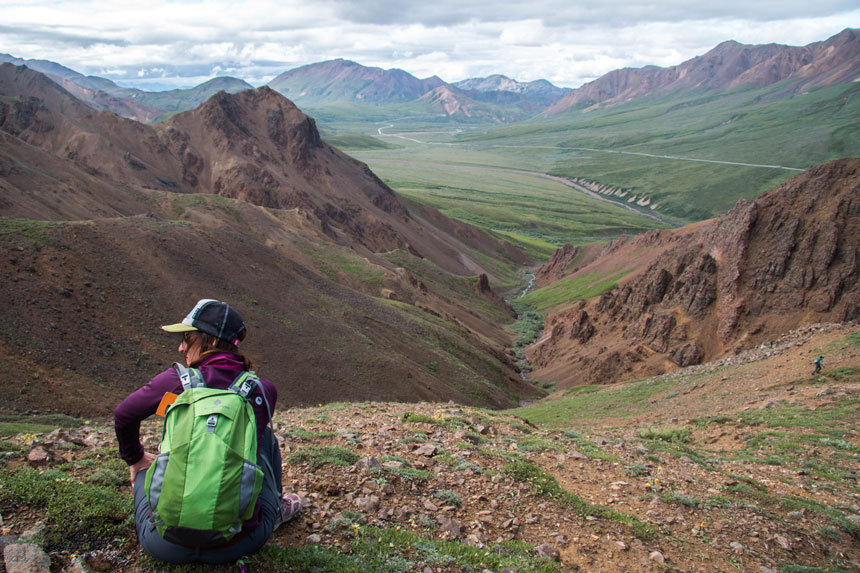 MAKE IT HAPPEN
1-on-1 consultation.
Start planning today.
MORE ALASKA RESOURCES:
Alaska Land Tours
Alaska Tour Reviews
Alaska National Park Tours
Best Time to Visit Alaska
Whale Watching in Alaska
Alaska Travel Guide
Alaska Trips
Alaska Small Ship Cruises
Small Alaskan Cruise Lines
Glacier Bay Tours
Alaska Inside Passage Cruises
Alaska Yacht Charters
Luxury Alaska Cruises
Alaska Family Cruises
Alaska Cruise Deals
Have questions about visiting Denali National Park? Use the comments below to ask our experts and improve this post. If you are ready to begin planning your Denali visit or another Alaska national park tour with AdventureSmith Explorations please contact us.