AdventureSmith Founder and President Todd Smith reviews his Camp Denali Adventure with his family of four. Learn why he says there is no better way to explore Denali National Park in this detailed review of his Alaska land tour.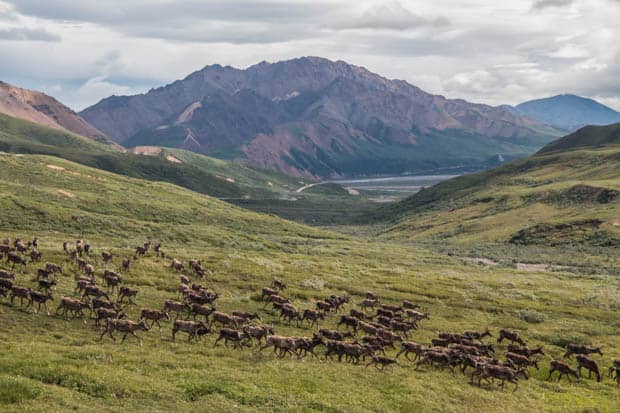 In the span of a few minutes I had one of the most incredible wildlife encounters of my entire Alaska travel career.
As the caribou herd descended toward our group I leaned over and asked my friend and guide Laurie, "Have you ever experienced this before? Is there a protocol for what we should do?" She simply replied "no" and led by her example of staying calm and letting the herd approach us. Within minutes hundreds of caribou had surrounded our small group. They cavorted about—running, stopping, galloping this way and that. They never came close enough to feel threatening, but they were so near that we could hear their hooves trotting over the soft tundra and the snorts of their heavy breathing. In the span of a few minutes I had one of the most incredible wildlife encounters of my entire Alaska travel career, which spans well over 20 years. The experience of being surrounded by hundreds of caribou is representative of the immersive experience guests encounter on the Camp Denali Adventure.
My family of four had just finished the Alaska Wildland Collection, which included three incredible wilderness lodges on Alaska's Kenai Peninsula (read my Alaska Wildland Collection expert review) and we were eager to journey into Alaska's interior visiting friends and exploring Denali National Park up close with the folks at Camp Denali.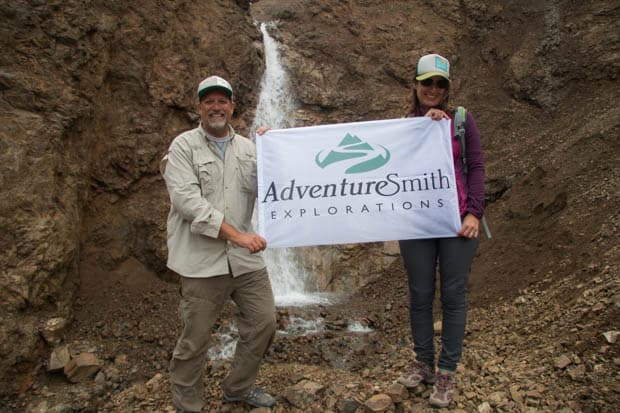 Arrival to Denali National Park: The Camp Denali Difference
Our journey began with an overnight in Anchorage where we stayed downtown, in close proximity to our early-morning transfer. We boarded the coach at 6:30am and departed promptly at 6:45am. Our driver, perhaps jokingly, mentioned that since it was so early she would not be talking much. She then proceeded to amuse us with entertaining tales of her life in Alaska and educate us about Anchorage and the surrounding region for the next several hours. The coach made a quick stop in Talkeetna before arriving at the Denali Train Depot at the entrance to Denali National Park promptly at 12:00 noon. This allowed enough time to grab some sandwiches from the Black Bear Coffee and Food Truck and explore the Denali National Park visitor center before we boarded the Camp Denali bus at 1:00pm. There is also the Merino Café cafeteria-style food if travelers prefer a hot meal.
In my experience Alaska is the place where old school buses go to die, so Camp Denali's new buses are noteworthy.
I have been to Denali many times and ridden many park service and lodge buses in Alaska. In fact, I even spent one summer as a bus driver in Alaska. Upon boarding the Camp Denali bus, I was immediately struck by several things. First and foremost, this bus was brand-new. In my experience Alaska is the place where old school buses go to die, so Camp Denali's new buses are noteworthy. Second, I noticed that the seats were much more comfortable than typical buses, and nearly half of the seats had been removed to make more legroom for the remaining passengers. This becomes particularly important in Denali when the bus stops and you must lean over your seat mate to take photos of animals out the window. Third, the windows opened laterally instead of up and down. This also makes a difference with the aforementioned photography. Finally, the speakers on the bus worked perfectly and we could hear the narration of our driver guide without straining or blasting, as can be the experience on lesser vehicles. It may seem odd to ramble so extensively about transportation in a trip review, but this is an important difference on a five-plus-hour ride along a dirt road. This is the first of many factors that distinguishes Camp Denali from other lodges in the Kantishna region of Denali National Park.
The 90-Mile Denali Park Road
The 90-mile drive on the dirt road from Denali Park entrance to Kantishna is an important part of any trip to Denali. This drive, almost like an African safari, is the first and best chance to view wildlife and learn about Denali National Park. Each drive is different, and ours was incredible with good weather and early views of Denali (formerly known as Mt McKinley). Along the way, we had many wildlife sightings including several grizzly bears, some with cubs. We also viewed caribou, moose, Dall sheep, a red fox crossing the road and several families of willow ptarmigan, Alaska's state bird. The highlight for me, but perhaps a bit gruesome for some, was the sighting of a dead caribou, killed earlier that day by wolves and floating down the glacier-swollen Toklat River. We scanned the gravel bars for wolves trailing their dinner, but none were spotted. Encounters such as this are a testament to the wilderness nature of the Denali ecosystem.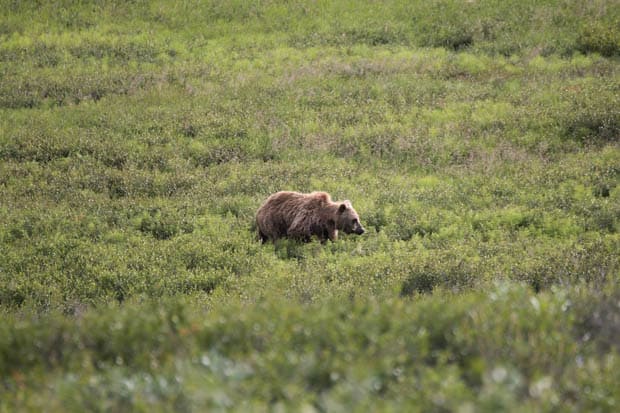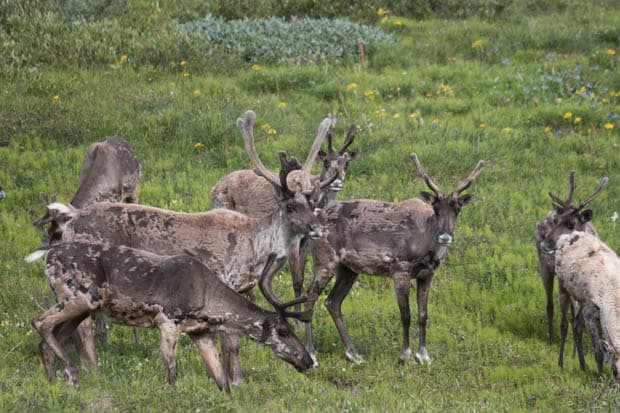 Importantly, our guide also knew when to be silent and let nature do the talking.
Our Camp Denali driver and guide, Drew, was outstanding and clearly a professional naturalist interpreter. He educated and entertained us, weaving personal stories with historic anecdotes and wildlife sightings. Importantly, he also knew when to be silent and let nature do the talking. We learned that he had worked at Camp Denali for 11 summers and he clearly loved his life here. The quality and experience of guides and naturalist programs at Camp Denali are another important distinguishing feature from other lodges in Kantishna.
The drive to Kantishna can be long, especially if you have come from Anchorage or Fairbanks. To ease the stress of a long day of travel, Camp Denali stops for a picnic halfway through the drive. At a scenic spot, the drivers produce a delightful spread of sandwiches, smoked salmon, fresh berries, nuts, fruit, cheese and crackers, all locally sourced from Alaska. The picnic served to not only satisfy our hunger and the need to stretch our legs but also to let us intermingle and get to know one another. No other Kantishna lodge makes a food stop on the way into the park.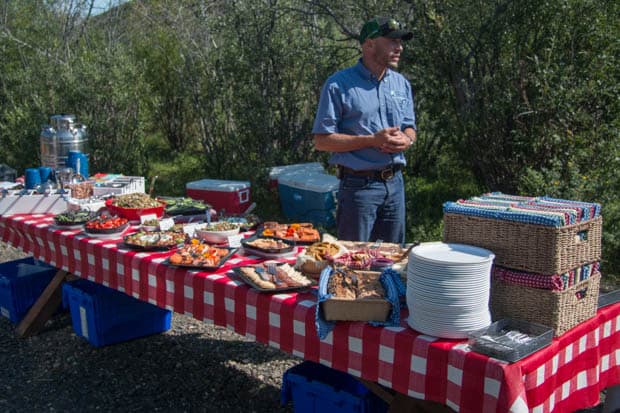 Arrival & Cabins at Camp Denali
Upon arrival at Camp Denali, the entire staff was lined up on the porch, waving to greet us—a bit cheesy perhaps but also an introduction to the culture of comradery that is established between the staff and the guests. We were ushered into the view dining room where staff was introduced and we were given an orientation on the lodge, activities, meals and history of Camp Denali. Soon after, we were personally led to our cabin where our luggage was waiting for us.
Cabins at Camp Denali are situated along a ridge with incredible views of Denali and the Alaska Range. Each cabin is handcrafted and appointed with handmade quilts, a wood stove, a large view window, propane lights and a sink basin. Drinking water comes from a spigot just outside and can be heated on a hot plate for morning coffee or afternoon tea. A short path leads to an outhouse bathroom, also situated for privacy and mountain views. The main lodge, modern shared bathhouse and dining room are a 3- to 10-minute walk up the ridge. Camp Denali is the epitome of a wilderness lodge, and our cabin immersed our family in the wilderness we had come to explore.
On average only 30% of visitors to Denali National Park ever see the mountain. This number jumps to an astounding 95% for visitors to Camp Denali.
Throughout the day, clouds had converged and the mountain was no longer visible. However, after dinner when we returned to our cabin a sliver of white mountain appeared impossibly high on the skyline. I recalled Drew saying on the way in, "if you are up tonight on your way to the outhouse you may get an incredible view." After we put the kids to bed we sat on the porch as sunset on the Alaska Range eased into view. On average only 30% of visitors to Denali National Park ever see the mountain. This number jumps to an astounding 95% for visitors to Camp Denali. By early morning the entire range was out shining in brilliant sunlight with not a single cloud in the sky. The view, right from my bed in Camp Denali, had to be the most incredible in all of Alaska.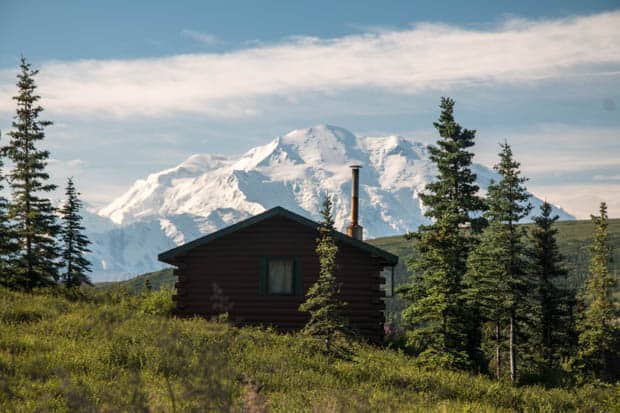 Days of Denali Adventure – Access & Exclusivity
Our first day of adventure included hikes departing right from the lodge. After yesterday's long hours of travel, it was a relief to not get back on the bus. We chose the shortest nature walk, which allowed our kids to sleep in and parents to enjoy coffee on our private porch soaking in the view. Departing from the lodge we walked through boreal forest and alpine tundra learning about the plants and animals that reside here. Our guide told stories of the pioneering founders of Camp Denali and early park superintendents who fell in love with this landscape making it their home. Through their stories and the magnetic draw of the nature around us, I too began to fantasize about leaving it all to homestead in Denali.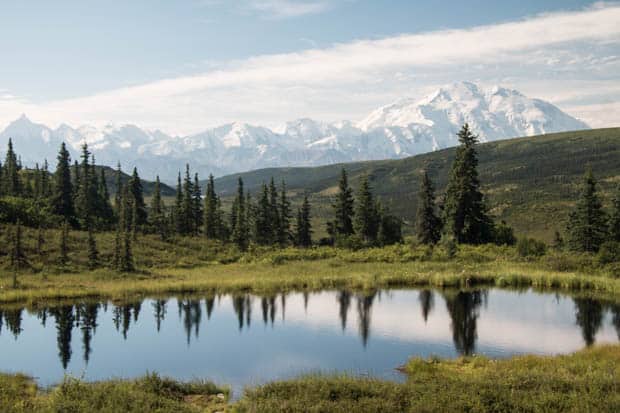 We returned to the lodge in time to strike out on our own for the afternoon. Using lodge mountain bikes, we rode to Wonder Lake where exclusive canoes are reserved for the use of lodge guests. On many previous visits to Kantishna I had envied the lucky few paddling on Wonder Lake. Now I reveled in the solitude of Denali's grand wilderness while my kids did the work of paddling the calm waters. Upon our return and despite the cool clouds that had returned, we stopped at a secluded spot on Moose Creek where we took a swim in the icy waters. My kids had swum at three previous wilderness lodges and they were not going to let this opportunity for another Alaskan plunge pass them by. We returned to the lodge cool and tired, but our cabin's stove warmed our bodies and spirits.
Activities at Camp Denali are the most important distinguishing feature from other lodges in Kantishna. Because of their historic presence in the national park, Camp Denali holds the only lodge concession to lead guided hikes into the park's designated wilderness. This is a considerable difference and allows Camp Denali guests superior access to encounter wildlife, view the mountain and experience more of what they came to see and do in Denali National Park.
Not since my backpacking days nearly 20 years earlier had I hiked in true Denali wilderness. Now here I was with my two young sons…
The second full day of adventure we chose the challenging hike, which took us more than 90 minutes back into the park. We hopped off the bus with our guide and small group near a highway pass surrounded by stunning tundra, jagged peaks and true wilderness. As the bus pulled away, the silence draped over us like a blanket and we realized how remote we were. Not since my backpacking days nearly 20 years earlier had I hiked in true Denali wilderness. Now here I was with my two young sons on a day trip from a comfortable lodge. Did the other guests appreciate how hard it would be to reach this spot, I wondered.
From the bus we had spotted a herd of caribou high on a ridge above us. As we walked away from the park road, over spongy tundra tussocks, some in our group noticed that a few caribou had reached the road and were crossing to our side. As the herd surrounded and then passed us it was difficult to manage the kids, take photographs and soak in the extraordinary encounter as it occurred. It was not until they had safely passed that the power of the event sank in and again my spirit soared for Denali's wilderness.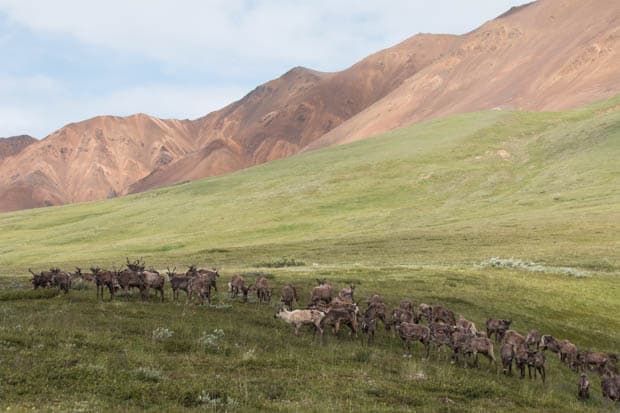 After another mile or so we stopped among a colorful patch of dryas and river beauty for lunch. We proceeded up a gravel wash to a dramatic waterfall. From here we hiked up a steep rocky creek bed to a high saddle at the foot of the Alaska Range with views for miles up and down the Denali's wilds. The only other visitors were the occasional caribou who seemed surprised to see us. The hike down over rocky tundra and steep scree slopes was as challenging as the hike up. I advise guests to heed the descriptions given by guides; this was a truly challenging hike. As we returned to the road our guide made frequent stops for snacks and water, and eventually we all just laid down to rest on the soft tundra bed before boarding the bus for the drive back to Camp Denali.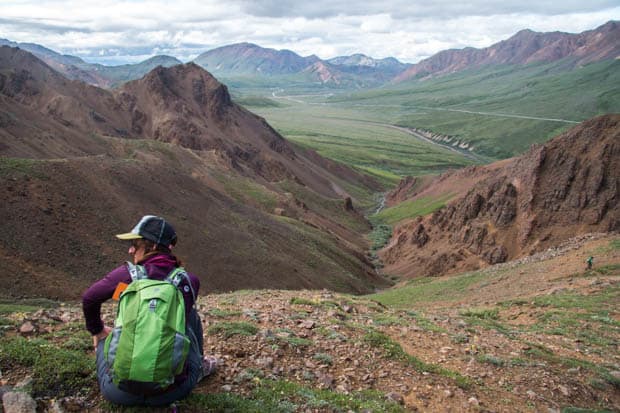 This evening after dinner I attended the evening program in the main lodge. The main lodge is set adjacent to the potlatch dining room next to a reflection pond with a wide porch for sitting in awe of Denali. Inside the lodge, which was the original 1950s structure, is a wood stove, large view windows, and an extensive library with comfortable couches, chairs and desks for reading and relaxing. Indeed, many guests chose to forgo the daily activities and spend time in the quaint surroundings of the lodge. This evening, the room was set up for a slideshow by wildlife biologist and writer Rick Sinnott who regaled us with interesting and hilarious tales of interactions between humans and wildlife in Alaska. Rick's talk was part of the Special Emphasis Series, which brings expert speakers to share their expertise. View the current special emphasis series schedule.
The Camp Denali bus loaded up our bikes and drove about 15 miles back into the park where we were dropped off for a one-way, mostly downhill ride.
On our last day of adventure, a few bus-supported hikes were offered exploring the Muldrow Glacier region. We opted for an unguided bike ride, and it seemed that most guests chose independent activities on this last full day. This was no ordinary mountain bike ride. The Camp Denali bus loaded up our bikes and drove about 15 miles back into the park where we were dropped off for a one-way, mostly downhill ride along the dirt park road, back to Wonder Lake and Camp Denali. Again, the extraordinary access provided by Camp Denali allowed for a truly unique experience in Denali's remote backcountry wilderness. We took our time and stopped for a few short hikes to scenic overlooks and kettle ponds left by an ancient glacier. At one point we simply sat down to gorge on delicious trail-side blueberries that were so abundant we scarcely had to move to get our fill.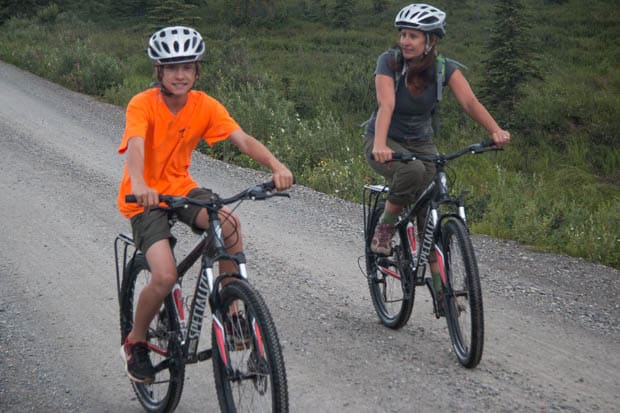 We returned to the lodge and headed to the bathhouse to shower. For the first time this week there was a line to take a shower, so I explored the Camp Denali resource center while I waited. After three full days here, I had heard about the pioneering founders and experienced the thoughtful knowledge of the guides. The resource center seems to be the fountain from which this history and knowledge flows. The center was the most extensive I have seen at any lodge or aboard any small ship and it contained an assortment of exhibits, collections and maps as well as an impressive library and microscope. On the wall were historic photos celebrating Celia Hunter, Finny Wood and Morton (Woody) Wood, the founders of Camp Denali. Again, I was astounded at the lodge's commitment to environmental education and I ended up engrossed in reading for more than an hour, by which time there was no wait for a hot shower.
After waking early and placing our luggage outside our cabin for collection, we ate breakfast and learned that Drew, who was our driver on the first day, insisted that he drive us out. We learned that this was his last day in Denali. He had taken a job as an expedition leader at Base Camp Greenland, and after 11 summers of working at Camp Denali, he wanted to drive, entertain and enjoy Denali one last time. He was, of course, fantastic. More than anything, this again speaks to the culture and family inherent in the Camp Denali experience.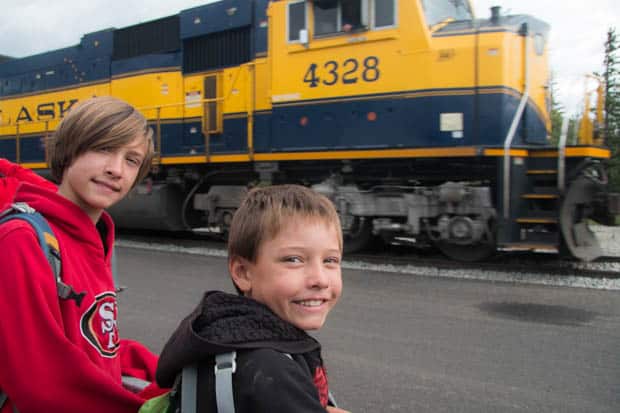 Upon arrival at the train depot we waved goodbye to our friends and boarded the Wilderness Express coach of the Alaska Railroad for the journey back to Anchorage. This special train car has huge, domed view windows, upscale service and dining, and an entertaining narration to accompany our ride. As I sat alongside a wide cross section of Alaska tourists, I reflected on our intimate experience in Denali. At one point the mountain came out and the railcar became a frenzy of activity with phones and cameras taking pictures through the glass. We watched and smiled knowing that Denali was not only on my memory card but also had become a part of my soul.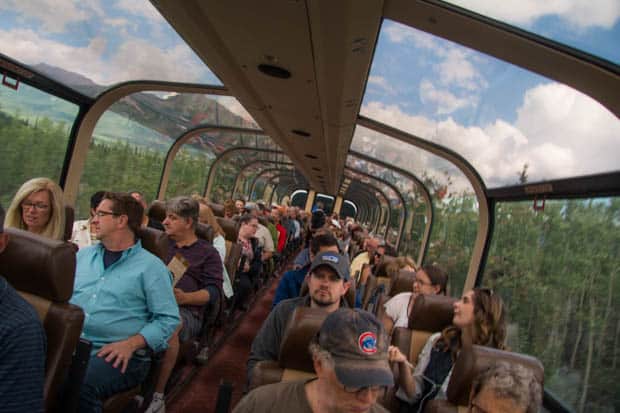 A visit to Camp Denali is to travel what slow food is to cuisine.
A visit to Camp Denali is to travel what slow food is to cuisine. It is like going back in time and allows travelers to slow down and actively immerse themselves in the nature and history of Denali National Park. There is a culture that permeates the staff and becomes infectious among the guests. These are people who have a deep reverence for this special place and seem honored to have the privilege to live and work in a wilderness setting 90 miles from the park entrance near the base of the mountain. Quite simply, there is no better way to explore Alaska's interior crown jewel.
For more photos from this trip, including caribou, wildflowers and Denali, view my Facebook album on AdventureSmith Explorations' Facebook page.
This Alaska Camp Denali trip review was written by an AdventureSmith Explorations crew member. Find more Alaska Tour Reviews from our team's time at wilderness lodges, read all our Alaska Trip Reviews for more trip reports by both land and sea. View all our Alaska trips or simply contact one of our Adventure Specialists to learn more: 1-800-728-2875.