This curated collection of cruises with flights to Antarctica allow you to experience Antarctica without the Drake Passage crossing. Commonly called Antarctica air cruises, these unique itineraries allow you to fly to Antarctica (either one-way or both ways) and board a small expedition ship. Learn all about Antarctica by air and browse the available trips on this page.
A Primer on Flights to Antarctica
Look into Antarctica's storied history, and you'll read accounts of weeks, months and years at sea to get there. When determining how to get to Antarctica today, modern travelers now have a choice. You can sail through the infamously rough Drake Passage over the course of 2 days, or you can fly over it in a few hours.
Currently, all Antarctica flights for air cruises depart from Punta Arenas, Chile, via charter flight. They land at Chile's Frei Station research base on King George Island in the South Shetland archipelago, where passengers then board an Antarctic ship to begin the cruise portion of the trip.
Antarctica charter flights are booked and arranged in conjunction with your cruise, so there is no shopping around for Antarctica flights. You simply board the flight arranged by your Antarctica cruise operator.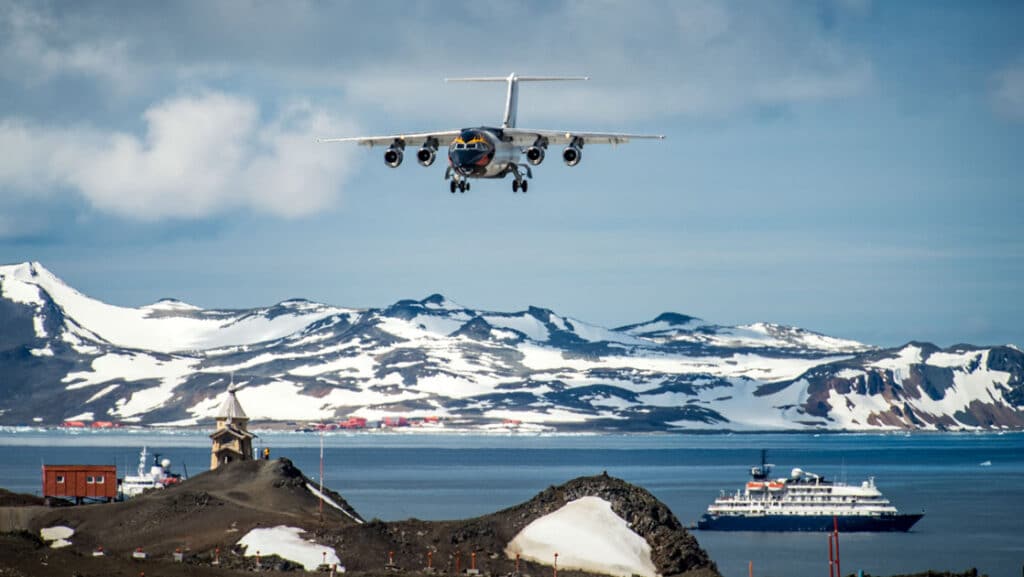 The Different Types of Antarctica Air Cruises
One consideration when looking at Antarctica air cruises is whether you want a round-trip flight or a one-way Antarctica flight. This could be a deciding factor for you if, for instance, you'd like the experience of crossing the Drake Passage but don't want to do it twice!
More important than the actual flight though is evaluating the cruise portion. You will want to ensure the cruise experience best matches your Antarctica travel needs and desires, so browse the cruises and details listed on this page, then contact our experts for personalized customer service and recommendations. Antarctica fly cruise itineraries are available for a number of routes, including longer Falkland Islands and South Georgia cruise and shorter cruise itineraries.
The flight is a relatively very short portion of your overall Antarctica flight cruise, so in many ways it's more important to choose your Antarctica cruise based on what's most important to you: a certain activity, wildlife sighting opportunity, place visited, etc. Learn more about considerations for the selection process in our Antarctica Travel Guide.
Antarctica Flight FAQs
We receive a lot of questions about Antarctica air cruise logistics and how it works to fly to Antarctica. Below are a few Antarctica flight FAQs.
Please note that all of our information is for Antarctica charter flights booked in conjunction with cruises. While there are now tourist flights to Antarctica that do not land at all, we do not recommend them due to long flight hours and little time viewing Antarctica.
How long is the flight from Punta Arenas to Antarctica? It's about two hours long. With beverage service and take off/landing, this short flight goes by fast. And is quite possibly the most exciting flight you'll ever be on.
What type of planes are used? BAE 146, AVRO RJ 85 or AVRO RJ 100 jets are the most common aircraft used. These planes feature high wings and engineering for short runway requirements, but will feel very familiar to most air travelers.
What airlines fly to Antarctica? Nearly all air traffic between Antarctica and South America is operated by DAP, through its brand Antarctic Airways.
Any special onboard considerations? A bit of the flight time is dedicated to allowing passengers to change into outerwear and boots to deplane. Having your carry-on well packed will assist in this. Once you land, you have to walk approximately a mile over gravel through the base to board the ship. There are no facilities once you land, so using the facilities and being prepared for the elements before you get off the plane are key factors for these unique Antarctica air cruises.
Are there any luggage restrictions? Refer to your specific predeparture information for exact weights and limits. But some general guidelines are that the checked luggage weight is typically lower than the allowance on your flight to Chile. And that your carry-on luggage must be carried by hand, by you, from the plane to the shore.
Where do you land? Flights to Antarctica land at Frei Station on a gravel runway. Frei Station sits on the shore of King George Island in the South Shetland Islands.
What are the views like? In the right weather conditions, the views arriving at King George Island are extraordinary. You can see glacial rivers of ice flowing into the sea, crevasses, mountains protruding from the ice and, if you know what to look for, penguin colonies. Frei Station is a military base so you can also expect to see buildings, trucks and a few expedition ships at anchor. Depending on the time of year and current weather conditions, you might see the ground fully covered in snow, or speckled with grey land and gravel. There may be small icebergs in the water, but don't expect to see giant tabular icebergs in this location.
How do you get to the ship? It's about a mile walk with a mellow downhill grade to get to the shore. From there, you will take an approximate five-minute Zodiac ride to board the ship. The same process is repeated for disembarkation and returning to the plane after your cruise.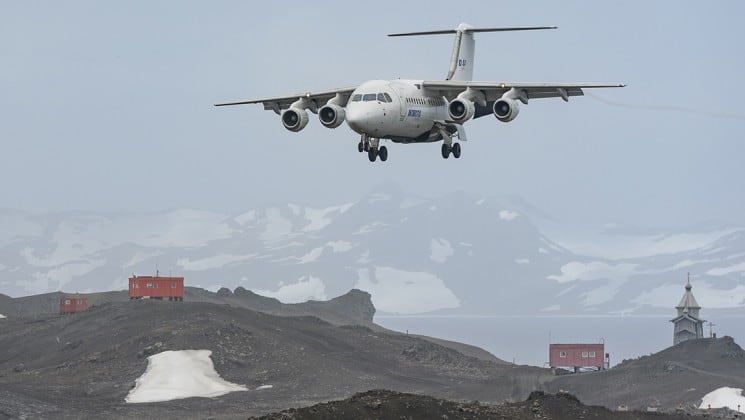 Contingency Plans Explained
All travelers considering an Antarctica flight cruise should familiarize themselves with the expedition's contingency plan before they book. This is a detailed plan for if there are flight delays. Delays for flights to Antarctica are a fairly common occurrence due to fickle weather, strong winds and runway ice. These plans detail considerations for every step of the way so you can clearly know what to expect if you have any delays.
At best, your delay might just be a few hours from when expected, but at worst, it can be days or your voyage can be canceled fully. Read your trip's contingency plan so you are fully aware of what to expect. Three examples for our air cruises listed below can be read here: Antarctica21 Contingency Plan, Quark Contingency Plan, Aurora Expeditions Contingency Plan.
We recommend researching a few restaurants and activities you can do in Punta Arenas since if you do experience a delay, you will often be on call to depart at short notice. If a delay comes at the end of your trip, it may afford you an extra day in Antarctica! Exciting, albeit a great reason when booking an Antarctica air cruise to secure a flexible flight for your return home.
The Pros & Cons of Antarctica without the Drake Passage
The pros of cruising Antarctica without the Drake Passage are fairly clear: you save time and you help beat the odds of seasickness. And the novelty and excitement of flying into Antarctica and seeing it from above is a true once-in-a-lifetime opportunity.
One con can be that crossing the Drake Passage is somewhat of an explorer's rite of passage. The uncertainty of whether you will get the infamous tumultuous seas or the calm "Drake lake" is part of the adventure, and the extra days at sea allow you to bond with fellow guests and learn from the crew in preparation for what's to come, or reflect on what has passed. Antarctica cruises that include a Drake Passage crossing often allow for more lectures, games and camaraderie with fellow guests. These informative lectures really set the tone for the trip and enrich your time ashore. Time spent on deck viewing birds and whales and the excitement of spotting the "first iceberg" are highlights of the Drake crossing. When you fly the Drake Passage, you arrive so quickly in Antarctica that there's less time for this excitement of anticipation and learning. This is certainly something to consider when embarking on your Antarctica cruise search.
Another con is that Antarctica flight cruises are often subject to more delays than traditional cruises that cross the Drake Passage (see the contingency plan section above). So your sense of adventure and flexibility needs to be keen when embarking on an air cruise. You might spend extra days in Punta Arenas waiting for a weather window to fly the Drake Passage, or return home later than planned.
But no one ever promised getting to Antarctica was easy, so choose your expedition based on your needs. And know that the challenge of getting there is what makes it so special!
View All Cruises with Flights to Antarctica
Below are all cruises with flights to Antarctica. Consider these, then contact us to get started planning your expedition. Fly to Antarctica and cruise with us!