AdventureSmith Explorations' Lis Larson reviews her Antarctic Express: Fly the Drake air cruise aboard the 128-guest Ocean Adventurer. Learn what it's like to experience Antarctica without Drake Passage and travel in a single-share cabin on an Antarctica cruise.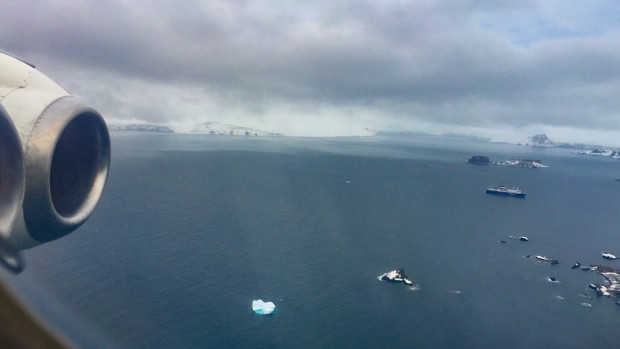 I'd been told it's like another planet. I'd pored over photos and videos before I went. But it was impossible to fathom the immensity of Antarctica. The best I can come to describing it is to imagine a place with no building or boats in sight, and with nearly every spot of land covered in white. Picture yourself on a Zodiac floating in ice-packed waters, and if you spin 360 degrees, your view is just more white. It's pure and it's raw—and it sounds cliché every time, until you get there.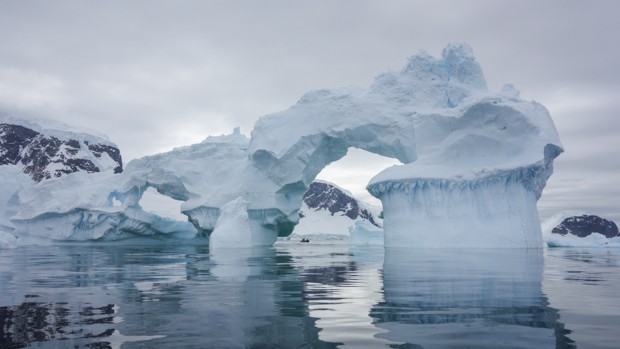 Why an Air Cruise Fit My Travel Needs
I chose to get there via air cruise for two reasons: time and I'm prone to sea sickness. If you are not familiar with the term air cruise, this type of expedition offers you access to Antarctica via a two-hour flight over the Drake Passage vs. two days at sea on the Drake Passage, but the end goal (getting to the Antarctic Peninsula) is the same. The Antarctic Express: Fly the Drake itinerary offered accommodation on the newly renovated 128-guest Ocean Adventurer, and I hopped on the chance to travel in such a unique way to the most remote part of our planet.
At present, air cruises depart from Punta Arenas, Chile, via charter flight and land two hours later at the country's Frei Station research base on King George Island in the South Shetland archipelago. Most classic sail-the-Drake Antarctic Peninsula cruises depart from Ushuaia, Argentina. This difference was another bonus for my interests as having my Antarctica trip start in Punta Arenas allowed me to easily explore Patagonia's Torres del Paine National Park pre-cruise.
Punta Arenas turned out to be a great hub, with a lively local culture and vibe, an impressive city cemetery, fun artisan shops and delicious food (I recommend La Casa de Doña María, La Luna, La Marmita and the locals' favorite Mercado Municipal across from the main dock). And I'm fortunate I liked it there as I had a whole extra day to spend because my trip's charter flight was grounded due to landing conditions: four centimeters of snow on the runway to be exact. While we waited for conditions to hopefully improve, I took advantage of exploring town a bit more.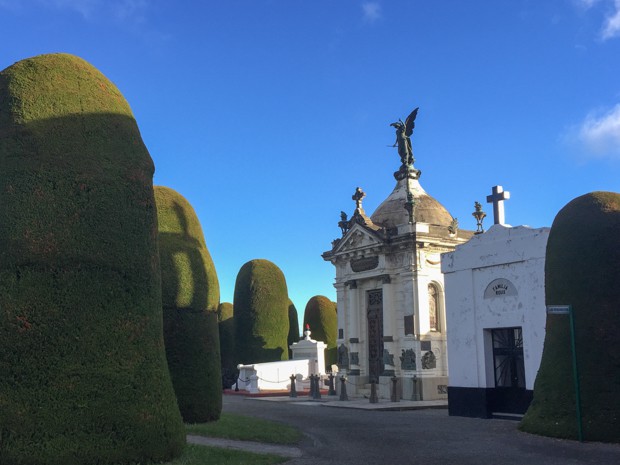 And when the time came to go, we went. As I learned, there is no "normal" time for flights to take off for Antarctica; every trip has its own weather-dictated course. Some flights leave in the morning, others mid-afternoon or at night. And in my lucky case 2:00am. But staying awake was easy as there was a breakfast served mid-flight and then the excitement of seeing Antarctic landscapes from above as we flew into Frei Station on King George Island.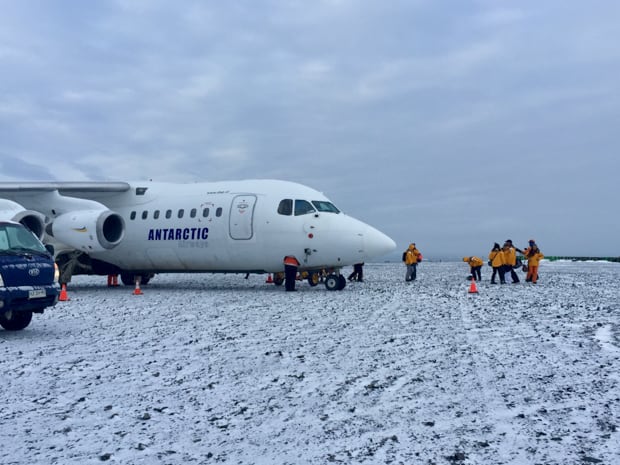 Landing by Plane in Antarctica
Touching down on the gravel runway was a feeling like no other I've had in an airplane; the sound was distinctly louder and I could sense the softer ground beneath the wheels. And the best part came when our plane came to a full stop and one of the ship's expedition guides—windswept and rugged from waiting for us out in the elements—came aboard, grabbed the PA and said, "Welcome to Antarctica!" After his hearty greeting it was all business as the Chilean base has its rules (no photos) and no facilities, so we quickly mustered off to the side of the runway, then walked the mile to shore. The ship was anchored out in the bay, so at the shore we hopped aboard zodiacs for a five-minute ride to our floating home for the week.
Despite the delay and subsequent all-nighter (leaving the airport at midnight, then arriving on ship at 5:00am), by the time I had a few hours' nap, ate breakfast and caught my first sight of an Antarctic glacier, I had long forgotten about the long travel day. The whole sleep-deprived ship was abuzz with excitement as we anchored near a giant glacier, with the rocky Fort Point outcrop boasting gentoo and chinstrap penguin colonies. It was a beautiful, bright sunny day, so spirits were high and we felt well rewarded for our wait.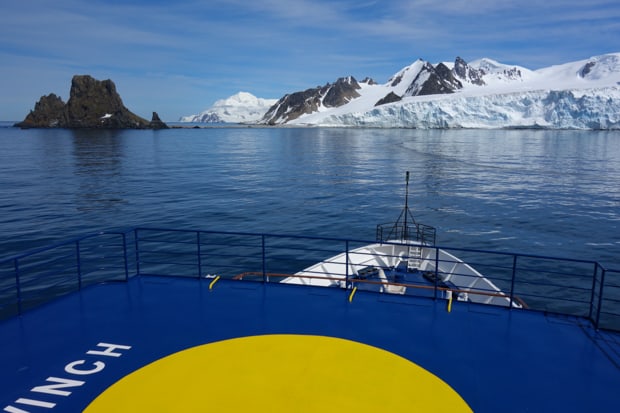 Daily Life on the White Continent
In the days that followed, our expedition leader, Allie from Australia, would brief us each night with a plan for the following day. Many times she presented a plan A, B and C, and one day we had to go all the way to our plan D. To orchestrate these landings, Allie would investigate weather forecasts for elements like icepack and cloud cover but most importantly for wind direction and speed. Many times, we were pleasantly surprised by conditions, and quite a few times wind or ice detoured our intended route. Over the course of the weeklong trip we had a bit of it all: two full days of sun, one morning of strong rain and wind, two days of cloud cover, light snow one afternoon and one morning of extreme wind (70 kilometers) that forced us to depart Deception Island early.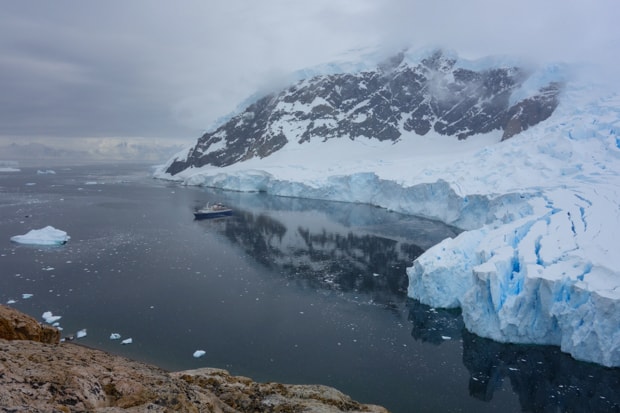 Each day the ship would split into two groups for each landing: One group would start on shore walking among penguin rookeries and up to sweeping views, while the second group went on water-based Zodiac excursions (approx. 10 people per Zodiac), seeking out dramatic icescapes, seals on ice and whales. After about an hour, the groups trade places. Those who signed up in advance to kayak were typically on their own in a smaller group of around 12 with 2 guides and a Zodiac driver for at least one half of each day, weather allowing.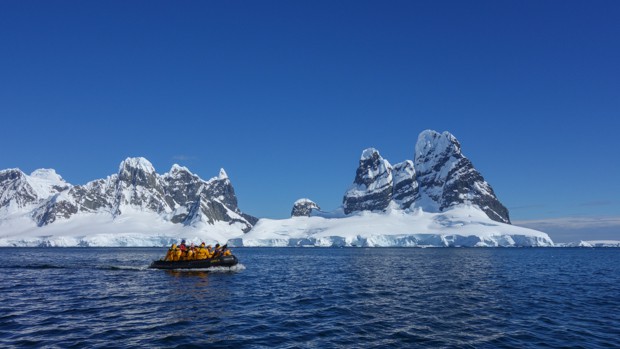 Some of my favorite moments were just sailing from place to place, as it was here I could take in Antarctica's sheer immensity as we passed it all by. One night after dinner I watched an Antarctic fulmar fly alongside our ship for at least 20 minutes. It was hard to leave the deck—even with the wind and the cold—as there was always something to see: whales, penguins on random icebergs and never-ending white landscapes.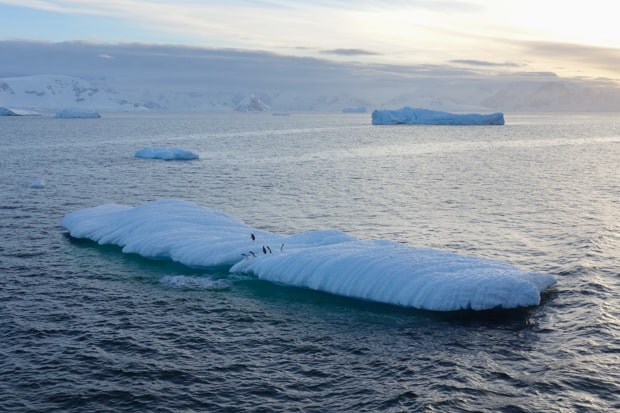 The biggest highlight was meeting so many curious penguins. I loved watching them build their nests, waddle on their penguin-highway trenches in the snow and porpoise through the water at incredible speeds. We saw gentoo, chinstrap and Adelie penguins over the course of the week; it took us near the end of the voyage to finally check off the Adelie species as a few attempts were foiled by ice conditions and wind. Traveling in mid-December, I was able to witness active penguin nesting and the first few penguin chicks were starting to hatch.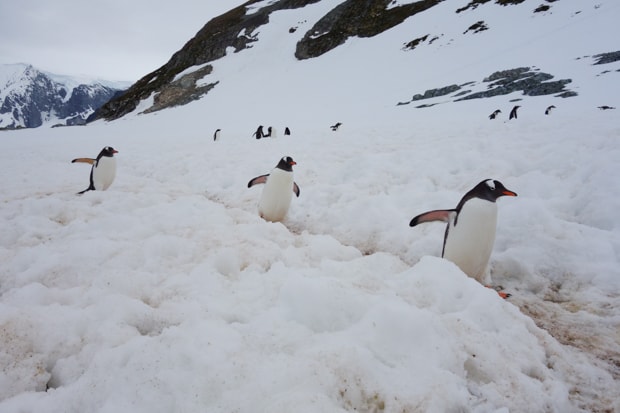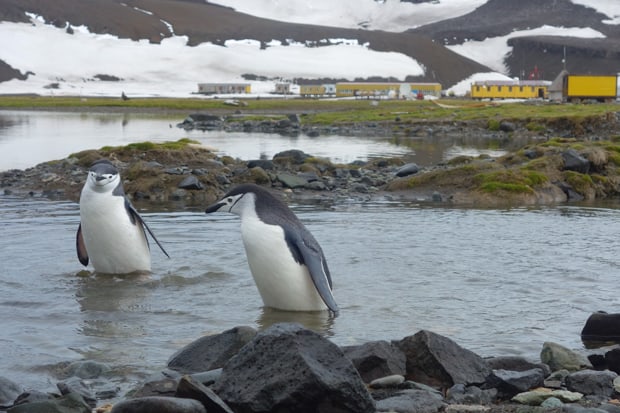 It was no surprise that I loved the penguins, but the most unexpected joy of my trip was visiting the research bases. We stopped at the historic British base at Port Lockroy on Goudier Island as well as the Polish Antarctic Station on King George Island. Port Lockroy, or Base A, has a small staff to maintain the site and run an impressive gift shop and living museum where they have rooms set up as they were back in the 1940s and 1950s. There are typewriters and weather instruments, a woodshop, a kitchen stocked with canned food and sleeping quarters with the likes of Elizabeth Taylor painted on the wall. And it was here that my dream of mailing a postcard from Antarctica was realized as Port Lockroy boasts the world's most southerly post office.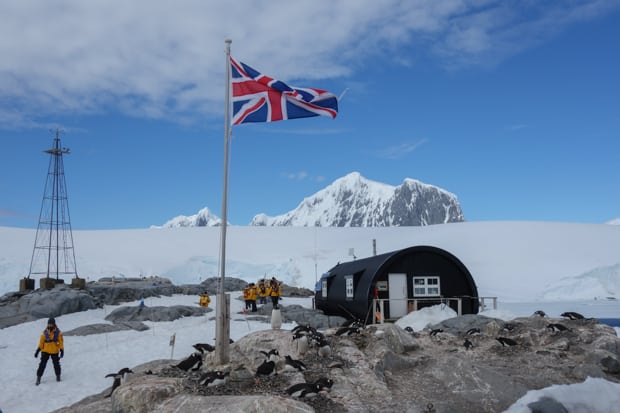 At the Henryk Arctowski Polish Antarctic Station, the building we visited was more of an active research base, but they welcomed us with citrus, coffee and a small gift shop selling homemade soap and trinkets made by their onsite 3D printer. Be sure to bring cash (US dollar) to take advantage of these bottom-of-the-world shops (not all accept credit cards).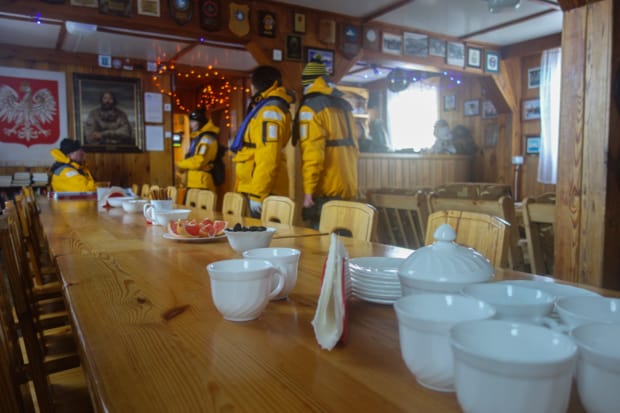 My Cabin Recommendations Aboard Ocean Adventurer
My home base aboard Ocean Adventurer was Twin Window cabin 219. Classic and expedition style, but with a nicely renovated bathroom, the room provided all I needed for a week aboard. The cabin's midship location is ideal for keeping sea sickness at bay, and it made it easier to access both ends of the ship.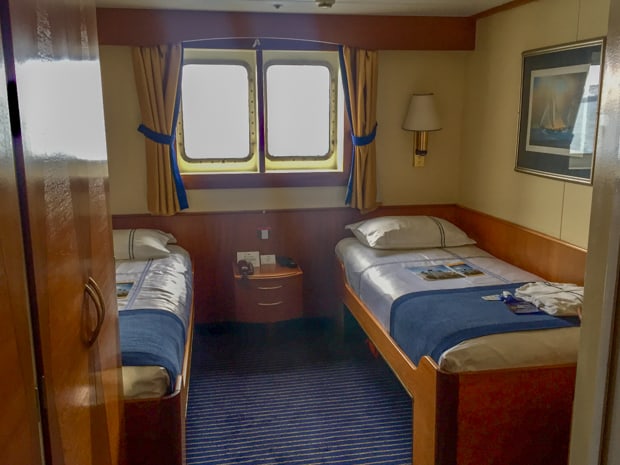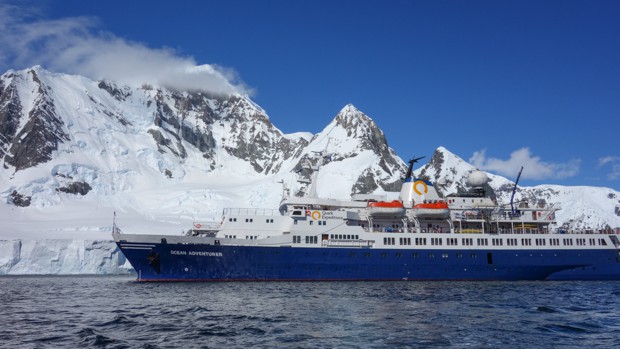 The Ocean Adventurer's dining room is located aft, with the lounge near the bow, so this separation of public spaces was a bit confusing at first to navigate. By the time I oriented myself, I was nearly off the ship. Cabins on the 200-level near the aft would often have lines gathering outside their doors for the twice-daily zodiac disembarkation, so avoid these rooms if you like more privacy. The Deluxe Suites cabin category on the Captain's Deck has a markedly more modern style as the annex for these suites was a new addition during the ship's extensive 2017 renovation. And if you're looking at an Owner's Suite, I'd opt for the aft-facing room 512; this suite has a sweeping view of the back of the ship and can be configured for quad occupancy—great for families.
Traveling as a Single in Antarctica
I was in a female share room, sharing my cabin with another single female traveler. And we were not the only ones alone; there were many singles of all ages but a surprising number of women aged 25 to 40 were traveling alone, even if they had partners back home. I'm not sure if there was any method to pairing up the singles aboard, but it seemed they matched us well. A set of four young single-traveling women became such good friends on day 1 that everyone thought they had originally booked together. I bonded right away with my cabinmate, and we often explored together but also went our own ways on many excursions. It was a really nice balance of alone time and being with newfound friends.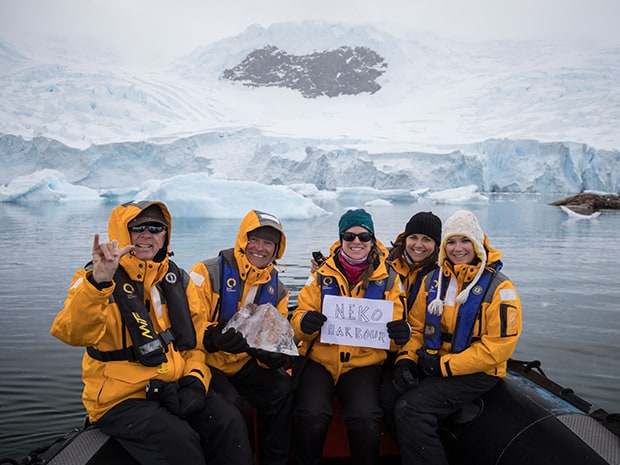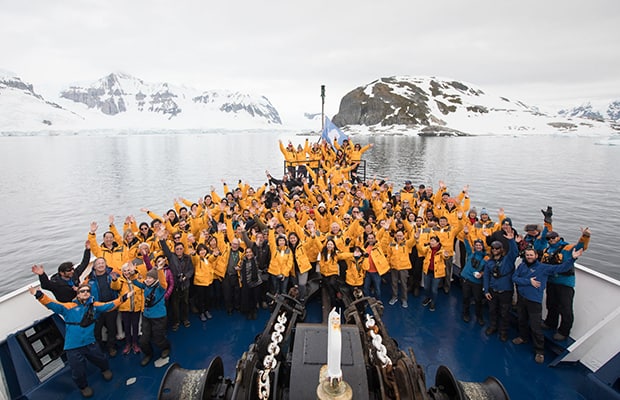 Quite a few passengers were bucket-listers reaching their final continent. My cabinmate from Washington D.C. was checking off her seventh continent of the calendar year. And just down the hall from us were two reality-show stars who teamed up to tackle all seven in a Guinness-record-setting 92 hours, assisted most notably by the speed of this air cruise.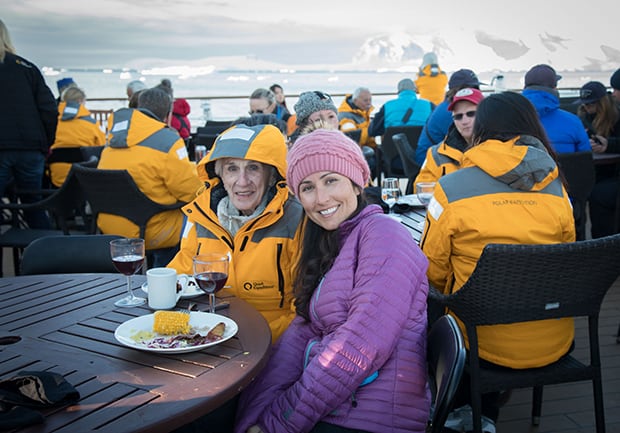 Fellow guests Reva, 97 years old, and Julie Berry of 7in72 who just set a new Guinness world record thanks to our air cruise. Above three photos by Acacia Johnson/Quark Expeditions
The youngest on board was age 21 and the oldest guest, Reva, was a hardy 97 years old. It was fun to meet fellow guests from all over the world (China, India, Australia, Canada, the Netherlands, the United States), and to take the polar plunge with an impressive 53 fellow passengers. The expedition guides hailed mainly from the United States and Canada (with two from Australia and one from Chile), but most had experience guiding on both poles. The captain and his crew were from Russia and the Ukraine, and their open-bridge policy allowed us to see their operations and a captain's view of Antarctica. Deck space throughout was ample and the bow featured raised platforms to help you peek over as well as a front-and-center raised platform perfect for Titanic posers. The circular cushioned chairs were a favorite lounge spot on sunny days, and the crew even threw us an outdoor barbecue one evening that was spectacular to eat in such a surreal setting.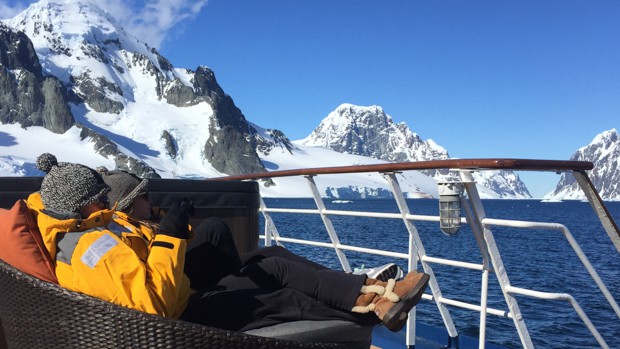 Why Fly the Drake
In all, flying the Drake Passage was such a luxury, and it was an exciting experience to make such an entrance to Antarctica. Even our delay (and that initial uncertainty) was exciting if you take it in the spirit of Antarctic adventure. In hindsight though, I do see one primary advantage of crossing the Drake by ship, and it's simply more time: time with fellow guests, time to spot wildlife and time for lectures from the expedition guides who are experts in marine biology, penguins, geology and photography. But that's why I recommend extending any Antarctic voyage as your time allows. The Ocean Adventurer and her sister ships sail a longer Crossing the Circle route, so this extended voyage would afford you a few extra days should there be any flight delays.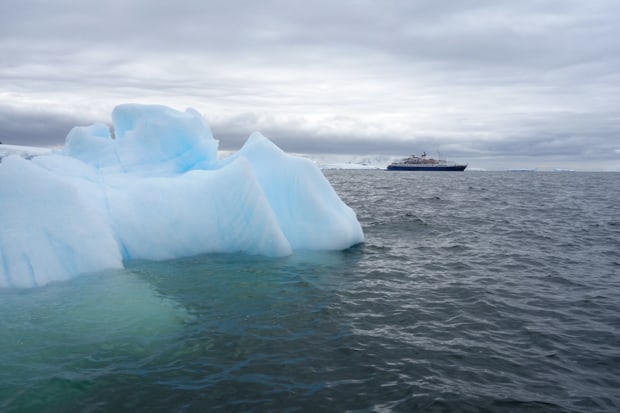 Flying the Drake surely puts a modern explorer's spin on the journey, but no matter how you get there, when it comes to travel on the White Continent, Antarctica calls the shots, and she's worth listening to.
For more photos from this cruise, including a picture of our "welcome to Antarctica" guide first boarding the plane, view my Fly the Drake Facebook album on AdventureSmith Explorations' Facebook page.
This Antarctica air cruise review was written by an AdventureSmith Explorations crew member. Use the AdventureSmith team's Antarctica cruise reviews and small ship cruise reviews for insights to inform, inspire and book your next trip aboard a small cruise ship. 1-800-728-2875.