If you're seeking to see the northern lights, or aurora borealis, on a small ship expedition cruise or active lodge, you've come to the right place. We've curated the best northern lights cruises that not only offer you a chance to view the spectacle, but also so much more. Since the aurora borealis cannot ever be guaranteed, you're sure to score with the wildlife viewing, adventure activities and local culture on these guided, small group trips.
Find the top northern lights cruises listed on this page, or read our advice about timing it right to see them on even more trips.
ON THIS PAGE – Northern Lights Cruises:
Why Take Northern Lights Cruise?
Timing Your Cruise
Greenland Northern Lights Cruises
Iceland Northern Lights Cruises
Polar Bears & Northern Lights
Alaska Northern Lights Cruises
Southern Lights Antarctica Cruises
View the Top Trips & Start Planning
TITLE PHOTO BY: Anthony Smith from Arctic Sights & Northern Lights
Why Take a Northern Lights Cruise?
Small ship cruises are the ultimate gateway to wilderness. Being on a ship allows you remote anchorages with dark skies that mirror a midnight-blue sea. The captain and his chosen route can be flexible to take advantage of clear-sky weather opportunities and other microclimates common to Arctic regions and fjords. And you get a full-package experience if the skies just don't cooperate.
Another bonus is that ships are mobile, and able to reach the northernmost latitudes of the Earth. The aurora borealis phenomenon typically occurs between 60 and 75 degrees latitude, which covers the northern parts of Alaska, Canada, Norway, Sweden, Finland, Russia; all of Iceland; and the southern part of Greenland. But the auroral oval constantly shifts, so small ships can sometimes vary their route to take advantage of optimum conditions.
Timing Your Northern Lights Cruise
The only drawback to northern lights cruises are that they are not as commonly found deep in the winter months when you are most likely to encounter northern lights. But nine out ten travelers wouldn't want to be in the northern latitudes of the Earth during that very dark, cold time.
So if you want the full-package experience, an aurora borealis cruise offers the best of the region's weather, wildlife and culture, with the bonus of seeking to see the night sky light up. Learn about timing it right to see the aurora borealis in the regions we sail below.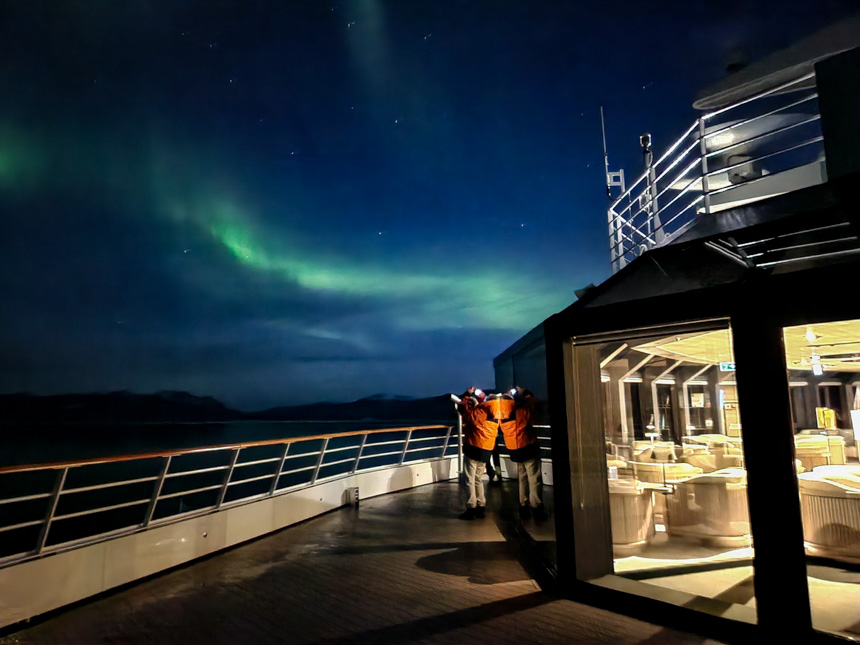 Our Experts
Were Here
You have questions.
We have answers.
Seeing Greenland Northern Lights
The majority of our focused northern lights cruises are in Greenland. Here, the aurora borealis can be seen from the end of August to the beginning of April. Aboard Greenland expedition cruises, northern lights themed itineraries usually operate in August, September and October. These routes typically focus their exploration on East Greenland, namely in Scoresby Sund.
If you're seeking Greenland northern lights, look to several focused trips in this region for your best bets to spot them. A bonus on some: with Reykjavík as an embarkation port, you can explore Iceland pre- or post-cruise for more opportunities.
The later your departure date in the year, the more chance you will have to see the aurora borealis. But you simply never know. AdventureSmith's specialists witnessed the northern lights (pictured above) during an August North Pole expedition that stopped in Scoresby Sund.
But of course, the northern lights in Greenland can also be seen in many other places like Kangerlussuaq, Disko Bay and Nuuk (all in West Greenland). The top Greenland Northern lights cruises are listed below, but view all our Greenland cruises to see more available itineraries that offer you a chance if timed right.
Find a Northern
Lights Cruise
See the top trips to catch the aurora.
Iceland Cruises with Northern Lights
The entire island of Iceland is located in the prime latitude for viewing the aurora borealis. But interestingly, many of our Iceland-only cruises don't focus on the northern lights. That has a lot to do with the timing of cruises operating here, primarily in the middle-summer months. Instead, look for Iceland Northern lights found primarily on cruise itineraries that also sail north into Greenland. Your greatest likelihood to spot the sky lighting up in Iceland is by booking as early or late into the sailing season as you can. Look to cruises here in April, September or October to have the best chance. View & filter all Iceland cruises by date.
Polar Bear & Northern Lights Tours in Svalbard & Canada
Many travelers have expressed interest in trips that include both the northern lights and polar bears. It is possible to be lucky enough to see both aurora borealis and polar bears in one trip to the Arctic, but never guaranteed. For a higher likelihood of this happening we would recommend taking a Svalbard cruise when there are more hours of darkness.
But the catch is that the Svalbard cruising season primarily occurs in the northern hemisphere's summer, under the midnight sun, a time when the sun never sets in the Arctic. As such, it is not possible to view the northern lights during this time. Thus, the best time to view the northern lights here is at the end of the summer cruising season in late August and September. View & filter all Svalbard cruises by date.
Another great idea to combine both polar bears and the northern lights on an Arctic tour is the Tundra Lodge Adventure on the shores of Canada's Hudson Bay. This lodge-based basecamp for viewing polar bears is offered later than cruises, into October and November, just when the nights become longer and allow for opportunities to see the aurora borealis as well.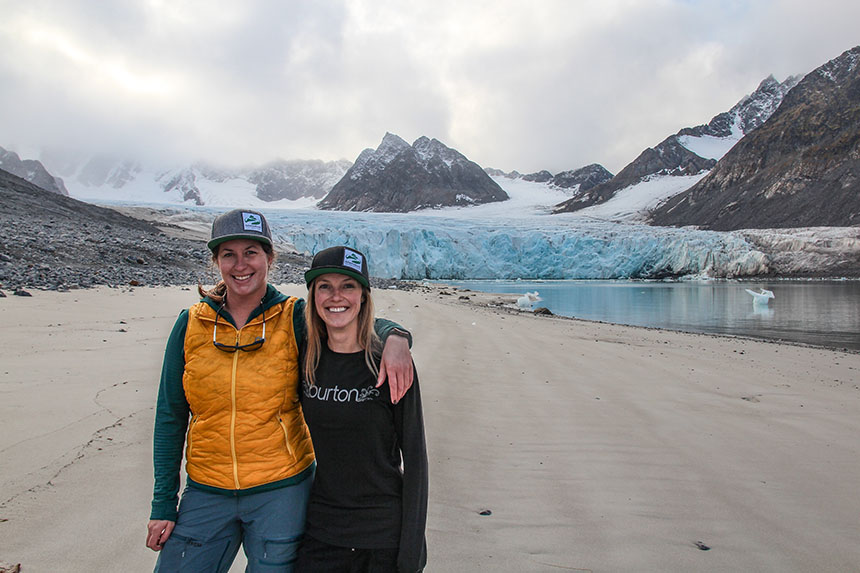 Make It Happen
Let our Arctic experts make
planning a breeze.
Northern Lights Alaska Cruise Options
Because the northern lights can be seen as low as 40 degrees latitude and Southeast Alaska is positioned between 55 and 60 degrees, you are well positioned to have a chance. Albeit a small one, we've had many passengers experience this phenomenon on a non-themed northern lights Alaska cruise. They just happened to time it right to be lucky!
Read our reviews below to see our travelers spotting the northern lights on late-season departures of the Inside Passage & Glacier Bay Wilderness Cruise, Glacier Bay & Island Adventure Cruise, Denali Backcountry Explorer and Alaska Wildland Collection trips.
To see Alaska northern lights yourself on an Inside Passage small ship cruise, book your cruise as early or late in the cruising season as possible: typically March or late September or October for the best chances. Currently, our Prince William Sound cruise itineraries in a higher latitude are not operating late enough in the season to have as good of a chance for viewing northern lights.
Since Alaska small ship cruises are among our top-selling worldwide, our offerings are continually being updated, so be sure to check back for occasional Alaska winter cruise options. Our travelers have enjoyed nights on deck watching for shooting stars and northern lights, with hot tubs on board many of the ships to ramp up the experience. View & filter all Alaska cruises by date.
See the Alaska
Northern Lights
Search for trips with departures in
September & October for your best chance.
Aurora Australis – Southern Lights Antarctica Cruises
Even more rarely seen than the northern lights are the southern lights, best seen every 11 years in Antarctica. The southern lights are the most active and visible here during the months of March to September. Since the expedition cruise season winds down in March, it's rare to find a trip with a focus on seeing the southern lights. But the conditions are lining up for southern lights cruises in 2025, and a special departure of the Polar Circle Cruise on March 21, 2025. The captain is lengthening the itinerary to 16 days to take advantage of an optimal chance to view the southern lights as well as many Southern Hemisphere stars and celestial objects, including the Southern Cross and Magellanic clouds. Plus enjoy talks by a professor of astronomy and physics as well as a NASA scientist who are coming aboard. View & filter all Antarctica cruises by date.
The Best Northern Lights Cruises for 2024 & Beyond
Find the top northern lights cruises in 2024 and 2025 here on this page, narrowing down by your travel dates or price range. Or contact us for a personalized recommendation and a free quote today.