If you're seeking information on the Antarctica 2023 and 2024 season, or are looking ahead to Antarctica 2025, you've come to the right place. Read on for a detailed report of the Antarctica 2023, 2024 and 2025 seasons, or head straight to the listings to filter trips by your preferred travel dates.
Our expert team of travel specialists helps clients navigate the logistics required to reach Antarctica during these fluid times. Antarctica cruises for the 2023-2024 season are in high demand. And, booking ahead early for future seasons is the best way to ensure you get the ship, trip and activities you want when you visit the White Continent. Let us help you secure your dream Antarctica expedition.
ON THIS PAGE – Antarctica 2023, 2024 & 2025:
2023 Antarctica Cruise Information
2024 Antarctica Cruise Information
2025 Antarctica Cruise Information
View & Filter All 2023-2025 Cruises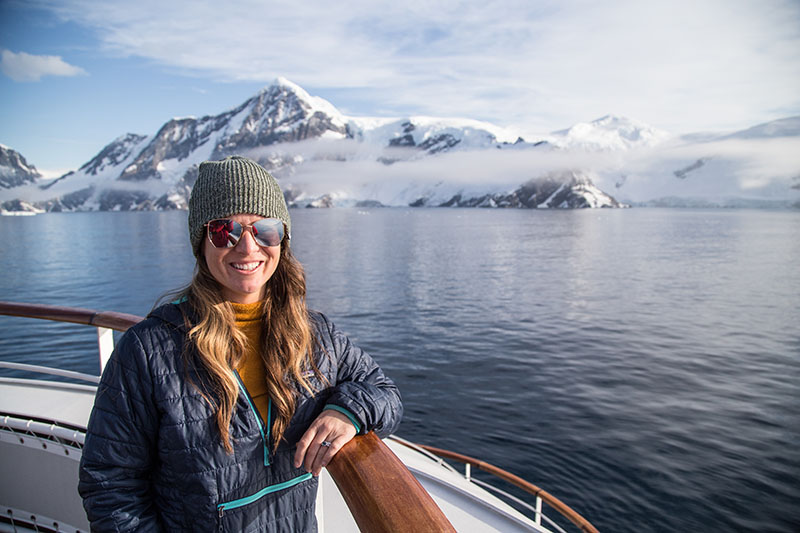 MAKE THIS THE
YEAR YOU GO
Full-service booking from
experts who've been there.
Few COVID Restrictions for Antarctica Cruises in 2023
Argentina and Chile have lifted their COVID-related entry requirements, making an Antarctica cruise in 2023 even easier. However, select operators still have their own requirements for joining their Antarctica cruises in 2023. Stay up to date on the latest requirements listed here: Antarctica Travel Restrictions: What You Need to Know Now.
Antarctica 2023 – New & Updated Ships
If you are looking at an Antarctica cruise 2023, now is the time to talk to our experts. Noteworthy for the the 2023-24 season is that our partner Antarctica cruise lines put a number of new ships into service in recent years, making it a great time to travel to Antarctica in modern style. Antarctica 2023 will be the second or third season for these ships, with any and all kinks worked out. For details on these recent additions operating Antarctica cruises in 2023, see our pages on Le Commandant Charcot, Sylvia Earle, Ultramarine, National Geographic Endurance and National Geographic Resolution.
Starting with the Antarctica 2023 season, National Geographic ships Endurance & Resolution (owned and operated by Lindblad Expeditions) offer more Category 5 cabins. Having replaced some Category 7 options, these top deck cabins mean more opportunity for an Antarctica 2023 cruise at a lower fare. Read our expert's ship review to learn why we highly recommend these expedition ships.
Booking Antarctica 2024 & Beyond
If your Antarctica 2024 travel is at the beginning of the year, it falls under the 2023-2024 Antarctica season, running approximately November 2023 through March 2024. Rates have been released for early 2024 Antarctica cruises since late 2021, so the time is now to book if you are seeking to travel in the early months of 2024. And early-booking Antarctica cruise deals can be found for these departures, so that's another reason to act now to book Antarctica 2024 travel.
Get Your Activities Included in Antarctica 2024
Most Antarctica cruises require an added fee for special activity programs, such as kayaking and camping (learn more in our primers on Things to Do in Antarctica and Antarctica cost). The Antarctic Peninsula Basecamp Cruise has long been popular with travelers due to its all-activities-included nature. Starting in Antarctica 2024, the new Antarctica All-Access itinerary will do the same, offering kayaking, camping and snowshoeing at no extra cost.
New Shackleton Departure – Antarctica 2025
For polar history buffs and fans of Sir Ernest Shackleton, the March 16, 2025 "In Shackleton's Footsteps" departure of South Georgia & Antarctic Odyssey Cruise traces the route of the fateful Endurance Trans-Antarctic Expedition. Travelers will appreciate the opportunity for an optional hike from Fortuna Bay to Stromness that follows the final stage of Shackleton, Worsely and Crean's improbable traverse of South Georgia.
View the Southern Lights in Antarctica 2025
Head to the Antarctic Circle on a special departure of the Polar Circle Cruise for an optimal chance to view the Southern Lights. With little moonlight below the Circle, travelers on the March 21, 2025 departure may spot the rare Aurora Australis (best seen every 11 years), as well as many Southern Hemisphere stars and celestial objects, including the Southern Cross and Magellanic Clouds. Plus enjoy talks by a professor of astronomy and physics as well as a NASA scientist.
MORE ANTARCTICA RESOURCES:
Antarctica Cruises
Luxury Antarctica Cruises
Falkland Islands & South Georgia Cruises
Cruises with Flights to Antarctica
Best Time to Visit Antarctica
Antarctica Cruise Cost
How to Get to Antarctica
Things to Do in Antarctica
Places in Antarctica
Antarctica Ships
Antarctica Travel Guide
Best Antarctica Cruise Lines
Antarctica Cruise Deals
Antarctica Cruise Reviews
View All 2023-2025 Cruise Itineraries & Filter by Dates
Browse our curated selection of 2023, 2024 & 2025 Antarctic cruises below. Our crew has extensive experience traveling to the White Continent, and help hundreds of travelers each year research, book and prepare for their expeditions. Use the filters to narrow down your search or contact us for a personalized recommendation.