Cruising among massive glaciers and walking among penguins on the White Continent is a dream come true for many travelers. But the cost to go to Antarctica may cause some sleepless nights. Our experts share their inside knowledge and money-saving tips to help you answer the question "How much does it cost to go to Antarctica?"
The average Antarctica cruise cost is about $8,000 per person. The least expensive trips to Antarctica start at under $5,000. Luxury voyages can exceed $15,000 per person.
IN THIS POST – Antarctica Cruise Cost:
Antarctica Price Factors
Cruises: Budget, Mid-Range, Luxury
Consider:
– Ship Size, Cabin, Inclusions
– Extras & Travel Essentials
Costs: Solo Travelers & By Season
How to Save on Antarctica
Cost to Go to Antarctica
More Resources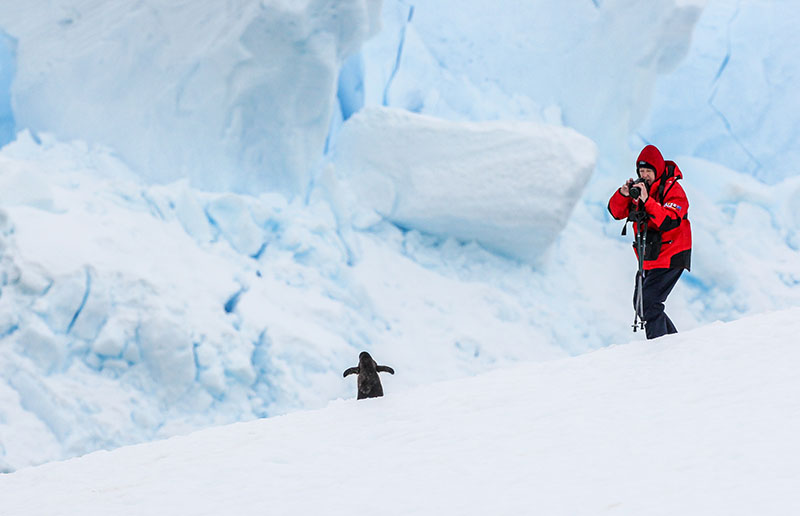 Make It Happen
Stay in the loop on Antarctica
& save when you go.
Antarctica Trip Price Factors
Antarctic trip costs can vary widely based on several things. The number of days, the time of year, when you book, the ship itself and cabin category are the primary factors influencing Antarctica cruise price.
The price is also based on where you are going, with Falkland Islands and South Georgia cruise itineraries and emperor penguin voyages in the Weddell Sea being among the highest since these voyages are longer.
In addition to the cruise price, there are additional expenses travelers should account for to calculate the full Antarctica travel cost. These include the cost of flights, pre- or post-cruise hotel overnights, added optional adventure activities and gear.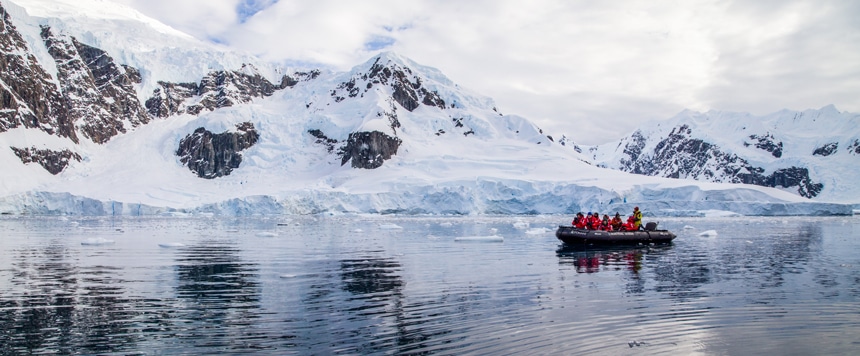 Antarctica Cruise Cost Varies by Ship
Antarctica cruise prices can vary significantly depending on the style and amenities of the ship. Converted research vessels are simple and affordable. Traditional expedition ships have cruised in comfort for years. Newly designed, next-generation ships are taking technology and luxury to a whole new level. There are Antarctica trips and ships to fit every budget and style.
Budget Antarctica Cruises
Simple expedition ships with fewer inclusions, basic amenities and smaller cabins will cost less. Budget cruises range from just under $5,000 per person to $8,000. These cost-effective expeditions are like cruising base camps that focus on adventure over amenities. Expect simple but clean and comfortable accommodations. Triple and quad cabins and shared bathrooms can keep costs down. These ships feature no-frills common areas, basic but satisfying meals and foreign crew.
A budget Antarctica cruise will offer an experienced expedition crew and off-vessel activities to explore up close. Affordable cruise packages may not include internal flights, pre-cruise hotel overnights, airport transfers, or added excursions such as sea kayaking or snowshoeing. Be sure to review inclusions before you budget the full cost of your Antarctica trip.
View Budget Cruises
See the full list of the most affordable itineraries.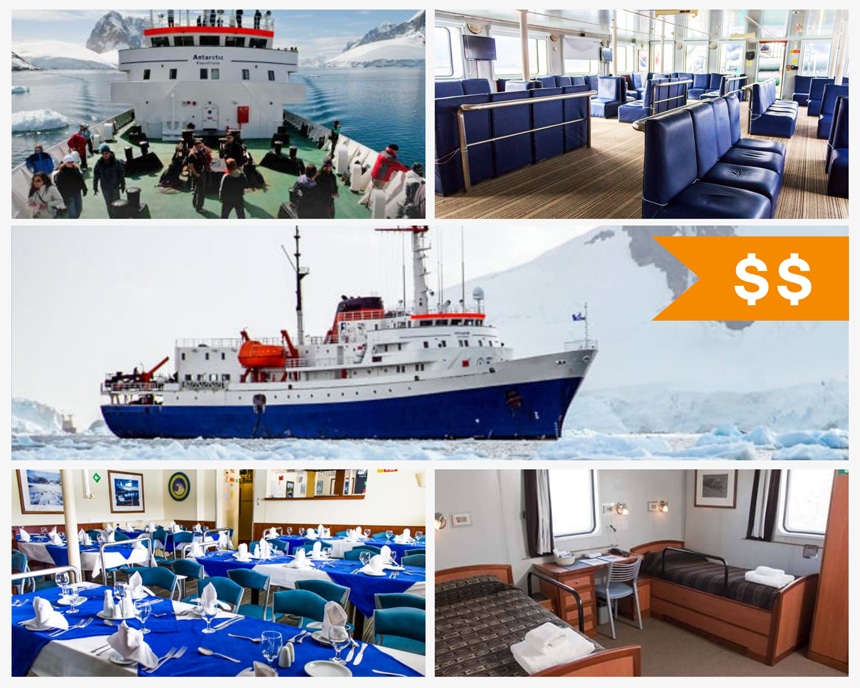 Mid-Range Cruises
Most cruises fall into the mid-range price category and will cost $8,000 to $15,000 per person. These are typically seasoned expedition vessels with many years' experience plying polar waters. These ships offer the sweet spot between comfort and price. A variety of cabins and onboard comforts, from simple to upscale, will satisfy most travelers. Amenities such as gyms, libraries, lecture rooms and comfortable lounges create an atmosphere familiar to experienced small ship cruisers. Expedition crew and onboard programs are a highlight, meals are delicious and off-vessel activities are extensive. You do not have to sacrifice comfort for price on a mid-range cruise.
View Mid-Range Cruises
See the itineraries that balance comfort & price.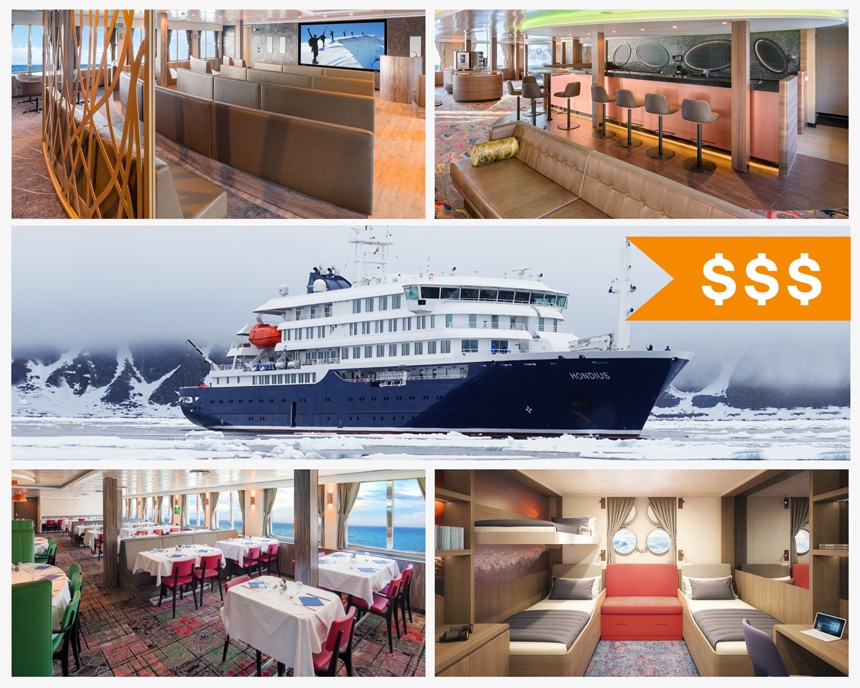 Luxury Cruises
A modern fleet of purpose-built expedition ships has emerged in recent years, offering a new level of comfort and efficiency in polar cruising. Newly launched luxury ships with modern amenities, the finest cabins and upscale service will cost more. Expect to pay $15,000 or more per person for a luxury cruise. Entry level cabins may cost a bit less while the sky is the limit for luxury suites. Many travelers think the extra price is worthwhile.
Modern design with stabilizers and even X-BOW® technology can make a smoother (less rough) voyage. Newer, more efficient engines travel faster, shortening the time to cross the Drake Passage or other rough seas. Luxury Antarctica cruises will feature Jacuzzis, a full-service spa, gourmet cuisine and five-star service. Cabins and suites are larger and can include large view windows or even balconies. Guides and science-based tools for exploration, such as underwater rovers and video microscopes, are the best available.
View Luxury Cruises
See the White Continent's finest itineraries.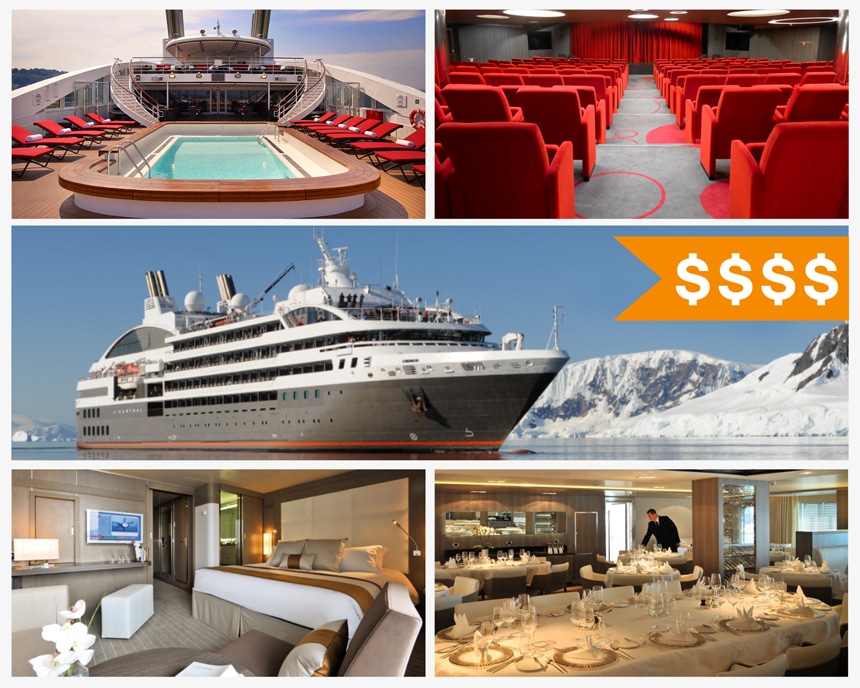 Ship Size & Fleet Considerations
The size of the ship may influence your Antarctica cruise cost and the experience. Larger ships have economies of scale and can present a good value. But also consider that only 100 guests are allowed ashore at one time in Antarctica. So, a larger Antarctica ship might present more time in the Zodiac or more time waiting and less time ashore.
Different ships within the same fleet can vary. As stated above, newer and more recently remodeled ships with updated amenities and more space will cost more.
This is where an expert opinion can assist. We have cruised aboard or personally inspected every ship we represent. Our experience will help you find the best trip at the lowest price.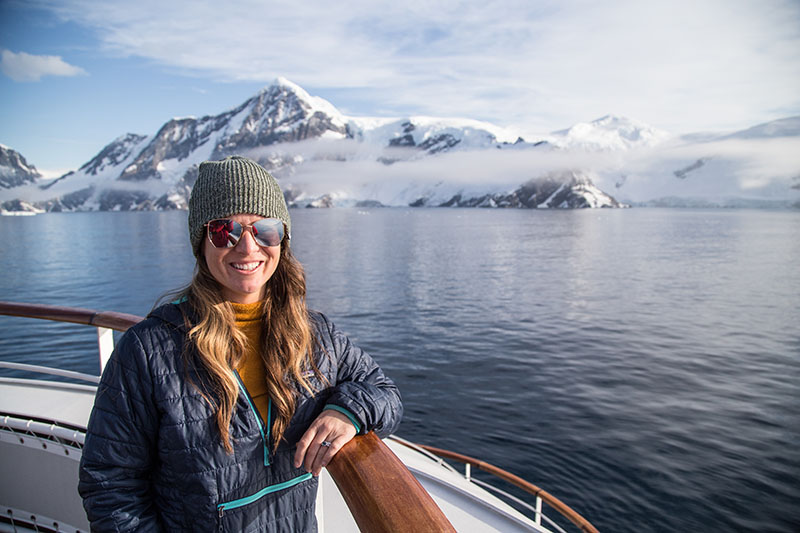 Get A Free Quote
1-on-1 consultation.
Start planning today.
Cabin Category & Antarctica Price
Once you have selected your ship, the cabin category will greatly influence the overall cost of a cruise to Antarctica.
In general cabins lower on the ship, closer to the waterline, are the least expensive. These cabins are sometimes on the interior of the ship or have portholes instead of view windows. Ships that offer triple or quad bed configurations can further reduce your Antarctica trip cost. Shared bathrooms will reduce your Antarctica price even further. A benefit of being lower on the ship is less rocking when rough seas are encountered.
As you get higher on the ship the staterooms often get nicer and feature more space, large view windows and sometimes balconies. On higher decks you are closer to outdoor observation decks and therefore closer to Antarctica. Suites can offer much more space, with a sitting area in addition to the bedroom. Luxury ships might offer upscale amenities such as heated bathroom floors, in-room WiFi, entertainment systems or even butler and room service.
View All Ships
See all the small ship options in Antarctica.
Antarctica Cruise Price: What's Included?
When researching Antarctica cruise costs, be sure to review inclusions and exclusions carefully. Antarctica luxury cruises will have a higher initial price, but often include items such as pre-cruise hotel overnights, round-trip charter flights to Ushuaia and ground transportation between the airport and the ship. Luxury cruises may also include complimentary amenities such as expedition parkas, alcoholic beverages, gratuities, unlimited WiFi and even all shore excursions.
Budget-minded cruises will not include flights or pre-cruise hotel overnights. They may charge for optional activities such as kayaking or snowshoeing. Some may even add port fees or taxes to the advertised price. These costs can add up so be sure to include them when calculating your overall Antarctica trip cost.
Extra Antarctica Trip Costs
Flights are the largest expense in addition to your Antarctica cruise cost. Air from North America to Buenos Aires average $1,200 to $1,500 per person. Flights can drop as low as $600 or go as high as $2,000 if you book last-minute.
If not included in your cruise cost, the round-trip flight from Buenos Aires to Ushuaia can set you back an additional $300 to $1,000. Some cruises will offer an optional charter flight package to Ushuaia while for others it may be required but not included. Specialty Antarctica air cruises that fly passengers over the Drake Passage include this charter flight in the trip cost; learn more about these cruises with flights to Antarctica.
All our Antarctica cruises include complimentary shore excursions such as small craft explorations and shore walks. Some include additional activities such as sea kayaking and overnight camping, but most will charge extra for this type of optional activity. A typical sea kayaking, snowshoeing, one-time paddle or stand-up paddleboarding package will cost $300 to $1,200 per person. More extreme activities such as ski/snowboard touring, mountaineering or scuba diving can run as high as $2,200.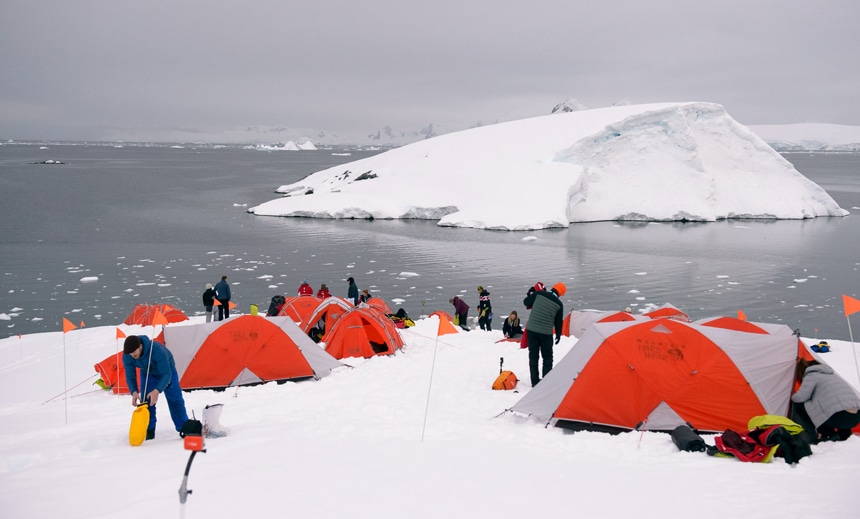 Travel Essential Expenses
You don't need much gear to travel to Antarctica but there are a few things to consider. Most ships include insulated rubber muck boots needed for excursions ashore. If not, there are gear rental services available so you don't have to purchase and pack boots you may use on this trip only. See our outfitters page for gear rentals.
The days of an included expedition parka on every trip are over. Luxury ships will include this in the price and it's yours to keep. Some ships offer one for use for the duration of the trip. Others don't include one at all. Most outfitters will be happy to sell you a parka, which can be a nice memento of your adventure. Purchasing a heavy snow jacket at your local outfitter should suffice and is the most cost-effective option.
Other items you will need include waterproof pants, gloves, a warm hat, binoculars, camera and other travel essentials. AdventureSmith will provide a packing guide, but don't forget to add these items to your Antarctica travel budget if you don't already own them. View our online store stocked with adventure gear and accessories. Stock up on our selection of the best Antarctica books.
Antarctica Cruise Cost for Solo Travelers
Some ships offer a willing-to-share program to help solo travelers keep costs down. If you are willing to share with a same-sex roommate, then you will be paired with another traveler to avoid paying a single supplement. Other ships might offer dedicated single cabins at a reduced rate. Or single travelers can opt to pay a supplement to guarantee a cabin of their own. Antarctica is popular with solo travelers, so we advise you book early to get the best price.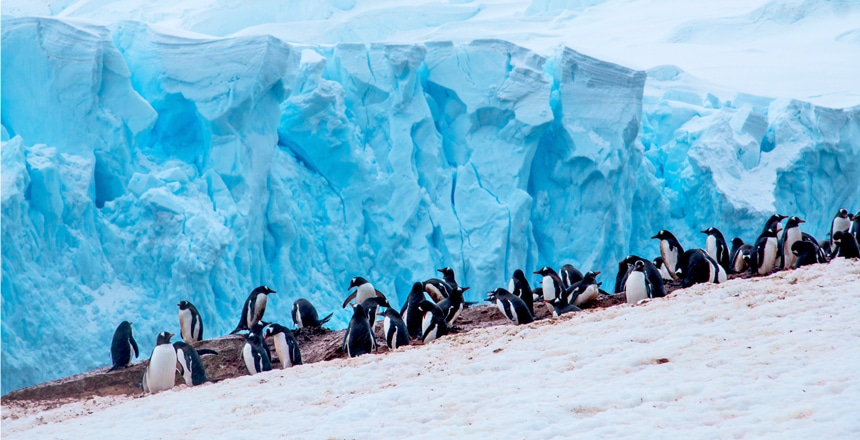 Antarctica Cruise Costs by Season
The time of year you travel will have a significant impact on your Antarctica cruise cost. The most expensive time to travel is during high season from mid-December through the end of February. The cost is lowest in November and March. In general travelers can save about 20% by traveling in the shoulder seasons. Learn more about the best time to visit Antarctica.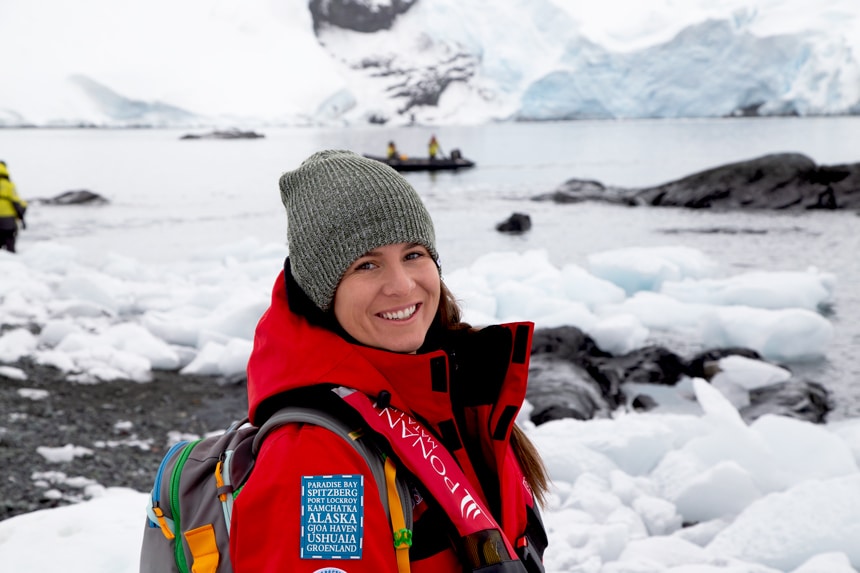 Antarctica Deals & Tips to Save
Saving money is your best ticket to Antarctica There are no shortage of agencies advertising budget Antarctica cruises. We advise travelers to focus not only on price, but also on value. Picking the right cruise is as important as finding the best Antarctica price. See our selection of Antarctica cruise deals and money saving tips. Then contact our experts to get the best value and price on your trip to Antarctica.
So, How Much Does It Cost to Go to Antarctica?
Put it all together and the average cost to go to Antarctica is $7,000-$10,000 per person. With this budget you'll get a solid vessel, up-close explorations, great guides and the trip of a lifetime. You will sleep soundly knowing your expedition was worth every penny.
MORE ANTARCTICA RESOURCES:
Antarctica Travel Guide
Antarctica Cruises
Luxury Antarctica Cruises
Falkland Islands & South Georgia Cruises
Cruises with Flights to Antarctica
Best Time to Visit Antarctica
How to Get to Antarctica
Things to Do in Antarctica
Places in Antarctica
Antarctica Ships
Best Antarctica Cruise Lines
Antarctica Cruise Deals
Antarctica Cruise Reviews
Have a question about the cost of Antarctica travel? Please use the comments below and our experts will answer right away. Or sign up for the AdventureSmith Explorations newsletter to have the latest about Antarctica delivered to your inbox. Interested in a quote or want to check availability? Contact us.