Antarctica has many superlatives: coldest, windiest, driest. We always add a fourth item to this list: most surprisingly fun. In this post we detail things to do in Antarctica, and what you may experience while doing them.
Most of these things to do in Antarctica require advanced reservations to secure your space, as well as an added fee. Contact our Antarctica experts to not only learn more about what to do in Antarctica, but also what Antarctica cruise best suits your interests and has available activity space.
Antarctica Hiking Tours
Every expedition cruise in Antarctica offers hiking as an included activity. Certain visitor sites are ideal for Antarctica hiking tours. Some sites even offer a snow slide back to the bottom. Antarctica hiking tours are always accompanied by a guide and always optional. Shore walks or Zodiac cruises will always be an alternative to Antarctica hiking tours.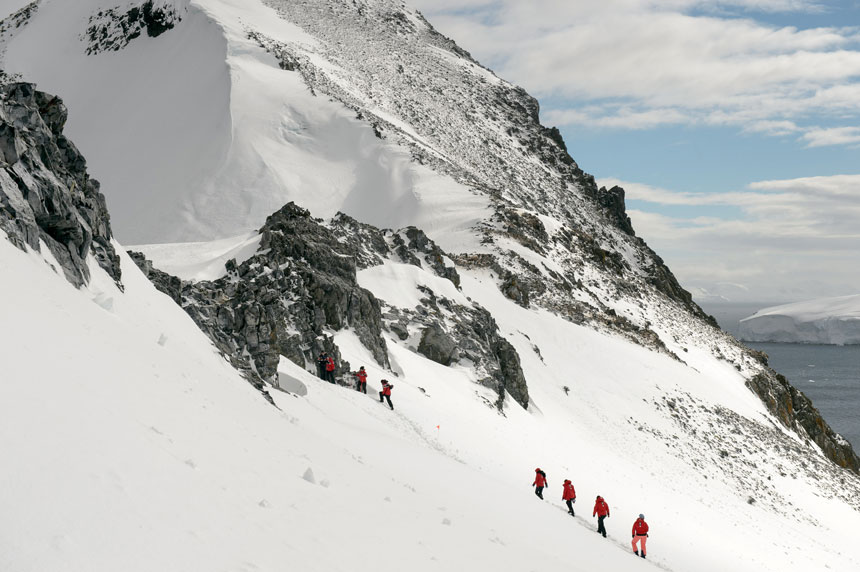 Zodiac Cruises in Antarctica
On all of our trips to Antarctica, you will experience at least one Zodiac cruise. These excursions are always included in your Antarctica cruise cost and they're not to be missed. Some places in Antarctica either don't allow groups to make landfall, or are better explored by water. Gently meander along colorful icebergs, watching seals loll around and penguins jump in and out of the water. Explore rocky outcrops and arches. Watch for thunderous calving glaciers.
If whales are around, your Zodiac driver will get close while maintaining a safe distance. Here's one whale encounter that Adventure Specialist Arielle was fortunate to experience:
Kayaking in Antarctica
Kayaking in Antarctica is surreal. Floating peacefully beside seals, sea lions, penguins, icebergs and even sometimes whales, is an experience distinctly different from a Zodiac cruise. Most ships offer kayaking in Antarctica, typically as a series of tandem paddles throughout the cruise, which must be reserved in advance. Some Antarctica cruise lines offer one-time paddle opportunities as well.
Learn why kayaking in Antarctica was "the ultimate paddling experience" for one of our Antarctica experts, in his Polar Circle Cruise Expert Review.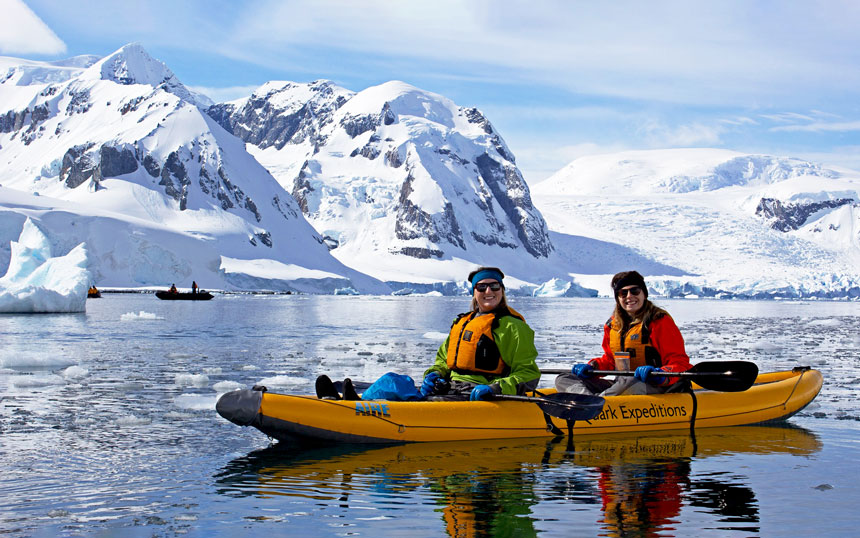 Camping in Antarctica
Camping in Antarctica is unlike camping anywhere else on Earth. The pristine environment and ever-present wildlife makes for an enchanting night of sounds: rumblings of shifting ice, the crackling of a glacier calving, the coos of a penguin colony, the soft fwisshhhh of a whale blowhole.
Some of the best Antarctica cruise lines offer camping in Antarctica; they provide you with the gear—typically a waterproof bivy sack or tent, a sleeping pad and a four-season synthetic sleeping bag. Campers are ferried to shore after dinner and given time to set up camp and use a makeshift bathroom before climbing into bed for a night of quiet.
Learn why camping in Antarctica was both "magical and mental" for one of our Antarctica experts, in her Antarctic Explorer, Camping & Kayaking Expert Review.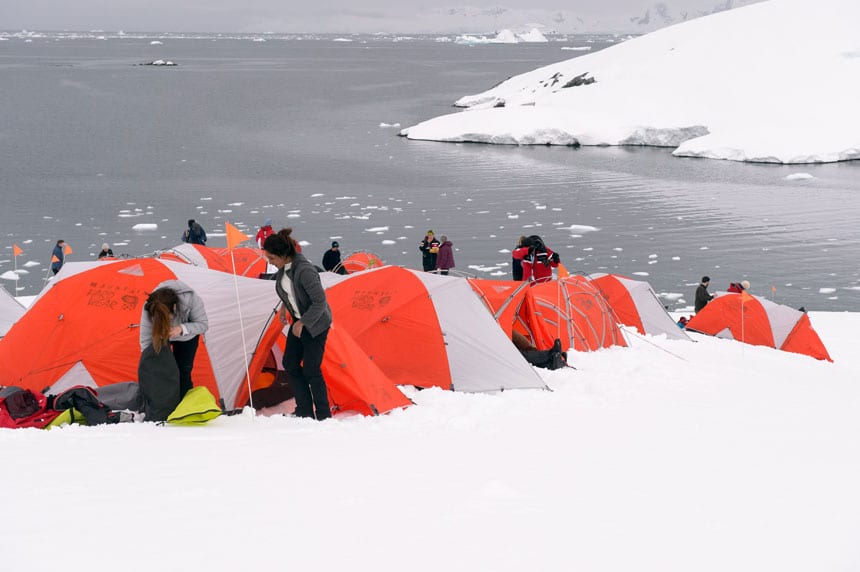 Snowshoeing in Antarctica
Snowshoeing is one of the most popular and widely available things to do in Antarctica. Snowshow trekking tours in Antarctica can range from an easy hike to an all-day, geared-up affair. Your ship will provide any necessary equipment. Trekking tours in Antarctica will be offered either as an included activity or for a small fee with an onboard booking.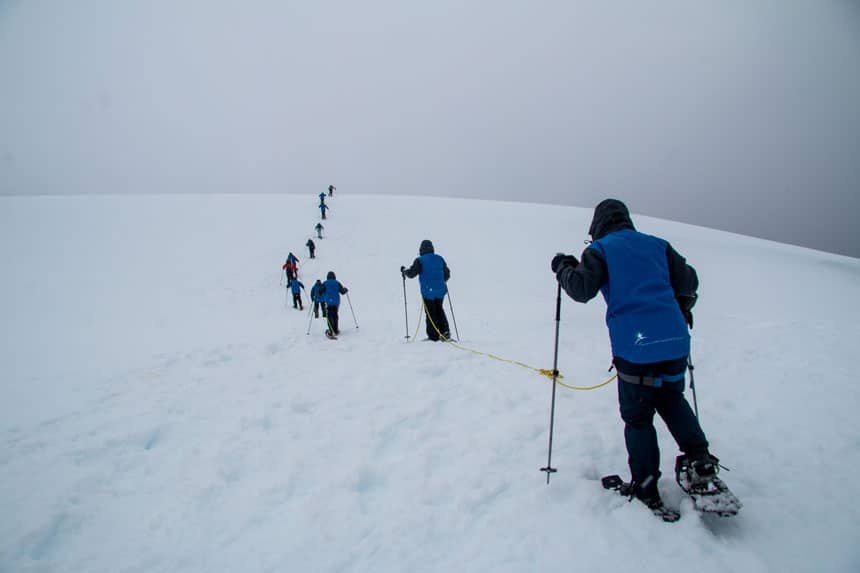 Take the Polar Plunge in Antarctica
Many Antarctica travelers choose to take the leap into icy waters, known as the polar plunge. Some guests jump off the ship at water level, while others enter from land. The Southern Ocean has a high salinity, resulting in a freezing point that's lower than normal. The average 28-degree water mixed with the unpredictable Antarctica climate make this included activity a badge of honor for those who do it.
Learn why taking the polar plunge was an "Antarctic experience I will never forget," according to founder and president Todd Smith, in his Antarctica Air Cruise Expert Review.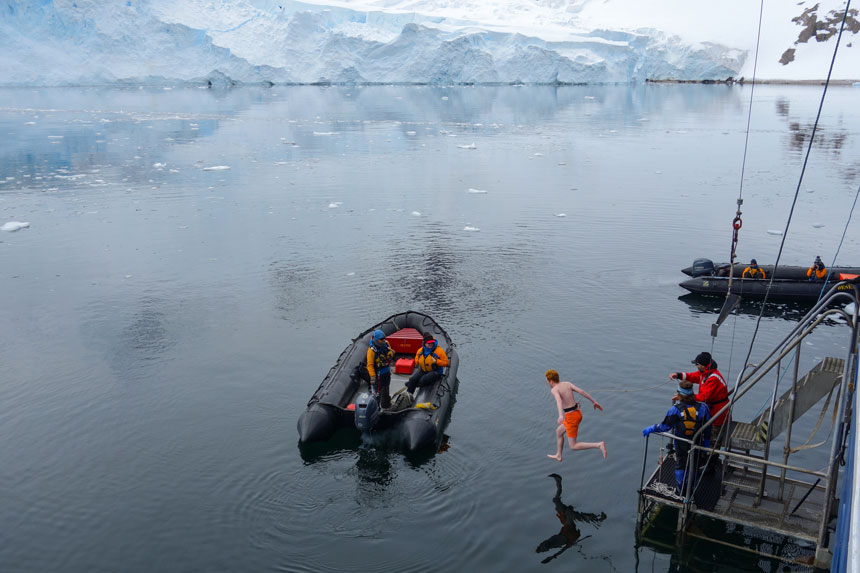 Contribute to Scientific Research in Antarctica
Citizen science in Antarctica is a program of opportunities for travelers to contribute to Antarctic research. This is one of the easier things to do in Antarctica, as many operators offer this program and no prior reservations are required. Observe, record or collect samples to support research projects in five major disciplines: Oceanography, Glaciology, Ornithology, Marine Biology and Meteorology. Scientists sometimes travel on board, conducting research, offering lectures and making use of special labs that are becoming more common on Antarctica's newest expedition ships.
Learn why citizen science was "the most fulfilling and inspiring activity" for one of our Antarctica experts, in her Antarctic Latitudes Expert Review.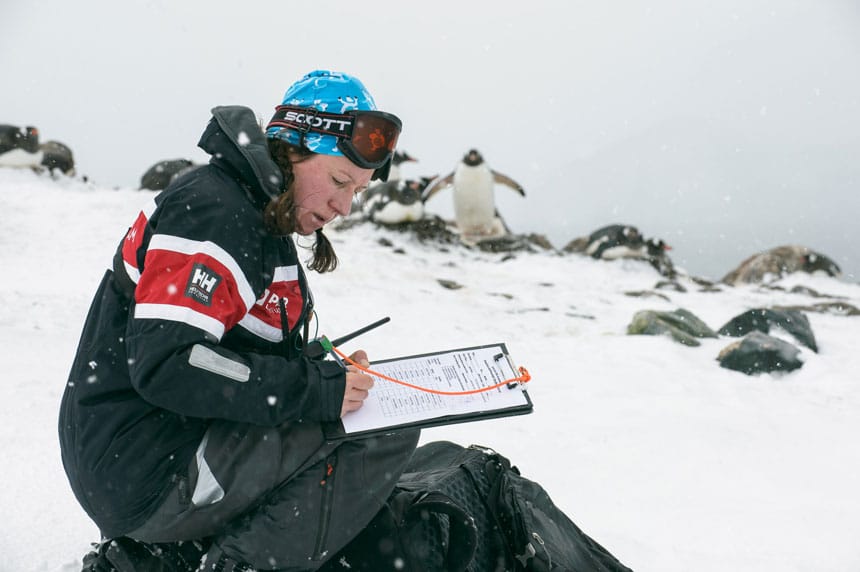 Ride in a Helicopter in Antarctica
What can you see in Antarctica from the sky? Vast expanses of ice and snow not visible from below. Some Antarctica ships offer flightseeing by helicopter, or use helicopters to bring guests to areas that are otherwise inaccessible. Take a helicopter to the emperor penguin rookery on Snow Hill Island in the Weddell Sea. Fly above Antarctica's interior. Enjoy exclusive heli-landings or even helicopter-assisted trekking. Our experts can make it happen.
Go Cross-Country Skiing in Antarctica
Cross-country skiing in Antarctica is a popular activity for early season, in November and December, when there is more sea ice. Your ship may park beside large icefields and disembark for guided or DIY cross-country skiing in Antarctica. The gear will be provided for this included activity.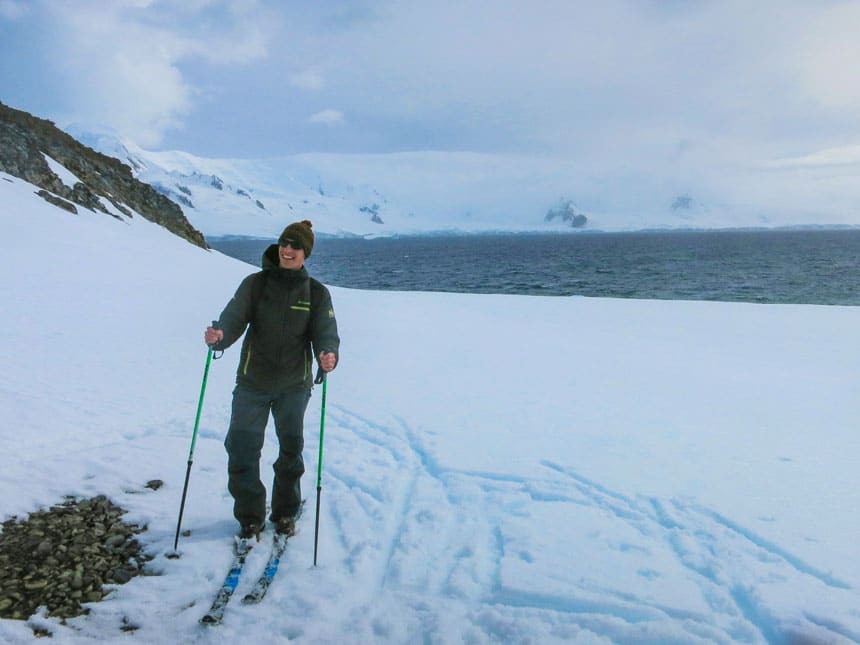 Snowboard or Go Skiing in Antarctica
Antarctica's pristine snow makes it the perfect place to ski, with penguins providing the soundtrack. Ships such as Greg Mortimer and Sylvia Earle offer backcountry skiing or snowboarding as an add-on activity. Outings may last a half or full day over varied terrain including alpine bowls, glaciers and long open slopes. Advanced ski or snowboard experience (at a resort) is required, as is your own gear (our experts can help you rent at the cruise port, if needed). Our founder and president went skiing in Antarctica and recommends it for those with interest and experience.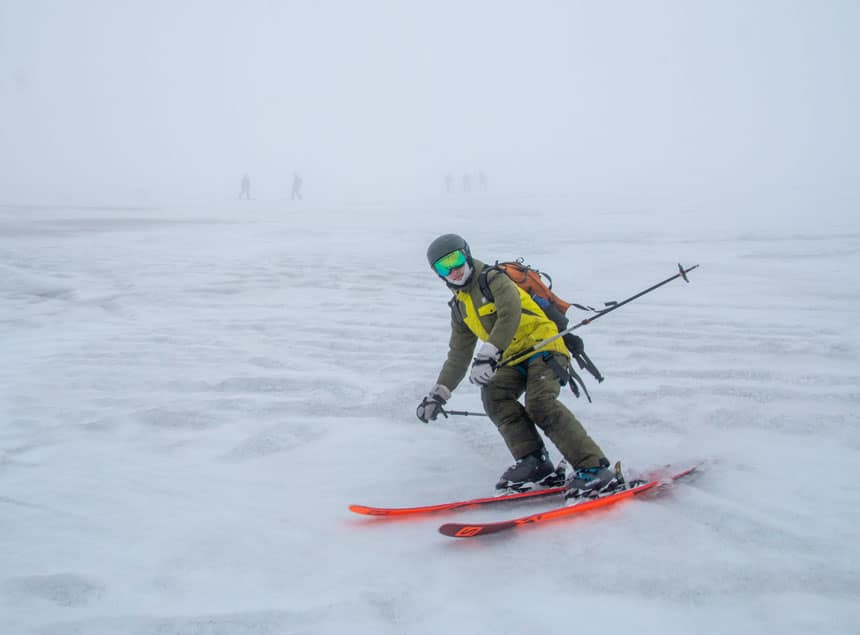 Go Snorkeling or Scuba Diving in Antarctica
Experience Antarctica's underwater world of ice and marine life like kelp walls, crabs, jellyfish, fur seals, leopard seals and penguins. Scuba diving in Antarctica involves excursions up to 60 feet deep that may include shallow ice diving or diving along a wall. Enter the water from a beach or Zodiac. While snorkeling is open to all, scuba diving in Antarctica is for experienced cold water/drysuit divers only. Drysuits, gloves, hood, fins, mask and snorkel are typically provided.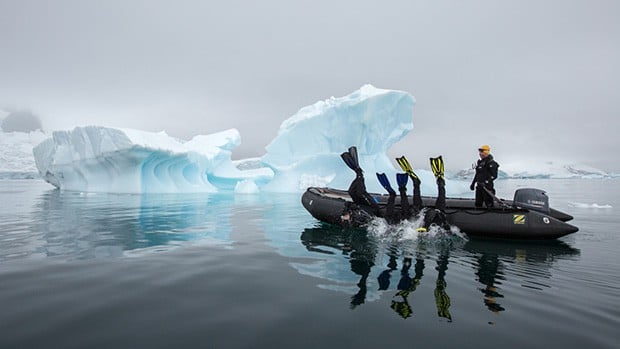 Stand-up Paddleboard in Antarctica
Experience the calming feeling of standing and gliding on the water's surface among ice floes. Stand solo on a stable surf-style board and propel your way forward with a single, long oar. Guides take out small groups of paddleboarders in good weather conditions within calm bays and harbors. What can you see in Antarctica while paddleboarding? Penguins, seals and maybe even a whale! Very few ships offer paddleboarding, so book early if this is one of your most desirable things to do in Antarctica.
Learn why paddleboarding was "the most spectacular activity" of many that Nick enjoyed in Antarctica, in his Antarctic Explorer Aboard Ocean Endeavour Expert Review.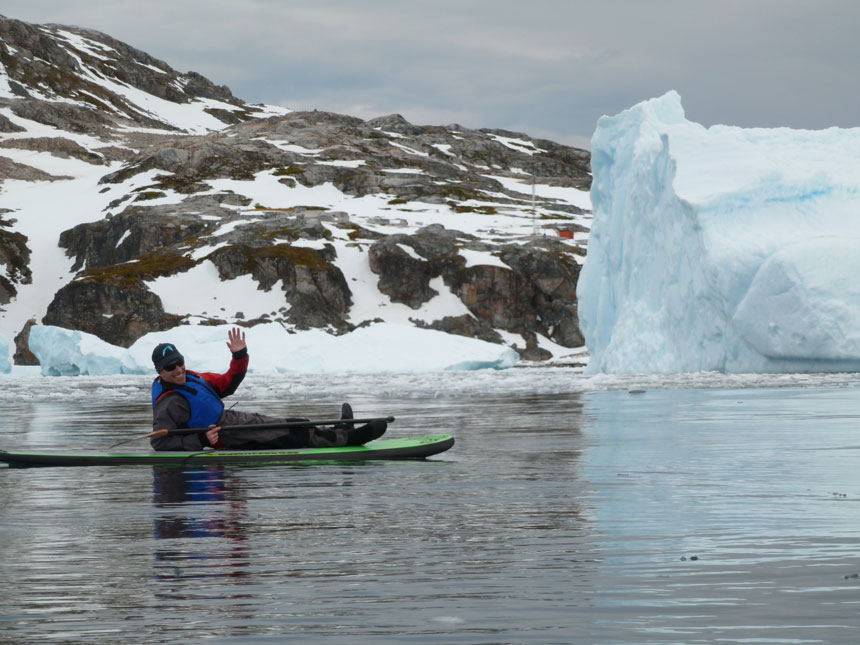 Climb in Antarctica
Experienced mountaineers with their own technical boots can participate in alpine ascents. The Antarctica cruise ships that offer climbing typically provide helmets, crampons, ice axes, rope and harnesses. Routes can range from easy to technical climbs, from 4 to 10 hours. Ice climbing may also be involved. Participants must be moderately fit and typically need to have some experience.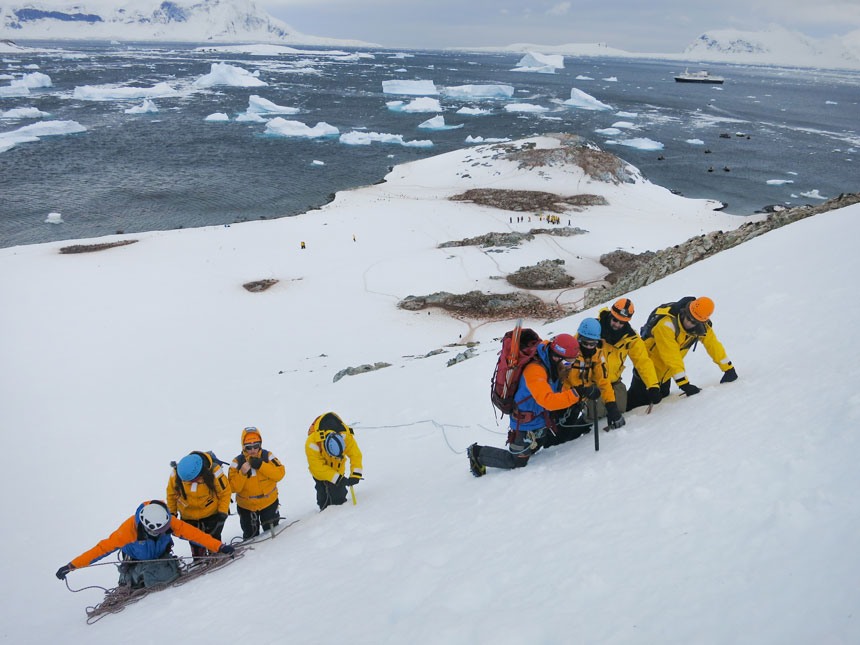 Retrace Shackleton's South Georgia Crossing in Antarctica
Aurora Expeditions, a polar operator known for their focus on active adventure options, offers guests the chance to attempt Shackleton's heroic South Georgia crossing, either on skis or foot. This 2- or 3-day crossing goes east from King Haakon Bay, across South Georgia's glaciated and mountainous interior, to Stromness. Experienced mountaineers and skiers are encouraged to book this 20- to 30-mile overnight excursion, and claim you've experienced one of the most adventurous things to do in Antarctica!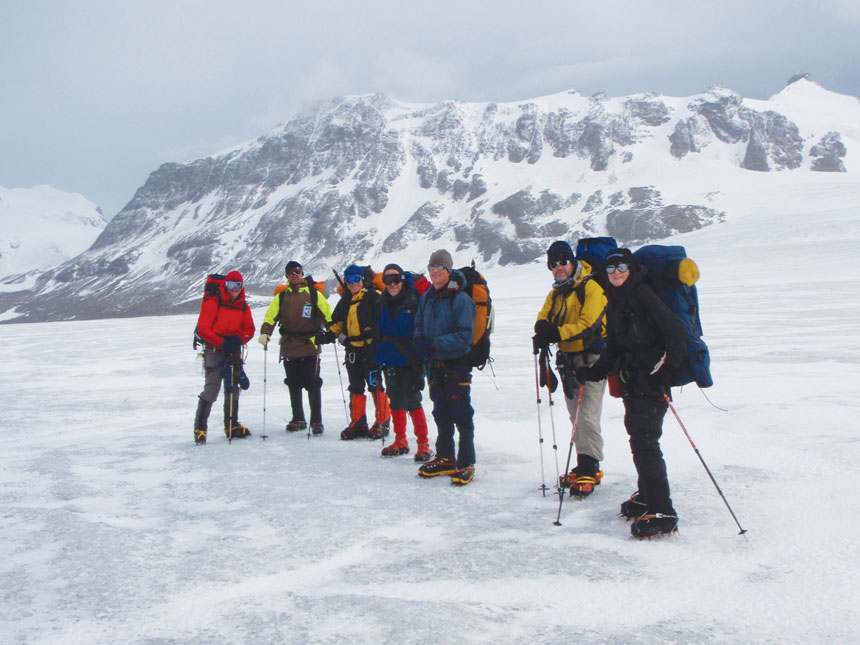 Reviews of Things to Do in Antarctica
Peruse our Antarctica cruise reviews for eyewitness knowledge on what to do in Antarctica. Our experts and travelers share notes on requirements, gear and the experience. Use this firsthand insight to help you decide what to do in Antarctica.
Our Recommendations on Things to Do in Antarctica
We recommend any of the above things to do in Antarctica; they're one of many reasons to visit the White Continent. These add-on options get you off the ship ahead of other travelers, and often keep you out touring longer. Explore in a small group, in a unique way. Some activities will include time to also explore with the larger complement of travelers, ensuring you don't miss an included excursion.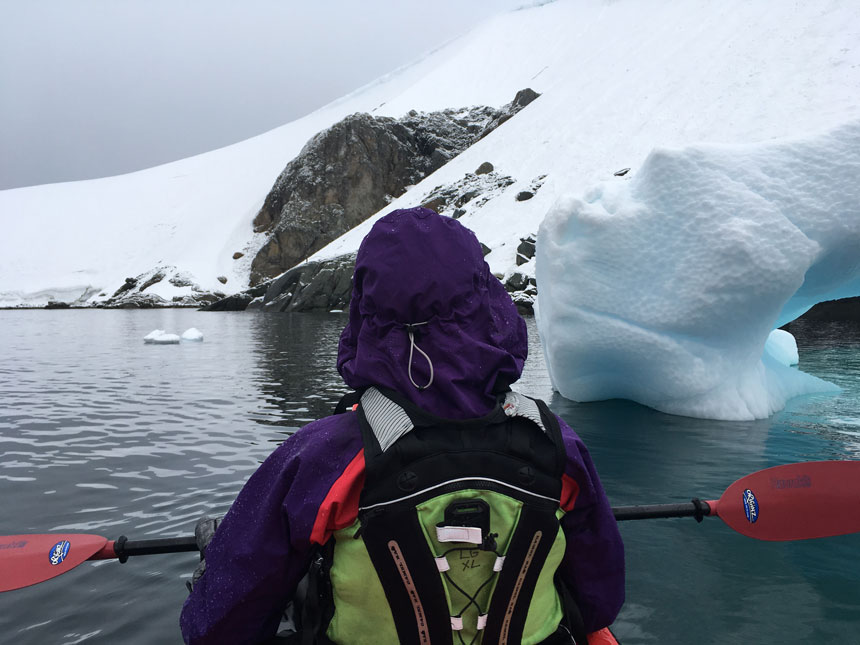 Notes on Booking Things to Do in Antarctica
Most of these activities must be pre-booked and purchased on top of your cruise fare, although some operators and select itineraries include these excursions. Consider using our Antarctica cruise deals to save on your cruise fare, and then putting the savings toward any added-cost activities.
Some options—like diving, snorkeling and the Shackleton crossing—are extremely limited and therefore require some advance planning. And a selection of these things to do in Antarctica require some prior experience.
Keep timing in mind. Some activities may dictate the best time to visit Antarctica. For example, skiing and snowboarding is typically offered in the early season when snow conditions are best.
With the right planning and travel advisor, you can do a lot of memorable things in Antarctica. Let our experts share their knowledge and link you with the right trip for your activity interests.
MORE ANTARCTICA RESOURCES:
Antarctica Travel Guide
Antarctica Cruises
Luxury Antarctica Cruises
Falkland Islands & South Georgia Cruises
Cruises with Flights to Antarctica
Best Time to Visit Antarctica
Antarctica Cruise Cost
How to Get to Antarctica
Places in Antarctica
Antarctica Ships
Best Antarctica Cruise Lines
Antarctica Cruise Deals
Antarctica Cruise Reviews