AdventureSmith Founder and President Todd Smith reviews his Antarctica Air Cruise aboard the 67-guest Ocean Nova. Learn what it's like to fly the Drake and why Todd has dubbed Antarctica "Alaska's big brother."
Antarctica is remote, and travel there is best described as an expedition. The primary reason travelers choose an air cruise is to avoid the two-day ocean crossing through the infamous Drake Passage and the high seas that can occur there. On my journey I learned that while Antarctica is more accessible than ever, today's modern travelers aboard both ships and planes are still at the mercy of Antarctica's extreme elements.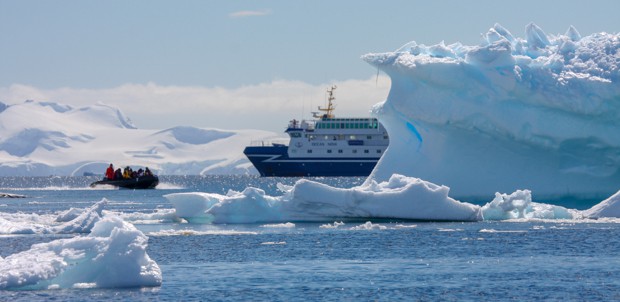 Punta Arenas Pre-Cruise
As is recommended, I arrived into Punta Arenas one day prior to the trip start date. This allowed plenty of time to explore this quaint town in the heart of Patagonia. I spent a full day on a self-guided walk to the Plaza de Armas to view the Ferdinand Magellan Memorial where it is said that if you kiss the toe of the indigenous man statue you are guaranteed to return to Patagonia. I continued to the solemn and beautiful municipal cemetery to admire the architecture and art where tombs date back hundreds of years illuminating the different ethnic groups who colonized the region. I finished my stroll along the beautiful waterfront longing to cross the ocean and reach Antarctica. In the evening I arrived excitedly at my cruise orientation, conveniently located at the Hotel Rey Don Felipe.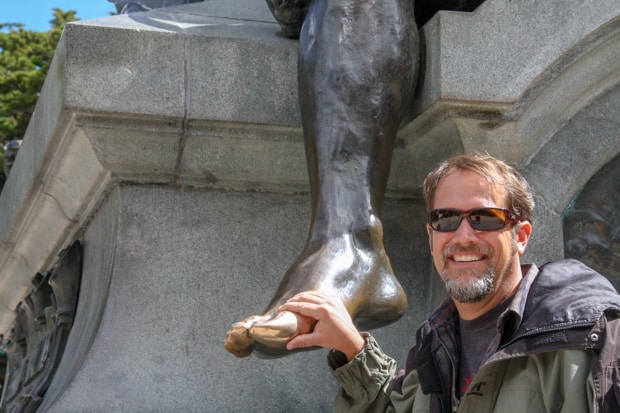 At the orientation, guides outlined what we could expect on our expedition. They described the safe method for entering and exiting the Zodiacs (use the arm-shake method to take the arm of a crew member when offered) and how to avoid being a vector for invasive species (clean your gear, especially Velcro, of all seeds and use boot washing stations in between every shore landing). They distributed our polar boots and answered questions from eager travelers anxious to see the White Continent.
Contingency Plan – Know It & Likely Experience It on an Air Cruise
At the end of the talk the crew described the situation. A recent storm had left the runway at Frei Station on King George Island covered in ice and the BAE 146-200 aircraft was not equipped to make a landing there. They were making alternative arrangements aboard a different aircraft. As such the contingency plan was implemented and we would not be departing the next morning as expected. (All travelers considering an Antarctic Air Cruise should familiarize themselves with the Contingency Plan before they book.) We were to be on call, ready to depart at a moment's notice, but at this time the guides couldn't predict when that would be. With an aura of concern, we were led down the street to dinner.
We were to be on call, ready to depart at a moment's notice.
I had read Alfred Lansing's Endurance and was familiar with the story of Sir Ernest Shackleton's shipwreck and rescue in Antarctica. (See our list of best Antarctica books). One detail glossed over in the book is where and how, after he returned to South America, he obtained the ships and supplies needed to return and rescue his crew. Over cocktails at Bar Shackleton in Hotel Jose Nogueira's Le Pergola Restaurant, these questions were answered. A beautiful series of paintings adorn the walls visually recounting Shackleton's story. Legend has it that it was in this historic house where Shackleton made his pitch to the local wool barons to finance his return trip to rescue his crew. Our meal here was like dining in a living museum.
After dinner we received another briefing. A plan was in place to acquire the needed aircraft and we would know more in the morning. Upon waking the next day, we were advised that we would be leaving midday, but not for Antarctica. We would travel overland to Argentina where a special aircraft had been secured that could handle the icy conditions. In the meantime, the expedition leaders provided a guided walk to the town plaza, the cemetery and the waterfront. After lunch at the Dreams Hotel overlooking the waterfront, we boarded buses for the three-hour journey to Argentina. The scenery was beautiful, and most guests understood the circumstances and enjoyed the unexpected adventure. Upon arrival at Rio Gallegos, the capital of the Patagonian province of Santa Cruz in Southern Argentina, we checked into our hotel, had dinner and anxiously went to sleep.
Hercules & the Flight to Antarctica
The next morning, we transferred to the airport, which we learned was the base used for the Argentine Air Force in the 1982 Falklands War. With a buzz of excitement, we boarded a Lockheed C130 Hercules aircraft, strapped in and rumbled across the runway into the southern sky. Many former servicemen among us were delighted while others seemed a bit concerned at our military transport. The Argentine Air Force men and women aboard did their best to make us comfortable, even serving an in-flight snack of soda, crackers and candy. The usual two-hour flight took nearly three hours in the Hercules, but we had a true Antarctic adventure story now to tell.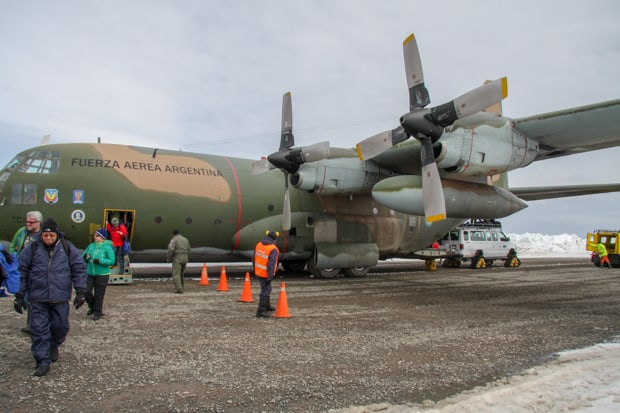 Landing at Frei Station in Antarctica we learned why the Hercules aircraft was so important to the expedition. Unlike the planned jet, the propellered Hercules could reverse its props and stop itself on the ice-covered runway. We disembarked the plane, onto the icy muddy gravel airstrip and all fell into a stunned silence, overwhelmed by the dramatic scenery, the sense of isolation and the drama of our arrival. We walked just over a mile to the beach, past the Chilean and Russian bases, and were delighted to encounter our first penguin. The crew wasted no time getting us underway as a fleet of inflatable craft ferried us to the Ocean Nova, where we were shown to our rooms and ushered to the dining room for lunch.
Alaska's Big Brother
After lunch I dashed to the observation deck to take in the views. I was awestruck by the immensity of Antarctica. Having spent years working in Alaska I thought I knew about ice and glaciers, but quickly realized that Antarctica is Alaska's big brother. Instead of mountains punctuated by ice, there was ice everywhere, punctuated by a few patches of dry mountain. Glaciers hundreds of feet high and many miles long covered the shoreline and stretched as far as my eye could see on this spectacularly clear day.
I was awestruck by the immensity of Antarctica. Having spent years working in Alaska I thought I knew about ice and glaciers…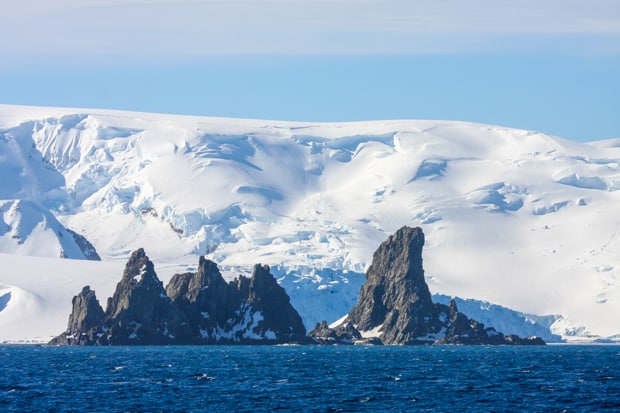 Soon we were directed to another safety briefing, orientation and a wonderful introduction to Antarctica by our expedition leader, Daniel. To make up for lost time he also did a recap of the day and a review of tomorrow's activities. The crew was doing their best to accommodate our altered schedule, but it was nearly 7:00pm before we disembarked for our first shore landing at Half Moon Island.
"An Icy Wildness" – Highlights of My Expedition
What an incredible introduction to Antarctica at Half Moon Island! The Zodiacs landed on a small gravel beach with snow and ice extending down to the high-tide mark. Chinstrap penguins were everywhere! They were on the beach, in the water, on the snow, climbing up the hillside, sliding down on their bellies, nesting among the rocks and squawking with a cacophony of calls. We saw chinstrap penguins, a few gentoo penguins, Antarctic terns, skuas, petrels, elephant seals and a Weddell seal. Blue sky blazed overhead, reflecting off the white ice and snow peppered with black rock and black-and-white penguins. An endless sea of deep blue water lay still below it all. The scene was, to quote John Muir, a naturalist who never made it to Antarctica, "an icy wildness unspeakably pure and sublime." The long days in December allowed us to stay ashore until 9:00pm when we returned to the Zodiacs and Ocean Nova for a late dinner. After dinner the evening light reflected pink alpenglow on the mountains and I stayed on deck enjoying the scene. Our expedition was truly underway.
The scene was, to quote John Muir, a naturalist who never made it to Antarctica, "an icy wildness unspeakably pure and sublime."
Another stunning sunny day surprised me with temperatures considerably warmer than those back home in Lake Tahoe. After a morning lecture by expedition guide Andre covering "all you wanted to know about penguins" we made our first continental landing at Portal Point. The guides marked out a path high onto the ice-field and we were instructed not to wander from the flags to avoid falling into crevasses hidden below the snow. We gladly obliged. The hike was spectacular with beautiful mountains surrounding an ice-choked bay with crevassed glaciers and glacial tongues extending to the sea. The views from above were stunning and well worth the hike. By the time I reached the highest point I had shed all my layers down to my t-shirt. I returned to the beach and our Zodiac returned to the ship among otherworldly icebergs of all shapes and sizes. We spotted a scary-looking leopard seal and the guide shut the engine to let us enjoy the quiet popping and cracking sound unique to glacier ice floating in seawater.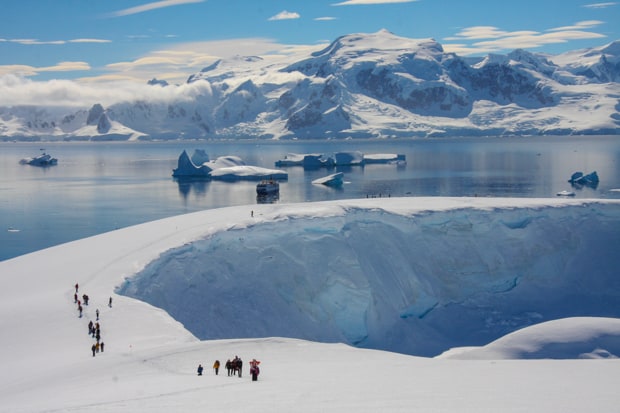 Orne Harbour was home to another large chinstrap penguin colony and a steep hike to a summit nearly surrounded by water. There are not words to describe how each summit and view seemed to surpass the last. The hike was challenging for some travelers taking about 30 minutes to reach the peak. At the summit were more chinstrap penguins nesting! We only did the hike once, but our guides explained that the penguins do it over and over each day returning to the sea to bring food for their chicks. We could see tiny eggs hidden under the penguins and were amazed at the tenacity of life flourishing in this extreme environment. Emulating penguins, we glissaded down the slope on our butts (they slide on their tummies) and returned to the beach in no time.

This evening's dinner was interrupted by the spouts of whales outside the dining room window. A pod of orca whales with one very-young calf swam alongside the ship for nearly a half an hour. We scrambled for our cameras to capture the calm water with glaciers and icebergs as background.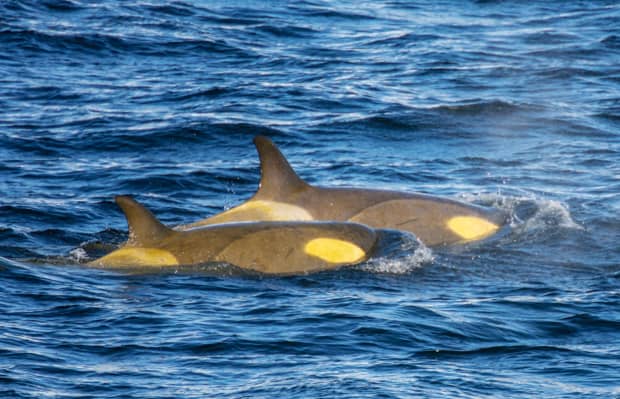 As the sun descended, the water calmed, the peaks enclosed upon our small ship and we were summoned to the observation deck as Captain Alexey navigated the Ocean Nova through Lemaire Channel. One of the most scenic waterways in Antarctica, the channel is seven miles long and less than one half mile wide at its narrowest. Glaciated peaks tower a thousand feet overhead and the calm water makes a perfect mirror reflection of the dramatic landscape. As we peeked through the end of the channel, the sunset over the horizon lead to an explosion of color. Because of the photogenic scenery it is easy to see why Lemaire Channel is nicknamed Kodak Canal, Fuji Funnel and Agfa Alley. A picture-perfect end to the perfect day in Antarctica.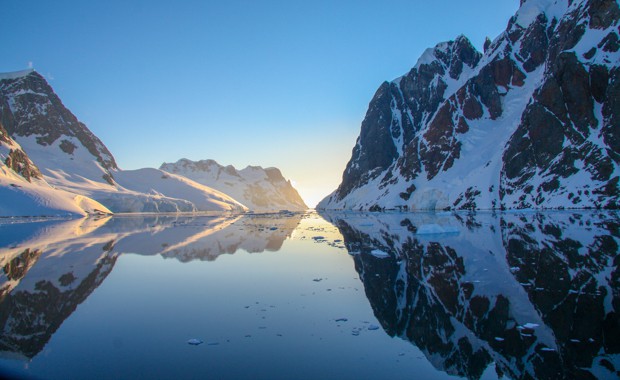 The remaining days were full of adventure and surprises. We watched as hundreds of gentoo penguin males stole and restole stones from each other's rocky nests in attempts to impress their mate. In some areas the penguins were still courting and mating while in others they were incubating eggs. We learned of penguin highways where rows of the tuxedoed birds walked to and from their nesting sites to the water.
The hike on Danco Island was especially impressive. From the summit of the island we could see and hear a continuous calving glacier many miles wide across the channel.
I was surprised at the amount of history we encountered, such as the remains of an Argentine refuge hut in Neko Harbour with gentoo penguins nesting nearby, the remains of a whaling station at Mikkelsen Harbour and a plaque memorializing the British Antarctic Survey Station on Danco Island. I was also surprised by the amount of hiking with several options for active travelers to ascend to high peaks with incredible views. The hike on Danco Island was especially impressive. From the summit of the island we could see and hear a continuous calving glacier many miles wide across the channel. One afternoon I was disappointed to learn we would only be exploring by Zodiac. However, the excursion around Spert Island turned out to be a highlight of the trip. Steep walls, inlets, narrow channels, coves and unexpected tunnels, all crowded with artistic icebergs and aqua-green water, created a picturesque labyrinth that made this a unique voyage of exploration. Even the guides were excited to venture into this rarely visited region.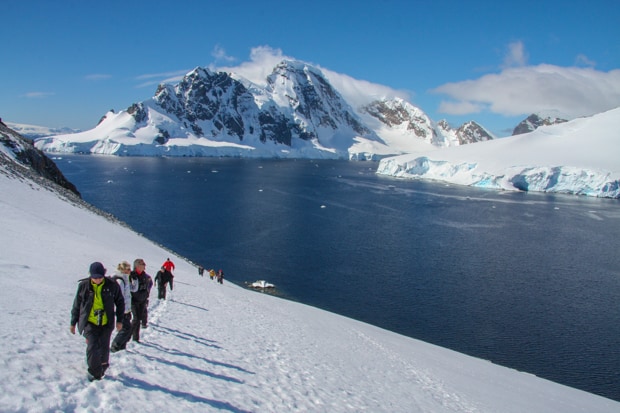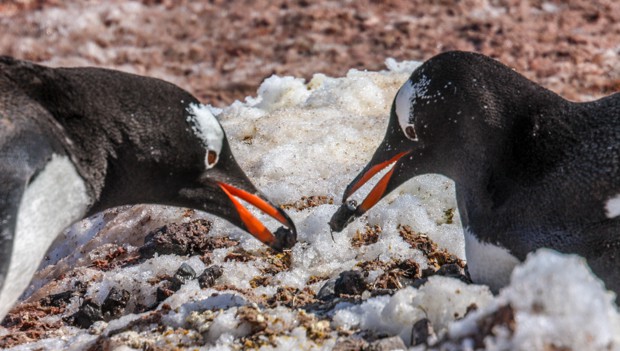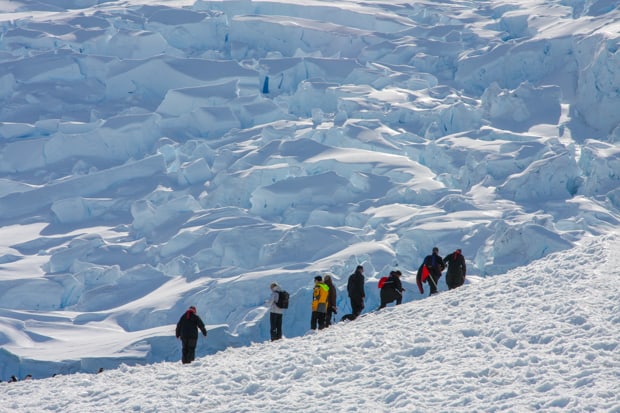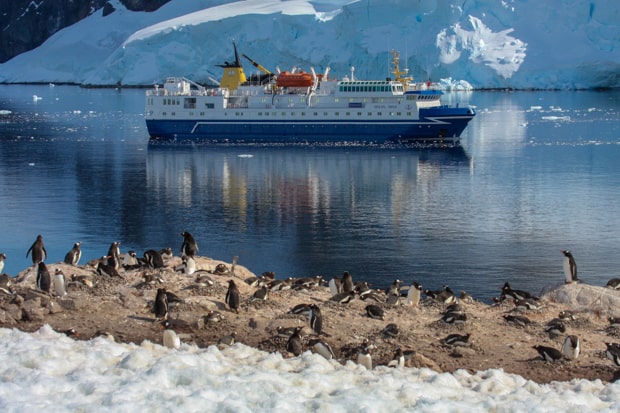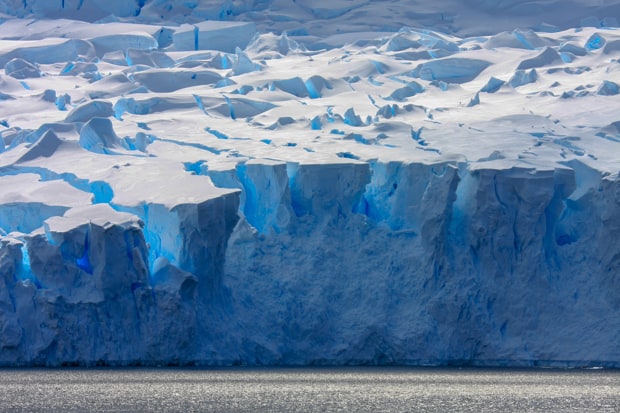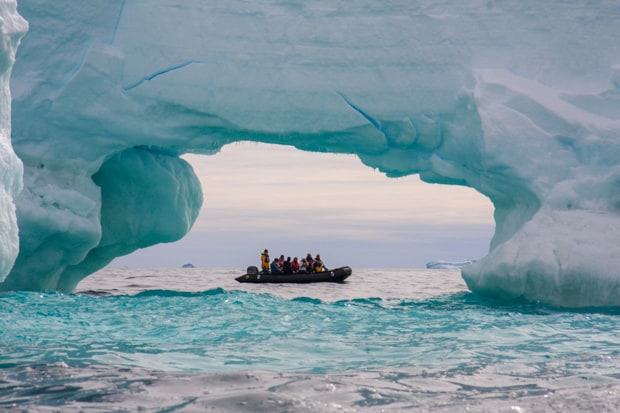 Throughout the cruise the expedition leaders were professional, knowledgeable and engaging. They were always available ashore to lend a hand, answer questions or suggest a route based on ability. On board, they mingled with guests answering questions and every time the ship was underway they managed to squeeze in a lecture on penguins, glaciers, climate change, Antarctic history and more.
Polar Plunge & BBQ
Nearly every Antarctica cruise offers the opportunity for guests to take a polar plunge, and I was not going to let this experience pass me by. We nervously lined up in the mud room wearing bathrobes. Prepared folks had bathing suits while some jumped in with only their underwear. Astonishingly the water was 30 degrees Fahrenheit. Salt water, we were told, has a lower freezing point than fresh water. As we walked the plank (the loading platform for Zodiac excursions) we were outfitted with a life jacket and harnessed with a rope in case we needed to be pulled in like a great cold fish. A Zodiac floated ready to assist if needed and all the sane guests watched from a deck above cheering and jeering the icy swimmers. As I hit the water I was overcome by a shocking cold that is hard to describe. Another Antarctic experience I will never forget.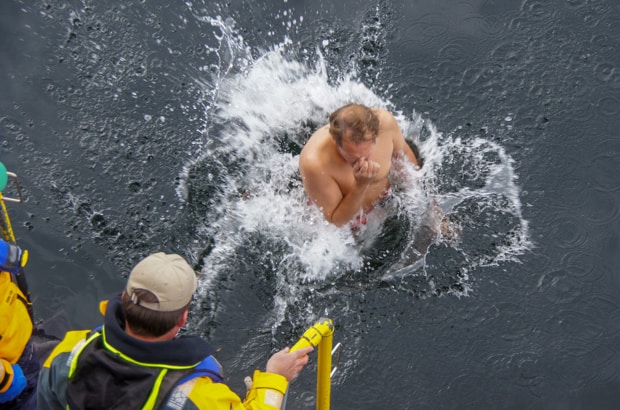 After the polar plunge it was time for an Antarctic top-deck BBQ. Incredibly the crew served a varied buffet of chicken, ribs, steaks, corn and all the fixings on the observation deck of the Ocean Nova. The food was good, but the views and novelty of an outdoor BBQ in Antarctica were unforgettable. We started in sunshine and ended in a snow flurry, but nobody left the party. We added layers for warmth and enjoyed a toast as glaciers rumbled in the distance and penguins torpedoed across the water. It was one of the best travel meals imaginable.
Ocean Nova: My Review of the Ship
The 67-guest M/V Ocean Nova is a utilitarian polar expedition vessel perfectly suited for up-close exploration of Antarctica. She is not luxurious, and could use a bit more artwork to liven up her white walls, but she was comfortable and spacious. My single room #303 was functional with a view window, small bathroom and plenty of storage space. The lounge had spacious seating for lectures and outstanding views. I particularly liked the two large screens so that we all could see images during presentations. The library was well stocked with polar reading and offered a nice area to relax away from other guests. I visited several times throughout the cruise and had it all to myself. Next to the library is a small gym with exercise machines and views better than any landlocked fitness club. Several outside decks on the bridge and top deck offered excellent wildlife and scenery viewing.
The most notable aspect of the Ocean Nova is her size. At 67 guests she is one of the smallest ships operating in Antarctica.
The dining room was comfortable with a central serving area with many tables near the view windows. Interestingly the tables and chairs were bolted down, a necessity on polar vessels in case of rough seas, so there was no opportunity to reconfigure the seating or move your chair closer to the table. Throughout the trip the food was good but not fine dining. Breakfast and lunch were served buffet style with custom options such as an omelet station or sandwich bar. Dinner consisted of a three-course plated meal including soup or salad, a main course and dessert, paired with a large selection of Chilean wines. The galley crew served a varied menu of dishes such as grilled tuna steak, oven-roasted valley duck, breaded and fried pork escalope, oven-roasted rack of lamb and wild garlic ravioli. The crew was attentive with excellent service and a quick smile. They were able to accommodate a variety of special diets from all travelers on board.
The most notable aspect of the Ocean Nova is her size. At 67 guests she is one of the smallest ships operating in Antarctica. Aboard the Antarctica Air Cruise, this fits perfectly with the size of one airplane making transfers from Punta Arenas more seamless than other fly-cruise models that use larger ships and two planes.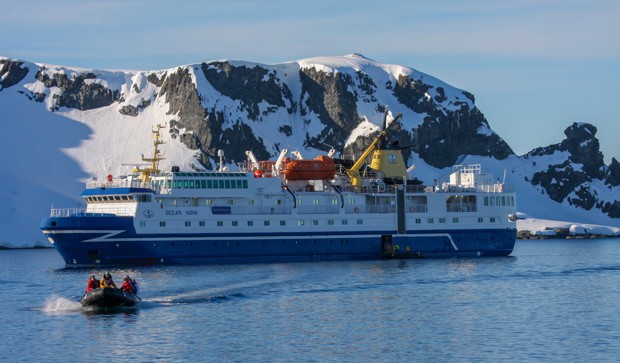 Contingency Strikes Again: Bonus Delay
Not surprisingly at the end of our trip, low clouds made our flight out impossible. Again, we were on call, ready to depart at a moment's notice, waiting with our bags packed for a weather window that would allow the planes to fly. By this time the runway had melted, and the usual BAE 146-200 jets would be used for our flight out. It seemed we would make up the day we lost upon arrival. It turned out to be a bonus delay because we had a full day of exploration based from the Ocean Nova, with many unique encounters we would not have otherwise had.
Because we were "on call" we had to stay nearby Frei Station in case we suddenly needed to fly. But no worries, extraordinary things are everywhere in Antarctica. Our first landing was at Ardley Island where we observed Adelie penguins with chicks, which we were told were rare this early in the season. The chicks were so cute with their fuzzy down and curious faces peeking out from under mom's belly. These were the first and only penguin chicks we had seen on the trip, and it was surprising how the same species behaved so differently based on their latitude. Back on board the crew spotted humpback whales. They came swimming right at the anchored Ocean Nova and we got great views of them from the deck. The Zodiacs were quickly deployed, and we were able to watch whales at sea level.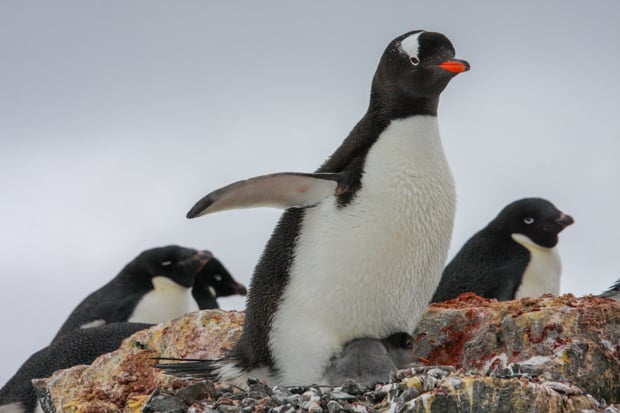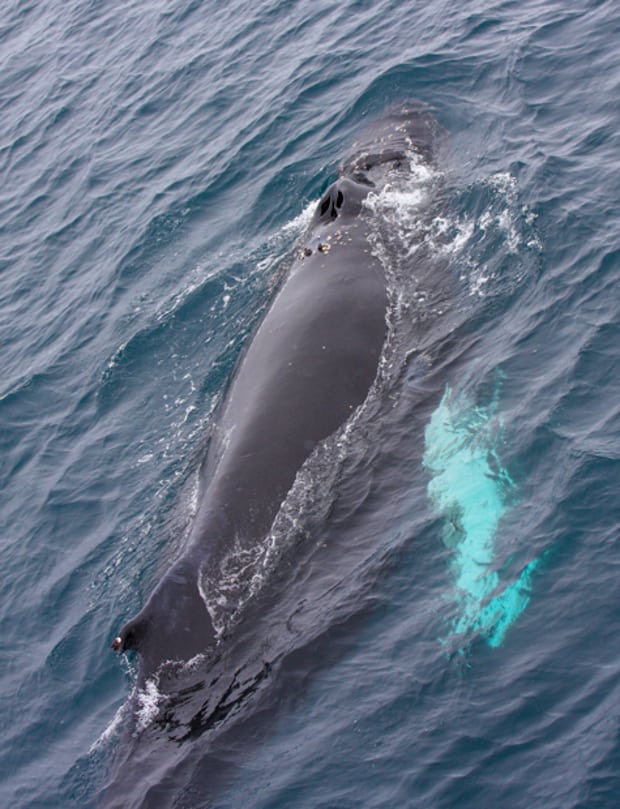 The delay continued, and we were told we would likely spend the night. The crew, being expert improvisors, arranged for us to visit the nearby Chilean Frei Station and Russian Bellingshausen Antarctic research stations. After the onboard presentation by expedition leader Jonathan documenting his winter in Antarctica, it was fascinating to visit these stations and speak with the scientists who live in this rugged and remote environment. The stations were simple by any standard, and we laughed as the Russians offered us shots of what must be very precious vodka. We purchased t-shirts at the Chilean station and visited the Russian Orthodox church. The Trinity Church, we learned, was one of eight churches in Antarctica but surely must be the most elaborate. It was built in Russia, then disassembled and transported to Antarctica by the Akademik Vavilov, a former research vessel now operating expedition cruises. Again, the human history and resilience of life, human and animal, in this environment surprised me.
Return Flight Chaos & Calm
During our delay the ship gave everyone a free hour of internet to work on their flight arrangements. Internet on board polar vessels is typically satellite based and therefore slow and expensive. Everyone was scrambling to reschedule their flights home from Chile due to our delay. I had booked my flights with our partners at Exito and so I sent them an email describing our situation. I soon received a reassuring reply. They had cancelled my original flight home and had me held on two options from Punta Arenas, I could choose either when I returned to Chile. Upon arrival in Punta Arenas most other guests made a mad dash to the airline counters. All I had to do was send another email indicating my choice of flights. Working with Exito, I had the benefit of a human being working on my behalf.
Standing on the side of the gravel runway, we watched the gleaming white jet land over our heads. It would clearly be a more luxurious flight than our arrival.
The next day we awoke to gray skies, but the crew assured us the weather was improving. We waited on board and again the crew passed the time with informative lectures about life in Antarctica. After lunch we finally went ashore for our departure. We made our way through the penguins, past the research bases and church to Frei Station. Standing on the side of the gravel runway we watched the gleaming white jet land over our heads. It would clearly be a more luxurious flight than our arrival. After the passengers who would take our place on the Ocean Nova disembarked the jet, a crew of uniformed flight attendants in high heels descended the stairs, obviously excited to be here. It made for an interesting juxtaposition of the modern world against the isolation and rugged extreme of Antarctica.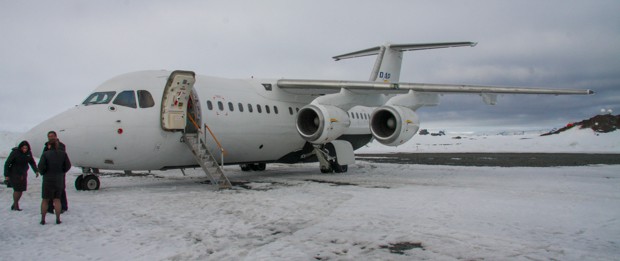 The Antarctica Air Cruise does offer benefits over a traditional Antarctica cruise across the Drake Passage: most notably avoiding rough seas and a shorter overall expedition. However, any trip to Antarctica, even an air cruise requires patience, a good plan and a sense of adventure.
For more photos from this trip, including penguins and glaciers, view my Facebook album on AdventureSmith Explorations' Facebook page.
This Antarctica cruise review was written by an AdventureSmith Explorations crew member. Read all Small Ship Cruise Reviews for more trip reports. For dates, rates and booking information on this Antarctica trip, see Antarctica Air Cruise, or contact one of our Adventure Specialists to learn more about our small ship cruises and wilderness adventures: 1-800-728-2875.