Greek Island small ship cruises are the ultimate way to explore these legendary islands. Cruise up close and in style away from big-ship cruise crowds. We are your trusted Greece small cruise experts.
The Greek Islands are home to clear azure waters, white-sand beaches, incredible architecture, stunning archeology and thousands of years of culture and history. No wonder they are one of the world's most popular cruising destinations.
View our selection of Greece small ship cruises and learn why small ships are the best way to experience the Greek Islands. Our experts outline what to expect and share tips to help you choose your cruise. Or contact us to plan your dream trip.
ON THIS PAGE – Greek Island Small Ship Cruises:
Greek Islands Small Ship Experience
Greece Small Ships vs Big Ships
Greece Small Ship Ports
How to Choose Your Cruise
Best Time to Cruise
View All Greece Small Cruises
The Greek Islands Small Ship Experience
What is it like to cruise aboard a small ship in the Greek Islands? In one word: intimate. Highlights of the Greece small ship experience include:
Small groups of like-minded passengers from 44-264 guests.
Small ports in authentic towns. Dock & anchor where larger ships cannot.
Organized and optional tours with expert local guides. Visit historic towns, archeological sites, museums, wineries and more.
Free time in town to explore or dine on your own.
Get off the ship away from port. Off-vessel activities including swim stops, snorkeling, secluded beaches, kayaking, stand-up paddleboarding.
Delicious combination of meals on board and ashore.
Wide variety of small ships and yachts to choose from.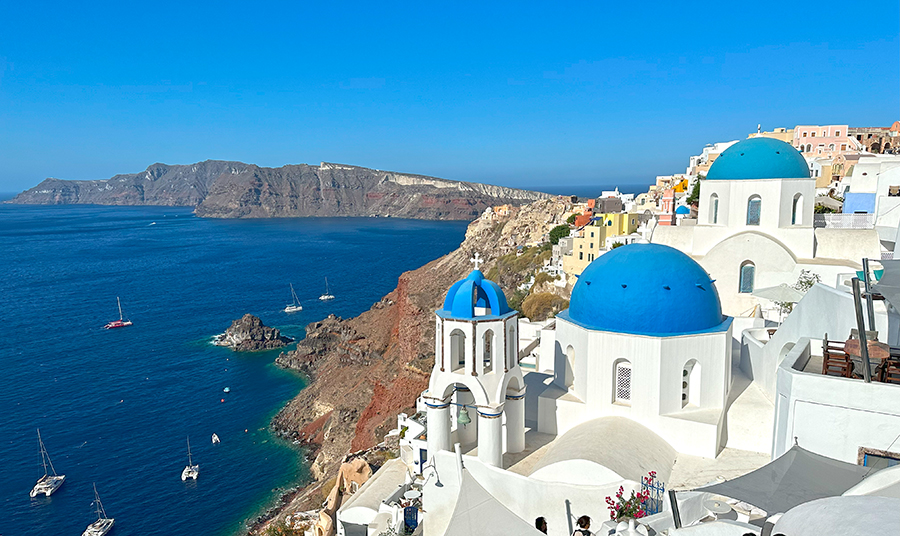 Small Ship Greece Cruise Vacations

Compare the itineraries, boats & more.
Find your perfect cruise.
Greece Small Ship Cruises vs Big Ships
Cruising is the ultimate way to explore the best of Greece. Imagine Greek Island hopping without the ferry lines and hassle of checking in and out of hotels. Savvy travelers know, there is a huge difference in the type of cruises in Greece.
Big ships are focused inward on the floating resort and amenities. The ship itself is the attraction with waterslides, casinos, Broadway-style shows and midnight buffets. Big ships visit crowded ports at midday and cruise at night.
Small ships are focused outward, on the destination. Cruise up close to shore where the big ships can't. Visit intimate ports, uninhabited beaches and authentic islands. If you want to get off the ship to explore Greece like a local, then a small ship cruise is for you. Learn more about the difference between small ship cruising and big ships.
Big Ship vs Small Ship Cruise Ports
The Greek Islands consist of 6,000 islands and islets, of which 227 are inhabited.
Most big ships are concentrated on the 10 most popular ports in Greece. As such there may be as many as 7 ships in a small port each day. The popular ports of Santorini, Mykonos and Crete have their charms, but can be overrun by cruise ship tour groups.
Small ships visit dozens of remote islands, most of which are off limits to big ships. Undiscovered islands such as Paros, Folegandros, Patmos and Serifos reveal the unhurried and authentic Greek culture, history and lifestyle. Actively explore away from port with swimming and paddling at dozens more uninhabited islands. Learn more about the best Greek Islands for small ships.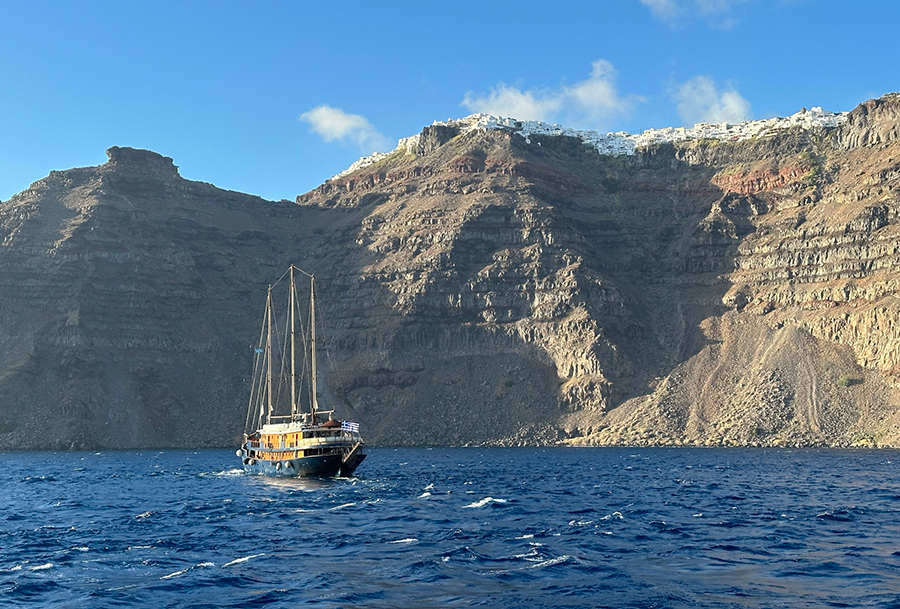 Santorini, Mykonos, Crete,
Hydra & More
Find the right islands for you
in this helpful guide.
How to Choose – Greece Cruise Tips
With so many Greek Islands and so many small ships, how to decide which cruise? Our experts have the insight and tips to help you choose. We suggest you consider your itinerary first, then your style of travel, then your ship and finally select your cabin. Let's review each of these in more detail.
Choosing Your Route – Greece Cruise Itineraries
Probably the most important consideration is your itinerary. Ask yourself these questions. Are there islands that you must see? Are you traveling before or after your cruise? How long do you have for your cruise?
Many people have Santorini, Mykonos and Crete on their bucket list. While these islands are crowded, they do have their charm. And small ships will help you avoid crowds as much as possible. Are these truly on your bucket list or only because they are the ones you have heard of?
Many cruises begin and end in Athens, but some combine Greece with other Mediterranean countries. Cruises may embark or disembark in nearby Croatia, Italy or Turkey. Your overall travel plans may influence your itinerary choice.
Most Greece cruises are 8 days and visit 8-12 islands in a week. Longer itineraries span 10-12 days while the longest cruises are up to 15 days cruising in Greece.
Consider Your Style of Travel
All cruises will make stops at culturally rich towns and historically significant archeological sites. But do you enjoy other off-vessel activities such as snorkeling and kayaking? Are nature hikes part of your travel portfolio? Different cruises offer a variety of different activities and levels of activity.
Choose Your Greece Small Ship
The ship you choose will have a profound impact on your experience and on the price. You've already determined you prefer a small ship instead of a mega cruise ship. Next consider the size and amenities of your small ship in Greece.
In general the smallest boats, those carrying 60 guests or fewer, will offer more off vessel activates such as swim stops and kayaking in between the islands. Small ships carrying more than 100 guests will feature larger cabins, more deck space and luxurious accommodations.
Motor sailors are a beautiful way to travel, but keep in mind that winds and routes dictate most sailing vessels will run under motor power most of the time. Cruising with sails up can help stabilize the vessel when seas are choppy.
Do you want the utmost in sophisticated luxury, are you interested in a historic square-rigged sailing yacht or a quaint small cruiser? Ship sizes run from 48-264 guests. Some examples of the most popular small ships in Greece are listed at he bottom of this page.
Our experts are adept at finding the right ship for you. We've been aboard and brig our first hand knowledge to help you select and book the perfect Greek Islands small ship.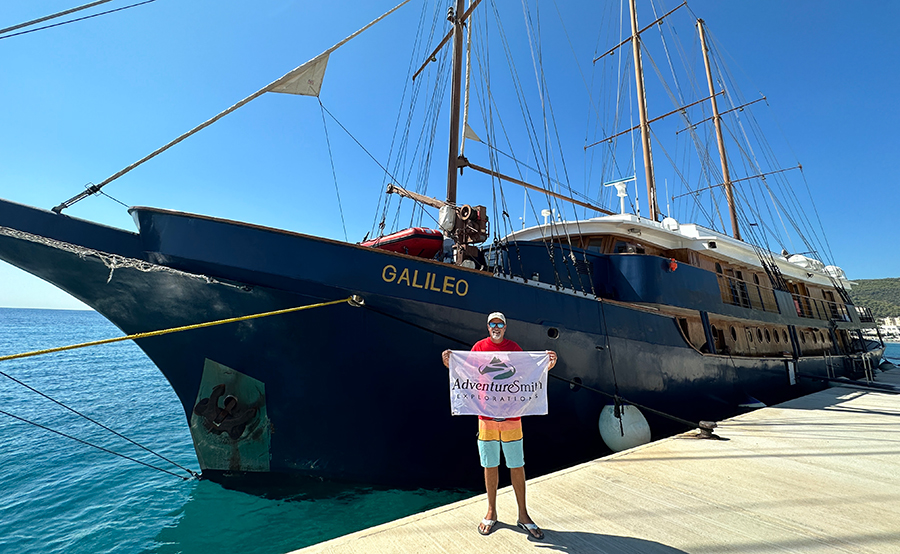 Ask Us About the Fleet of
Greek Islands Small Ships
Contact us to compare ships.
Find the right one for you.
Greece Small Ship Cruise Cost
Of course, budget is a huge consideration when considering a cruise. Prices vary widely depending on the ship, the cabin, the length of the itinerary and time of year. Small ship cruises in Greece start as low as $1,850 per person and can reach over $18,000 per person. There is a small cruise for every style and budget, let our experts help you find yours.
Book Early
Small ship cruises sell out early in general. Plan to book 12 months in advance to take advantage of early booking discounts. Boot at least 6-9 months in advance for the best selection of ships, itineraries and cabins. Last-minute cruises are sometimes available but don't expect any last-minute flash sales.
How to Get to Your Greece Cruise – Embarkation
Most small ship cruises to the Greek Islands begin and end in Athens. Flights to Athens International Airport "Eleftherios Venizelos" (ATH) are available from major airports around the world. The airport is accessible to downtown Athens and cruise embarkation ports by metro, suburban rail and bus. Most small ship cruise travelers will purchase private transfers to their ship or hotel.
Many small ship cruises embark in Piraeus Harbor, the main port of Athens. Some smaller ships and yachts will embark at the nearby Marina Zea. These ports are easily reached by taxi from downtown Athens.
We highly recommend travelers arrive in Athens at least one night prior to your cruise embarkation. Cruises will embark in the afternoon. Many flights from the USA to Athens arrive mid-day. Without an extra overnight you may miss the boat if your flight to Athens is delayed.
Best Time to Cruise the Greek Islands
Small ship cruises operate in Greece each year from April to October. High season is from June through August.
The best time to cruise Greece is in spring, early summer and fall. May, early June and September are particularly nice because prices are lower, and crowds are fewer. August is popular but can be hot and crowded. Learn more about the cruising season region-wide on our detailed page on Mediterranean small ship cruises.
View All Greek Island Small Ship Cruises
Start your trip search below by viewing all our Greece small ship cruises for 2024. Contact us for a personalized consultation and recommendation.