Learn More
East Coast Cruises
with AdventureSmith
Let our experts be your guide to East Coast cruises and New England by small ship. We offer the confidence of booking with an award-winning company that understands your questions, concerns and needs. Why book your East Coast cruise with AdventureSmith?
Personalized
Work with one USA-based specialist to find, book & prepare for your East Coast cruise.

Experience
We are small ship cruise experts adept at helping you find the best cabin on the right cruise.

Active
East coast cruises include guided hiking, Zodiac rides, kayaking, bird and wildlife viewing.

Value
Take advantage of deals and other East Coast cruise perks. We're here to help you save.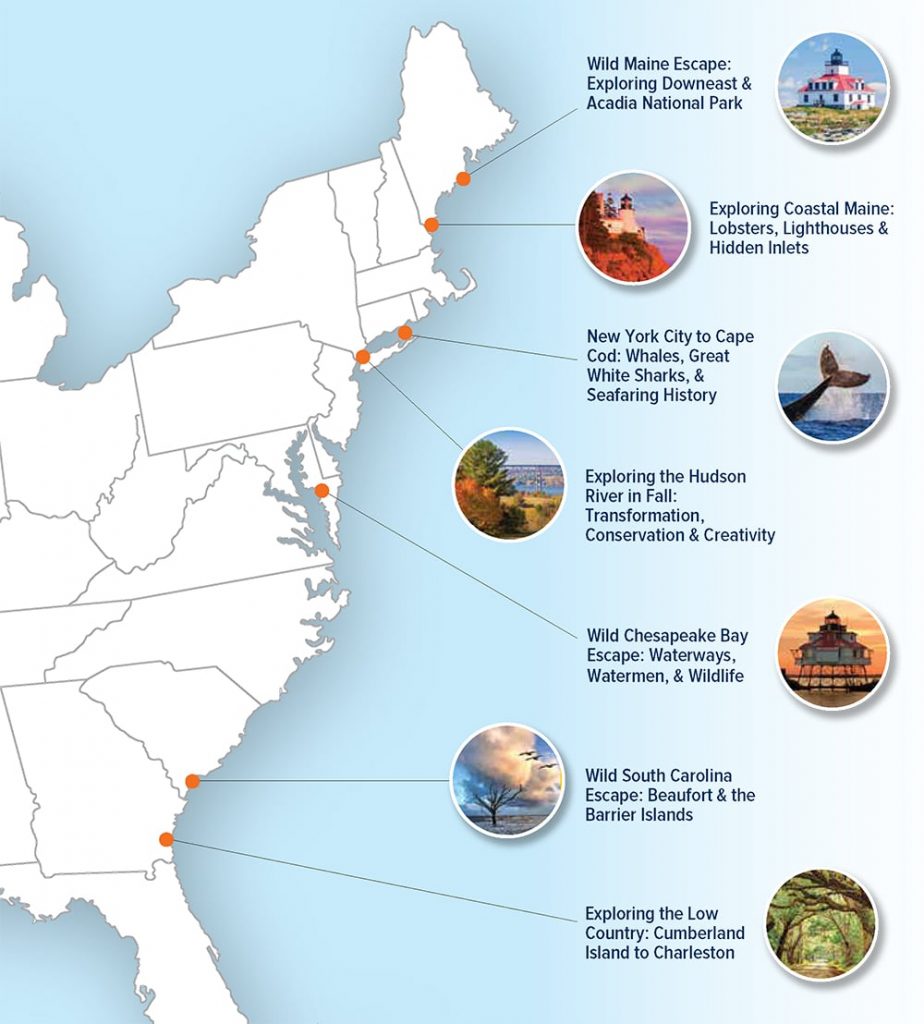 East Coast Cruise Highlights
East coast small ship cruise itineraries from Georgia to Maine discover uninhabited wild islands. Encounter whales, puffins, sea turtles and other incredible wildlife by kayak, Zodiac and picturesque hikes. From the rocky islets, forested waterfalls and lobster fishing villages of Maine to the windswept dunes, swamp forests and crabbing communities of South Carolina, East Coast cruises are a fascinating study in nature and history.
Explore a surprising plethora of uninhabited islands teeming with wildlife. Outside the big cities lie remote islands and critical nesting and feeding grounds for sea turtles and puffins. Encounter 17 species of whales and rookeries with tens of thousands of gray seals. Time stands still in estuarian backwaters, secluded coves and island villages with no paved roads that preserve rare maritime cultures.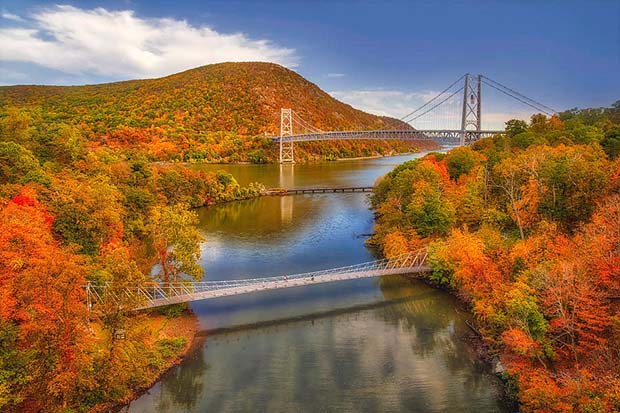 New England Cruises
Near large New England cities are undeveloped islands that serve as critical resting, nesting and feeding grounds for migratory birds and mammals. Small ship New England cruises from New York City to Cape Cod explore little-known archipelagos and wildlife refuges while diving into local history and charming towns of New England.
New England cruises sail under the Brooklyn Bridge from New York to Massachusetts, exploring Long Island Sound. Seek out whales, explore picturesque seaside towns, lighthouses and scientific research stations. See historic whalers, schooners and the largest maritime museum in the world. New England cruises offer off-vessel hikes, kayaks and Zodiac cruises in pristine environments.
Chesapeake Bay Cruises
Overnight small ship cruises in Chesapeake Bay explore the remote coves and islands of the largest estuary in America. The Chesapeake Bay watershed is home to millions of people, but very few have ventured into its beautiful backwaters.
Kayak in tidal wetlands, creeks and wildlife refuges that are sanctuaries for blue crabs and nesting seabirds. You'll be astounded by thousands of animal and plant species that co-exist in a fragile ecosystem that's on the mend due to incredible conservation efforts. With 12,000 miles of shoreline Chesapeake Bay cruises have many wild secrets to discover.
Maine Cruises
The coasts of Massachusetts, New Hampshire and Maine are wild and rugged, scenic and rejuvenating. Whales and porpoise surface off the bow and Atlantic puffins nest in New England's only national marine sanctuary. Discover tiny fishing villages with no paved roads and windswept places that inspired writers and artists. Maine cruises visit Portland, Bar Harbor and Acadia National Park combined with an incredible array of wild islands.
Fall Foliage Cruises
Many East Coast cruises witness fall foliage and the magic of autumn's transitional beauty. The best fall foliage cruises operate in October and November. Experience fall foliage cruises from New York City on the Hudson River. Immerse yourself in natural settings with guided walks led by experienced naturalist guides.
Cruises Out Of Charleston South Carolina
The eastern seaboard of Georgia and South Carolina harbors a wealth of wildlife habitats and fascinating cultural heritage. Small ship cruises out of Charleston explore the Low Country into a maze of barrier islands and wilderness, beaches, dunes and maritime forests. Watch for birdlife, alligators, dolphins and loggerhead turtles. Visit ruins of historic plantations and islands where West-African-influenced culture of the Gullah-Geechee people continues today.