Looking for the best cruise for kids? Consider a family cruise aboard a small ship carrying only 12-200 guests. Trade big cruise ship arcades and casinos for nature and wildlife in exotic destinations worldwide. Curious? Learn why cruises for kids are best aboard small ships and find the best family cruises.
ON THIS PAGE: FAMILY CRUISES
Family Cruises – Small Ship or Big Ship?
10 Reasons Small Ships are the Best
Families Love Active Adventure Cruises
Best Small Ship Family Cruise Lines
Best Family Cruises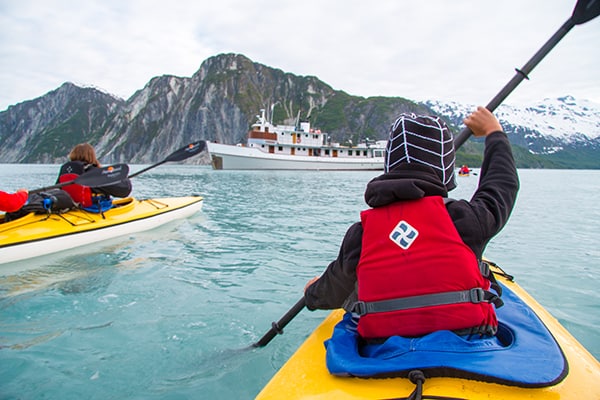 Family Cruises – Small Ship or Big?
Simply put, big ships are focused inward on amenities aboard the ship. Small ships are focused outward, on the destination and environment you are traveling through.
Big ships offer ample distractions such as water slides, unlimited ice cream stations, movie theaters, kids clubs and casinos. Cruise at night on a fixed itinerary and spend the day on tours in port.
Small ships offer a different style of entertainment with active off vessel activities in remote locations right from the ship. Get off the ship away from port hiking, kayaking, snorkeling and on small craft excursions. A flexible itinerary stops to watch whales and wildlife. Visit small ports inaccessible to larger ships.
Learn more about the difference between small ships and big ships to decide if a small ship family cruise is right for you.
If this sound like your style of travel read on to learn more about our unique style of family cruises.
Family Cruises – 10 Reasons Small Ships Are Best
Is a family cruise aboard a small ship right for your family? This is an important question to answer when researching a cruise for kids. If you are seeking an active adventure with experiences that bring the family together, then a small ship family cruise is right for you. Here are 10 reasons small cruise ships are the best cruises for kids:
1. Experience
Small ships offer amazing, once in a lifetime experiences in extraordinary destinations. Kayak among icebergs in front of a massive tidewater glacier in Alaska. Walk remote beaches where your footsteps are the only mark of civilization in Costa Rica. Snorkel for fresh lobster in Belize. View whales and bears from the deck or aboard a zodiac in Glacier Bay National Park. Immerse yourself in a colony of penguins in Antarctica. View fearless endemic animals in the Galapagos Islands.
On board raise little explorers with presentations on natural history, wildlife and local culture. Learn navigation from the captain with an open bridge policy aboard all ships. Interconnected cabins, triple cabins and family friendly stateroom configurations (great for a cruise with a family of 5) are available aboard many ships (see our Best Cruise Cabins for Families post for some suggested ships). Take your family cruise to the next level aboard a small ship family cruise.
2. Activity
Expect to actively engage in the region where you are traveling. Guided off-vessel activities such as hiking, kayaking and snorkeling offer a chance to get away from the ship to experience nature and culture up close. Expert guides lead excursions and enhance your experience through learning.
Soft adventure options allow the whole family to experience the wilderness together on excursions like guided paddles through mangroves and skiff tours looking for wildlife. If your family is active and loves the outdoors, we have the best cruises for kids.
3. Choice
One of the best features of a small ship family cruise is the ability for each guest to choose their own adventure. Activities are scalable for different ability levels from kids to grandparents making small ships a great option for multigenerational cruises.
Choose from easy shore walks to challenging hikes in the wilderness. Hikes are often offered at varying distances and terrain difficulties, and there's always a choice for quiet time on board if you choose.
For example, on a recent cruise in Mexico's Sea of Cortez, an AdventureSmith traveler was able to snorkel with her brother at a sea lion haulout, while her father took a guided skiff tour in the same zone, being able to photograph and wave to her while she was in the water.
4. Education
Expert naturalist guides and expedition crew lead all off-vessel activities. These professionals are trained to work with younger travelers and keep kids excited, engaged and educated. Small ship cruises are not simply an active vacation, but one where children will learn about wildlife, conservation and sustainability.
Onboard programs educate and entertain with presentations, slideshows, games and activities. Shared family experiences on board and off instill a lifelong love of nature and travel creating memories that will last families a lifetime.
5. Connection—and Disconnection!
Televisions, movies and video games take a backseat to once-in-a-lifetime experiences aboard family cruises. On board most small cruise ships, your family can truly disconnect from devices, and reconnect with each other and nature. Trade cell service for hiking boots and WiFi for binoculars. Instead of a distraction, kids use phone cameras to document amazing encounters and life changing experiences. Disconnect from technology and connect with your family and your destination.
6. Camaraderie
Every day is a new adventure on a small family cruise, yet your crew and guides remain the same. The whole family can create a rapport over a week's cruise with guides, who engage and educate. Plus, you'll be on board with like-minded family travelers and kids of the same age, which enhances the experience, and everyone comes away with new friends.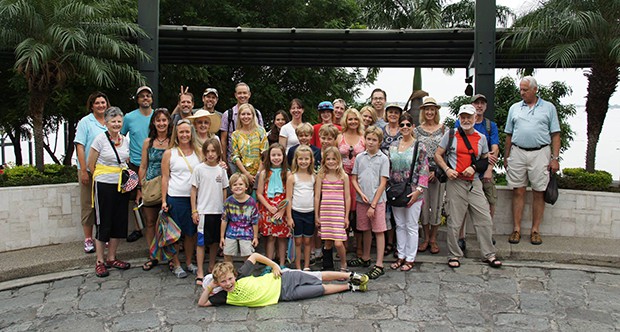 7. Price
Family cruises offer special child friendly pricing. Rates vary across ships, but families can expect discounts for children under 12 years old. Teen rates, triple cabin rates and group pricing can further extend your family cruise budget. All excursions are included in the price and your kids cruise memories are priceless. Ask our experts about the best time of year to travel and family cruise deals to find the best price.
8. Custom
Choose a small ship cruise with designated family departures if you want an even more customized family onboard atmosphere. On these special kid friendly cruises, you will travel among like-minded families with children of similar ages and enjoy added value programs like crafts, pizza and movie nights, and more. Or choose to further customize your cruise by chartering an entire yacht or small ship. AdventureSmith offers small ship charter options with as few as 8 guests.
9. Safety
Small cruise ships are a contained, controlled environment that travel to remote wilderness locations comfortably and safely. Small ships offer amazing, once-in-a-lifetime experiences, like paddling in front of a glacier and walking a remote beach with no other footsteps. Up close wildlife encounters such as whale watching and walking among a penguin colony and village visits that would otherwise be difficult for families to achieve in a safe, efficient way. For family friendly cruise lines safety is the number one priority.
10. Live an Issue of National Geographic
Small ships associated with Lindblad Expeditions & National Geographic offer some of the best family cruises available. Kid friendly cruises combine wilderness cruising with easy off-vessel activities in the company of naturalists and expedition leaders from National Geographic. Families are welcome on any departure with kids programs always available. Special programming for kids on all departures includes photo workshops, journaling, scavenger hunts, Zodiac driving lessons, hands on nature and science programming and child friendly menu options. Travelers under the age of 18 at the time of travel save $500, at double occupancy.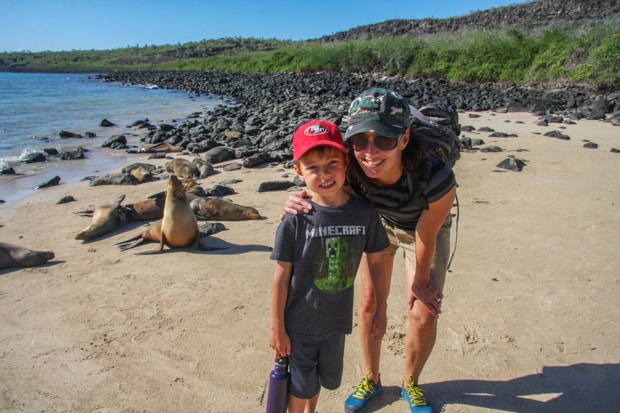 Kids (and Parents) Love Active Adventure Family Cruises
Kid friendly cruises integrate activity and learning with opportunities for personal discovery and exploration. Relax and enjoy your family cruise, secure in the knowledge that your trip is fun, safe and hassle free.
Share their enthusiasm as kids are immersed in the excitement of learning and experiencing diverse nature and rich culture. Our small ship cruises utilize children's natural curiosity and quest for fun with plenty of flexible activities and interesting diversions.
Cruises for kids should be about more than dance classes and a teen club so our child friendly cruises focus on bringing the family together versus separating youth programs and adult activities.
Scheduled family cruise departures are planned around summer, winter and spring breaks from school, and some designated family departure dates allow kids of common ages and interests to travel together.
For more information, browse our destination-specific information for Galapagos family cruises and best Alaska cruises for Families.
Best Small Ship Cruise Lines For Families
As small ship cruise experts we are often asked "What is the best cruise line for families?" Cruises with kids are unique and the best family cruise lines embody all of the 10 reasons listed above. Very few operate worldwide. Many are small family-owned companies, operating only in one region, and off the radar of most family cruisers. With that in mind here are our picks for best cruise lines for families:
MORE FAMILY CRUISE RESOURCES:
Best Alaskan Cruises for Families
Galapagos Family Cruises
Galapagos Family Charter Cruise Review
Great Barrier Reef for Kids & Families
Best Cruise Cabins for Families
Best Family Cruises
The best family cruise for kids is one that fit your interests, ability and budget. Our expert staff combines decades of family cruise planning with the experience of traveling with our own children to help you select the right ship and trip. Find our selection of the best family cruises below, then contact our family cruise experts to book.