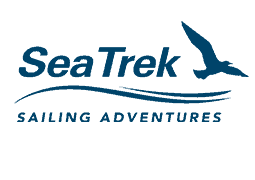 SeaTrek Sailing Adventures aims to offer unique and authentic small ship cruising experiences throughout Indonesia, and we at AdventureSmith Explorations believe they succeed 100% in doing just that. The Indonesian crew, hailing from all corners of the massive archipelago, sails traditional Indonesian pinisi sailboats on various routes through Indonesia throughout the year. This company's excitement to share this unique corner of the world truly offers travelers an experience like no other.
SeaTrek History
SeaTrek began as a dream to sail visitors around the archipelago on a traditional Indonesian ship to places travelers couldn't get to any other way. Over their nearly 30 years in business, this vision has evolved into offering a refined, professional experience as a conservation-driven company, while keeping the original dream at the core. SeaTrek was started by a Dutch traveler but also evolved to keep a strong Indonesian culture and operates as an Indonesian company sailing under an Indonesian flag with a full Indonesian crew and expedition staff. This company chooses to immerse travelers into a cultural experience the minute they step aboard.
SeaTrek Cruises
While Indonesia cruises are often hailed for their scuba diving access, SeaTrek sees the value of sharing more than what is deep below the waterline, as this vast island nation has so much more. Snorkeling is offered on all small ship cruises for an accessible way for most travelers to experience the vibrant corals and variety of life in the midst of the coral triangle. SeaTrek also offers experiences to hike to epic overlooks, observe birds of paradise, visit remote island villages, learn about traditional cultures, explore waterfalls and caves, stop at historical locales and search for wildlife.
A unique element of SeaTrek cruises are the wide variety of itinerary options for each of their two ships, creating many options for travelers wanting to experience the vast Indonesian islands. These experiences range from historical focused cruises, like sailing through the Spice Islands, to the wildlife intensive sailings through Sulawesi, or vast underwater exploration during a Raja Ampat trip.
Due to their variety of itineraries and unforgettable cruising experiences, SeaTrek has an excellent repeat traveler rate, with travelers coming back again and again after falling in love with not just Indonesia but the crew and the ship as well.
Why Cruise with SeaTrek
SeaTrek offers an Indonesian experience that goes further than the popular tourist island of Bali, showing the immense possibilities that Indonesia has to share with the world. Travelers looking for the perfect balance of relaxation and activity will enjoy the serene, coral-rich and remote waters of Indonesia while island hopping. Adventurers on SeaTrek sailings will also appreciate learning about the local culture, traditions and history, and searching out the unique endemic wildlife with a fun and attentive crew whose members are ready waiting, smoothie in hand after every excursion.
SeaTrek & Sustainability
As a company dedicated to sustainable practices, SeaTrek's conservation efforts are far from a novelty. From consistently picking up plastic, to partaking in citizen science–all the way down to the granola they serve, SeaTrek is dedicated to supporting the health of the environment and the Indonesian people. With an understanding of how everything is connected throughout this spread-out island nation, SeaTrek educates villagers on plastic usage, supports infrastructure for proper waste management and even brings water filtration systems to remote island villages. Committed to the World Wildlife Foundation, SeaTrek is a responsible marine tourism operator through the Marine Tourism Improvement Program in Indonesia.
Being an Indonesian company creates opportunities to offer goodwill and pour financial resources back into the Indonesian economy, which creates local authenticity and a sense of belonging that benefits everyone involved.
SeaTrek also invests heavily in their staff, supporting each to continue their training in seamanship and hospitality, with the general aim of making their employees' lives better wherever possible. Being an Indonesian company creates opportunities to offer goodwill and pour financial resources back into the Indonesian economy which creates local authenticity and a sense of belonging that benefits everyone involved.
SeaTrek & AdventureSmith
The partnership between AdventureSmith and SeaTrek was perhaps charted in the stars, with many aligning values that include off-ship exploration, an attentive and knowledgeable crew, sustainability, local community support and of course transformational travel experiences for guests.