For the 10th anniversary of AdventureSmith Explorations, Founder & President Todd Smith chartered the 36-guest Coral I Galapagos yacht for his family and friends to celebrate. As a travel industry veteran and board member of a Galapagos conservation organization, Todd is no stranger to the islands… this being his fifth trip there. This is the story of their trip:
When you are lucky enough to have been on as many Galapagos cruises as I have, the Islands are like family. The sights, sounds and even smells are all familiar. For this unique journey I had my actual family traveling with me and a larger family of relatives, friends and acquaintances. Our group totaled 36 and we had three generations of parents, grandparents, kids and friends ages 6-76 traveling together. On this special AdventureSmith Explorations 10th Anniversary Friends and Family Galapagos Charter Cruise I had the privilege of introducing my friends and family to my Galapagos family.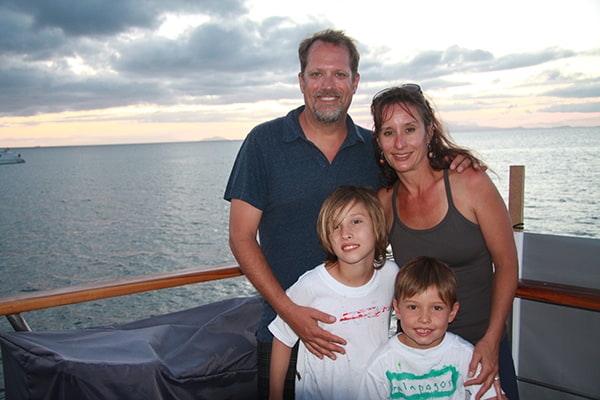 Why I Chose to Charter the Coral I
I chose the Coral I because of her size and the price. This is AdventureSmith's special 10th anniversary friends and family cruise so I needed enough space to accommodate a mid-sized group. The Coral I, at 36 guests was the perfect size, and the trip sold out quickly. I had done an inspection on the Coral I several years ago so I knew she was nice enough to please the more discriminating guests yet she is affordable enough for the families we wanted to invite. With a charter rate we were able to keep costs down for everyone so that many of the families we had hoped would come could afford it. The Coral I also has some adjoining rooms, which I knew would be important for families with younger kids.
Ecuador Arrival: Pre-Cruise Hotel & Logistics
We all arrive independently into Guayaquil where guides and drivers greeted each group upon arrival and transferred everyone to our hotel. The next morning we gathered in the lobby to a chorus of hellos, hugs and introductions. Many of us had been planning this special trip for more than a year and we were eager to experience Ecuador and the Galapagos Islands.
Our guide Christian greeted us in the lobby and guided us to our coach for a morning bus tour of Guayaquil. The first stop at Parque Seminario (also known as Parque de Las Iguanas or Iguana Park) was a favorite of the kids because of hundreds of iguanas were found lounging on the grass, in the tress and on the pathways. Despite the "prohibido alimentar animals" signs, tourists and locals alike were feeding the prehistoric creatures. Across the street Christian outlined the history of Guayaquil and Ecuador as related to the church of San Francisco. We continued to the recently refurbished waterfront Malecon 2000 park and a stop at the chocolate factory. The tour concluded at Cerro Santa Ana (Santa Ana Hill) hill with a walk and shopping among the colorful cobblestone streets and stairways. We had the afternoon free and many returned to the hotel for lunch and a swim at the pool.
Guayaquil is a large industrial city of 3.75 million people and boutique hotels can be in short supply, especially for a group of 36 friends and family. The Hotel Oro Verde Guayaquil is located only 20 minutes from the airport and is a great base for groups and families. Adjoining standard rooms or Business Deluxe Suites are perfect for a family of four. The hotel has three full service restaurants and a deli, a pool, gym, business center and an outstanding staff. Our group appreciated the family friendly room configurations and everyone raved about the breakfast buffet.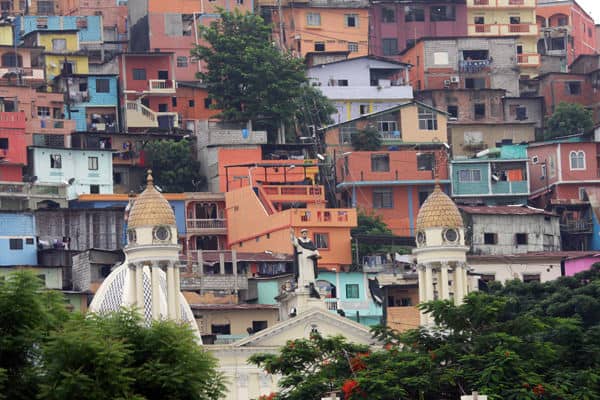 This evening we were treated to a culinary class and demonstration at the hotel. Executive Chef Antonio Perez and his staff had a menu of shrimp ceviche, fried green plantains with fresh cheese and peanut salt and beef in achiote rub with corn cakes. With pencils for taking recipe notes and beers to compliment the Ecuadorian Ceviche (you can't really enjoy Ceviche without a beer Antonio had told me earlier) we enjoyed a world class cooking demonstration and tasting. Ecuadorian Ceviche is cooked first and when those shrimp hit the pan our group smiled with pleasure. The chefs were a wealth of knowledge describing the history of dishes and their regional importance in Ecuador. They had stories of how they learned their recipes and tales of adventure from around the world as only a master chef can cook up. The chefs welcomed us like family and by the end it felt like good friends hanging out together in the kitchen. Soon our group was hovering around the stove asking questions, taking notes, drinking beer and sampling the delicious cuisine. This event was about much more than food. It was a portal into Ecuadorian culture that our family will remember forever.
Galapagos Flights & Embarking our Charter Cruise
The next morning we were up early for our flight to the Galapagos. Some were surprised by the modern Airbus planes in the Aerogal fleet. I suppose given the remote nature of the islands they were expecting smaller puddle jumper style airplanes. We arrived at Baltra and were greeted by our guides for the transfer to Peurto Ayora on Santa Cruz Island. Our guides warned that seas were rough last night and anyone concerned about seasickness should prepare. This gave us about an hour to put on patches, take any medications or otherwise get ready for rough seas.
Upon arrival at the dock in Puerto Ayora the vivid green and blue water was broken by choppy waves and whitecaps. We could see why our guides had mentioned the rough seas. We boarded zodiacs and transferred to our ship, the 36 guest Coral I, and the adventure began. Simply getting aboard was a harrowing experience. Wind generated swells caused the ship and the zodiac to rock in opposite directions and one had to time a jump from the inflatable boat to the swim step of the ship. I was quite nervous as we had three generations of travelers in our group with grandparents and younger kids. With the help of the crew we all made it safely aboard. Unfortunately for some, despite our precautions, seasickness immediately ensued.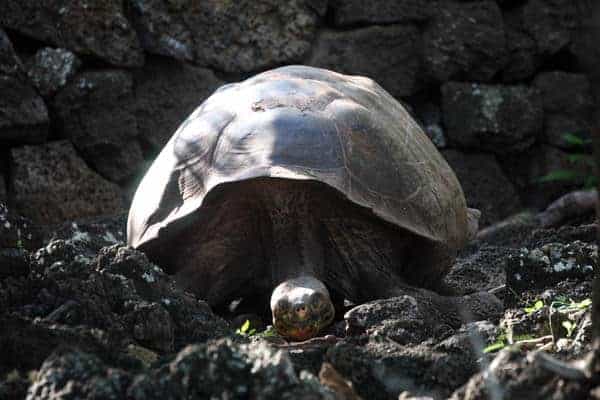 After lunch and a brief trip/ship orientation we boarded the pangas and returned to Puerto Ayora for a tour of the Charles Darwin Station. Because this was a special family and friends group we had arranged for a special tour of the Fausto Lorena Breeding Center led by local students from Ecology Project International. As we walked the paths among the tortoises the teens from EPI did a great job and added unique insights from their experiences working on field research with scientists. Our kids enjoyed listening to their peers more than the shipboard guides and they peppered the EPI students with questions about their research and what it is like to live in the islands. Our tour concluded with a behind the scenes tour and talk from Sven Lorenz, director of the Charles Darwin Foundation. Special itinerary arrangements are not part of a standard Galapagos tour, but can be added for custom groups and families on a charter.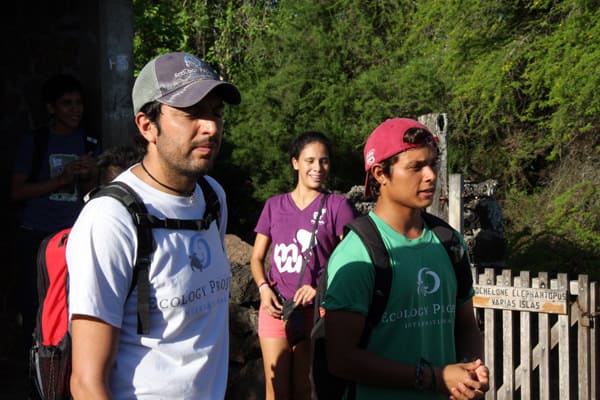 After the tour we had some free time to shop and explore Puerto Ayora before returning to the ship. Upon return to the ship we had dinner, although many guests missed it due to rough seas. We had a bumpy night anchored in Academy Bay before pulling anchor early in the morning.
Special itinerary arrangements are not part of a standard Galapagos tour, but can be added for custom groups and families on a charter.
We motored towards Santa Fe Island and the rough seas continued. As we approached and anchored the waves settled a bit, but did not disappear. There is a small sheltered cove on Santa Fe but a ship the size of Coral I is too large to anchor here. So we boarded the pangas and rounded the corner into flat calm azure water in a postcard perfect cove with a sandy beach surrounded by black lava rock and strange cactus dotting the hillsides. The calm water was a relief to many guests and the excitement was palpable as we set foot on our first exploration of the Galapagos. We stepped ashore into shallow water and made our way to a beach among dozens of sea lions. Cameras were clicking and any lingering seasickness was quickly forgotten.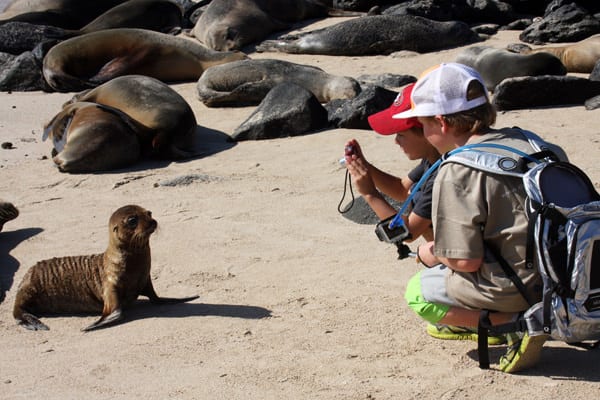 A traveler's first impression of the Galapagos is typically shock and amazement. The resident animals in the Galapagos never had any predators and over countless generations lost the tendency to run when odd creatures approach. As a result the Galapagos Islands animals are uniquely approachable. This is one of the factors that make the Galapagos so special. My human family quickly became acquainted with my Galapagos family. As our guides described the island and its inhabitants parents and grandparents were clicking away taking photos of human kids and sea lion pups frocking on the beach. During a short walk on Santa Fe Island we also spotted the endemic Santa Fe land iguana, Galapagos finches and mockingbirds and, much to the delight of our group, a blue footed booby. Scenic vistas of the cove below and cactus above make Santa Fe a dramatic first landing and a great first impression of the Galapagos Islands.
We returned to the ship to gather our snorkeling gear and snorkeled from the panga in the calm waters offshore of Santa Fe. Again our group was eager to get in the water and was amazed at large schools of colorful fish including king angelfish, yellow tailed surgeonfish and bright green parrotfish.
Back on board for lunch and siesta we immediately got underway for South Plaza Island. As soon as the ship steered northward the prevailing swell, which has been so uncomfortable for the past 24 hours, became almost un-noticeable. To the relief of many on board the seas would be calm for the remainder of the trip. This experience is a reminder that seasickness can be an issue in the Galapagos Islands and that travelers need to be prepared for rough seas, especially during the cool season.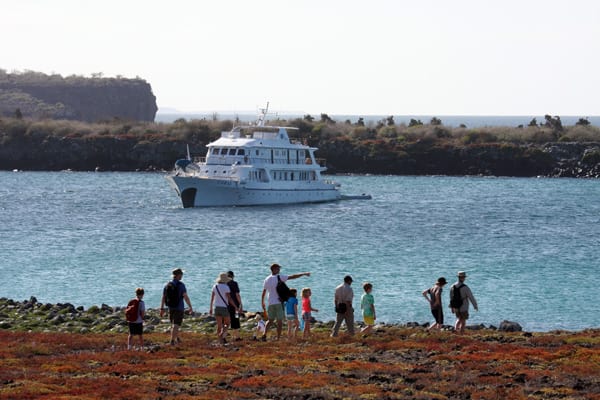 A dry landing on South Plaza forced travelers to walk over and around sea lions lounging on the dock just to get ashore. At this point one begins to realize that these islands are all similar yet host an astounding diversity of endemic animals (animals that are found only here and nowhere else on earth). South Plaza is a small colorful island with bright red undergrowth and green opuntia cacti contrasting the vivid blue and aqua of the surrounding waters. Here we ambled among hybrid iguanas (a unique cross between land and marine iguanas) and stunning vistas as we climbed a gentle slope that ended in a dramatic cliff dropping to the ocean on the other side of the island. The cliff face and waters below it were teaming with life including sea lions (how they made it this high I can't even imagine), swallow tailed gulls, red billed tropic birds and royal terns all feeding on schools of fish we could easily see in the water below.
We returned to the Coral I for cocktail hour and dinner. The food aboard the Coral I is good and hearty but not gourmet. All meals are served buffet style and family style seating in a casual setting. Over the course of the week it became clear that many of the dishes were being reused, which is understandable given the remote nature of the Galapagos and the challenges of getting fresh food to such a distant location. Most guests were pleasantly surprised by the quality of the food and the terrific service of the staff.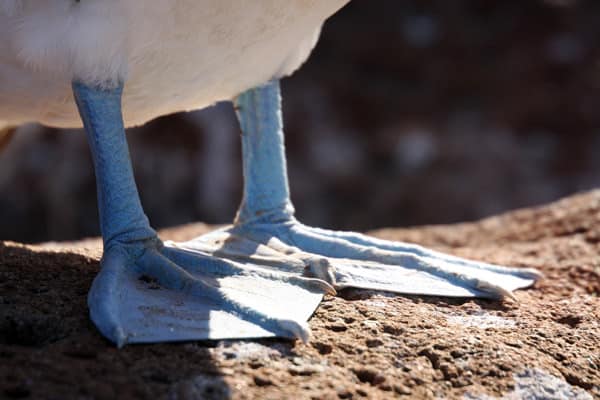 Each evening the naturalist guides give a presentation on what to expect the next day. These were helpful in understanding where we were going, what we would see and how we should prepare. But the talks were not informative or entertaining as is the norm on many small ship cruises around the world. We had three naturalist guides on board for our group of 36. The guides were all good with lots of experience in the Islands, but some were more knowledgeable, informative and enthusiastic than others. Hernan was the marine specialist with many years experience as a dive instructor. He would tell gripping stories of adventure from his many years working in the Galapagos and around the world. Alejandro was the scientist/conservationist and did a great job illuminating the natural history of the islands and the challenges faced by invasive species, immigration and tourism in the islands. Consuelo was quiet and more subdued but very informative if you could quietly engage her with questions. All the guides treated us like family and did a great job with our kids, keeping them informed and safe while on our excursions.
With a charter rate we were able to keep costs down for everyone so that many of the families we had hoped would come could afford it.
The Coral I is a comfortable small ship and was perfect for our group. At 36 guests she is large enough to accommodation our group of family and friends, but small enough to preserve an intimate atmosphere and efficient shore landings. She is nice enough to please the more discriminating guests yet she is affordable enough to accommodate all the families we wanted to invite. With a charter rate we were able to keep costs down for everyone so that many of the families we had hoped would come could afford it. The Coral I also has some adjoining rooms, which I knew would be important for families with younger kids.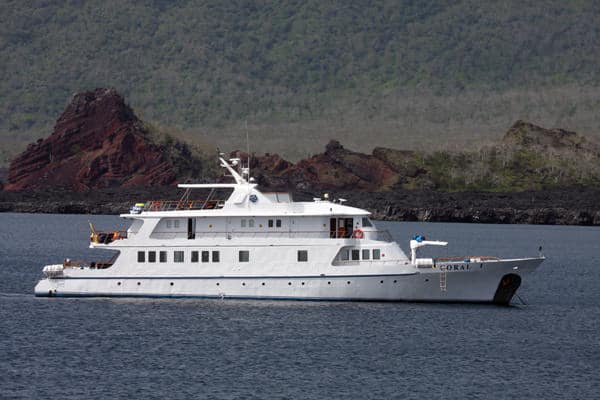 The rest of the cruise we fell into a routine of morning shore excursions and/or snorkeling, return to the ship for lunch and siesta, then another afternoon of off vessel activities. On North Seymour we walked among nesting frigate birds and blue footed boobies sitting on eggs and rearing their young. Offshore from North Seymour we were treated to a pod of jumping dolphins. At the beautiful bachas beach we saw pink flamingos and the tracks and nests of sea turtles. Some guests saw sea turtles while snorkeling.
At San Cristobal we visited the interpretation center and then we had another special arrangement for our family group. In partnership with Children of the Galapagos, a non profit working to improve the lives of children and families in the Galapagos, we were greeted by the kids of Canon Point Club. Canon Point is teaching local kids about adventure sports, such as surfing, skateboarding and mountain biking, so these kids can grow up to be the next generation of local guides. They took us to a nearby park where the local kids showed and shared their skateboarding and bmx biking skills. Our kids joined in and soon everyone had a new friend. We made our way to the waterfront clubhouse where we shared a snack and the kids got to know each other better. The children exchanged emails and gave hugs as they said goodbye to new friends. Our Galapagos family was growing each day and today was an encounter we would never forget. This is not part of the standard Galapagos cruise but can be arranged for families, charters and groups. The rest of the afternoon was ours to explore town and most guests decided to have lunch in San Cristobal. Some people wrote postcards while others checked email at internet cafes. Nearly everyone enjoyed ice cream and relaxed while our kids, local kids and even sea lion kids played in the waterfront park.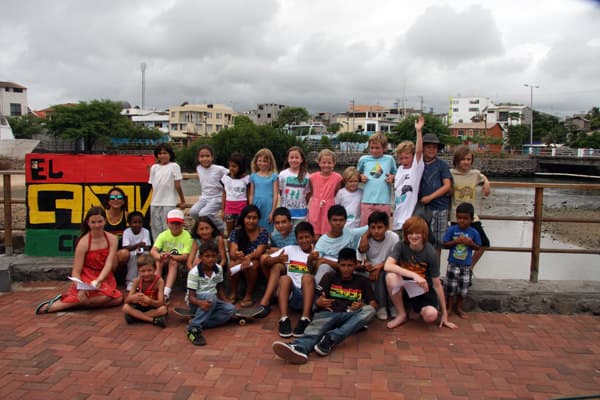 Galapagos Islands Itinerary Highlights
Cerro Brujo has to be one of the most spectacular beaches anywhere in the world. Fine white sand is bordered by black lava overlooking brilliant blue and green waters. Offshore views of Kicker Rock add to the postcard perfect scene. Here we had our first good look at marine iguanas coming and going across the white sand. We also saw a number of fishing birds peering into tide pools so clear the fish had few places to hide.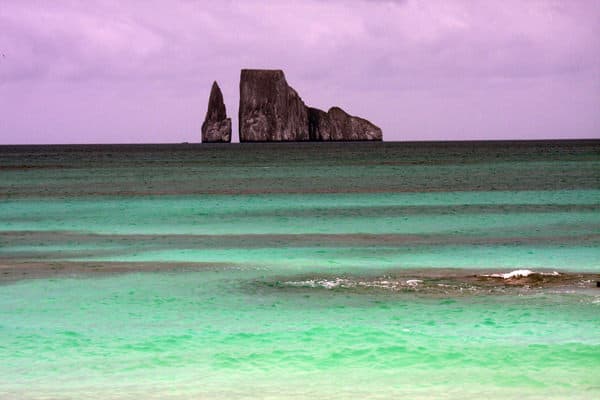 The hike at Pitt Point offered a chance to get high above the ocean with spectacular views of the beaches below and chances to view red footed and nazca boobies. The highly eroded tuff cone also offered the best chance to learn about the geology of the Galapagos.
Mosquera Islet is little more than a large white sand dune protruding from the sea, but it provided an education with marine iguanas, seabirds and a fascinating whale skeleton washed ashore years before. Our guides outlined the geology of the islands in the sand and used the whale skeleton to help the kids appreciate the massive animal's life cycle.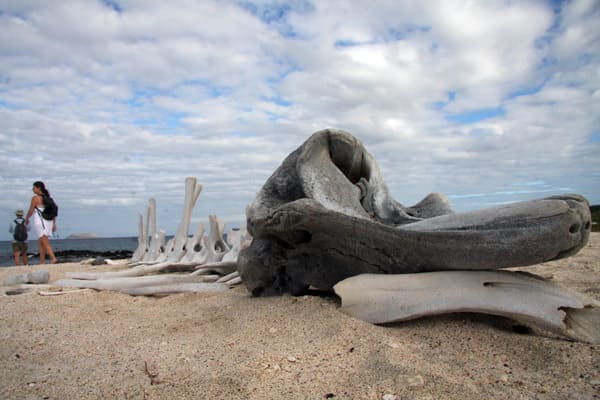 Bartolome is the quintessential island and offers the most photographed view in the islands. A walkway with 372 wooden steps leads to a dramatic overlook of Pinnacel Rock, scenic beaches and the dramatic volcanic landscape of Santiago Island. Snorkeling here was a highlight. Guests most appreciated the chance to swim with the rare Galapagos penguin. Other snorkelers saw blue footed boobies diving for fish, marine iguanas grazing on algae and even an octopus. The activity concluded with a zodiac ride to view more penguins and a dramatic view of the Pinnacle Rock.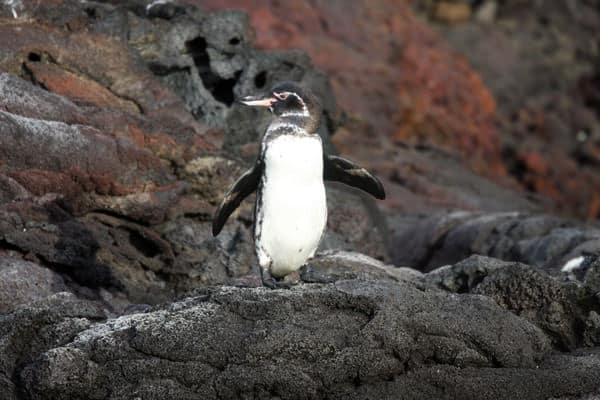 The red sand beach at Rabida is striking. Rich in iron oxide and magnesium the volcanic beach sand is literally rusting. A scenic walk leads to red footed boobies nesting on cliffs above jagged red cliffs. Snorkeling here is like entering a sea lion playground and parents were delighted at the sound of children giggling through snorkels (but also nervous that their kids are swimming among wild animals). Some families view a spotted eagle ray slowly gliding along the seafloor.
At Puerto Egas we walked in the footsteps of Charles Darwin, who visited this same beach on his famous voyage of discovery aboard the HMS Beagle in 1835. We viewed pelicans, blue footed boobies, yellow crowned night herons, territorial American oystercatchers and finches. This was also a great place to see marine iguanas and we saw hundreds lying atop one another warming in the sun while others were coming and going into the sea. Volcanic rock along the beach created brilliant blue and green pools where Galapagos fur seals lounging poolside enjoying the view. As if on cue, a sea turtle swam under the black volcanic archway spanning one of the pools. This walk is the perfect combination of history, nature and scenic beauty.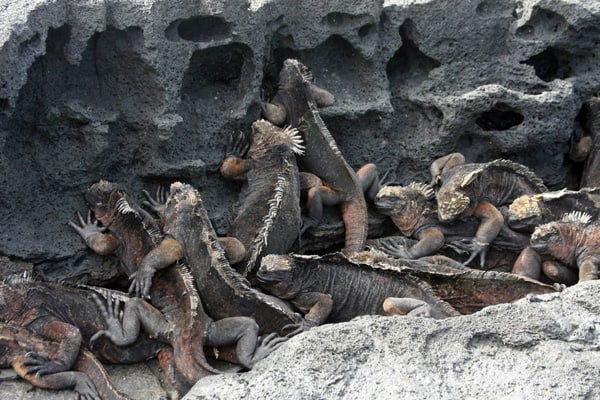 Saying Goodbye to our Galapagos Charter aboard Coral I
The last night of the cruise the crew of the Coral I prepared a delicious sunset BBQ on the upper deck of the ship (it was actually the second rooftop BBQ of the trip). We toasted the captain and crew and we toasted our family and friends and we toasted our new friends and we toasted the Galapagos Islands. It was all very familiar, like many of my previous trips to the Galapagos Islands. Except this time I had my family and my Galapagos family together and I was so pleased I was able to introduce them to one another. So I toasted that.
The last morning of the cruise we awoke early to a much calmer anchorage in Academy bay. After an early breakfast we skiffed ashore for our last landing back in Puerto Ayora and a stop at a reserve to view giant Galapagos tortoises in their natural habitat. The wet highlands are a stark contrast to the dry coastline and the staff provided us with boots to walk the wet trails where the tortoises are lounging in swampy ponds. Seeing these giant creatures up close is the only way to appreciate their truly massive size. The Galapagos Islands are names for these ancient creatures and walking among them was the perfect way to conclude our Galapagos family cruise.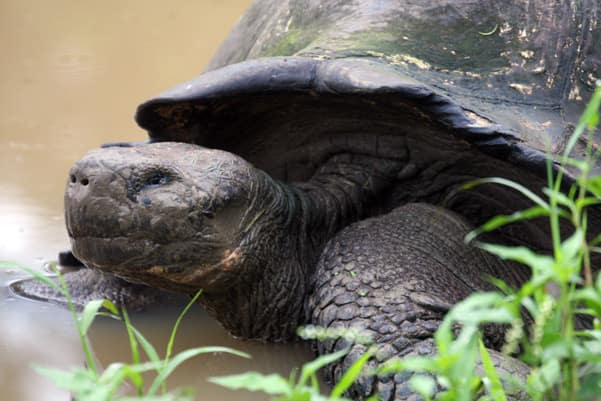 Back at the Baltra airport we said goodbye to our crew and our new Galapagos family and boarded the plane back to Guayaquil. Some of us departed on red eye flights that night, others left early the next morning. Some went home, others stayed in Ecuador and a couple went to Machu Picchu. My family and some friends went to Panama. Wherever we went, we each depart the Galapagos knowing we are now a part of a larger family. A Galapagos family that welcomes anyone who travels to the Galapagos Islands.
For more photos from this Galapagos trip, including additional wildlife and itinerary stops view my Facebook album, on AdventureSmith's Facebook page.
MORE GALAPAGOS RESOURCES:
Galapagos Cruises
Galapagos Cruise Deals
Galapagos Islands Yacht Charters
Galapagos Luxury Cruises
Galapagos Family Cruises
Galapagos Diving
How to Choose the Best Galapagos Cruise
Galapagos Island Hopping or Cruise?
Best Time to Visit Galapagos
How to Get to Galapagos
Galapagos Islands Animals
Galapagos Trips
Galapagos Tours
Galapagos Cruise Reviews
Galapagos Travel Guide