Many clients ask us "can you Scuba dive in the Galapagos?" Yes, Galapagos diving is world class. The three best ways to go scuba diving in the Galapagos are:
On a Galapagos liveaboard diving cruise
A Galapagos diving tour by land
Aboard a nature cruise
In this post we outline the best scuba diving in Galapagos for your level of experience and style of travel. Our experts provide advice and outline the benefits of Galapagos liveaboard cruises, scuba diving land tours and rendezvous diving on nature cruises. Find the best time for Galapagos Islands diving and get insight on what you will see while diving in the Galapagos.
IN THIS POST – Galapagos Diving

Galapagos Diving Highlights
Galapagos Liveaboard Cruises
Galapagos Diving Land Tours
Scuba Diving on Galapagos Nature Cruises
What Will You See?
How Difficult Is Galapagos Diving?
Galapagos Diving Seasons
Best Scuba Diving in Galapagos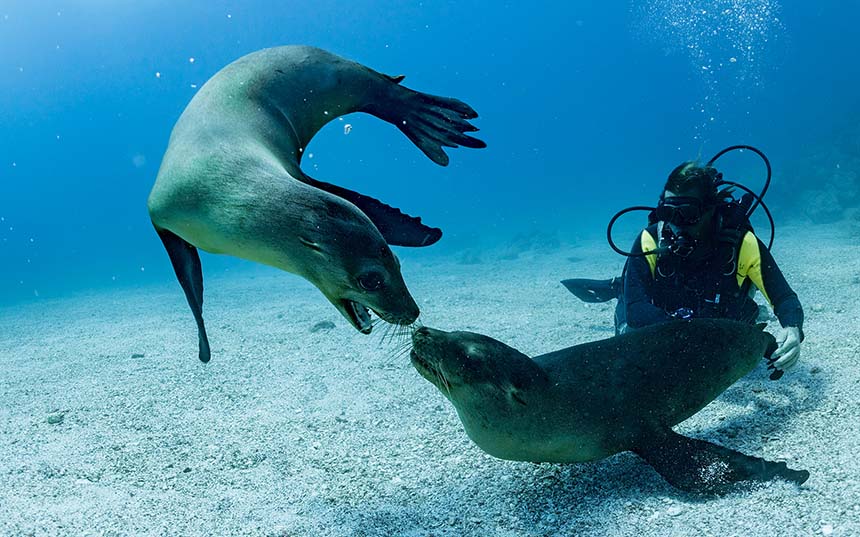 Galapagos Diving Highlights
Galapagos Islands scuba diving is unique in the world. Experience large marine wildlife encounters such as sea lions, sea turtles, spotted eagle rays, manta rays, reef sharks, hammerhead sharks, and whale sharks. Of course, there are also schools of colorful fish, starfish, sea cucumbers and other conventional undersea inhabitants. Unusual encounters may include sea horses, marine iguanas and even penguins. Galapagos scuba diving trips are truly exceptional.
Galapagos Liveaboard Cruises
For experienced divers, the best way to scuba in the Galapagos Islands is aboard a dedicated liveaboard dive cruise. Liveaboard cruises spend the entire week focused on scuba diving. Expect three to four dives each day in remote locations not accessible on land-based tours or nature cruises.
Most Galapagos Islands diving liveaboard cruises visit the isolated islands of Darwin and Wolf. These islands are not included on nature cruise itineraries and are out of reach of land-based diving programs.
Divers at Darwin and Wolf islands encounter large schools of hammerhead sharks year-round. Seasonal encounters with whale sharks and manta rays are also a highlight. Darwin and Wolf Islands are rated among the best dive sites in the world and the highlight of any Galapagos liveaboard cruise.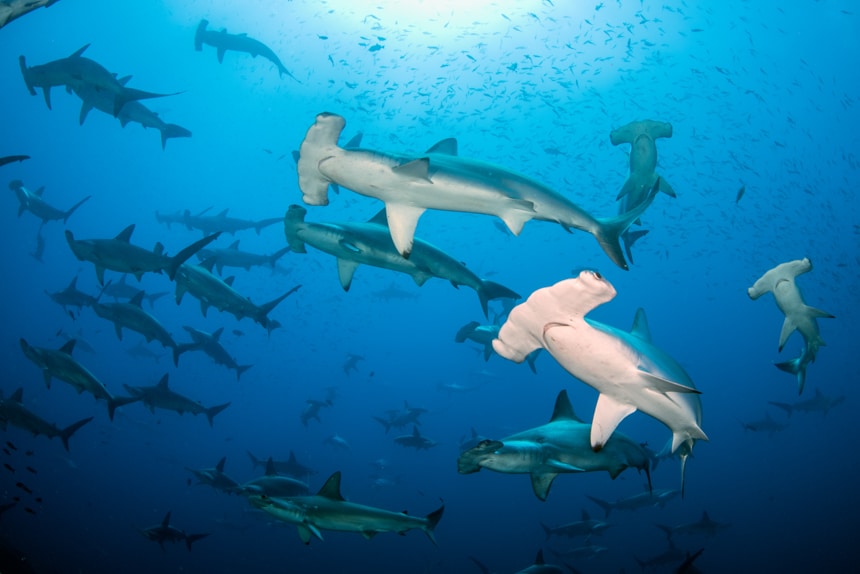 Cruise aboard custom-designed yachts specially outfitted for scuba diving. They offer upscale accommodations with excellent service and are outfitted with experienced dive masters and guides. Another advantage of a Galapagos liveaboard diving cruise is that they offer night dives (conditions permitting). Galapagos night dives are also available on land tours but not available on nature cruises.
Galapagos liveaboard cruises will offer a very limited number of landings and hikes on the Galapagos Islands, because the primary focus is on scuba diving. Liveaboard diving is for advanced divers only with some locations requiring as many as 50 or more logged dives in similar conditions.
Galapagos liveaboard cruises are dedicated to scuba diving and discounts are not provided for non-divers. Galapagos diving cruises typically include accommodations, transfers, meals, tanks, weights and all guided dives. Dive equipment is not included but is available for rent.
Due to advanced conditions it is highly recommended that liveaboard divers bring their own gear; 7mm wetsuits are recommended. Dive accident insurance is required, and travel insurance is highly recommended. Dive certification cards must be shown upon check in. Snorkeling is regulated by the National Park and is not allowed at most dive sites.
Galapagos Liveaboard Diving Cruises:
Galapagos Diving Tours
Another way to experience scuba is to book a Galapagos diving land tour package. Based from the comfort of a Galapagos hotel or lodge, guests take fully guided day trips to nearby sites. Galapagos scuba diving packages can range from a couple days to a week or more. Learn more about the difference between Galapagos cruises and land tours.
On a Galapagos land-based diving tour day boats access dive sites within reach of towns. Galapagos dive tours on land offer plenty of flexibility to select sites based on your ability and interests. Tour boats may spend 1-2 hours getting to dive sites and another 1-2 hours returning. They typically include two dives each day. Choose as many days of diving as you wish or combine dive days with guided naturalist excursions to nearby islands. Night dives are an option.
Land based diving tours are suitable for all ability levels and can be customized based on your level of experience. Most sites are suitable for divers with 10-25 logged dives. More advanced sites may require proof of 25 or more logged dives in similar conditions. Galapagos diving tours typically do not include visits to Wolf and Darwin Islands, as these are beyond the reach of day boats. Our experts will work with you to create the perfect Galapagos diving tour.
For the most complete experience we highly recommend combining a Galapagos Islands scuba diving land tour with a naturalist cruise for a complete experience. Because you cannot fly immediately after diving, we encourage our clients to book a Galapagos Islands diving land tour prior to their cruise. All of our Galapagos diving holidays are customized to each client so contact us if you would like to combine a Galapagos land-based dive trip with your nature cruise.
Galapagos land-based diving packages typically include accommodations, transfers, meals and guided diving excursions (or optional naturalist excursions). A range of hotel and room options are available. Dive equipment is typically included in the price.
Galapagos Diving Land-Based Tours:
Diving on Galapagos Nature Cruises
For casual divers, another way to experience scuba in the Galapagos Islands is rendezvous diving aboard a nature cruise. Rendezvous diving means a dive boat meets your small ship or yacht at a select location. Professional dive operators then take a group of divers out for the day. These are traditional Galapagos cruises that offer scuba diving as an added option.
The focus of a Galapagos nature cruise is to experience as many islands and as much wildlife as possible. Naturalist guides lead twice-daily shore hikes, snorkeling and explorations by small craft. Learn more about nature cruises and how to choose the best Galapagos cruise. Some scuba diving experience is required. Most sites visited are considered beginner or intermediate. Travelers should have at least 10-25 documented dives in order to participate.
Nature cruises with scuba diving are an excellent option for couples, families, and groups where some members want to scuba dive and others do not. While the divers are out for the day the other guests are enjoying the scheduled hikes and snorkeling. Participating in diving means guests miss the regularly scheduled activities for that day.
Galapagos Islands scuba diving aboard nature cruises must be arranged in advance and may be subject to a minimum number of guests, usually two people. Week-long cruises typically offer one day of optional diving that includes two dives. Scuba diving is at an additional cost and paid for upon arrival on board or directly with the dive operator. All diving equipment is provided. Dive experience and certification is required.
Many travelers will ask "is it worth it to book rendezvous scuba diving on a naturalist cruise?" The snorkeling on nature cruises is outstanding and most of the undersea life in the Galapagos is accessible to snorkelers. While rare encounters with hammerheads or whale sharks are possible on rendezvous dives, they are not the norm. Consider diving on a nature cruise as an added experience or to boast that you went diving in the Galapagos. Do not expect to have the same encounters as divers on a liveaboard cruise.
Galapagos Nature Cruises with Scuba Diving:
Galapagos Diving vs Snorkeling – What Will You See?
Undersea life in the Galapagos is incredibly accessible. Many of the most common animals are easily seen either scuba diving or snorkeling. Snorkelers routinely swim with sea lions. They'll view sharks and rays. Snorkelers can encounter iguanas and penguins and of course will see tropical fish. Scuba diving in the Galapagos is the best way to ensure pelagic wildlife encounters such as whale sharks, manta rays and hammerhead sharks. Common animals viewed while snorkeling and/or scuba diving in the Galapagos include: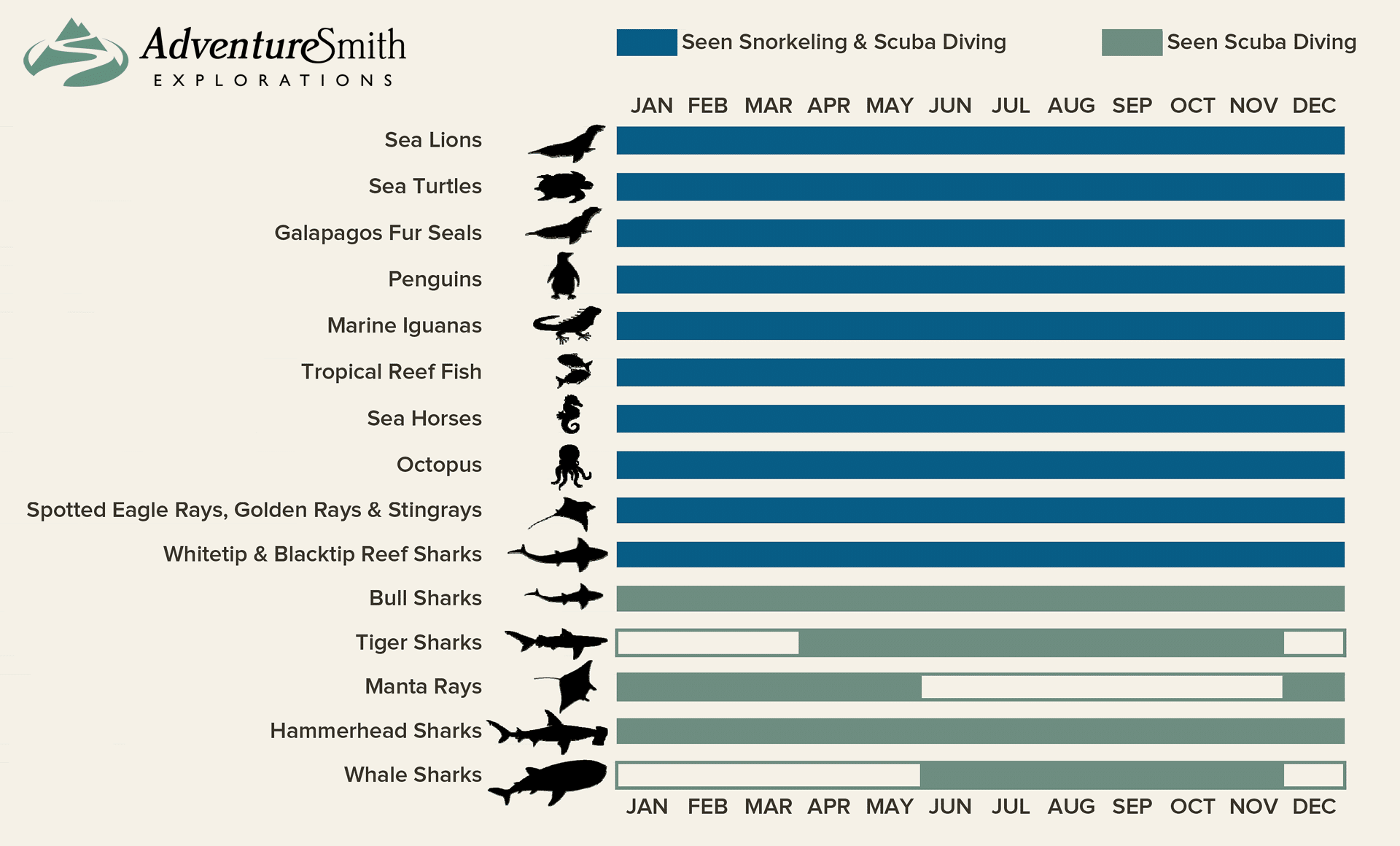 How Difficult Is Galapagos Diving?
While there are beginner and intermediate dive sites, the Galapagos are most appropriate for advanced divers with experience diving in cold water and strong currents. This is especially true during the cool season from June through November, when waters are colder and currents are strongest.
Galapagos liveaboard dive depths can range from 30 feet to over 110 feet (10 to 34 meters) with most sites on the deeper end. Galapagos scuba diving from naturalist cruises will focus primarily on beginner and intermediate sites with depths in the 30-60 foot (10-18 meters) range. Travelers with limited experience should focus on naturalist cruise rendezvous diving or land-based diving trips between December and June, when waters are warmer and calmer. Galapagos liveaboard dive cruises are only for advanced divers with experience in deeper depths, cold water and currents.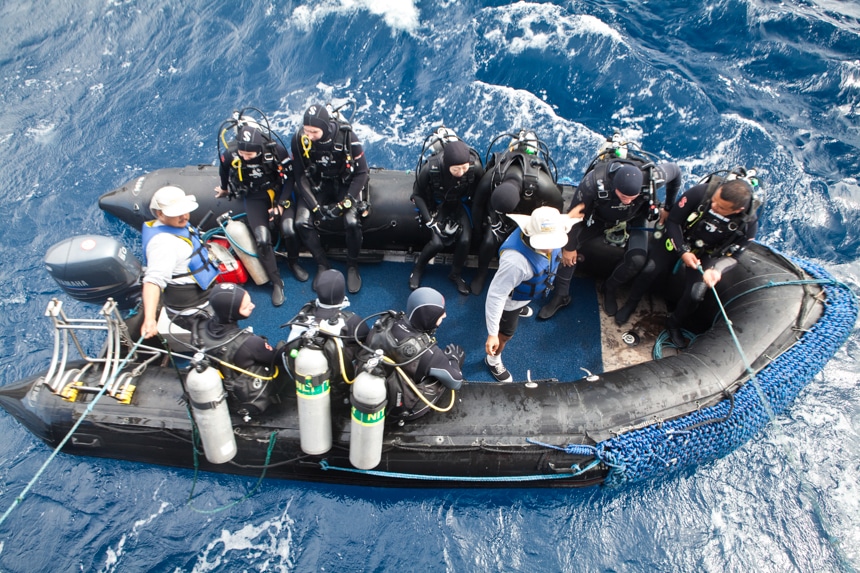 Scuba diving in the Galapagos Islands is not typical tropical diving. Dives are always conducted from small inflatable skiffs, or pangas as they are known in the Galapagos. Whether you dive from a liveaboard, on a land tour or rendezvous diving from a nature cruise, you will enter and exit the water from a panga. There are no shore dives. Due to the currents and out of respect for the marine environment, pangas do not anchor. Therefore, it is not possible to dive down an anchor chain and come back to the anchored vessel. Descents and ascents are usually done free (without a line) and most dives are done "drift-style." The panga follows the divers' bubbles and picks them up at the end of the dive.
The Galapagos are a mid-ocean island group, and dive sites are commonly affected by moderate to strong currents and occasionally by rough surface conditions. Experience in colder water, wall diving and diving in currents is strongly recommended. A 7-mm wetsuit is commonly used which can be restrictive. Strong currents can be disorienting or distressing for divers unfamiliar with these conditions.
All divers must present PADI or SSE certification. Many sites have a minimum number of required dives. Beginner and intermediate sites typically require around 10 logged dives. Advanced sites may require 20, 50 or even 100 logged dives.
Best Time to Dive – Galapagos Diving Seasons
Scuba diving is excellent year-round in the Galapagos. The best time to scuba dive in the Galapagos is from December to May, during the warm season. For more details and a month-by-month guide to weather and wildlife see the best time to visit Galapagos.
Galapagos Warm Season Diving
During the warm season from December though may, the water is warmer and calmer with visibility up from 40-100 feet. Galapagos water temperature below the surface ranges from 70-75 degrees Fahrenheit (21-24 Celsius). This is the best season to view manta rays and hammerhead sharks.
Galapagos Cool Season Diving
During the cool season from June through November, the water is colder and currents are stronger. Visibility is reduced to 30-70 feet, although still excellent by most standards. Galapagos water temperature below the surface ranges from 62-68 degrees Fahrenheit (17-20 Celsius). This is the best season to view whale sharks.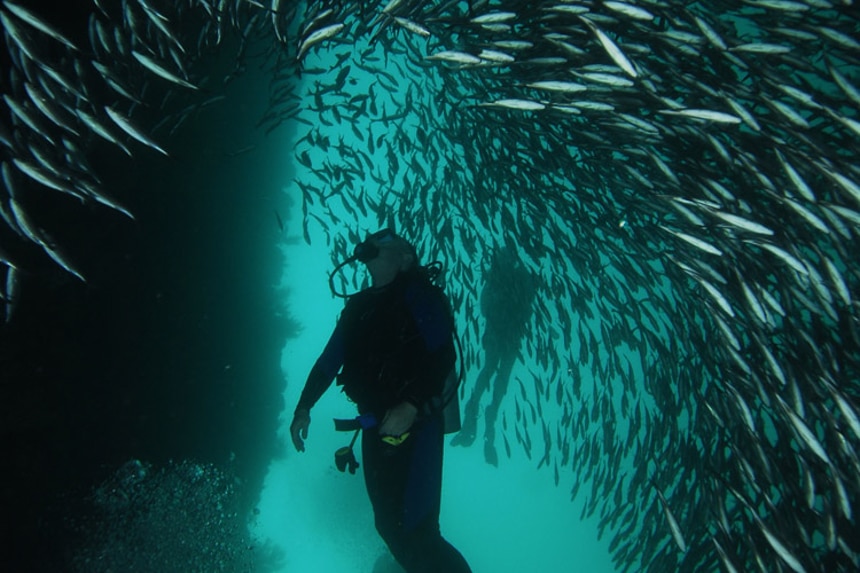 Choose Your Best Scuba Diving in Galapagos
So, what is the best diving in the Galapagos? The best Galapagos diving will depend on your ability and style of travel. For advanced divers the best option is a Galapagos liveaboard cruise. Combining a Galapagos diving land tour with a cruise is also a terrific option to experience the best of land and sea. Scuba diving on a nature cruise is an option for travelers who want to test the waters. Not sure what scuba style is best for you? Contact our experts to learn more about scuba diving options in the Galapagos Islands.
MORE GALAPAGOS RESOURCES:
Galapagos Trips
Galapagos Luxury Travel
Galapagos with Kids
Galapagos Cruises
Galapagos Charters
How to Choose the Best Galapagos Cruise
Galapagos Island Hopping or Cruise?
Galapagos Land Based Tours
Best Time to Visit Galapagos
How to Get to Galapagos
Galapagos Islands Animals
Galapagos Trip Reviews
Galapagos Travel Guide
Galapagos Cruise Deals