Galapagos family cruises and tours combine nature, wildlife, adventure and fun. The Galapagos offers hands-on learning, up-close wildlife encounters and a variety of activities that keep the whole family engaged.
Read on for insider insight and advice on travel to Galapagos with kids or head to the bottom for a designated list of our top Galapagos family cruises and tours.
Small ship family cruises in the Galapagos are the perfect platform for family travel, as they offer the ability to only unpack once, include all meals and have engaging guides. The small ship atmosphere creates an ambiance of family bonding where activities, programs and meals are opportunities to bring families together, sharing interests and once-in-a-lifetime experiences.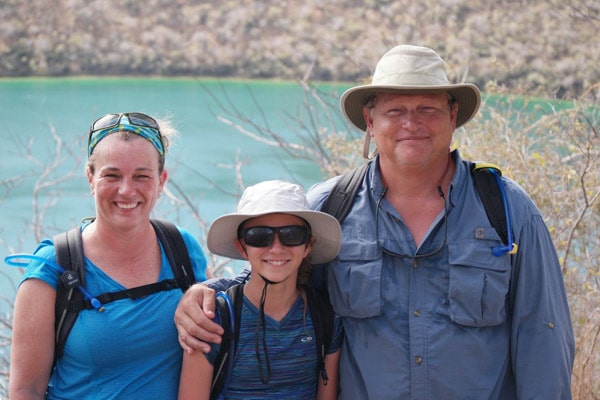 Why Take a Galapagos Family Vacation?
The Galapagos Islands are home to an astounding variety of wildlife, making the archipelago one of the world's premier places to experience wildlife. Animals here evolved without predators and as such have no fear of humans, making them uniquely approachable and perfect for gentle wildlife viewing by kids.
The best Galapagos tours for families will include opportunities to swim with sea lions, walk with marine iguanas, dance with blue-footed boobies, witness giant tortoise and learn about Darwin's finches. Science and education are also inherent in a good Galapagos family cruise and expedition leaders are trained to make the island's natural and human history come alive for families. Sharing the Galapagos with kids is a learning experience for the entire family.
Is a Galapagos Family Trip Right for My Family?
A Galapagos family trip is an adventurous vacation. Getting to and from the Galapagos requires long travel days. Cruising through the Galapagos can be the trip of a lifetime, as it is more than a relaxing beach vacation, rich with active exploration and learning every day. Spanish speaking is not required to enjoy a trip to the Galapagos, but can be a great opportunity to practice and learn new words. All the guides and many of the crew aboard small ships will speak English. To embark on a Galapagos Islands family cruise or tour, it helps to have a sense of adventure and a healthy dose of patience to endure the occasional hardships and mishaps that can happen during international travel.
Galapagos With Kids: Recommended Age
When considering travel to the Galapagos Islands with kids, we suggest age 6 and older. Policies for children aboard small ship cruises differ between each vessel; some allow children of all ages, but others may have a minimum age requirement of 5, 6 or 7. Age exceptions may be possible for designated Galapagos family cruise departures and/or private charters.

Remember, these are not just cruises, but expeditions. Kids are expected to participate in off-vessel activities such as hiking, swimming and snorkeling. If your child does not swim, a cruise offering a glass-bottom boat activity would be advised (we can help you find one that does).
Kids are expected to follow the rules, both aboard the ship and while ashore in the Galapagos. Keep in mind that there are no babysitting services aboard small ships or yachts. If you plan to bring a young child who cannot participate in the activities, then an adult must stay with that child and will miss out on any activities. The purpose of a family cruise is to enjoy and experience the islands as a family, learning and sharing together.
The sweet spot for kids is age 8-12 years old. These kids are old enough to appreciate and enjoy the wildlife and experiences they will encounter. They are young enough that a trip such as this will make a lifelong impression on them, hopefully instilling a love for learning, nature and travel. Children under 12 years old usually receive the most significant children's discount.
Teens will also enjoy travel to the Galapagos. Dedicated teen departures are an excellent way to keep them engaged and excited by traveling with other young travelers of similar age. We have found that a great way to intrigue teens is to have them participate, along with the adults, in documenting the trip. Have them edit photos and videos, creating slideshows and movies that will become important family keepsakes. This encourages teens to use their inevitable screen time in a productive and educational way.
Hear Why Kids Love Galapagos Family Cruises
Our family cruises page details all the reasons small cruise ships are perfect for families. But why not take it from the kids themselves, straight from their Galapagos family vacation:
Galapagos with Toddlers
Travel to Galapagos with toddlers is not impossible. If bringing your little one along is important to you, then our experts can certainly recommend the Galapagos small ships and lodges that accept children of all ages for their programs. That said, there are a few things you should take into consideration so you are well prepared and know what to expect.
During excursions to visitor sites on uninhabited islands, Galapagos National Park rules state that guests must be in the company of a guide at all times. Parents and a fussy child cannot separate themselves from the activity group or walk back to the meeting point by themselves. Bathrooms are not available on shore excursions, and it is your responsibility not to introduce any foreign elements like trash, food or diapers into the fragile ecosystems. Remember too that Ecuador lies directly on the equator so the sun can be very harsh with little to no shelter or shade. And while many trails are clear, navigable paths, just as many are rocky or over various types of lava.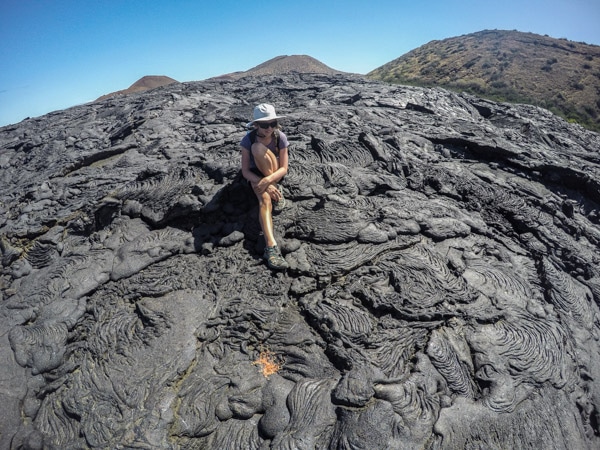 When to Travel to Galapagos with Kids
The Galápagos Islands are suitable for cruises and land tours all year-round.
By sea: the most dedicated Galapagos family cruises occur during the summer, over the Christmas/New Year holiday and on the Spring Break/Easter holiday. Christmas and Easter weeks are extremely popular and can book up over one year in advance. These are also the most popular times to travel for non-families so unfortunately, don't expect any child discounts during the holidays.
Family cruises are also scheduled during the summer months, when kids are out of school. This is a great time to plan your trip, but the months of June-August are also very busy and should be booked 6-9 months in advance for the best selection of ships and cabin categories. Learn more about the best time to visit Galapagos.
Galapagos Family Cruise Options
There are many options to choose from when thinking about family cruises to the Galapagos. Below we outline different styles and nuances of family cruises you will encounter in your research. Read carefully to understand the difference between family-focused cruises versus family-friendly cruises. This distinction will help you determine the best Galapagos cruise for families. Or contact our Galapagos family experts for a personal consultation.
Family-Focused Cruises
There are many small ships and yachts that will accommodate travel with kids and indeed many companies actively market to this segment of the travel market. But not all cruises, in fact only a select few, offer a true family-focused program on a dedicated family departure. Family-focused cruises include guides and crew trained to work with younger travelers, activities designed to bring families together through exploration, meals and menus designed with younger travelers in mind and most importantly they aim to have families of similar ages traveling together.
In order to offer a dedicated family-focused cruise, a ship will offer scheduled family departure dates that are distinct from standard departures. On our site look for the "theme" departure icon on pricing tables of each cruise as it could signify a family departure.
Be careful not to assume that because a cruise offers a child discount and some onboard activities, that you are booking a family cruise.
AdventureSmith offers great family-focused cruises with excellent guide-to-passenger ratio, fun programs geared for kids like stargazing, menus created with kids in mind and specific departures for young kids and departures for teens. Special teen cruises also offer an opportunity for volunteering and cultural exchange in the Galapagos Islands. We highly recommend families consider a dedicated family-focused cruise.
Family-Friendly Cruises
Some cruise lines don't fundamentally change their programs but instead offer family-friendly amenities such as kid meals, fun learning materials, treasure hunts, cooking classes, crafts and onboard games and programs to entertain kids. These programs can be fun and helpful for families traveling with kids but without dedicated family dates, it is uncertain whether you will have other families on board your cruise. Of course holidays and summer cruises have a greater chance to travel with kids of similar ages.
Galapagos Family Charter Cruises
One of the best ways to ensure a successful family cruise is to charter your own boat. Exceptions for the onboard age requirement can usually be made for private charters, and families can also have more control over the activities and services offered aboard the ship.

Galapagos family charters typically require at least 12 people and can accommodate extended families up to 100 people with lots of size choices in between. Of course a charter also ensures you are traveling with an intimate group.

Charter cruises are available aboard any of the ships listed on this website. For the best selection of ships and dates, charters should be booked at least one year in advance. Booking a family charter over the holidays may require two years advanced planning. Read our Galapagos yacht charter guide for more information.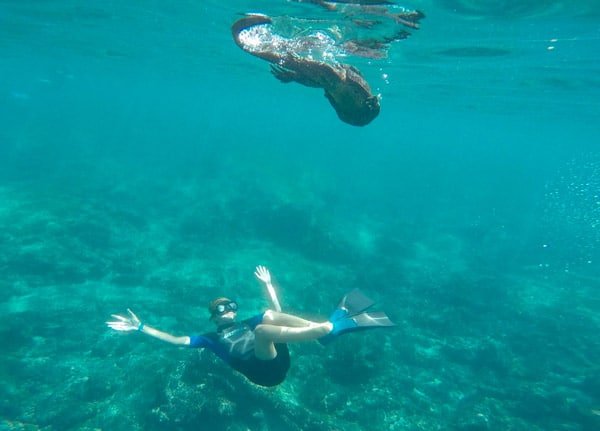 Planning a Galapagos Family Cruise
Children under 12 years old usually receive discounts on Galapagos family vacation packages. But at the beginning of your research, browse our Galapagos cruise deals as you may find other combinable special offers.
For selecting a ship and itinerary, learn more about how to choose the best Galapagos cruise. This blog is a great tool and offers a wealth of other knowledge and advice when in the first stages of planning the best Galapagos cruise for families.

Galapagos cruises range from 3 nights to 14 nights. We recommend visiting the Galapagos on 7-night cruises and most family-focused cruises are this length. Shorter trips are possible, but they are more challenging for younger travelers. Spending a week ensures families experience the full spectrum of islands, animals and habitats on remote islands that are otherwise not accessible. The time and effort it takes to get to the Galapagos warrants a week-long family cruise. View all 2023 & 2024 Galapagos cruise itineraries and start finding yours today.
Galapagos Tours For Families: Land & Lodge Based
When you are researching a Galapagos family trip, know that you can choose from both family-friendly cruises and land tours. Learn the difference at Galapagos Island Hopping or Cruise. Families with infants or toddlers may find that a lodge-based Galapagos trip allows more flexibility and room to roam. The best Galapagos tours for families operate in a small private group where families can craft their own program and schedule activities like a trip to a tortoise reserve at their preferred time of day. Some lodges also offer swimming pools, hiking trails, beach access, bicycles and more, to pass the time when not participating in a day excursion.
Travel Logistics for Ecuador & Galapagos to Consider
It is not possible to fly directly from North America to the Galapagos in one day. We recommend families arrive into Ecuador at least 2 days prior to your cruise and plan to overnight 1 night after the cruise. This ensures younger travelers have time to acclimatize after the long flights and that your family will not miss the boat if flights are delayed.
Plan to stay in Quito or Guayaquil, Ecuador before and after your cruise. Book airport-to-hotel transfers in advance so your family is not waiting to get to the hotel after a long flight. There are a number of family-friendly hotels in Quito and Guayaquil. We can recommend hotels with a pool to let kids unwind and be entertained while stopping over. Our Quito and Guayaquil Galapagos Travel Package is a seamless way to travel through mainland Ecuador. Or let our experts customize all of your arrangements including flights, transfers, hotels, tours, permits and National Park entrance fees to ensure seamless Galapagos travel with kids.
Many families will also choose to extend their Galapagos cruise with a cultural Ecuador trip, a trip to the Amazon or Machu Picchu, Peru. AdventureSmith can help with all pre- and post-trip arrangements and full-service Galapagos family vacation packages.
Customized Family Travel Options
A trip to the Galapagos and Ecuador can also be customized to facilitate cultural exchanges with local kids.
We work with Ecology Project International, an education-based and student-group-travel-focused non-profit dedicated to developing field science partnerships between local experts and high school students to address critical conservation issues worldwide. We have arranged for EPI students to guide family groups at the Charles Darwin Research Station, giving the students an opportunity to show off their knowledge and allowing families an authentic interaction with local kids.
Another partner of ours is Children of the Galapagos, a non-profit organization created to support the growth, health and vitality of children living in the Galapagos Islands of Ecuador, to foster fun activity-based interaction with local kids. Kids can enjoy surfing, skateboarding or biking with local kids in an authentic cultural exchange that enriches both locals and visitors.
These experiences are custom arranged and are not included in the standard price of a Galapagos cruise. These types of interactions work particularly well with charter cruises. Contact our Galapagos family cruise experts to learn more.
Galapagos Family Cruise & Tour Experts
Choosing a Galapagos family cruise or tour on your own can be daunting. For over a decade we have helped families check the Galapagos off their bucket list and provide answers to popular questions like:
Will my kids get seasick in the Galapagos?
Does the cruise or tour have a minimum age requirement?
What special programs are offered for families or children?
Does the ship or lodge offer amenities to make the trip more enjoyable for kids?
To get you started we've designated the trips below as our top Galapagos family cruises and tours. Take a look then contact us for more expertise and knowledge about travel to Galapagos Islands with kids. Our experts know the ins and outs of family travel in the Galapagos and can help you narrow down the best Galapagos tours for families by land or sea.
MORE GALAPAGOS RESOURCES:
Galapagos Cruises
Galapagos Cruise Deals
Galapagos Islands Yacht Charters
Galapagos Luxury Cruises
Galapagos Diving
How to Choose the Best Galapagos Cruise
Galapagos Island Hopping or Cruise?
Best Time to Visit Galapagos
How to Get to Galapagos
Galapagos Islands Animals
Galapagos Trips
Galapagos Land Based Tours
Galapagos Cruise Reviews
Galapagos Travel Guide
Galapagos Family Cruises & Tours
The cruises and tours listed below are true standouts for a Galapagos family trip. These Galapagos family cruises and tours are a great place to start your trip planning and research.