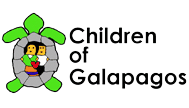 Children of Galapagos (COG) is a non-profit organization created to support the growth, health, and vitality of children living in the Galapagos Islands of Ecuador.
Children of the Galapagos was established in 2010 in response to the needs of Galapagos children with disabilities. Today, they participate in the lives of all island children and their families through the support of enriching programs and projects and assistance with individual cases.
Children of Galapagos seeks to join with families and support community efforts that provide opportunity for children to reach their full potential. COG has 501 (c) (3) tax status in the United States of America and is registered as a public charity.
COG Projects
Galapagos DVD-book for children
"Animales de Galápagos para Niños" is an interactive children's book on DVD that teaches about the land and sea environment of Galapagos and introduces to children awareness of the need for taking care of the islands. The material is presented in an engaging and mesmerizing format, using 3-D technology. The intention of the creators is to distribute the DVD/book to every child free of charge.
Isabela Island: School Projects
There are private schools on Isabela Island (preschool, elementary school, and high school) that are in need of supplies, materials, and repairs.
San Cristóbal Island: Cañon Point Galápagos Club
Cañon Point is a sports club formed for children. The focus is on teaching surfing, skateboarding, biking, and other activities that bring children together in common activities, offering local children a youth group experience while teaching them sports. Cañon Point Galápagos provides the extracurricular activities that are not available through other institutions. Cañon Point kids welcome the chance to meet children from other countries and cultures and share their activities with them. AdventureSmith founder and director, Todd Smith led a Galapagos Friends and Family Charter Cruise in May 2014 that brought together young travelers from the USA with the kids at Canon Point. The experience was a highlight of their trip and serves as an example of how travelers can interact with and help support Children of Galapagos programs.
Director Treecy Meier
Treecy is the founder and Executive Director of Children of Galápagos. Treecy previously worked in Michigan, USA, as an educational consultant, a teacher of special education students, a high school guidance counselor, and she is a clinical counselor. Treecy first visited the Galápagos Islands in 2009 on vacation. Her encounter with the limited services and opportunities for island children sparked her passion for justice for children and inspired her to create Children of Galápagos. Treecy's intent is to bring greater awareness to the life conditions of the future caretakers of these delicate islands. "It is heartwarming to see that so many are so interested in bettering the lives of people around the world. For me, life brought me to Galapagos, an amazing place that offers so much. As a way of giving back for what I have received here, I feel privileged to be able to help in any way I can. I'm looking forward to our new connection and keeping up the dialogue."
AdventureSmith Explorations founder and President Todd Smith met with Treecy in Ecuador. He was able to experience COG programs first hand and was impressed. He explains "There are many programs to conserve the nature of the Galapagos Islands, but fewer that address the issues surrounding residents of the Galapagos. Children of the Galapagos is addressing a much needed humanitarian element in a place world famous for its nature and environment. You cannot hope to conserve the environment without first addressing the needs and challenges of local people. Children of Galapagos helps fill that role in the Galapagos Islands."
Find Galapagos cruises, Galapagos family cruises and Galapagos land tours.