Empower a Child. Change the World.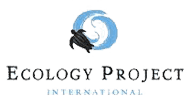 Ecology Project International is a nonprofit, educational organization that combines travel to remarkable places, rigorous and exciting field science, conservation efforts, and authentic cultural exchange to improve our students' awareness, understanding, knowledge, confidence and academic skill sets. They make a difference in the world, one student at a time. Their mission is to improve and inspire science education and conservation efforts worldwide through field-based student-scientist partnerships.
EPI is an education and student group travel non-profit dedicated to developing field science partnerships between local experts and high school students to address critical conservation issues worldwide. Student group travel programs engage youth from local communities and the United States in conservation as they learn how to conduct field science research and actively help protect threatened species and habitats.
An Idea Born In the Field
In the 1990s, our co-founders Scott Pankratz and Julie Osborn were working and studying in Costa Rica independently. Both recognized that, in spite of prolific scientific studies and federal protection, many critical habitats and species continued to decline. Sea turtle eggs were sold at local markets and piles of trash washed up on the beach during rainstorms. Most of the researchers in the area were foreign, and few spoke Spanish.
Scott and Julie realized that unless locals valued wildlife for something more than breakfast, scientific efforts would fail. They also realized that people can't value what they don't understand. In short, Scott and Julie needed a way to involve local villages in the work of conservation.
In May of 2000, they launched EPI's first program for Costa Rican students and teachers. Amazingly, though most of the students lived within five miles of the project site, none had ever seen a live sea turtle before. The students worked with Reserve staff to measure the turtles, tag them, count their eggs, and sometimes move the eggs to a safer location so poachers wouldn't find them. The researchers at the Reserve used the data that the students collected to monitor the local sea turtle population. And the experience prompted students to work in their villages to protect their wildlife resources. The tide began to turn.
Growing Up to Be a Conservation Leader
Since that first class, Ecology Project International has become a leader in active conservation education. They offer multiple programs in several vitally important conservation regions. These science-based programs are intensive field studies that bring U.S. groups together with students and teachers from project site areas.
The result is transformative for the people and the place. Visiting students see the perspective of locals and gain field work expertise. Local students see their own backyards through the wide eyes of visiting students. Working scientists get the help they need collecting data and restoring habitat. And, most importantly, the places themselves are improved — trash is removed, migration corridors are opened up, and wildlife populations and survival rates increase.
Their belief in the transformative power of conservation work guides everything they do. Ecology Project International carefully selects the best private and public partners conducting important efforts in every location. They employ gifted, inspiring instructors and trip leaders and choose accommodations and experiences that are authentic while ensuring participant safety.
Find Galapagos cruises, Galapagos family cruises and Galapagos land tours.