Learn More
Belize Small Ship Cruises
with AdventureSmith
Why book your cruise to Belize with AdventureSmith Explorations? Our experts have first-hand experience aboard all the small ships to help you choose the best cruise to Belize for your interests, ability and budget. We've chartered catamarans and worked in the region's travel industry to now share our expertise with today's modern traveler.
Active
Experience the Belize Barrier Reef by kayak, paddleboard, snorkel or dive gear.

Wilderness
Belize cruise excursions explore lush jungle, coastal rivers & an array of wildlife.

Experience
We've helped pioneer Belize cruise itineraries. Put our experience to work for you.

Value
Our deals on small ship cruises in Belize offer you discounts, free airfare & more.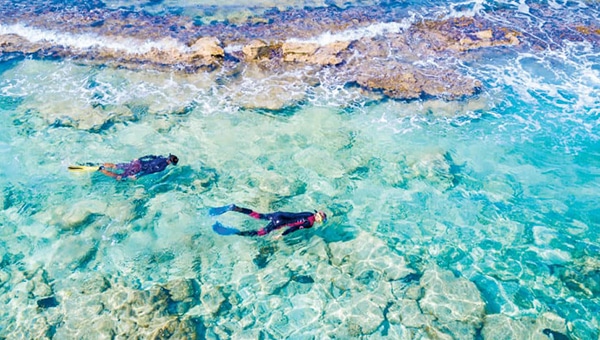 Finding a Belize Snorkeling Cruise
Snorkeling is among our most-requested activities when helping travelers select an itinerary (see our snorkeling tips). All of our Belize small ship cruises offer guided snorkeling with gear included, so your decision to choose the best Belize snorkeling cruise often comes down to the vessel, guides and places visited. Our offerings include traveling with National Geographic guides who are experts in underwater photography and ships that have added technology like hydrophones and cameras for more in-depth underwater exploration. Considerations also include whether you want a more custom route with just your small group, or the fun of being among a small group of fellow active travelers.
Kayaking, Fishing, Relaxing…
Belize small ship cruises offer a plethora of experiences in addition to snorkeling. Active travelers will love regular opportunities to kayak, paddleboard, swim, hike and engage in a stretch class. Some small ship cruises in Belize offer biking or added-cost diving. And anglers can enjoy fishing on a customized Belize Catamaran Charter where your personal chef will gladly prepare the day's catch.
Those who want to simply relax on a white-sand beach or get a massage will enjoy any of our Belize small ship cruises, including charter cruises customized for spa days. History buffs will love Belize cruise excursions to Guatemala's Tikal and Yaxha to see ancient Mayan ruins. Whether you're seeking a Belize snorkeling cruise or to focus on the region's history, let us be your guide to the best ships and cabins for your needs.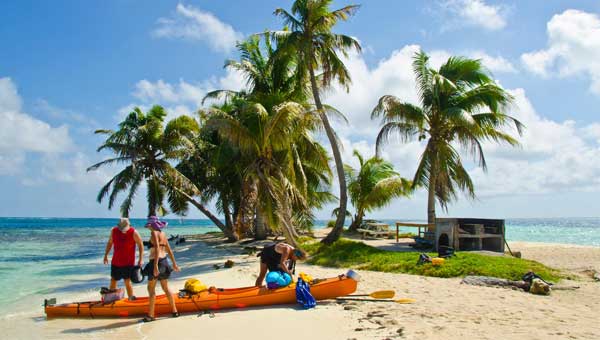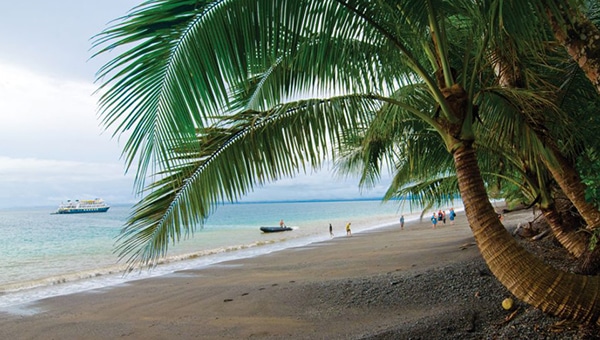 Cruise to Belize and Costa Rica
Our Belize small ship cruises and our small ship cruises in Costa Rica are both popular for their jungle, reef and wildlife, leading to the question "How do I cruise to Belize and Costa Rica?" Our experts have experience cruising in both regions and can help you design your custom trip to dovetail a cruise to Belize with one of our Costa Rica vacations. Many of our Costa Rica cruises even offer ways to experience the Panama Canal for the ultimate adventure from your cruise to Belize on the Caribbean to your Costa Rica adventure on the Pacific.
Belize Small Ship Cruises
Temperature & Rainfall
| | | | | | | | | | | | | |
| --- | --- | --- | --- | --- | --- | --- | --- | --- | --- | --- | --- | --- |
| Month | Jan | Feb | Mar | Apr | May | Jun | Jul | Aug | Sep | Oct | Nov | Dec |
| Avg. High (F) | 81 | 82 | 84 | 86 | 87 | 87 | 87 | 88 | 87 | 86 | 83 | 81 |
| Avg. Low (F) | 66 | 69 | 71 | 74 | 75 | 75 | 75 | 75 | 74 | 72 | 68 | 68 |
| Avg. Rainfall (Inches) | 4.0 | 2.0 | 2.0 | 2.0 | 3.0 | 8.0 | 9.0 | 6.0 | 7.0 | 7.0 | 6.0 | 4.0 |
The Best Time to Cruise to Belize
Seeking a cruise to Belize in December? Or to go in July? Consult our climate chart to see weather averages to find your best time to cruise to Belize. Note that while Belize charter cruises are offered year-round, most other Belize small ship cruises operate during the North American winter, when the weather is best. For those with special interests, consider that June to August is ideal for diving on Belize small ship cruises. Note that the climate data referenced above is for Belize City, Belize.
Want to Learn More About Belize's Climate?